Website Builder or WordPress: Which Is Better for Your First Site in 2023?

Ad disclaimer:
For links on this page, EXPERTE.com may earn a commission from the provider. This supports our work and has no influence on our editorial rating.
Do you want to make a website, but lack the necessary programming skills? In that case, you might want to consider a website builder or a content management system (CMS) like WordPress. So, what are the differences, and which is best?
In this article, we'll let you know how website builders and WordPress differ from one another, and, depending on your needs, which advantages and disadvantages each offer.
Comparing Website Builders and WordPress
These days, websites are more than just a few lines of text and some images, consisting instead of videos, social media buttons, widgets, and comment sections. This makes self-programming a detailed website an option only for pros. If your coding skills aren't up to the task, or non-existent, you can try out website builders or a CMS, like WordPress. With these, you'll create a website from ready-made elements, without writing a line of HTML code.
Website builders and WordPress have a few things in common: Both make site creation easy thanks to user-friendly tools and design templates. However, that's where the similarities end. WordPress is significantly more versatile and complex. Website builders, on the other hand, are the more beginner-friendly option but offer less flexibility.
To help you decide which is better for your needs, we compared both in terms of their Beginner Friendliness, Flexibility, Variety of Features, Effort, and Costs.
WordPress.org vs. WordPress.com
In addition to its open-source software for self-hosted websites, WordPress also offers an all-in-one website-building solution (wordpress.com). This includes hosting, backups, software updates, and design templates making it a regular website builder with all of the same advantages and disadvantages as the other services in our sample. This comparison guide refers to the CMS version of WordPress.
1.
Beginner-Friendliness: How Easy Is Website Creation?
Both WordPress and website builders can be used to create a website without any programming or coding skills. However, the manner in which you'll go about this varies significantly:
With a website builder like Squarespace or Wix, you'll begin by answering a few questions about your website (such as, whether it's for personal or business use) and your branch. Based on your responses, the platform will then suggest templates.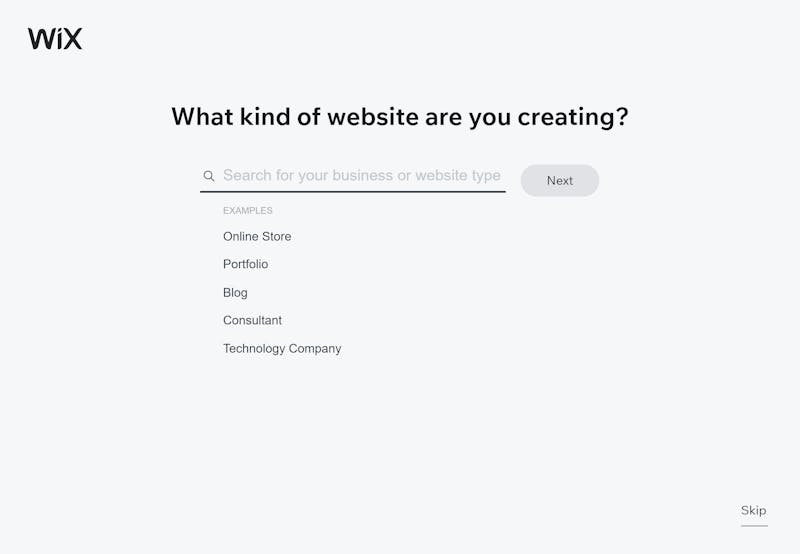 Website builders suggest templates based on the type of site you're making.
Once in the editor, you can adjust individual elements of these templates and add new components. For example, you'll add a new title, an image gallery, text blocks, charts, or buttons. For photos, you can easily apply filters, crop them, or adjust their brightness. Changing elements is easy and similar to intuitive graphics programs.
Website builders like Wix make it possible to intuitively and visually edit website elements.
Setup on WordPress is fairly similar: Depending on whether you want to create a blog, an online store, or a business page, the platform will display relevant templates. After making your choice, you'll customize elements using tools from the side menus, working directly in the visual editor.
WordPress's default theme editor isn't as intuitive as those of website builders. However, you can install site-building plugins, such as Elementor, which make the interface just as user-friendly as regular website builders.
More advanced users can take advantage of considerably more options: Your WordPress theme can be customized with user-defined code. Some website builders support CSS changes, however, WordPress definitely offers more flexibility in this area.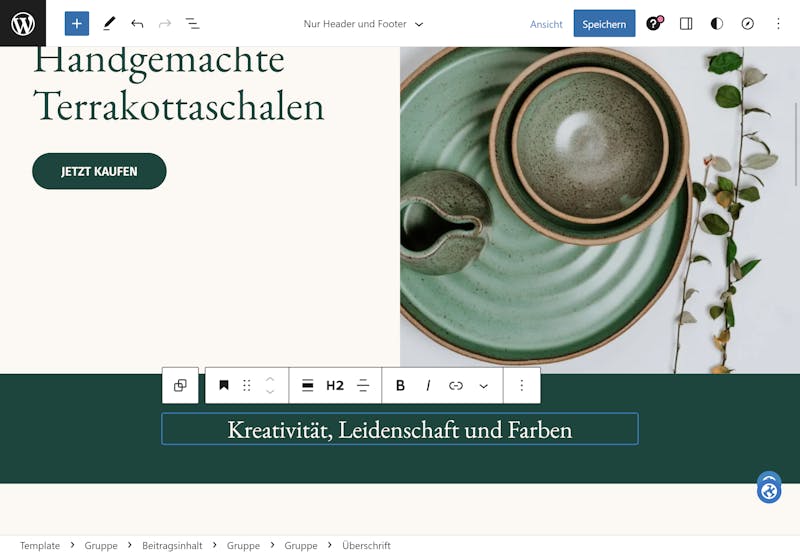 WordPress offers multiple options for creating a website without code.
Learning how to use WordPress pays off in the long run, however, it's definitely more complicated and time-intensive than most website builders. Since this round is all about beginner-friendliness, it goes to website builders.
2.
Flexibility: How Much Do You Want to Design?
User-friendly designing is one of the main selling points for website builders: Piece-by-piece, seemingly endless content elements like blocks are combined into a personalized website. However, there's always a limit to how many different types of content blocks are offered, and their arrangement. Ultimately, you can only use as much or as little as the provider offers.
With WordPress, you'll exercise significantly more control over your website's content. This is partly because WordPress is open source, meaning that anyone can access its source code. In more practical terms, this allows you to freely alternate between its user-friendly editors and code.
Beyond that, you'll also have access to thousands of plugins and extensions, tailoring to almost every need or desire. Of course, some website builders offer similar capabilities through their app stores or marketplaces, however, none comes close to the selection and variety of WordPress.
Comparing the two is almost unfair: So far as flexibility goes, WordPress is in a different league than website builders. All the same, you'll need more time to fully maximize its potential.
3.
Variety of Features: How Many Options Are Offered?
Website builders should be able to meet the needs of small businesses, blogs, and individuals. They offer a large selection of elements, from simple text blocks to branch-specific content like booking systems and restaurant menus. On top of that, there are blogging features, stock photos, and analytics tools.
Thanks to the integration of ecommerce features, it's also possible to design and manage online stores with website builders. To promote your products, marketing tools are often included, the comprehensiveness of which varies from platform to platform.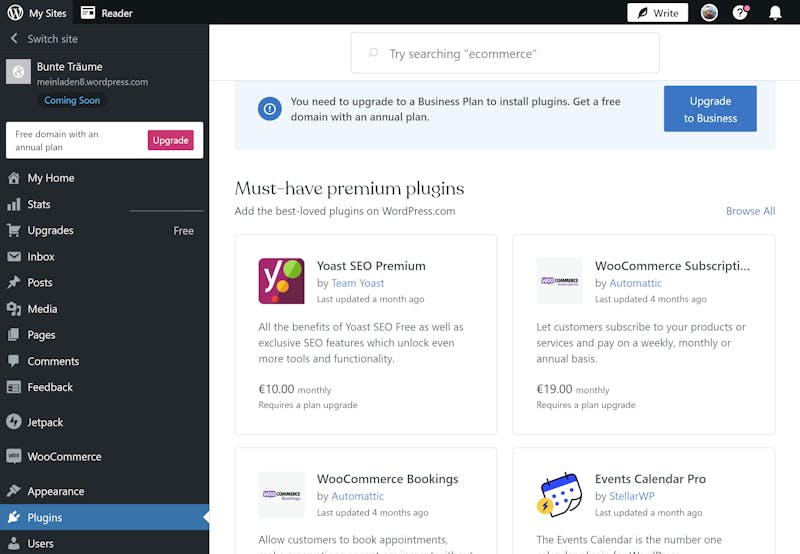 Everything that can be done with a website builder, and much more, is possible with WordPress. Even without plugins, WordPress is considerably more versatile than most website builders. As mentioned above, any missing features that you want or need can be added through plugins and extensions.
4.
Effort: How Much Time Does It Take To Create a Website?
The amount of effort it takes to create a website depends on what sort of project you have in mind. For a simple blog, you'll be ready to go in a few hours, whether with WordPress or a website builder. On the other hand, if you need a more intricate website or an online store, it can take a few days or weeks.
As a beginner, you'll reach your result quicker with a website builder, not least because they're all-around solutions that include hosting. With WordPress, you'll probably have to watch a few tutorials and handle aspects like hosting and a domain.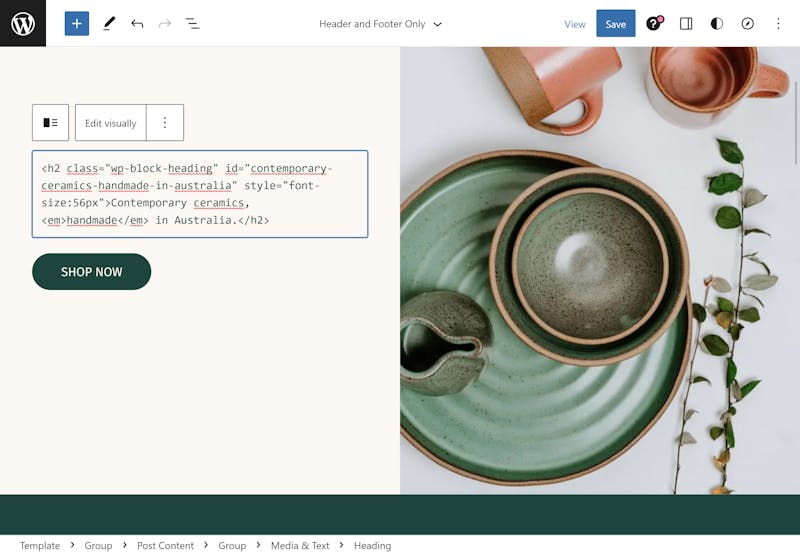 WordPress offers nearly limitless options for creating a website, however, it is more time-consuming.
If you're creating your first website and want to quickly put something together, website builders will help you achieve your goal faster. Just keep in mind that you'll have fewer options than you would with WordPress.
5.
Costs: What Do You Get for How Much?
For freelancers or start-ups, there's usually a limited budget for everything, including a website. When creating a personal website with no commercial intentions, the amount of funds available is usually even less. So, which is more affordable: WordPress or a website builder?
WordPress has a leg up: Because it's open source, the platform is free to use. You also won't have to pay for any of its default themes. To get your website online, you will need hosting and to think about security.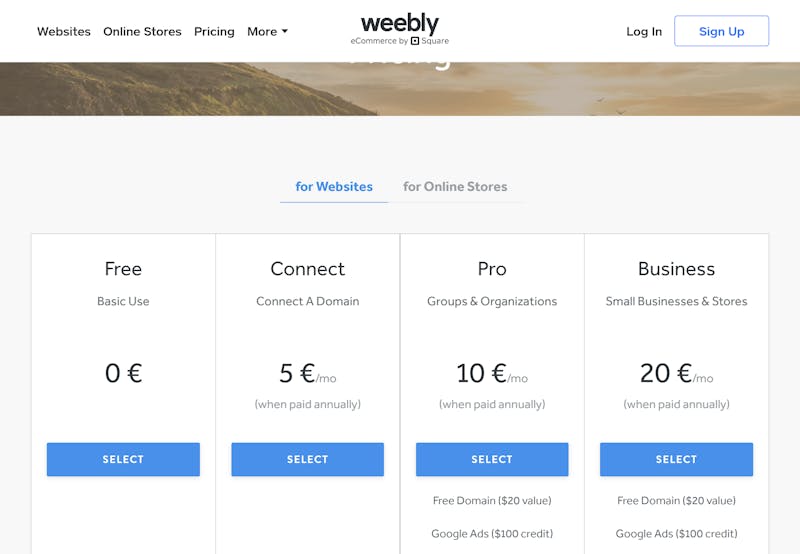 Website builders offer a range of different subscription packages.
Website builders, on the other hand, offer all-in-one subscription packages that include a domain, security, and designs. Although some platforms market freemium versions of their service, these don't allow custom domains and impose a number of other restrictions and limitations. As such, they're only an option for testing a website builder out or creating a private site.
Subscription prices vary from platform to platform: For a custom domain and 75 GB of storage, you can expect to pay between $10-20 per month. While a bit more than WordPress, you will get more benefits, such as customer support (which WordPress doesn't offer).
What's Better: Website Builders or WordPress?
So, what's better: Website builders or WordPress? There's no simple answer.
In case you want to quickly put together a high-quality website and not spend too much time on its technical aspects, website builders have the edge. We reviewed the best platforms in our website builder comparison series.
Should you already have some experience or be ready to learn how to use a content management system, WordPress is the better option: You'll have considerably more flexibility when it comes to designing your website. We recommend looking for a service that specializes in WordPress hosting.
| | Website Builder | WordPress |
| --- | --- | --- |
| | | |
| | | |
| | | |
| | | |
| | | |
Best Website Builder: Wix
Wix beats out the competition with an unmatched variety of features, intuitive editors and a jam-packed app store. Overall, the platform offers the best balance of usability and features on the market today.
lots of features and elements
simple & intuitive interface
9.6

excellent
Space
Domains
Templates
Contract Period
Wix Free
$0.00
monthly price
Visit Website*
Try for Free
In our website builder comparison series, we comprehensively tested 12 different solutions. Wix, our winner, took the top spot owing to its ease of use, high-quality templates, a wide range of features, and solid support. As if all of that wasn't enough, its price-performance ratio is also good.
Marketing, SEO & Ecommerce
10 / 10
Templates & Design
9.4 / 10
Configuration & Usability
9.4 / 10
Conclusion
These days, you don't have to spend time working through endless lines of code to create a website. Regardless of your experience level, both WordPress and website builders, like Wix, make it easy to design a website thanks to their ready-made templates and intuitive tools. Deciding which solution is better depends entirely on your needs and requirements.
WordPress is definitely the better choice if you want maximum flexibility in designing your website and aren't willing to work within the limitations imposed by website builders in terms of features and options. Keep in mind that you'll need to spend more time learning how to use the relatively more complicated CMS.
If you don't want to bother with any technical details and are reagy to trade simple setup and ease of use for flexibility, website builders are a solid alternative.
FAQs
What's the difference between website builders and WordPress?
⊖
Website builders don't just offer templates and user-friendly editors but also take care of hosting and the other technical aspects of running a website. While they're easier to use than WordPress, creativity is limited. With WordPress, you'll be working with a content management system, both more flexible and complex than a website builder. In addition, you have to take care of hosting and a domain.
Are WordPress.org and WordPress.com the same?
⊖
Alongside its open-source content management system (WordPress.org), WordPress also offers a website builder (WordPress.com). This includes the same benefits as other platforms (a domain, web space, backups, templates, etc.). The latter is a standalone website builder and has all of the same advantages and disadvantages.
* Ad disclaimer:
For links marked with an asterisk, EXPERTE.com may earn a commission from the provider. The commission has no influence on our editorial rating.

After her studies in physical engineering, Silvia Benetti was active in the development of wind turbines. She has been writing about technical subjects as a freelance author for several years. Her focus areas include IT, artificial intelligence, industry 4.0 and renewable energies.
Continue Reading
Other languages
Deutsch