WordPress Hosting Requirements: Which PHP Version, Server & Database?

Author
Janis von Bleichert
Ad disclaimer:
For links on this page, EXPERTE.com may earn a commission from the provider. This supports our work and has no influence on our editorial rating.
What do you need to host a WordPress website? Thankfully, not so much, however, when choosing a host, you will have to make sure that it fulfills a bit more than the minimum requirements.
Below, we'll let you know which technical criteria your server should fulfill as well as which features to look out for.
Basic Technical Requirements: What WordPress Recommends
PHP Version
PHP is the scripting language WordPress uses. New PHP versions are regularly released that include updates. WordPress hosts integrate these over time into their dashboards and servers. Each new PHP version brings improvements to your WordPress website's performance and security, making it important that hosts don't take too long to begin supporting them.
As of the time of writing, the newest PHP version is 8.3, however, this hasn't been integrated by many hosting services. WordPress.org recommends using PHP 7.4 or higher. Hosts that are with the times should support all PHP versions up to 8.2.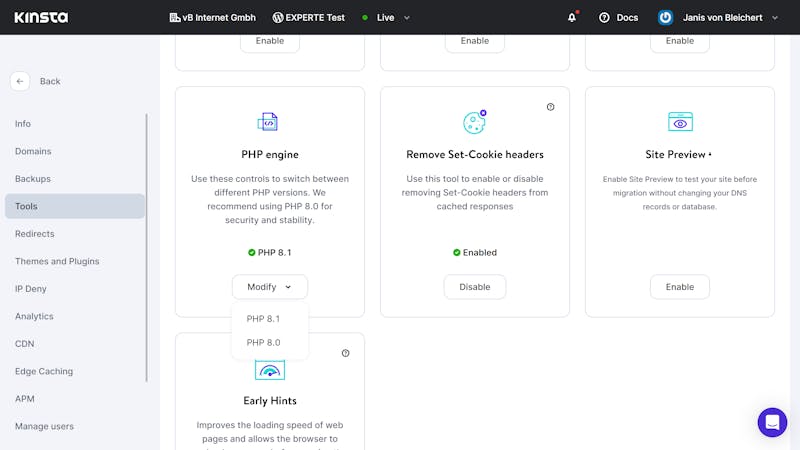 Managed hosting services generally support multiple PHP versions.
Server Software
A server is nothing more than the computer that hosts a WordPress website. However, not all servers are created equal: There exists a wide selection of server software options with different characteristics. The kind of software used also impacts a website's stability and performance. For WordPress hosts, Apache, NGINX, or LiteSpeed servers are the most common.
WordPress.org recommends Apache or NGINX with the mod_rewrite module, emphasizing that "any server that supports PHP and MySQL will do". In other words, if the host you've selected uses Apache or NGINX, you're on the right path.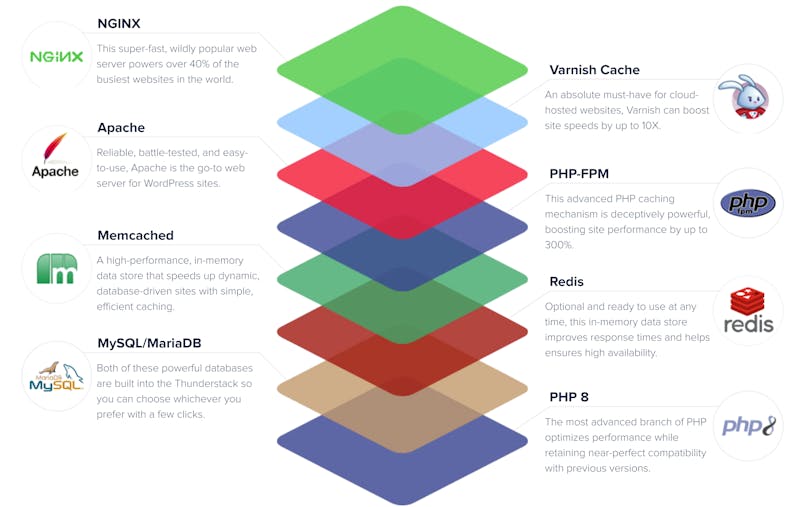 Many of the software stacks of our sample's hosting providers, such as Cloudways, use both NGINX and Apache servers.
Database
A database is where your website's content and settings are stored, along with user and site data. The standard WordPress database solution is MySQL, a relational database system.
These days, there's also an alternative, MariaDB, which is growing in popularity. MySQL's ongoing development, also available as a stand-alone database solution, is open source and somewhat more agile, making it easier to integrate updates based on user feedback.
According to WordPress.org, both solutions work well. However, make sure that the MySQL version is 5.7 or higher and that at least MariaDB 10.3 is in use.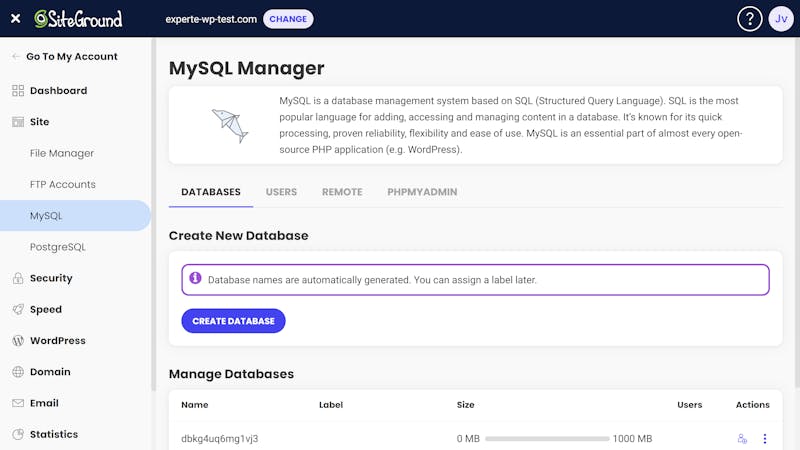 Regardless of whether you use MySQL or MariaDB: You can view and manage your databases in your WordPress host's backend.
HTTPS
The last of WordPress.org's requirements is for HyperText Transfer Protocol Secure (HTTPS). This protocol facilitates data transfers between websites and browsers.
What sets HTTPS apart from HTTP is the level of encryption: SSL certificates ensure that communication between a server and a browser is secure whenever a website is accessed.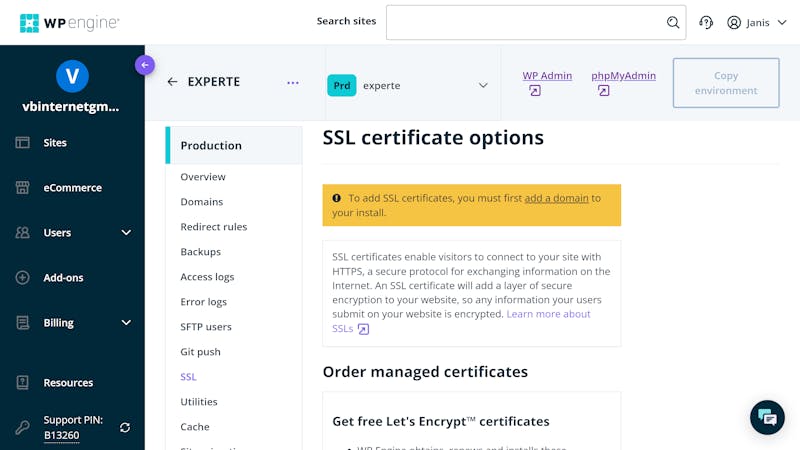 Check whether SSL is enabled and that your website has the necessary certificate in your hosting service's backend.
Other Specifications
Apart from the basic requirements explicitly mentioned above, there are many other technical aspects that you should pay attention to when selecting a hosting service and subscription.
Server Type: Shared Hosting vs. Dedicated Hosting
When it comes to hosting, you can either share server space with others (shared hosting) or pay for resources that are allocated only for your website (dedicated hosting). Shared hosting is the more affordable of the two, however, performance is better with the latter.
Shared hosting should be more than enough for most small-medium-sized websites. Even though the server's resources are divided between multiple users, so long as the host efficiently allocates them, availability (uptime) won't suffer and loading times won't be impacted. Larger, higher-traffic websites or those with specific requirements will benefit from the scalability and exclusive access that dedicated server resources afford, however.
Many hosting servers offer both options, allowing users to switch between the two as the situation dictates.
CPU
Most people know that the central processing unit is the heart of any computer. However, its computing ability also plays a considerable role in how a server performs, impacting the speed of a website.
A clock speed (CPU frequency) of at least 1 GHz is recommended. Depending on how much traffic your website receives and how resource-intensive its content is, you might want to secure additional CPU kernels. As with server resources, CPU specifications generally increase along with the price of subscription packages, making it possible to secure more CPU resources and scale up.
RAM
Ensuring that your website has enough random access memory (RAM) is also essential to its performance. The more RAM that's available, the more data that the server can store, helping it to respond to queries faster and more efficiently. The absolute minimum is 512 MB, and, as always, you can scale up by paying more.
Hard Drives
When it comes to hosting, hard drives are important not for the storage space they offer (since every provider should make enough of this available), but rather, for their composition. By now, solid state drives (SSDs) are standard, offering significant advantages over hard disk drives (HDDs) in terms of speed and reliability. We recommend checking that your hosting provider (exclusively) uses SSDs.
Important Features & Settings
There isn't a specific number or indicator for every important technical aspect. However, here are a few more features and setting options that you should pay attention to when choosing a WordPress host:
Performance features
A server's performance isn't entirely dependent on the hardware it uses. Website loading speeds can be improved with software features and by adjusting settings. Server-side caching, which temporarily saves a website's elements so that they don't need to be reloaded every time they're requested is important, as is a content delivery network (CDN), which delivers content to geographically-distant users.

Security features
Another important advantage offered by managed WordPress solutions is the security tools they provide. Alongside automatic malware protection and things like a web application firewall (WAF), make sure that your hosting provider regularly (automatically) creates backups. These will save your website in the event of catastrophic data loss.

Server location
For data privacy or compliance reasons, you might want to know where your website's data is stored and handled. Most, but not all, of the hosting services we reviewed, allow users to specify which data centers their websites use.

User interface (dashboard)
Especially for beginners, managing a WordPress website can be tricky. With that in mind, it's a good idea to make sure that the hosting service you've selected offers a user-friendly backend where you can easily find whatever you're looking for.

Scalability
Everyone wants their website to be successful and grow. To avoid having to switch hosting providers down the road, before committing to a particular service, make sure that they offer enough scaling options and flexible subscriptions.

Cost
While on the topic of subscriptions: Price is an important factor when selecting a host and plan. Costs vary, even among the most affordable beginner packages. In our experience, price only correlates to the quality of support. We recommend making sure that you get good value for money, and not just selecting a subscription because it's cheap: You might regret this kind of penny-pinching later on.
The Best Managed WordPress Hosting Solutions
That wraps up the requirements and specifications for WordPress hosts. The good news: Most services meet and even exceed these. Of course, this doesn't make selecting the right provider for your needs any easier. But don't worry, we comprehensively reviewed 9 of the leading managed WordPress hosts. The winner of our comparison was SiteGround*.
EXPERTE.com's Winner: SiteGround
SiteGround WordPress Hosting
SiteGround won us over with excellent speeds, extensive features, and an intuitive interface – all at comparatively low prices, domain and email included.
great speeds with CDN & caching
automatic updates & backups
staging and multisite support
9.1

excellent
WP Installations
Space
Domains
Contract Period
SiteGround StartUp
$8.49
monthly price
Visit Website*
30 Tage Geld-zurück-Garantie
SiteGround exceeds nearly all of the criteria we set for WordPress hosts. Its performance is excellent, while its loading times and page speeds were among the best in our sample. Setup is a breeze, and the host's intuitive user interface is ideal for beginners.
As if that wasn't enough, subscribers can also expect a huge variety of features that includes just about every must-have we could think of (caching, CDN, malware protection, and a firewall). Of course, you're probably wondering how much this will cost, but in comparison with the rest of our sample's services, you get quite a lot of value for money in an all-in-one package that includes email hosting and a free domain.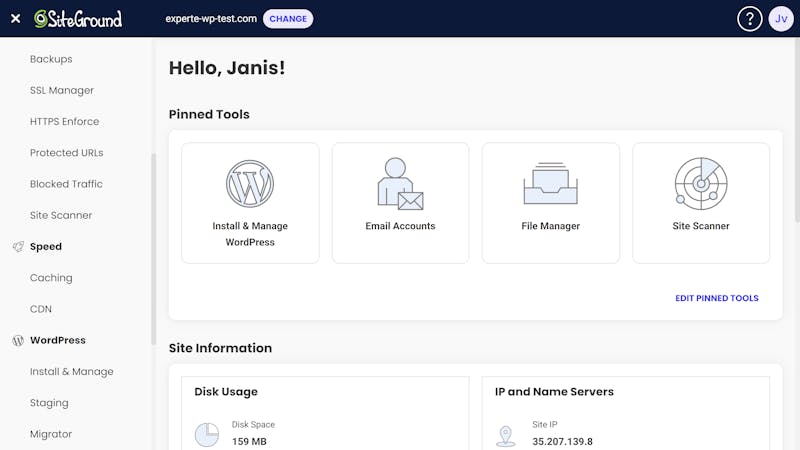 SiteGround surpassed all of the other hosts from our sample.
Of course, SiteGround is not perfect: There's no hotline support and only the two more expensive subscriber tiers (GrowBig and GoGeek) get on-demand, manual backups.
Overall Ranking
SiteGround is just one of 9 services we reviewed, and might not be the most suitable for your needs. Below, we've included the full ranking of all of our sample's hosts, including links to detailed reviews in which we assessed their user-friendliness, technical specifications, security, and performance in depth:
Conclusion
The minimum (technical) requirements for a WordPress host are not too challenging: So long as the PHP version is current, the right kind of databases and servers are used, and HTTPS is supported, you'll have everything needed to run your WordPress website.
However, a good hosting service should offer a lot more than just the bare minimum: For that reason, before settling on a host, make sure that they offer everything your website needs, as well as scalable infrastructure that can grow with you.
FAQs
What technical requirements does WordPress have?
⊖
According to WordPress.org, the minimum requirements for a WordPress website are PHP version 7.4 or higher, Apache or NGINX servers with the mod_rewrite module, MySQL (at least version 5.7) or MariaDB databases (at least version 10.3), and HTTPS.
Is WordPress for beginners?
⊖
Yes, since you won't need any programming know-how to design a website with WordPress, it's a great option for beginners. Managed WordPress hosting solutions make it even easier to set up and manage a WordPress project.
What is WordPress hsoting?
⊖
WordPress hosting, or managed WordPress hosting, is a kind of web hosting that's specifically designed to meet the needs of WordPress websites. Since it's fully managed, you'll not only get storage space for your website on a server but also comprehensive support and assistance in all technical aspects of site management and admin.
* Ad disclaimer:
For links marked with an asterisk, EXPERTE.com may earn a commission from the provider. The commission has no influence on our editorial rating.

Janis von Bleichert studied business informatics at the TU Munich and computer science at the TU Berlin, Germany. He has been self-employed since 2006 and is the founder of EXPERTE.com. He writes about hosting, software and IT security.
Continue Reading
Other languages
Deutsch