Selling Digital Products Online - How It Works and the Best Advice to Get Started

Our editors test and evaluate all services independently. For links on this page, EXPERTE.com may earn a commission from the provider.
Digital products may not be tangible, but they're everywhere. They are the books on our e-readers, the software behind our screens, and the music playing from our speakers. Because they can so easily be reproduced, it's hard to put a finger on their exact value. However, one thing is certain: the issues plaguing physical supply chains are non-existent when it comes to selling digital products, making it a very lucrative business.
That being said, selling digital products comes with its own challenges. In this article, we'll explain what you need to consider when offering digital products for sale and how you can get started.
Why Sell Digital Products?
If you're toying with the idea of starting your own e-commerce business but still haven't decided what exactly you want to sell, it pays to carefully weigh the pros and cons of digital vs. physical products. In many ways, selling digital products can be easier, however, there are still several factors to consider before getting started.
Advantages of Selling Digital Products
Low overhead
The usual costs involved in the sale of physical products are non-existent when it comes to digital products. This means no storage, delivery, or other expenses arising from the production of physical goods.

High profit margins
Because digital goods can be reproduced repeatedly, their costs are minimal costs after development of the initial product. This means higher profits.

No inventory limits
Unlike physical goods, digital products are always in stock. That means you'll never miss out on a sale because a product is sold out or stuck in the supply chain.

Comfortable and convenient for customers
Your customers also benefit from the elimination of delivery costs and waiting times, allowing them to use most digital products immediately.
The Challenges of Selling Digital Products
Difficult to determine their exact value
It's easy to determine the value of physical goods, with factors such as rarity, uniqueness, and the cost of building materials, all coming into play. Ascertaining the cost of digital products is more challenging because they're so easily reproduced and available in unlimited quantities.

Lots of competition
There are a multitude of movies, ebooks, and software available for free online, with many digital products already included in streaming subscriptions. It's also easy (and socially acceptable) to steal digital products, via the illegal download of music and movies. That means you aren't just competing with other companies who sell digital products—you'll also have to contend with free products and illegal downloads.

Vulnerable to pirating
If your products are pirated, it could be a huge blow to your business, both financially and in terms of lost time.
Which Digital Products Can Be Sold Online?
While you don't need to worry about the physical production or importation of digital products, you do have to put in the work to create something that people will want to buy. The amount of time and energy you invest depends entirely on what you're selling. The most popular products to sell online include:
Software and apps
If you have a great idea for new piece of software or smartphone app, and the talent to develop it, you can earn a passive income selling your product online. Software and apps are often sold via subscription, making them an ideal way to generate a steady stream of income.

Online courses & tutorials
In today's world, when people want to learn something new, they usually start with an Internet search. This accounts for the growing popularity of educational products sold online. While the Internet is full of free tutorials, there are customers willing to pay top dollar for high-quality courses, whether in written or video form.

eBooks
The self-publishing industry is booming. Because eBooks only consist of text, they're easy to distribute across various platforms. This makes them accessible to nearly anyone, anywhere—and therefore, perfectly suited for online sales.

Stock media
Editors need images; podcasters need jingles; filmmakers need sound effects. There's a large market for a variety of media products that other professionals either can't (or don't want) to produce themselves. You can earn good money selling these digital products online.

Art, images, music, and movies
Artists should be able to make a living selling their art. There are several ways you can monetize your artwork online.

Templates
Templates take the guesswork out of the formatting and design of websites, emails, presentations, and more. If you have a talent for creating templates and can make them available for purchase online, you have a recipe for a good source of income.

Online services
There are also a number of services that can be sold digitally. This can include creative and design work such as logo creation and copywriting, as well as coaching, or other consulting activities.
This is just a short review of digital products that can be sold online. Understanding what counts as a digital product is important, especially for tax purposes.
Tax Considerations When Selling Digital Products
If you sell a product or service, you have to pay the associated taxes. When it comes to digital product sales, your tax concerns will focus primarily on value-added tax (VAT) and sales tax, which is paid by customers, i.e., added to the sales price. Taxes on digital products in the European Union depend on two important factors:
1.

Where are the buyer and seller located?

2.

When selling to buyers located within the EU: Is it a B2B sale (a sale to another company) or a B2C sale (a sale to an end-user)?
Domestic Sales Tax Within the EU
Generally speaking, VAT must be calculated based on the rate in the country where you're physically located. For example, if you're based in Germany and selling digital products to buyers also located within Germany, you must comply with German VAT law and apply the German VAT rate, which is 19%.
Fortunately, some businesses can make use of a small business regulation (in Germany) that stipulates the following: If your turnover in the previous year was less than €22,000 and is unlikely to exceed €50,000 in the current year, you are not required to pay sales tax. Just be sure to note this on your invoices.
Taxes on B2C Sales to Other EU Countries
If you sell digital products to end-users in other EU countries, you'll generally be required to apply the VAT rate of your customer's country. However, this regulation only applies to cross-border sales of €10,000 or more.
The small business regulation mentioned above doesn't apply to these cross-border sales. So, even if your turnover falls within the specified amount for this loophole, you'll still need to comply with the VAT laws applicable in the countries where your customers are located.
Taxes on B2B Sales to Other EU Countries
If you sell digital products to companies located in other EU countries, the "reverse charge procedure" will come into play. This rule reverses the VAT liability, meaning it's not you as the service provider who pays the VAT—it's the customer. This provides some relief to entrepreneurs who would otherwise need to file separate tax returns for every country in which their customers are located.
Taxes Outside the EU
Similar rules apply to sales outside the EU. For B2C sales, you'll need to apply sales tax based on the rate in the country where the buyer is located. For B2B sales, the reverse charge procedure applies.
Don't go it alone
Tax laws are complex. When it comes to domestic and international regulations and ensuring that the sale of your digital products conforms to these, it's best to be on the safe side and consult a reputable tax advisor.
Where Can I Sell Digital Products?
Once you know which digital products you want to sell and understand the basics of sales tax, there's just one important question left: Which platform should you use to actually sell your products?
Use Your Own Website
What better place to sell your digital products than on your own website? Creating a website has never been easier. You can either build one yourself or hire a professional web developer to do it for you.
If you'd rather create your website yourself, but lack any programming or design skills, use a site builder or an online shop system specifically built for selling products online. Below, you'll find a review of some of the best platforms out there.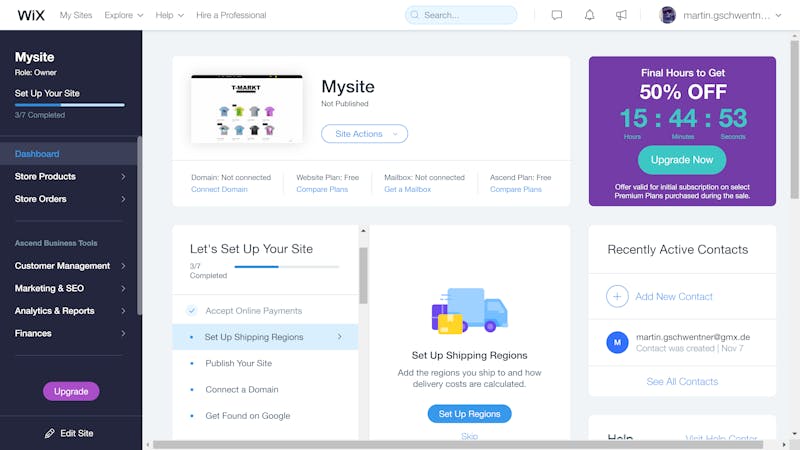 Site builders like Wix help you create a website without any programming experience.
E-Commerce Platforms
While it's great to have your own website to sell your digital products, it's isn't a necessity. If you don't want to set up your own online shop, you can use an e-commerce platform such as Amazon. On Amazon, you can sell a variety of digital products, from software to eBooks.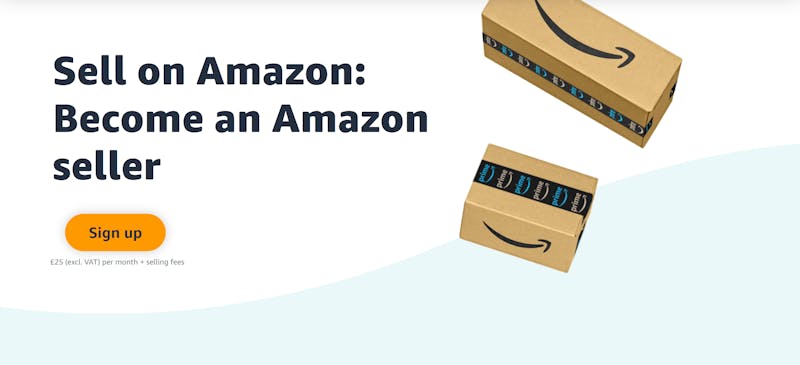 You can also sell your digital products on e-commerce platforms such as Amazon.
Specialized Platforms
Depending on what it is that you're selling, specialized platforms that cater to specific types of digital products also exist. For example, Depositphotos specializes in the sale of stock photos. If you're selling apps or templates for website builders, you can typically offer your products directly on the platforms' marketplaces. Specialized platforms are also available for a variety of digital products, including eBooks.
Freelance Platforms
If you have digital services to sell, it's worth considering sites like Upwork or Fiverr. There, you can offer your services, such as design or copywriting, on a per-project basis or at hourly rates.
The Best Website Builders and E-Commerce Systems for Selling Digital Products
Many who sell digital products see their own website as their most important sales channel. If you can't program a website yourself and don't want to hire a professional to do it for you, as mentioned above, you can use a website builder. Just remember that since you'll have to rely on the integrated features these offer, not all platforms are equally well-suited for the sale of digital products.
While reviewing website builders and e-commerce platforms, we paid special attention to whether it's possible to readily sell digital products on them. Here's a list of our favorites that offer this capability:
Wix
Wix beats out the competition with an unmatched variety of features, intuitive editors and a jam-packed app store. Overall, the platform offers the best balance of usability and features on the market today.
lots of features and elements
simple & intuitive interface
9.6

excellent
Space
Domains
Templates
Contract Period
Wix Free
$0.00
monthly price
Visit Website*
Try for Free
Thanks to its ease of use and array of features, templates, and apps, Wix is our favorite website builder. The platform makes it especially easy to sell digital products: In the product menu, you can specify whether your product is digital or physical.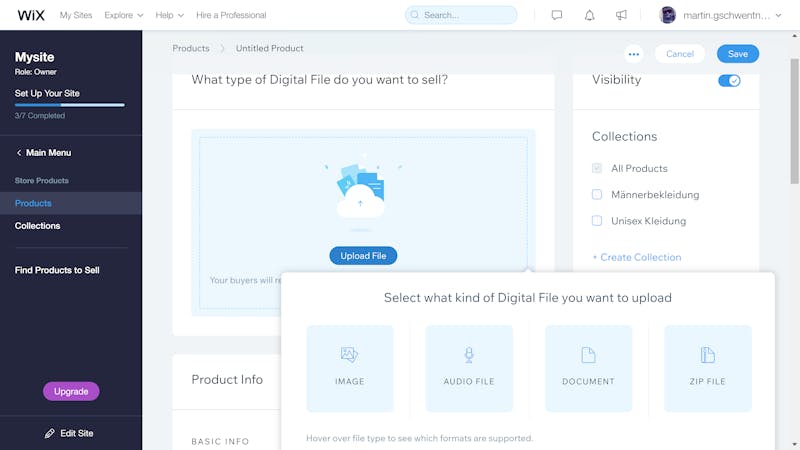 With Wix, you can sell both physical and digital products.
Wix supports digital downloads of the following file formats:
Image (up to 50 MB each): .jpg, .png, .gif

Audio (up to 100 MB each): WAV, FLAC, M4A (Apple lossless, MP3)

Document (up to 40 MB each): .doc, .docx, .xls, .xlsx, .ppt, .pptx, .odt, .odp, .pdf, .epub

Archive (up to 1 GB each): .zip
Owing to all of the above, the top performer of our site builder assessment also excels when it comes to selling digital products.
Marketing, SEO & Ecommerce
10 / 10
Templates & Design
9.4 / 10
Configuration & Usability
9.4 / 10
Squarespace
Squarespace Website Builder
Squarespace can impress with flawless designs and high quality templates, which make the creation of professional websites a piece of cake – but comes at a higher price compared with the competition.
Space
Domains
Templates
Contract Period
Squarespace Personal
$16.00
monthly price
Visit Website*
14 Days Trial Period
Squarespace isn't just well-known for its stylish designs—the site builder also ranks high in user-friendliness, offers a wide variety of versatile features, and powerful e-commerce capabilities. However, Squarespace is a bit pricey, especially when it comes to its e-commerce plans.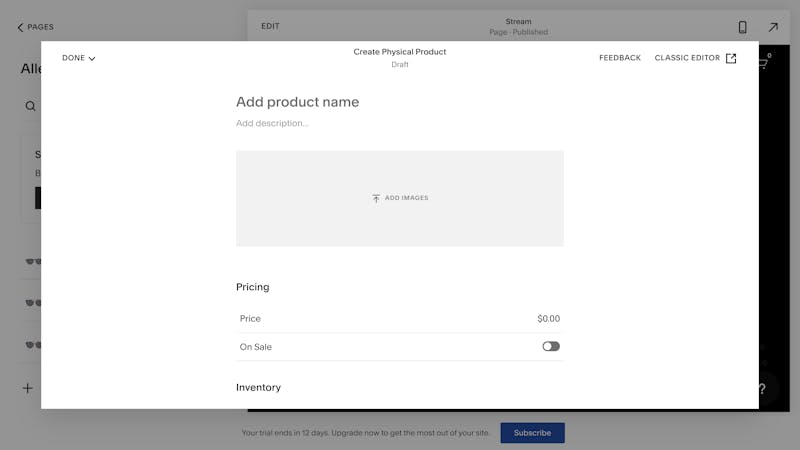 Squarespace supports the sale of physical and digital products, as well as services, and subscriptions.
With Squarespace, it's also possible to sell digital products. As opposed to Wix, Squarespace supports the sale of all file types, however, their size is limited to 300 MB across the board, and each digital product can only contain a single file.
Configuration & Usability
10 / 10
Marketing, SEO & Ecommerce
8.6 / 10
Templates & Design
8.0 / 10
MyWebsite by 1&1 IONOS
Due to its rather complex editor, IONOS MyWebsite comes with a bit of a learning curve, but rewards those who stick with it with wide-ranging creative possibilities that enable unique websites.
supports multilingual sites
not all templates are great
8.8

good
Space
Domains
Templates
Contract Period
IONOS Starter
$8.00
monthly price
Visit Website*
30 days risk-free
Compared to the top performer in our comparison, Wix, and other beginner-friendly website builders we examined, MyWebsite by 1&1 IONOS is more difficult to use. That being said, once you get used to navigating its array of options and features, you'll discover a powerful editor, offering plenty of possibilities for website customization.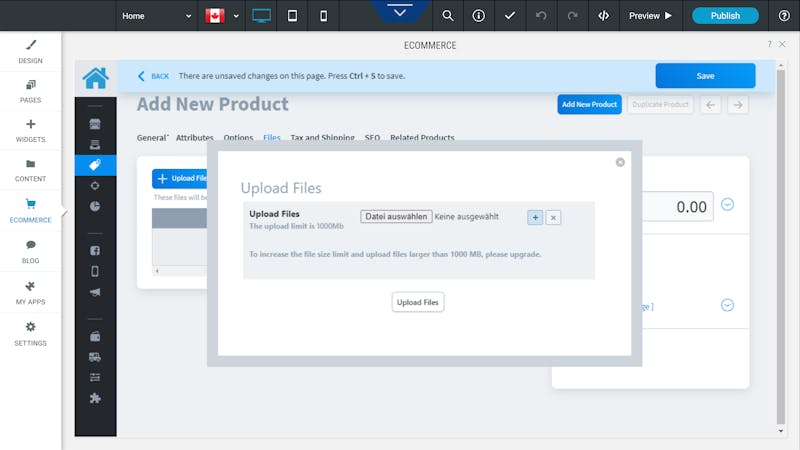 MyWebsite by 1&1 IONOS supports the sale of files up to 10 GB in size.
It's only possible to sell digital products on MyWebsite when subscribing to their most comprehensive plans. Depending on which you choose, you can sell digital products in sizes up to 10 GB.
Templates & Design
8.6 / 10
Marketing, SEO & Ecommerce
8.6 / 10
Configuration & Usability
8.0 / 10
Shopify
Shopify is a great all-rounder for small, medium, or larger shops. If you're looking for a platform that's more powerful than a regular website builder, but not as complicated as other ecommerce platforms, Shopify might offer the right mix.
Number of Products
Transaction Fee
Sales Channels
Payment Options
Shopify Basic
$29.00
monthly price
Visit Website*
14 day free trial
Shopify is a website builder that specializes in e-commerce. As a result, their platform is more versatile than basic website builders like Wix. They offer intuitive tools designed for beginners, as well as a multi-faceted open-source template engine, making the solution appealing to more advanced users.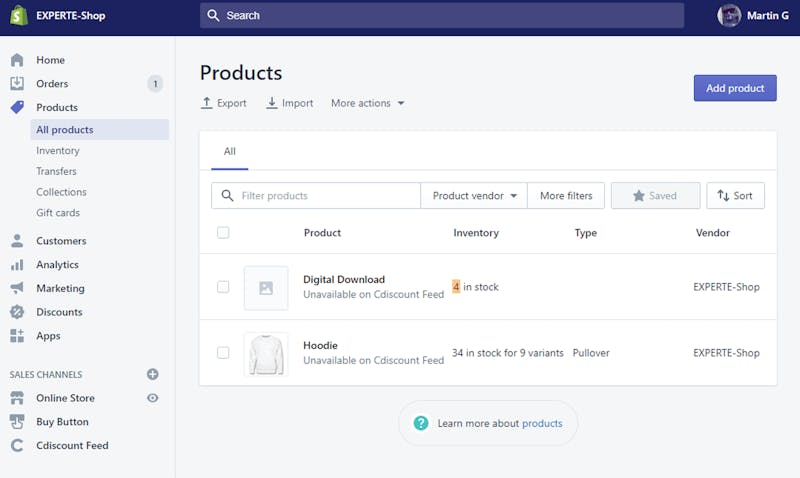 It's easy to sell digital products on Shopify using the apps available in its App Store.
Selling digital products is easy with Shopify, however, you'll need to install the (free) "Digital Downloads" app from the platform's App Store to offer your customers paid downloads. As an alternative, you could try out several third-party apps that offer this capability as well. Specific features and available settings depend on the app you choose.
Configuration & Usage
9.4 / 10
Marketing & Analytics
9.4 / 10
Product Management
8.6 / 10
Personalizing Your Store
8.6 / 10
BigCommerce
BigCommerce boasts well-designed product and inventory management features, solid marketing and analytics capabilities, and support for many sales channels. Possibly too complex for smaller shops, it's ideal for larger ecommerce projects.
many features 'out of the box'
up to 600 variants per product
supports multiple currencies
too complicated for smaller shops
8.7

good
Number of Products
Transaction Fee
Sales Channels
Payment Options
BigCommerce Standard
$29.95
monthly price
Visit Website*
Start Free Trial
Like Shopify, BigCommerce is a platform that specializes in e-commerce. This intuitive system simplifies the sale of digital products and even makes it easy to make sales in multiple currencies. It also doesn't set any limits on the number of products you can offer, even in the most basic plan.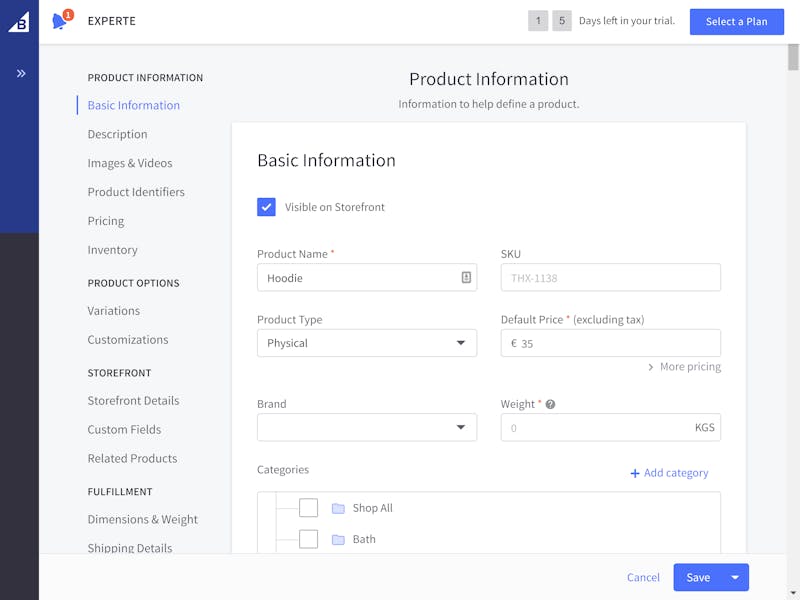 You can indicate that your product is digital in the "Product Type" field under the product description.
Selling digital products on BigCommerce is as straightforward as possible. Simply select "Digital" from the "Product Type" dropdown menu under "Basic Information," and upload your file. Individual file size is limited to 512 MB, however, you can decide whether there will be a specific number of downloads allowed, or if the download will only be available for a certain period of time.
Product Management
9.4 / 10
Marketing & Analytics
9.4 / 10
Configuration & Usage
8.0 / 10
Personalizing Your Store
6.6 / 10
Alternatives
We've only covered the website builders and e-commerce systems that performed especially well in the EXPERTE.com review. You can also easily sell digital products on a number of other platforms.
Some website builders offer workarounds for digital sales. For example, Jimdo doesn't offer the ability to directly sell digital products. To do so, you'll need to set up a password-protected page for downloads, which can be time-consuming. Some website builders, such as Webnode, don't offer any sort of digital download capabilities.
For that reason, before you commit to a platform, be sure that it supports digital product downloads.
Conclusion
When compared to physical products, selling digital products has some clear advantages: low overhead, high profit margins, and zero concerns regarding inventory. At the same time, competition in the digital sales industry is high, the Internet is teeming with both legal and illegal downloads, and determining the exact value of your products can be challenging.
Once you know which digital product you'd like to sell, carefully research applicable tax laws and get in touch with a tax advisor for support. After that, your next step will be to choose where to sell your products: In addition to e-commerce platforms like Amazon, creating your own website or store can be highly profitable.
Creating a website and selling digital products is made particularly easy with site builders or e-commerce systems. Comprehensive reviews of both types of services and the best platforms for each can be found on EXPERTE.com:
FAQs
What kinds of digital products are there?
⊖
Digital products refer to all non-physical goods that can be sold online. This includes eBooks, software, music files, and more.
Which digital products sell the best?
⊖
Online courses and tutorials, eBooks, apps, software, stock media, as well as templates for presentation or site builders are among the most popular digital products. In the end, the quality and ease with which your product can be found will determine how well it performs.
Where can I sell digital products?
⊖
You can sell digital products on your own website. This can either be self-created, or programmed with the help of a professional. If you choose to build the site yourself, you can use website builders or e-commerce systems such as Wix or Shopify. Alternatively, digital products can be sold through Amazon or via specialized platforms, such as those dedicated to the sale of stock media.
How are digital products taxed?
⊖
Sales or value-added tax (VAT) must be added to the sale of digital products. For domestic sales within the EU, your country's tax laws apply. For international sales to customers (B2C) within the EU, you'll need to apply the VAT rate of the country where your customer is located. When selling to companies abroad, the reverse charge procedure applies (tax liability is transferred to the customer.) We recommend consulting a tax professional before beginning to sell digital products.

Martin Gschwentner majored in American Studies and Media Studies in Germany, the USA and France and works as a freelance editor in Paris. He is a doctoral student at the Institute for English and American Studies at the University of Paris Diderot, where he is researching the influence of money on US politics. On EXPERTE.com he writes about IT security, data protection and software for the self-employed and small businesses.

Translator & Editor: Lisa Torelli-Sauer
Continue Reading
Ad disclaimer
* For links marked with an asterisk, EXPERTE.com may earn a commission from the provider. The commission has no influence on our editorial rating.