Website Cost: How Much Does It Cost To Build a Website 2023


Translation
Lisa Torelli-Sauer
Ad disclaimer:
For links on this page, EXPERTE.com may earn a commission from the provider. This supports our work and has no influence on our editorial rating.
You want to start building a website, but aren't sure about how much it will set you back? Will it cost $100, $1,000, or even $10,000? The exact amount depends on a number of factors, including, the type of website you need, the tools and features you want it to possess or offer, and which site-building method you intend to employ.
In this article, we'll provide answers to some of the essential questions you should be asking yourself when planning your website, the methods available for doing so, and what each cost. By the end of our guide, we hope that you'll have the information needed to make an informed decision about how best to accomplish your website creation goals.
Types of Websites
At the outset, it's helpful to determine exactly what type of website it is that you want to create. As a general rule, elaborate projects tend to be more expensive than simpler ones. With that said, there are several different types of websites, each with varying degrees of complexity:
Blog
Should you only want to share your thoughts with the world on a regular or semi-regular basis, a blog will likely suit your needs. Blogs allow their authors to publish entries or posts containing text, pictures, and/or videos. Thanks to dedicated blogging and website-building platforms with blog templates, launching a new blog is a piece of cake. To learn more about how to create a website for your blog, be sure to check out our guide.

Complexity: Low

Portfolio
Are you a freelancer looking to advertise your work to potential clients? If so, a simple portfolio website showcasing your designs, music, or writing is likely to come in handy. Like blogs, setting up portfolio websites is also a cinch, with most site-building platforms offering ready-made portfolio templates. All you have to do is customize it with your own content.

Complexity: Low

Company website
If you're looking to create an online presence for your company or business, half-measures just won't cut it, since your website will likely serve as the first point of reference for any potential customers or clients. Accordingly, it should look and be designed as professionally as possible. Apart from appearance, you'll also want to keep a number of legal aspects in mind before launching your site. The costs for a business website depend largely on the size of your company and what features you want it to include. Simple business pages can be created with site builders, and don't necessarily require any special skills or knowledge. However, building a website for a larger company with advanced capabilities will require hiring the right professionals.

Complexity: Moderate - High

E-commerce
If you intend to sell goods and services online, you'll need access to specific capabilities, such as a place to feature your products, and the ability to integrate payment methods and shipping options. When designing this kind of website, you'll need to pay closer attention to laws and regulations than you otherwise would when creating a simple business website. Conveniently, a number of e-commerce website builders are available to help in creating your online shop, even if you don't have advanced knowledge of programming.

Complexity: Moderate - High

Forum
In some sense, forums were the predecessors of social media. Some of them, like Reddit, remain highly popular to this day, since they allow people from all over the world to discuss topics that they share an interest in or knowledge of. Creating a forum, let alone managing one, requires a huge investment of time, effort, and financial resources.

Complexity: High

Online portal
Online portals, such as EXPERTE.com, are far more difficult to create than regular websites. Using our site as an example, to facilitate user-friendly software comparisons on the front end, we developed web applications that run on the back end. For these reasons, it's best to enlist the aid of professionals when building an online portal.

Complexity: High
Website Building Methods
Website creation costs depend heavily on the type of site you're building. Generally speaking, expenses rise relative to complexity, with time often being the most-consumed resource. Whether it's your time spent creating a site on a site builder or content management system (CMS), or that of a professional web developer/designer depends largely on your financial resources and motivation.
Below, we've summarized all three methods, their advantages and disadvantages, as well as the costs each entails.
1.
Easiest Method: Website Building Platforms
Site builders are extremely popular, not least because they help those lacking in programming or design experience to quickly create unique websites at relatively little cost. They also come with intuitive tools that make it possible to work on the front end of sites visually, without any coding knowledge. Rounding things out, features that you'd normally have to purchase separately if using a classic CMS, such as a domain name and hosting plan, are included in the subscription costs of website builders (these are usually free for the first year).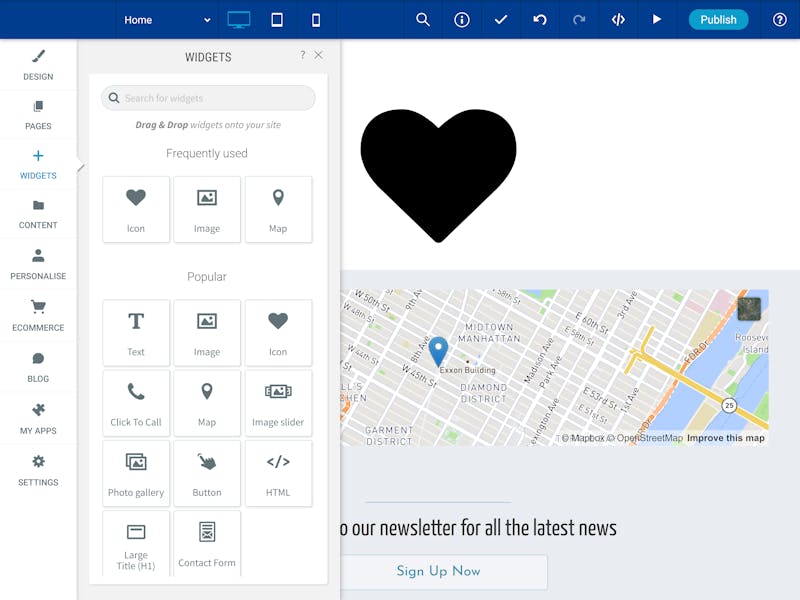 Site building platforms like MyWebsite by 1&1 IONOS help you to drag and drop your way to your own website.
In general, site builders offer a variety of templates and designs that users can then fill with their own content. These include pre-made content boxes, text fields, and photo galleries, as well as industry-specific features, such as restaurant menus and appointment scheduling.
Which Types of Sites Are Website Builders Made For?
Website builders are useful for creating blogs, portfolio websites, business websites, e-commerce sites, and more. When it comes specifically to e-commerce, you'll find two types of platforms, comprehensive systems which offer e-commerce capabilities as add-ons, and dedicated platforms. Among the former are services such as Wix or Squarespace, while the latter include Shopify or BigCommerce, which cater solely to the needs of online business owners.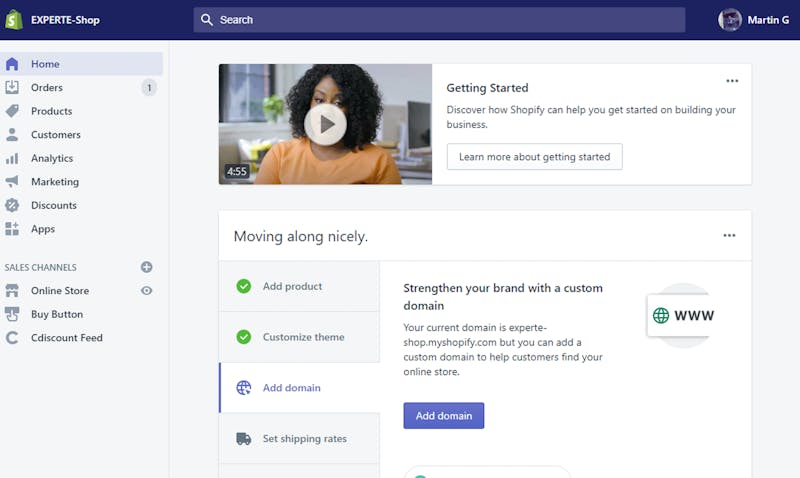 E-commerce systems like Shopify can help you create and manage your own online store.
While it isn't impossible to create more complex online portals that include web applications using site-building platforms, you won't be doing yourself any favors by going this route. To start, you'll need to possess the necessary coding skills or be willing to hire someone who does. In the case of the latter, they'll likely suggest the use of a CMS platform, owing to its greater flexibility.
Pros and Cons of Site Builders
No programming or design skills required

All-in-one packages including domain and hosting

Come with plenty of ready-made content

Provide access e-commerce and marketing features
The easier the platform, the less customization it offers

Cookie-cutter websites likely

Comparably little flexibility

Potential limitations in terms of search engine optimization (SEO) or speed
Costs
How much you wind up paying for a site builder depends on the platform you select, as well as which pricing plan you opt for. Some providers offer free versions that include a branded subdomain and ads while limiting access to specific features and settings.
Premium plans can be booked monthly, or for longer, for which you'll typically receive a discount. Beginner rates start at around $5 per month, with access to additional features (such as e-commerce) generally costing between $10 to $30.
In the table below, we've compared the annual costs for all of the providers from our sample based on their most affordable subscription which was ad-free and included a unique domain:
1.
2.
3.
4.
5.
6.
7.
8.
9.
10.
11.
12.
EXPERTE.com's Choice: Wix
And which site builder is the best? This depends largely on your needs and requirements, however, in our EXPERTE.com assessment, the best all-round platform was Wix. This Israeli site builder combines ease of use with a wide selection of features. Along with its standard editor, Wix also offers a simpler version for beginners (ADI Editor), which practically builds your website for you.
Wix includes a variety of features, offering up numerous content possibilities, as well as an in-house marketing platform. And, should Wix be unable to satisfy your needs, you'll likely find the capability or tool you're looking for in their extensive app market.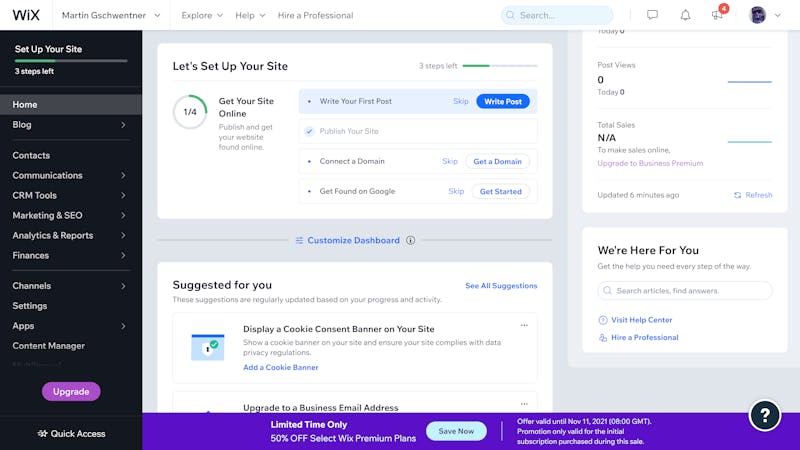 As far as we're concerned, Wix delivers the best combination of user-friendliness and functionality.
Wix can be trialed at no cost thanks to its free version. This lacks a few important features, and ties your website to a Wix domain, however, it will help you determine if the platform is a good fit for your needs. Should you want an ad-free site with a unique domain, subscriptions start at around $10 per month.
All of the above makes Wix EXPERTE.com's top pick.
Wix beats out the competition with an unmatched variety of features, intuitive editors and a jam-packed app store. Overall, the platform offers the best balance of usability and features on the market today.
lots of features and elements
simple & intuitive interface
9.6

excellent
Space
Domains
Templates
Contract Period
Wix Free
$0.00
monthly price
Visit Website*
Try for Free
2.
For More Experienced Creators: Build Your Own Website With a CMS
As an alternative, you can plan, publish, and manage your website using content management systems (CMSs). Whereas site builders might be thought of as model homes delivered directly to a plot of land, CMSs give you a foundation and building materials. With the former, you can decorate and remodel as you please albeit within fixed walls, however, with the latter, your only real limitations are your creativity and skill.
Thanks to the abilities offered by coding, add-ons, and integrations, CMSs make it possible to build a site that meets your exact specifications and desires. However, as with architecture, you should have some experience "building" (in this case, coding), or at least be ready to hire professionals who do. Additionally, you'll need to take care of your web page's domain and hosting, since unlike with site builders, most CMSs don't include these. All the same, this isn't entirely bad news as you'll have a wider choice than that offered by site builders.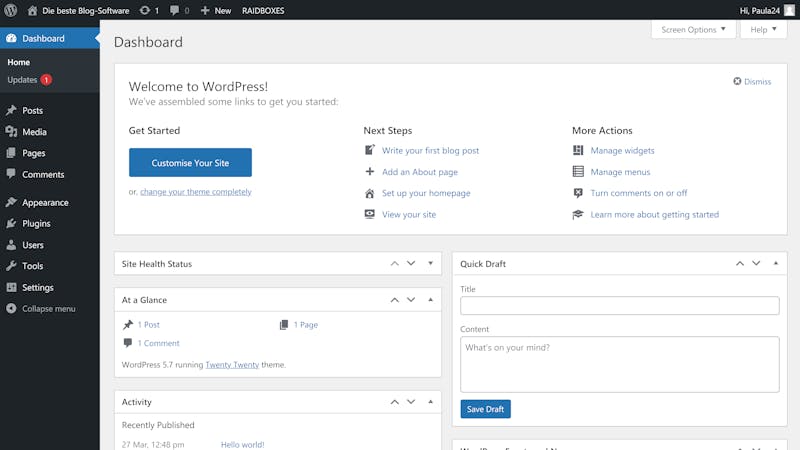 WordPress is by far the most well-known CMS.
That being said, there are some similarities between website building platforms and CMSs. The latter typically offer building systems that can be installed, as well as purchasable design templates. Hosting services have also begun to offer special rates for users of CMSs, such as WordPress, that include hosting as well as a domain. In summary, a CMS can do everything that a website building platform can, and more. However, the interface is less user-friendly.
With a market share exceeding 70%, WordPress is by far the most widely used CMS. This is primarily due to their integrated website-building tools and variety of support resources that cater to everyone—even beginners.
The latest trend in content management is "headless CMS". In classic CMSs, content management and website design all occur under one figurative roof (by way of drag and drop, such as with site builders). Headless CMS, in contrast, ignores the front end, concentrating entirely on content management. Once created, content is routed to its destination(s) on various end devices via integrations (APIs).
This makes headless CMS even more versatile, and particularly useful for multimedia projects. With that said, the setup is slightly more complex than that of classic CMSs.
Which Types of Sites Are CMSs Best For?
CMSs like WordPress allow you to create just about any kind of website. However, if you lack programming and design skills, you'll want to take advantage of the help afforded by their building system solutions. To get the most out of a CMS, you'll also likely require some professional feedback or support. The advantages of using CMSs are that they remove the barriers imposed by basic site builders and possess few limitations.
Pros and Cons of CMSs
More versatile than site builders while possessing few limitations

No programming experience necessary

Inexpensive (depending on how much you can accomplish yourself, and which plugins you choose)

Numerous plugins available
More difficult to use than site builders

Prior knowledge necessary to take full advantage of their capabilities

Higher maintenance costs and more security gaps

You'll need to manage some aspects yourself, such as hosting and domain
Costs
It's difficult to provide an exact figure for how much creating a website with a CMS will cost. While prices for site building platforms can be estimated fairly easily and accurately, CMS expenses vary owing to additional costs which are likely to arise. For simple websites built using a CMS, hosting will probably comprise more of an expense than the CMS itself (although this depends entirely on the CMS you select). Costs can also increase owing to the size of your webspace, as well as the number of WordPress installations you utilize.
The least expensive CMS subscriptions will only set you back a few dollars per month, however, as rates increase, you'll be afforded considerably more storage space than with site builders.
3.
For Those With Deeper Pockets: Hire a Pro
If you're lacking programming and design skills, or simply don't have the time or energy to create your own site using a site builder or CMS, you can always contract the job out to a professional. This isn't uncommon either: Plenty of highly skilled web developers and designers pay their bills by creating websites for people and businesses they have no personal connection to. Of course, you'll need to find them before they can start working their magic for you.
Where To Find a Web Developer/Designer?
As soon as you know where to look, it becomes fairly easy to find and hire experts capable of creating websites that meet your requirements. Some of the best places to start your search include:
Freelance platforms
Freelance platforms, such as Upwork and Fiverr, bring together those offering and consuming specific professional services. Web developers and designers are well represented on both and at all sorts of rates. In addition, you can negotiate hourly or per-project fees, with all payments processed through the platform itself. Of course, these platforms receive a cut of whatever you pay, but this is minimal.

Agencies
Larger companies often prefer to work with agencies to avoid tying their project to a single person. Search engines offer a simple and effective way to find an agency, especially if you want to work with someone local or experienced in a particular branch.

Site builder aficionados
Many site builders allow users to hire designers directly on their platforms. This is a practical option if you are set on using a website builder and want to manage content, but would prefer that a professional set everything up for you.

Social media
Social media platforms like Facebook and forums such as Reddit include groups and subforums where you can connect with expert developers and web designers. LinkedIn and other job-focused platforms feature industry-related freelancer profiles that are easily found by a simple search.
Which Types of Sites Should I Use a Pro For?
When it comes to website creation, the sky is the limit when you can fall back on professional developers and designers—as long as you are ready to make the necessary financial investment. Hiring a professional makes it possible to create even the most complex website or online portal, such as those with web applications.
Contracting Pros and Cons
With the right designer/developer, any concept can be realized

Large pool of experts and agencies to choose from

Easy to stay in contact and delegate tasks
Depending on the project, very expensive

Quality varies, particularly on platforms like Upwork

Requires trust and solid communication with freelancers/agencies
Costs
The costs of a professionally-created website depend entirely on the scope and complexity of your project and the freelancer or agency you work with.
On platforms such as Upwork, you'll find highly-rated web designers willing to work for as little as $10 an hour. This is often due to freelancers being located in countries where the cost of living is low, allowing them to offer their services at very competitive rates. However, be careful when rushing into an inexpensive contract, as language barriers, time zone differences, and expectations can cause all sorts of misunderstandings and headaches.
Professional web developers/designers in the US typically cost $50 to $100 an hour. Some professionals may agree to a fixed price for a project, which is likely to be based on the number of pages your site requires. Agencies usually offer similar packages.
Depending on the scope, complexity, and requirements of your project, if going this route, you should be ready to pay anywhere from $1,000 to $20,000 or more for a professionally-designed custom website.
What Additional Costs Should I Expect?
Of course, the cost of creating and designing your website is not the only expense associated with establishing a web presence. As soon as the basic structure of your website is in place, at least 20 new issues are likely to pop up, all requiring your attention and likely, financial investment. Just some of these include:
A company logo:

Your business's logo leaves a lasting and important first impression on your customers. You could hire a designer to make one, or use a logo maker, a tool capable of generating logos automatically on the basis of some general information about your business. Such tools are included in the price of some site-building platforms, however,

EXPERTE.com also offers a free, simple logo maker

.

Textual content: A frequently overlooked aspect of great websites is unique and insightful textual content. Professional copywriters are experts at capturing and maintaining your visitors' attention, however, good ones can charge the same rates as web designers.

Updates: Websites are rarely static, being instead, living entities that require regular updates and maintenance. Some changes, such as fresh blog posts or the overhauling of existing content, are easy enough to manage and can be handled without involving a professional. However, other updates do require assistance from designers/developers, bringing with them additional expenses.

Domain: If the cost of your domain is not included in the monthly price of your site builder/hosting service, you'll need to renew it periodically (usually, annually). Many site builders offer domains for free for the first year.

SSL Certificates: SSL certificates encrypt your website and are indispensable when it comes to keeping your site secure. Should they not be included in your existing plan, you'll need to purchase them separately and regularly.
Conclusion
When it comes to creating a website, three methods are available, each with varying costs, benefits, and drawbacks.
The least expensive and simplest way to establish a web presence is with the help of a site builder. Using this method, you'll be able to create a professional-looking website, without having to involve coders and designers. All the same, such platforms are only as good as the number and quality of tools and features they offer, potentially limiting your creative freedom. Monthly costs for site builders generally range from $10 to $30.
For greater flexibility, look to CMSs, such as WordPress. Site building editors can be integrated into these, featuring all sorts of tools and templates, however, since they are open source, you'll benefit most from their enhanced versatility. In concrete terms, this means that you can integrate countless plugins and user-defined code, with the sky being the limit as far as creativity is concerned. Beware though: CMSs are more complex to set up and costlier to maintain, setting you back anywhere from a few to hundreds of dollars each month, depending on your site's size and complexity.
Should neither of these options appeal to you, you can always delegate your project to professional web developers and designers. In this manner, all you'll need to do is specify what it is you want, and leave the rest up to the experts. You'll save a great deal of time, however, you will have to pay considerably more than you would for either of the first two options. Depending on the size and scope of your site and the freelancer/agency you choose, a professionally-designed website can entail an investment of $1,000-$20,000.
FAQs
How much does a website cost?
⊖
The cost of building a website depends on the method used and the type of web page being created. The easiest and least expensive method is through a site builder, which typically costs between $10 to $30 per month (with hosting and a domain usually included for the first year.) A professionally created website can set you back $1,000 - $20,000, or more.
What is the most affordable way to create a website?
⊖
The least expensive way to create a website is through the use of a site builder or content management system (CMS), such as WordPress. Some platforms even offer free versions of their software, however, these often lack many important features, and require you to host your website on the provider's domain.
What sort of running costs should I expect when running a website?
⊖
Hosting and domain costs, as well as regular outlay for security features, such as SSL certificates, are just some of the recurring costs you can expect if operating a website. Many site builders and hosting plans include some of these services in their monthly fees. You'll also want to consider additional expenses, such as regular updates from professional developers and fees for copywriters, designers, and logo creators.
How much does a domain cost?
⊖
Domains typically cost $10-$20 per year, however, this depends on the provider and type of domain.
* Ad disclaimer:
For links marked with an asterisk, EXPERTE.com may earn a commission from the provider. The commission has no influence on our editorial rating.

Martin Gschwentner majored in American Studies and Media Studies in Germany, the USA and France and works as a freelance editor in Paris. He is a doctoral student at the Institute for English and American Studies at the University of Paris Diderot, where he is researching the influence of money on US politics. On EXPERTE.com he writes about IT security, data protection and software for the self-employed and small businesses.

Translation: Lisa Torelli-Sauer
Continue Reading