Cloudways WordPress Hosting Review 2023: The Best Choice for Your Website?

Author
Janis von Bleichert
Ad disclaimer:
For links on this page, EXPERTE.com may earn a commission from the provider. This supports our work and has no influence on our editorial rating.
With managed WordPress hosting you won't have to worry about admin for your WordPress website. These days, lots of providers offer customized hosting packages for WordPress projects and Cloudways is one of them.
In this review, we'll let you know how Cloudways does in terms of performance, security, and features when compared to similar hosting solutions.
What Is Cloudways?
Cloudways* is a web hosting service from Malta. Founded in 2012, it has been owned since 2022 by DigitalOcean, a cloud infrastructure provider. As of the time of writing, more than 570,000 websites rely on Cloudways for hosting. Many of Cloudway's clients are agencies and ecommerce businesses, however, hosting solutions for all kinds of projects are available.
What sets Cloudways apart from its peers is that it doesn't have any infrastructure of its own, instead cultivating partnerships with other hosting providers to give customers a choice of where they want their websites hosted. Users can choose from DigitalOcean, Vultr, Linode, AWS, and Google Cloud.
Cloudways claims to offer a top-of-the-line mix of performance, security, and scalability at an "unbeatable" price. Below, we'll let you know whether this is the case or if the service's head is in the clouds.
Cloudways WordPress Hosting Review
Technology & Features
8.0 / 10
Configuration & Usage
7.4 / 10
Excellent performance
Cloudways demonstrated impressive response speeds and perfect uptime, surpassing most of the other services in our test.

Lots of features and configuration options
Cloudways is filled to the brim with features, offering advanced users a wide variety of backend configuration options that you won't find anywhere else.

Select from infrastructure providers
Thanks to its partnerships with DigitalOcean, Vultr, Linode, AWS, and Google Cloud, offers users the ability to choose where their WordPress project is hosted.

Fast support
We never had to wait longer than a few minutes for a response from Cloudways support.
Purpose-built interface
Even though it's straightforward, Cloudways' user interface also isn't anywhere near as intuitive or visually appealing as those of its competitors.

Lots of paywalls
Cloudways is unfortunately full of paywalls. To access advanced features like a CDN, firewall, or DDoS protection, you'll need to pay extra.
Since Cloudways uses the infrastructure of other hosting services, during registration, you'll need to specify which servers you want. Five different providers are available, including DigitalOcean, Cloudways' parent company.
Your infrastructure choice determines what you'll pay per month for managed WordPress hosting (more on this in the Pricing section). We selected the most affordable option (DIgitalOcean) and a server in Frankfurt (Germany).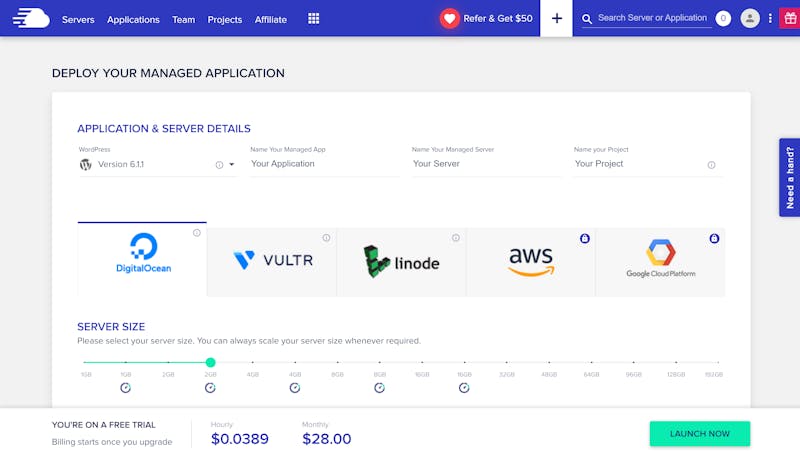 When signing up, choose which infrastructure provider you want to host your WordPress website.
After that, you'll be taken to your Cloudways user area. The home page lists your servers, as well as a short tutorial and a few tips. The toggle switch in the upper left allows you to navigate between the server and application areas of the dashboard.
To add your WordPress instance (which will automatically be installed by Cloudways), head to the "Applications" area. Then, click on your WordPress site to open the management menu. This includes all important WordPress settings.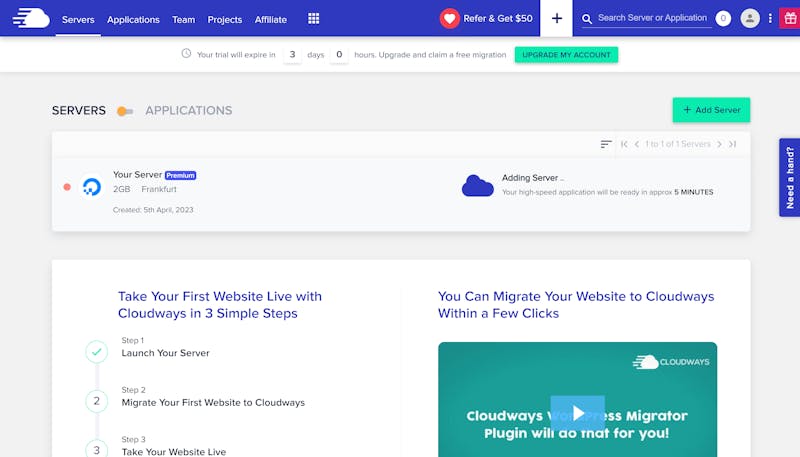 Check your WordPress installations (instances) in the "Applications" area.
Managing Your WordPress Site
The WordPress subarea is well-structured: Using the menu off to the left, you'll be able to browse different features and settings, including everything from SSL certificates to backup management.
The "Access Details" page provides a helpful overview of the most important information about your installation. This includes its URL, login data and a link to its admin panel, as well as a launch button for the database manager.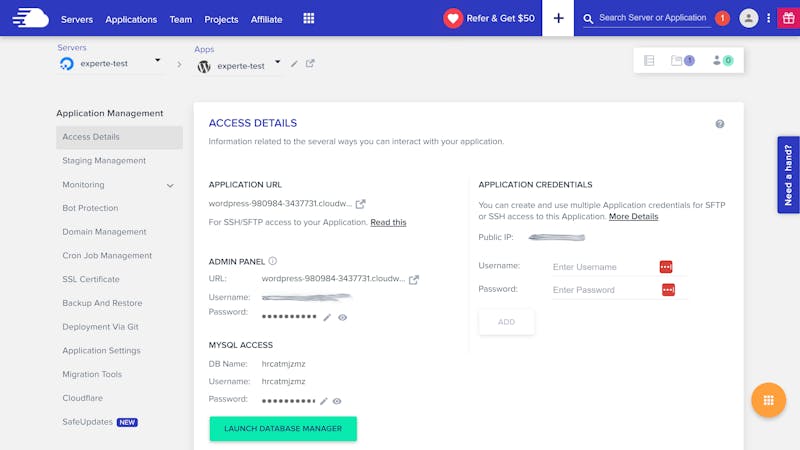 The "Access Details" page displays all of the most important information in one place.
Migrate Your WordPress Website to Cloudways
In case you already have a WordPress website and want to change hosting providers, Cloudways offers several options for transferring your website. You can request a managed WordPress migration which the Cloudways team will handle for you, or do it manually with the provider's integrated migration plugin.
Both options are free - at least the first time. Every account gets a complimentary migration through the managed migration service. To start the process, access the "Add-Ons" area in the upper right by clicking on the grid icon. Then, open the "Application Manager", and you'll be on your way.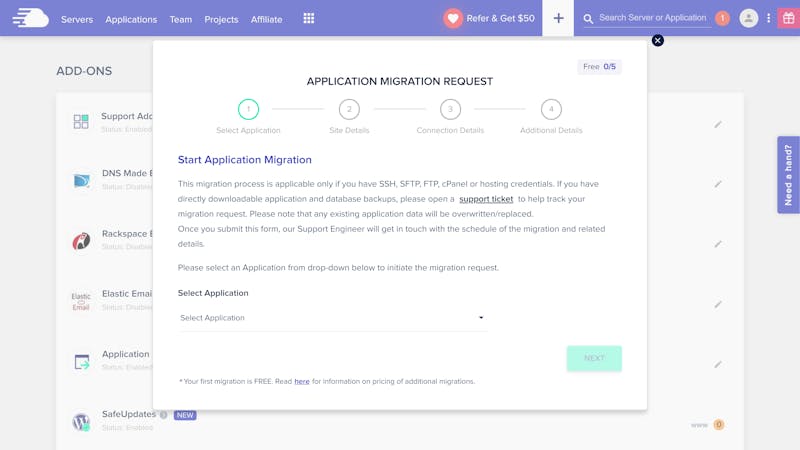 The first time you migrate a website with Cloudways' integrated migration service it's free of charge.
Migrating via a plugin is straightforward as well: Simply log in to your WordPress website's Admin Dashboard and install the Cloudways WordPress Migrator plugin. After that, follow the steps. All of the information you'll need can be found in the control panel of your Cloudways WordPress installation.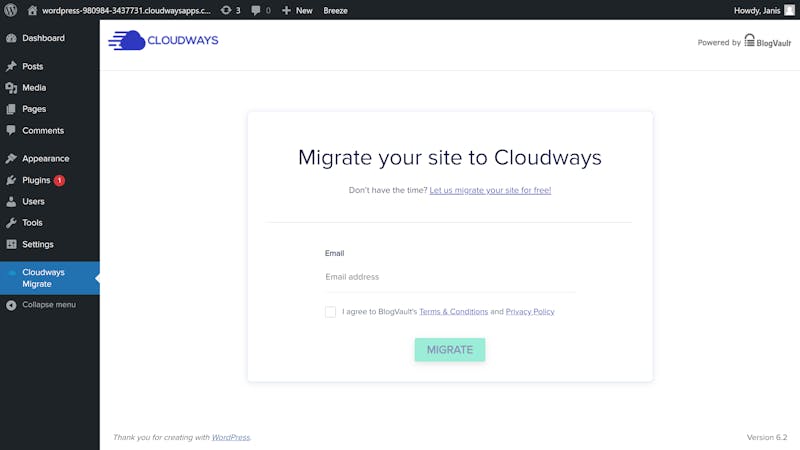 Manually migrate your existing website with the Cloudways WordPress Migrator plugin.
Not Pretty, but Does What It Should
After a bit of familiarization, we came to terms with Cloudways' control panel/dashboard: Its separation into server and application areas makes sense, submenus are well-structured, and features are where you'd expect them to be. Registration and installation only took a few minutes, and we didn't need to wait to activate our account.
At the same time, Cloudways' user interface is very basic: The service certainly won't be winning any beauty awards, while the provider's incessant ads for its referral program make it look a bit cheap.
Configuration & Usage
7.4 / 10
Opting for managed WordPress hosting means that your website's technical infrastructure will be fully optimized for WordPress sites. In addition, you'll also be given access to a number of useful features that you'd otherwise need to configure yourself, such as through the installation of plugins.
Cloudways' developers are so proud of their in-house PHP tech stack that they even named it: "Thunderstack's" performance is "shockingly good". With puns out of the way, let's take a closer look: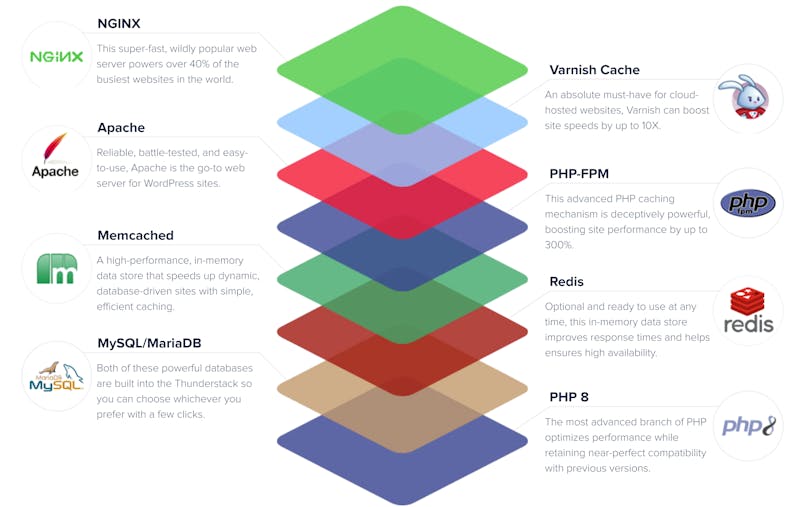 Cloudways' PHP stack even has its own name, Thunderstack (Source: Cloudways).
We evaluated each element of Thunderstack in greater detail.
Cloudways Combines Server and Database Technologies
Apache and NGINX are two of the most popular web servers for WordPress projects. Cloudways believes that each has advantages and disadvantages and decided to offer a combination of the two open-source servers.
Cloudways is also flexible when it comes to databases: Thunderstack utilizes both MySQL and MariaDB databases, allowing users to select their favorite.
Should you want direct access to your database, you can use Cloudways Database Manager. This is accessible on your WordPress Instance's "Access Details" page.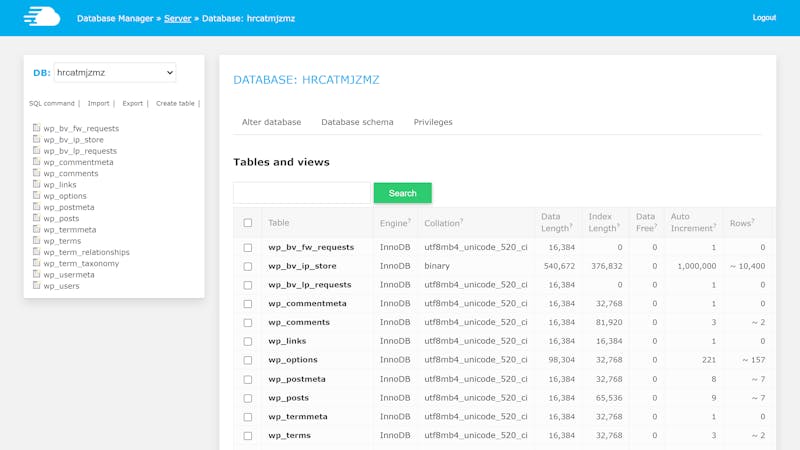 Cloudways Database Manager is what you'll use to manage your website's database(s).
PHP 8.2 With Version Selection
Since every version of PHP includes new performance and security features, WordPress hosts shouldn't wait too long to integrate these updates into their platforms. As of the time of testing, Cloudways was one of the few providers from our sample that supported the newest version of PHP (8.2).
By default, an older PHP version was installed, however, upgrading is easy: Go to the "Server" area and open the server management menu. Then, click on "Settings & Packages", followed by the "Packages" tab.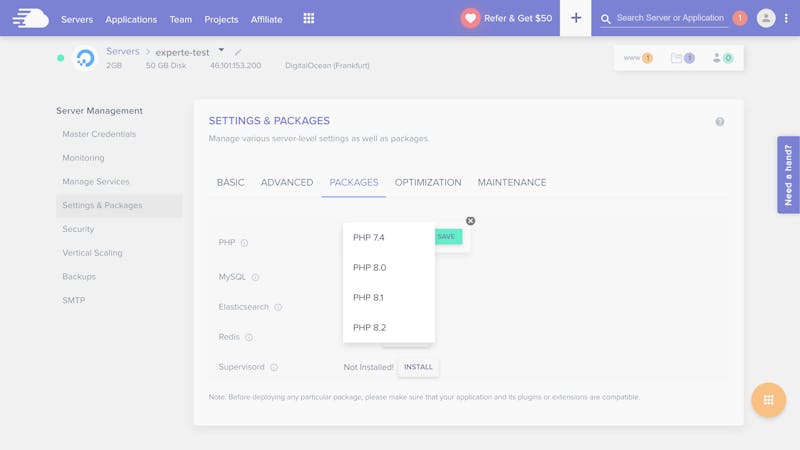 Cloudways supports the newest version of PHP.
For advanced users, there are a number of interesting server-level settings and options in the "Settings & Packages" area, from PHP memory limit to disk cleanup.
Server-Side Caching Boosts Performance
Caching is important since it reduces both your website's loading times and server load. Cloudways offers multi-level, server-side caching with Varnish, Redis, and Memcached.
Varnish is a reverse proxy tool that acts as an intermediary between your server and the visitor's client, caching elements so that repeat visitors won't need to load them from scratch.

Redis is open-source data structure storage that, among other things, supports database caching.

Memcached is a database caching solution that helps improve the performance of dynamic pages.
Caching solutions can be turned on or off in the server settings area. In the "Advanced" tab, you'll also find a few more options, such as those that allow you to set cache lifetime.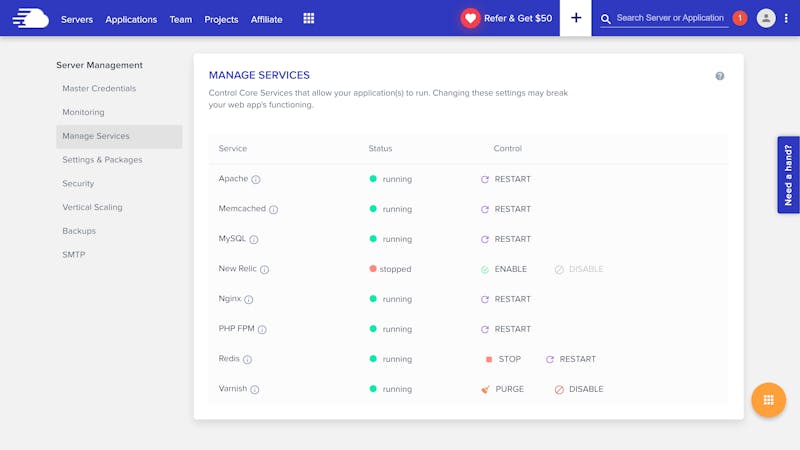 Cloudways boosts your website's performance with server-side caching.
But enough of theory - How does Cloudways do in practice? In the performance section of this review, you can see what impact these features have on Cloudways.
Additional Cloudways Features
The list of features Cloudways offers is long. Below, we've included a few highlights, apart from those mentioned above:
Staging environments: Easily create a staging environment in the "Application Management" menu's "Staging Management" area with just a single click. Here, you'll be able to test changes without going live.

SFTP, SSH, and WP-CLI: Securely access your WordPress installation's data via SFTP and SSH. WP-CLI, a command line interface for WordPress, is also supported.

Multisites: Cloudways helps bring multisite projects to life. These are bundles of websites packaged in a single WordPress instance. Keep in mind that the provider charges separately for these.

Integrated cloning: Would you like to quickly start a new WordPress project? If so, the cloning feature helps you to create a new website from a backup with just a few clicks.

Statistics: Cloudways offers a number of important statistics, such as information about your traffic, PHP performance, or Cron Jobs in the "Monitoring" area.

Full plugin access: Many hosting services block plugins owing to compatibility issues or security reasons. Cloudways allows all plugins.
In addition to the features that come with the platform out of the box, there are also several premium add-ons that can be installed directly through the Cloudflare Control Panel. Among these, Cloudflare Enterprise is particularly interesting: This solution includes both performance features like a content delivery network (CDN) as well as security tools, like a web application firewall (WAF).
Further enhance your website's features with premium add-ons.
No Emails or Domains
While plenty of WordPress hosts offer domains and email hosting, Cloudways isn't one of them them. Email hosting can be set up through Google Workspace or Zoho Mail integrations.
Overall, Cloudways serves up a nice selection of features that should appeal to more advanced users owing to the greater variety of settings than other WordPress hosts. Some features that come standard elsewhere, such as a CDN or integrated domain registration, are either missing or cost extra. Cloudways is definitely not an "all in one" package.
Technology & Features
8.0 / 10
Integrated security features are another advantage of managed WordPress hosting. In this area, Cloudways provides all of the basics: Each subscription includes a free SSL certificate from Let's Encrypt that can be managed on the "Application" panel. Of course, if desired, you can also use an external SSL certificate.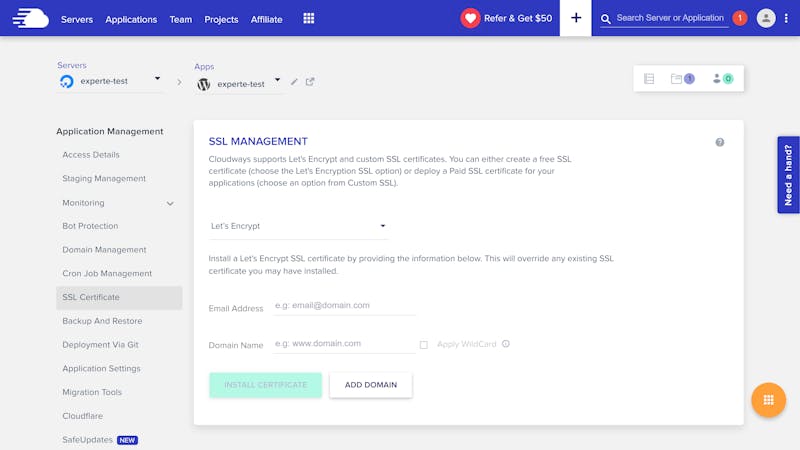 Every Cloudways subscription includes a free SSL certificate from Let's Encrypt.
Malware and Bot Protection
"Bot ProtectIon", the service's integrated malware protection is included in every Cloudways subscription. This can be activated in the "Application Management" area through the similarly named submenu.
Among other things, "Bot Protection" guards against brute force attacks, web scraping, and dictionary attacks. The solution identifies malicious traffic, illicit login attempts, and other suspicious activity, automatically blocking it. In the well-organized dashboard, you can see exactly which traffic requests are allowed or blocked.
However, before you can start using "Bot Protection", you'll need to activate it in the "Application Management" area: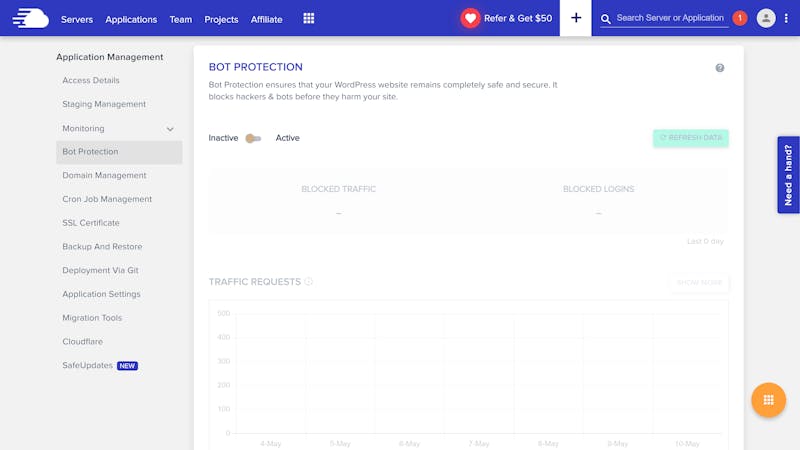 "Bot Protection", is an integrated anti-malware tool, is included in all Cloudways subscriptions.
Premium Security Priced Accordingly
Unfortunately, we ran into a few more paywalls when reviewing Cloudways' security features, some of which are default features elsewhere. Automatic WordPress, plugin, and theme updates are only possible with SafeUpdates, which costs extra per application.
The same goes for features like a web application firewall (WAF) or DDoS protection, which can only be integrated through the above-mentioned Cloudflare solution. To host a truly secure WordPress website on Cloudways, you'll need to pay a bit more than the standard subscription fee.
Backups
Automatic backups are free, and you'll have access to considerably more settings and options than you would with other hosting services.
In the "Backups" section of the "Server Management" area, you'll be able to specify how frequently server backups should be made (hourly - weekly) and how long they should be retained (1-4 weeks). It's also possible to schedule automatic backups for a certain time.
Beyond that, manual, on-demand backups are possible as well. To start one of these, click on the "Take Backup Now" button.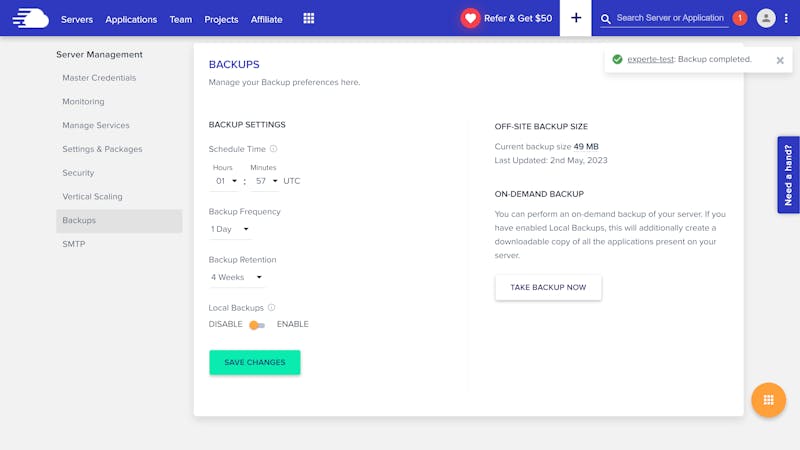 Cloudways offers comprehensive backup options.
In the event that you'd only like to backup files and databases from your current WordPress installation, go to "Backup and Restore" in the "Application Management" menu. There, you'll be able to restore existing backups with a single click.
Overall Cloudways scores thanks to its flexible backup settings and solid security standards. At the same time, particularly when it comes to digital safety, many features are hidden behind paywalls, some of which other providers offer by default.
We measured the performance of all hosting services from our sample according to four aspects, compiling data over the course of six weeks. In order for the findings to be comparable, we booked the package offered by each provider that was priced closest to $20. With Cloudways, this was "Standard DigitalOcean 2GB."
Response Speed (Time to First Byte)
The amount of time that elapses between when a server sends the first byte of a website to a user, and the user receives it, is known as the Time to First Byte. This provides a good indicator of how powerful the server is.
We measured TTFB over the course of six weeks with caching disabled in order to determine how consistent performance was and whether there were any fluctuations, for example, owing to other websites hosted on the same server.
In the graphic below, you can see TTFB according to the worst response time per hour during the six weeks we measured it. On occasion, there were fluctuations that suggest slower response speeds, however, Cloudways had a very low baseline: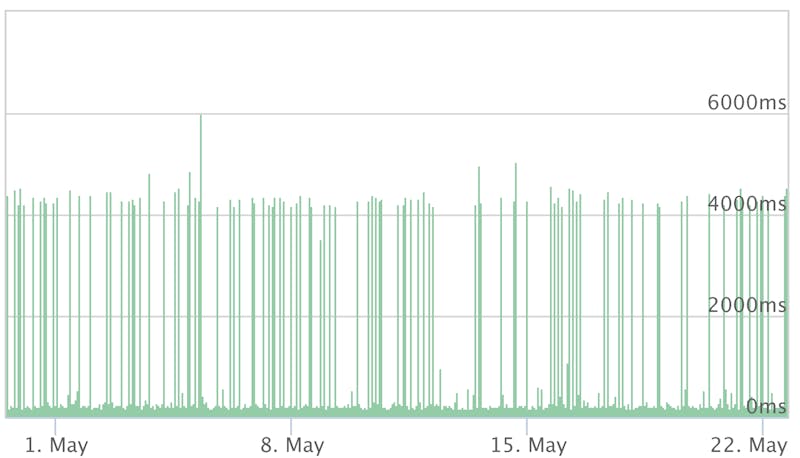 Cloudways Time To First Byte over the course of six weeks.
Viewed collectively, Cloudways had a very good Time to First Byte and was actually the "fastest" hosting service in our sample according to this metric:
Page Speed (Largest Contentful Paint)
The next factor we measured was the Largest Contentful Paint (LCP), which indicates how much time it takes the largest or most important content element on a page to load.
This metric is a good indicator of how performance optimizations work with one another, factoring in images, JavaScript, and CSS files. For this reason, it's one of Google's Core Web Vitals, which the search machine uses to measure a website's user-friendliness.
For six weeks, we performed a page speed test (with caching enabled), measuring the LCP several times per day. Here are our results:

DUring testing, Cloudways' LCP remained consistent.
Even though Cloudways performed well in terms of LCP, its numbers weren't enough for a place on the podium:
Load Test (50 Simultaneous Users)
For the load test, we check how a website behaves when the number of visitors suddenly increases. Servers can struggle to handle a large number of visitors, leading to longer wait times and a worse user experience - neither of which is good for a website.
We looked at what happened when 50 users suddenly accessed a website hosted by Cloudways, both with caching enabled and disabled.
With caching enabled, just like with the rest of the providers from our sample, Cloudways didn't have any issues. However, with caching disabled, wait times increased significantly, as can be seen in the graphic below:

Unfortunately, when a large number of users suddenly accessed the website with caching disabled, the response time increased.
Despite the slower response time, Cloudways did well in the load test. All the same, other providers from our sample were faster:
Availability (Uptime)
In our last performance test, we measured Cloudways' uptime, that is to say, how often the website was actually available over the course of six weeks. We checked availability once per minute.
Uptime should be as close to 100% as possible since even half a percent of downtime translates into 3 and a half hours of unavailability per month.
Luckily, Cloudways didn't demonstrate any downtime during testing:
Although Cloudways stumbled a bit in the load test, it handled the other three challenges well. Among the services from our sample, it's one of the fastest and most reliable hosting services on the market:
| Provider | TTFB | Pagespeed | Load Test | Uptime | Total |
| --- | --- | --- | --- | --- | --- |
| WP Engine | 0.21 s | 1.17 s | 0.26 s | 100 % | 10 |
| Siteground | 0.22 s | 0.98 s | 0.21 s | 99.98 % | 10 |
| WordPress.com | 0.20 s | 1.36 s | 0.16 s | 100 % | 9.5 |
| Cloudways | 0.13 s | 1.17 s | 1.64 s | 100 % | 9.4 |
| IONOS | 0.27 s | 1.09 s | 2.22 s | 100 % | 8.7 |
| GoDaddy | 0.34 s | 1.38 s | 0.54 s | 99.98 % | 8.7 |
| Kinsta | 0.31 s | 1.16 s | 2.37 s | 99.99 % | 8.6 |
| Hostinger | 0.49 s | 1.30 s | 0.21 s | 99.83 % | 7.5 |
| Flywheel | 0.13 s | 0.98 s | 3.38 s | 99.78 % | 7.5 |
In the Cloudways dashboard, support is only ever a click away. If you click on the "Need a hand" button to the right, a help window will open directing you to support contact options and content.
Direct support is available 24/7 through the platform's embedded live chat and ticket system. In the chat, we had to answer a few chatbot questions before we were connected to a staffer (this took around a minute). They satisfactorily answered our questions, even though we had the feeling that the responses were built around keywords and not personalized.
We also only had to wait a few minutes to receive an answer to our support ticket. Again, the answers were satisfactory, but brief and to the point.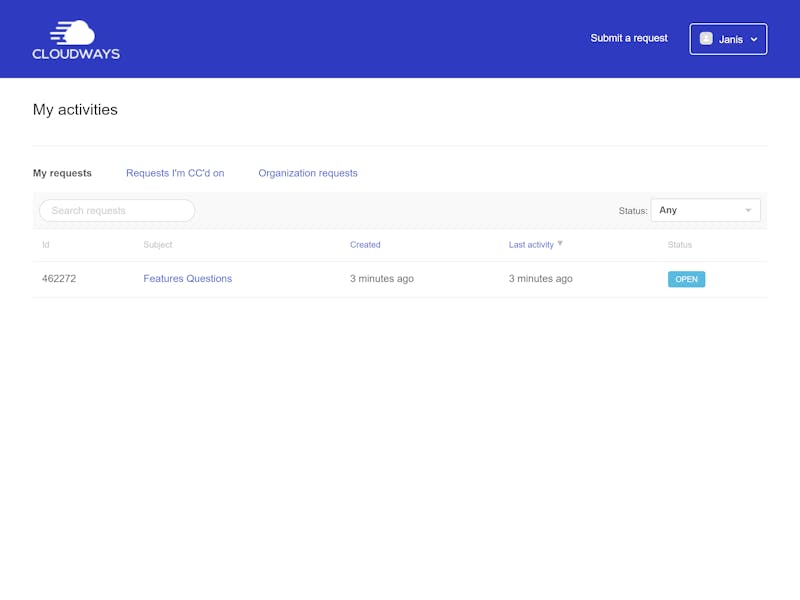 For support, Cloudways offers both a live chat and a ticket systen.
Cloudways offers premium support through two add-ons. In the Advanced package, the Cloudways team will walk you through the processing of configuring your server, while Premium subscribers get a support hotline number and a private Slack channel.
Cloudways Support Center
If you'd prefer to find the answers yourself, Cloudways offers a number of helpful static resources. In addition to a well-stocked knowledge base featuring informative articles with plenty of screenshots and hyperlinks, the Cloudways website also includes ebooks, webinars, and a blog.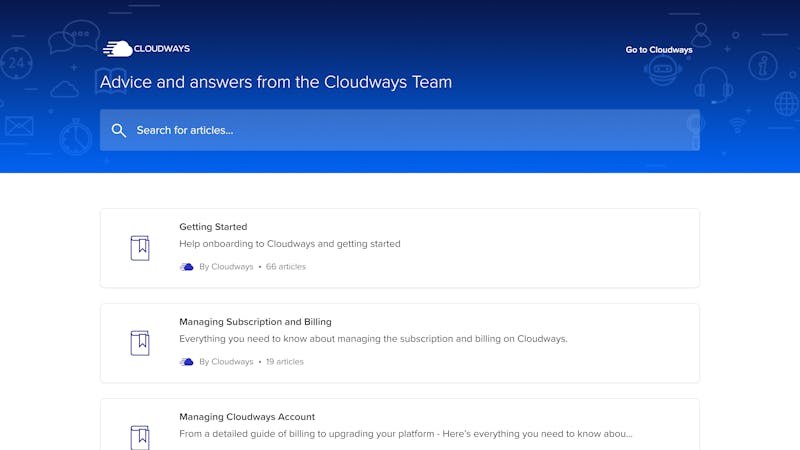 Cloudways serves up plenty of support content.
We had a positive impression of Cloudways staffers: They responded to our queries quickly and competently, while the static resources are good in terms of both quality and quantity.
Choosing a Cloudways subscription is somewhat more complicated than with the service's competitors. At the end of the day, you're utilizing the infrastructure of another company (DigitalOcean, AWS, or Google Cloud). How much you pay per month depends on which provider you select and what sort of resources you require.
In addition, each plan varies in terms of storage space, the number of CPU kernels required, bandwidth, and available RAM. So far as the features offered by Cloudways are concerned, there are also differences.
Below, we've prepared an overview of the various Cloudways subscriptions:
DO 1GB RAM
DO 2GB RAM
DO 4GB RAM
DO 8GB RAM
DO 16GB RAM
DO 32GB RAM
DO 48GB RAM
DO 64GB RAM
DO 96GB RAM
DO 128GB RAM
DO 192GB RAM
Set-up Fee
$0.00
$0.00
$0.00
$0.00
$0.00
$0.00
$0.00
$0.00
$0.00
$0.00
$0.00
Monthly Price
$11.00
$24.00
$46.00
$88.00
$149.00
$240.00
$342.00
$421.00
$566.00
$729.00
$1,056.00
Contract Period (Months)
0
0
0
0
0
0
0
0
0
0
0
Included
WP Installations
unlimited
unlimited
unlimited
unlimited
unlimited
unlimited
unlimited
unlimited
unlimited
unlimited
unlimited
Storage
25 GB
50 GB
80 GB
160 GB
320 GB
320 GB
960 GB
1,280 GB
1,920 GB
2,560 GB
3,840 GB
Domains
0
0
0
0
0
0
0
0
0
0
0
Databases
unlimited
unlimited
unlimited
unlimited
unlimited
unlimited
unlimited
unlimited
unlimited
unlimited
unlimited
SSL Certificates
unlimited
unlimited
unlimited
unlimited
unlimited
unlimited
unlimited
unlimited
unlimited
unlimited
unlimited
Features
SSD Storage
SSD Database
HTTP/2
SSH
External Domains
Automatic Backup
Cronjobs
Are you looking for the most affordable subscription for your WordPress site? Our price comparison tool shows the lowest-priced WordPress hosting packages from among all of the services in our sample:
1.
2.
3.
4.
5.
6.
7.
8.
9.
It's difficult to compare the price-performance ratio of Cloudways since multiple infrastructure providers can be chosen, each of which has a variety of different subscription plans and options. We applaud the service for its highly affordable beginner packages that are perfect for small or growing WordPress projects. As your needs and requirements grow, so do the prices. On top of that, the significant number of paywalls also increases costs.
In order to provide prospective users with an idea of how the service is, Cloudways can be tested for free for three days. Unlike most of its competitors, Cloudways does not offer a money-back guarantee.
Conclusion
Technology & Features
8.0 / 10
Configuration & Usage
7.4 / 10
When it comes to substance, Cloudways is an excellent WordPress hoster: Its performance is top-of-the-line, a wide variety of features are available, and the service's customizability makes it a great choice for experienced developers as well. On top of that, users are given a considerable amount of flexibility when selecting their project's infrastructure. Those looking for powerful and flexible hosting will be satisfied with Cloudways.
The platform's disadvantages can be divided into two categories: Appearances and cost. Its user interface isn't our cup of tea, and paying subscribers will run into paywall after paywall when configuring the service. Compounding this, domains and email hosting cost extra.
If you're able to find a plan that meets your requirements and don't mind the service's somewhat outdated interface, Cloudways can be a good choice for your WordPress project.
Cloudways WordPress Hosting
Despite its rather plain interface and occasional paywalls, Cloudways offers top-notch performance, extensive features, and flexibility, making it a good choice for experienced developers.
multiple infrastructure providers
some features behind paywalls
8.3

good
WP Installations
Space
Domains
Contract Period
Cloudways DO 1GB RAM
$11.00
monthly price
Visit Website*
Customer Reviews
According to the verified reviews that we found, users are very satisfied with Cloudways: They praise its performance, variety of features, and service. You can read more here:
Customer Ratings
3,304 Bewertungen
Visit Website*
We analyzed the reviews and ratings from various portals and found 3,304 ratings with an overall rating of 4.6 out of 5 .
Alternatives
SiteGround WordPress Hosting
SiteGround won us over with excellent speeds, extensive features, and an intuitive interface – all at comparatively low prices, domain and email included.
great speeds with CDN & caching
automatic updates & backups
staging and multisite support
9.1

excellent
WP Installations
Space
Domains
Contract Period
SiteGround StartUp
$8.49
monthly price
Visit Website*
30 Tage Geld-zurück-Garantie
Kinsta is a highly polished WordPress hoster that combines solid speeds, high security standards, and a beautiful interface into a premium offering worth its premium price tag.
strong performance results
integrated Cloudflare CDN
only 14 days of backup retention
8.8

good
WP Installations
Space
Domains
Contract Period
Kinsta Starter
$29.17
monthly price
Visit Website*
Free Demo Account
WP Engine WordPress Hosting
WP Engine ranks first in our performance test – testament to the platform's 100 % WordPress focus. User-friendly dashboards, high security standards, and solid support round off the package.
100 % specialized in WordPress
top performance with CDN & caching
staging & multisite support
some features behind paywalls
8.6

good
WP Installations
Space
Domains
Contract Period
WP Engine Startup
$20.00
monthly price
Visit Website*
Hostinger WordPress Hosting
Hostinger offers a comprehensive set of features, high security standards, and a neat user interface. When it comes to support and performance, however, it's not top of the line.
WP Installations
Space
Domains
Contract Period
Hostinger Premium
$2.99
monthly price
Visit Website*
WordPress.com WordPress Hosting
WordPress.com lives up to its name: the hosting service from the people behind WordPress offers excellent speeds, reliable support – and the only free plan among the providers we tested.
WP Installations
Space
Domains
Contract Period
WordPress.com Free
$0.00
monthly price
Visit Website*
FAQs
What sets Cloudways apart from other providers?
⊖
The biggest advantage that Cloudways enjoys is its flexibility, especially in terms of selecting server infrastructure. Cloudways maintains partnerships with DigitalOcean, Vultr, Linode, AWS, and Google Cloud, and you can choose which you'd like to host your website. Beyond that, Cloudways excels thanks to its performance and a wide variety of features.
How does Cloudways perform?
⊖
In our EXPERTE.com performance test, Cloudways scored very highly: Response time, page speed, and availability were all great. Only in terms of the load test was Cloudways slightly behind the other hosting services from our sample.
What disadvantages does Cloudways have?
⊖
Its user interface could be more intuitive. In addition, premium subscribers will encounter a number of paywalls (for example, for a firewall or content delivery network), and none of the packages include a domain or email hosting.
Is there a free trial of Cloudways?
⊖
Yes, however, it's very short: You can try out Cloudways at no cost for three days.
* Ad disclaimer:
For links marked with an asterisk, EXPERTE.com may earn a commission from the provider. The commission has no influence on our editorial rating.

Janis von Bleichert studied business informatics at the TU Munich and computer science at the TU Berlin, Germany. He has been self-employed since 2006 and is the founder of EXPERTE.com. He writes about hosting, software and IT security.
Continue Reading