Kinsta WordPress Hosting Review 2023: As Good As Promised?

Author
Janis von Bleichert
Ad disclaimer:
For links on this page, EXPERTE.com may earn a commission from the provider. This supports our work and has no influence on our editorial rating.
Does the thought of hosting your WordPress website have your head spinning? If so, why not leave it up to the pros and subscribe to a managed WordPress hosting service, like Kinsta?
Over the past few years, Kinsta has grown into one of the most popular WordPress hosts on the market. In this review, we'll let you know what it can do.
What Is Kinsta?
Kinsta* is a web hosting service from California that was founded in 2013 with the goal of becoming "the best hosting platform in the world". It hit the market with managed WordPress hosting, however, since then, it has added a range of other products and services to its portfolios, such as database hosting and apps.
These days, Kinsta is a global powerhouse with customers across 128 countries and more than 35 data centers all over the world. We think that's more than enough reason to take a closer look.
Kinsta WordPress Hosting Review
Configuration & Usage
9.4 / 10
Technology & Features
8.0 / 10
Good performance
In our test, Kinsta had fast response times, solid availability, and overall good performance.

Intuitive user interface
Kinsta's dashboard is one of the best in the business: WordPress newcomers will quickly find their feet, while pros can take advantage of the wide selection of features and configuration options.

Solid support
We never waited longer than a few minutes for a customer service representative to reply to our query. On top of that, Kinsta's static support in its help center is excellent.

High security with security pledge
Kinsta offers top-notch protection as well as a security pledge to help you remove malware from your site in the event of an attack and repair it at no cost.
Brief backups
Kinsta only stores backups for 14 days - other hosts hold on to secure copies of your website for much longer.

Pricey
Compared to the other services from our sample, Kinsta is expensive. On top of that, you'll need to pay extra for a domain and email hosting.
Above all else, managed WordPress hosting should be uncomplicated. Most of the time, it's possible to tell when setting up a service whether this is the case.
Kinsta is user-friendly from the get-go. Within a matter of minutes, you'll have an account and be in the platform's dashboard, which is highly self-explanatory. Click on the "Create a site" button in the WordPress site area and follow the instructions. It's possible to install a WordPress instance, create a new environment without WordPress, or clone an existing one.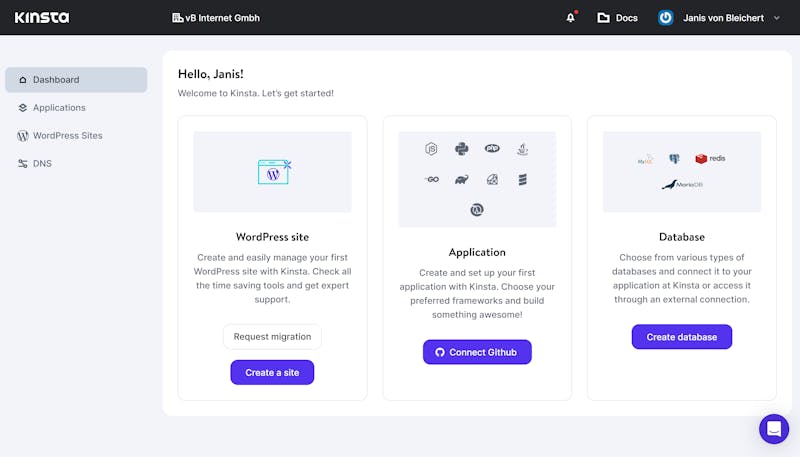 It's easy to install a WordPress instance in Kinsta.
While installing your WordPress instance, you'll need to input some basic data (page title, admin name, password) and select a data center. We chose the one in Frankfurt so that we could store our data in Germany.
After that, Kinsta takes care of the rest, presenting you with a finished site in a matter of minutes.
Kinsta's Dashboard: Elegant and Straightforward Hosting
Now that you've finished installing your WordPress instance, let's explore Kinsta's user interface. This is divided into four areas which you can jump between using the main menu off to the left These are:
Dashboard: Your command center where you'll be given an overview of your activities, notifications, WordPress statistics, and links to additional resources. There's also a quick link to your WordPress website.

Applications: If you're using Kinsta to host databases and applications, you'll manage them here.

WordPress Sites: All of your WordPress projects are listed here, allowing you to review them in detail.

DNS: This is where you'll be able to access Kinsta's free DNS service.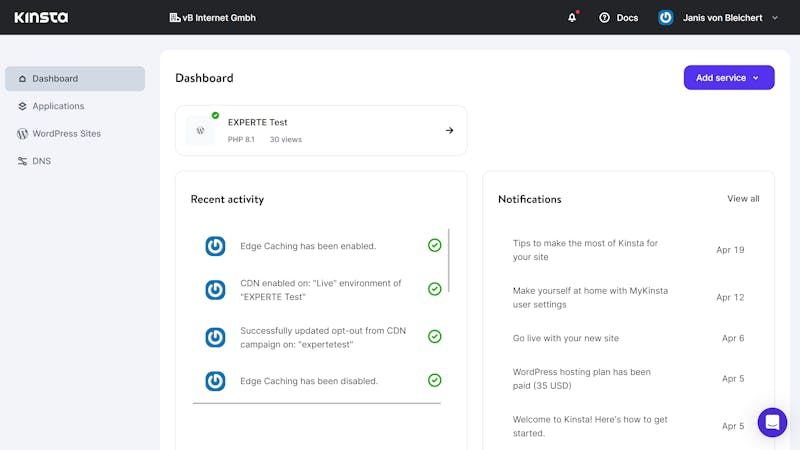 Kinsta's dashboard is sleek and modern.
Managing Your WordPress Page
A detailed menu opens you click on your WordPress instance's entry, displaying several important features and settings. On the home page, you can review basic details about your installation as well as make a few changes, such as to its page name, login details, and database access.
Using your WordPress site's management menu off to the left, you can manage other features such as domains, backups, WordPress plugins, and caching (more on these in the next section).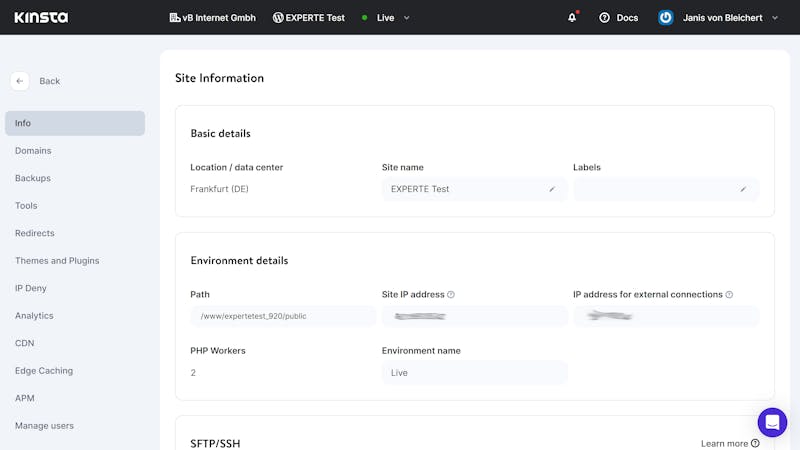 All WordPress features and settings can be found in your WordPress site's management menu.
Migrate a WordPress Website to Kinsta
Should you already have a WordPress website hosted by another provider that you'd like to migrate to your new host, you can request help from Kinsta. Transferring a basic WordPress instance is free, however, for special cases (such as ecommerce websites or multisite networks) an at-cost premium migration is necessary.
To begin migrating your WordPress website, go to WordPress Sites and click on the "Add Site" button in the upper right. After that, select "Request migration" from the dropdown menu that opens. Follow the instructions and provide Kinsta with all the necessary information and login credentials. Basic site migration generally takes 1-2 hours.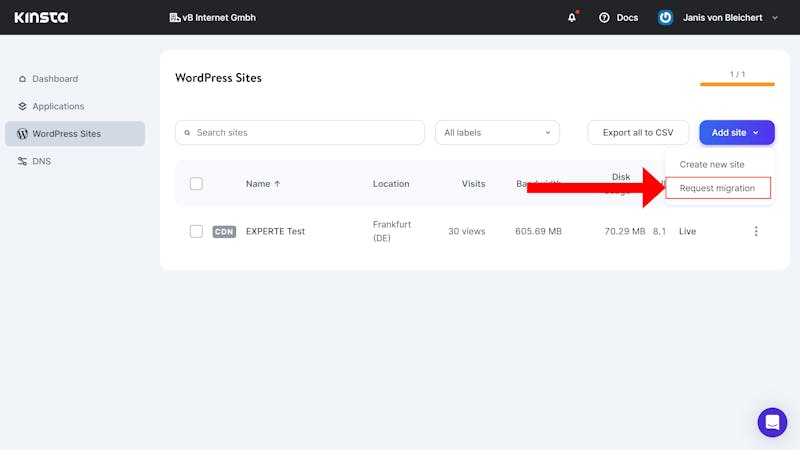 Basic migration of a WordPress website with Kinsta is free.
Kinsta makes an excellent first impression, which only improved the longer we spent in its tidy dashboard. The user interface neatly and logically presents all features, and we never needed to look long for what we were after. Beginners will quickly find their way.
Our only (minor) complaint is that the quick link to WordPress's Admin Dashboard could be more prominent.
Configuration & Usage
9.4 / 10
Because looks can be deceiving, we also evaluate the inner workings of each WordPress host from our sample. This shows us whether their technological infrastructure is able to offer reliability and speed for your WordPress website.
We start by viewing the WordPress server report, which shows basic configuration settings after a WordPress instance has been installed on a host. You can find it by heading to Tools > Site Health > Info in your WordPress admin panel.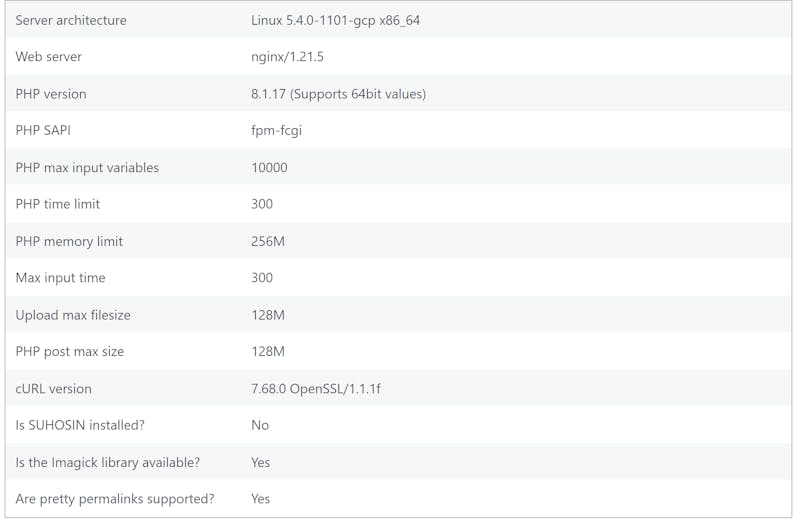 Server report after installing our WordPress instance on Kinsta.
The server report only provides the first glimpse into what technical specifications your host offers, ranging from its web server (NGINX) to its PHP version (8.1). However, these can vary depending on your subscription as well as any settings you change in Kinsta's dashboard.
Let's take a closer look at Kinsta's technological stack.
PHP up to 8.1
To ensure both maximum performance and security, it's important for your host to use the most current version of PHP since each release includes new features and updates to existing ones. As of the time of writing, Kinsta is only compatible with PHP versions 8.1 and 8.0. You can select between these by heading to "PHP Engine" in the "Tools" menu.
Like most of its competitors, Kinsta does not support the newest version of PHP (8.2).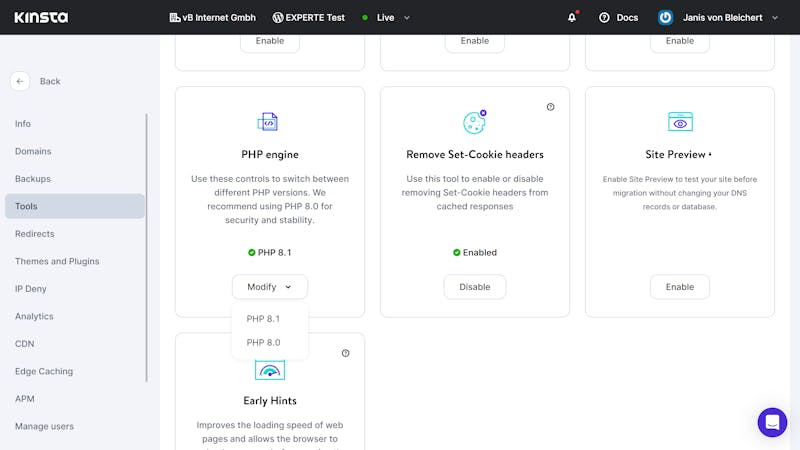 You can change Kinsta's PHP version in the dashboard.
NGINX Servers, MariaDB Databases
Kinsta's hosting is built around open-source NGINX web servers. These are known for their good performance and are fairly standard for WordPress hosting. The databases are MariaDB. Unfortunately, it's only possible to assign a single database to each website - other hosting services are more flexible in this area.
The host provides direct database access through phpMyAdmin, a popular, open-source tool. To use it, click on "Info", followed by "Database access".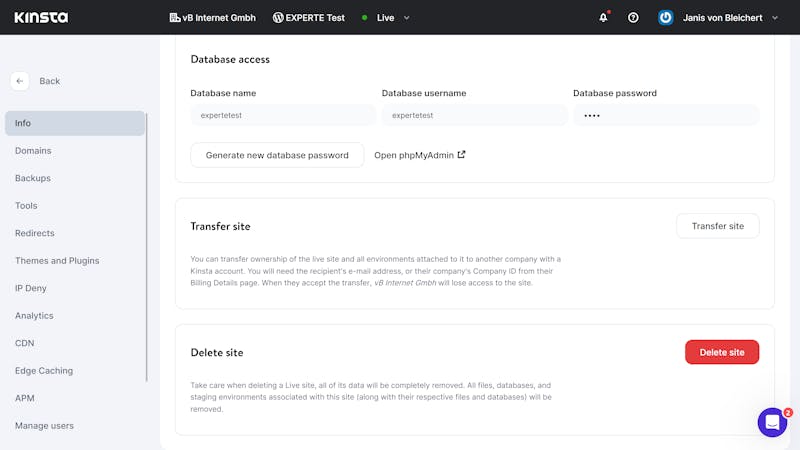 Access your WordPress website's database directly with phpMyAdmin.
Fast Performance With Edge Caching
Kinsta does its best to snatch its competitors' customers by promising faster loading speeds. But what technology provides this performance boost?
It almost goes without saying that Kinsta fulfills all of the basic requirements for high-performance hosting. For example, its servers utilize fast SSD drives. Backups and staging environments are not factored into storage space calculations.
However, the decisive edge is sought through less visible performance features. Although nearly none of the other services from our sample support the new HTTP/3 standard, Kinsta does.
The provider is also proud of its edge caching solution. This stores cached content at multiple data centers, helping to shorten the Time to First Byte (on average) by around 50%.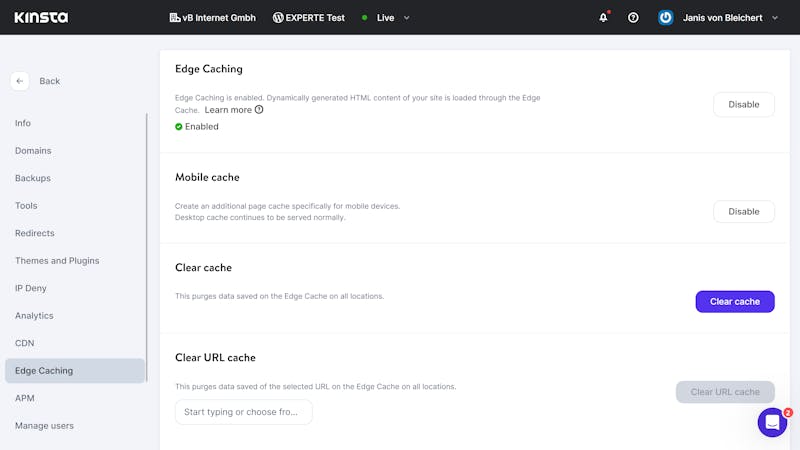 Thanks to Kinsta's integrated edge caching solution, you won't need any external caching plugins.
In addition, all subscribers benefit from an integrated Cloudflare content delivery network (CDN), which improves the speed with which content is prepared for international visitors. This is made possible through more than 275 "Points of Presence" (PoPs) scattered around the globe.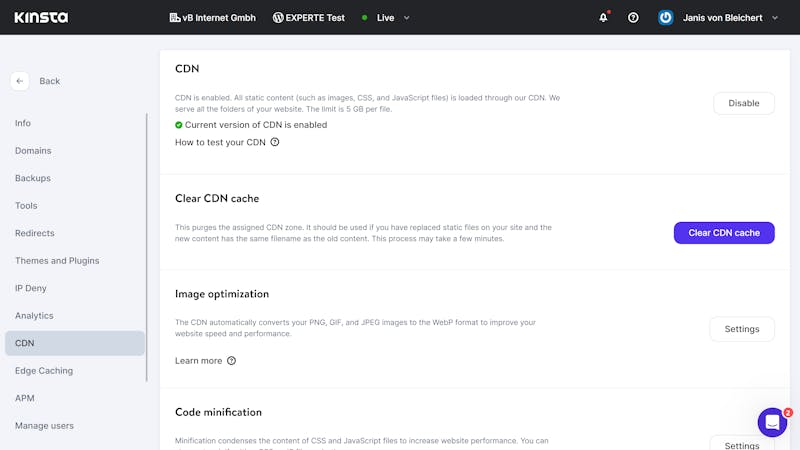 Kinsta's CDN guarantees fast loading times for distant visitors.
In the performance section below, we take a look at whether these features actually have a positive impact on hosted sites.
Additional Kinsta Features
Of course, Kinsta has plenty of features that we can't introduce in detail. Instead, we've summarized what we feel are the most important of these below:
Staging environments: It's possible to add a staging environment to every WordPress installation in Kinsta, separate from the live production page. This allows you to test out new features and changes before publishing them.

Connect with SFTP and SSH: Kinsta supports both SFTP and SSH gateways through which you can access your data or modify your WordPress site's wp-config.php. Access data is located in the Info area.

Early hints: Among the platform's tools, you'll find Cloudflare's Early Hints web standard. Activating this will further optimize your page's load speeds.

Multisites: Pro subscribers and above get multisite support. This makes it possible to manage multiple websites in a single WordPress instance.

Cloning: Clone your websites and staging environments in order to use them as templates for future pages or projects.

Analyses: Kinsta features its own analytics area, where you can check metrics such as visitor numbers, PHP speeds, server resource usage, or where your audience is coming from.
In addition, the platform also offers several premium add-ons for customizing your Kinsta experience. These include premium staging environments that have 12 CPUs and 8 GB of RAM.
Blocked Plugins
WordPress is all about plugins, however, managed WordPress hosts usually block some of these for a variety of different reasons. With Kinsta, a number of caching, backup, and performance plugins aren't supported. A current list of these can be found in Kinsta's knowledge base.
No Domain or Email Hosting
Another disappointment is that Kinsta doesn't offer either a domain or email hosting with any of its packages. These features are common amongst most of Kinsta's competitors, and considering the platform's price, it's odd that they aren't included.
Apart from that, Kinsta does serve up a great range of features as well as several practical extras that set it apart from its peers.
Technology & Features
8.0 / 10
Kinsta promises "Top Security" throughout its entire hosting infrastructure. Once again, the provider serves up a nice mix of standard features of the kind we expect from every WordPress host, as well as a few extras.
Websites hosted by Kinsta are automatically equipped with Cloudflare SSL certificates. These are wildcard certificates, which means that they also secure your subdomains.
Protection Against Malware and Cyberattacks
Kinsta subscribers don't need to worry about setting up a firewall: All WordPress websites hosted by Kinsta are protected with a Cloudflare integration that includes a secure firewall. Beyond that, Kinsta also guards your website against DDoS and brute force attacks.
You'll also get the following security features:
Password protection: Secure your environment with basic .htpasswd protection.

Force HTTPS: When activated, your data traffic switches from HTTP to HTTPS, enhancing its security and SEO.

Automatic updates: Kinsta automatically installs WordPress updates.

Block IPs

: It's possible to completely block selected

IP addresses,

protecting your website from bots and spammers.

User access and activity: Add as many users as you'd like and specify which access rights they should have. Check the Activity Log (under the "User Activity" heading) to see who has done what and when.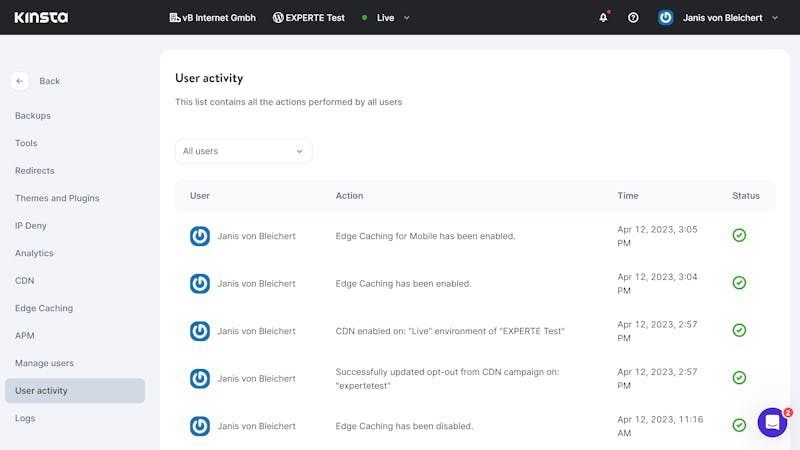 In the Activity Log, you can review who has been doing what and when on your website.
Backups With Kinsta
Kinsta backs up your WordPress website every day and before certain actions. This is so that in the event of a problem, you'll be able to restore your website to a previous version. However, these automatic backups are only stored for 14 days for all subscriptions below Business 3. When compared to Kinsta's competitors, this is very brief.
In addition to automatic backups, users can also create up to five manual ones. These are only stored for 14 days.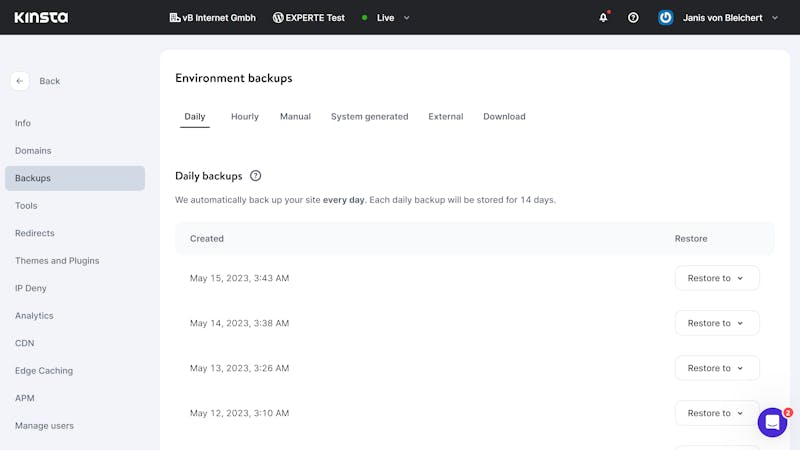 Kinsta backs up your website every day.
Here too, Kinsta offers a few at-cost extras: For example, if you'd like to create backups every six hours, it's possible to schedule a more frequent backup plan. External backups on AWS or Google Cloud accounts are possible for an extra fee.
Kinsta impresses with its robust security standards and security pledge, guaranteeing free repair of compromised websites. The two-week backup retention policy is frustrating, especially when most of the other services from our sample store backups for 30 days or longer.
Your Kinsta website doesn't only need to be safe, but also fast. To find out how quick and reliable Kinsta's WordPress hosting is, we evaluated four, key performance factors over the course of six weeks.
Provider Comparability
A WordPress host's performance varies from subscription to subscription, making it difficult to compare services. To keep things fair, we selected each provider's subscription package priced nearest to $20. With Kinsta, this is the Starter subscription.
Response Time (Time to First Byte)
The Time to First Byte reflects how much time passes between when a user sends a request to a website and when they receive the first byte of data. It provides insight into the hosting server's capabilities and power.
Since response time varies, we measured it over the course of six weeks with caching deactivated. Our findings are visible in the graphic below, indicating the worst response time per hour: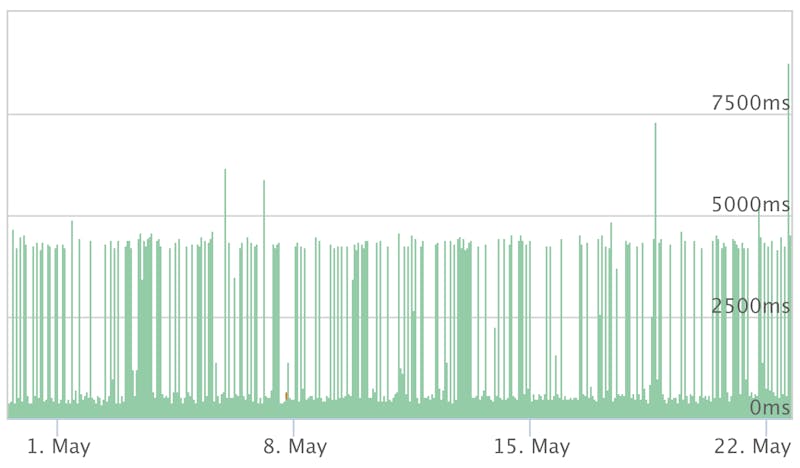 Kinsta's response times over the course of six weeks.
Overall, Kinsta's response times weren't bad, however, not first-rate either. In comparison to the rest of our sample, it finished in the middle of the pack:
Page Speed (Largest Contentful Paint)
The second aspect we measured was the Largest Contentful Paint (LCP). This metric, which is one of Google's Core Web Vitals reflects how long it takes for the largest page element to load. It's a good indicator of how performance optimizations interact since it entails images, JavaScript, and CSS files.
To determine the LCP, we performed a page speed test (with caching enabled) once per day over the course of six weeks. The speeds we measured for Kinsta were fairly consistent:
Kinsta's Largest Contentful Paint.
Kinsta's page speeds were above average, making it one of the faster hosts from our sample:
Load Test (50 Simultaneous Users)
Next up was our load test. This reveals how a website performs when the number of visitors suddenly increases. Measuring this is important since it shows if overloaded servers will negatively impact your website's user experience.
We checked what happened when 50 users simultaneously tried to access a Kinsta-hosted website. The test was performed once with caching enabled and once with it disabled.
With an active cache, Kinsta (like the other services from our sample) had no difficulties, however, once caching was disabled, wait times increased. The graphic below shows how response times increased as the number of visitors grew:

During our test with Kinsta, as the number of visitors increased, so did the response time.
Unfortunately, Kinsta dropped the ball in this challenge. Below, you can see Kinsta's average response times (uncached website) when requested simultaneously by a large number of users in comparison to the other providers from our sample:
Availability (Uptime)
The last metric we measured was a website's availability, which indicates how often it's actually online. This is important since visitors can only access a website when it's available. We checked this once per minute over the course of six weeks.
Hosting services should get as near to 100% as possible since even a single percentage point of downtime equates to seven hours of downtime over the course of a month. Kinsta's uptime, happily, was 99.99%.
Overall Performance
Taken together, Kinsta earned a "good" performance score, finishing in the upper half of our sample.
| Provider | TTFB | Pagespeed | Load Test | Uptime | Total |
| --- | --- | --- | --- | --- | --- |
| WP Engine | 0.21 s | 1.17 s | 0.26 s | 100 % | 10 |
| Siteground | 0.22 s | 0.98 s | 0.21 s | 99.98 % | 10 |
| WordPress.com | 0.20 s | 1.36 s | 0.16 s | 100 % | 9.5 |
| Cloudways | 0.13 s | 1.17 s | 1.64 s | 100 % | 9.4 |
| IONOS | 0.27 s | 1.09 s | 2.22 s | 100 % | 8.7 |
| GoDaddy | 0.34 s | 1.38 s | 0.54 s | 99.98 % | 8.7 |
| Kinsta | 0.31 s | 1.16 s | 2.37 s | 99.99 % | 8.6 |
| Hostinger | 0.49 s | 1.30 s | 0.21 s | 99.83 % | 7.5 |
| Flywheel | 0.13 s | 0.98 s | 3.38 s | 99.78 % | 7.5 |
Do you have questions about Kinsta or issues with the dashboard? If so, your first stop should be the provider's Documentation, which can be conveniently accessed through the user interface: Simply click on the question mark that appears next to most keywords, and a relevant entry will appear off to the right.
Of course, you can open the entry in a new tab if desired. Entries are logically structured and include a search tool. Every article includes headings, screenshots, and useful links. We were impressed with both the quality and quantity of Kinsta's help articles.
However, Kinsta's Documentation isn't the only static support resource: There's also a blog, a knowledge base with a glossary, FAQs, ebooks, webinars, a podcast, and the Kinsta Academy, featuring courses for both developers and freelancers.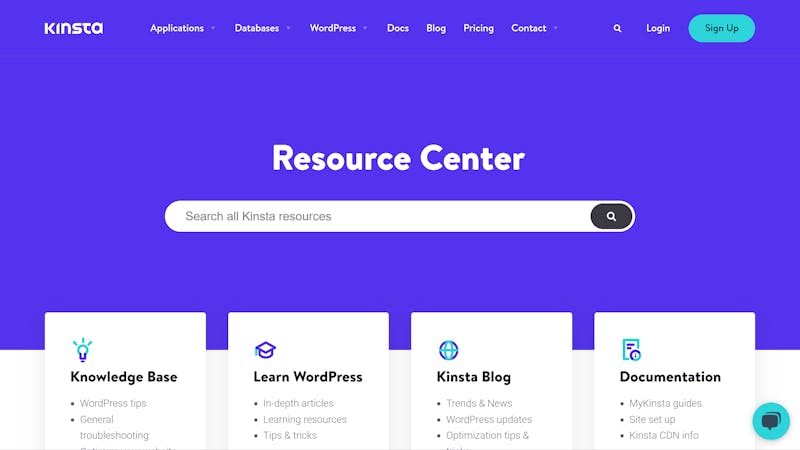 Kinsta didn't cut any corners in terms of support content and resources.
Direct support is provided through a live chat, which is available 24/7. We never waited longer than a few minutes for customer service to respond to our question or issue.
The lack of a support hotline is slightly disappointing, however, all things being equal, Kinsta's support is first-class.
Kinsta offers 10 WordPress hosting subscriptions (Starter, Pro, Business 1–4, Enterprise 1–4), which vary from one another primarily in terms of their technical specifications.
The biggest difference is the number of WordPress installations, monthly visitors (an estimate), SSD storage, CDN storage space, and how long backups are retained. Multisite support and cloning are only offered with the Pro subscription and above, while Business and Enterprise subscriptions are recommended for ecommerce websites.
Here, we've prepared a summary of all Kinsta subscriptions:
Starter
Pro
Business 1
Business 2
Business 3
Business 4
Enterprise 1
Enterprise 2
Enterprise 3
Enterprise 4
Set-up Fee
$0.00
$0.00
$0.00
$0.00
$0.00
$0.00
$0.00
$0.00
$0.00
$0.00
Monthly Price
from $29.17
from $58.33
from $95.83
from $187.50
from $283.33
from $375.00
from $562.50
from $833.33
from $1,125.00
from $1,375.00
Contract Period (Months)
1 - 12
1 - 12
1 - 12
1 - 12
1 - 12
1 - 12
1 - 12
1 - 12
1 - 12
1 - 12
Included
WP Installations
1
2
5
10
20
40
60
80
120
150
Storage
10 GB
20 GB
30 GB
40 GB
50 GB
60 GB
100 GB
150 GB
200 GB
250 GB
Domains
0
0
0
0
0
0
0
0
0
0
Databases
1
1
1
1
1
1
1
1
1
1
SSL Certificates
unlimited
unlimited
unlimited
unlimited
unlimited
unlimited
unlimited
unlimited
unlimited
unlimited
Features
SSD Storage
SSD Database
HTTP/2
SSH
External Domains
Automatic Backup
Cronjobs
Are you looking for an affordable beginner package for your WordPress project? To rank the services from our sample, we took the least expensive package offered by each. As can be seen below, Kinsta is not exactly a bargain:
1.
2.
3.
4.
5.
6.
7.
8.
9.
Kinsta offers lots of features, however, it's definitely priced accordingly and is one of the most expensive WordPress hosts from our sample. Keep in mind, that you'll need to arrange extras like a domain and email hosting yourself since none of its subscriptions include these.
The host is poorly suited for smaller or private projects since you'll get the same features and performance for less from several of its competitors. Supposing that you have the budget, Kinsta does offer quite a bit of power and features.
Conclusion
Configuration & Usage
9.4 / 10
Technology & Features
8.0 / 10
In many areas, Kinsta is one of the most polished WordPress hosts we've encountered. We were impressed with its sleek and intuitive user interface, wide selection of features, and solid performance. Even inexperienced users won't have trouble finding their way around the MyKinsta dashboard, and whenever there is an issue, you can try to figure it out on your own or request help via the provider's live chat.
Kinsta does many things right, however, it's priced with that in mind. Prospective users should also keep in mind that they'll need to purchase email hosting and a domain separately since none of Kinsta's subscriptions include these. In sum, there are several providers that offer more bang for your buck, however, if you have the budget, Kinsta is a solid choice for your WordPress project.
Kinsta is a highly polished WordPress hoster that combines solid speeds, high security standards, and a beautiful interface into a premium offering worth its premium price tag.
strong performance results
integrated Cloudflare CDN
only 14 days of backup retention
8.8

good
WP Installations
Space
Domains
Contract Period
Kinsta Starter
$29.17
monthly price
Visit Website*
Free Demo Account
Customer Reviews
Among the review websites we consulted, Kinsta performs very well. Verified users praise its fast and intuitive backend, reliable support, and good performance. We've summarized the reviews we consulted here:
Customer Ratings
1,281 Bewertungen
Visit Website*
We analyzed the reviews and ratings from various portals and found 1,281 ratings with an overall rating of 4.5 out of 5 .
Alternatives
If you're looking for a solid, all-in-one package that includes a domain, email hosting, and WordPress hosting, you might want to try Siteground.
Our five best alternatives to Kinsta are:
SiteGround WordPress Hosting
SiteGround won us over with excellent speeds, extensive features, and an intuitive interface – all at comparatively low prices, domain and email included.
great speeds with CDN & caching
automatic updates & backups
staging and multisite support
9.1

excellent
WP Installations
Space
Domains
Contract Period
SiteGround StartUp
$8.49
monthly price
Visit Website*
30 Tage Geld-zurück-Garantie
WP Engine WordPress Hosting
WP Engine ranks first in our performance test – testament to the platform's 100 % WordPress focus. User-friendly dashboards, high security standards, and solid support round off the package.
100 % specialized in WordPress
top performance with CDN & caching
staging & multisite support
some features behind paywalls
8.6

good
WP Installations
Space
Domains
Contract Period
WP Engine Startup
$20.00
monthly price
Visit Website*
Hostinger WordPress Hosting
Hostinger offers a comprehensive set of features, high security standards, and a neat user interface. When it comes to support and performance, however, it's not top of the line.
WP Installations
Space
Domains
Contract Period
Hostinger Premium
$2.99
monthly price
Visit Website*
WordPress.com WordPress Hosting
WordPress.com lives up to its name: the hosting service from the people behind WordPress offers excellent speeds, reliable support – and the only free plan among the providers we tested.
WP Installations
Space
Domains
Contract Period
WordPress.com Free
$0.00
monthly price
Visit Website*
Cloudways WordPress Hosting
Despite its rather plain interface and occasional paywalls, Cloudways offers top-notch performance, extensive features, and flexibility, making it a good choice for experienced developers.
multiple infrastructure providers
some features behind paywalls
8.3

good
WP Installations
Space
Domains
Contract Period
Cloudways DO 1GB RAM
$11.00
monthly price
Visit Website*
FAQs
What sets Kinsta apart from its competitors?
⊖
Kinsta has one of the best user interfaces among the WordPress hosts that we reviewed. Beginners won't need long to get used to Kinsta's dashboard, which includes a surprisingly large selection of features, without negatively impacting user-friendliness.
Is there a free version of Kinsta?
⊖
No, Kinsta does not offer a free version or trial. Subscribers can take advantage of a 30-day, money-back guarantee.
Can I host multiple sites with Kinsta?
⊖
Yes, it's possible to host multiple WordPress pages with Kinsta. The number of supported WordPress projects depends on your subscription: Pro subscribers can host two pages, Business subscribers up to 40, and Enterprise customers, up to 150.
* Ad disclaimer:
For links marked with an asterisk, EXPERTE.com may earn a commission from the provider. The commission has no influence on our editorial rating.

Janis von Bleichert studied business informatics at the TU Munich and computer science at the TU Berlin, Germany. He has been self-employed since 2006 and is the founder of EXPERTE.com. He writes about hosting, software and IT security.
Continue Reading