Buy a Taken Domain: 3 Different Options

Author
Janis von Bleichert
When talking about domains, the rule 'first come, first serve' applies. Accordingly, most good, short, and memorable domain names have long been registered, however, this doesn't mean that they're unavailable. So long as you aren't looking to buy amazon.co.uk or google.com, there's always a chance that you can convince the current owner to sell to you.
In this article, we'll show you how to go about buying a domain that's already taken and fill you in on what sort of costs you can expect.
Buy a Taken Domain
In case the domain of your dreams is taken, there are a few options to go about purchasing it:
1.
Find & Contact the Domain's Owner
So long as you can identify the owner of a domain, you'll have the option to contact them directly. However, this is usually easier said than done, especially because domain owners like to protect their privacy just as much as anyone else. Still, you can check the website's contact page, or perform a WHOIS search to get started.
If neither of those options works, our article on identifying a domain's owner lets you know in detail what your next steps should be.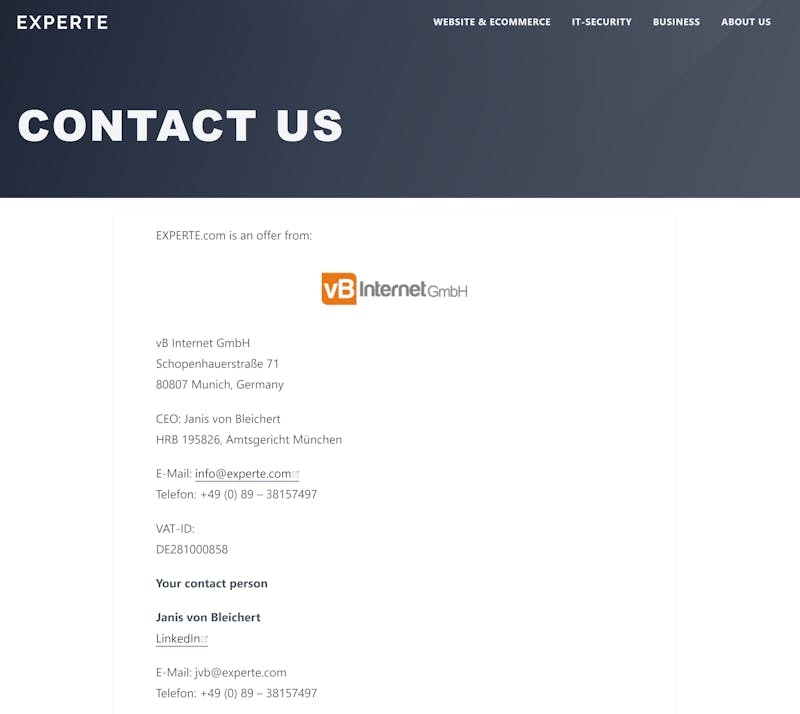 Sometimes, checking a website's contact page will provide information about the domain's owner.
Once you've identified the website's owner, you'll need to ask them whether the domain is for sale, and if so, what price they're willing to let it go for. Below, we'll provide more details about how to conclude the actual transaction.
2.
Use a Domain Marketplace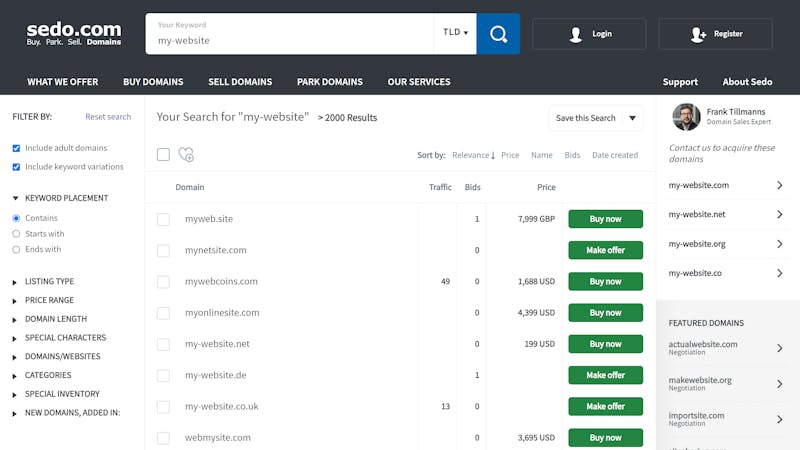 On domain marketplaces like sedo.com, you can buy or sell domains.
To use one of these marketplaces, simply type your desired domain into the search field, and you'll be able to see whether it's for sale. If it is, you can either purchase it outright or make an offer. Data pertaining to the website's traffic and other offers are also provided, to help inform your decision. In addition, you can filter results according to price or domain length.
In case the domain of your dreams isn't for sale, marketplaces will often suggest close alternatives that are worth a look.
Supposing that your heart is set on a particular domain, and you're ready to pay a bit more for it, you can engage a domain broker to realize the sale for you. For a fee, usually, relative to the sale price, specialists will track down the owner and handle all negotiations. Another advantage of this approach is that you'll remain anonymous throughout the entire process.
Just such a service is offered by the above-mentioned sedo.com. You'll pay $69 upfront and then, supposing that the sale is successful, 15% of the purchase price (excl. tax). This makes it possible to purchase domains that aren't listed by sedo.com through your own personal domain broker, with added bonuses of guaranteed discretion and usage of the platform's free transfer service.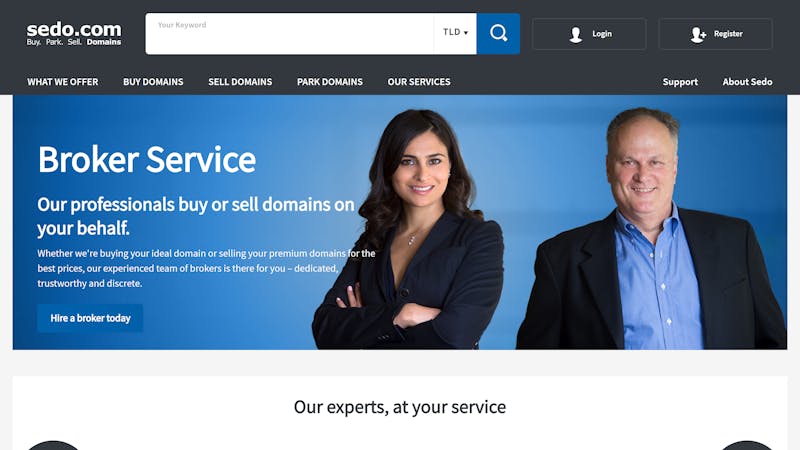 For difficult cases, hiring a domain broker might be a shrewd investment.
What Is a Realistic Purchase Price?
The exact cost of a domain depends on its quality and potential. Short, memorable, and catchy domains are particularly popular and as a result, often pricier.
According to DNPric.es, a database that collects and collates information on past domain sales, the average sales price of a .com domain is around $712. However, the sky is the limit, with the current record held by carinsurance.com which sold for around $50,000,0000, followed closely by vacationrentals.com which went for $35,000,000.
So long as you aren't looking for a top domain, you should expect to pay several hundred or thousand dollars, supposing that its current owner is willing to sell.
How Does a Domain Sale Work?
So, you've found the domain you want, contacted its current owner, and you're both ready to go through with the transfer? How exactly you'll go about concluding the transaction depends on how you've found the domain.
Domain Marketplaces Handle Everything for You
In case you organized the sale through a domain marketplace, you'll just have to follow the instructions it provides. On sedo.com, for example, there's a free transfer service, for making sure that you get control over the domain and its former owner receives your payment. Depending on the domain's ending, this can take anywhere from 1 to 10 days.
Buying a Domain on Your Own? Only With a Contract
After identifying the domain's owner, you'll both need to work out the sale's details. The steps listed below offer a helpful template for how to best go about doing this:
Step 1: Agree upon all details of the sale with the current owner. Be sure to set a fixed price, and a date when ownership of the domain will transfer to you.
Step 2: To be on the safe side, it's a good idea to prepare a contract that puts all of the terms you discussed in Step 1 in black and white. There are plenty of templates floating around online, such as this one from sedo.com.
Step 3: Pay the current owner the sum agreed upon in your (signed) contract.
Hint: In order to make the transaction as safe as possible for both parties, it's a good idea to involve an intermediary. With Escrow you can be absolutely sure that everyone receives what they've (contractually) agreed to. Alternatively, you could use the transfer services offered by domain marketplaces, like sedo.com, even if you haven't concluded the sale using their platform.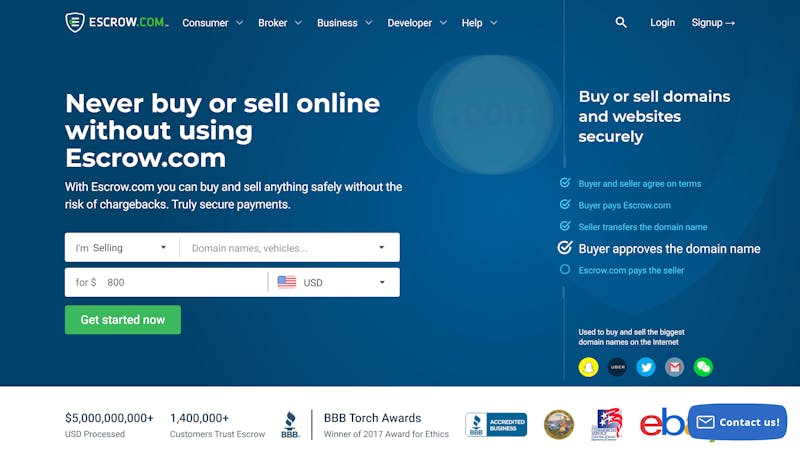 With Escrow, both you and the other party can safely buy or sell a domain.
When using a transfer service, simply follow its instructions. Otherwise:
Step 4: Once you've sent payment to the website's current owner, they should provide you with the so-called Auth-Code. This is a kind of password that is uniquely generated for each domain, guaranteeing that non-authorized people cannot simply "steal" or snatch a domain.
Step 5: Using the Auth-Code, you can take control of the domain and register it with your web hoster.
Conclusion
If you'd like to purchase a domain that's already taken, you essentially have two options:
You can either contact the domain's current owner yourself and see if they're receptive to parting with it, or, contract a domain broker, such as that offered by sedo.com to do this for you. On domain marketplaces, you can directly purchase or bid on domains or contract a broker. Of course, the latter option isn't free, as you'll need to pay a flat fee and a commission upon successful completion of the sale.
When purchasing a domain, it's important to exercise caution by drawing up and signing a contract with the other party beforehand, and using a transfer service or third party like Escrow for the actual transaction. Taking these precautions ensures that everything will go smoothly: the site's owner receives payment, and you get the domain you wanted.
Or maybe after reading this guide, you'd rather purchase a domain that is available? In our EXPERTE.com comparison, you'll be able to find the domain provider that best matches your needs.
FAQs
How can I get a taken domain?
⊖
If a domain is already in use, you'll have to buy it from its current owner. The first step in doing this is identifying who that is, by checking the contact page or performing a WHOIS query. Alternatively, you could leave all of the legwork up to the domain broker services offered by domain marketplaces such as sedo.com or dan.com, or see what alternatives are for sale. Should you want a specific domain, domain brokers can be hired (for a fee plus a provision if the sale goes through) who will identify the owner, negotiate the sale, and deliver the Auth-Code to you.
How can I find out who a domain belongs to?
⊖
The easiest way to do this is by checking the website's contact page or performing a so-called WHOIS query, which displays all publicly available information about the domain. If neither of these works, be sure to check out more advanced methods in our guide.
How much does a taken domain cost?
⊖
This depends on the quality, potential, and value of the domain. According to DNPric.es, the average sales price of a .com domain is $712, however, there are plenty of more affordable and more expensive domains. Particularly valuable domains have been known to sell for hundreds of thousands or even millions of dollars.

Janis von Bleichert studied business informatics at the TU Munich and computer science at the TU Berlin, Germany. He has been self-employed since 2006 and is the founder of EXPERTE.com. He writes about hosting, software and IT security.
Continue Reading
Other languages
Deutsch