WP Engine WordPress Hosting Review 2023: Is It Really the Fastest Hosting Provider?

Author
Janis von Bleichert
Ad disclaimer:
For links on this page, EXPERTE.com may earn a commission from the provider. This supports our work and has no influence on our editorial rating.
WP Engine promises "A smarter way to WordPress". The managed WordPress hosting solution handles all technical aspects of your WordPress website, allowing you to fully concentrate on building and running it. So, what does WP Engine bring to the table?
We took a close look at WP Engine and in this review, will let you know if it really makes your WordPress project smarter.
What Is WP Engine?
WP Engine* is a web hosting service from Texas. Founded in 2010, it is responsible for more than 1.5 million websites, and trusted by upwards of 185,000 clients. As its name suggests, WP Engine is 100% focused on WordPress hosting, with all of its solutions tailored to WordPress users.
The provider claims to be the fastest and most secure WordPress hosting service on the market. Below, we'll let you know if this is actually the case.
WP Engine WordPress Hosting Review
Technology & Features
8.6 / 10
Configuration & Usage
8.0 / 10
Excellent performance
WP Engine took first place in our performance test thanks to its outstanding uptimes, server response times, and page speeds, even under load.

Worldwide servers

Users have access to servers all over the world.

Automatic backups for 60 days
WP Engine stores automatic backups for up to 60 days - much longer than most of its competitors.

Entirely focused on WordPress
With many hosting providers, support for WordPress websites is one aspect of their portfolio. WP Engine is 100% concentrated on WordPress hosting which means better performance, service, and offers for WordPress website owners.
Useful features behind paywalls
Some features, particularly in terms of security (web application firewall, DDoS protection, etc.) are only available as at-cost extensions.
To get started with WP Engine, you'll need to create an account and select a subscription plan. This is done in a single step, where you can also purchase add-ons and specify whether you'd like to pay month-by-month or annually (less expensive).
In the "Account information" area, look for the "Data center" option. There, you can select your server location. By default, you'll use servers in the US, however, switching to those in another country is free.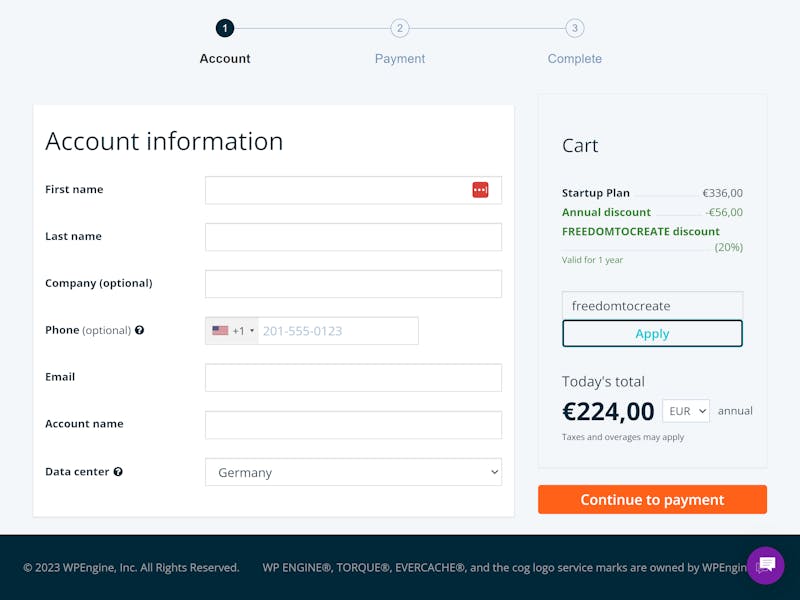 With WP Engine, you'll set up an account and select your subscription plan in the same step.
Once you've finished setting up your account and selecting a subscription (you can read more about WP Engine's prices and plans below), you can add your WordPress site to it.
Install WordPress
WP Engine makes it easy to install a WordPress instance. Click on "Add a new site" in the dashboard to get started. Then, input your login data and WP Engine will take care of the rest. Your WordPress website should be ready within a few minutes.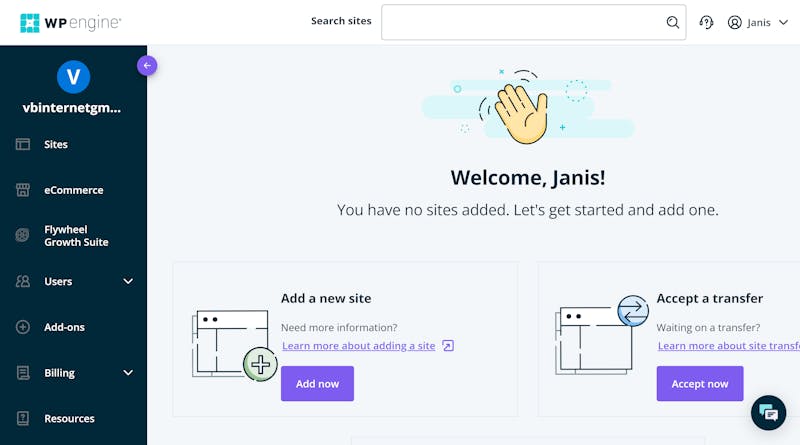 Setting up a WordPress installation in WP Engine only takes a few minutes.
Sleek and Intuitive Dashboard
After your WordPress instance has been installed, go to the "My Sites" area of the dashboard, where it should be listed. In the main menu off to the left, you'll see options for websites, ecommerce projects, users, add-ons, and billing.
A second menu bar runs along the top of the dashboard. This features a search tool, a link to the support center, and your user profile, where you can adjust some settings. Should you need help quickly, click on the support chat button in the bottom right of the screen.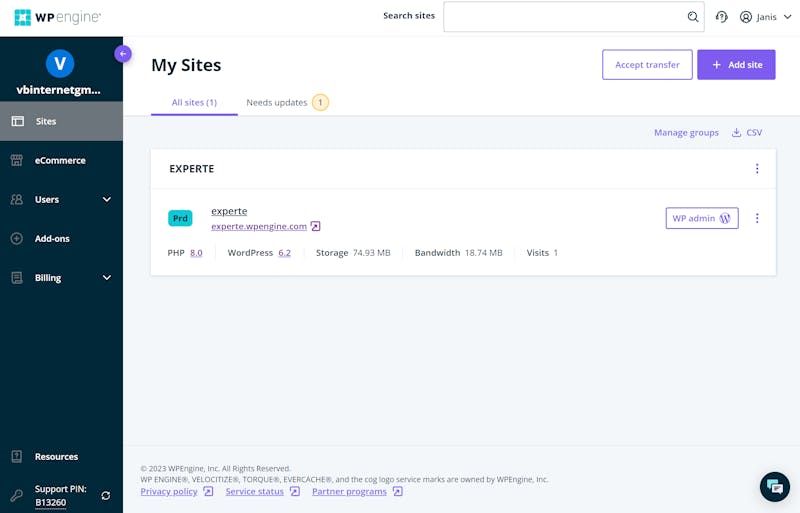 WP Engine's admin dashboard is logically designed.
The list of your WordPress pages includes some basic information about each installation, such as its PHP version or bandwidth. In addition, a direct login link to your WordPress console is also included. To adjust WordPress settings in WP Engine, click on the project's name.
This area of WP Engine's interface is also well-designed. You'll be taken to an "Overview" window that displays your instance's most important statistics and settings.
Off to the left is a menu grouped into the three environments supported by WordPress websites: Production, Staging, and Development (to start, only the Production environment is displayed). Here you'll find a number of important features, from backups to SSL certificates to caching settings.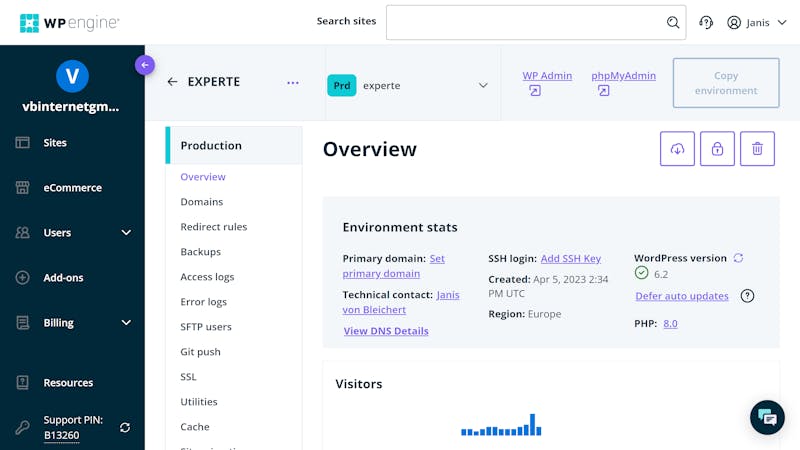 You can adjust your WordPress website's advanced settings in this submenu.
Migrate Your WordPress Site by Plugin
Are you already operating a WordPress website and want to start hosting it on WP Engine? In that case, install the WP Engine Automated Migration plugin on the site that you'd like to migrate.
To migrate your website, you'll need to install a new WordPress instance in your WP Engine dashboard. Then, open the WP Engine Automated Migration plugin in the admin area of the WordPress website that you want to migrate and follow the instructions. The information needed to migrate the site can be found in the detailed view of your WordPress installation in the WP Engine dashboard (Staging > Site migration).
Since you need to manually install and work with the WP Engine Automated Migration plugin, site migration isn't as "automatic" with WP Engine as it is with other WordPress hosting providers. At the same time, transfers are straightforward, even for those lacking in technical know-how.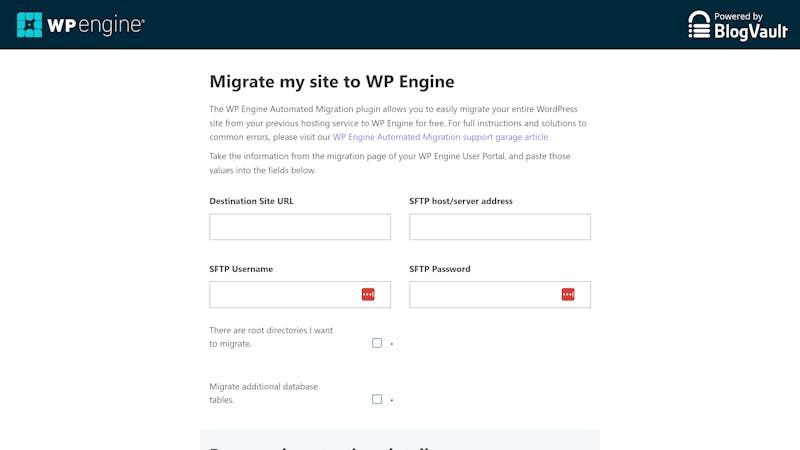 The WP Engine Automated Migration plugin helps to migrate your WordPress projects.
WP Engine's usage concept is solid: The platform does well with its sleek dashboard and intuitive menus. The most important features of every WordPress instance, such as logging in through the WordPress console, are especially easy to find. At the same time, you won't need to search for long in the dashboard's submenus.
Configuration & Usage
8.0 / 10
So, how do things look under WP Engine's shiny hood? In this part of the review, we check how accurate each provider's performance and security claims are. We review technical specifications individually before assessing how the service's security and performance fare in actual usage.
PHP Only up to 8.0
When it comes to PHP, WP Engine is a bit behind the times. PHP 8.0 is activated by default and when trying to change this, we realized that it's only possible to downgrade to 7.4. With other providers, the newer version (8.1) has long been available with some even supporting 8.2.
This is important because each successive version of PHP offers new features and improvements, which enhance both the performance and security of WordPress websites. As such, it's unfortunate that WP Engine hasn't kept up with its competitors.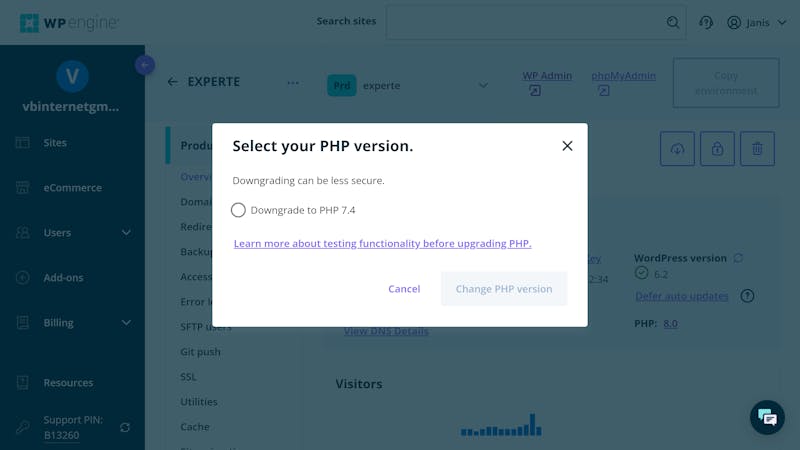 Although you can change the PHP version, the newer 8.1 (default at the time of writing) and 8.2 aren't supported.
NGINX and Apache Servers, MySQL Databases
WP Engine uses NGINX and Apache servers, as well as MySQL databases. Unfortunately, there's only a single database per WordPress website, however, you can purchase additional ones if needed. Once again, other hosting providers offer greater flexibility.
No additional database settings are offered in WP Engine's dashboard, however, you can directly access your database through phpMyAdmin.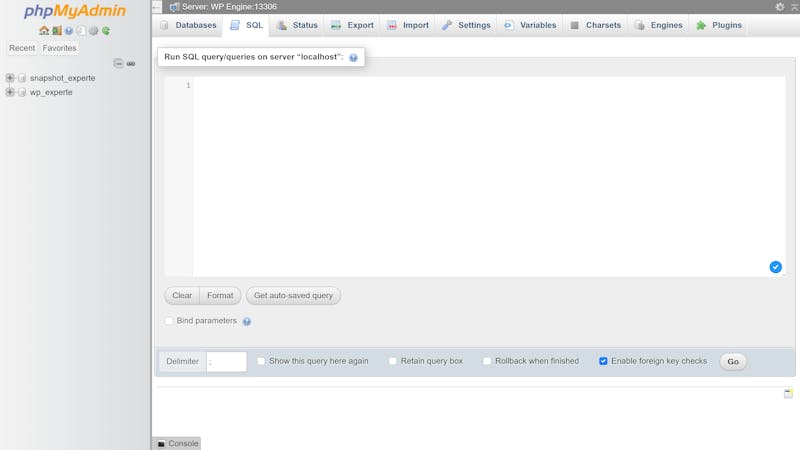 You can directly access your database with phpMyAdmin.
WP Engine's Performance Features
WP Engine only utilizes fast SSD drives for its databases and storage. In addition, the platform supports the HTTP/2 protocol, which facilitates more efficient online data transfers than HTTP.
For caching, WP Engine uses EverCache, a proprietary solution: It automatically caches static content on your website so that visitors won't need to reload it every time they navigate to your website. Since EverCache is optimized for WordPress, WP Engine promises page speed increases of up to 40% in comparison to other solutions.
In the cache menu of your WordPress instance's management area, you'll find a few more caching features as well as the ability to manually delete caches: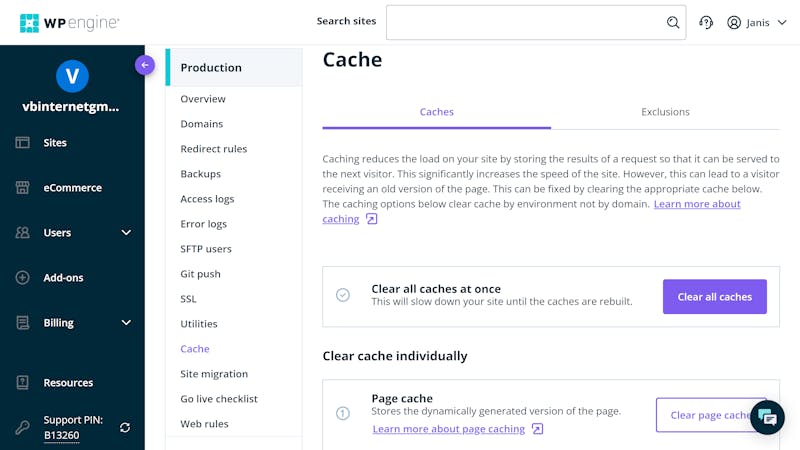 WP Engine optimizes your website's performance with EverCache.
Additional WP Engine Features
WP Engine offers a number of other features as well. Here are some of the highlights:
Staging and development environments: The service offers a staging environment in which you're able to conveniently test updates or changes. Additional development environments can be added for free.

SFTP and SSH access: You can access and freely modify your data through SFTP or SSH. The wp-config-php can also be edited via SFTP.

Content Delivery Network (CDN): All WP Engine subscriptions include Cloudflare CDN. Because of this, the provider promises quick loading times for your website's visitors wherever they are in the world.

Multisites: WP Engine offers multisite support (multiple websites managed through a single WordPress instance). This is only available to Professional subscribers and above.
There are also a few paid add-ons that aren't included with any of the subscription packages. GeoIP ensures that content will be delivered dynamically to users based on their location, further enhancing your website's performance. WP Engine also offers a toolkit for freelancers and agencies that build websites for their customers and a smart plugin manager.
While on the subject of plugins: WP Engine has a comprehensive list of disallowed plugins. Take a look to make sure that none of these are essential to your website.
Overall, WP Engine provides a solid package of features. It is unfortunate that none of the plans include a domain or email hosting and that users are limited to a single database per website.
Technology & Features
8.6 / 10
WP Engine claims to be the "most secure WordPress hosting" on the market. Comparing providers is more difficult here than in terms of performance since it's difficult to put security into numbers and percentages.
Turning to compliance, WP Engine adheres to SOC-2 and ISO 27001-2013. Users also benefit from the ability to use servers located in different jurisdictions.
Every subscription includes free SSL certificates from Let's Encrypt. Once you've assigned your WordPress instance a domain, you'll be able to configure its SSL certificate in the similarly named production environment submenu. Of course, you can also import other certificates here.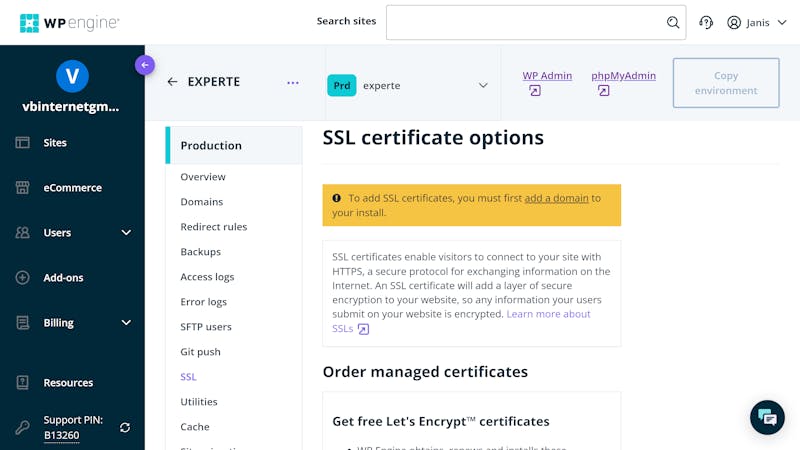 WP Engine offers free SSL certificates from Let's Encrypt.
Protection Against Attacks and Malware
WP Engine includes several security features that proactively guard your website against attacks. Automatic WordPress and PHP updates are included in all subscriptions, preventing outdated versions from making your site vulnerable. Threat identification, which alerts you to potential dangers, is also integrated.
To enhance oversight and accountability, WP Engine offers user rights and logs: You can specify which users are able to access which areas of your site, and can follow their activity in the "Access Logs" area of your WordPress website.
Logs show who did what on your website when.
Enhanced Security Features Behind Paywalls
Unfortunately, WP Engine hides a number of interesting security features behind paywalls. A web application firewall (WAF) and advanced DDoS protection are only available as premium add-ons. These make sure that your plugins are automatically updated.
WP Engine Backup Features
Backups can be your knight in shining armor, should something go wrong with your WordPress website. In this area, WP Engine's automatic backups as well as the ability to create manual updates provide a considerable degree of security. Automatic backups are created daily, while manual ones can be made at any time.
All of your backups, as well as the ability to restore your WordPress website from a backup, can be found in the "Backups" menu in your WordPress project's admin area. Backups are stored for up to 60 days, which is fairly generous in comparison to most of WP Engine's competitors.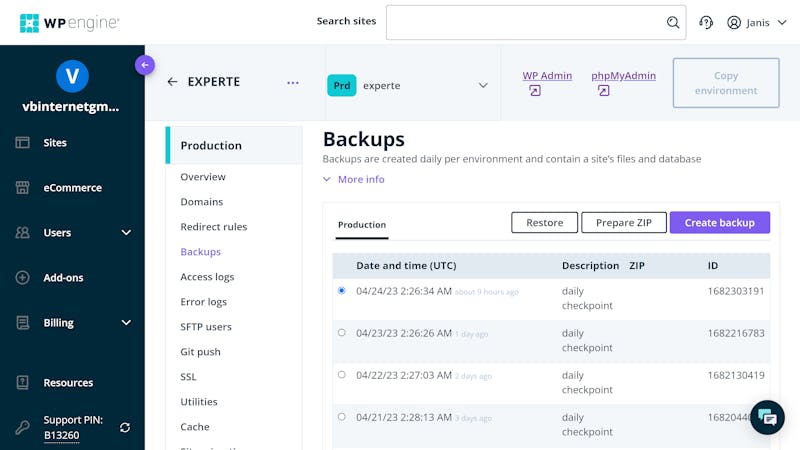 WP Engine automatically backs up your WordPress website every day.
Overall, WP Engine meets the most important security standards. We're also not aware of any leaks or scandals. The provider's 60-day backup storage policy impressed us. At the same time, it is unfortunate that some useful security features, like DDoS protection and a firewall, are at-cost extras.
To keep your visitors happy, your WordPress website doesn't only need to be safe, but also fast. We check the latter in our performance test by comparing each hosting provider according to four key metrics: Response speed, page speed, load test, and availability.
Provider Comparability
In order to keep our results fair, we selected each provider's plan that was closest to $20 per month. With WP Engine, this is the "Startup" plan for $20.
Response Speed (Time to First Byte)
We measure a server's response speed by its Time to First Byte (TTFB). This indicates how much time elapses between when a user sends a request (a visitor to your website) and when they receive the first byte of data from the site.
Ideally, response speeds should remain stable, however, they rarely do in reality. This is because other websites using the same server can impact their performance and that of your website.
We recorded the TTFB for six weeks with a deactivated cache in order to get both an average and an idea of what sort of fluctuations the server experienced. Here are our findings: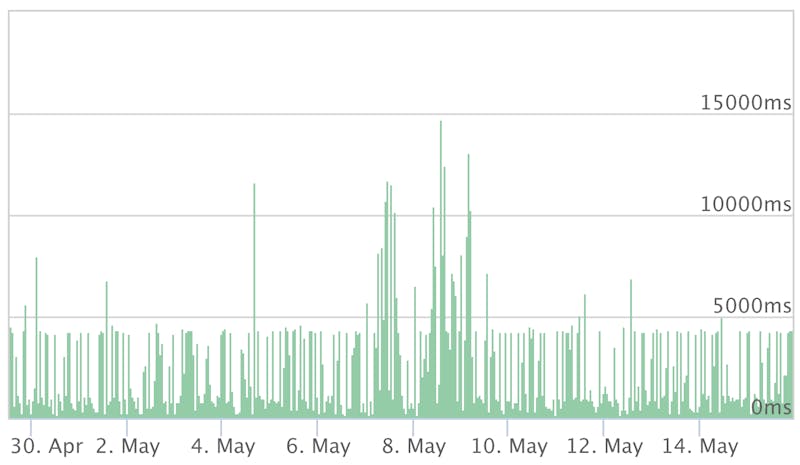 During testing, response time experienced some significant fluctuations, however, overall, the TTFB was good.
The graphic above shows several fluctuations, however, response times remained good throughout most of our testing period. WP Engine is one of the fastest hosting providers from our sample:
Page Speed (Largest Contentful Paint)
A website is a lot more than a single byte. For that reason, to measure the overall performance and actual loading speed of a website, the Largest Contentful Paint (LCP) provides more insight. This reflects how long it takes for the largest content element on a page to load. Since this includes images, CSS, and Javascript, LCP is a good indicator of how all performance optimizations interact with one another.
Google sees things similarly, and LCP is one of its Core Web Vitals. These relay information about how user-friendly a website is. Good page speed is also important from an SEO point of view.
During our test, we checked the current page speed with an active cache. The graphic below shows LCP over time:

WP Engine's page speed remained constant throughout our test.
In terms of page speed, WP Engine also does everything right:
Load Test (50 Simultaneous Visitors)
For our load test, we simulate how a website behaves when a significant number of users attempt to access it at the same time. We tested the site with 50 simultaneous users, once with active caching, and once with it deactivated.
In the first test (active cache), none of the providers from our sample, including WP Engine, had any issues. However, when we performed the test with caching deactivated, a few services struggled. WP Engine was not among them: On the contrary, its response times actually became faster.

Large numbers of visitors are no problem for WP Engine.
In comparison to the other providers from our sample, WP Engine's load test response times were excellent:
Availability (Uptime)
Rounding things out is uptime or the amount of time that a website is actually available. Ideally, this should be as close to 100% as possible - even 0.5% downtime means that a website isn't available for 3 hours over the course of a month.
We didn't encounter any downtime with WP Engine: During testing (6 weeks long), we checked the website's availability once per minute, and it was always available:
Overall Performance
WP Engine excelled in all of our test categories, propelling it to first place in our comparison. No other hosting provider from our sample was as quick or reliable:
| Provider | TTFB | Pagespeed | Load Test | Uptime | Total |
| --- | --- | --- | --- | --- | --- |
| WP Engine | 0.21 s | 1.17 s | 0.26 s | 100 % | 10 |
| Siteground | 0.22 s | 0.98 s | 0.21 s | 99.98 % | 10 |
| WordPress.com | 0.20 s | 1.36 s | 0.16 s | 100 % | 9.5 |
| Cloudways | 0.13 s | 1.17 s | 1.64 s | 100 % | 9.4 |
| IONOS | 0.27 s | 1.09 s | 2.22 s | 100 % | 8.7 |
| GoDaddy | 0.34 s | 1.38 s | 0.54 s | 99.98 % | 8.7 |
| Kinsta | 0.31 s | 1.16 s | 2.37 s | 99.99 % | 8.6 |
| Hostinger | 0.49 s | 1.30 s | 0.21 s | 99.83 % | 7.5 |
| Flywheel | 0.13 s | 0.98 s | 3.38 s | 99.78 % | 7.5 |
Good support is particularly important for managed WordPress hosting since customers want to spend as little time handling their site's technical workings as possible. Two aspects are particularly important: A good support center with guides and tutorials, as well as fast, direct support offered through a variety of different channels.
Starting with the help center: This can be accessed by clicking on the support icon in the upper right of the menu bar. You can quickly find relevant articles or guides by entering a keyword in the search bar. Content is arranged into different categories, such as "Setup a Site", "WordPress Help", or "Troubleshoot".
The articles themselves are good: Each has a table of contents, which makes it easy to find whatever you're looking for, as well as screenshots and walkthroughs.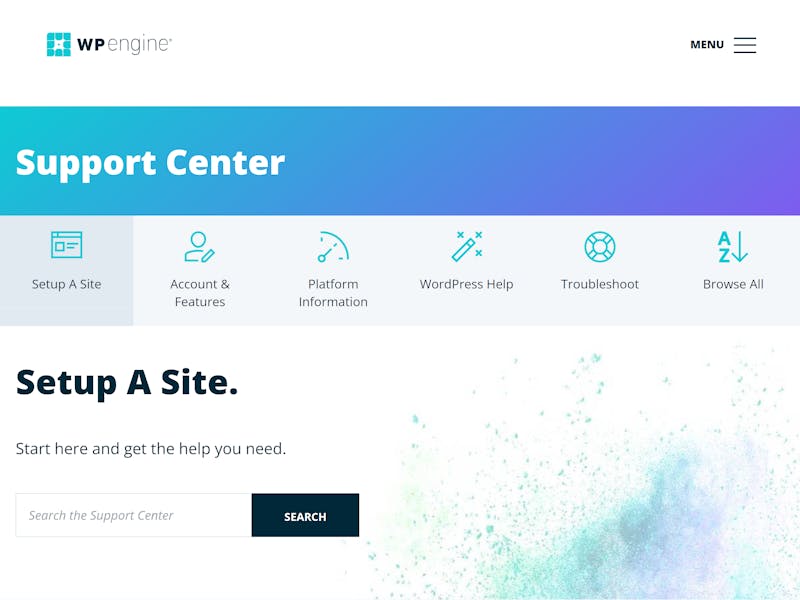 WP Engine's support center.
Direct support is available through WP Engine's live chat. Whenever we tested this, we were quickly connected to friendly and competent staffers who appeared to be knowledgeable about WP Engine. The support chat is available around the clock.
The only negative is that WP Engine doesn't offer any other contact options - its telephone hotline is only for sales.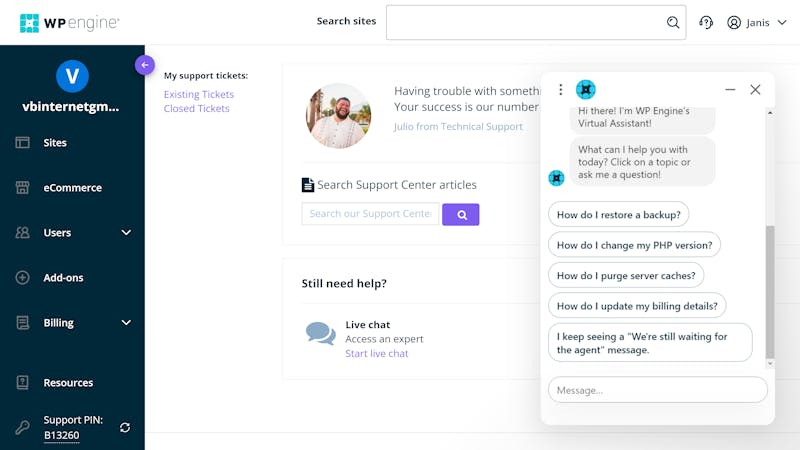 WP Engine's support chat is available 24/7.
WP Engine scores with its fast chat support, 24/7 availability, and well-stocked help center. The only downside is that there's no telephone hotline.
WP Engine's subscriptions are divided into Managed WordPress and ecommerce plans. The latter only differ from the former in terms of price and ecommerce features.
Four plans are offered for each type of subscription: Startup, Professional, Growth, and Scale. The number of integrated websites varies (1, 3, 10, 30), along with recommended visitors per month (25,000, 75,000, 100,000, 400,000), dedicated storage space (10 GB, 15 GB, 20 GB, 50 GB), and monthly bandwidth (50 GB, 125 GB, 200 GB, and 500 GB).
As noted above, multisite support is only available for Professional, Growth, and Scale subscribers.
If none of these solutions cover your needs, WP Engine also offers a Custom plan with advanced features. Below, we've prepared an overview of all WP Engine subscriptions:
Startup
Professional
Growth
Scale
Set-up Fee
$0.00
$0.00
$0.00
$0.00
Monthly Price
from $20.00
from $39.33
from $76.67
from $193.33
Contract Period (Months)
1 - 12
1 - 12
1 - 12
1 - 12
Included
WP Installations
1
3
10
30
Storage
10 GB
15 GB
20 GB
50 GB
Domains
0
0
0
0
Databases
1
3
10
30
SSL Certificates
unlimited
unlimited
unlimited
unlimited
Features
SSD Storage
SSD Database
HTTP/2
SSH
External Domains
Automatic Backup
Cronjobs
Price comparisons are difficult since each hosting provider offers different features and limits in its plans. The price of the most affordable plan is a good indicator of how expensive the solution is. In the table below, we compared each hosting provider's least-expensive plan:
1.
2.
3.
4.
5.
6.
7.
8.
9.
As you can see, WP Engine is relatively expensive and doesn't include domains or email hosting. Of course, customers can expect good-very good performance in all of the test categories we assessed and a solid overall package.
Conclusion
Technology & Features
8.6 / 10
Configuration & Usage
8.0 / 10
WP Engine is a web hosting provider that is all about WordPress. In our performance test, WP Engine took first place which speaks to its high degree of suitability for WordPress websites. On top of that, its dashboard is user-friendly and optimized for WordPress features, while the provider offers great support and a high level of security.
Turning to the negatives, more features could be offered, especially those that are only available as at-cost add-ons. Unfortunately, domains aren't included either.
Overall, WP Engine is one of the best WordPress hosting providers available but priced accordingly.
WP Engine WordPress Hosting
WP Engine ranks first in our performance test – testament to the platform's 100 % WordPress focus. User-friendly dashboards, high security standards, and solid support round off the package.
100 % specialized in WordPress
top performance with CDN & caching
staging & multisite support
some features behind paywalls
8.6

good
WP Installations
Space
Domains
Contract Period
WP Engine Startup
$20.00
monthly price
Visit Website*
Customer Reviews
WP Engine's customers seem to share our high opinion of the hosting provider: They frequently refer to it as "fast" and "reliable", with its support also coming in for quite a bit of praise. Below, we've summarized verified reviews from reputable online aggregators:
Customer Ratings
1,100 Bewertungen
Visit Website*
We analyzed the reviews and ratings from various portals and found 1,100 ratings with an overall rating of 4.7 out of 5 .
Alternatives
Are you looking for a more affordable alternative and ready to make a few compromises in terms of performance and support? If so, IONOS offers very affordable beginner rates.
The Top 5 alternatives to WP Engine can be found here:
SiteGround WordPress Hosting
SiteGround won us over with excellent speeds, extensive features, and an intuitive interface – all at comparatively low prices, domain and email included.
great speeds with CDN & caching
automatic updates & backups
staging and multisite support
9.1

excellent
WP Installations
Space
Domains
Contract Period
SiteGround StartUp
$8.49
monthly price
Visit Website*
30 Tage Geld-zurück-Garantie
Kinsta is a highly polished WordPress hoster that combines solid speeds, high security standards, and a beautiful interface into a premium offering worth its premium price tag.
strong performance results
integrated Cloudflare CDN
only 14 days of backup retention
8.8

good
WP Installations
Space
Domains
Contract Period
Kinsta Starter
$29.17
monthly price
Visit Website*
Free Demo Account
Hostinger WordPress Hosting
Hostinger offers a comprehensive set of features, high security standards, and a neat user interface. When it comes to support and performance, however, it's not top of the line.
WP Installations
Space
Domains
Contract Period
Hostinger Premium
$2.99
monthly price
Visit Website*
WordPress.com WordPress Hosting
WordPress.com lives up to its name: the hosting service from the people behind WordPress offers excellent speeds, reliable support – and the only free plan among the providers we tested.
WP Installations
Space
Domains
Contract Period
WordPress.com Free
$0.00
monthly price
Visit Website*
Cloudways WordPress Hosting
Despite its rather plain interface and occasional paywalls, Cloudways offers top-notch performance, extensive features, and flexibility, making it a good choice for experienced developers.
multiple infrastructure providers
some features behind paywalls
8.3

good
WP Installations
Space
Domains
Contract Period
Cloudways DO 1GB RAM
$11.00
monthly price
Visit Website*
FAQs
How does WP Engine perform?
⊖
WP Engine offers excellent performance: In our EXPERTE.com test, the hosting provider demonstrated excellent page speeds and response times, even under load stress, as well as perfect uptime. Among our sample of 14 providers, WP Engine came in first.
What disadvantages does WP Engine have?
⊖
WP Engine is relatively expensive. Beyond that, it doesn't include all of the features users might want. Domains aren't integrated, and a web application firewall (WAF) and DDoS protection cost extra.
Does WP Engine offer a free trial?
⊖
WP Engine does not offer a free trial. However, new subscribers have 60 days to request a full refund if they aren't completely satisfied with the service.
* Ad disclaimer:
For links marked with an asterisk, EXPERTE.com may earn a commission from the provider. The commission has no influence on our editorial rating.

Janis von Bleichert studied business informatics at the TU Munich and computer science at the TU Berlin, Germany. He has been self-employed since 2006 and is the founder of EXPERTE.com. He writes about hosting, software and IT security.
Continue Reading