Strikingly Website Builder Review: A Good Choice in 2023?


Ad disclaimer:
For links on this page, EXPERTE.com may earn a commission from the provider. This supports our work and has no influence on our editorial rating.
Strikingly states "We believe in individuality". With its beginner-friendly site builder, the company clearly wants to help anyone bring their digital dreams to life, something its competitors hinder through their "technical complexity". We took a closer look at the site builder to let you know whether it really makes dreams come true.
What Is Strikingly?
Strikingly* is a website builder, which allows anyone to design, manage, and publish their own website without any programming. Originally founded in 2012 by David Chen, Teng Bao, and Dafeng Guo with $100, the company has since moved from Shanghai to Silicon Valley, joining the Y Combinator startup program.
More than a decade later, Strikingly can lay claim to having helped millions of users easily create websites and landing pages. In this review, we'll let you know what the platform is capable of and who we would recommend it for.
Strikingly Website Builder Review
Configuration & Usability
9.4 / 10
Marketing, SEO & Ecommerce
7.4 / 10
Templates & Design
6.0 / 10
Capable of quickly creating single-page websites

Good support, featuring a live chat
SEO shortcomings owing to the focus on single-page websites

Limited freedom of design
1.
Configuration and Usage
Since websites with a Strikingly.com subdomain are free of charge, registering with the platform is straightforward. You'll only need to provide your name, email address, and password (or, alternatively, log in via Facebook or LinkedIn).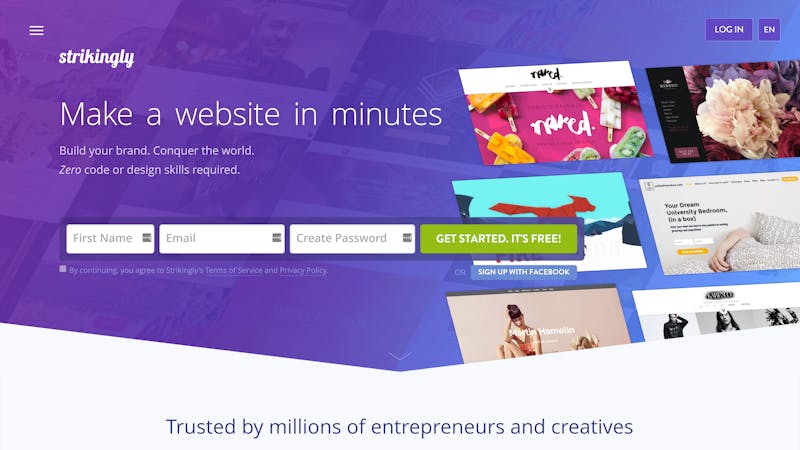 You can register for Strikingly without supplying any payment information.
Templates for different website categories
Immediately after registration, you can start setting up your website. First, select one of the templates from among the "Store", "Business", "Startup", "Creative", "Personal", or "Blog" categories.
Every template can be previewed, or, if you're feeling lucky, you can use it right away by clicking on the "Get Started" button.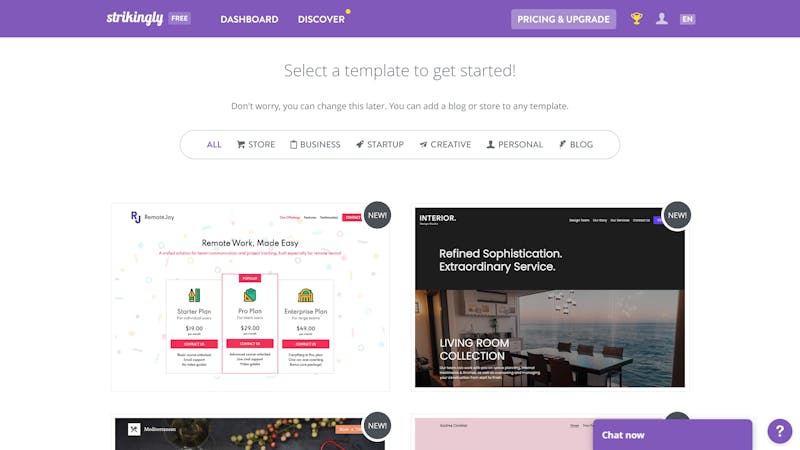 Strikingly offers six categories of website templates, each of which is intended for different kinds of websites.
After settling on a suitable template, you'll head over to the editor, where a brief tutorial lays out the platform's basics. Even if you skip this, it doesn't take long to get used to the site builder.
In the menu bar off to the left, you can make some basic changes to your website. For example, in the "Sections" area, it's possible to manage all of the different content blocks that feature on your website (such as galleries, text, or testimonials) or add new ones. Beyond that, you'll also see four buttons for design settings, ecommerce features, lists of target groups, and advanced options.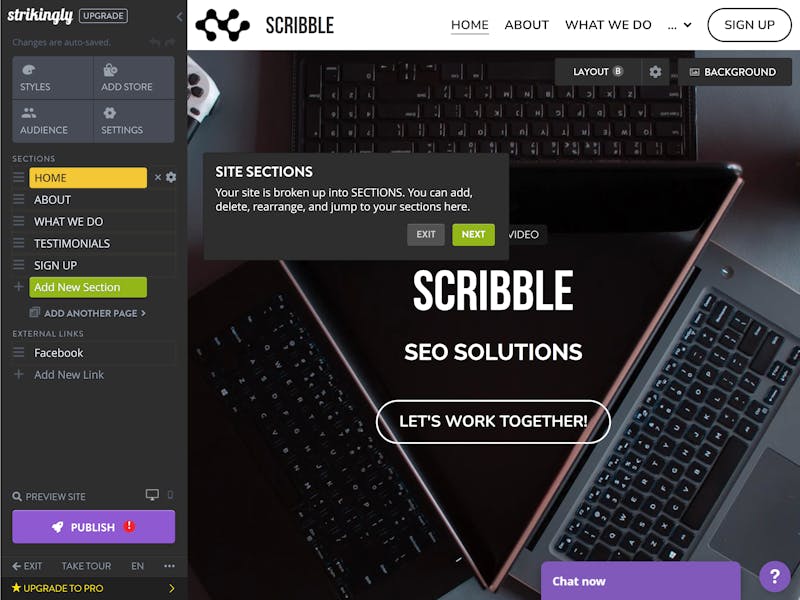 A brief tutorial walks you through the ins and outs of Strikingly's user interface.
Drag and drop mode for layout changes
The layout button in the upper right is important since it allows you to select different design schemes for your site's sections. By changing to drag and drop mode, you can arrange content at will within a section. It isn't possible to move elements anywhere, but only within specific areas that are demarcated by guidelines. Although this restricts creative freedom, unlike platforms like Wix, it does keep your page's design visually harmonized.
All other changes are made directly in the work area in the middle of the platform's interface. There, you'll be able to edit text and other content in a live preview of your website. By clicking on the plus symbol, you can add different elements within a section. After switching to drag and drop mode, these can then be moved around to your preferences.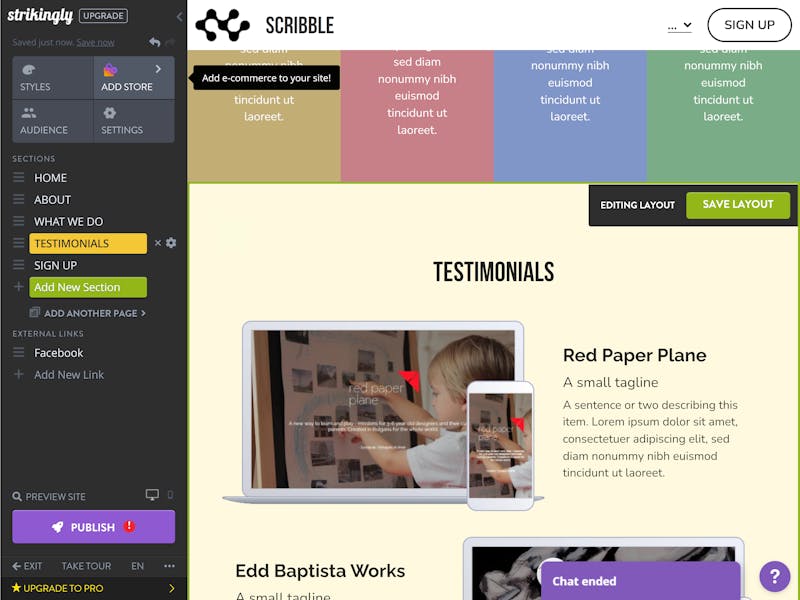 You can change to drag and drop mode in each section, making it possible to position elements at will.
Should you need assistance at any time, the platform's support team can be contacted via the chat window in the lower right.
Mobile app for building on the go
Strikingly offers a smartphone app with which you can build and manage your website or online store on the go. You'll not only be able to view statistics and orders but also update your website's content. Unfortunately, the app doesn't feature drag and drop mode, and in general, only allows limited functionality, such as text editing.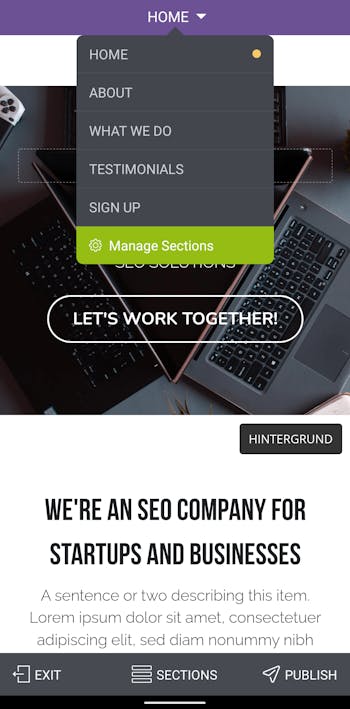 With Strikingly's mobile app, you can work on your website or online store on the go.
Strikingly's usage concept definitely works and makes creating a website as user-friendly as possible. Thanks to its sections, and the ability to enter into layout mode for each of these, it's easy to keep an overview of your site. During our assessment, the editor's drag and drop capabilities performed well, even though they were slightly limited.
As such, we have little to complain about. Strikingly's editor is definitely one of the most user-friendly of its kind.
Configuration & Usability
9.4 / 10
Strikingly offers all of the capabilities expected from a site builder, however, rarely provides more than the basics.
Unimpressive content choices
Each Strikingly website is divided into different sections, which you can add to through the menu on the left. In total, 10 different types of sections are available, including "Business & Products" or "Contact & Forms". Among these, you'll find basic website components such as price tables, feature lists, or contact windows. Additional, branch-specific content, like restaurant menus, is not offered.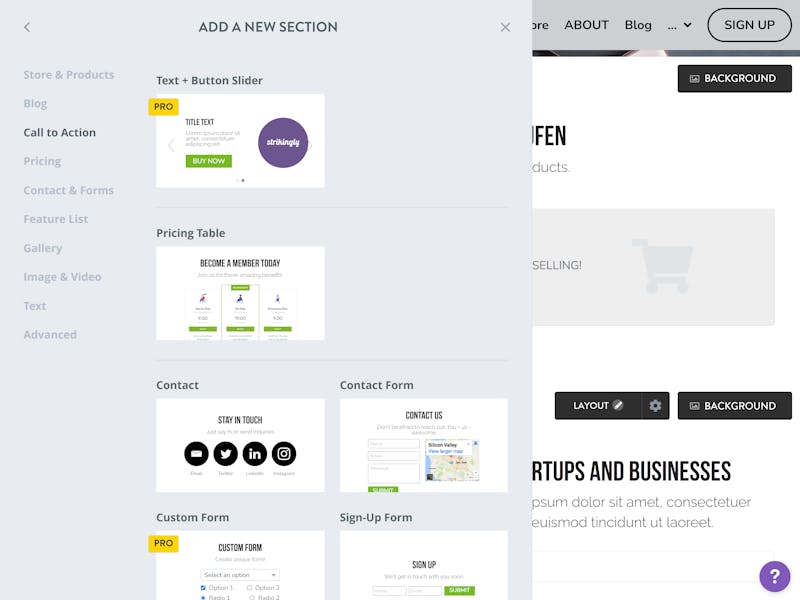 Sections are the building blocks of any Strikingly website. The variety and number of these isn't all that impressive, however.
Small app store for additional features
Should you not find what you're looking for among Strikingly's sections, you can check if something is available in the app store. This can be reached by adding a new section and selecting "App Store and HTML" from the section list. So long as you're a paying subscriber, you'll be able to insert user-defined HTML code or integrate apps from a small selection of third-party providers, like Mailchimp or Ecwid.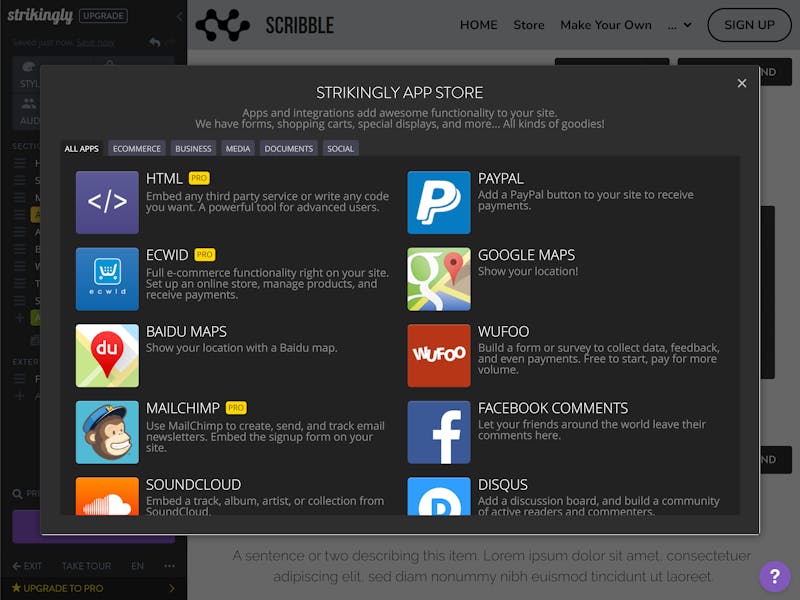 As of the time of our review, only 16 integrations were available in Strikingly's app store.
Solid blog features with a team section
Blogs are added to a Strikingly website as sections. To access the blog menu, click on the "Manage Blog Entries" button. There, you can create and publish new entries, either immediately, or at a specific time later on.
Entries can also be organized into specific categories. Should you want, you're also able to toggle comments on or off and offer subscriptions via RSS feed.
Under general settings, you'll find a team section, which you can use to invite team members and grant them specific rights. "Bloggers", for example, are only able to write blog entries and adjust settings, but not make any changes to the rest of your website. As such, Strikingly is certainly worth considering should you intend to work with an editorial team.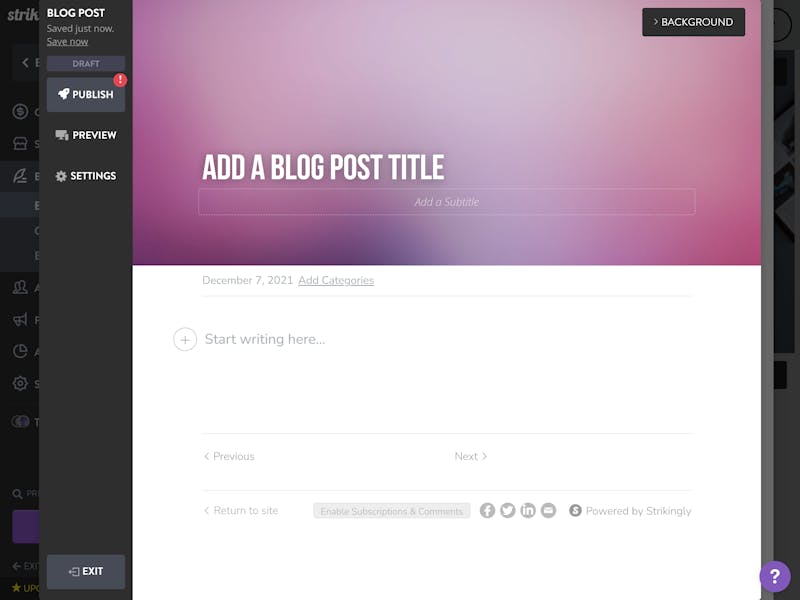 You can also add elements in the blog editor, however, your choice is limited to a few basic types of content and user-defined HTML code.
Multilingual and multi-page sites only for Pro subscribers
Many of Strikingly's features are limited to paying customers. Two examples of this are multi-page and multilingual websites (more on this below in the next section). For the latter, you can add a URL-based language changer to your website that displays certain content in the visitor's local language (i.e. de.experte.de or en.experte.de).
It's unfortunate that the ability to create multi-page sites is limited to Pro subscribers, however, it's still nice to see it integrated since it means that it's possible to easily create multilingual websites.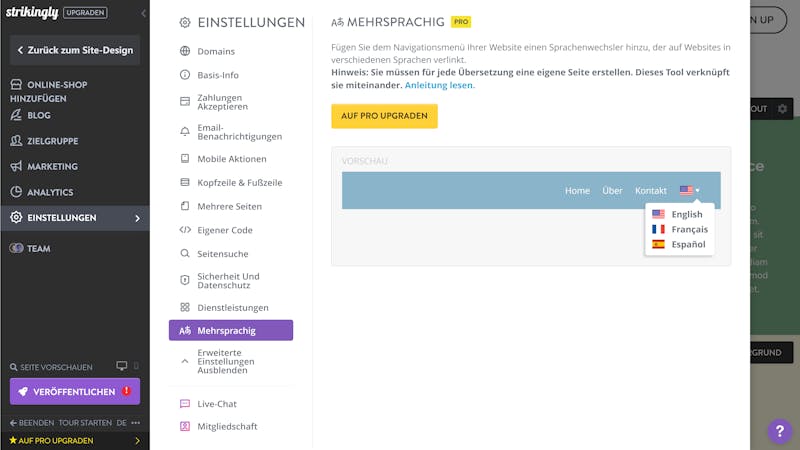 As long as you're a Pro subscriber, you can create multilingual or multi-page websites.
Strikingly makes everything available that's expected of a site builder in a user-friendly package. Unfortunately, free version users have to contend with too many paywalls, and even Pro subscribers won't have the most feature-laden platform. Overall though, the site builder does offer a decent set of tools if planning to create a basic website.
Strikingly users can select from 64 different design templates, which are subdivided into six different categories. The good news is that you won't be stuck with your initial choice, should you change your mind down the road: Templates can be swapped out at any time without losing the content you've added.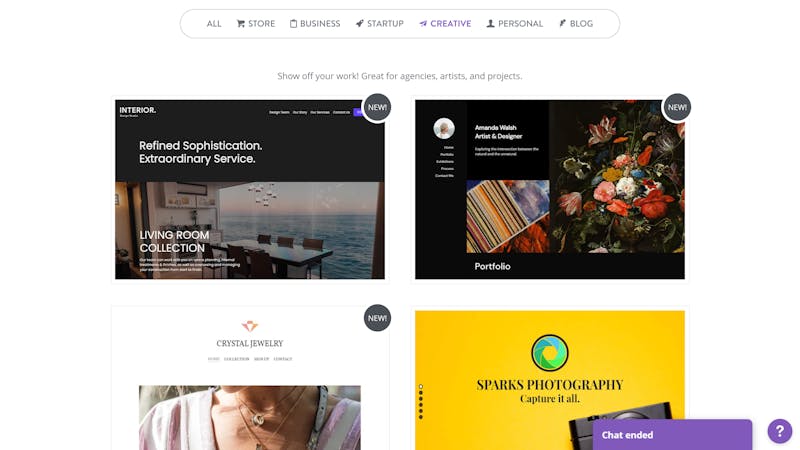 Strikingly offers users a choice of 64 different templates, which can be changed at any time.
Emphasis on single-page websites
The drawback to Strikingly's template flexibility is that there isn't much to the designs themselves. Instead, the website builder seems to have banked on scrollable single-page websites. As such, even though everything is located on one page, each section is treated as an individual page, including the corresponding menu item.
Multilingual websites are only feasible if you're a Pro subscriber because this allows you to add drop-down menus (which supports an extra navigation level on your website).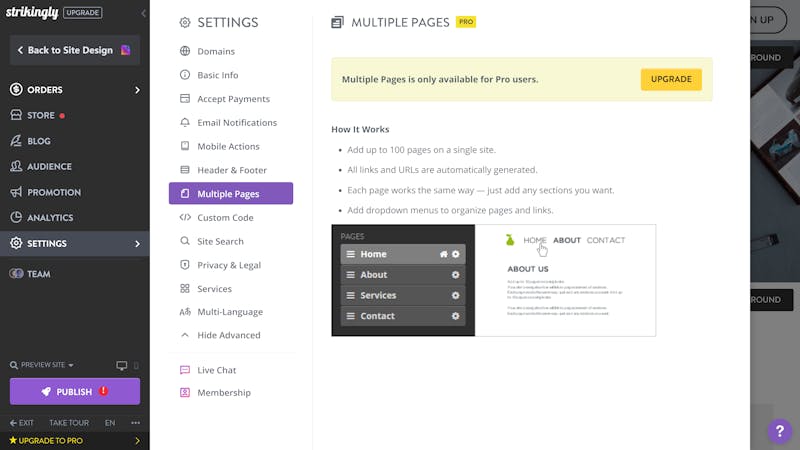 With Strikingly, the focus is clearly on single-page websites as multi-page projects can only be created by Pro subscribers.
Nifty design adjustments
Through the Style menu, you can adjust your content's color scheme, font, and size, as well as buttons and animations. Basic design changes to your sections, such as content width or direction, can also be made here.
To modify how your sections are arranged, you'll need to head to the layout menu. There, you can select between different ready-made layouts for each section or organize the content in the drag and drop menu yourself.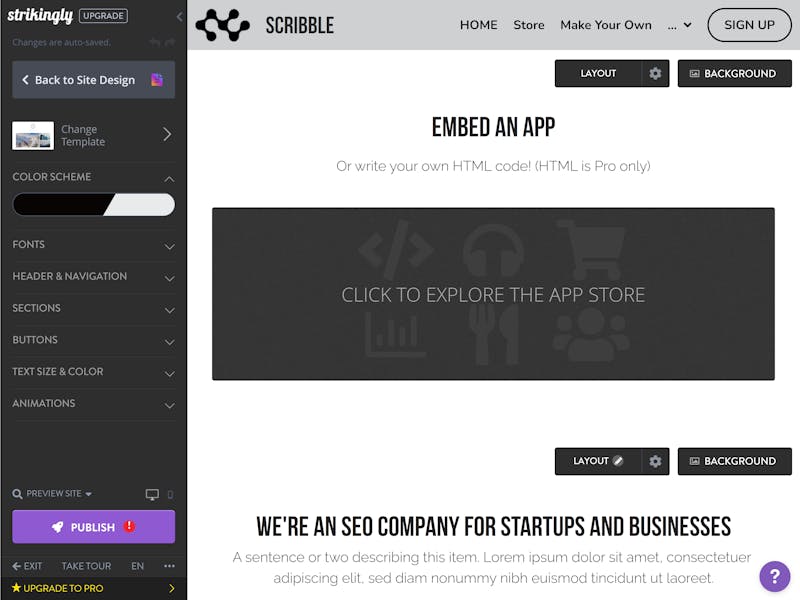 Color scheme, font, text size, and more can be freely adjusted.
Owing to its focus on single-page websites, Strikingly is somewhat limited in terms of design. The ability to add multilingual websites (if a Pro subscriber) does little to change this. More sections and elements could be offered. As such, Strikingly is far from the best tool for those who want total design freedom, even if it's capable of producing decent results.
Templates & Design
6.0 / 10
4.
E-Commerce, Marketing & SEO
As with all other types of content, in Strikingly, you add a store to your website as a section. After this, you can manage product details, such as their categories, shipping costs, taxes, and more.
Physical products, services, and downloads
Once you've added a new product, you'll be able to specify whether it's a physical product, service, or (if a Pro subscriber) digital download. Apart from that, all of the usual information can be input, such as an image, price, amount in stock, and delivery options.
Product variations, such as sizes or colors, can be created, which allows you to offer different combinations of the same item. Rounding things out, you'll have the ability to create product categories with Strikingly, but again, only if you're a Pro subscriber.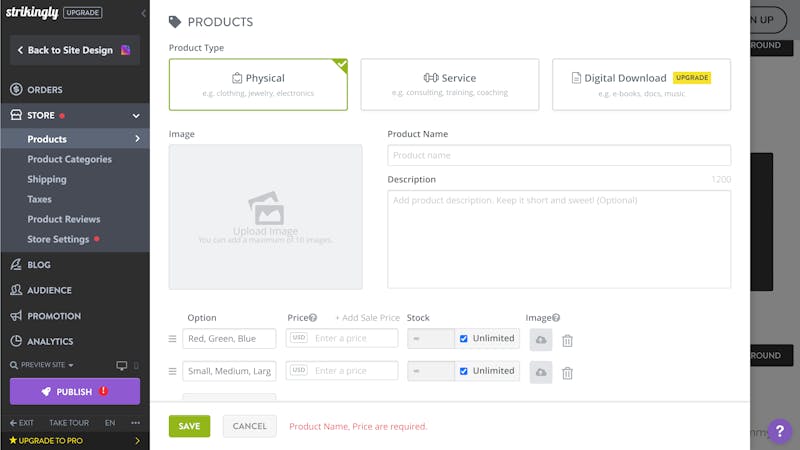 It's possible to offer different color and size combinations of your products.
When it comes to shipping, this can be based on previously specified geographic regions (and a flat rate) or order weight. Should you want, you can also offer in-person pick-up, as Strikingly lacks integrations with some delivery services. Stripe, PayPal, Square, and offline payment are all supported.
Basic marketing tools
Strikingly makes a number of tools available for marketing your products and website. You can enable product reviews and display star-based ratings. Through the product menu, there's an option to strike-through prices to emphasize a sale.
Beyond that, coupons and product pop-ups are possible, but only if you're a Pro subscriber.
There's also a basic email marketing tool in case you want to reach out to specific target groups, however, for access to more advanced features, you'll need to use the Mailchimp integration.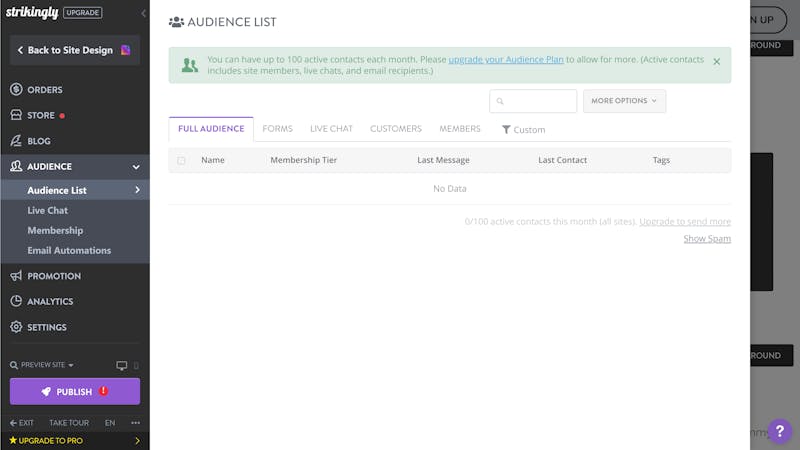 Depending on how they interact with your website, visitors will be added to specific target groups, which you can then contact via email.
SEO & Analytics
The marketing menu contains an SEO checklist that helps to make your website more attractive to search engines. With it, you can add page titles, tags, and meta descriptions.
Unfortunately, single-page websites are disadvantaged when it comes to SEO. They lump all topics and keywords together on a single page, instead of individual pages, with the latter being better for search engine ranking. For that reason, it's a good idea to realize particularly SEO-intensive projects across multiple pages, which, as we've noted above, isn't one of Strikingly's strengths.
In the Analytics menu, you'll be able to brush up on visitor statistics, such as their location, device, and how they found your site. To gain a fuller picture, it's possible to integrate Google Analytics through the Settings menu, while Pro subscribers can add Facebook Pixel.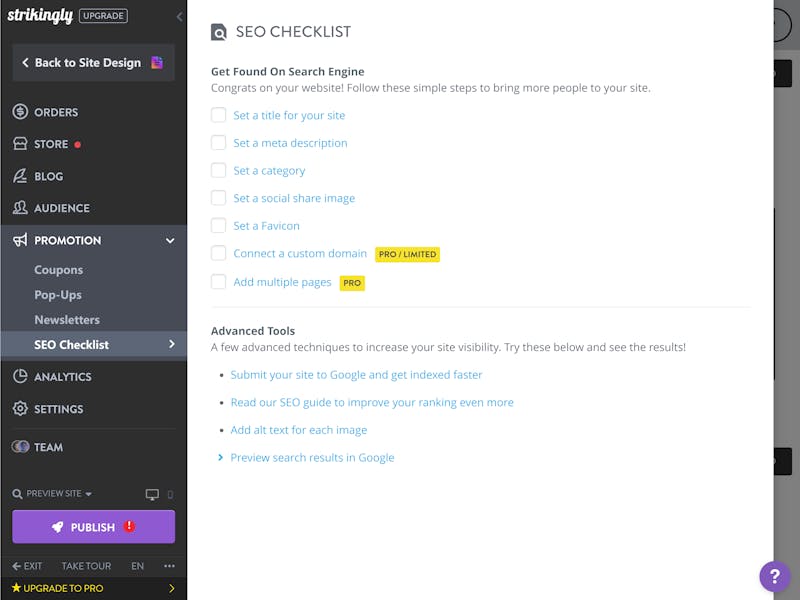 When it comes to SEO, single-page websites (Strikingly's focus) suffer from a few drawbacks.
Overall, Strikingly cuts a solid figure in terms of ecommerce, even if single-page websites aren't great for online stores. So far as marketing is concerned, the platform offers just the basics. Turning to SEO, once again, single-page websites are disadvantaged in this area, so Strikingly doesn't stand out.
Marketing, SEO & Ecommerce
7.4 / 10
In Strikingly's Help Center, you'll find a nice selection of written and video guides to numerous topics, all of which can be full-text searched.
Should you have suggestions for things you'd like to see on the platform, you can voice them on the Idea Forum, with other users voting on proposals and Strikingly staffers addressing some issues.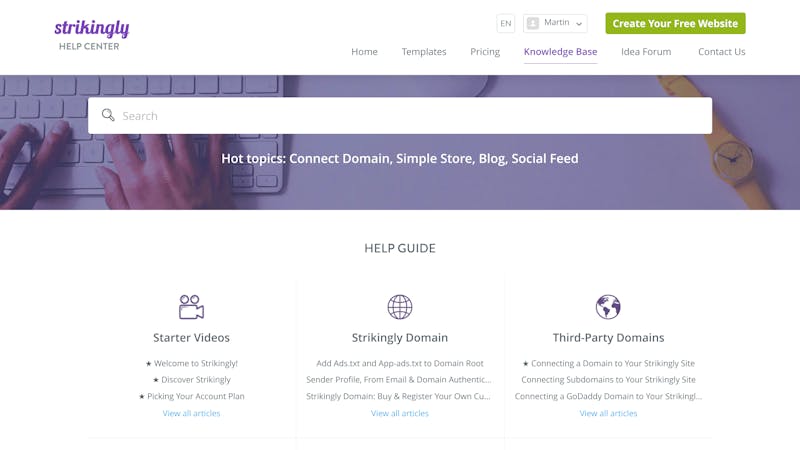 Strikingly makes plenty of support resources available.
Direct support is offered via live chat or tickets. In the former, we were quickly put in touch with the (somewhat dystopian named) "Happiness Officers", who helped us, often supplying useful screenshots.
Strikingly's support resources, ranging from informative video guides to competent and friendly staffers are solid.
For all intents and purposes, creating a website with Strikingly is free. If going this route, you'll need to make do with a Strikingly subdomain, 5 GB of data (monthly), and 500 MB of storage. In the free online store, you'll only be able to offer a single product per page, which isn't adequate for a serious business.
Three premium subscriptions are offered: Limited, Pro, and VIP. Each includes a free SSL certificate and a unique domain (for a year). With the Limited subscription, you can create two websites using some of the platform's additional features. Storage is limited to 1 GB, and bandwidth is capped at 50 GB per month.
Should you want to open an online store with as a Limited subscriber, you'll be restricted to five products per page, which again, likely won't be enough. Another downside is that your website will have Strikingly ads.
Real online stores starting with the Pro subscription
Pro subscribers can offer up to 300 products, however, there's a 2% transaction fee on each sale. You'll have unlimited bandwidth, 3 GB of storage per website, and all sorts of extra features, such as the ability to create custom forms, password-protect pages, and offer memberships. As noted above, this package's subscribers can also create multilingual websites.
If looking for the maximum number of features, the VIP package is as good as it gets. It includes everything detailed above, as well as 10 GB of storage for each website, and the ability to sell up to 500 products. You won't pay any transaction fees on sales, can use the live chat widget, and send newsletters, all while benefiting from priority support (including a hotline).
Below, we've provided a current overview of Strikingly's pricing:
Free
Limited
Pro
VIP
Set-up Fee
$0.00
$0.00
$0.00
$0.00
Monthly Price
$0.00
from $6.50
from $12.00
from $39.00
Contract Period (Months)
0
1 - 36
1 - 36
1 - 36
Included
Space (GB)
0.5
1
20
100
Pages
unlimited
5
100
100
Traffic (GB)
5
50
unlimited
unlimited
Custom Domain
Domains Included
0
1
1
1
Features
Free of Ads
SSL Encryption
Blog
Ecommerce
Multilingual Sites
It's always important to compare how much a service costs to its competitors. In the table below, we took the most affordable, ad-free annual subscription from each provider in our sample that included a unique domain:
1.
2.
3.
4.
5.
6.
7.
8.
9.
10.
11.
12.
Strikingly does not offer a money-back guarantee, however, you can try out the platform's basic features for as long as you like in its free version.
Conclusion
Configuration & Usability
9.4 / 10
Marketing, SEO & Ecommerce
7.4 / 10
Templates & Design
6.0 / 10
Strikingly is undoubtedly a beginner-friendly site builder that is well-suited for creating simple, single-page websites. These can be made quickly and somewhat customized in its intuitive editor with drag and drop capabilities. Using the platform to create online shops is also possible thanks to its well-organized approach to product management.
However, Strikingly's limitations, owing to its focus on single-page websites, are readily apparent: Users aren't given much variety in terms of design, with more sections and content elements definitely needed. The app market only features a few integrations, and users are confronted with paywall after paywall. Should you want your site to be found by search engines, multi-page sites are generally better, and this isn't what Strikingly is all about.
Still, Strikingly is a good choice for anyone who wants to build a simple website and doesn't view creative freedom as too high a price for this.
Strikingly Website Builder
Strikingly is a beginner-friendly website builder that was designed specifically for single page websites and landing pages – and that's exactly where the platform excels at. If you want to create complex, multipage sites, look elsewhere.
great for single page websites
solid e-commerce features
good support with live chat
not suitable for complex websites
7.8

good
Space
Domains
Templates
Contract Period
Strikingly Free
$0.00
monthly price
Visit Website*
Customer Reviews
But what do other users have to say about Strikingly? We had a look at their ratings on several review aggregators and have compiled them for you here.
Customer Ratings
2,835 Bewertungen
Visit Website*
We analyzed the reviews and ratings from various portals and found 2,835 ratings with an overall rating of 3.9 out of 5 .
Alternatives
Other site builders, like Weebly or Webnode also simplify website design by limiting how much users can express their knack for design. Should you want a freer hand, we recommend platforms like Wix, however, the trade-off is increased complexity.
More of the best alternatives to Strikingly can be found here:
Wix beats out the competition with an unmatched variety of features, intuitive editors and a jam-packed app store. Overall, the platform offers the best balance of usability and features on the market today.
lots of features and elements
simple & intuitive interface
9.6

excellent
Space
Domains
Templates
Contract Period
Wix Free
$0.00
monthly price
Visit Website*
Try for Free
Squarespace Website Builder
Squarespace can impress with flawless designs and high quality templates, which make the creation of professional websites a piece of cake – but comes at a higher price compared with the competition.
Space
Domains
Templates
Contract Period
Squarespace Personal
$16.00
monthly price
Visit Website*
14 Days Trial Period
Due to its rather complex editor, IONOS MyWebsite comes with a bit of a learning curve, but rewards those who stick with it with wide-ranging creative possibilities that enable unique websites.
supports multilingual sites
not all templates are great
8.8

good
Space
Domains
Templates
Contract Period
IONOS Starter
$10.50
monthly price
Visit Website*
30 days risk-free
Webflow is a hybrid between website builder and CMS, and requires a basic understanding of coding logic. It's less suitable for beginners – but its visual design tools are a great way for more advanced users to create dynamic websites.
mix of CMS & website builder
more powerful than WYSIWYG editors
learning platform "Webflow University"
visual design with zero code
8.7

good
Space
Domains
Templates
Contract Period
Webflow Starter
$0.00
monthly price
Visit Website*
Start for Free
With its intuitive drag-and-drop functionality and an unrivaled smartphone app for mobile website building, Weebly makes homepage creation easy even for beginners.
Space
Domains
Templates
Contract Period
Weebly Free
$0.00
monthly price
Visit Website*
Try for Free
* Ad disclaimer:
For links marked with an asterisk, EXPERTE.com may earn a commission from the provider. The commission has no influence on our editorial rating.

Martin Gschwentner majored in American Studies and Media Studies in Germany, the USA and France and works as a freelance editor in Paris. He is a doctoral student at the Institute for English and American Studies at the University of Paris Diderot, where he is researching the influence of money on US politics. On EXPERTE.com he writes about IT security, data protection and software for the self-employed and small businesses.

Translation: D Bare
Continue Reading