Wix Review 2023: Still the Best Website Builder?


Ad disclaimer:
For links on this page, EXPERTE.com may earn a commission from the provider. This supports our work and has no influence on our editorial rating.
If name recognition was everything, Wix* would be hard to beat. The platform has become synonymous with website builders, thanks in part to its star-studded ads featuring actors like Gal Gadot or Jason Statham. But is there more to Wix than effective marketing? Let's find out.
What Is Wix?
Wix* is a cloud-based website builder from Israel. It gives any user the ability to create complex HTML sites by dragging and dropping content. Wix's editor fully embraces the "what you see is what you get", or WYSIWYG principle – in other words, changes made in the editor appear the same as on the published site.
In our EXPERTE.com review, we'll let you know just how well Wix performs and whether the service is worth getting.
Wix Review
Marketing, SEO & Ecommerce
10 / 10
Templates & Design
9.4 / 10
Configuration & Usability
9.4 / 10
Large selection of design templates

Easy to use drag and drop interface

Automatic website creation with the ADI editor
ADI editor doesn't include many options
1.
Configuration and Usability
First, you'll need a Wix account. Simply click on the blue "Get Started" button on Wix's homepage and register with your email address or a social media account (as of the time of writing, Wix supports Facebook and Google).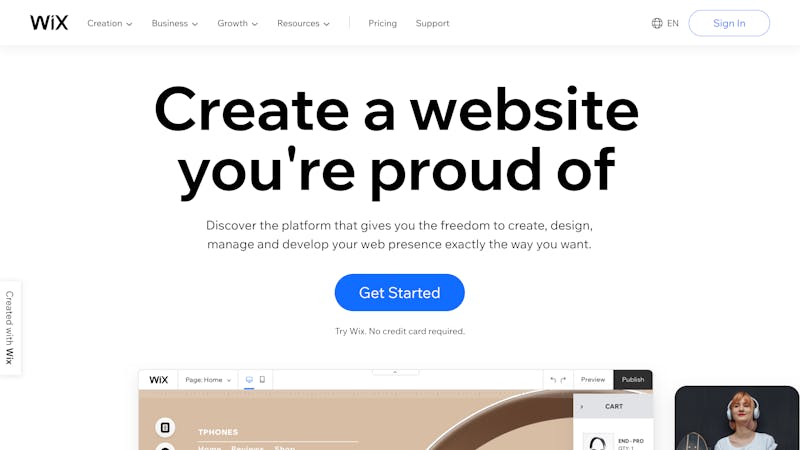 It only takes a few seconds to create a Wix account.
After registering, you'll land in Wix's well-organized web interface. Through the main menu on the left, you can jump between different sections. In the center, widgets direct you to features or sub-areas of your site, such as blogs and invoices. As a nice touch, you can manage which widgets are pinned to the home area.
If you've already created a Wix website, you can click on Analytics & Reports in the dashboard to gain more insight into how it's performing. The same menu bar also provides access to messages, settings, and support.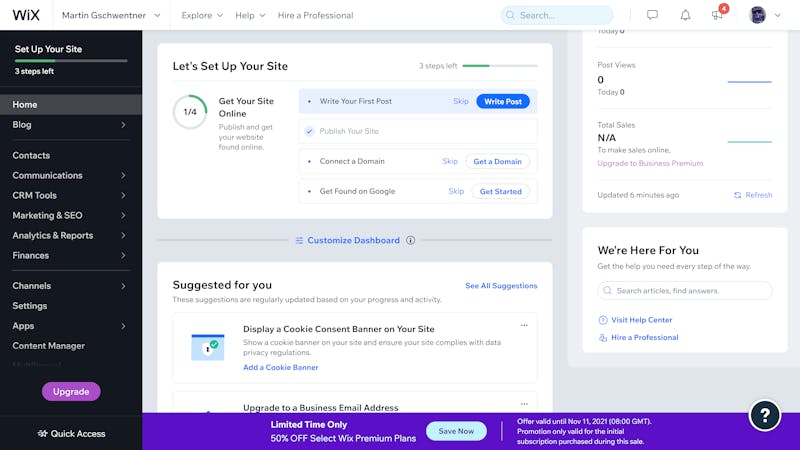 Wix's clearly structured user interface makes it easy to monitor your web project.
To get acquainted with Wix's website editor, click on the "New Website" button, after which the platform will ask what you intend to use the website for. Available options include "Promote my business", "Manage my clients", and "Work from mobile".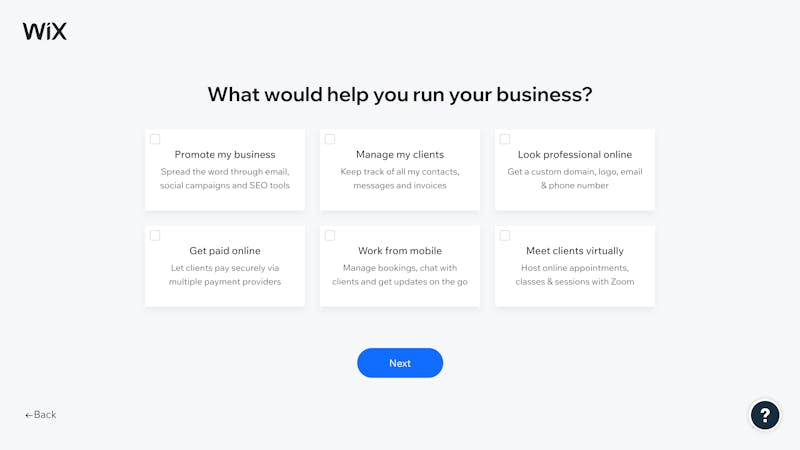 How do you intend to use your new website? Wix suggests different templates based on your responses.
Now you can decide which editor you'll build your website with. For beginners, Wix recommends its simplified, AI-based ADI editor, which anyone can use to create a highly personalized homepage in just a few minutes.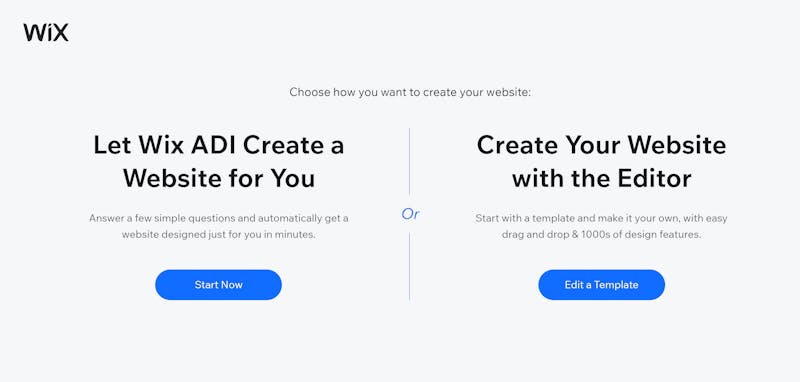 Wix offers users the choice between two different editors - ADI is the more beginner-friendly of the two.
ADI Editor: Only for Beginners
Before the ADI engine can get to work, you'll need to answer a few questions about your business and needs. You can also specify whether you want your site to have a playful or professional look. Based on your responses, the editor will provide different design templates.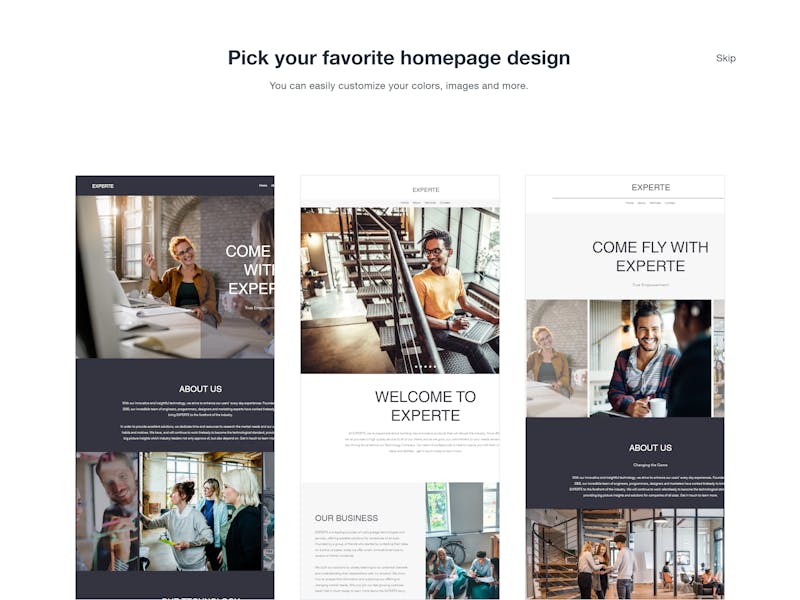 ADI offers fewer templates than Wix's standard editor.
Ready-made pages
The ADI engine offers a virtually fool-proof way to set up a website: In the next step, you'll be asked to select from different pages that you'll likely want to add to your site, such as "About Us", "Support", or "Privacy Policy". Once you're satisfied, click on "Edit Website" to start customizing.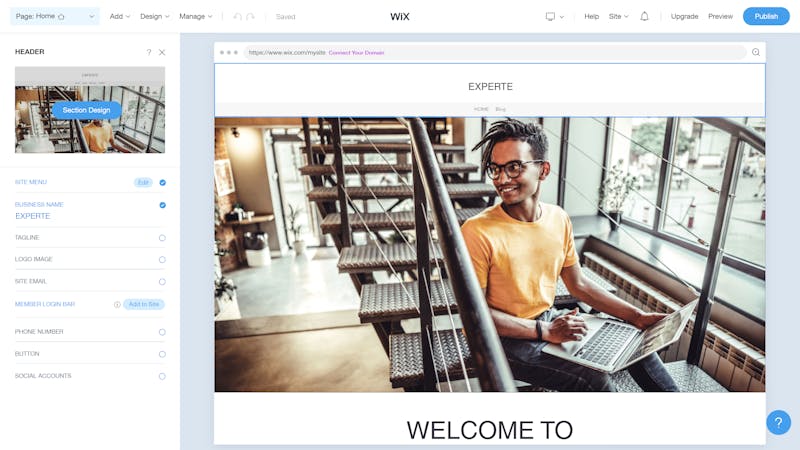 The ADI editor is easy to use but only offers a handful of features.
Coloring within the lines
In contrast to Jimdo, which offers a similar editor (Dolphin), you can easily switch back and forth between Wix's standard and ADI editors. This is great in case ADI's features turn out to be too limiting for your creative needs – and that's likely to be the case, since only some elements can be dragged and dropped.
Advanced users will probably have no interest in ADI, but it might be a solid option for beginners, because it allows them to organize the Lego brick-style content boxes without having to worry about their site's layout.
You can add new pages and sections to your site by clicking on the plus-sign button. For each section, it's possible to edit the accompanying content, such as text, images, or buttons, along with its design. In terms of designing your sites, you'll have to work within the (quite limited) confines of Wix's ADI templates. All told, with ADI, you'll only really be adding your content to the site.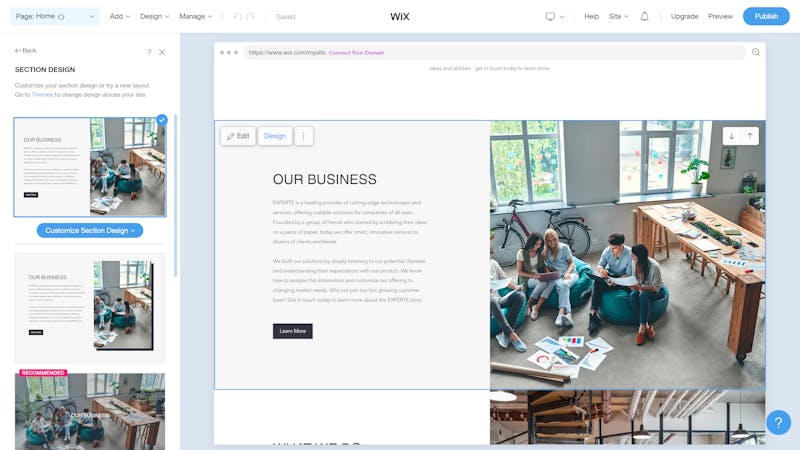 The ADI editor is certainly easy to use, however, it doesn't allow true customization.
Overall, the ADI editor definitely makes things easy, but you'll be sacrificing quite a bit of creative freedom. For example, fewer design templates are provided in ADI than in Wix's standard editor, with several key features and apps also missing. As such, ADI is intended for newcomers to the world of website design or those who want to invest as little time as possible in creating a site.
For everyone else, Wix's standard editor is a much better and more convenient choice, and switching between it and ADI is child's play. Just keep in mind that any progress made in the standard editor will be lost when jumping over to ADI.
More Features in the Standard Editor
Wix's editor doesn't do as much hand-holding as its ADI counterpart. To start, you'll be asked to choose your favorites from a wide selection of templates grouped into different categories and sub-categories. After you've found one you like, click on "Edit" to start customizing.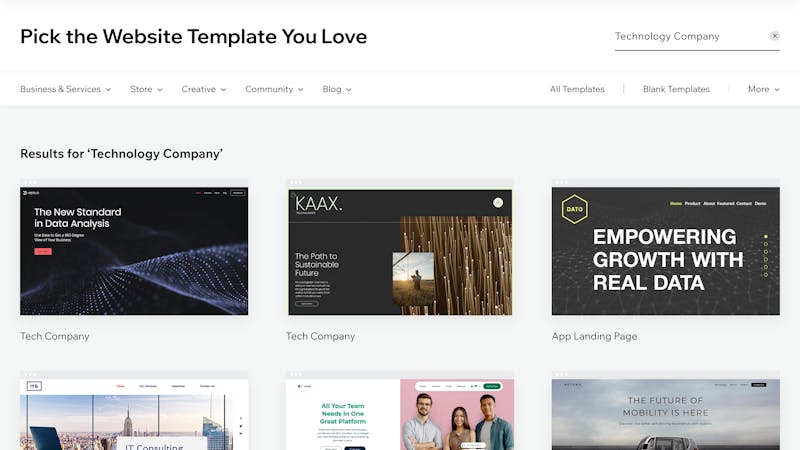 Wix's standard editor offers far more templates than its ADI editor does.
Since it's more complex and offers more options, you'll probably need more time to familiarize yourself with Wix's standard editor and its features. In the upper menu bar, you can switch between pages, select different drop-down options, or adjust general settings.
Additional elements, like pages, blocks, apps, files, and more, can be added through the menu to the left. In the middle of the screen, you'll see an interactive preview of your website, in which you can edit the displayed content directly.
In general, you can freely move and adjust almost everything directly on the page, with only certain elements, such as the navigation menu, requiring a trip to the "Extras" area to modify.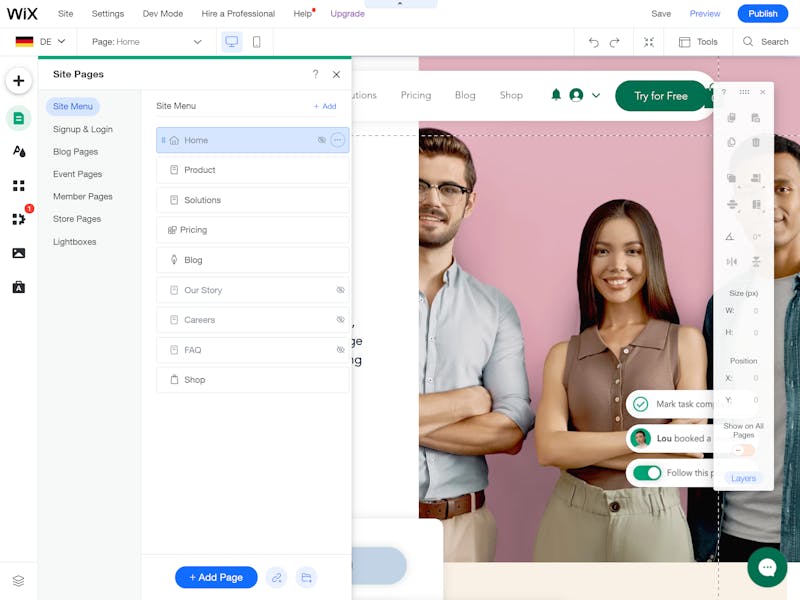 Wix's standard editor is more complex than its ADI editor, but offers considerably more personalization.
As noted above, you can move or adjust each element at will in Wix's standard editor, with grid lines (like those found in Photoshop) making it easier to align everything. To enable ruler guides, click on "Tools" in the menu bar. There's also an editing bar, can be freely moved around the screen.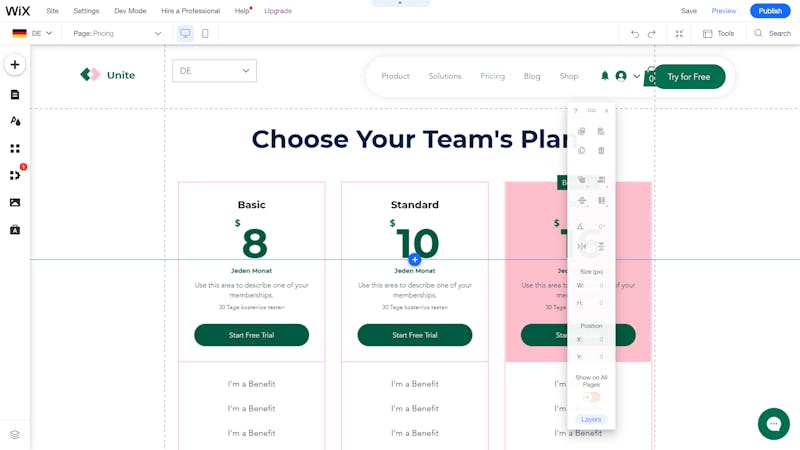 The oblong editing bar helps to neatly arrange your website's elements.
In case this all seems a bit overwhelming, don't worry: it doesn't take too long to understand Wix's underlying logic. And if you've switched from its ADI editor to the standard one, you'll probably be happy to have a bit more freedom.
However, more freedom also means more ways to make mistakes: because you can customize your content and your design freely, you might end up with visual discrepancies or elements that don't quite look right. But that's not Wix's fault, of course. Since Wix's standard editor offers so many capabilities, some might notice performance issues when using the service.
Overall, both Wix editors make creating a website simple, regardless of skill level.
Configuration & Usability
9.4 / 10
We've already discussed the service's two editors and their drag and drop functionality in the section above. Still, the main criterion for discerning 'good' site-building editors from 'bad' ones is the degree of design freedom they offer their users. That's where Wix truly shines.
At first glance, the editor's menu bar offers so many website elements that it might appear overloaded. However, since the developer logically arranged these, whatever features you need will be within arm's reach.
Wide selection of elements
In addition to the usual features like text boxes, image galleries, or links to social networks ranging from Facebook to Spotify, specialized elements are also offered. You can solicit feedback or comments, add a subscription form for email newsletters, or create sale pop-ups for discounted items in your online store.
As a neat touch, you can save custom elements in the "My Designs" area, making it possible to add them again elsewhere on your site.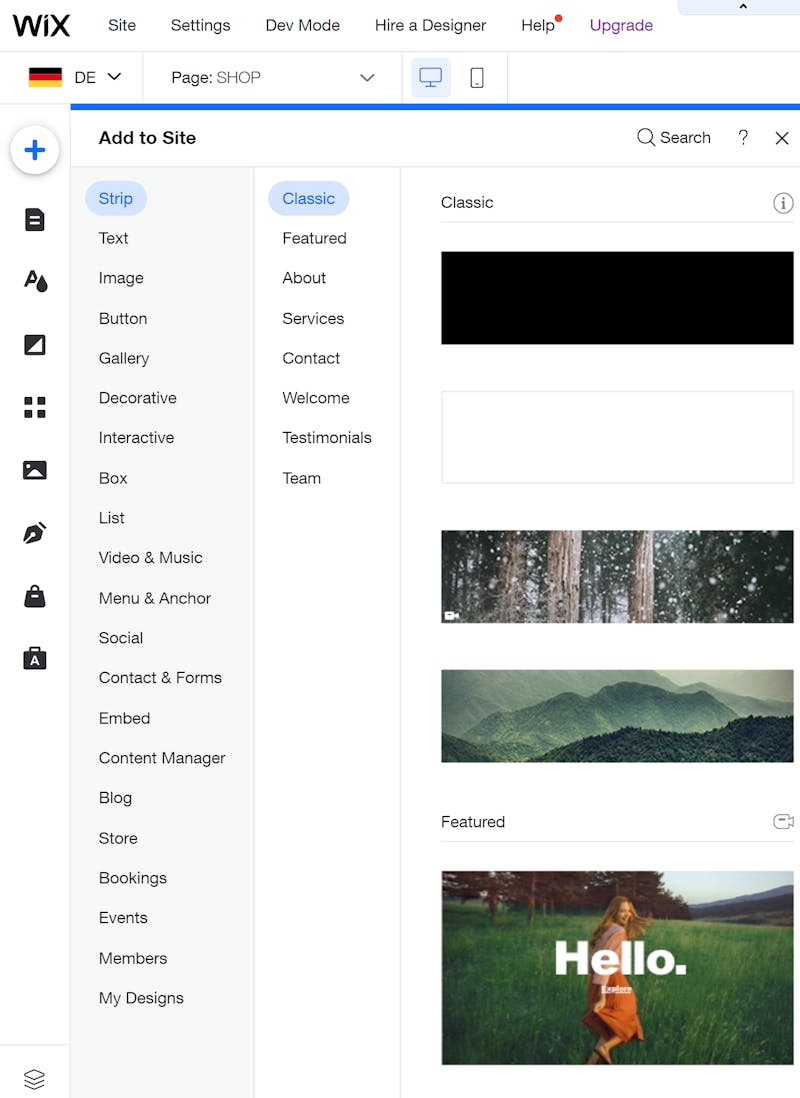 Wix offers nearly endless ready-made elements for your website.
Well-supplied gallery of stock photos
Wix's Media Manager offers numerous unlicensed stock photos and illustrations for sprucing up your site. Media content is arranged into categories such as "Lifestyle", "Relationships", or "Work".
By itself, Wix can't really compete with stock photo agencies or services, however, thanks to its Shutterstock and Unsplash integrations, you'll be able to search for licensed pictures not included in the service's package.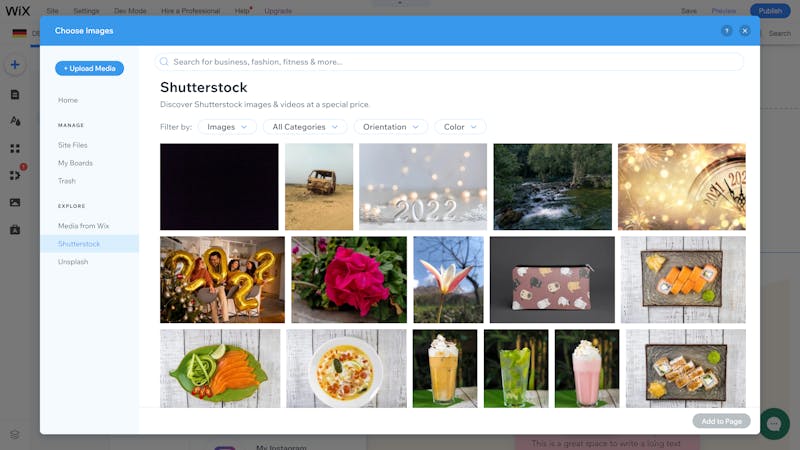 Wix doesn't have the stock content you're looking for? Try its Shutterstock or Unsplash integrations.
Basic blogs
Wix offers good blogging features, however, when compared to its other tools, they're not as numerous. Some templates have built-in blogs while others require you to add one on your own. After you've set up a blog with Wix, you can tag your entries, sort them by category, and adjust a few basic SEO settings. In addition, it's possible to schedule entries for publication at specific times.
App Market for additional tools and aids
If Wix's apps and features aren't enough for your needs, you can search for more in its lively App Market. There, you'll find hundreds of extensions, many of which are free, for further customizing your website. Since you won't need to navigate away from the page you're on, integrating these is easy, too.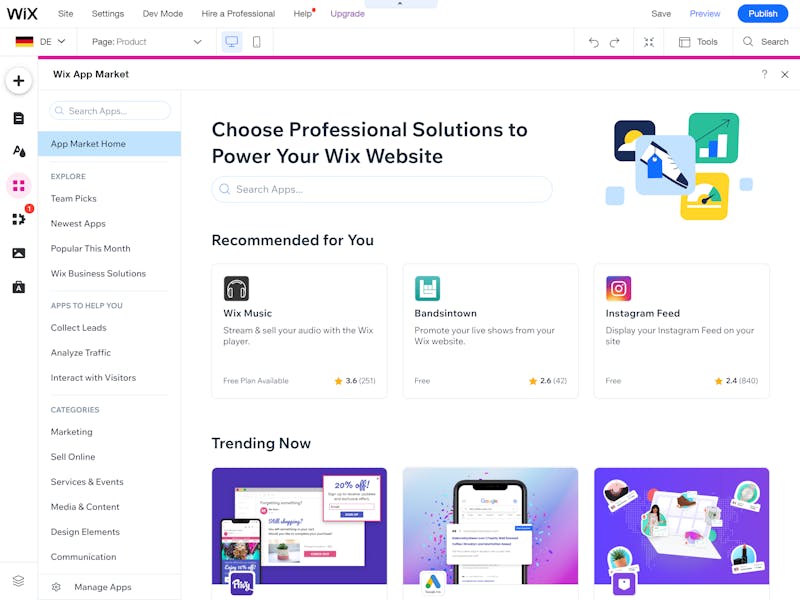 Wix's App Market features developer and third-party add-ons.
Straightforward multilingual websites
With Wix, it's fairly easy to set up multiple language localizations for a website: Just go to Settings > Multilingual and click on the "Get Started" button that opens in the pop-up window. Next, choose whether to translate content automatically or manually. After that, your website will get a language menu, which visitors can use to select their preferred language.
Create your own logo
Wix also has a few more tricks up its sleeve. Under "Marketing & SEO", there's a fairly basic, AI-powered logo maker. Thanks to its ready-made elements, you can use it to generate a new logo in a matter of minutes.
Even though it can't compete with a professional designer, it does come in handy for quickly creating a temporary brand or business logo. Wix's tool even came first in our EXPERTE.com assessment of the best logo makers.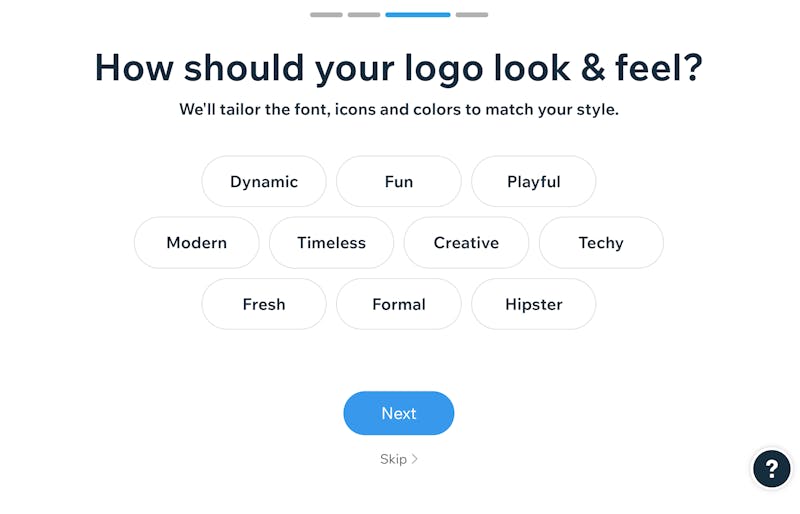 Just answer a few questions and Wix's logo maker will create a custom design for you.
Those with some knowledge of programming can work directly with their Wix page's source code, a feature not offered by many other site builders. Should you want to manage certain aspects of your site on the go, like blog entries, product management, or customer outreach, you can in the nifty companion app. Full drag and drop functionality, as offered by Weebly's mobile app, is not provided, however.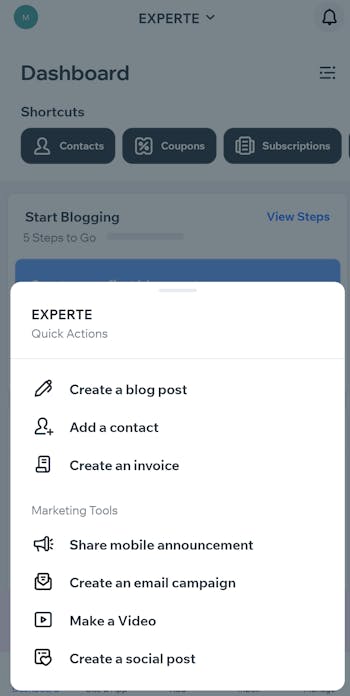 With Wix's smartphone app, you can create blog entries and check up on your website.
Describing all of Wix's capabilities would take too much time and space. Suffice it to say that this website builder truly impresses when it comes to features, both in terms of their number and quality.
Wix certainly didn't cut any corners in terms of design templates. In the standard editor, you can select from more than 800 different templates, arranged according to the type of website. ADI users have far less to choose from.
All of Wix's templates are relatively versatile, whereby, most adhere to the scroll- and picture-friendly trend in page design. Still, we're confident that there's something for everybody.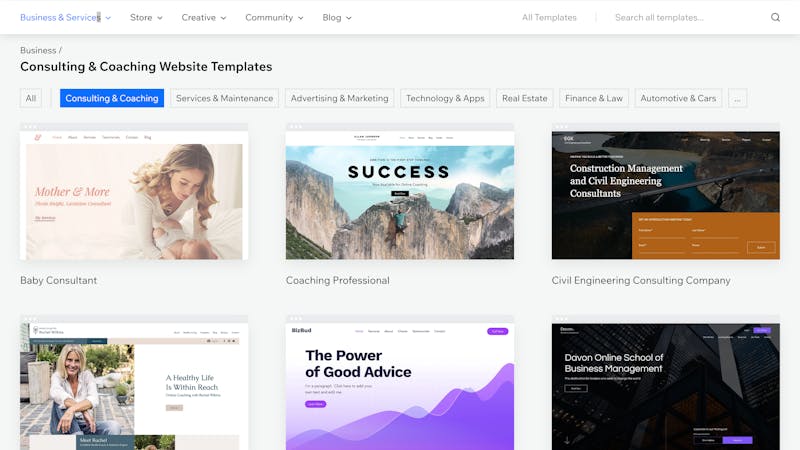 Wix offers more than 800 different design templates - there's something for everybody.
No template changing in the standard editor
Unlike platforms like WordPress, in Wix's standard editor users can't switch from one template to another (ADI users can). This means that if you want to try out a new design, you'll need to create an entirely new website.
After selecting a template, you can modify your page's color scheme, background, and fonts. The editor's menus offer options for directly adding mouseover events and background effects like parallax.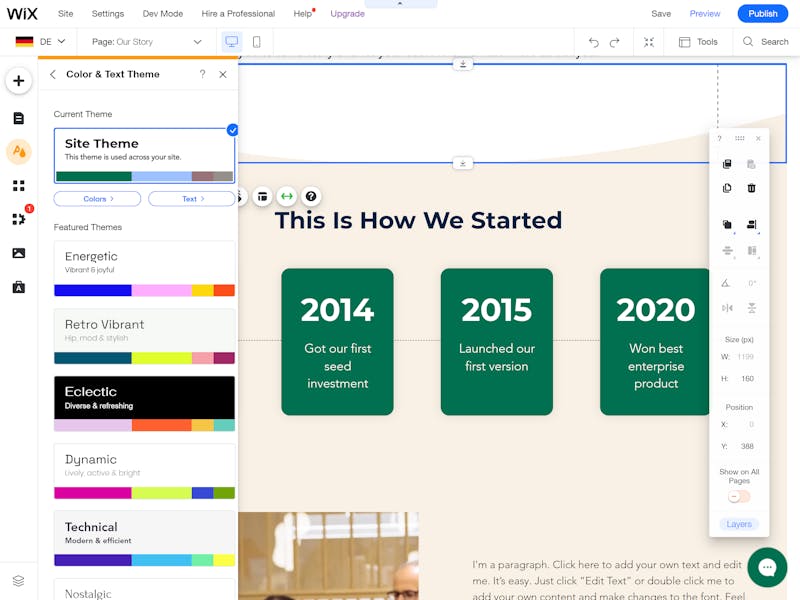 With Wix, you can customize your website's color scheme and other design aspects.
Thanks to its numerous templates and design options, Wix provides a very sturdy foundation for any website. Even though switching between templates (like in WordPress) isn't possible, and some templates are similar to one another, Wix still performed strongly in this area.
Templates & Design
9.4 / 10
4.
E-Commerce, Marketing, & SEO
Creating an online shop is one of Wix's cornerstones, as can be seen in its comprehensive e-commerce solutions. Should the template you've selected not include an online store, you'll need to add one via your website's element menu. This all takes place in the Wix Stores app, available from the App Market.
Comprehensive Web Stores
To manage your online shop, go to My Business > Wix Stores. There, you'll find all of the most important features, starting with product management. You can add individual descriptions and product options, update your inventory, and discount items. It's also possible to group products into collections.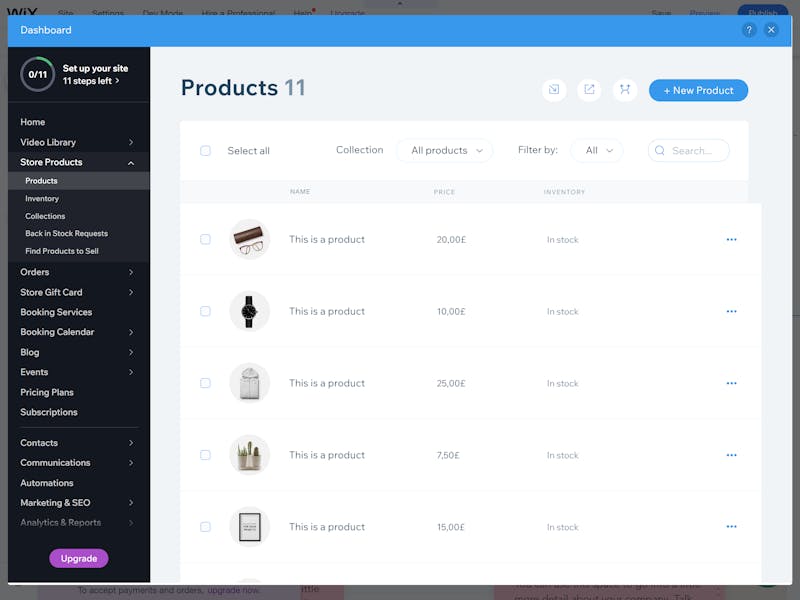 In the "Product Management" area, you can put products on sale.
The service also provides several nifty marketing tools, such as coupons for specific products, services, or even the aforementioned collections. Thanks to Wix's SEO features, you can optimize each product's page for search engines.
Products from your catalog can be arranged by dragging and dropping them. In addition, you'll be able to specify layout, design, and sorting settings. Rounding things out, a number of widgets are offered.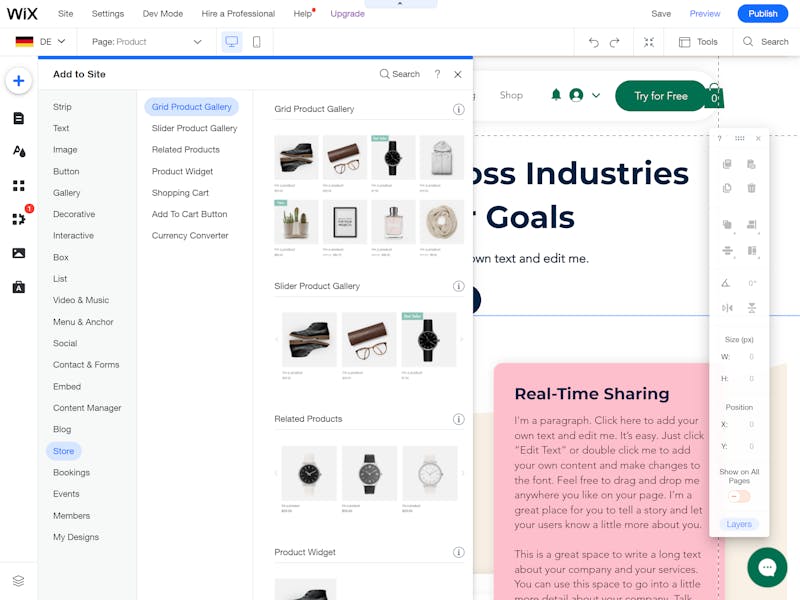 With widgets like slider galleries, you can tastefully show off your wares.
Once your store's website has been designed, you won't manage it through the editor. Instead, all important features, from your product portfolio to orders, are handled in the Wix Stores dashboard.
Intuitive marketing hub
You can also keep track of your marketing activities in the Wix dashboard. Most of its tools are part of Ascend, which is Wix's business suite. On the marketing homepage, you can launch and follow social media campaigns on Facebook or Instagram or draft and send email newsletters.
Beyond that, there are also a few more extras worth mentioning. Wix doesn't only help to make logos, it also offers assistance with marketing videos. The platform's Video Maker is great for creating videos to upload on platforms like YouTube. As if that wasn't enough, Wix lends a helping hand in drafting and publicizing Facebook or Instagram ads.
As such, should you be open to it, Wix is ready to walk you through intuitive, beginner-friendly marketing campaigns on Ascend.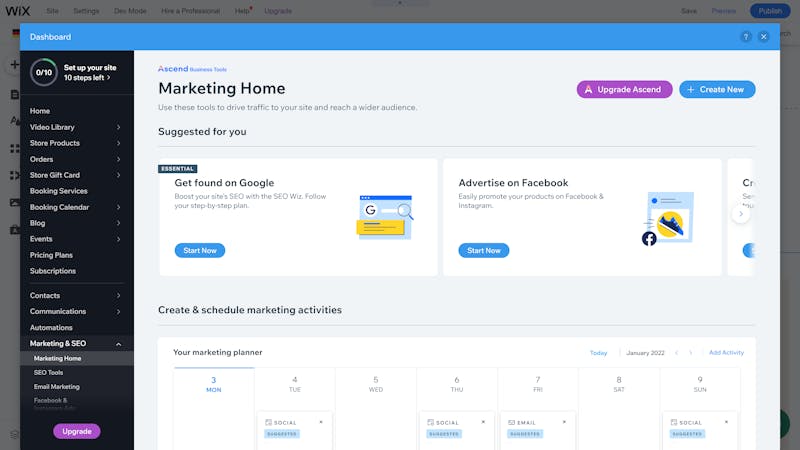 Wix offers plenty of support when it comes to marketing your website, from social media to email.
SEO & Analytics
Wix provides users with a personalized SEO plan for their entire site based on Google. You can adjust page content to meet the needs of search engines, helping you to become an SEO expert in the process. In case you're already familiar with SEO, you can add and edit relevant fields like meta descriptions on your own.
Under Analytics & Reports, Wix makes it possible to align your site with Google Analytics, Yandex Metrica, Facebook Pixel, and more. You can also embed user-defined tracking codes to count site visits or gauge the effectiveness of ad campaigns.
In sum, Wix does just about everything right when it comes to marketing and e-commerce.
Marketing, SEO & Ecommerce
10 / 10
Wix's Help Center is full of FAQs, neatly organized into topics and categories, and features a practical search tool to find information for whatever issue you might have.
To directly contact support, it takes a bit of effort: Only by replying "No" in relation to whether the information provided for certain questions or topics was helpful will a link to directly contact the support team be made available.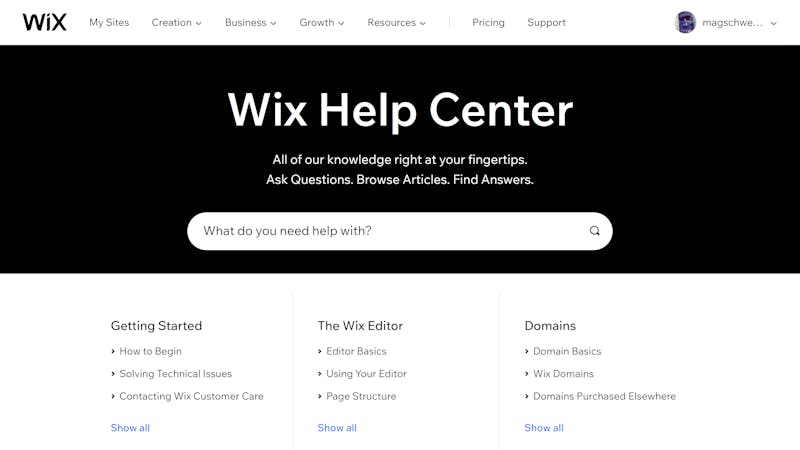 In Wix's Help Center you'll find countless articles and entries, however, direct contact options could be more readily accessible.
In the link that opens, simply type your question and wait for a staffer to respond. During testing, our answer came within a matter of seconds, and the representative we chatted with went out of their way to help us.
Alternatively, you can request a call back on a phone number you leave for the support team.
Wix's live support was fast and competent, while its static support was of high quality and informative. After reading several articles, we felt that we better understood the platform. The only negative in this area is that Wix's direct support is somewhat difficult to find.
Along with its free version, which ties users to a Wix domain and lacks several basic features, a total of seven premium packages are offered. These can be further separated into four website packages (Connect Domain, Combo, Unlimited, VIP) and four business/eCommerce packages (Business Basic, Business Unlimited, Business VIP).
All premium packages include a unique domain, a free SSL certificate, as well as round-the-clock customer service. In the two most affordable packages, bandwidth is capped at 1 and 2 GB, respectively, while in the other packages, unlimited bandwidth is offered. Storage space varies from 500 MB (Connect Domain) to 35 GB (VIP), and all the way up to 50 GB for Business VIP subscribers. Wix is ad-free from the Combo package up.
Below, we've provided a current overview of Wix's pricing:
Free
Combo
Unlimited
Pro
Business Basic
Business Unlimited
VIP
Business VIP
Set-up Fee
$0.00
$0.00
$0.00
$0.00
$0.00
$0.00
$0.00
$0.00
Monthly Price
$0.00
from $11.00
from $15.00
from $17.00
from $19.00
from $23.00
from $32.00
from $41.00
Contract Period (Months)
0
1 - 36
1 - 36
1 - 36
1 - 36
1 - 36
1 - 36
1 - 36
Included
Space (GB)
0.5
3
10
20
20
35
35
50
Pages
unlimited
unlimited
unlimited
unlimited
unlimited
unlimited
unlimited
unlimited
Traffic (GB)
0.5
2
unlimited
unlimited
unlimited
unlimited
unlimited
unlimited
Custom Domain
Domains Included
0
1
1
1
1
1
1
1
Features
Free of Ads
SSL Encryption
Blog
Ecommerce
Multilingual Sites
And how does Wix fare overall? In the table below, we compared all website builders from our sample on the basis of their most affordable, ad-free yearly package which included a unique domain. Based on these criteria, Wix is one of the pricier options:
1.
2.
3.
4.
5.
6.
7.
8.
9.
10.
11.
12.
Should you not be satisfied with your premium package, you'll have 14 days to cancel your subscription and request a refund - no questions asked. Wix doesn't offer a classic trial version, however, you can broadly assess the platform via its free version.
Conclusion
Marketing, SEO & Ecommerce
10 / 10
Templates & Design
9.4 / 10
Configuration & Usability
9.4 / 10
With Wix, the hype is completely justified, as is the service's top spot in our ranking: The Israeli website builder makes hardly any compromises, offering both outstanding quality and depth. Few of the other services from our sample come anywhere near to providing a comparable selection of features; its two editors are easy to use and intuitive, and Wix's App Market leaves those of its rivals in the dust.
At the same time, Wix isn't perfect. Its ADI editor could offer more customization. To harness a website builder's full capabilities, we generally recommend using their standard editors as opposed to AI-driven ones. In blog features, Wix has some room for improvement. Still, it's the most comprehensive choice for anyone considering making a website, regardless of their level of experience.
Wix beats out the competition with an unmatched variety of features, intuitive editors and a jam-packed app store. Overall, the platform offers the best balance of usability and features on the market today.
lots of features and elements
simple & intuitive interface
9.6

excellent
Space
Domains
Templates
Contract Period
Wix Free
$0.00
monthly price
Visit Website*
Try for Free
Customer Ratings
Wix has been the recipient of good to very good reviews, only coming under heavy fire on Trustpilot. There, the service's poor customer support, billing irregularities, non-working features, and pricing policy were seen negatively. Elsewhere, users commend the platform for its ease of use and wide range of features.
Customer Ratings
86,854 Bewertungen
Visit Website*
We analyzed the reviews and ratings from various portals and found 86,854 ratings with an overall rating of 4.4 out of 5 .
Alternatives
Wix comes out top, but there are still a number of solid WYSIWYG website builders built around drag and drop editors. Do you want to tinker with your website on the go? With the Wix app, this isn't possible, but with Weebly's, you can. And that's not all: Weebly can go toe-to-toe with Wix in quite a few other areas too.
Or maybe you're familiar with programming languages and are interested in a site builder that combines visual design with coding. In that case, we recommend checking out Webflow.
Below, you can browse all of the best alternatives to Wix in our exhaustive comparison:
Squarespace Website Builder
Squarespace can impress with flawless designs and high quality templates, which make the creation of professional websites a piece of cake – but comes at a higher price compared with the competition.
Space
Domains
Templates
Contract Period
Squarespace Personal
$16.00
monthly price
Visit Website*
14 Days Trial Period
Due to its rather complex editor, IONOS MyWebsite comes with a bit of a learning curve, but rewards those who stick with it with wide-ranging creative possibilities that enable unique websites.
supports multilingual sites
not all templates are great
8.8

good
Space
Domains
Templates
Contract Period
IONOS Starter
$10.50
monthly price
Visit Website*
30 days risk-free
Webflow is a hybrid between website builder and CMS, and requires a basic understanding of coding logic. It's less suitable for beginners – but its visual design tools are a great way for more advanced users to create dynamic websites.
mix of CMS & website builder
more powerful than WYSIWYG editors
learning platform "Webflow University"
visual design with zero code
8.7

good
Space
Domains
Templates
Contract Period
Webflow Starter
$0.00
monthly price
Visit Website*
Start for Free
With its intuitive drag-and-drop functionality and an unrivaled smartphone app for mobile website building, Weebly makes homepage creation easy even for beginners.
Space
Domains
Templates
Contract Period
Weebly Free
$0.00
monthly price
Visit Website*
Try for Free
SITE123 deliberately limits users' design freedom in order to streamline and simplify the creation of professional-looking websites. Users can't really make any mistakes – but they can't really create unique looking websites either.
great 24/7 support with chat
intuitive, beginner-friendly editor
unclear pricing structure
8.0

good
Space
Domains
Templates
Contract Period
SITE123 Free
$0.00
monthly price
Visit Website*
Try for Free
Still can't decide? Perhaps our Wix head-to-head with other leading site builders and CMS will do the trick:
* Ad disclaimer:
For links marked with an asterisk, EXPERTE.com may earn a commission from the provider. The commission has no influence on our editorial rating.

Martin Gschwentner majored in American Studies and Media Studies in Germany, the USA and France and works as a freelance editor in Paris. He is a doctoral student at the Institute for English and American Studies at the University of Paris Diderot, where he is researching the influence of money on US politics. On EXPERTE.com he writes about IT security, data protection and software for the self-employed and small businesses.

Translation: D Bare
Continue Reading