Website Builder Review: Wix
Similar to the tendency to give antivirus programs names starting with the letter 'A', website builders appear to favor the letter 'W' when christening their products - Weebly, Webnode, Webflow, and the service we'll be assessing in this review, Wix are just four such examples. In sports parlance, a 'W' is a win, so is Wix's name a good omen, or does the title of the best website builder go to one of its competitors? Let's find out!

Wix is a cloud-based web platform and software developer based in Tel Aviv. Wix's website builder allows users without any knowledge of programming to create complex HTML-based sites by dragging and dropping content. The editor fully embraces the "what you see is what you get", or WYSIWYG principle. This means that changes made in the editor appear the same as on the published site.
Review Score
05/2019
excellent
Visit Website
Marketing, SEO & Ecommerce
5.0 / 5
Templates & Design
4.7 / 5
Configuration & Usability
4.7 / 5
Provides numerous design templates
Based on a highly practical drag and drop interface
Quick and secure hosting on Wix servers
Enables automatic website creation using the ADI editor
Blog features could be more versatile
Performance issues with the ADI editor during testing
Configuration and Usability
Before creating a website, Wix offers users a number of video tutorials to help guide them. After watching these (or skipping over them), you'll be posed a series of questions about yourself, the purpose of the website you want to create, and your level of familiarity with website creation.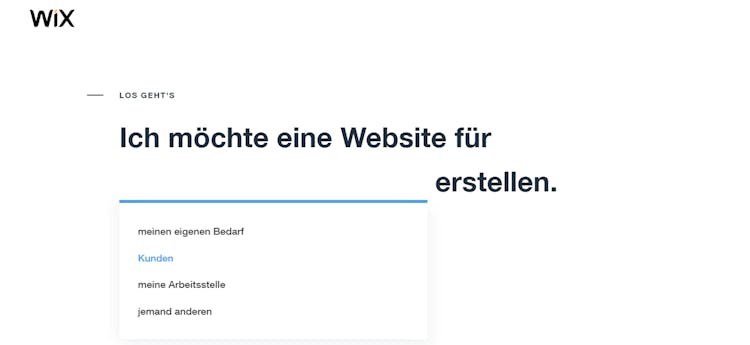 For beginners, Wix advises utilizing its ADI editor. This AI-based tool allows users to create a highly personalized homepage within a matter of minutes.
Following a few additional questions about the intended purpose of the site, users can select their favorite from a number of design templates, after which the editor takes over and does the rest.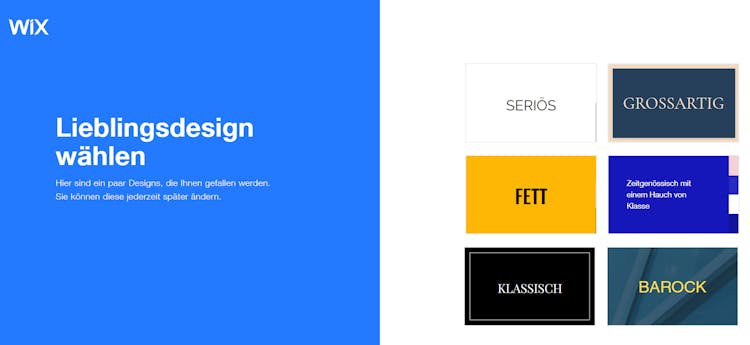 In contrast to Jimdo, which offers a similar editor (Dolphin), you can easily switch back and forth between Wix's standard and ADI editors should the features in the latter be too limited.
In the ADI editor, however, only certain elements can be dragged and dropped. While this might be constraining for advanced users, for beginners, it's perfect since it allows them to organize the Lego brick-esque content boxes without having to worry too much about their site's layout.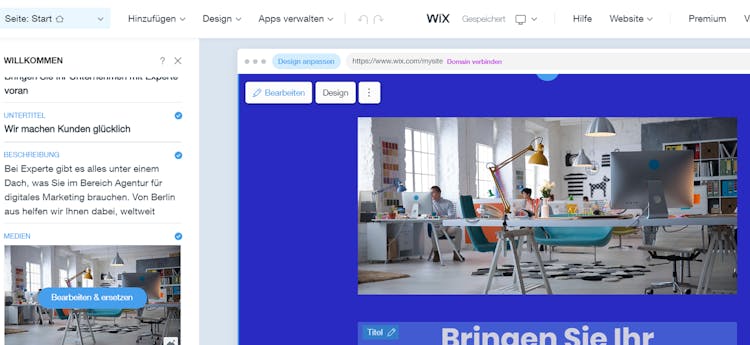 Unfortunately, while testing the ADI editor, we had to grapple with performance issues from the get-go which made arranging the site far less intuitive than we had expected. In addition, the design templates available in the ADI editor are greatly reduced in comparison to those present in the regular editor, with a number of key features missing. The AI-based service is really only meant for beginners or those who want to invest as little time as possible in creating a site.
For everyone else, the standard editor is a much better and more convenient choice, since switching between the two is child's play. Beware though: Any progress made in the standard editor will be lost when switching to the ADI editor.
In the regular editor, an embedded video also introduces you to the service's basic features.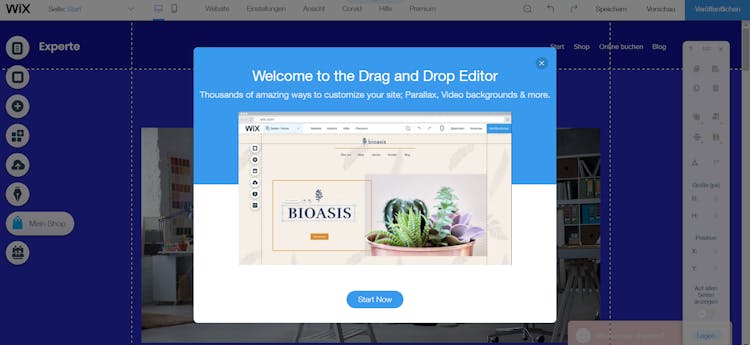 Even though the screen is fuller than in the ADI editor, we didn't have any performance issues in the standard editor. Nevertheless, it still takes a bit of time to get used to all of the service's features. In the upper menu bar, you can alternate between pages using a drop-down menu and adjust general settings. On the menu to the left, additional elements, like pages, blocks, apps, files, and more, can be added. In the menu on the right, which you can freely move around, these individual elements can be modified at will.
Even if this seems like a lot at first, Wix's underlying logic quickly becomes apparent, and if you've switched from the ADI editor to the standard editor, you'll likely never look back thanks to the added features. The standard editor allows you to enlarge every element according to your desires, moving it, or otherwise modifying it, whereby the guidelines, like in Photoshop, greatly facilitate arranging these elements. There is some danger of blocks or elements shifting out of the list of contents, requiring a careful eye to detail, but these sorts of human errors aren't something that the service should be held accountable for.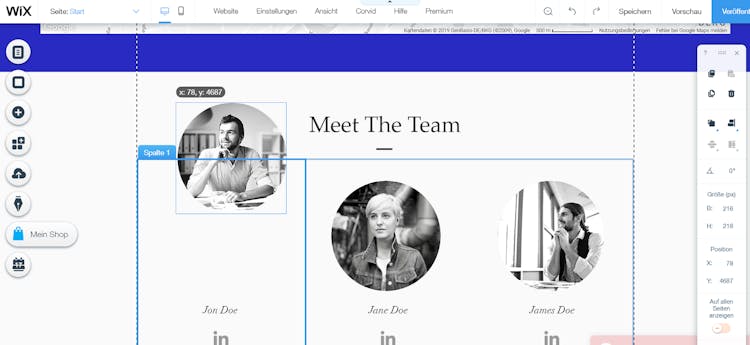 Aside from the frustrating performance issues in the ADI editor, we really can't take Wix to task for anything else. Both of its editors are well-suited for their purposes, and make creating a website for any type of user as convenient as possible.
Score: 4.7 / 5
Whereas other website builders clearly opt for quality over quantity, Wix chose to focus on both, equally. The service offers a large number of well-functioning and innovative features, making it no surprise that the Israeli service often leads competitive rankings of website builders.
We've already discussed the service's two editors and their drag and drop functionality. The primary criteria for deciding between 'good' and 'bad' editors is often the degree of freedom they allow their users. Here is where Wix truly shines. There are so many elements that can be integrated into a page that the menu bar gives the impression of being overloaded. Nevertheless, owing to the developer's logical organization of this menu, the features you need, whatever they might be, can be readily found.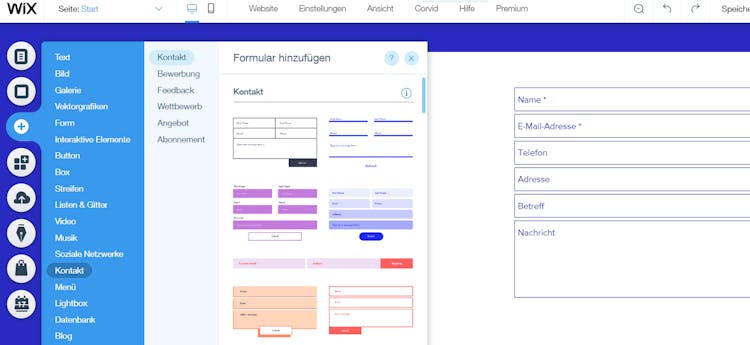 In addition to the usual features like text boxes, image galleries, or links to social networks ranging from Facebook to Spotify, you can also find some specialized elements. For example, you can solicit feedback directly on the site, add a subscription form for email newsletters, or create sale pop-ups for discounted items in your online store.
You'll also find numerous unlicensed stock photos and illustrations in Wix's media toolbox that you can use to decorate your site. With the simple integration of Shutterstock, you can also search for licensed pictures that aren't among those offered by Wix.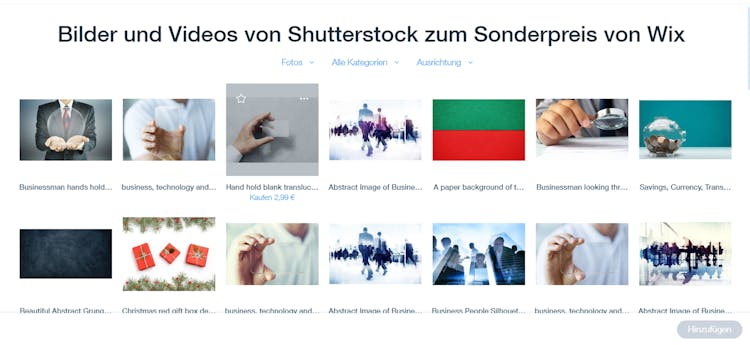 Logo Creator
Wix also has a few more tricks up its sleeve. One of these is its logo creator, which produces logos using AI after you input a few parameters. Of course, this can't really compete with a professionally and individually designed logo, but for anyone looking for a quick and easy solution, this feature is definitely handy.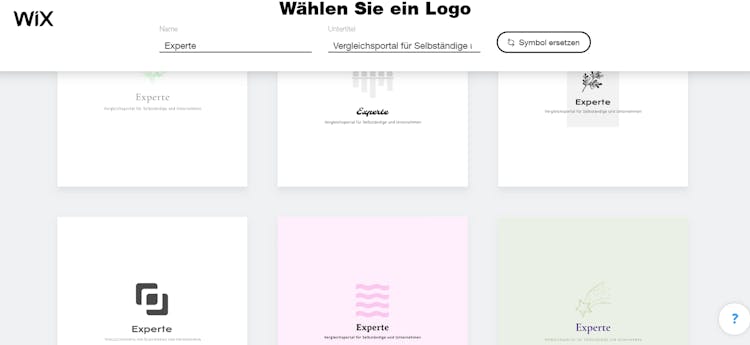 Blogging
Wix's features for blogs are solid, even though in comparison to the rest of the website builders we've analyzed, they aren't as comprehensive. For example, you can edit your posts, organize them into categories, or prep them for SEO. For those who want to create a blog for their business, other website builders offer more nuanced packages.
App Market
If the integrated apps and features that come with the service out of the box aren't enough, you can search for more in Wix's sizable app market. There, you'll find hundreds of extensions, many of which are free, allowing you to further personalize your website. Each of these can be readily searched for and easily integrated into Wix's interface without leaving the page you're on.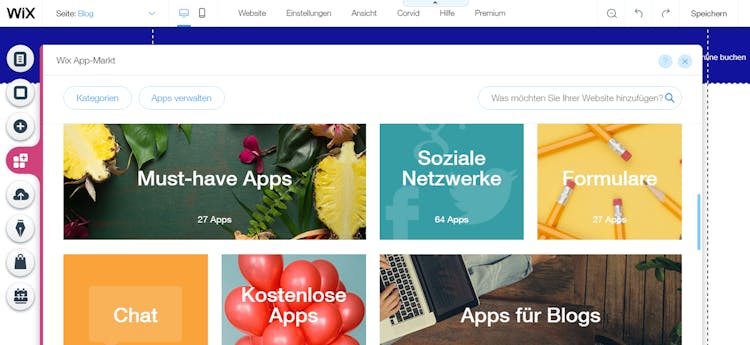 For those with some knowledge of programming, Wix also allows you to work directly with your page's source code, a feature not offered by many other website builders. Should you want to build your site on the go, you can do so in the nifty companion app. Using this, you'll be able to create blog entries, manage products in your store, or chat with clients. Full drag and drop functionality, as offered by Weebly in their mobile app, is not provided.
Describing all of Wix's capabilities would take up a lot more space. Suffice it to say that this website builder truly impresses thanks to its sizable package of features.
Score: 5 / 5
Wix certainly didn't cut any corners in terms of its design templates. Should you make use of the standard editor, you can select from more than 300 different templates, organized based on the type of website. For ADI users, the selection of design templates is noticeably smaller.
The templates are all relatively versatile, whereby, most adhere to the scroll- and picture-friendly trend in page design, however, we're certain that there's something for everybody.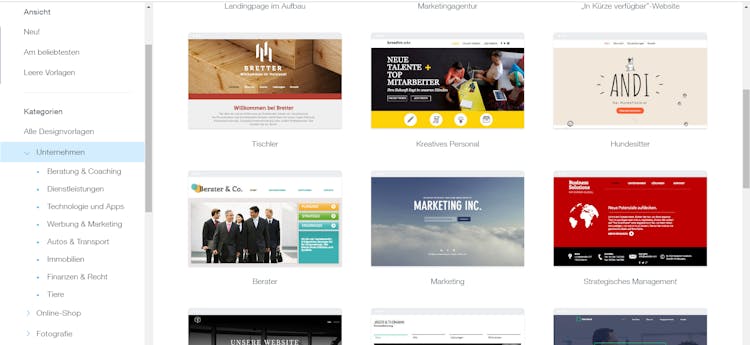 We would have completely missed the selection of templates since Wix's standard editor doesn't allow users to switch from one template to another (this is possible in ADI, however). Should you want to try out a new design template, you will need to create an entirely new project.
Once you've selected a template, you can modify your page's color scheme, background, and fonts.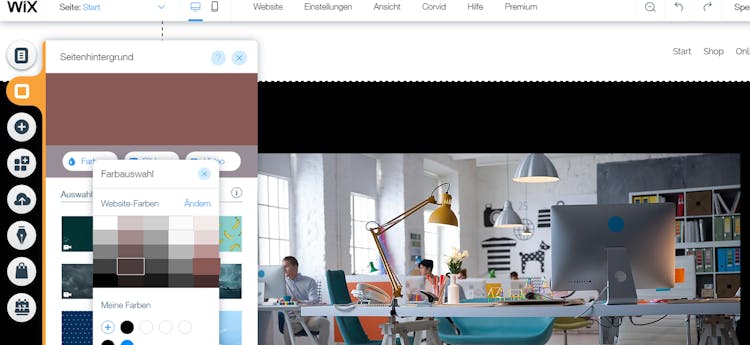 With its numerous templates and design options, Wix provides a very sturdy foundation for any website. Even though the ability to switch between templates (as in WordPress) doesn't exist, and a number of the templates are similar to one another, we still rate Wix's performance in this area very highly.
Score: 4.7 / 5
Marketing, SEO, & E-Commerce
The ability to create online shops is one of Wix's cornerstones, as reflected in the service's all-encompassing e-commerce solutions. You can add products to your portfolio, provide them with individual descriptions, size options, quantities in stock, and even discounts. As a nice addition, you can also group your products into collections.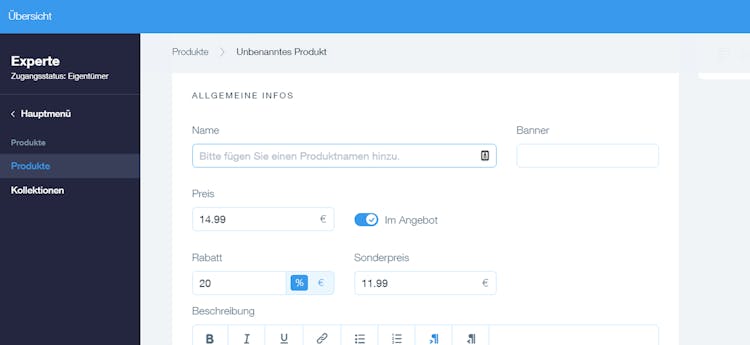 The service also puts a variety of marketing tools at your fingertips. These include the ability to create coupons for specific products, services, or even the aforementioned collections. Using SEO, you can also optimize each product individually for search engines.
You can arrange products from your catalog by dragging and dropping them. In addition, you also have the ability to configure a number of layout, design, and sorting settings.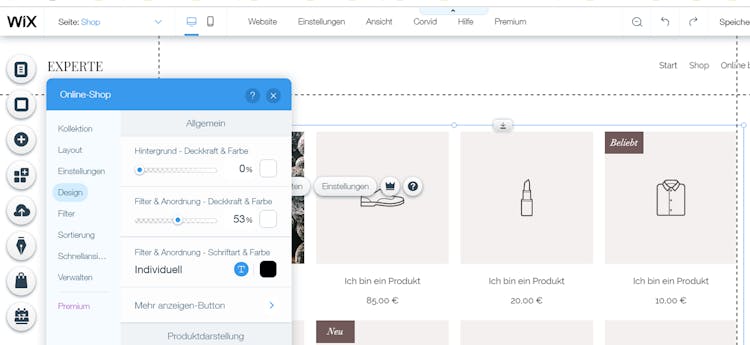 Wix provides users with a personalized SEO plan for their entire site based on Google. Step by step, you can adjust the content on your pages to meet the needs of search engines, helping you to become an SEO expert in the process.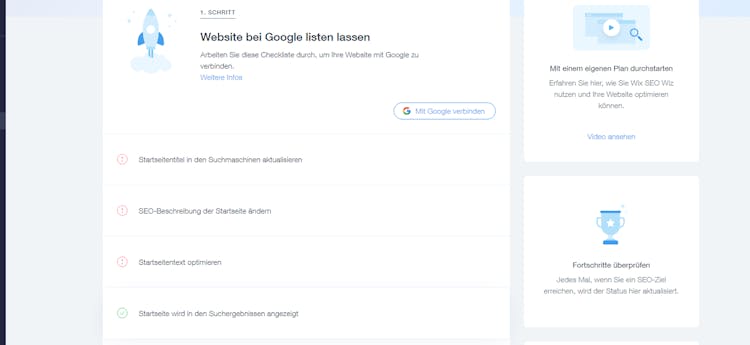 Under analytics, Wix allows you to align your site with Google Analytics, Yandex Metrica, Facebook Pixel, and more. You can also add user-defined tracking codes to count site visits or gauge the effectiveness of ad campaigns.
In sum, Wix doesn't really leave much to be desired in terms of marketing and e-commerce, keeping with its overall trend of offering everything one could want.
Score: 5 / 5
Wix's help center is full of FAQs, neatly organized into topics and categories, as well as a practical search feature that allows you to find information for whatever query you might have. If you're looking for a more personal touch, the means for directly contacting support are a bit hidden, most likely to keep the number of users doing this as low as possible. Only by replying "No" in relation to whether the information provided for certain questions or topics was helpful will you be given a link to directly contact the support team.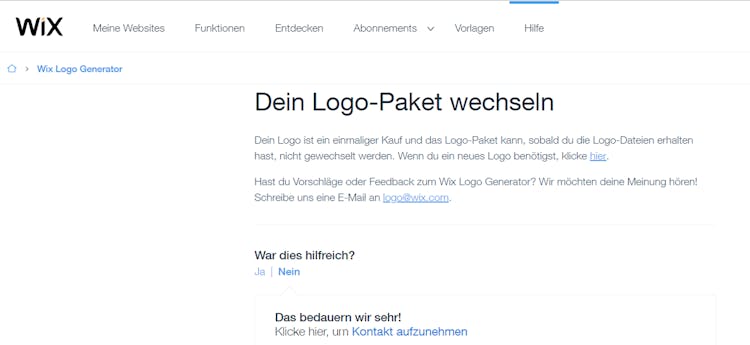 What follows is a fairly basic support ticket, wherein you pose a question, supply a contact email address, and wait for an answer. Questions are answered from Monday-Thursday, 9 AM - 6 PM. There is also the possibility to get in touch with support over the phone.
During testing, we waited four days for an answer to our question, which was written in somewhat spotty English, signalling to us that it had most likely been automatically translated in Google.
Score: 4 / 5
Wix comes in a free version that provides users with a Wix domain and limits access to several features, as well as five different (paid) subscription packages.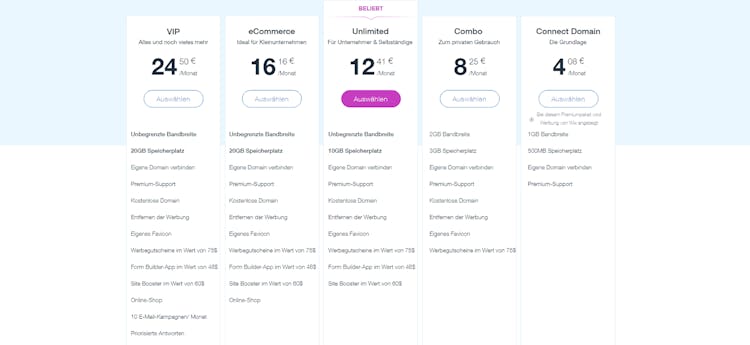 Wix can be enjoyed ad-free starting with the "Combo" package, while for businesses, this is only achieved from the "Unlimited" package up.
Free
Combo
Unlimited
Pricing
Set-up fee
$0.00
$0.00
$0.00
Base price per month
$0.00
$14.00
$18.00
Contract period (months)
0
12
12
Included
Space (GB)
0.5
3
10
Pages
unlimited
unlimited
unlimited
Traffic (GB)
1
2
unlimited
Custom domain
Domains included
0
1
1
Features
Free of ads
SSL encryption
Blog
Ecommerce
Multilingual sites
Server location

USA

USA

USA
Review Score
05/2019
excellent
Visit Website
Marketing, SEO & Ecommerce
5.0 / 5
Templates & Design
4.7 / 5
Configuration & Usability
4.7 / 5
For Wix, the hype is completely justified, as is the service's first place in our ranking: The Israeli website builder makes hardly any compromises, offering both outstanding quality and quantity. Few of the other services we evaluated come anywhere near having the same breadth of features; its two editors are easy to use and intuitive, and Wix's app market far surpasses those of its competitors.
many high-quality templates
simple & intuitive interface
Domains free for one year only
Wix succeeds with an unmatched feature set, intuitive editors and a packed app marketplace. Only with the blog features do we still see some room for improvement.
Space
Domains
Templates
Contract Period
Wix Free
$0.00
monthly price
Visit Website »
Try for Free
Coming back down to earth, our testing of the ADI editor was plagued with performance issues, however, we only recommend using this if you're an absolute beginner at web design. For nearly every website builder that offers AI editors, we advise sticking to standard editors, since these allow you to unleash the full potential of the service you're paying for. Apart from the ADI faux pas, we also see a lot of room for improvement in terms of expanding the service's attention to blogging. In total, however, Wix is easily the top pick if you're in the market for a website builder.
Across a number of aggregators, Wix has been the recipient of good to very good reviews, only coming under heavy fire on Trustpilot. There, the service's poor customer support, billing irregularities, non-functioning features, and pricing policy take a real beating. Elsewhere, users commend the service for its ease of use and wide range of features.
Customer Rating
130,628 Ratings
good
We analyzed the reviews and ratings from various portals and found 130,628 ratings with an overall rating of 4.4 out of 5 .
Show sources
Wix comes out top, but there are still a number of solid WYSIWYG website builders that rely on drag and drop editors. Additional reviews of website builders can be found in our exhaustive comparison.
SSL certificate in all plans
Domains only one year free
no e-mail account included
With its intuitive drag-and-drop functionality and an unrivaled smartphone app for mobile website building, Weebly makes homepage creation easy even for beginners.
Space
Domains
Templates
Contract Period
Weebly Free
$0.00
monthly price
Visit Website »
Try for Free
Piani tariffari relativamente costosi
Squarespace impresses with flawless designs and high quality templates, which make the creation of professional websites a piece of cake - but also costs a bit more than most other providers.
Space
Domains
Templates
Contract Period
Squarespace Personal (12 months)
$12.00
monthly price
Visit Website »
14 Days Trial Period
mix of CMS & website builder
almost infinite possibilities
learning platform "Webflow University"
good ecommerce integration
somewhat steep learning curve
Webflow requires an understanding of programming logic and is less suitable for beginners. As a hybrid of website builder and CMS, it offers its target group countless possibilities to create user-friendly dynamic websites.
Space
Domains
Templates
Contract Period
Webflow Free
$0.00
monthly price
Visit Website »
Start for Free

Author (German Version): Martin Gschwentner
Martin Gschwentner majored in American Studies and Media Studies in Germany, the USA and France and works as a freelance editor in Paris. He is a doctoral student at the Institute for English and American Studies at the University of Paris Diderot, where he is researching the influence of money on US politics. On EXPERTE.com he writes about IT security, data protection and software for the self-employed and small businesses.

Translator & Editor: D Bare