Website Builder Review: Squarespace
How many times have you visited a site and thought "Oh, they used Squarespace!"? Sites created using the New York-based website builder have a very specific look: elegant, clean, perhaps even sterile, but unmistakeably Squarespace. The style is so popular that some of its competitors have tried to imitate it, albeit with varying degrees of success. We'll look at whether Squarespace is all show, or if there's some substance beyond the hype.

Squarespace is a website builder and e-commerce service that makes creating a website or online shop easy, even without any knowledge of programming. Since it's an all-in-one platform, Squarespace shuns third-parties, forcing users to rely entirely on its portfolio of features and templates.
Review Score
12/2021
excellent
Visit Website
Configuration & Usability
5.0 / 5
Marketing, SEO & Ecommerce
4.3 / 5
Templates & Design
4.0 / 5
Nice, high-quality templates
Offers a variety of mobile apps
No possibility to embed third-party apps
Comparably expensive subscriptions
Templates too similar to one another
Configuration and Usability
Squarespace doesn't come in a free version, however, users do have the chance to test it without charge for 14 days. To start, select a template, divided into categories like "Professional Services" and "Blogs and Podcasts". After that, you'll set up a Squarespace account, and your design template will be automatically filled with default content.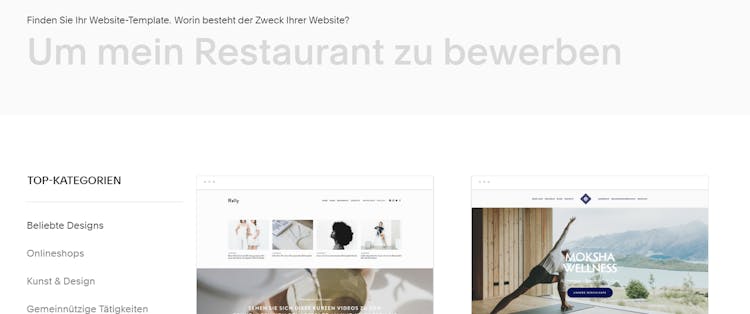 Whereas some editors put the reins of designing a site firmly in the user's hands, Squarespace keeps these to itself, only allowing you a great deal of freedom in terms of adding content to your site.
The user dashboard is divided into two halves: To the left is the main menu, through which you can access the page menu and design options, e-commerce and marketing settings, and statistics. To the right, you'll see a preview of your finished homepage, which you can edit directly in the window, rather than section by section.
If you move your cursor over a section, a menu bar will open, with which you can edit it, adding content if desired. These blocks are separated into clear categories and don't leave much to be desired. However, some features are reserved for premium users.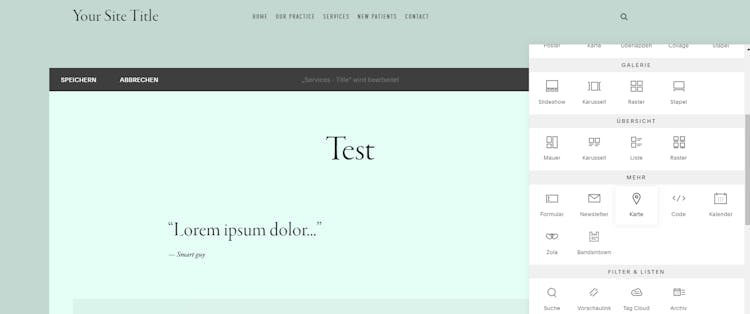 Once you're satisfied with a section, you can save and preview your progress. In this preview, your site is completely functional, allowing you to navigate from page to page, editing as needed.
Should you be used to another website builder that utilizes the WYSIWYG principle to directly make changes in the editor, Squarespace's editor will take a bit of getting used to. The advantage of Squarespace's approach is that you can quickly edit sections: The screen is never more packed than it needs to be, and editing sections individually ensures that you won't be distracted by other content on the page. The service's intelligent editor guarantees that there won't be any visual inconsistencies and that the various content blocks are coordinated with one another.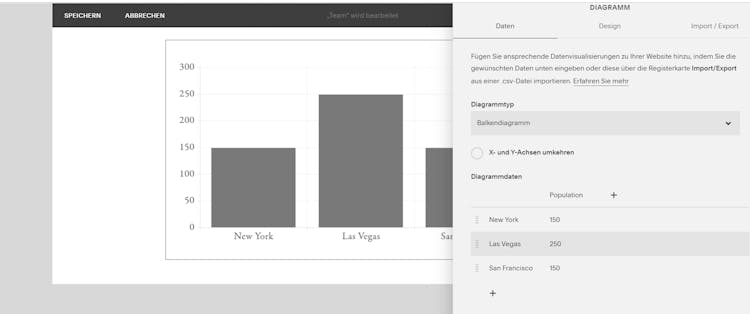 Administering the website you've created is even easier since to the left of the main menu, e-commerce, marketing, and analytic settings are separated from web design.
Squarespace definitely seeks to appeal to users of any experience level, reducing barriers, and not having an overloaded interface, which would otherwise limit creative freedom. Some limitations do appear when you start looking for certain features, however, in terms of user-friendliness, Squarespace definitely excels.
Score: 5 / 5
Squarespace's user-friendliness is due in no small part to the fact that its editor is a closed system. This all-in-one approach means that you're provided with everything you need (according to Squarespace), and as such, can't include any third-party features. For this reason, it should come as no surprise that Squarespace doesn't have an app center or market. The only way to circumvent this limitation is through working with the source code directly, which requires programming knowledge. Thankfully, Squarespace does allow users to work directly with the source code, in contrast to other providers.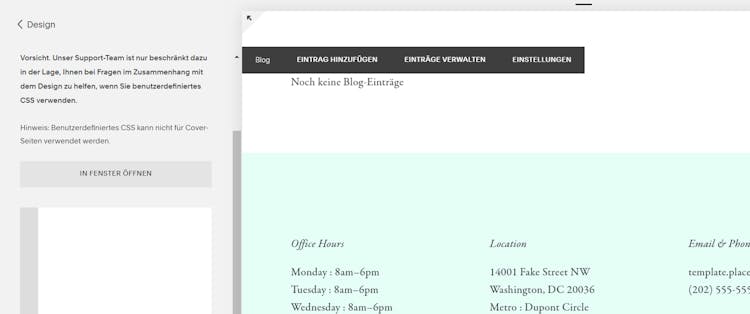 As surprising as it may seem, the lack of an app center doesn't actually take much away from Squarespace, since its feature package is well-developed and robust. This starts with its content blocks: While they don't have as many options as those of Wix, for the needs of most users, the available options will be more than adequate. In addition to the usual types of blocks, there are also some for particular businesses, such as menus for restaurants.
Blogging
You can also add a blog to your website, using the page menu on the left. The hover menu on the blog page enables you to add new entries or manage existing ones. You're also provided a number of other options, such as adding tags and categories, setting authors, and linking entries to social media. Squarespace also supports geotagging, as well as embedding podcasts and user-defined URLs. In the service's editor, you can add the standard content blocks, however, switching to HTML mode is not possible, and you also will have to make do without previewing your blog entry.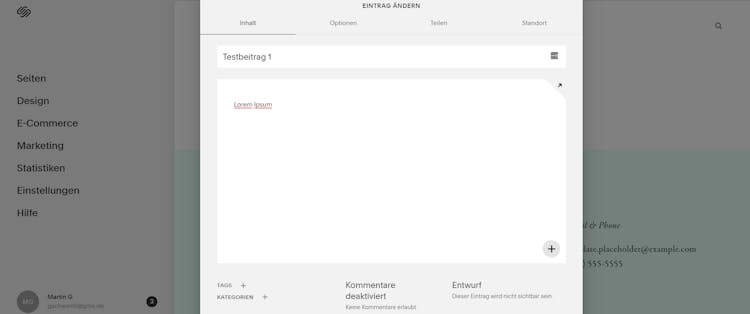 The additional features which Squarespace offers are listed in a sizable index. These include the embedding of Google Workspace (formerly G Suite), which allows Gmail to be easily integrated, a powerful form builder, and a newsletter function that is compatible with Mailchimp. Squarespace also provides additional mobile apps - three for Android, four for iOS - which you can use to update your Squarespace website on the go.
Using Squarespace's Analytics you can access site statistics on the go; Commerce allows you to manage your shop from anywhere, and the Portfolio app (iOS) makes it possible to manage images and galleries. You can also edit your blog from your smartphone or tablet with Squarespace's dedicated app.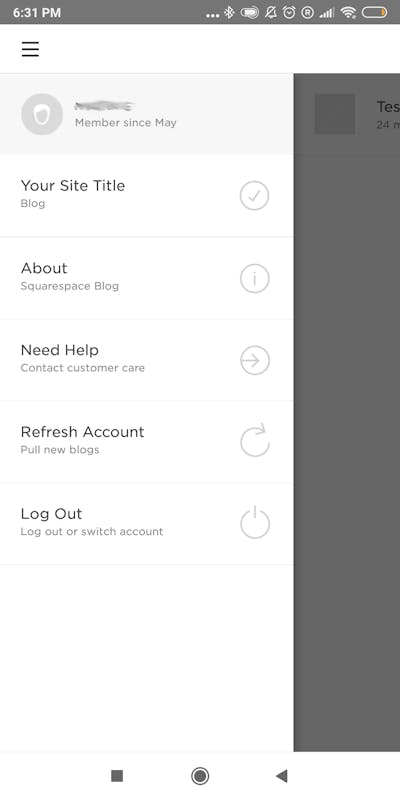 Although Squarespace doesn't have an app center like its competitors, owing to the variety of features that the service comes with, this isn't that big of a loss. In this way, the provider also guarantees a certain standard of quality through its apps, which can easily be integrated into Squarespace's closed system.
Score: 4.3 / 5
Squarespace's templates are, nearly without exception, breathtaking, thanks to their modern and elegant appearance. You can choose from around 100 different design templates, divided into several different 'families' that share the same code, with minor differences in their functionality and arrangement.
In comparison to WordPress or Wix, the variety of templates offered by Squarespace is somewhat less impressive. Considering the inability to integrate third-party extensions or add-ons there is little that users can do to overcome this. At the same time, Squarespace's high quality makes each template a real winner. Balancing the provision of your site with the "Squarespace look" against the lack of variety in terms of templates and themes is a decision that (potential) users of the service will have to weigh carefully.
But, there is some room for creativity. In the relevant submenu, you can individualize your template to a certain degree by changing fonts, colors, text sizes, and how some content is arranged. Breaking out of the Squarespace mold, should you want to do this, is very difficult, since the editor doesn't allow dragging and dropping. Controlling the arrangement of screen elements is limited, meaning that, as a consequence, your creative freedom is impaired.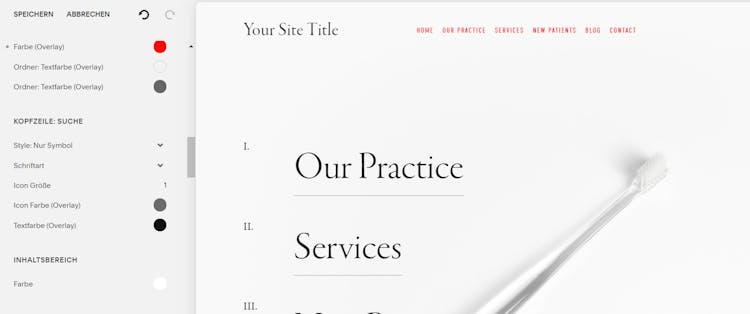 Squarespace's templates are all well-made, with it coming as little surprise that the website builder has made such a significant impression on the Internet. For anyone who isn't persuaded by the service's aesthetic qualities, it becomes readily apparent that Squarespace suffers from a lack of variety that cannot be rectified or personalized through waving a magic wand. Nevertheless, we're certain that there's something for everybody among the service's design templates.
Score: 4 / 5
Marketing, SEO, & E-Commerce
You can also create an online shop using Squarespace through the same main menu as for other kinds of sites. This allows you to add and manage different products. Beyond this, your options are wide-ranging: You can tag products, group them into categories, or even add different versions of them.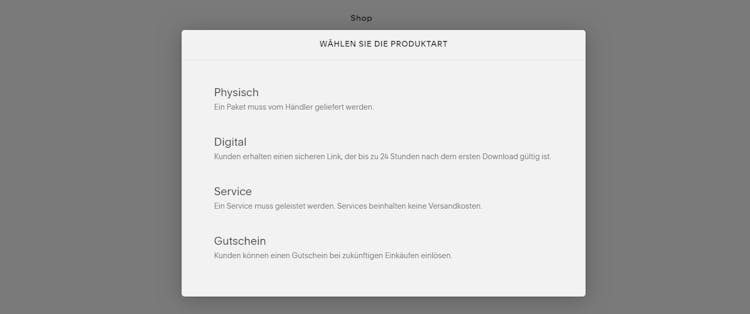 You can also enter the quantities available and their weights and sizes. If you don't have the right form field for an order, you can add a product form, and create user-defined coupons.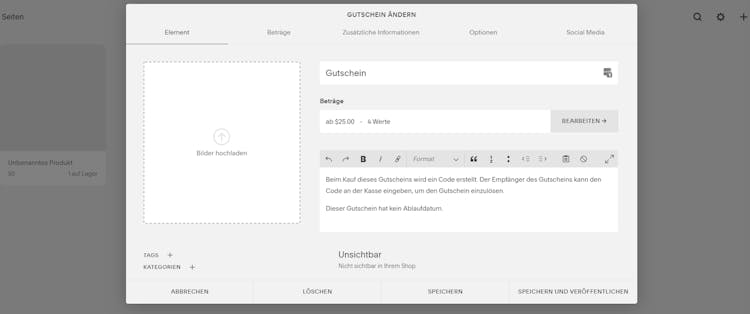 Under the e-commerce menu item, you're able to manage orders and issue refunds. You can also configure settings for payment methods (including PayPal and Stripe), shipping, taxes, and more. Squarespace impresses with its extensive range of e-commerce features, all of which are seamlessly integrated into its interface.
Analytics & SEO
Squarespace provides ready access to basic SEO features, allowing you to add meta tags and descriptions to every page on your site. Correctly integrating social media onto your site goes far in improving its ranking, which in turn, will direct greater traffic to it. Advanced SEO features are more readily accessible in other website builders, especially when one considers plugins like Yoast, however, by adding some user-defined code, you can expand Squarespace's SEO capabilities.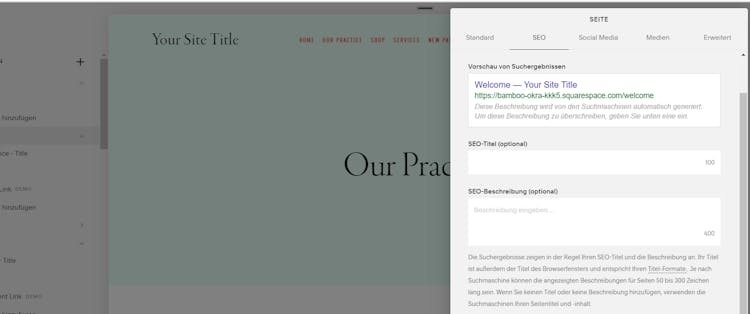 By clicking on "Statistics" in the menu, you can access the analytics area of your Squarespace site. You shouldn't underestimate the power of this, since it includes information about traffic, such as where users originate from, as well as what content is the most popular. The latter of these is particularly helpful since it can aid in significantly improving your site. Of course, you can also embed Google Analytics.
Score: 4.3 / 5
In Squarespace's help center you can become better acquainted with the service and its features through a variety of tutorials. There is also a forum and Squarespace hosts regular webinars, both of which impart users with greater knowledge of the service.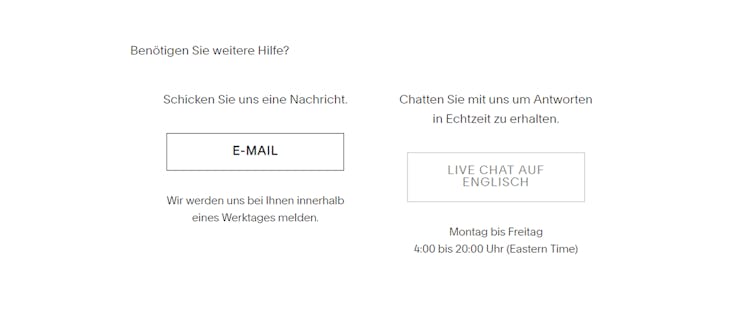 Should you be unable to find an answer in the help center, the possibility exists to directly contact customer support. Squarespace provides a live chat from Monday to Friday. If you have an issue outside of these times you can send an email to support. During testing, we received an answer to our query within a bit more than 24 hours.
Score: 4.7 / 5
Squarespace offers four different subscriptions - two for regular websites and two for online shops. The most affordable of these is the "Personal" subscription for $12 per month (paid yearly) which doesn't include e-commerce functionality, Google e-mail addresses, or other extras. With the slightly more expensive "Business" subscription ($18 per month, paid yearly) you're able to access all e-commerce features but will pay a 3% fee on each transaction.

For the two online shop packages ("Commerce" and "Advanced Commerce"), you won't have to pay any transaction fees, whereby some advanced features, like the ability to add coupons, are reserved for consumers of the "Advanced Commerce" plan ($40 per month, paid yearly).
Personal
Personal (12 months)
Business
Pricing
Set-up fee
$0.00
$0.00
$0.00
Base price per month
$16.00
$12.00
$26.00
Contract period (months)
1
12
1
Included
Space (GB)
unlimited
unlimited
unlimited
Pages
unlimited
unlimited
unlimited
Traffic (GB)
unlimited
unlimited
unlimited
Custom domain
Domains included
0
1
0
Features
Free of ads
SSL encryption
Blog
Ecommerce
Multilingual sites
Server location

USA

USA

USA
Review Score
12/2021
excellent
Visit Website
Configuration & Usability
5.0 / 5
Marketing, SEO & Ecommerce
4.3 / 5
Templates & Design
4.0 / 5
Deciding whether you want to use Squarespace or not largely boils down to a single question: Do you like the "Squarespace look"? Lots of site builders enjoy the sleek and minimalistic service, and for good reason: Squarespace makes it incredibly easy to create an elegant website in just a few easy steps. Of course, since Squarespace sites can be discerned from quite a way off, some are less inclined to use them, whereas, for others, it's a mark of pride, like name-brand clothing.
Piani tariffari relativamente costosi
Squarespace impresses with flawless designs and high quality templates, which make the creation of professional websites a piece of cake - but also costs a bit more than most other providers.
Space
Domains
Templates
Contract Period
Squarespace Personal
$16.00
monthly price
Visit Website »
14 Days Trial Period
The absence of third-party software or extensions is frustrating but, to a certain degree, understandable. In this manner, Squarespace guarantees that all websites created using it have a similar standard of quality. Squarespace's editor is both intuitive and versatile, whether you want to design a personal website or an online shop: The service offers a total package, which in terms of e-commerce, is actually somewhat more expensive than comparable products.
For anyone who can accept working within the confines of Squarespace's closed system, and is ready to pay for it, you'll receive a powerful website creator which makes professional-looking sites.
Customer Rating
18,761 Ratings
excellent
We analyzed the reviews and ratings from various portals and found 18,761 ratings with an overall rating of 4.6 out of 5 .
Show sources
Squarespace is a direct competitor of Wix, Weebly, and WordPress, three of the most popular website builders/CMSs. For anyone who wants to use third-party extensions or add-ons, we don't recommend Squarespace. The "Squarespace look" can only be had with Squarespace, even if others have attempted to imitate it. You can check out reviews of other website builders in our exhaustive comparison.
many high-quality templates
simple & intuitive interface
jam-packed app marketplace
Domains free for one year only
Wix succeeds with an unmatched feature set, intuitive editors and a packed app marketplace. Only with the blog features do we still see some room for improvement.
Space
Domains
Templates
Contract Period
Wix Free
$0.00
monthly price
Visit Website »
Try for Free
supports multilingual sites
large, established provider
lots of templates, average quality
1&1 IONOS MyWebsite makes getting started a little more complicated, but rewards hobbyists without programming skills with a variety of design options for unique websites.
Space
Domains
Templates
Contract Period
1&1 IONOS Starter
$3.00
monthly price
Visit Website »
30 days risk-free
mix of CMS & website builder
almost infinite possibilities
learning platform "Webflow University"
good ecommerce integration
somewhat steep learning curve
Webflow requires an understanding of programming logic and is less suitable for beginners. As a hybrid of website builder and CMS, it offers its target group countless possibilities to create user-friendly dynamic websites.
Space
Domains
Templates
Contract Period
Webflow Free
$0.00
monthly price
Visit Website »
Start for Free

Author (German Version): Martin Gschwentner
Martin Gschwentner majored in American Studies and Media Studies in Germany, the USA and France and works as a freelance editor in Paris. He is a doctoral student at the Institute for English and American Studies at the University of Paris Diderot, where he is researching the influence of money on US politics. On EXPERTE.com he writes about IT security, data protection and software for the self-employed and small businesses.

Translator & Editor: D Bare