Squarespace Website Builder Review: Most Beautiful Templates 2023?


Ad disclaimer:
For links on this page, EXPERTE.com may earn a commission from the provider. This supports our work and has no influence on our editorial rating.
How many times have you visited a site and thought "Oh, they must have used Squarespace!"? Pages created with the New York-based website builder have a unique look: elegant, clean, perhaps even sterile, but unmistakably Squarespace. The style is so popular that some competitors have tried imitating it, with varying degrees of success.
In this review, we'll reveal whether there's more to Squarespace than just hype.
What Is Squarespace?
Squarespace* is a site builder that makes creating a website or online store simple, even if you don't have any programming experience. Founded in 2004 as a blogging service by Anthony Casalena (then a student), the company has grown into one of the most popular site-building tools out there, launching an IPO in 2021.
It seems that Squarespace is a classic American success story, however, glory can quickly fade. For that reason, and to provide the best possible assessment of the platform, we've reviewed it below.
Squarespace Review
Configuration & Usability
10 / 10
Marketing, SEO & Ecommerce
8.6 / 10
Templates & Design
8.0 / 10
Good help center and live chat
No app marketplace, only a few extensions available

Pricey subscriptions, no full free version

Templates too similar to one another
1.
Configuration and Usability
There's no free version of Squarespace, but, users can try it for free for two weeks. Before selecting a template, you'll need to answer a few questions about your project, such as its focus and purpose.
After that, choose a template from one of the categories, such as "Professional Services" or "Entertainment". Then, specify whether it will be an "Online Store", "Portfolio", Memberships", "Blog", "Scheduling", or "One Page" website.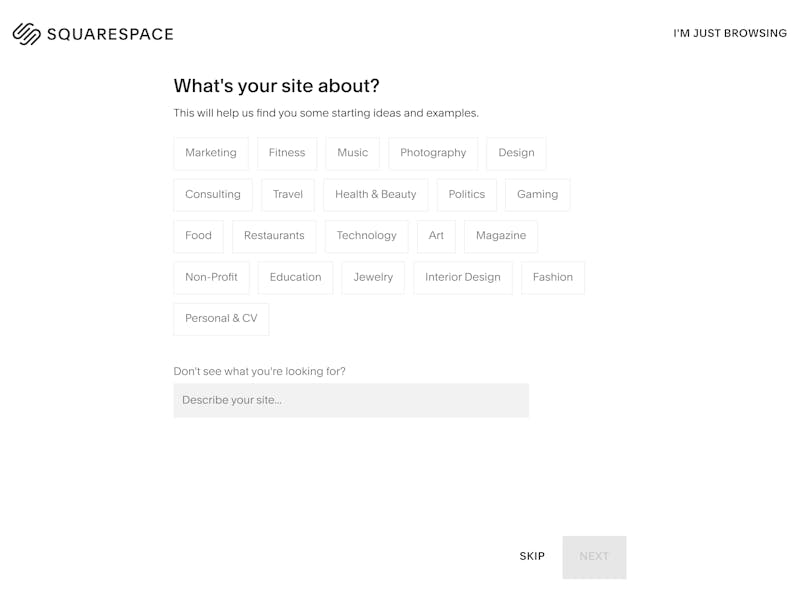 After answering a few questions, Squarespace suggests suitable design templates for your website or store.
You'll only have to create a Squarespace account after selecting a design template (which is automatically filled with demo content). Once you've given your website a name, a brief tutorial walks you through the platform's basics.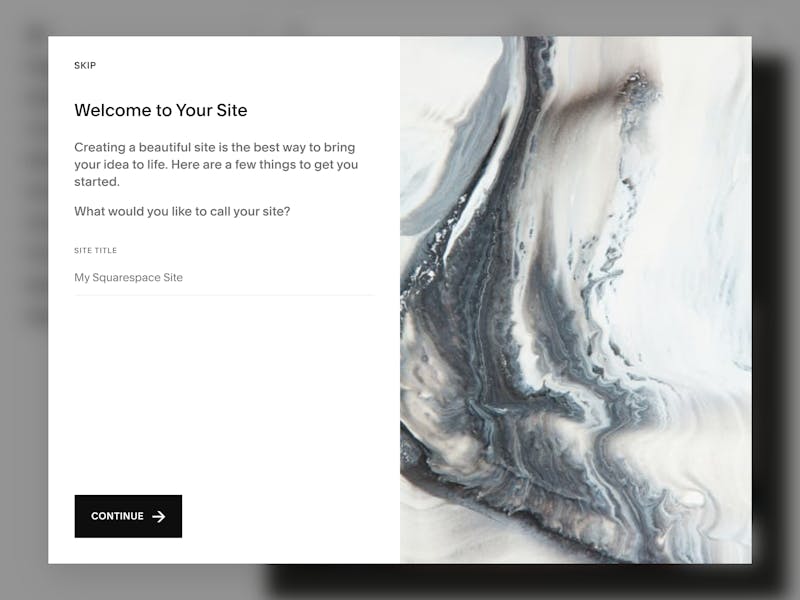 Informative dashboard
Once in the platform's editor, Squarespace will have already generated a fully functional website for you: All you have to do is fill it with content.
Squarespace's user dashboard consists of two parts: The navigation menu is to the left, providing access to the page menu and design options, settings, and the e-commerce, marketing, and statistics sections. To the right of this, a preview of your homepage is displayed that you can adjust by clicking on the "Edit" button in the upper left.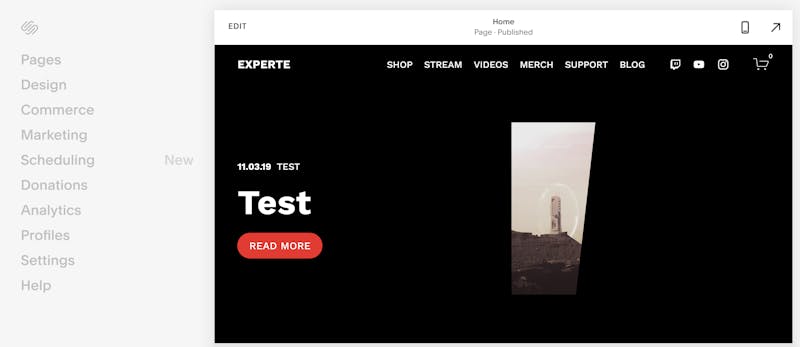 Once in the Squarespace dashboard, all you have to do is load your website with unique content.
Block by block
When moving your cursor over a section, a menu bar opens, with which you can copy, move, delete, or format the entire section. Between sections, you'll notice an "Add section" button, which is for inserting new content blocks. These are categorized clearly (contact forms, newsletters, calendars, or simple image galleries) and leave little to be desired.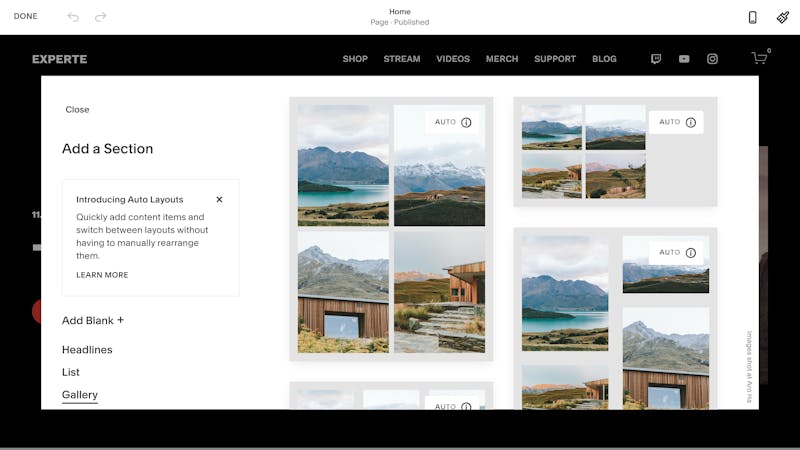 Fill your website with content by adding sections to it.
To make more significant alterations to your website, such as to its navigation menu, you'll need to go to a different panel. By clicking on the "Pages" panel, you'll be able to edit menus and add new sub-pages. Choices for the latter include blank pages, those with layouts, or ready-made ones like a blog or store.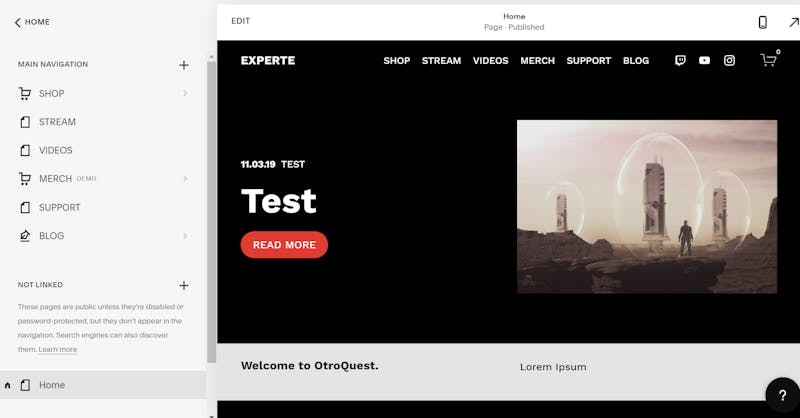 You decide which and how many sub-pages your website has.
We liked how Squarespace divides functions and tools between its dashboard and editor. In the former, you can make more wide-ranging changes to your website and view a live, fully-functional preview. For bigger changes to pages or elements, just head over to the editor.
Despite offering less drag and drop freedom and having more rigid templates than Wix, you can still customize your website without losing any of Squarespace's elegance. The smart editor plays a major role in this, ensuring that all images and content blocks are neatly formatted and aligned.
Build on the go with the mobile app
If you enjoy site-building on the go or want to keep an eye on things at all times, make sure to download Squarespace's smartphone app. You'll be able to track your orders, keep in touch with visitors, and use the editor to update your site from anywhere.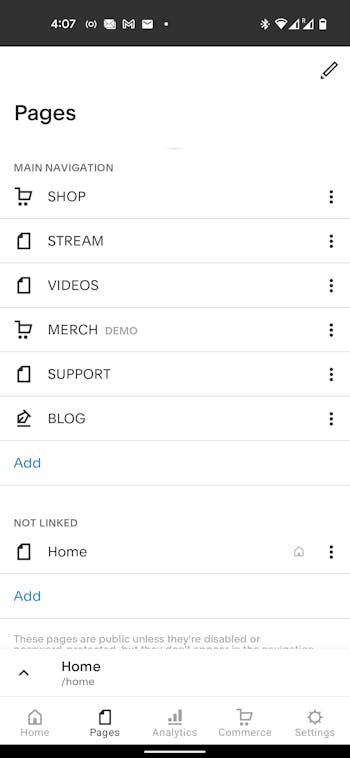 With Squarespace's mobile app, you can manage your website from anywhere.
Squarespace appeals to users of any level by removing obstacles, offering a tidy interface, and limiting creative freedom as rarely as possible. There are some constraints when it comes to specific features or capabilities, however, Squarespace definitely excels in user-friendliness.
Configuration & Usability
10 / 10
Squarespace's user-friendliness is a result of its editor being a closed system. The all-in-one approach means that you're provided with everything you need (according to Squarespace), but also that third-party integrations aren't possible.
As of the time of writing, Squarespace doesn't have a real app market, such as that which is integrated into Wix's editor. However, since 2019, third-party apps have been offered as "Extensions". Most of these relate to e-commerce, helping with order management, sales, and dropshipping.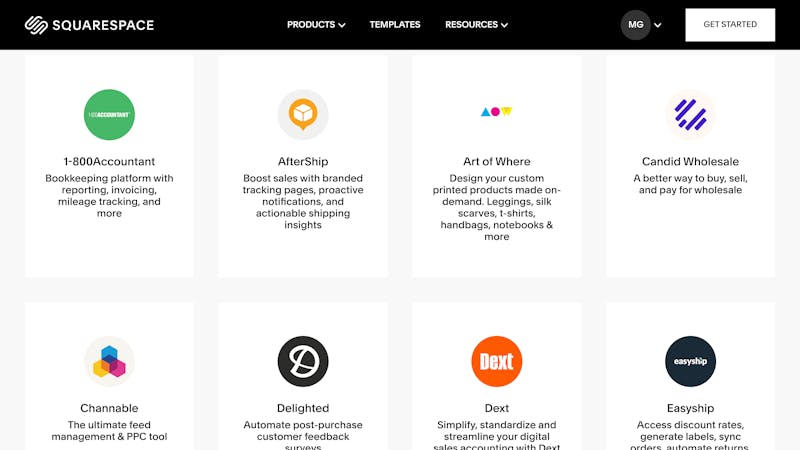 Squarespace's "Extensions" make it possible to integrate some third-party apps into your website.
To add a third-party app to your website, select one from the list of "Extensions" and click on the "Connect to Site" button. In comparison to most of Squarespace's competitors, the variety of apps available is disappointing and they aren't particularly easy to integrate.
Decent features even without an app market
Because its feature package is so well-developed, the lack of an app center doesn't actually hurt Squarespace too much. As an example, content blocks, which, are more limited than their Wix counterparts, will meet most users' needs. Along with the usual options, there are also some for specific businesses, such as restaurant menus.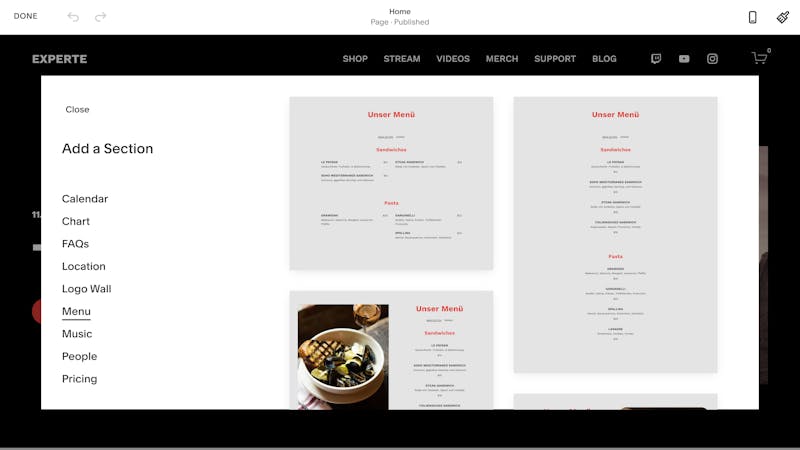 Squarespace offers a nice selection of ready-made content blocks, such as restaurant menus, team sections, and appointment booking.
Good blogging platform with few downsides
With Squarespace, blog management is divided between blog pages (your blog's landing page) and individual entries. You can add a blog page to your website through the main navigation menu by clicking on "Pages", followed by the "+" icon. Select "Blog" from "Collections" and specify its layout settings. Once finished, you can then create new entries and edit existing ones in the blog page panel.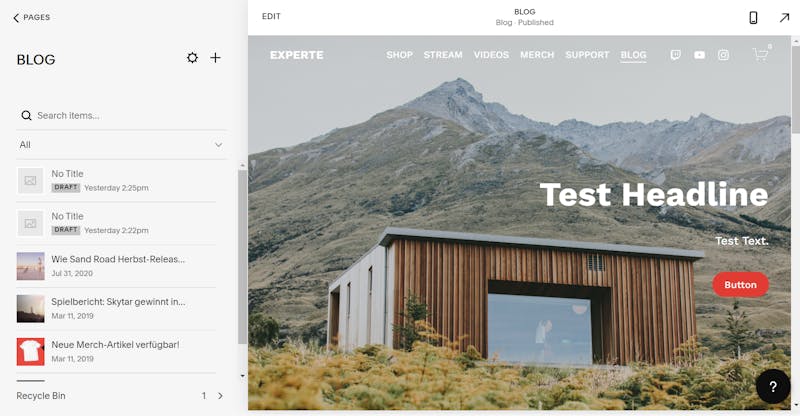 Blog entries are chronologically sorted, with a search tool also provided.
In the blog page panel, you'll find all of the usual features: You can add text, images, videos, and ready-made content blocks. Draft entries can be saved, and you're able to schedule when posts go live. The only shortcomings we noticed were that progress isn't automatically saved in the blog editor and changes to published entries can't be saved as drafts, but either published or discarded. Another nice feature is the ability to add tags and categories to entries.
The three-dot menu allows you to access additional settings for your blog entries, such as search engine optimization (SEO), adding authors, and linking entries to social media channels. Squarespace also supports geo-tagging and user-defined URLs. You can't switch to HTML mode, and no post previews are offered.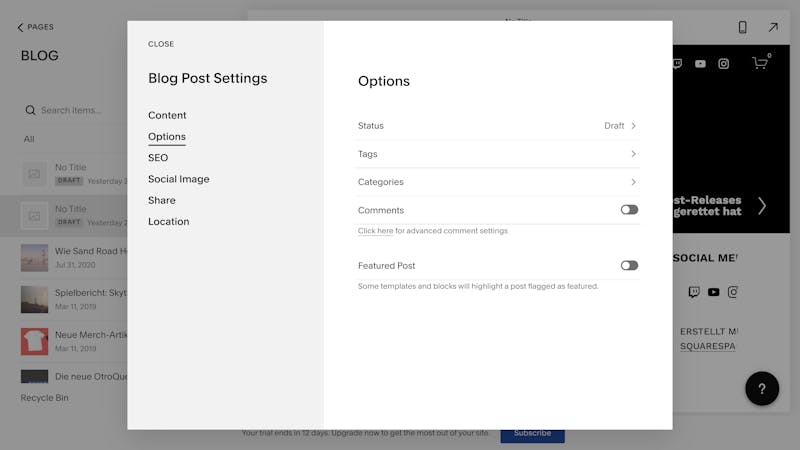 You can toggle comments on or off for each entry through the settings menu.
Squarespace definitely provides a nice range of features for amateur bloggers or enthusiasts. Professional bloggers might notice a missing tool or capability though.
Large selection of media through stock image integrations
Do you want to decorate your website with lots of visual media? You can thanks to the Unsplash and Getty Images stock photo integrations, both of which offer free and paid content. Click on "Search Agency Images" in the upload menu to browse through what's available. Although the integrations are nifty, search results are less accurate than on either database's website.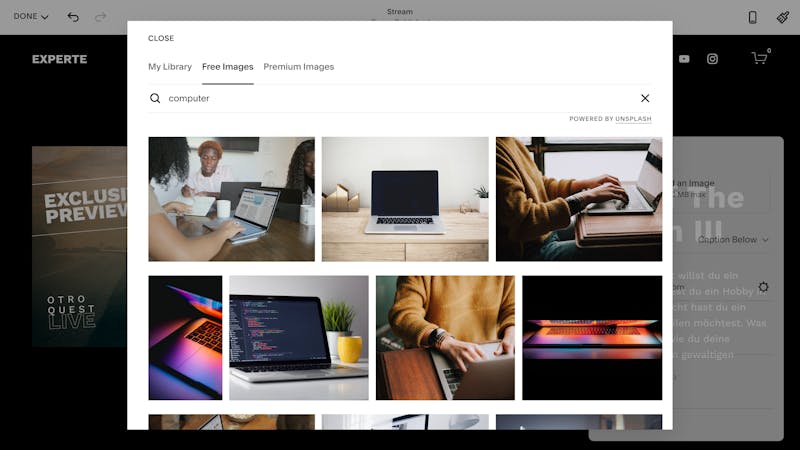 To provide stock photos, Squarespace partnered with Unsplash and Getty Images.
Multi-lingual websites
Creating websites in more than one language is possible, however, Squarespace makes this more complicated than necessary. Instead of adding languages in a dedicated menu, you need to insert each language as a folder in your site's navigation menu, and then include pages, filled with the desired content.
If this sounds too challenging, you can try third-party tools like Weglot, however, other site builders from our sample provide more straightforward solutions for creating multiple language localizations.
Sizable package of features
The additional features that Squarespace offers are listed in a lengthy index. These include support for Google Workspace, which means that you can integrate Gmail. Also on the list are a powerful form builder, a newsletter tool, and a free logo maker.
Even though Squarespace doesn't have an app center like its competitors, since it comes with so many features, this isn't a major problem. In this way, Squarespace guarantees that whatever apps can be integrated into its closed system maintain a certain standard of quality.
Thanks to their modern and elegant appearance, practically all of Squarespace's templates are breathtaking. As of the time of writing 122 different design templates are on offer, divided into the six types mentioned above.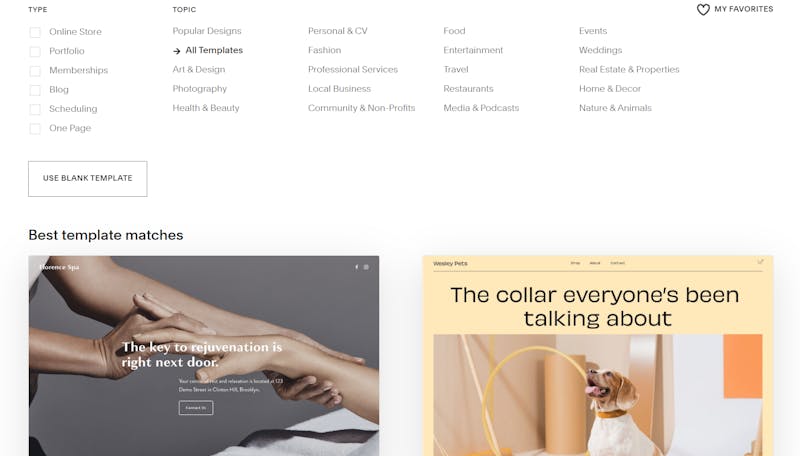 Squarespace offers more than 100 different templates to choose from.
Quality > Quantity
If judging by variety, Squarespace's templates might appear less impressive than those of Wix or WordPress. Similarly, the inability to integrate third-party designs on Squarespace is frustrating. However, the high quality of Squarespace's templates makes each a masterpiece.
Ultimately, you have to decide for yourself whether giving your website the "Squarespace look" is worth having fewer templates and themes to choose from.
By clicking on "Website Style" in the main navigation menu's design area (or, alternatively, the brush symbol in the editor), you can change fonts, colors, text sizes, and animations. In general, any changes made here will be applied across your website. Should you only want to adjust the appearance of specific areas, you'll need to do this in the editor's appropriate section.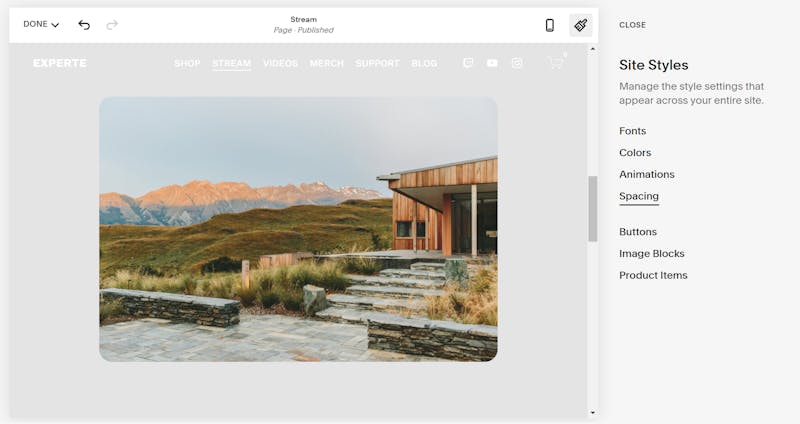 In the style menu to the right, you can adjust your entire website's appearance.
Lacking 'true' drag and drop functionality
The platform's design tools are decent but you shouldn't expect to be able to break out of the Squarespace mold. The editor's lack of 'true' drag and functionality greatly limits creative freedom. Since the template and designs determine where buttons, images, or text can be placed, on-screen elements can only be adjusted minimally.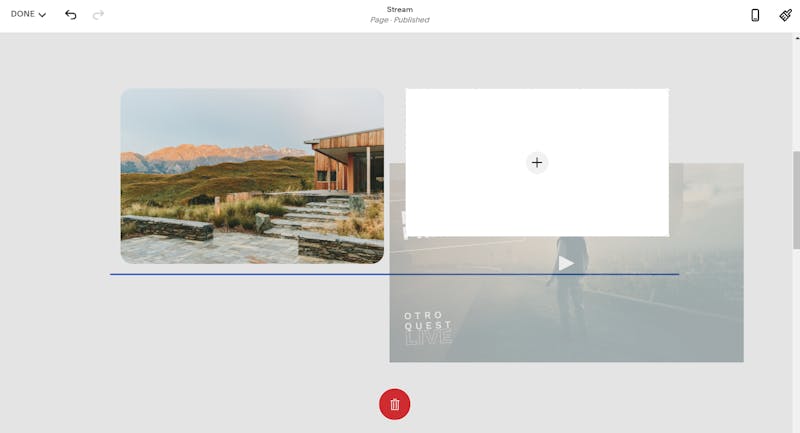 It isn't possible to freely arrange elements in Squarespace - you'll have to work within specific areas.
Because all of Squarespace's templates are well-made and appealing, it isn't much of a surprise that the website builder has made such a significant and positive impression on the Internet. For anyone who isn't persuaded by the service's aesthetic qualities, Squarespace's lack of variety and barriers to true website customization will likely be noticeable.
Nevertheless, the platform's templates have something for everybody, particularly if you want clean, image-, or video-based designs.
Templates & Design
8.0 / 10
4.
E-Commerce, Marketing & SEO
You can create an online shop with Squarespace using the same "Pages" panel. Start by selecting a store page template, and then get to work adding (or importing) products or services. Squarespace allows users to offer digital products and subscriptions with recurring payments.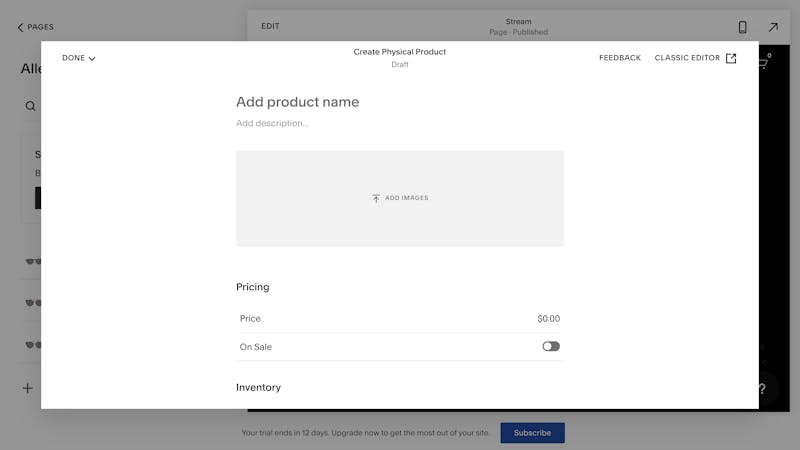 Squarespace supports the sale of physical and digital products, along with services and subscriptions.
Comprehensive e-commerce features
Squarespace provides a lot of selling options: You can tag products, group them into categories, or even add variants. Through the product menu, it's possible to add images, set prices, specify in-stock quantities, and input SKUs. Product reviews can be integrated, and you'll have the ability to create custom coupons and discounts.
Your entire store, including orders, inventory, ongoing sales campaigns, as well as payment and shipping options, can be managed in the platform's e-commerce area. Squarespace supports PayPal, Stripe, and in the US, Square. For shipping options, FedEx and UPS integrations are offered. Since the platform doesn't support multiple currencies, you'll have to select one for your store.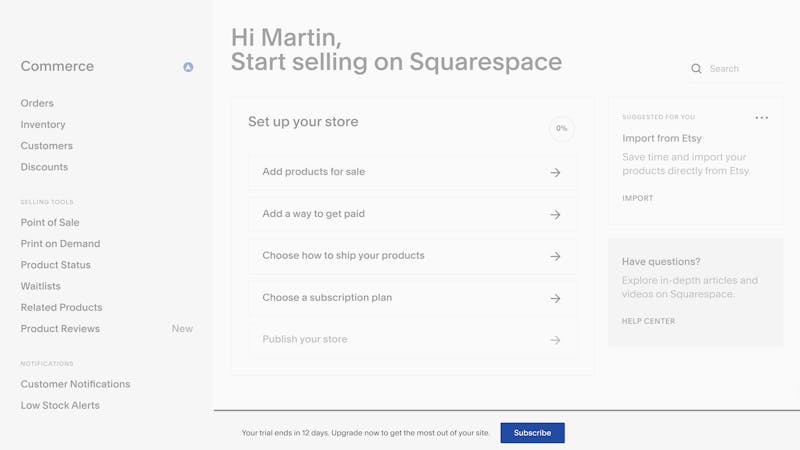 You can manage your entire store in the e-commerce menu.
Promote your business
In the marketing area, you'll find a versatile e-mail marketing tool, for promoting your store and keeping customers up-to-date. A nice selection of ready-made templates is offered, such as sales or event announcements, as well as follow-up emails for ongoing campaigns.
Under "Profiles" Squarespace generates a profile for each of your customers, which you can view and manage. This gives you greater insight into who is shopping, making it possible to organize them into segments based on the size of their orders, or even their purchase of specific items. Thanks to Facebook and Instagram integrations, you can tag yourself in blog entries or Instagram stories and sell directly through social media.
Squarespace's multi-faceted e-commerce features are definitely impressive, especially since they're integrated perfectly into the platform's interface.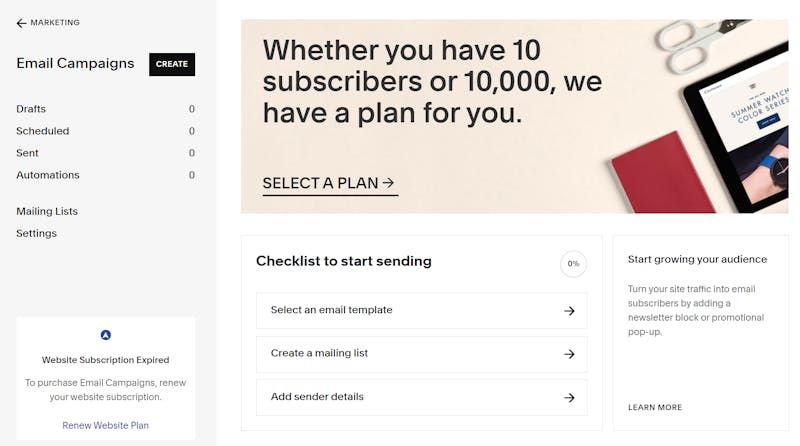 Squarespace provides everything you need to promote your store.
Analytics & SEO
Squarespace offers basic SEO settings, making it easy to add titles and descriptions to all of your pages or blog entries. Page ranking is also improved through the platform's solid social media integration. An SEO checklist is offered under Marketing > SEO, which helps to create a strategy for optimizing how search engines find your website. If that's enough, you can also hire a Squarespace SEO expert.
All that's missing is a practical SEO plugin like Yoast, which greatly simplifies SEO on platforms like WordPress.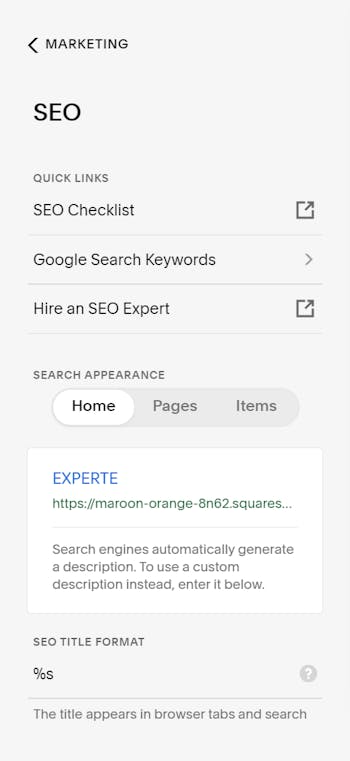 Squarespace provides the most important SEO settings.
By clicking on "Analytics", you can review your Squarespace site's stats. Don't underestimate these, since they provide information about traffic, where visitors originate from, as well as what content is the most popular. Identifying what your most visited pages are can help to significantly improve your site. Of course, if desired, you can also embed Google Analytics and Facebook Pixel.
Overall, Squarespace impresses with its powerful e-commerce and marketing features, even though we would have liked to see some helpful third-party plugins and apps.
Marketing, SEO & Ecommerce
8.6 / 10
In Squarespace's Help Center you can learn more about the platform and its features through a variety of tutorials, some of which are video guides. There's also a forum and regular webinars, both of which provide more information about Squarespace.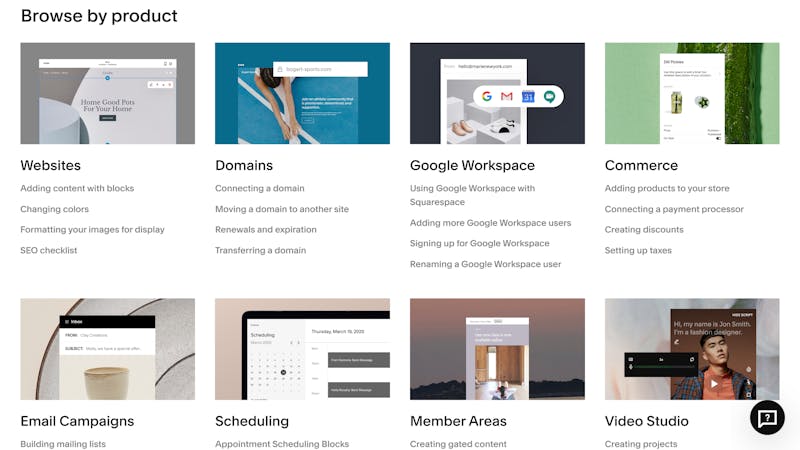 Squarespace scores thanks to its excellent selection of support content.
In case you can't find the answer you're looking for in the Help Center, you can directly contact Squarespace's customer support. A live chat is staffed Mondays to Fridays (4 AM to 8 PM US EST). If you have an issue outside of these times, just email your question to the support team. During testing, we received an answer to our query after about 24 hours.
Squarespace's support is pretty good: A lot of useful static content is offered, and live support via chat or email is solid and quick.
Squarespace offers four different subscriptions - two for regular websites (Personal and Business) and two for online shops, (Commerce Basic and Commerce Advanced). You can book a plan monthly or, on a more affordable yearly basis.
All subscriptions include a free, custom domain, an SSL certificate, as well as unlimited bandwidth and storage. The Personal plan lacks several features, such as the integration for Google Workspace, other premium integrations, and CSS or Javascript adjustments. Marketing and e-commerce capabilities are only offered in the Business plan, however, beware of the 3% transaction fee.
To avoid paying the transaction fee, you'll need to upgrade to one of the two e-commerce plans. As might be expected, the Advanced plan offers the most features, including subscriptions, expanded delivery and sales options, and e-commerce APIs.
A full free version of Squarespace isn't available. Below, we've provided an overview of the platform's current rates:
Personal
Business
Commerce Basic
Commerce Advanced
Set-up Fee
$0.00
$0.00
$0.00
$0.00
Monthly Price
from $16.00
from $23.00
from $27.00
from $49.00
Contract Period (Months)
1 - 12
1 - 12
1 - 12
1 - 12
Included
Space (GB)
unlimited
unlimited
unlimited
unlimited
Pages
unlimited
unlimited
unlimited
unlimited
Traffic (GB)
unlimited
unlimited
unlimited
unlimited
Custom Domain
Domains Included
1
1
1
1
Features
Free of Ads
SSL Encryption
Blog
Ecommerce
Multilingual Sites
And how does Squarespace fare against its competitors in terms of price? In the table below, we compared the most affordable plan from each provider in our sample that included a unique domain and was ad-free. Unfortunately, Squarespace is one of the most expensive site builders:
1.
2.
3.
4.
5.
6.
7.
8.
9.
10.
11.
12.
You can try Squarespace for free for 14 days without having to input any payment information.
And in case you want your money back after signing up, you'll have two weeks (14 days) to do so, but only for the annual subscription. No refunds are offered to monthly subscribers.
Conclusion
Configuration & Usability
10 / 10
Marketing, SEO & Ecommerce
8.6 / 10
Templates & Design
8.0 / 10
Deciding whether Squarespace is right for you depends on your answer to a single question: Do you like the "Squarespace look"? Lots of site owners do, enjoying the sleek and minimalistic service, and for good reason: With Squarespace, it isn't hard to create an elegant website or online store. Of course, since Squarespace sites are so recognizable, some are less inclined to use them.
Squarespace definitely offers a nice package of features for anyone looking to create a Web presence - It's highly intuitive and comes loaded with features and e-commerce tools. In terms of disadvantages, the platform is pricier than most of its competitors, and you won't have an app marketplace or full drag and drop capabilities. Still, Squarespace is definitely one of the best site builders out there.
Squarespace Website Builder
Squarespace can impress with flawless designs and high quality templates, which make the creation of professional websites a piece of cake – but comes at a higher price compared with the competition.
Space
Domains
Templates
Contract Period
Squarespace Personal
$16.00
monthly price
Visit Website*
14 Days Trial Period
Customer Ratings
It pays to browse online review portals to see what users have to say about site builders. To help you in your decision, we gathered ratings from a number of review aggregators and can state that Squarespace is considered "good" overall. On Trustpilot, the platform's customer service was criticized.
Customer Ratings
24,785 Bewertungen
Visit Website*
We analyzed the reviews and ratings from various portals and found 24,785 ratings with an overall rating of 4.4 out of 5 .
Alternatives
Squarespace is a direct competitor to Wix, Weebly, and WordPress, three of the most popular website builders/CMSs. We don't recommend Squarespace if you're interested in harnessing the power of third-party extensions or add-ons. To get the "Squarespace look", you'll need Squarespace, even if others have attempted to imitate it. You can check out reviews of other website builders in our exhaustive comparison.
In our Squarespace vs. Wix head-to-head, you can check out which popular service bested the other.
More of the best alternatives to Squarespace can be found here:
Wix beats out the competition with an unmatched variety of features, intuitive editors and a jam-packed app store. Overall, the platform offers the best balance of usability and features on the market today.
lots of features and elements
simple & intuitive interface
9.6

excellent
Space
Domains
Templates
Contract Period
Wix Free
$0.00
monthly price
Visit Website*
Try for Free
Due to its rather complex editor, IONOS MyWebsite comes with a bit of a learning curve, but rewards those who stick with it with wide-ranging creative possibilities that enable unique websites.
supports multilingual sites
not all templates are great
8.8

good
Space
Domains
Templates
Contract Period
IONOS Starter
$10.50
monthly price
Visit Website*
30 days risk-free
Webflow is a hybrid between website builder and CMS, and requires a basic understanding of coding logic. It's less suitable for beginners – but its visual design tools are a great way for more advanced users to create dynamic websites.
mix of CMS & website builder
more powerful than WYSIWYG editors
learning platform "Webflow University"
visual design with zero code
8.7

good
Space
Domains
Templates
Contract Period
Webflow Starter
$0.00
monthly price
Visit Website*
Start for Free
With its intuitive drag-and-drop functionality and an unrivaled smartphone app for mobile website building, Weebly makes homepage creation easy even for beginners.
Space
Domains
Templates
Contract Period
Weebly Free
$0.00
monthly price
Visit Website*
Try for Free
SITE123 deliberately limits users' design freedom in order to streamline and simplify the creation of professional-looking websites. Users can't really make any mistakes – but they can't really create unique looking websites either.
great 24/7 support with chat
intuitive, beginner-friendly editor
unclear pricing structure
8.0

good
Space
Domains
Templates
Contract Period
SITE123 Free
$0.00
monthly price
Visit Website*
Try for Free
* Ad disclaimer:
For links marked with an asterisk, EXPERTE.com may earn a commission from the provider. The commission has no influence on our editorial rating.

Martin Gschwentner majored in American Studies and Media Studies in Germany, the USA and France and works as a freelance editor in Paris. He is a doctoral student at the Institute for English and American Studies at the University of Paris Diderot, where he is researching the influence of money on US politics. On EXPERTE.com he writes about IT security, data protection and software for the self-employed and small businesses.

Translation: D Bare
Continue Reading