Domain Name Costs: How Much Does a Domain Cost?

Author
Janis von Bleichert
Think of your domain as your online address: It's globally unique and belongs only to you. That makes it valuable, and such commodities are rarely just doled out free of charge. However, exactly how much a domain will set you back depends on a number of factors.
In this article, we'll let you know what sort of costs you can expect when buying a domain and how to go about selecting the right one.
Types of Costs for Domains
When it comes to buying a domain, there are three major costs:
1.

Setup fees: Some domain providers require a fee for registering your domain, however, most of the time, this isn't particularly costly. A good number of services have completely done away with these.

2.

Monthly fees: Usually, you'll have to pay a monthly fee for using a domain. Over the course of a year, this can amount to anywhere from $10 to $100, depending on your domain's extension.

3.

Domain price

: If the domain of your dreams is already taken, and you

want to purchase it from its current owner

, you can run into significant costs, with prices varying from hundreds to hundreds of thousands of dollars.
In addition to these primary costs, other fees can also arise, such as:
Renewal fees
Domains are only ever rented. For that reason, you'll have to regularly renew your contract, and since most domain providers offer rebates for new customers, you might end up paying more in your second year than you did in your first. As always, it's important to read the fine print.

Transfer fees
If you'd like to transfer your domain to someone else, fees might result. As an example, GoDaddy charges around $10 for transferring ownership of a domain.

Extra features
Domain providers offer extra features and services for additional fees. For example, you can purchase WHOIS privacy services, which redact your personal information.
Where Exactly Can I Buy a Domain?
Top-level domains (TLDs) and domain extensions are managed by the Internet Corporation for Assigned Names and Numbers (ICANN). They, in turn, assign the rights to domain extensions, such as .com domains, to registrars like Verisign, who then work together with other domain registrars and providers. These providers rent out domains to their end users. So, when you "buy" a domain from a provider, they inform the higher-level registrar.
Domain Costs: 3 Key Factors
There are three main factors that determine how much a domain will actually cost:
Top-Level Domain: Significant Differences in Registration Fees
When looking at domains, TLDs and domain extensions are at the highest level. Whether a com, de, or io comes after the point can actually greatly impact the domain's price.
This is because domain providers like IONOS, Host Europe, netcup, & others need to pay a fee to the registrar each time one of these is registered. Should a domain provider want to offer a specific TLD, it must first be accredited by the relevant registry, and this is pricey.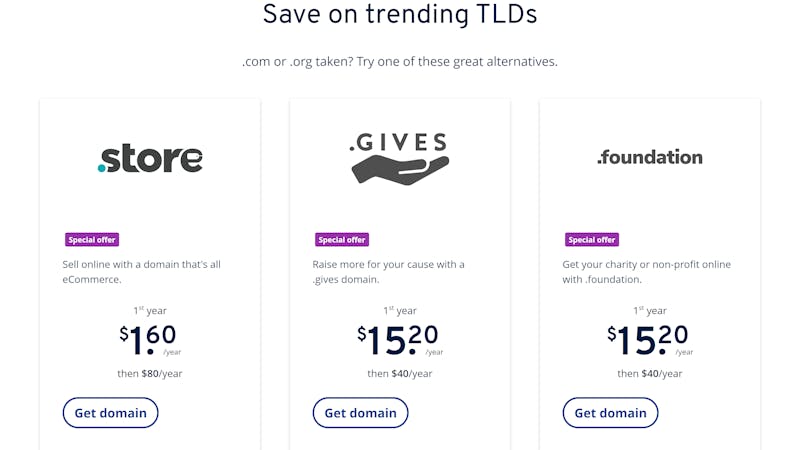 How much a domain costs can depend, among other factors, on its extension, as can be seen in the above example from IONOS.
As a result, domain providers decide which extensions they want to offer at which prices. Since the fees that providers need to pay registrars for .com domains are fairly small, these TLDs are relatively affordable.
You can find out how expensive different TLDs from 12 of the biggest domain providers are in our price comparison.
Registrar: Pay Attention to Their Transparency
Your choice of domain provider also has other consequences, apart from the impact on your wallet. TLDs and domains differ in terms of the conditions under which they are 'sold'. Some providers require setup or contract renewal fees, while others don't. Many try to lure customers in with low fees for the first year, driving these up after the first 12 months.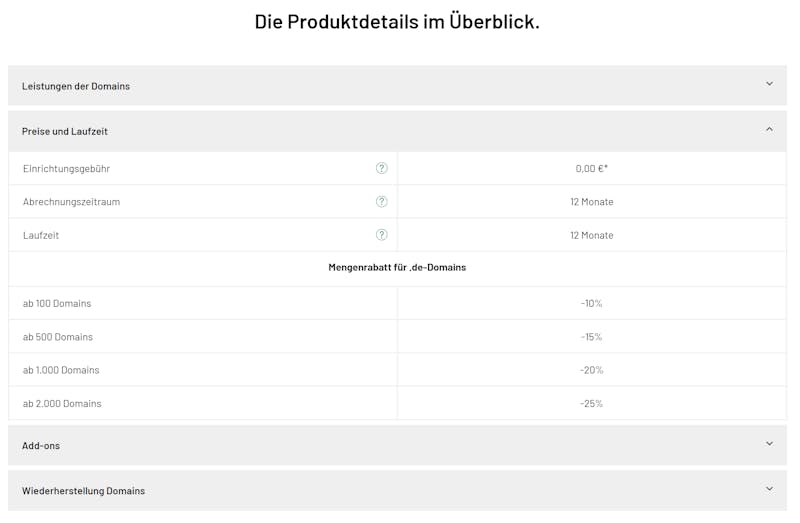 Reputable domain providers will be upfront about their costs and conditions.
Transfer and update fees also vary, as do the cancellation periods, money-back guarantees, and minimum contract lengths. Before purchasing a domain, it's wise to read up on what sort of long-term costs you might be setting yourself up for. Providers that offer transparent and clear overviews of these are usually reputable.
Purchase an Existing Domain: Costlier than Registering a New One
If someone already owns the domain you're after, you'll either need to settle for an alternative or try to convince them to sell it to you. The latter is easier said than done, as you'll have to first find out who actually owns it. Doing so can be both more time-consuming and expensive than just registering a new site. On the other hand, investing in a solid domain can pay dividends down the road.
Should you be set on doing this, you'll have a few different options:
1.

Try to identify the domain's owner yourself, and see if they're interested in selling the website to you.

2.

3.

Assuming that you're ready to pay a bit more for your dream domain, you can hire a domain broker. For a flat fee plus a provision, if the sale goes through, these agents attempt to find the owner of a domain and convince them to sell it to you.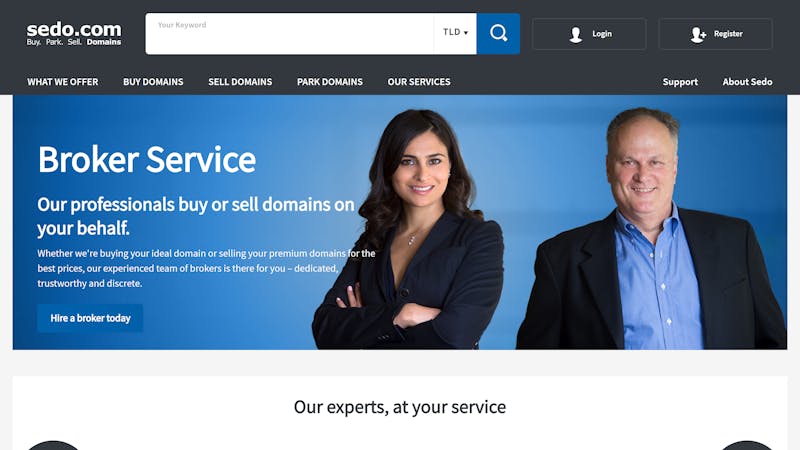 Using SEDO's broker service, you can task a professional with getting a taken domain for you, in exchange for a flat fee and a provision if the sale goes through.
How Much Does a Taken Domain Cost?
The cost of a domain that's already in use depends upon its quality. You'll almost always pay a premium for short, witty, and memorable web addresses with a classic extension like .com.
According to DNPric.es, a database of past domain sales, the average price for a .com domain is $712. Of course, plenty of websites have sold for far more, and far less.
The Right Domain: Important Criteria
Cost should really only play a minor role when selecting a domain. Far more important is the composition of your domain, since it will be your unique web address. A few factors to consider include:
The right domain extension
Companies with a domestic focus should by all means use national domains (i.e. .co.uk for British websites, or .de for German ones), however, if stepping out onto the international stage, .com is a better choice. Unfortunately, most of the good domains with this extension are already taken, so why not try out a new extension, like .shop or .io for a start-up? According to Google, your domain's extension has no impact on your search engine ranking.
For that reason, select a domain extension that complements your business, and for which your desired domain name is available.

Domain name memorability
The best domain names are those you hear once and remember forever. Long sentences or difficult spellings can be problematic for visitors. For that reason, we recommend choosing the catchiest domain name you can, which also helps your visitors associate with your brand.

Mobile-friendliness
You should expect half (or more) of your visitors to arrive at your site via smartphone. As you probably know, typing on a physical keyboard is a lot different than tapping on a screen, so do the majority of your guests a favor, and select as brief a domain name as possible.

Sustainability
When choosing a domain name, make sure you take the long-term future of your brand into account: Is your focus going to remain the same for years, or are you already planning to expand your product lines or services? A domain name like Toy-Cars-Philadelphia.com would be great for a store specializing in that product in the city of brotherly love, but if they intend to expand to New York City or offer other products, they're going to need a new domain.

Keywords
You're specializing in a specific service or want to be associated with a particular kind of product? If so, it can't hurt to include relevant keywords in your domain name. Denver-Architects.com lets you know immediately what sort of website you can expect and its location, with the added bonus of people potentially stumbling across your business by chance. Of course, with a domain name like this, you'll achieve better search engine positioning.

Legal situation
Even domains that are still available might not be viable on legal grounds. A definite no-no is the use of trademarked names or brands. Don't use these anywhere in your domain name (for example, www.amazon-online-shop.com or www.tastes-better-than-coca-cola.com)
Just because the "best" domains are long gone doesn't mean that you'll have to content yourself with scraps. With a bit of creativity, it should be possible to come up with a catchy domain name that won't cost an arm and a leg. Even though tracking these down with classic domain extensions like .com is a moderate challenge, you might have better luck with some of the new TLDs. The main thing is that the domain fits your business or web project and fulfills most of the above criteria.
Conclusion
Your domain is your online address and luckily, securing it shouldn't break the bank. In case you want to register a new domain that's available, you'll pay around $10 per year, whereby the actual costs depend on its extension and your domain provider. Keep an eye on additional costs and fees, such as those for renewal.
Things can get more expensive when the domain you'd like is already taken and you want to purchase it. Hundreds or even thousands of dollars are normal, and for valuable domains, the sky is the limit. Should you want a particular domain for your business, this might be a good investment. You'll need to make the final decision though.
Feel free to use our domain provider price comparison to select the right service for you.
FAQs
How much does a domain cost?
⊖
Domains are "rented" and have monthly costs, which vary depending on the extension and provider. For .com domains, you can expect to pay around $10 per year, however, some TLDs are considerably more expensive, ranging up to $100.
How can I buy or register a domain?
⊖
Which factors influence a domain's price?
⊖
The price of an available domain depends on its extension/TLD, as well as the domain provider's conditions. How much a taken domain costs depends on its quality, which relates to its simplicity, brevity, and memorability.

Janis von Bleichert studied business informatics at the TU Munich and computer science at the TU Berlin, Germany. He has been self-employed since 2006 and is the founder of EXPERTE.com. He writes about hosting, software and IT security.
Continue Reading