Find a Domain Name Owner: Who Owns a Website?


You'd like to purchase a domain and need to look up its owner? Owing to how important privacy and anonymity are, this isn't always easy.
In this article, we'll let you know how you can figure out who's behind a website, as well as which challenges you're likely to encounter along the way.
Why It Can Sometimes Be Difficult to Identify a Domain's Owner
These days, online privacy is an important topic, especially for domain owners. Registry services have reacted by offering privacy services to their clients (often, for an additional fee). If someone opts for these, you won't be able to find them directly via WHOIS lookup (see below), since any emailed requests go first to the registry, and only then to the owner.
Situation in the EU: GDPR
A few years ago, identifying the owners of websites based in the EU became much more difficult, owing almost entirely to something known as the GDPR.
GDPR refers to the General Data Protection Regulation, which is a series of laws that regulate how businesses and organizations handle personal data. As the GDPR entered into force, all domain providers and organizations in countries like Germany, such as DENIC the central registry for top-level domains (TLDs) ending with ".de" had to anonymize all domain owner data.
Accordingly, all that is legally required to be visible in publicly-accessible registries is information that doesn't provide direct details about who the owner of a private domain is.
Methods for Identifying a Domain Owner
So, while not impossible, it probably won't be easy to find out who owns a particular domain. Below, we'll show you the most common methods to determine who a domain belongs to, even in the GDPR age.
Nearly every website, whether big or small, has one: a contact page. Across the EU for example, businesses are legally required to provide contact details.
For that reason, make a website's contact page your first stop when looking up a domain's owner. Bear in mind that the owner or even admin of a website might not be the domain's owner, however, chances are good that they'll know who is.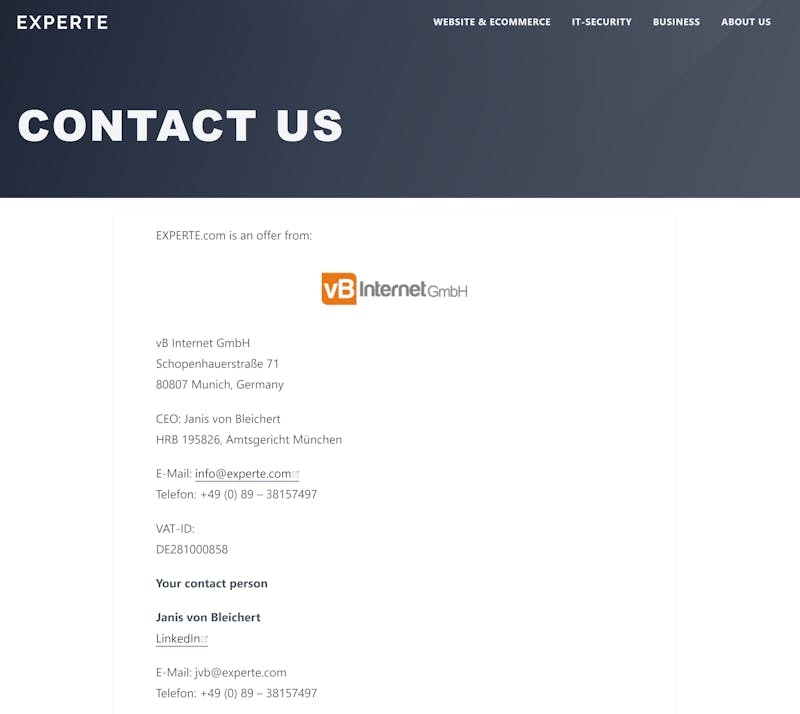 Often, a look at a website's contact page can be enough to find out who its owner is.
Similarly, not every website has a contact page, and even if it does, the information might not be current. Plenty of countries don't require websites to feature their owners' contact details, and even in France or Germany, this isn't necessary for private websites. Accordingly, you might have to try another method.
A WHOIS lookup is a classic way to identify a domain's owner. This method displays all publicly available information about a domain.
There are lots of different WHOIS services. ICANN, the organization responsible for administering domains with endings like ".com", ".net", ".org", or ".info", offers a lookup service, as does who.is. The amount of information you'll receive does vary from database to database, however.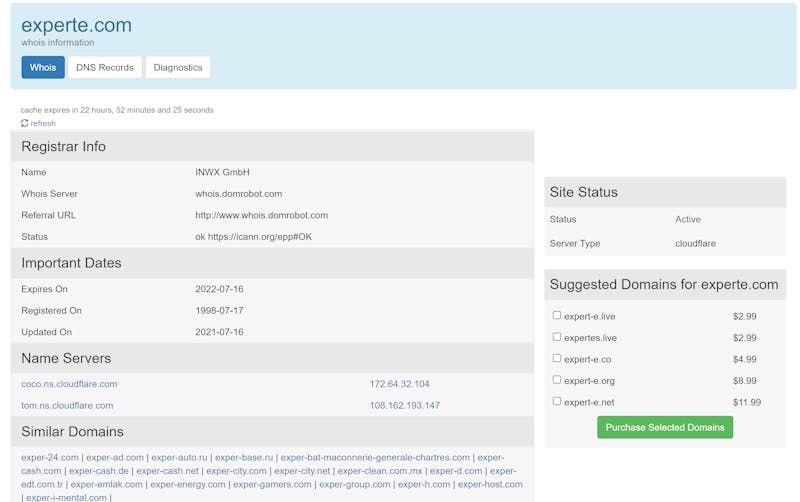 When consulting a WHOIS service, you'll get lots of information about the domain, but not necessarily details about its owner.
The domain's owner might not be displayed (for example, owing to GDPR regulations or their usage of a privacy service), or, even if it is, could be outdated. Once again, this means that you might not be any closer to finding out who's behind a website. However, you usually will find links that can put you in contact with the domain registrar, but more on that in the next section.
Even if you weren't able to find the owner via the contact page or a WHOIS lookup, you can use all of the information gained from these methods to figure out where the domain is registered.
By writing to the email address provided for the responsible registry and asking for further information, your message might be forwarded to the domain's owner. There's no guarantee that they will answer, but it's worth a shot.
Supposing that you'd like to get in touch with the owner of an Internet page that is empty or no longer exists, you can use the Wayback Machine, offered by archive.org, an Internet archive. This is useful for finding older versions of any website, and will likely provide whatever information or contact details you're looking for.
Keep in mind that domains often change hands, and the information gleaned from the Wayback Machine might be out of date, with the domain having a new owner.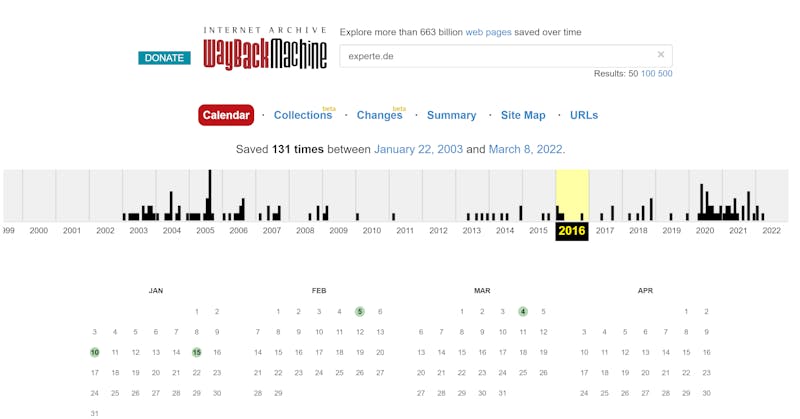 On archive.org, you can view snapshots of previous versions of websites with the Wayback Machine.
Beyond that, there exist tools for viewing old WHOIS data from websites, such as Domaintools. The same conditions apply as with the Wayback Machine though: The data you're seeing might be long outdated. Compounding this, you'll usually have to pay for these services or create an account, both of which make it considerably more tedious.

With Domaintools you can view old WHOIS data for a domain.
5.
Comb Through Domain Marketplaces
Assuming that it's not particularly important who owns a domain, but rather if a domain is available for purchase, you should have a look at domain marketplaces. On these, you can search for domain names, letting you know whether your choice is for sale. If it isn't, you can use the marketplace to get the ball rolling. Should a domain be available, you can either purchase it outright or make an offer.
Some of the biggest domain marketplaces are dan.com and sedo.com.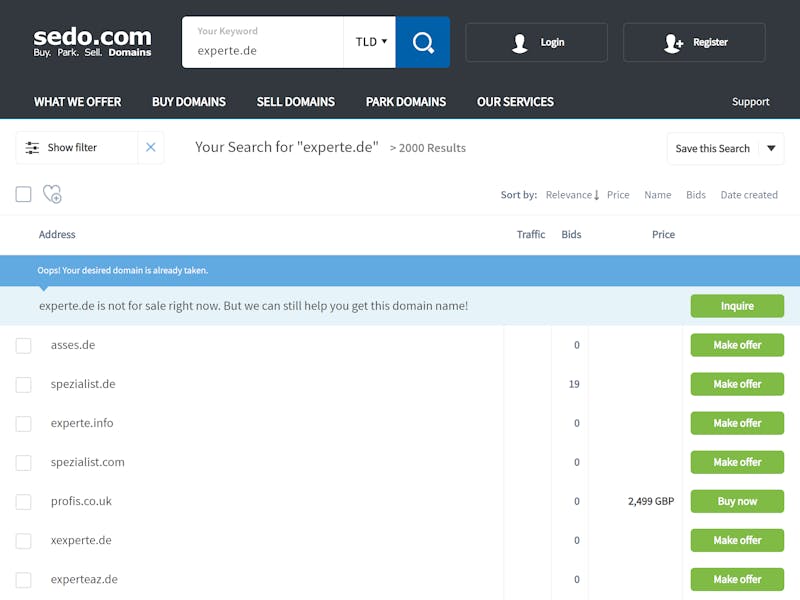 On domain marketplaces, you can find out whether a domain is for sale, and purchase or make an offer for those that are.
Conclusion
It's rarely easy to identify a domain's owner - something that hasn't been helped by privacy services and regulations like the GDPR. Still, it isn't impossible. Your first stop should be a website's contact page, which is a legal requirement for businesses in many countries.
If the contact page doesn't yield any information, there are other options: A WHOIS lookup on a domain registry such as ICANN, which is responsible for all websites ending in".com", ".net", ".org" or ".info" might not yield the details you want, however, with the information in the domain registrar, you can at least reach out to a service which might forward your query to the owner.
Or maybe you'd just rather register a new domain? In our EXPERTE.com comparison of domain providers, we'll let you know which services are particularly affordable.
FAQs
A domain is a globally unique name for a website. It's the main address of an Internet presence and easier to remember and refer to than its equally unique IP address. The ending of a domain name signals which country the web presence originates from (i.e. ".co.uk" or ".us") or what kind of website it is (for example ".info" or ".org").
How can I find out who owns a domain?
⊖
Start by checking the website's contact page, but beware that the people listed here might not be the owner. In case the contact page doesn't provide any insight, you can write to the website's domain registrar or hosting provider and ask them to put you in touch with the owner.
How can I find out who a domain is registered to?
⊖
With a WHOIS lookup, you can find out which host a domain uses. Domains that end in ".com" can be checked on ICANN's lookup service or the website, who.is.

Martin Gschwentner majored in American Studies and Media Studies in Germany, the USA and France and works as a freelance editor in Paris. He is a doctoral student at the Institute for English and American Studies at the University of Paris Diderot, where he is researching the influence of money on US politics. On EXPERTE.com he writes about IT security, data protection and software for the self-employed and small businesses.

Translation: D Bare
Continue Reading