Managed WordPress: Advantages, Providers & Review Winner 2023

Author
Janis von Bleichert
Ad disclaimer:
For links on this page, EXPERTE.com may earn a commission from the provider. This supports our work and has no influence on our editorial rating.
Are you tired of optimizing your WordPress website's server, performing maintenance, managing backups, and updating its security features? If so, you might want to try managed WordPress hosting.
In this article, we'll let you know what advantages managed WordPress hosting offers as well as which hosts are the best.
Managed WordPress vs. Regular Web Hosting
There are a few, basic differences between managed WordPress hosting and traditional web hosting:
Regular hosting services rent out storage space on a server while offering users a few site management tools. Everything else, whether it's software updates, backups, performance optimization, or security, is your responsibility.
Managed hosting doesn't only provide subscribers with server space and hosting tools, but also handles most technical aspects of website management. This allows you, the owner, to focus on your website's content, products, services, and design.
Managed WordPress hosting offers all of the benefits of managed hosting tailored to the needs of WordPress websites. It ensures that these run as smoothly, efficiently, and safely as possible. As can be imagined, this creates a number of advantages, but isn't without drawbacks:
Advantages and Disadvantages of Managed Hosting
User-friendly: Hosting backends are often complicated and difficult for beginners to come to terms with. Most managed hosting services offer intuitive dashboards that make the technical aspects of WordPress management easy to understand for those with less technical know-how.

One-click installation: Installing a WordPress instance is often the most challenging hurdle for beginners. With managed hosting services, all it takes is (at most) a few clicks.

Technical support: Dedicated WordPress support is one the biggest advantages of managed hosting services: Should you encounter any issues with your website or have questions about WordPress, you'll only be a ticket, email, or call away from an experienced WordPress specialist.

Performance optimization: The servers offered by managed WordPress hosts are optimized for WordPress. In terms of performance, this means server-side caching and content delivery networks (CDNs). These ensure that your website loads faster and can better handle large numbers of visitors.

Built-in security measures: When it comes to security, managed WordPress hosts also have an advantage - Lots of security measures that you'd otherwise need to configure yourself come integrated. These include web applications firewalls (WAFs) and regular malware scans.

Automatic backups: The worst fear of any website owner is to suddenly lose everything. However, as long as there's a recent backup of your website, data loss doesn't have to be catastrophic. Still, you'll need to create a backup in the first place for this safety net to work. Managed hosting services automatically create (daily) backups for you to restore your website in an emergency.

Automatic updates: Just like backups, managed hosting services can update your WordPress version, plugins, and even themes, greatly reducing the risk of outdated software compromising your website's security.
Higher costs: Since managed WordPress hosting services offer a variety of integrated services, they're usually more expensive than regular web hosting.

Less control: You'll typically have less control over your website's technical aspects with managed hosting services than regular hosts. At the end of the day, the managed hosting service determines which options and settings users can modify. This does vary from host to host, however.

Plugin limitations: The same goes for plugins: With managed WordPress hosting services, certain WordPress plugins can be blocked on security or compatibility grounds.
Managed WordPress: Comparing 9 Hosts
Do the benefits of managed WordPress hosting sound appealing? If so, all you need to do is choose the right provider for your WordPress project. We reviewed 9 of the leading hosts and will introduce you to our favorites below:
1.
SiteGround: EXPERTE.com's Winner
SiteGround WordPress Hosting
SiteGround won us over with excellent speeds, extensive features, and an intuitive interface – all at comparatively low prices, domain and email included.
great speeds with CDN & caching
automatic updates & backups
staging and multisite support
9.1

excellent
WP Installations
Space
Domains
Contract Period
SiteGround StartUp
$8.49
monthly price
Visit Website*
30 Tage Geld-zurück-Garantie
SiteGround* is a host from Sofia (Bulgaria) that services more than 2.8 million domains. In addition to classic web hosting, SiteGround also offers dedicated WordPress plans, that provide excellent performance and security.
What We Like
We liked just about everything that SiteGround brought to the table, crowning the service as EXPERTE.com's winner. Configuration and usage are straightforward, plenty of features are included, and the price-performance ratio is excellent.
Beyond that, SiteGround surpassed nearly every other provider in our performance test: Its loading speeds and response times were among the best in our sample. As such, there's nothing standing in the way of having a fast and user-friendly WordPress website.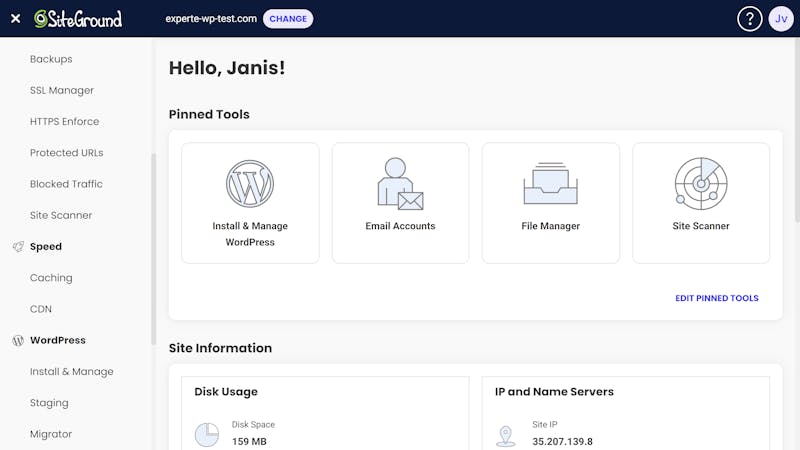 SiteGround used cPanel in the past, but has since developed its own admin interface.
Who Is SiteGround For?
Since SiteGround offers such an outstanding combination of performance, user-friendliness, and features, the host is a great option for every kind of WordPress project. As if that wasn't enough, many of SiteGround's subscriptions allow users to host an unlimited number of websites, making it perfect for multisite projects.
What We Don't Like
We have two (minor) complaints about SiteGround: There's no support hotline and StartUp subscribers can't manually create backups.
SiteGround's Advantages and Disadvantages:
Top-performing
In our EXPERTE.com performance test, SiteGround's scores were "good" to "very good": The platform offers fast loading speeds and response times, even under load, as well as solid availability.

Good value for money
SiteGround is not the most affordable managed WordPress host we reviewed, however, you do get quite a lot and good performance at a very fair price. This includes a free domain (for a year) and email hosting, which some of its competitors either don't offer or make users pay extra for.

Lots of features in a user-friendly package
Beginners will enjoy the host's intuitive platform, while more advanced users will benefit from the wide variety of configuration options and settings.
No support hotline
While SiteGround's support is very good, adding a support hotline would make it nearly perfect.

On-demand backups only for higher tiers
SiteGround automatically handles backups for all users, however, if you'd like to manually create your own, you'll need to purchase a GrowBig or GoGeek subscription.
Configuration & Usage
9.4 / 10
Technology & Features
9.4 / 10
2.
Kinsta: Performance + Security, Intuitively Packaged
Kinsta is a highly polished WordPress hoster that combines solid speeds, high security standards, and a beautiful interface into a premium offering worth its premium price tag.
strong performance results
integrated Cloudflare CDN
only 14 days of backup retention
8.8

good
WP Installations
Space
Domains
Contract Period
Kinsta Starter
$29.17
monthly price
Visit Website*
Free Demo Account
Kinsta*, from California, was founded in 2013. When starting out, it focused entirely on managed WordPress hosting, however, these days, it offers a range of other products and services, such as database and application hosting.
What We Like
Like SiteGround, Kinsta's user interface is highly intuitive: The elegant dashboard combines beginner-friendly design with a high degree of customizability. This makes sure that beginners are well taken care of without giving more advanced users the feeling of being babied.
However, Kinsta doesn't just look good: In the performance test, the host posted fast response times and solid availability. Its support is great as we never waited longer than a minute in its live chat for a friendly and competent answer. Rounding out the positives, the provider's security pledge guarantees not only protection against malware but also, assistance in repairing any damage which cyberattacks might cause.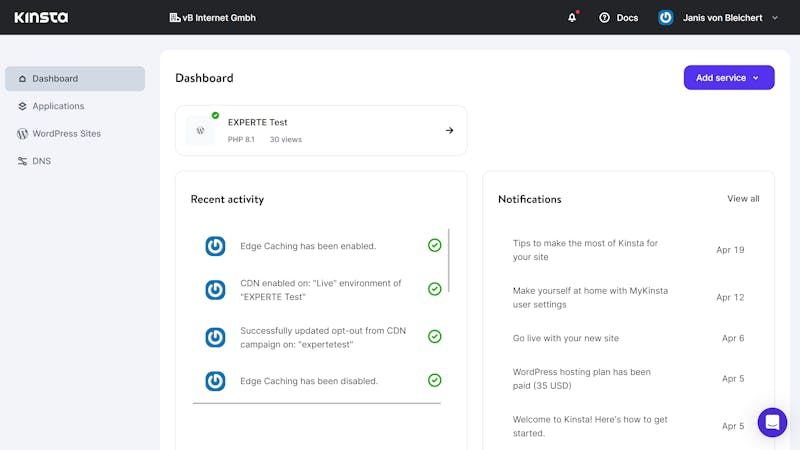 Who Is Kinsta For?
While SiteGround offers good value for money, Kinsta is a premium service priced accordingly: Those with a sizable budget who value support and user-friendliness will find themselves well looked after by the provider.
What We Don't Like
Kinsta was the second-best service in our overall ranking, however, it's also the second-most expensive: Only HostPress beginner subscriptions cost more. Another disappointment is that Kinsta stores backups for a mere 14 days, which is less than half as long as most of its competitors.
What Are Kinsta's Advantages and Disadvantages?
Powerful user interface
Kinsta's backend is logically designed and prioritizes user-friendliness. WordPress beginners will quickly find whatever they're looking for while pros will appreciate the large selection of configuration options.

Fast support
During our exchanges with Kinsta's support, we never waited longer than a few minutes for a response. The provider's support center also impresses, offering not only FAQs and guides but a wide variety of resources. For those interested in deepening their knowledge, there's Kinsta Academy, with courses for freelancers and developers.

Top security standards and pledge
Kinsta offers excellent security features and tools, pledging to help users who fall victim to malware attacks repair their websites at no cost.
Expensive
Kinsta is one of the most expensive hosting services on the market. Subscription packages do not include either a free domain or email hosting.

Brief backup storage
Strangely, the service only stores backups for 14 days, which is less than half as long as most of its competitors.
Configuration & Usage
9.4 / 10
Technology & Features
8.0 / 10
Overall Result
It goes without saying that there are other good hosting solutions for your WordPress project apart from our Top 2.
WP Engine, which is 100% specialized in WordPress scores with its first-class performance and 60-day backup storage.
Depending on your subscription, Hostinger makes it possible for users to operate up to 300 WordPress websites and link as many databases to them as desired.
Or perhaps you'd like to take things slowly and try out a free host? WordPress.com is the only host from our comparison that offers a free version of its service. The WordPress-affiliated hosting provider also scores thanks to its strong performance and competent support.
Here, you can consult our complete ranking of managed WordPress hosts:
Conclusion
If you want to use WordPress for your website but aren't thrilled at the prospect of handling the technical side of server management on your own, managed WordPress hosting offers the ideal solution: Your WordPress website's security and performance will be optimized in a user-friendly package, with competent support never more than a chat message, phone call, or email away.
Because the differences between WordPress hosts in terms of price, performance, support, and more can be significant, we intricately reviewed and compared 9 of the leading managed solutions. We're confident that our reviews will help you find the managed WordPress host that best matches your needs.
FAQs
What is managed WordPress hosting?
⊖
Managed WordPress hosting is a kind of web hosting optimized for WordPress projects. Your host won't just give you storage space on a server, but also handle technical aspects of site management like performance optimization, updates, and security. In addition, subscribers also benefit from comprehensive and on-demand technical support.
How much does managed WordPress hosting cost?
⊖
The amount you pay for managed WordPress hosting depends on the provider and subscription you select. A beginner subscription (for a year) costs anywhere from $120 to several hundred dollars. However, keep in mind that depending on the provider, you'll also need to pay extra for a domain and email hosting.
Which managed WordPress hosting provider is the best?
⊖
SiteGround finished first in EXPERTE.com's managed WordPress hosting comparison series. It offers a fantastic package that combines excellent performance, an intuitive user interface, top-of-the-line security standards, and solid support.
What are the disadvantages of managed WordPress hosting?
⊖
Managed WordPress hosting is usually more expensive than regular hosting. Depending on the host, you'll also need to contend with limited configuration options, particularly if these are handled by the host. Be aware that some hosting services block certain WordPress plugins.
* Ad disclaimer:
For links marked with an asterisk, EXPERTE.com may earn a commission from the provider. The commission has no influence on our editorial rating.

Janis von Bleichert studied business informatics at the TU Munich and computer science at the TU Berlin, Germany. He has been self-employed since 2006 and is the founder of EXPERTE.com. He writes about hosting, software and IT security.
Continue Reading