Bitdefender Antivirus Review 2023: Can You Rely on It?

Author
Janis von Bleichert
Ad disclaimer:
For links on this page, EXPERTE.com may earn a commission from the provider. This supports our work and has no influence on our editorial rating.
Not a day goes by without a new type of malware appearing. They cause considerable damage, and the worst part is that anyone connected to the Internet is at risk. This makes having robust antivirus software more important than ever. Thankfully, the choice of providers grows almost as quickly as the number of threats.
Bitdefender's goal is to be the first thing that comes to mind whenever anyone thinks of cybersecurity. Below, we'll show you how close the Bucharest-based software developer has come to reaching this.
What Is Bitdefender?
Bitdefender* is a Romanian cybersecurity company, founded in 2001. This company's antivirus software, which is installed on more than 500 million systems worldwide, is available for Windows, macOS, Android, and iOS. We evaluated "Bitdefender Total Security" on Windows and Android, but also mentioned the provider's other subscriptions throughout this review.
Bitdefender Antivirus Review
Installation & Usage
10 / 10
Security & Performance
9.4 / 10
Customizable quick actions

Strong testing lab scores

Good support with 24/7 live chat
Confusing license structure

VPN data limits in most packages
Bitdefender's installation is fairly large, at 512 MB. After installation, you'll need to create a user account and input a license key, with first-time users being eligible to start a free trial. The developer's "Anti-Tracker" is automatically installed in your browser, if you agree to it. When first opening the program, you'll be asked whether you'd like to run a scan to assess your system's critical areas and learn more about your current security status.
The entire process, including the download of the installation file, only took a few minutes.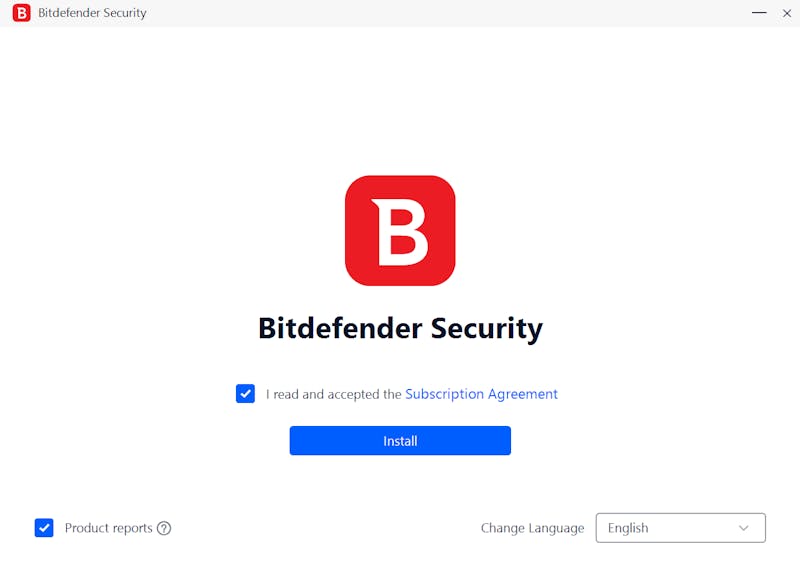 Bitdefender was installed and ready to use in a matter of minutes.
After installation, a brief skippable tutorial plays in the main window. Even if you don't watch it, the program is easy to come to terms with.
In the upper corner of the client, you can check your current status, and whether everything on your system is in order. If there are some issues that require your attention, you'll be notified here. Below this, you'll find recommendations for how to improve your system using Bitdefender's integrated features.
The rest of the dashboard can be tailored to your preferences since the modules in the lower half of the screen are customizable. This allows you to pin the most important features and make them easier to access. We think that this is a really excellent touch.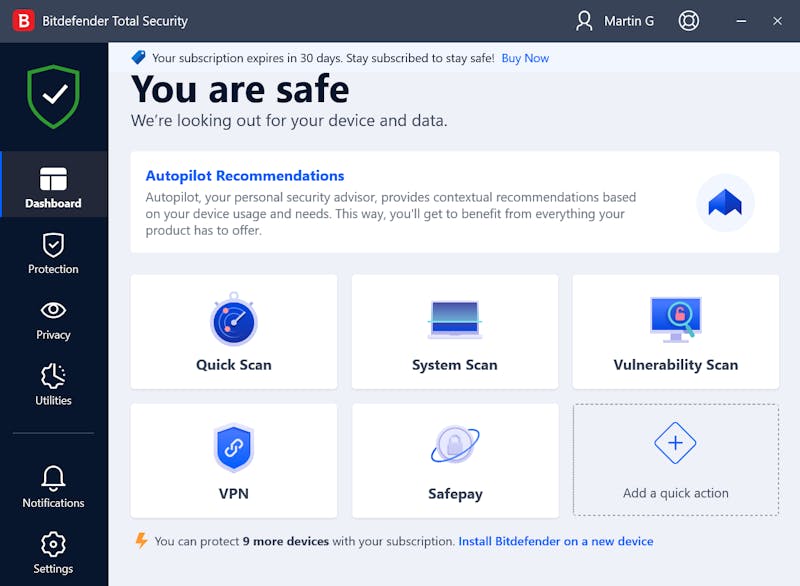 Adjust the program's modules to meet your exact needs.
The rest of the software's features are accessible through the navigation menu to the left. This is divided into "Protection", "Privacy", and "Utilities" tabs or sections. The first includes security features, like manual scans. By default, these aren't as prominently displayed in Bitdefender's dashboard, however, you can modify this in the configurable quick actions.
In the "Privacy" section you'll find data protection tools, like a password manager. Everything else can be found in the "Utilities" tab, which includes anti-theft and optimization features.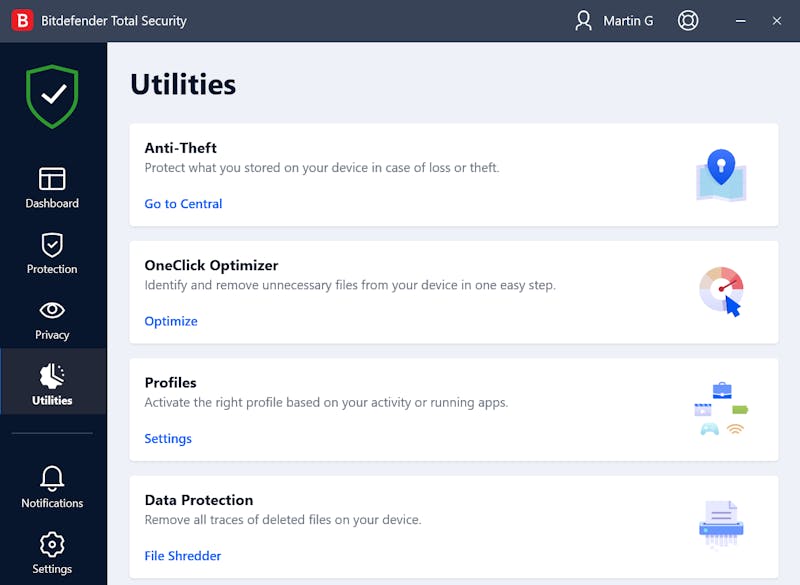 In the "Utilities" tab, you can configure the software's anti-theft tools or optimize your device's performance.
The rest of the menu's options include settings, notifications, account and subscription details, as well as a support area.
Bitdefender's user interface is nearly perfect. The ability to customize quick actions makes it possible to personalize part of the client, helping to set the program apart from its competitors.
Installation & Usage
10 / 10
Bitdefender has plenty of features to offer. For Windows users, these are divided across four different subscriptions, Antivirus Plus, Internet Security, Total Security, and Premium Security. The most affordable (Antivirus Plus), offers basic antivirus protection as well as extras like a password manager. Manual scans, real-time protection, web protection, and anti-phishing are also included.
Below, we've summarized the most important features and which subscription packages these are offered in.
User-defined manual scans
Manual scans are one of Bitdefender's biggest strengths. For these, you can select between a "Quick Scan", a "System Scan", or the "Rescue Environment". Beyond these ready-made options, you'll also be able to perform user-defined scans, specifying which areas of your drive(s) should be checked and when.
Additional options include the ability to scan new or modified files and ignore archives that exceed a specific size. Overall, Bitdefender offers users plenty of ways to customize scans.
The "Rescue Environment" is there to help with serious threats that your operating system can't handle on its own, helping to digitally disinfect your device without using Windows.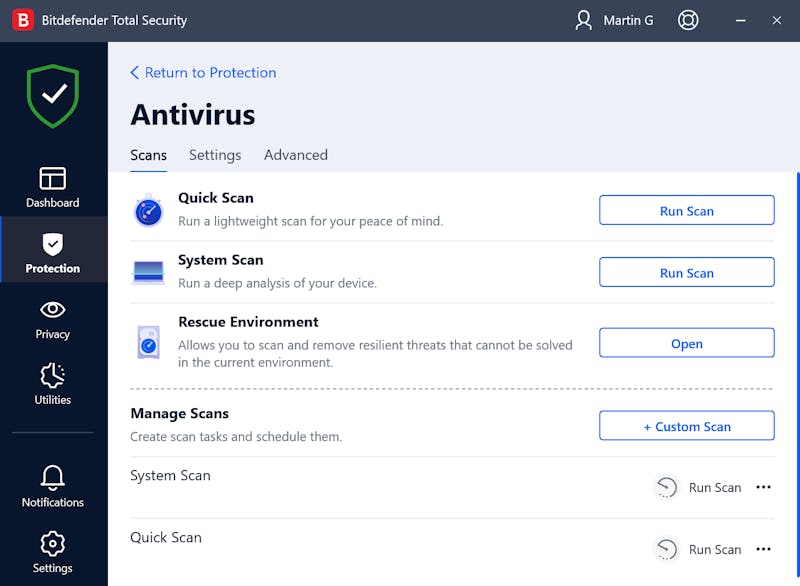 Choose between a pre-made scan, or create and plan a user-defined one.
Real-time protection across all subscriptions
Bitdefender also offers real-time protection, which continually scans files. Under advanced antivirus settings, you can set parameters, such as whether Bitdefender should only check files or applications when they are accessed, or if it should also search through archives.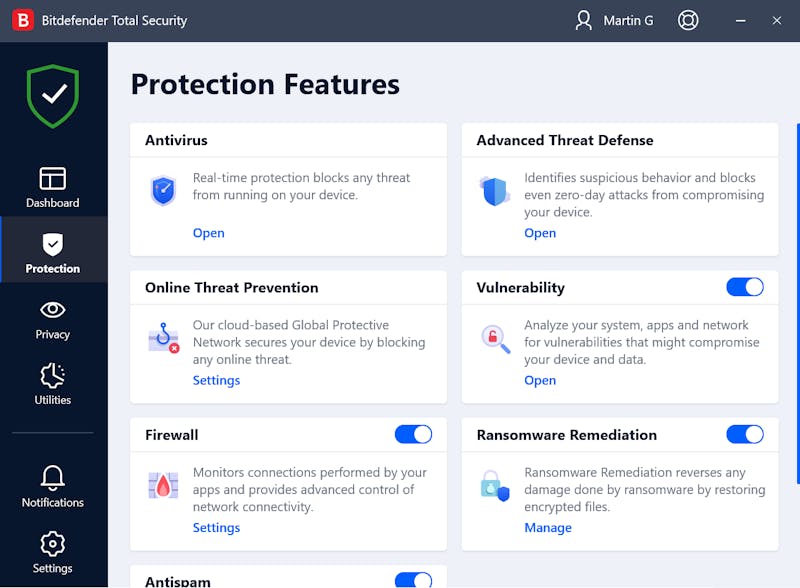 Basic real-time protection is offered to all subscribers.
Ransomware and brute-force protection
Bitdefender's "Online Threat Prevention" feature shields you from malware on websites, and even checks search results so that you don't accidentally visit dangerous websites or become a victim of phishing. This tool also probes for network weaknesses and defends against complex exploits and brute-force attacks.
Bitdefender's "Ransomware Remediation" secures your system against extortion by special Trojans that encrypt your files and demand a ransom in exchange for their release.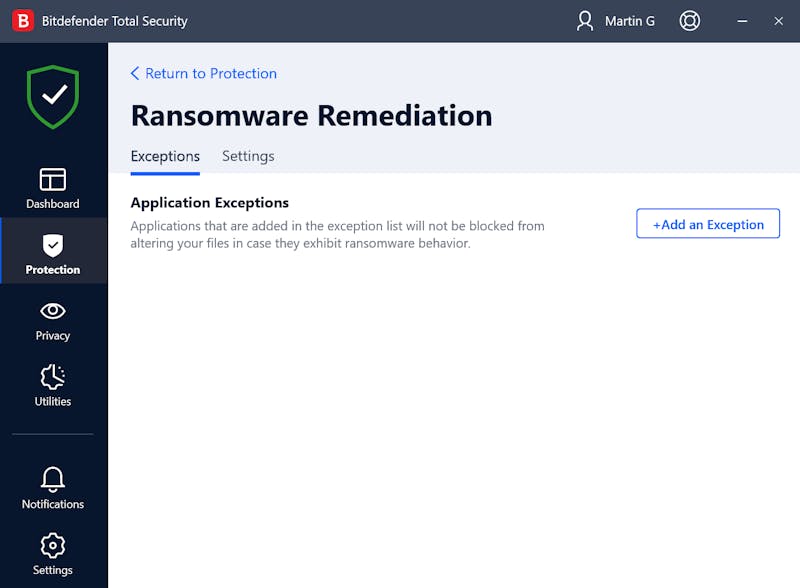 Bitdefender also protects against ransomware.
Enhanced real-time protection starting with Bitdefender Internet Security
Subscribers to Antivirus Plus will need to make do without some real-time protection features like "Webcam Protection". This prevents unauthorized access, alerting you whenever an app attempts to use your webcam. Similarly, "Anti-Spam" and "Microphone Monitor" are only offered to Internet Security subscribers and above.
The same goes for the integrated firewall that offers users an overview of their connection and logs cyber intrusion attempts. In the settings area, you can configure this feature further, for example, by setting individual guidelines for each program installed on your system.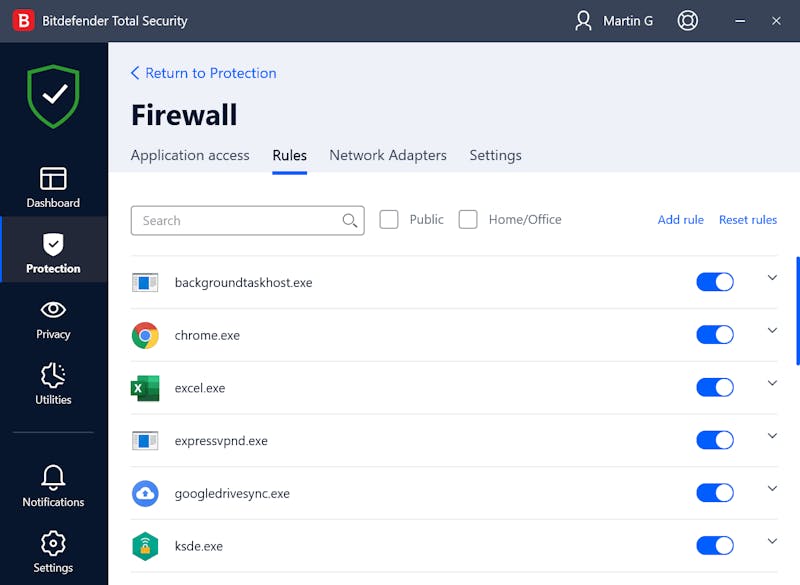 Filter your network traffic with Bitdefender's firewall. This also identifies and blocks potential attacks and threats before they have a chance to damage your system.
With "File Shredder", you can permanently remove files from your system. Outside of the program, simply right-click on the file or folder you want to dispose of and select "Shred with Bitdefender".
Functional password manager
All Bitdefender packages include a password manager. This protects your logins, net banking details, and Wi-Fi passwords in an impenetrable cyber vault. Used in conjunction with the Bitdefender's browser extension, you can also generate secure passwords or auto-complete forms. During our evaluation, we didn't encounter any issues when using this on sites like Facebook.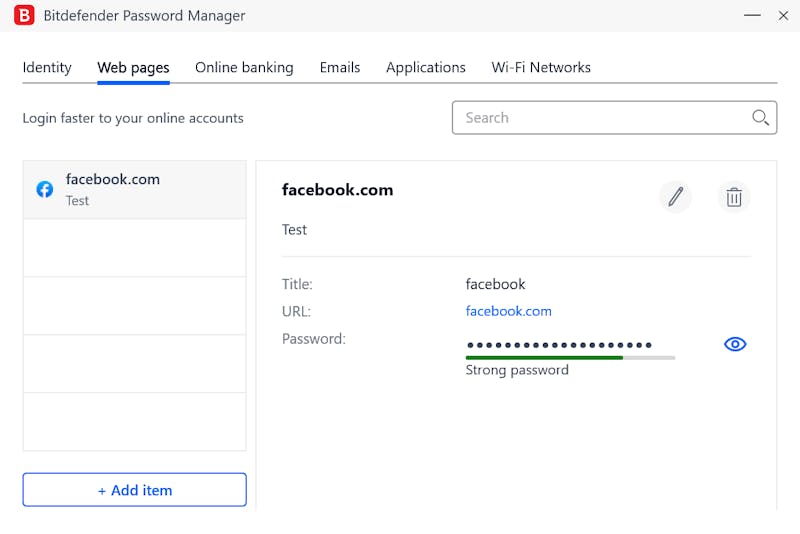 Secure your sensitive data in Bitdefender's cyber vault. With the service's browser extension, you can autofill forms as well.
Parental controls and anti-theft measures
Subscribers of the more expensive packages also get parental controls. With these, you can monitor your children's online activity in Bitdefender's browser central. You'll see their screen time and be able to prohibit or allow certain content. It isn't possible to create user-defined categories, but you can block and allow individual websites.
This browser dashboard also doubles as your anti-theft headquarters, but to take advantage of all it has to offer, you'll need a Total Security subscription or higher. Bitdefender's anti-theft tools can help you GPS locate your device, lock it, view its IP address, remotely delete files, or even trigger an alarm.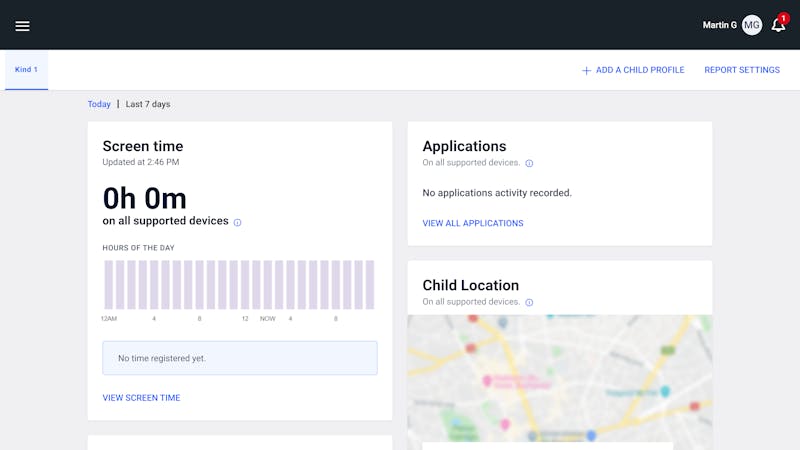 You'll find parental controls and anti-theft tools in Bitdefender's neatly arranged web interface.
Full VPN power, but only for premium subscribers
All versions of Bitdefender come with a VPN, however, even Total Security subscribers have a daily limit of 200 MB. If you're looking for unlimited usage, a Premium Security subscription will be your best bet.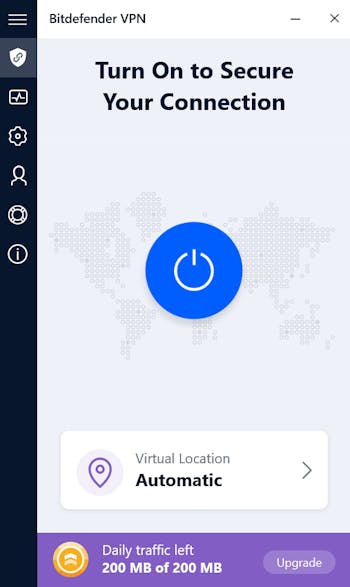 Surf the web anonymously with Bitdefender's VPN.
With 48 locations and 1,300 servers around the world, Bitdefender's VPN is a nice extra, however, considering the difference in price between a Total Security and Premium subscription, you'd save more purchasing the former and a separate VPN package. To see our reviews for the leading VPN services on the market, be sure to have a look at our comprehensive VPN comparison.
System tuning, featuring one-click optimization which finds and removes unnecessary data, is only available to Total Security subscribers.
Mobile features
Bitdefender also takes care of its users when they're on the go. Antivirus Free doesn't offer anything beyond a virus scanner, so for comprehensive protection, you'll need Mobile Security (which is part of the Total Security package).
On Android and iOS devices, Bitdefender allows users to scan their systems and enjoy the benefits of real-time protection. Unfortunately, in contrast to other mobile apps, like ESET's, scans it isn't possible to schedule scans ahead of time.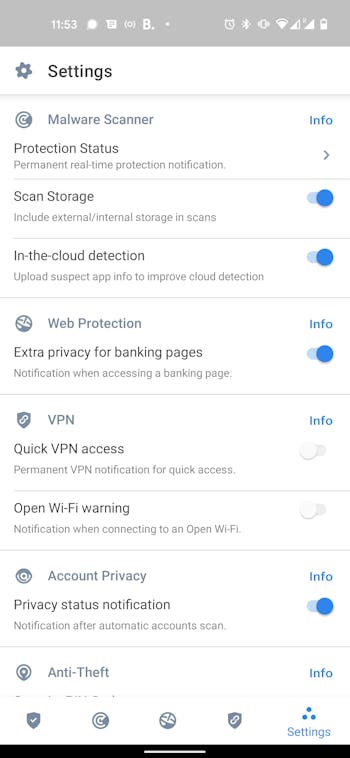 Bitdefender's mobile app comes with plenty of features.
"Web Security" ensures that you won't be threatened by malware when using mobile browsers. With "App Lock", you can decide which apps on your phone get additional PIN or fingerprint protection. You can also set Bitdefender to photograph anyone who repeatedly enters the incorrect PIN or fingerprint.
"Account Privacy" is another practical feature, since it searches for data breaches that threaten your accounts and alerts you to them. The service's VPN is also integrated into Mobile Security, even though there's no dedicated app for it.
Apart from that, the mobile app features the same anti-theft measures as the desktop version. Once you activate these, you can locate your device or remotely delete files. One feature missing is automatic locking when an unknown SIM card is inserted.
You can remotely locate or lock a stolen device using Bitdefender "Anti-Theft".
Bitdefender's intuitive user interface is filled to overflowing with useful features. The free and lowest-priced subscriptions could do with access to a few more of these, while extras like the password manager and VPN aren't worth the extra cost of upgrading to "Premium Security" and above. Nevertheless, Bitdefender offers pretty much everything that we look for in an antivirus program.
To assess Bitdefender, we consulted AV-Test and AV-Comparatives, each of which regularly awards a number of antivirus programs separate performance and security scores.
| | Security | Performance |
| --- | --- | --- |
| | | |
| | | |
| | | |
In this series of reviews, the testing labs hold the key to our winners' podium. Some programs that perform well in every other area trip up when examined by the experts. This isn't the case with Bitdefender: Because of its excellent test results, the software is among the most secure antivirus solutions from our sample.
AV-Test awarded "Bitdefender Internet Security 25" maximum points for both security and performance. On AV-Comparatives' real-world protection test, Bitdefender impressed with only 0.1% of compromised files not identified and five false positives. This meant that Bitdefender was the only software to be awarded Advanced+ status by AV-Comparatives.
In the performance test, Bitdefender received a very respectable 83 points, however, AV-Comparatives did note some negatives. For example, there was lag when copying files or launching programs during a scan. This matches our own subjective findings: During a full system scan, which lasted around an hour, our computer seemed to be performing somewhat slower than usual. All the same, this wasn't system-crippling.
Among the antivirus programs in our sample, Bitdefender is definitely an A student, as shown in its ability to continually ace testing lab evaluations.
Security & Performance
9.4 / 10
The Bitdefender app includes an integrated support panel, which provides digital bookmarks to a 400-page user handbook (PDF) that explains features in easy-to-understand language. For those who prefer more interactive support, answers can be found in the support center, FAQs, articles, and even video guides.
You can also directly contact the support team by email or phone (Monday-Friday, 9 AM to 7 PM). The web dashboard features a 24/7 live chat. There's also a forum frequented by the developer's tech support personnel.

A live chat is available 24/7.
Whether in the live chat or on the phone, we were immediately connected to a helpful support team member. Our email was answered comprehensively and professionally in around one hour.
Bitdefender sets new standards when it comes to customer support for antivirus solutions: Along with an excellent user handbook, the help center offers a great deal of information. In terms of live support, there are hotline, chat, and email options, along with an active forum. Whichever approach you choose, there are plenty of options to get home. The responses we received were timely, informative, and courteous.
Choosing the right subscription is a bit more of a chore with Bitdefender than with some of the other programs from our sample. The developer has unnecessarily complicated its pricing structure, overwhelming prospective users with options. The company does provide comparison tables highlighting the differences between its subscriptions. Unfortunately, this list is incomplete, and you can't actually assess all of the developer's products side-by-side.
Making matters worse, the introductory level subscriptions for Windows and macOS offer different features.
In a nutshell, the developer offers Windows users a free version, Antivirus Plus, Internet Security, Total Security, and Premium Security, each of which provides access to ever-greater numbers of features at increasing prices. Mac users can select from the Antivirus for Mac and Total Security packages, in addition to the Family Pack, and business plans.
For each subscription, you can select how many devices you'd like to use the program on (1, 3, 5, or 10) and the length of the contract (1, 2, or 3 years). Savings increase as you add more devices or agree to longer contracts. The aforementioned Family Pack, which serves up all features offered with the Total Security subscription, can be installed on up to 15 devices.
For business clients, a number of different subscription options are available, the price of which depends largely on the size of the organization.
Antivirus Plus
Internet Security
Total Security
Premium Security
Set-up Fee
$0.00
$0.00
$0.00
$0.00
Price per Year
$23.99
$32.99
$35.99
$64.99
Contract Period (Months)
12
12
12
12
Software
OS

Windows

Windows

Windows

macOS

Android

Windows

macOS

Android

Max. Number of Devices
3
3
5
10
Special Protection Features
Real-time Protection
Internet Security
Email Protection
Ransomware Protection
Webcam Protection
Premium Features
Firewall
Password Manager
VPN Access
Adblocker
Cloud Backup
File Shredder
Parental Control
Performance Tuning
Mobile Features
App Lock
Location Tracking
Remote Lock
Camera Trap
Bitdefender is far from the only antivirus solution we examined with a complicated pricing structure. Since subscription packages for each program vary, the table below compares each provider's offering on the basis of a template, with similar conditions:
1.
2.
3.
360 Total Security
Premium
4.
5.
6.
Bitdefender
Internet Security
7.
8.
9.
10.
11.
12.
13.
F-Secure
Internet Security
14.
You can try Bitdefender for 30 days for free. All subscriptions come with a 30-day, money-back guarantee.
Conclusion
Installation & Usage
10 / 10
Security & Performance
9.4 / 10
Considering how much it's done right, Bitdefender's goal to become the worldwide leader in cybersecurity appears less ambitious than we thought. The antivirus software is user-friendly, loaded with features, easy to customize, and got a stamp of approval from the test labs.
Its more extravagant bonus features, like the integrated VPN and password manager, can't compete with dedicated software, and the company's pricing structure could be streamlined to make it easier to understand. Nevertheless, where it matters, Bitdefender barely does anything wrong. As such, we're proud to announce that Bitdefender was the best-performing antivirus solution in our comprehensive comparison!
Our 'best in test' antivirus program Bitdefender boasts strong security, confirmed by independent test laboratories, along with a flawless user interface and a comprehensive set of features.
configurable quick actions
good support with 24/7 live chat
9.6

excellent
Plan
Devices
Protection Features
Premium Features
Bitdefender Antivirus Plus
$23.99
yearly price
Visit Website*
Customer Ratings
Among the customer ratings we evaluated, Bitdefender received very good reviews. Many users praised its ease of use, variety of features, and protection.
On Trustpilot, we did notice critical voices warning against subscription traps and billing irregularities. These kinds of problems are, unfortunately, common among antivirus software, so we recommend closely monitoring your monthly statements after your free trial subscription expires.
Customer Ratings
241,930 Bewertungen
Visit Website*
We analyzed the reviews and ratings from various portals and found 241,930 ratings with an overall rating of 4.7 out of 5 .
Alternatives to Bitdefender
Kaspersky Internet Security and McAfee Total Security both offer a comparable number of features to Bitdefender but didn't perform as well with the testing labs. McAfee also had several usage issues.
For a solid free antivirus, we recommend Avast, however, you'll have to make do with a different caliber of support than that provided by Bitdefender. More of the best alternatives to Bitdefender, our overall winner, can be found here:
Avast impresses with a great free version covering all the essentials, and a huge set of features that offer well-rounded antivirus protection and some nice extras. Scans can slightly impact performance, however.
Sandbox and WiFi-Inspector
scans can impact performance
8.6

good
Plan
Devices
Protection Features
Premium Features
Avast Free
$0.00
Visit Website*
Download for Free
With its robust set of features, lean applications, and a 100 % antivirus guarantee, Norton Antivirus is definitely worth a look. Sadly, the testing labs aren't unanimously impressed, and one or two features are missing.
learn, user-friendly apps
customizable child protection
100 % antivirus guarantee
8.4

good
Plan
Devices
Protection Features
Premium Features
Norton Antivirus Plus
$19.99
yearly price
Visit Website*
Trend Micro delivers a solid overall antivirus package with lots of features and some nice extras, such as social media protection. However, the testing labs are a bit divided on the reliability of its protection.
Plan
Devices
Protection Features
Premium Features
Trend Micro Antivirus+
$19.95
yearly price
Visit Website*
G Data offers virus protection "made in Germany" with solid test lab scores, lots of customization, and great support. The user interface, however, could use a facelift.
many configuration options
interface somewhat outdated
test lab scores "only" solid
8.4

good
Plan
Devices
Protection Features
Premium Features
G Data Antivirus
yearly price
Visit Website*
F-Secure focuses on the essentials and delivers reliable protection from most malware, as demonstrated by its results in the testing labs. But some features, such as webcam protection, are missing.
Plan
Devices
Protection Features
Premium Features
F-Secure Internet Security
yearly price
Visit Website*
* Ad disclaimer:
For links marked with an asterisk, EXPERTE.com may earn a commission from the provider. The commission has no influence on our editorial rating.

Janis von Bleichert studied business informatics at the TU Munich and computer science at the TU Berlin, Germany. He has been self-employed since 2006 and is the founder of EXPERTE.com. He writes about hosting, software and IT security.
Continue Reading