Panda Antivirus Review 2023: How Reliable Is It?

Author
Janis von Bleichert
Ad disclaimer:
For links on this page, EXPERTE.com may earn a commission from the provider. This supports our work and has no influence on our editorial rating.
In nature, Pandas are seen as calm, cute, and cuddly. However, in the digital world, one antivirus developer is trying to turn this reputation on its head: Panda Security wants to slash and maul malware with big data and artificial intelligence.
Unlike traditional cybersecurity, which is often reactive and defensive, Panda Security wants to go on the attack and take the fight to malware and viruses. Below, we'll let you know how successful this panda offensive is.
What Is Panda Security?
Panda Security* is a Spanish IT security company (founded in Bilbao in 1990) that caters to both private and business users. Since 2020, Panda has belonged to WatchGuard Technologies, a Seattle-based cybersecurity conglomerate.
Along with its free antivirus solution (Panda Security Free), the developer also offers a paid package (Panda Dome Premium). Both provide security, privacy, and performance optimization for Windows, Android, macOS, and iOS.
We tested Panda Security on a Windows PC and Android smartphone.
Panda Antivirus Review
Security & Performance
8.6 / 10
Installation & Usage
6.6 / 10
Poorly-conceived interface

Too many paywalls (lots of different subscriptions)
Panda Security Free is available from the provider's website (through a CNET link) without creating an account. Those interested in a premium subscription need to first input their payment method and information, after which they can download Panda Dome, even without a Panda account. Since you'll use this to manage your subscription payments, an account will automatically be created for you after Panda Dome is installed.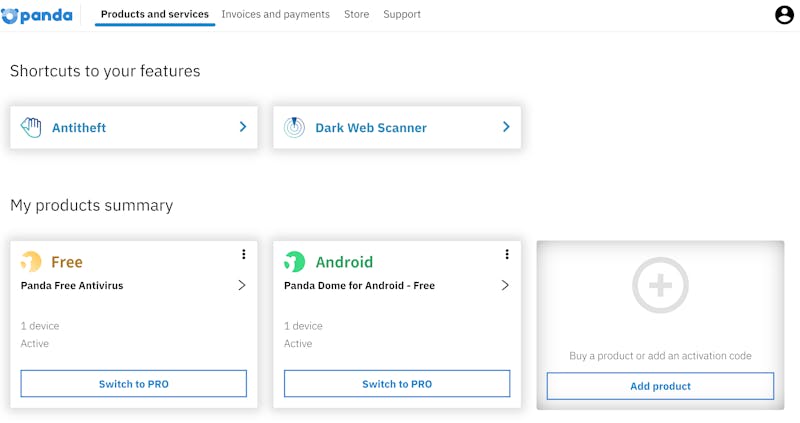 Manage your programs and download new ones with a Panda account.
All it takes is a few minutes to download and install the 3 MB file. Unlike most other antivirus programs, Panda Dome is lightweight and gives the impression of only consuming a limited amount of resources.
The program's interface has a nice appearance and serves as the central hub for all of the software's features. These range from antivirus protection to a VPN, to parental controls. On the home screen, you'll see your security status (whether your PC is protected), the number of scanned files, and five icons representing the program's most critical components. You can switch to a general overview by clicking on the button under status.
Along the bottom of the interface is a news ticker, which you can turn off in settings.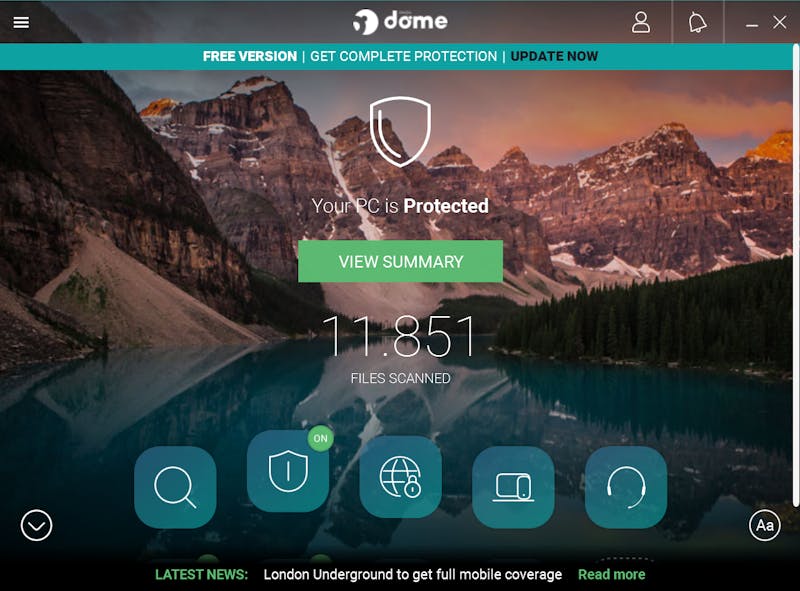 Access all of Panda Security's features through the dashboard's buttons.
Panda Dome's other features can be found by either scrolling through additional icons (23 for paying subscribers) or by clicking on the hamburger menu in the top left. Some of the items from the menu are included here again, like "My Products", "My Devices", and "Support".
This redundancy is not the program's only usability issue. Unfortunately, the icons appear to have been arranged haphazardly, and, especially in the feature-filled premium version, this makes the interface look extremely cluttered. To see what features an icon includes, you'll need to hover your mouse above an icon.
Another related issue is that the way that icons are arranged does not seem to follow any particular logic. For example, when clicking on the "Scans" icon, we expected to be able to configure when scans are scheduled, however, this is done in the "Antivirus" area.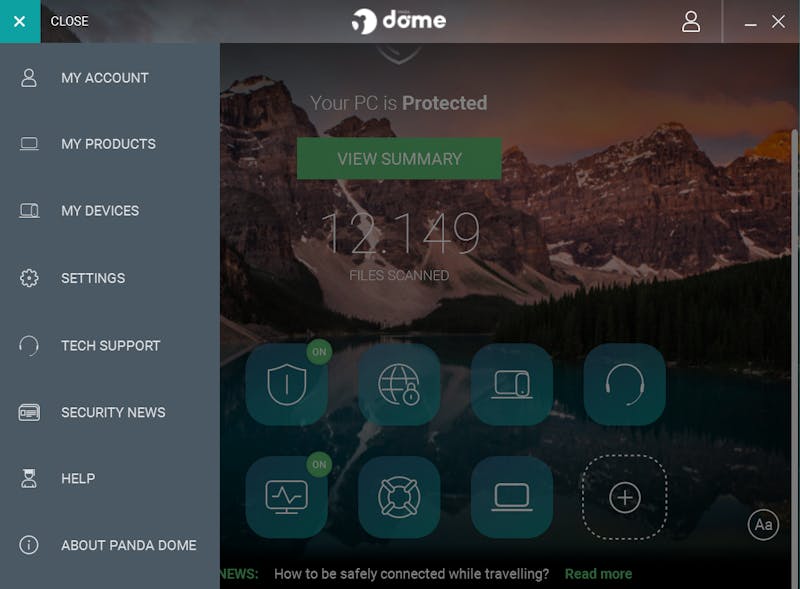 Access settings, check devices, and manage your subscription with the menu bar on the left.
Panda Security is only a few small changes away from a much better user-friendliness score. Over time, we did a feel for the interface and were able to find what we were looking for. We'll explain all of the software's features in more detail below.
Installation & Usage
6.6 / 10
Like most antivirus programs, Panda Security guards your computer with both scans and real-time monitoring. Basic protection is provided free of charge to Windows users with Panda Security Free.
Manual scans: Critical, full, or custom
There are three types of scans: "Critical Areas" searches for active viruses and only takes a few minutes. "Full Scan" requires considerably longer to secure your computer against threats. Finally, you can also perform a "Custom Scan" and specify which files, folders, or partitions should be checked.
In the "Antivirus" sub-menu, you can set scans to run daily, weekly, or monthly, and configure what they should focus on.
All paid subscriptions include scans for external storage and USB.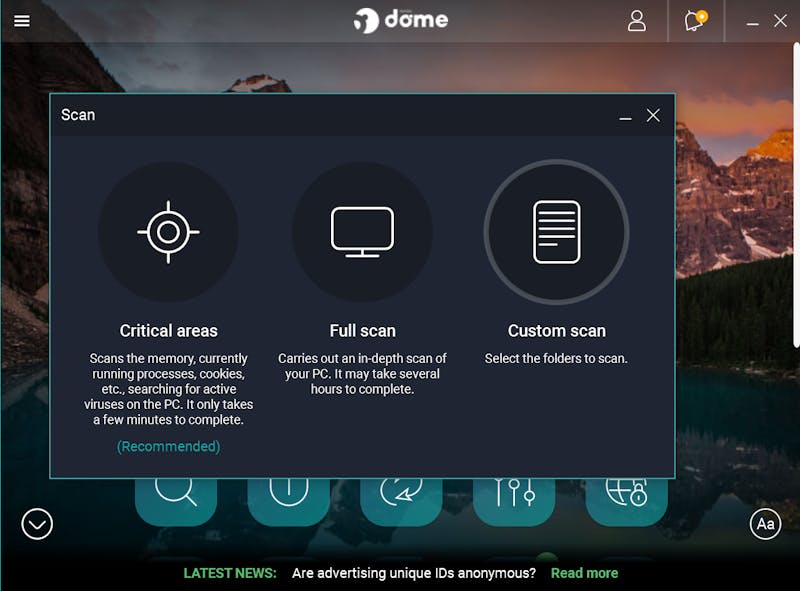 Scan specific areas or your entire PC.
Firewall protection for paying customers
A firewall helps you monitor your incoming and outgoing data traffic, and prevent unauthorized access. With Panda Security, this is only offered to paying subscribers. You'll be able to specify whether you're connected to a home, work, or public network, adjust its settings, and set rules and exceptions for all of your installed programs.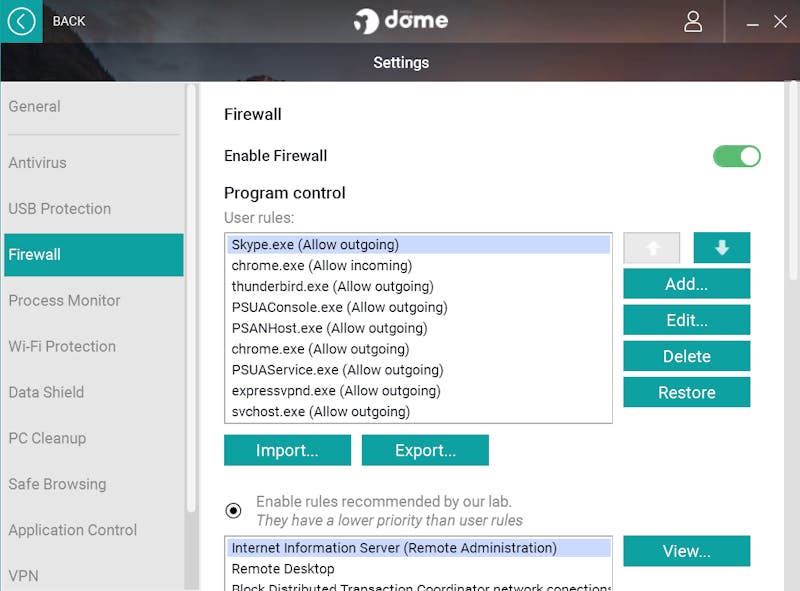 Panda Security's firewall keeps out unwanted intruders.
Real-time protection: Pay more, get more
Real-time protection in Panda Security Free only provides the bare necessities. For example, "WiFi Protection", which patrols your network for uninvited guests like hackers, is only included with the Essential subscription and above.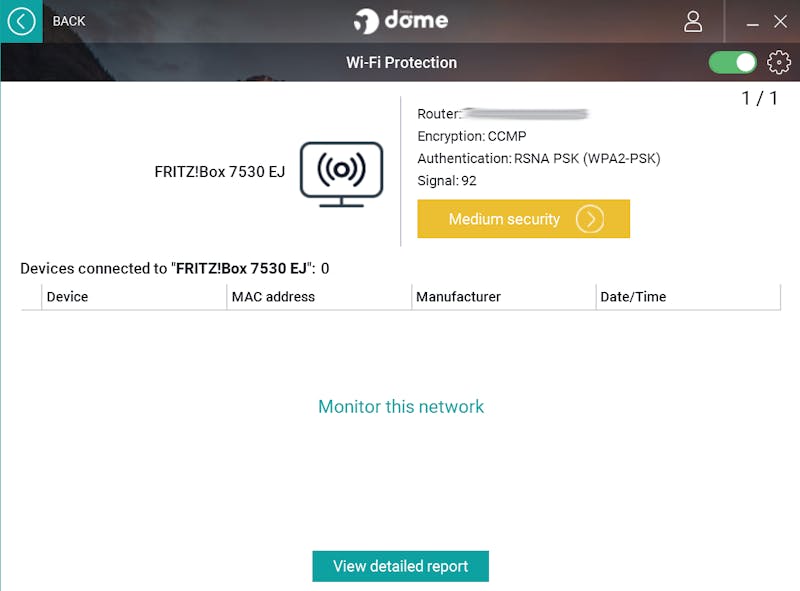 Panda Security's "WiFi Protection" keeps your WLAN free of threats or dangers.
Web protection for securely surfing, shopping, or banking online is only offered to Advanced subscribers. This package also includes ransomware protection, which defends you against Trojans that encrypt sensitive files on your computer and demand payment to decrypt them. Parental controls that make the Internet safer for your children are also part of the Advanced subscription.
More with pricier subscriptions
More extravagant features are unlocked with a Complete subscription package. This includes total protection (encryption) of all sensitive data and the ability to give specific apps, files, or folders extra layers of security. The optimization tool boosts your computer's performance.
A password manager is also included. In the past, Panda licensed a version of Password Depot, however, this has been replaced by an in-house solution, Panda Dome Passwords, created by SaferPass. We haven't comprehensively assessed this software, but it appears to offer all of the essentials and to be relatively straightforward to use.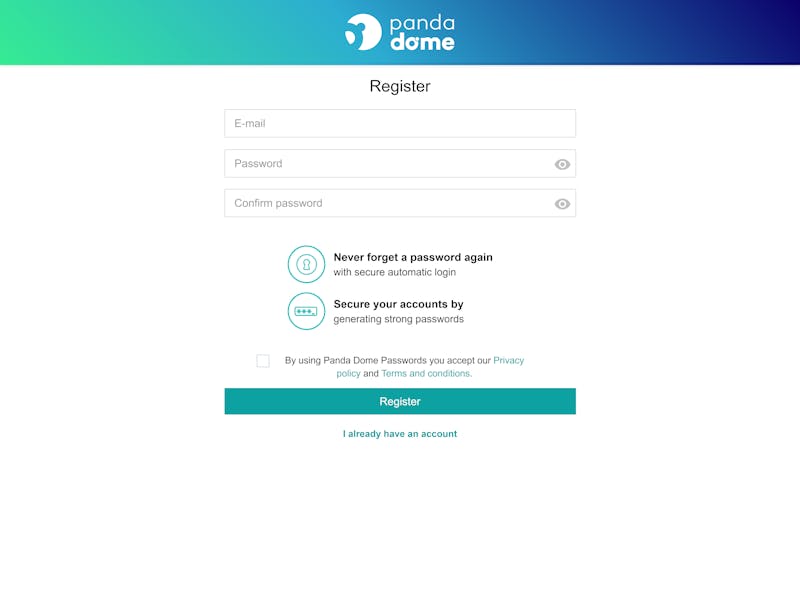 To use Panda Security's password manager, you'll need a Complete subscription.
Premium subscription with VPN power
Premium subscribers get unlimited use of Panda Security's VPN. For comparison, free users only get 150 MB of data per day. Like the password manager, Panda VPN is also based on third-party software (Hotspot Shield), which received average scores in our VPN evaluation. This was mostly because of our concerns about its commitment to data security and user privacy.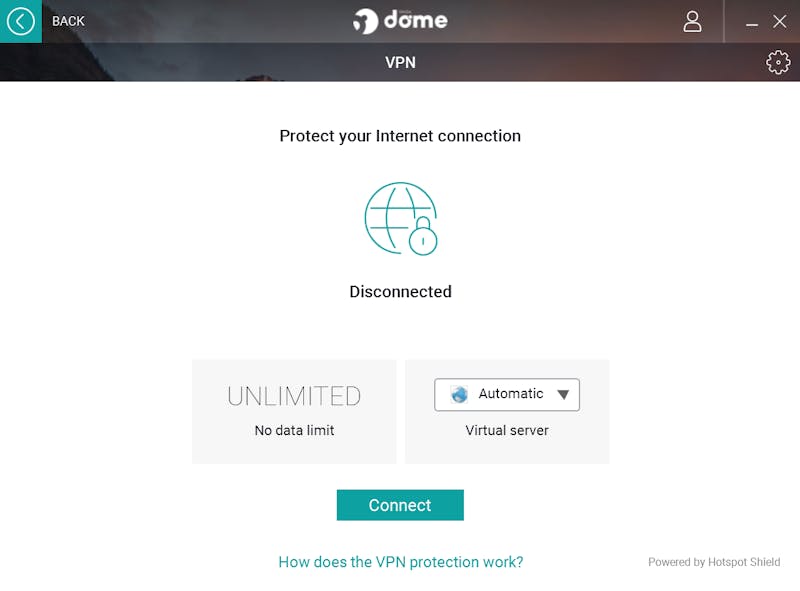 Panda Security's VPN is powered by Hotspot Shield.
None of the premium Panda subscriptions include webcam protection, which guards your webcam (and computer) against prying eyes.
Mobile features
The mobile (Android and iOS) versions of the Panda Security app come with anti-theft tools, as well as several other features. Along with real-time protection and scans, these include "Privacy Auditor", which lists the permissions you've granted to installed apps. This can provide a very useful summary of which apps are able to track your location or access your media and messages.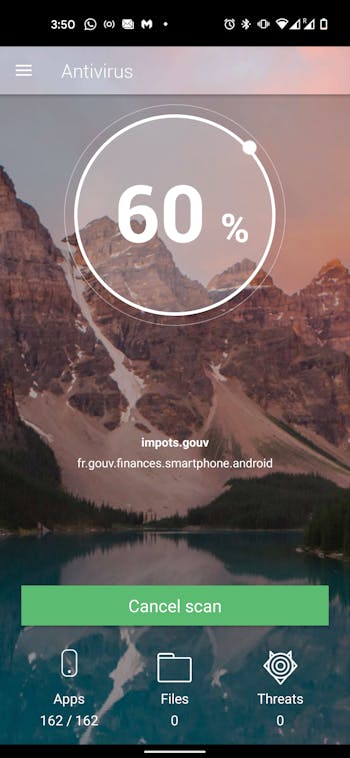 Scan your smartphone with Panda Security.
If your smartphone is lost or stolen, the app's anti-theft tools can save the day. These allow you to remotely delete sensitive data, lock your device, or, try to GPS locate it.
Premium subscribers can prevent unauthorized access to selected apps using "App Lock" by adding extra protection to them in the form of a PIN or fingerprint scan.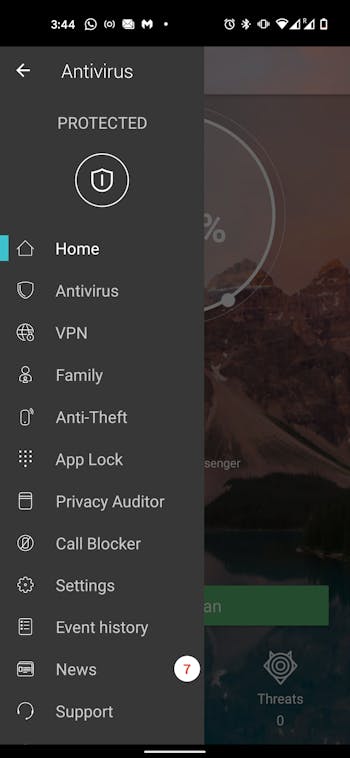 Panda Security's mobile version includes smart anti-theft tools.
In sum, Panda Security provides all of the most important features along with some nice extras. The number of different subscriptions and packages can be confusing, while the third-party add-ons aren't the best solutions available. As one example, we'd rather pay for a stand-alone VPN than use Panda Security's VPN.
To provide a representative and objective picture of all solutions from our sample, we consulted AV-Test and AV-Comparatives. Both regularly award antivirus programs with separate performance and security scores. Panda Security's programs often feature in their assessments.
| | Security | Performance |
| --- | --- | --- |
| | | |
| | | |
| | | |
Panda has not been featured in an AV-Test review for quite a while. In this, Panda Dome was awarded maximum points for security and 5 from 6 points in performance. Before that though, the program's free version was consistently awarded very good scores in security but did drop points on performance more than once.
During AV-Comparatives' real-world protection test Panda received 2 out of 3 stars, owing to the slightly above-average number of false positives. All the same, the program had no difficulty identifying compromised files. In terms of performance, Panda took full points (3 out of 3). You might experience minimum lag when launching a program during a scan, however, this won't be repeated.
Although the scores from the test labs aren't perfect, they are consistently solid. It is unfortunate that Panda Security has not been featured in AV-Test's assessment for several years.
Fast system scans
Panda Security took 80 minutes to fully scan our system (967,773 objects). We didn't notice any differences in our computer's performance during the scan and could continue working as normal. As such, our experience was similar to AV-Comparatives.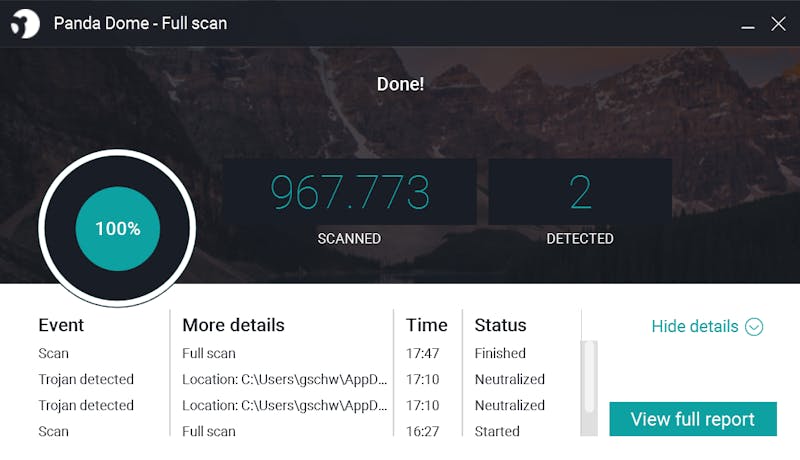 We didn't notice any performance issues while Panda was scanning our system.
Panda Security did well with the testing labs and in our evaluation. We didn't notice any performance issues while a scan was running, so we can confirm AV-Comparatives' conclusions. Thankfully, we also weren't able to ascertain any worrying security or data malpractices with the developer.
Security & Performance
8.6 / 10
Panda Dome features an in-app support hub with two links: The first leads to a support forum which doesn't look very active, while the other goes to the software's FAQs. These could definitely be better organized, for example, based on the language they're written in.
If you want to directly contact a support panda, there are several ways to do so. These include a hotline (Monday-Friday, nine hours per day), support tickets (with answers promised within 24 hours), and a live chat.
During our test, we received an answer to our support ticket within two hours. In the live chat, we were put in touch with a helpful staffer within a matter of minutes.
Premium subscribers can take advantage of "Total Care" support, which can also be purchased separately by non-subscribers. This includes 24/7 hotline support and the ability to remotely connect by desktop.
The FAQs could do with some work, however, the number of support channels lifts Panda Security near the top of our sample. Our questions were answered quickly, competently, and to our satisfaction.
As its name suggests, Panda Security Free doesn't cost anything. There are also four paid Panda Dome subscriptions (Essential, Advanced, Complete, and Premium), each of which provides more features as its price increases. These can be booked either on a monthly or yearly basis (the latter comes with a discount).
An overview of all of Panda Security's subscriptions and the features they offer is provided below:
Free
Essential
Advanced
Complete
Premium
Set-up Fee
$0.00
-
$0.00
$0.00
$0.00
Price per Year
$0.00
from $23.99
from $28.49
from $42.99
from $66.99
Contract Period (Months)
0
12
12
12
12
Software
OS

Windows

Android

Windows

Android

macOS

Windows

Android

macOS

Windows

Android

macOS

Windows

Android

macOS

Max. Number of Devices
unlimited
10
10
10
10
Special Protection Features
Real-time Protection
Internet Security
Email Protection
Ransomware Protection
Webcam Protection
Premium Features
Firewall
Password Manager
VPN Access
Adblocker
Cloud Backup
File Shredder
Parental Control
Performance Tuning
Mobile Features
App Lock
Location Tracking
Remote Lock
Camera Trap
Generally speaking, Panda Dome is not the most expensive or the most affordable provider we reviewed. Its premium packages do offer considerable flexibility, especially when it comes to extra features.
Since subscription packages and features for each program from our sample vary, the table below compares each provider's offering on the basis of a template, noting the subscription that most closely matches this:
1.
2.
3.
360 Total Security
Premium
4.
5.
6.
Bitdefender
Internet Security
7.
8.
9.
10.
11.
12.
13.
F-Secure
Internet Security
14.
Conclusion
Security & Performance
8.6 / 10
Installation & Usage
6.6 / 10
Panda Security offers solid antivirus protection and a variety of features, suffering only from the odd blemish here and there. The interface is poorly arranged, the third-party features (VPN and password manager) aren't anything to write home about, and the security and performance testing lab results are "only" good. Still, they're not too far off the best services from our sample.
With that said Panda Security does a lot of things right. Thanks to its different subscription packages, you can customize your antivirus security. Despite its problems, the dashboard is relatively user-friendly, and the program provides good security, without holding your computer back. Basic protection is free of charge, and if you're on the fence about paying for the service, you can test it for one month at no cost.
Panda Security isn't as feature-rich as the competition, but it offers good protection, backed by solid results in the testing labs. Its free tier is worth a look.
Plan
Devices
Protection Features
Premium Features
Panda Security Free
$0.00
Visit Website*
Customer Ratings
The customer reviews that we evaluated showed that most users are satisfied with Panda Security. Many of them praise its user-friendliness and effectiveness. In contrast, as seems to be typical among antivirus software, criticism was directed at its support and noted billing irregularities.
Customer Ratings
49,083 Bewertungen
Visit Website*
We analyzed the reviews and ratings from various portals and found 49,083 ratings with an overall rating of 4.3 out of 5 .
Alternatives to Panda Security
Should you want more features, we recommend giving Kaspersky, Avira, or ESET a look.
Bitdefender, our overall winner, costs the same and was much more impressive, owing to its excellent user interface and impressive testing lab scores.
Below, you can check out more of the best alternatives to Panda Security:
Our 'best in test' antivirus program Bitdefender boasts strong security, confirmed by independent test laboratories, along with a flawless user interface and a comprehensive set of features.
configurable quick actions
good support with 24/7 live chat
9.6

excellent
Plan
Devices
Protection Features
Premium Features
Bitdefender Antivirus Plus
$23.99
yearly price
Visit Website*
Avast impresses with a great free version covering all the essentials, and a huge set of features that offer well-rounded antivirus protection and some nice extras. Scans can slightly impact performance, however.
Sandbox and WiFi-Inspector
scans can impact performance
8.6

good
Plan
Devices
Protection Features
Premium Features
Avast Free
$0.00
Visit Website*
Download for Free
With its robust set of features, lean applications, and a 100 % antivirus guarantee, Norton Antivirus is definitely worth a look. Sadly, the testing labs aren't unanimously impressed, and one or two features are missing.
learn, user-friendly apps
customizable child protection
100 % antivirus guarantee
8.4

good
Plan
Devices
Protection Features
Premium Features
Norton Antivirus Plus
$19.99
yearly price
Visit Website*
Trend Micro delivers a solid overall antivirus package with lots of features and some nice extras, such as social media protection. However, the testing labs are a bit divided on the reliability of its protection.
Plan
Devices
Protection Features
Premium Features
Trend Micro Antivirus+
$19.95
yearly price
Visit Website*
G Data offers virus protection "made in Germany" with solid test lab scores, lots of customization, and great support. The user interface, however, could use a facelift.
many configuration options
interface somewhat outdated
test lab scores "only" solid
8.4

good
Plan
Devices
Protection Features
Premium Features
G Data Antivirus
yearly price
Visit Website*
* Ad disclaimer:
For links marked with an asterisk, EXPERTE.com may earn a commission from the provider. The commission has no influence on our editorial rating.

Janis von Bleichert studied business informatics at the TU Munich and computer science at the TU Berlin, Germany. He has been self-employed since 2006 and is the founder of EXPERTE.com. He writes about hosting, software and IT security.
Continue Reading