Adware Removal 2023: 3 Easy Ways to Remove Adware

Author
Janis von Bleichert
If ransomware and Trojans are the most dangerous types of malware, adware is undoubtedly the most annoying type. In this guide, we'll show you three easy and pain-free ways to remove adware from your system.
1.
Option: Uninstall the Program
In the best cases, removing adware can be as easy as uninstalling the program that's generating the pop-ups and ads. If the ads have just started, quickly uninstalling the offending software can rid you of the nuisance.
1. Open Control Panel, click on Programs and Features, and navigate to the third column ("Installed On"), sorting the programs by date.

If you're lucky, the program generating ads can be quickly found and neutralized.
2. Search for suspicious and recently installed programs on the list (you probably won't remember installing them).
3. If you're unsure, search for the program by name online to find out more.
4. Once you've found the culprit (or culprits) click on the programs, select Uninstall/Change, and follow the removal instructions. After it's been removed, you can check whether your adware problems have stopped.
2.
Option: Install Malwarebytes AdwCleaner
If uninstalling the suspicious program didn't work, or you can't find anything, you'll need to call in the cavalry. One of the most well-known (and free) adware removal tools is AdwCleaner from Malwarebytes. It only takes a few seconds to download and install the program and start hunting adware.
1. After installation, click on Scan in the program's interface.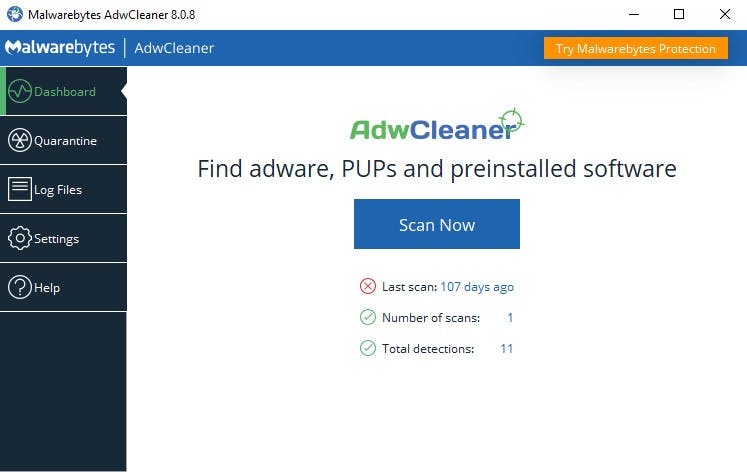 AdwCleaner is easy to use and self-explanatory.
2. Once the scan has finished, you can review what was found and quarantine suspicious programs or files. Before doing this, save anything you've been working on since AdwCleaner will automatically close all programs and stop all processes.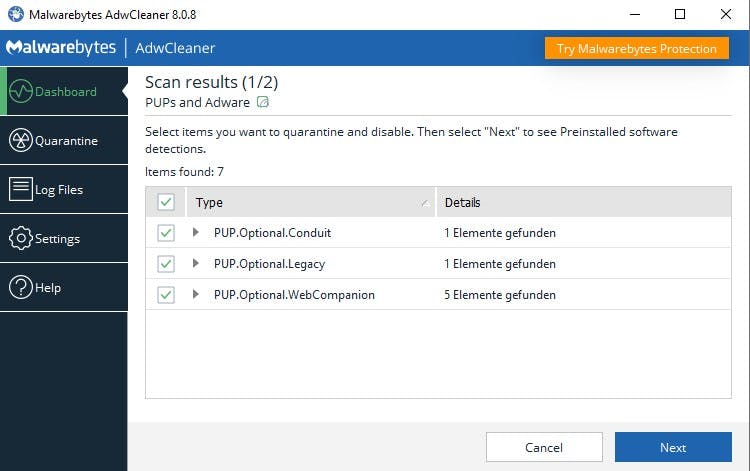 Anything that appears suspicious or threatening will be listed in the scan's results.
3. Once the selected files have been quarantined, restart your computer to complete the process.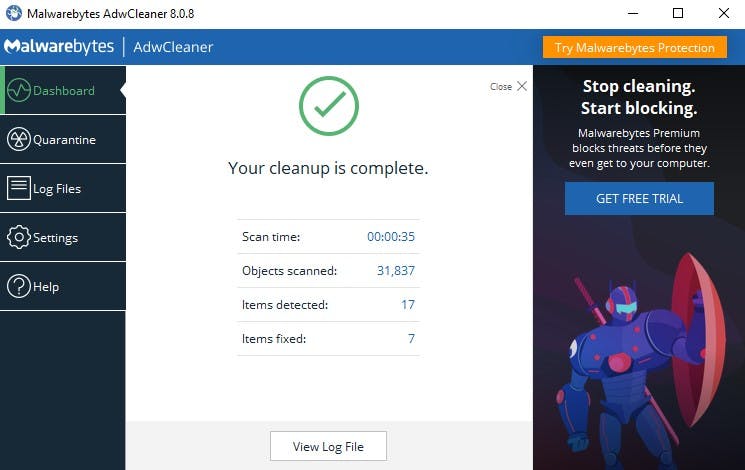 AdwCleaner's job is done after you restart your computer.
4. If desired, you can also review quarantine logs, or restore certain files and elements that were quarantined by accident. Should you believe your system to now be adware free, and want to uninstall the program, simply click on Settings> Remove AdwCleaner.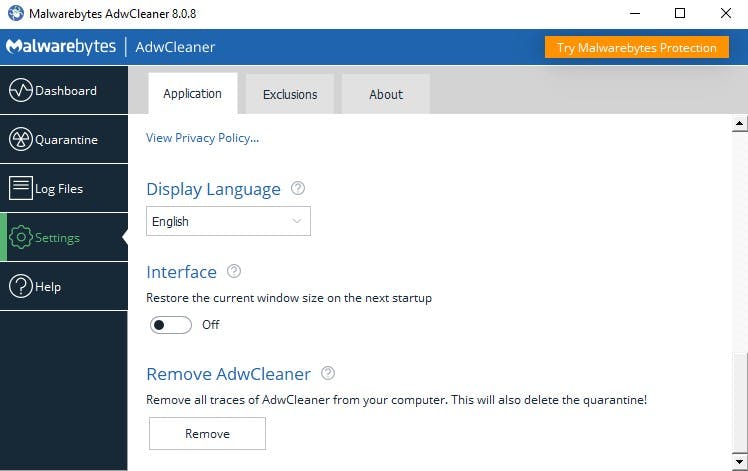 Mission accomplished? Go ahead and uninstall the program.
AdwCleaner is great for taking back your system after adware has been installed and does all of the heavy lifting for you. On the other hand, it won't prevent adware infections. For this, you'll need real-time protection, like that offered by most antivirus suites.
3.
Option: Real-Time Protection With Antivirus Software
Are you ready to bring out the big guns? Antivirus programs don't just find and neutralize dangerous malware, they also hunt for unwanted programs, like adware, and warn you about threats before they get on your system. Sounds great, but which one is the best?
We comprehensively tested 15 of the most popular solutions in our EXPERTE.com antivirus software reviews, so that you'll be able to find the option that best suits your needs.
In our convenient comparison calculator below, you can filter programs based on your needs, and find the ideal antivirus software:
Special Protection Features
Number of Devices
Conclusion
Removing adware can either be very easy or very tricky, depending on what type your system has been infected with. If simply uninstalling the responsible program doesn't work, there are all kinds of free and premium solutions. With these, you can take back your digital domain and keep away all kinds of threats down the road.
As with most things in life: Prevention can help you avoid headaches. Stay away from insecure sites, 'free' downloads that seem too good to be true, or email attachments from people you don't know.
FAQs
How can I identify adware?
⊖
Adware is one of the types of malware that makes its presence most clearly and unmistakably known. It will generate ads and open pop-ups which make your system significantly slower.
Among malware, adware is perhaps the least dangerous, but definitely the most annoying. In certain cases, it can also be legitimate, like when it's the 'price' for using certain free software.
How can I remove adware?
⊖
Most of the time, all you need to do is uninstall the program opening the ads. With tools like AdwCleaner from Malwarebytes, you can also scan your computer for adware, and remove any that are found. Real-time protection, which comes with all antivirus programs, prevents adware from getting on your computer in the first place.
Yes! AdwCleaner was developed by Malwarebytes, a highly-reputable cybersecurity company. Make sure that you download the program directly from its developer.

Janis von Bleichert studied business informatics at the TU Munich and computer science at the TU Berlin, Germany. He has been self-employed since 2006 and is the founder of EXPERTE.com. He writes about hosting, software and IT security.
Continue Reading