Antivirus Software Review: Avira
The ABCs of the most popular antivirus programs read more like AAA. The similarly named Avira, Avast, and AVG don't really make it any easier for users to navigate the world antivirus software. Since two of these are partnered with one another - AVG Antivirus has been owned by Avast since 2016 - the claim could be made that a search for antivirus programs wouldn't even need to progress to the letter B.
On the other hand, Avira doesn't have any affiliation with the two other 'A' programs. Although Avast and AVG are based on the same engine, Avira is again the exception. We've taken a closer look at this provider.
Avira Antivirus is an antivirus program made by the German developer Avira Operations which protects users from viruses, malware, spyware, Trojans, ransomware, and other cyber threats. It is available for Windows, MacOS, Android, and iOS in free (Avira Antivirus Free) and premium versions.
Installation & Usage
4.7 / 5
Security & Performance
3.0 / 5
Free version which offers basic protection
Easily-configurable scans
Solid test lab performance
Dashboard installation comes with a lot of bloatware
Installing Avira Antivirus is a little bit like getting married: You choose your partner, but not your in-laws. The main issues are Phantom VPN, Game Booster, or System Speedup. Opera Browser is something like an uninvited ex: It's automatically installed and set as your default browser, without you getting a word in. Compared to other antivirus programs like AVG Antivirus, the installation of which can be customized to a great degree (including partner programs), Avira is a real nuisance.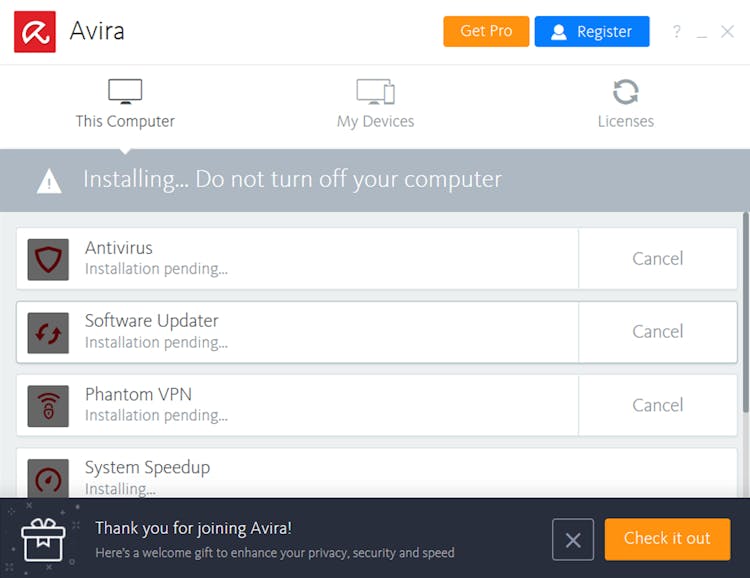 Even though other programs offered by Avira allow you to choose which services you want to install, the interface still seems to be configured for their (eventual) inclusion. Nevertheless, it is easy to find the button to perform a "Quick Scan" on your computer.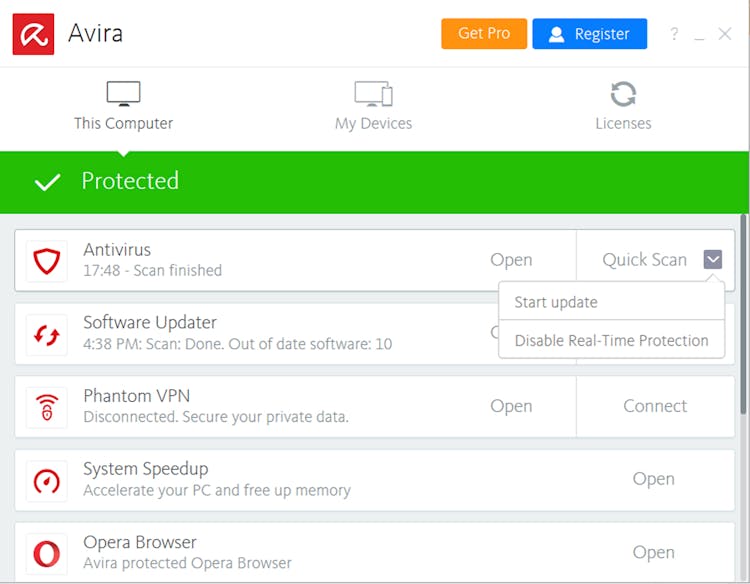 The desktop client's main interface is more focused. In the main window, a green check mark shows that all is well with your computer. Additionally, the most important modules can be viewed here: "Real-Time Protection", "Ransomware Protection", "Web Protection", and "Mail Protection". The rest of the features can be reached through the navigation bar to the left.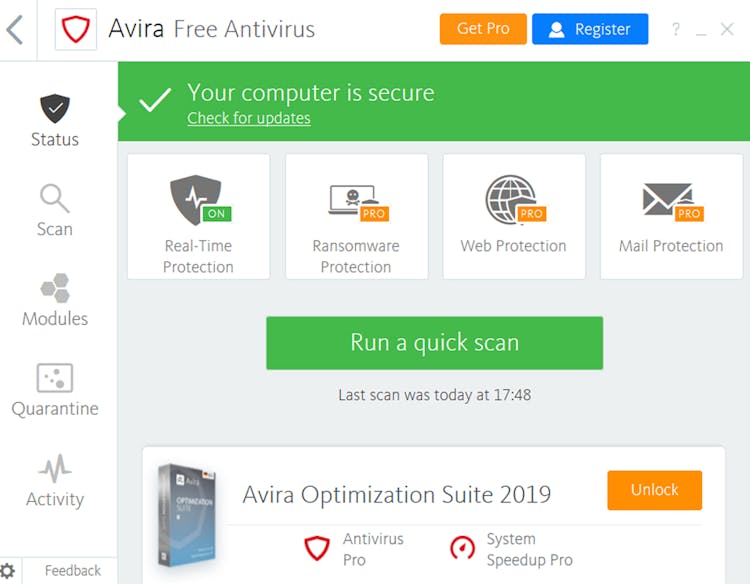 Generally speaking, the interface appears somewhat packed and less well-organized than those of other programs, however, it's still easy to use. Unfortunately, our first impression of Avira Antivirus leaves too much to be desired in terms of user-friendliness, and its 'smuggling' of bloatware onto our system really soured our mood.
A slimmed-down interface and the option to not install all of the company's bloatware would do the program a world of good.
Score: 2 / 5
Although the "packaging" leaves a lot to be desired, Avira Antivirus is full of features. Starting with manual scans, the program offers much more than the usual options: Alongside "Full" and "Quick" scans, you can also create a "Custom Scan". Similarly, you can go into these in greater detail, adding or removing system, drive, or rootkit scans, at will, and run them as often as you want. Importantly, free users can also make use of these options.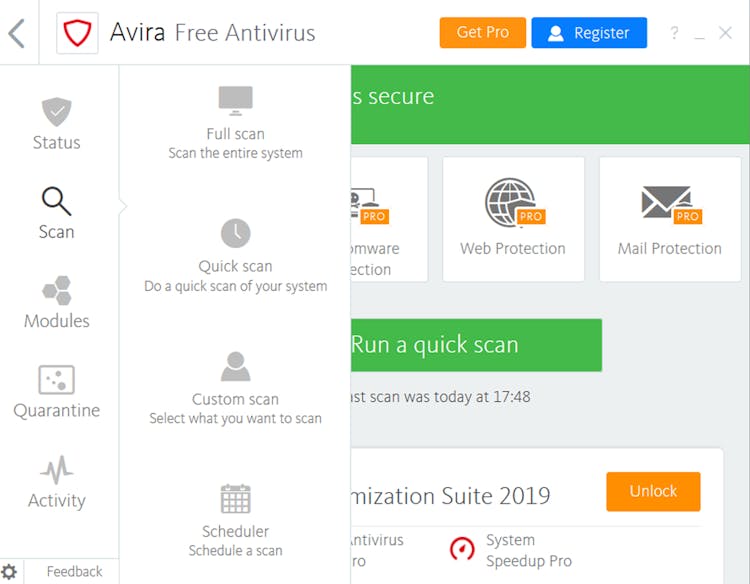 Alongside scans, the program also offers real-time protection, which identifies problems before they wreak havoc on your system. For example, you can activate a firewall with the push of a button.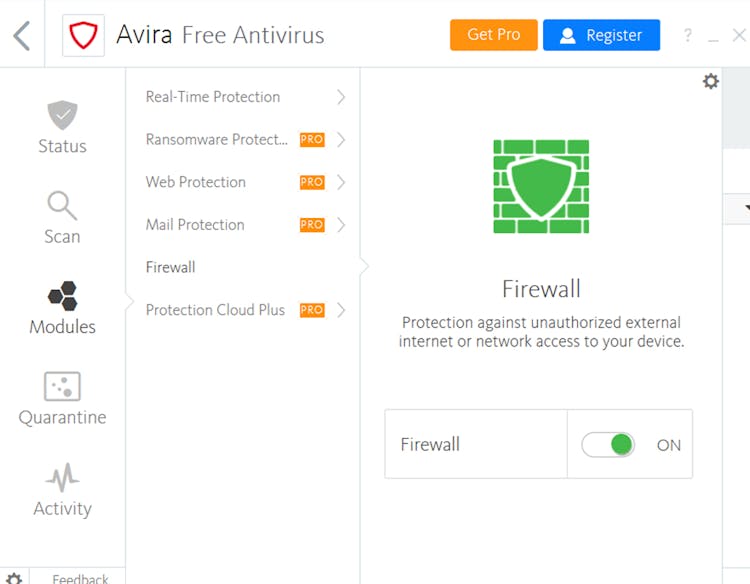 All other modules are limited to paying subscribers. "Ransomware Protection" guards your system against Trojans which take your data hostage, demanding money for their virtual release. "Web Protection" ensures that you aren't tricked by any malware on dangerous websites. "Mail Protection" monitors your attachments and prevents phishing. "Protection Cloud Plus", likewise only for paid subscribers, makes sure that your data has priority when sent to Avira's cloud.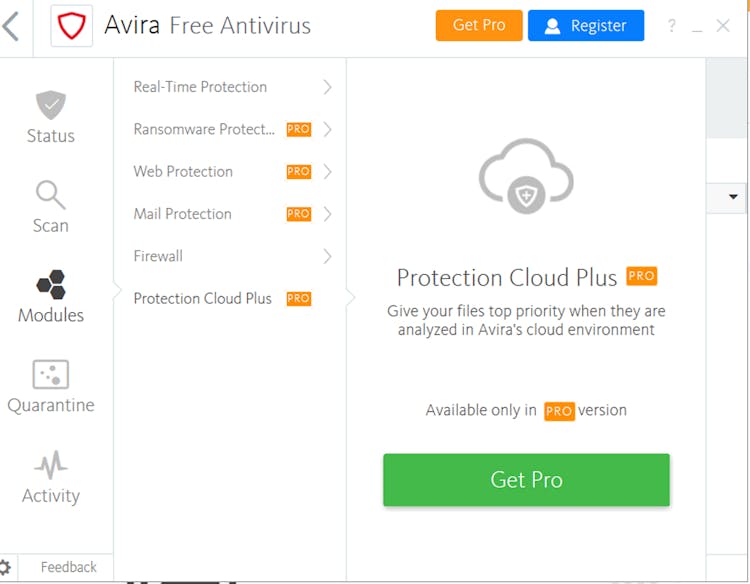 On the downside, neither webcam protection or a data shredder are included.
Extra features like a VPN or a password manager are also not integrated, most likely because Avira offers these as stand-alone software. From the main dashboard you can install these in a flash. In the Opera browser that is installed automatically with Avira's free version, the necessary extensions are pre-installed.
Mobile Features
Alongside real-time protection and scanning, Avira's mobile version (Prime) also offers a number of additional features which help shore-up defenses on your smartphone. These include a network scanner that identifies suspicious devices in your WiFi network, as well as the ability to add extra security to specific apps. With "Check Email Security" you can enter your email address to find out if it's been compromised by any data leaks. There's also a VPN and a tuning function, with which you can optimize storage and memory on your smartphone.
Avira also provides you with protection against theft: You can control your device remotely through your Avira account if it has been stolen. You can also delete data, protect apps from unauthorized access with a PIN, trigger an alarm, or even attempt to GPS locate your device.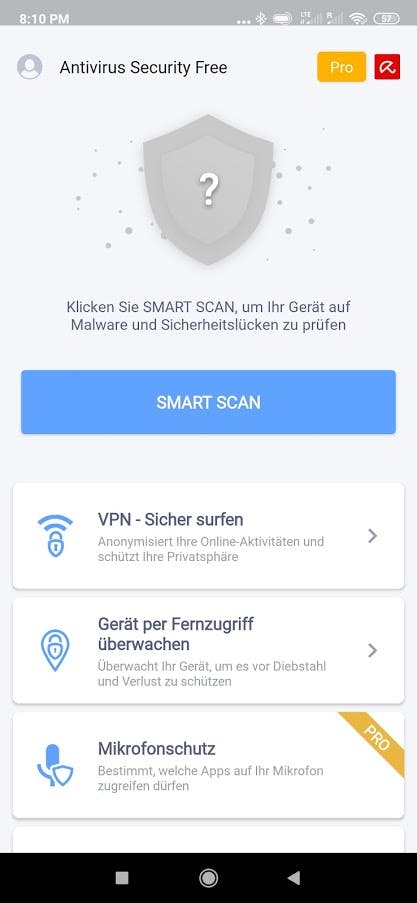 Avira Prime comes with a few bonus features: With camera and microphone protection, you can set which apps are allowed to access these on your smartphone, while "Safe Things" helps you to avoid phishing websites.
In total, Avira provides almost all basic features, and to boot allows free users to configure scans.
Score: 4.3 / 5
To assess AVG Antivirus, we consulted AV-Test and AV-Comparatives, each of which gives separate scores for performance and security.
Tests performed in: January 2020 (AV-Test)
Avira Antivirus received very good scores from both test labs: In the most recent real-world protection test from AV-Comparatives, the program identified 100% of malware, and had only a single false positive. In terms of security, AV-Test gave the program maximum points.
Score: 4.3 / 5
Avira's support center features FAQs, video guides, a lab with up-to-date information about viruses and other malware, and a well-visited forum. You can only take up direct contact (by email or phone) with Avira if you have an account and a license for an Avira product.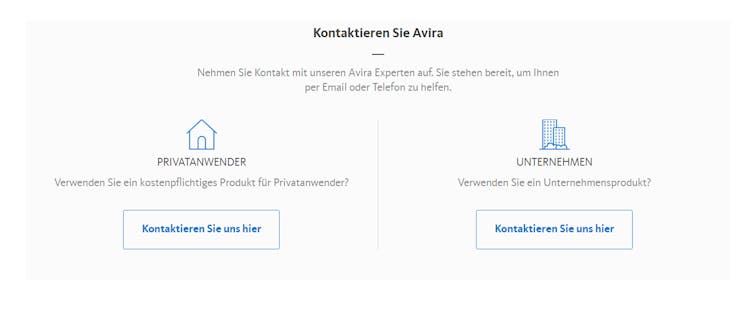 Avira's support is solid, even though only paying customers can contact them directly. It would be nice if they offered some sort of support for free users, for example, with a lower response priority than for subscribers, but as the saying goes "beggars can't be choosers".
Score: 4 / 5
Avira Antivirus is free, however, it limits the number of features that can be used. Its price depends on how many devices (one, three, or five) and how long (monthly, yearly, two-year or three-year) a contract you agree to.
Free
Pro
Internet Security
Pricing
Set-up fee
$0.00
$0.00
$0.00
Price per year
$0.00
from $44.99
from $57.99
Contract period (months)
0
12
12
Software
OS

Windows

macOS

Android

Windows

macOS

Android

Windows

macOS

Android

Max. Number of devices
unlimited
5
5
Special Protection Features
Real-time Protection
Internet Security
Email Protection
Ransomware Protection
Webcam Protection
Premium Features
Firewall
Password Manager
VPN Access
Adblocker
Cloud Backup
File Shredder
Parental Control
Performance Tuning
Mobile Features
App Lock
Location Tracking
Remote Lock
Camera Trap
Paid subscriptions to Avira Antivirus are some of the more affordable on the market. Since subscription packages for each program vary, the table below compares each provider's offering on the basis of a sample, with similar conditions:
$26.99
Visit Website
$29.95
Visit Website
$29.99
Visit Website
$34.99
Visit Website
Bitdefender
Internet Security
$34.99
Visit Website
$34.99
Visit Website
360 Total Security
Premium
$35.98
Visit Website
$39.99
Visit Website
$39.99
Visit Website
Kaspersky
Internet Security
$39.99
Visit Website
$42.74
Visit Website
$44.99
Visit Website
$45.00
Visit Website
$47.15
Visit Website
$49.99
Visit Website
Installation & Usage
4.7 / 5
Security & Performance
3.0 / 5
The test labs graded Avira Antivirus well, and in the most important area, virus protection (the effective securing of your device against malware) the program does almost everything right. In terms of features, the subscription versions stand out, but the freeware option doesn't do bad either, offering users quite a bit at no cost. We're less enthusiastic about the program's interface, its bloatware, and its developer's belief in using their products to market one another. For those who can see beyond these deficits, or who use Avira's product in spite of them, you can rely on Avira Antivirus.
free version with basic protection
freely configurable scans
weak performance in test lab
no ransomware protection for free users
Plan
Devices
Protection Features
Premium Features
Avira Free
$0.00
Visit Website »
Download for Free
Avira Antivirus enjoys a good reputation with users, and is rated highly. A number of reviewers commended its ease of use, while others criticized its support and the non-optional bloatware.
Customer Rating
642,166 Ratings
excellent
We analyzed the reviews and ratings from various portals and found 642,166 ratings with an overall rating of 4.6 out of 5 .
Show sources
Alternatives to Avira Antivirus
Our biggest criticisms of Avira are its packed user interface and bloatware. Many other programs offer a much more focused antivirus experience without the bloatware: Bitdefender, in particular, scored very highly in our evaluation, as did Avast, ESET, and Kaspersky. A list of popular alternatives can be found here:
excellent protection results
configurable quick actions
good support with 24/7 live chat
Our test winner Bitdefender not only offers high security, confirmed by independent test laboratories, but also convinces with its flawless usability and a comprehensive feature package.
Plan
Devices
Protection Features
Premium Features
Bitdefender Antivirus Plus
$29.99
yearly price
Visit Website »
special features like VPN
Kaspersky Internet Security is a user-friendly anti-virus protection with perhaps the best feature package on the market.
Plan
Devices
Protection Features
Premium Features
Kaspersky Antivirus
yearly price
Visit Website »
Free Trial Version
Avast überzeugt mit einer Gratis-Version, die bereits die wichtigsten Funktionen abdeckt. Lediglich bei der Performance gibt es leichte Abzüge.
Plan
Devices
Protection Features
Premium Features
Avast Free
$0.00
Visit Website »
Download for Free
elegant-intuitive application
good protection performance
incl. password manager and VPN
missing standard features on macOS
Plan
Devices
Protection Features
Premium Features
Norton Antivirus Plus
$19.99
yearly price
Visit Website »
intuitive Benutzeroberfläche
keine Firewall oder Webcam-Schutz
Plan
Devices
Protection Features
Premium Features
Trend Micro Antivirus+
$29.95
yearly price
Visit Website »

Author: Janis von Bleichert
Janis von Bleichert studied business informatics at the TU Munich and computer science at the TU Berlin, Germany. He has been self-employed since 2006 and is the founder of EXPERTE.com. He writes about hosting, software and IT security.