Avira Antivirus Review: Still a Good Choice in 2023?

Author
Janis von Bleichert
The ABCs of the leading antivirus software reads more like AAA. The similarly named Avira, Avast, and AVG don't make it any easier for users to navigate the sometimes confusing world of digital security.
Since all three of these are part of the cybersecurity giant, NortonLifeLock, the claim could be made that a search for antivirus programs wouldn't even need to progress to the letter B.
All the same, even though the three are now part of the Norton family, they do differ from one another in enough areas to warrant a closer assessment, as we've done below.
What Is Avira Antivirus?
Avira Antivirus ⇱ is antivirus software made by the German developer Avira Operations which protects users from viruses, malware, spyware, Trojans, ransomware, and other cyber threats. Since 2020, Avira, like many other antivirus programs, has belonged to NortonLifeLock (previously, Symantec).
The software is available for Windows, macOS, Android, and iOS in free (Avira Free Security) and premium versions.
Avira Antivirus Review
Installation & Usage
9.4 / 10
Security & Performance
6.0 / 10
Free version offering basic protection

Easily-configurable scans
Poor scores from the testing labs

No ransomware protection for users of the free version

Doesn't come with a firewall
We weren't particularly fond of Avira's installation of unwanted programs on our system during our last assessment. This included Opera browser, which had the nerve to set itself as our default browser. In the interim, Avira has subordinated its antivirus software to its regular product portfolio, thankfully re-thinking its entire approach to customer outreach.
The Avira Hub has been replaced by a more typical antivirus interface. To the left, you'll find a navigation bar, on which you can alternate between "Status", "Security, "Privacy", and "Performance". On the home screen ("Status"), you'll find different shields as well as an overview which keeps you informed about any potential problems or threats.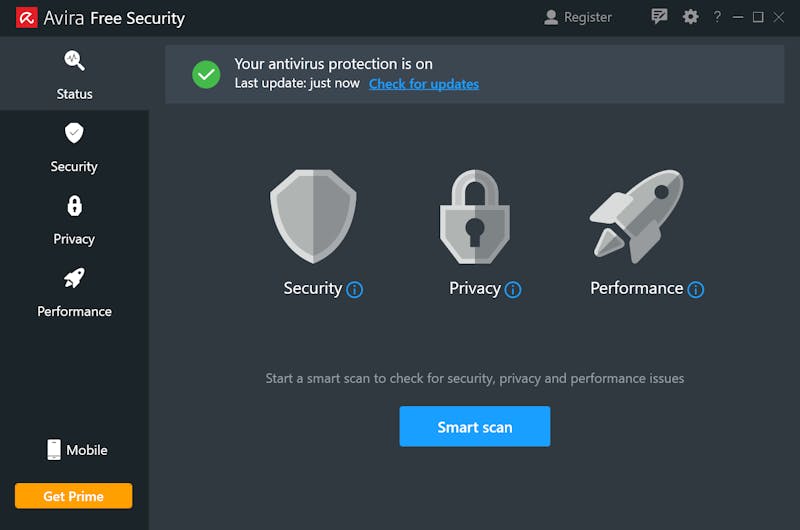 Avira Antivirus is divided into "Security", "Privacy", and "Performance" sections.
In the "Security" section, you'll find all of the typical antivirus tools and features, such as a range of different scans, real-time protection shields, and even options for configuring Windows Firewall. Other tools, such as a file shredder, browser shield, and even a password manager are located in the "Privacy" section.
Generally speaking, all features are where they might logically be expected, and as such, easily found in the software's interface.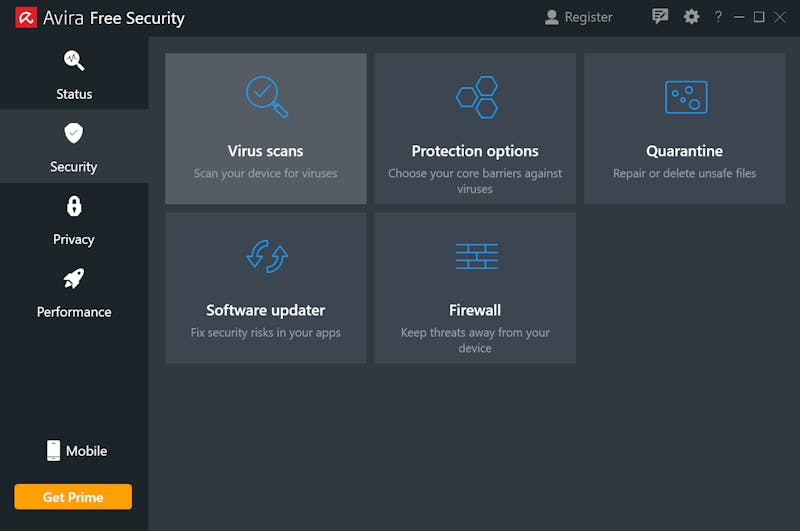 In Avira's new interface you'll quickly find whatever it is that you're looking for.
If you click on "Mobile Devices" in the navigation menu, a QR code will be generated which you can use to directly install Avira's smartphone app on your device. Settings can be adjusted through the gear icon in the upper right, whereas clicking on the question mark will take you to support.
In our last review of the program, we referred to the software's user interface as "somewhat packed and less well-organized than those of other programs". It appears as though someone was paying attention since the software's new UI has been significantly decluttered, while the annoying software bundling has been done away with altogether.
This time around, we really liked the application's design, being particularly impressed with how quickly and easily we were able to find whatever we were looking for through the four categories. Still, we do have a few minor gripes, namely, that installation took five minutes and didn't recognize our upgrade from the free to prime versions of the software. As such, we had to reinstall the program.
Installation & Usage
9.4 / 10
Avira Antivirus comes with plenty of features. Starting with manual scans, the program offers much more than the usual options: Already on the "Status" home screen, you can launch a Smart Scan, which will check for problems in all three of the program's competencies.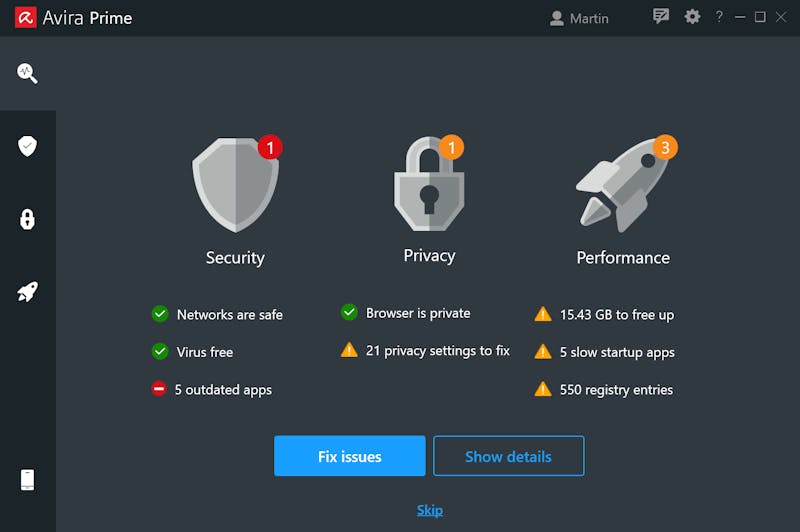 The Smart Scan identifies your system's most serious problems in terms of security, privacy, and performance.
Default and user-defined scans
In addition to the "Full" and "Quick" scans, there are also system, drive, and rootkit scans. Should you want, you can create user-defined scans as well, manually specifying which areas are to be checked, in whatever interval best suits you. Importantly, free users can also take advantage of these options.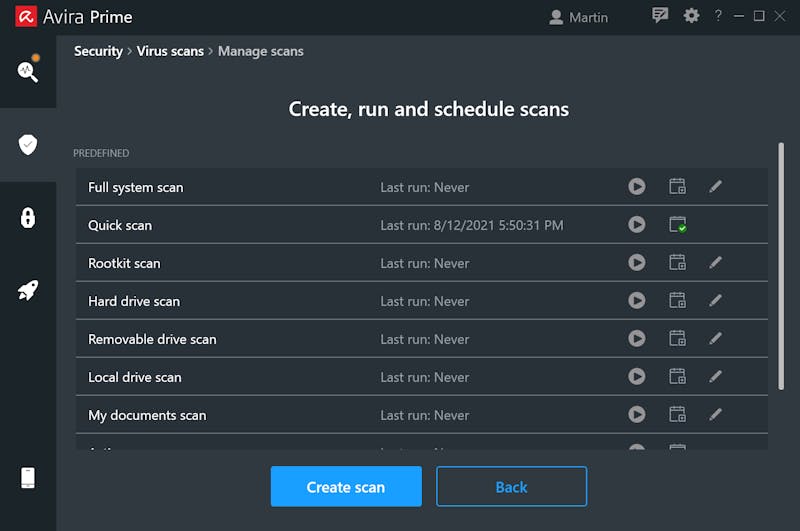 It's possible to create user-defined scans and run them at whatever interval you would like.
Alongside scans, the program also offers real-time protection, which identifies problems before they have a chance to wreak havoc on your system. The strength of these modules depends on your subscription: Users of the free version can only activate system protection.
All other modules are limited to paying subscribers. "Ransomware Protection" guards your system against Trojans that take your data hostage and demand payment for its virtual release. "Web Protection" ensures that you aren't tricked by any malware on dangerous websites. "Email Protection" monitors your attachments and prevents phishing.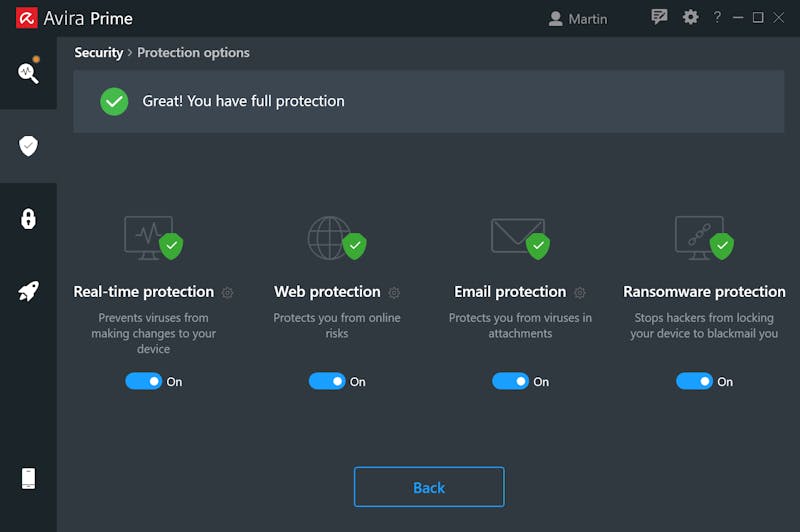 The strength of your real-time protection depends upon your subscription.
A firewall that isn't one
The "Quarantine", "Software Updater", and "Firewall" modules round out the desktop version's offering. The first of these is where potentially malicious files are stored until you decide whether to repair or delete them. As its name suggests, "Software Updater" checks for updates to any programs you have installed, so as to stave off vulnerabilities or gaps.
"Firewall" doesn't actually include a firewall, but rather, allows you to control the firewall that comes with Windows Defender, turning it on or off.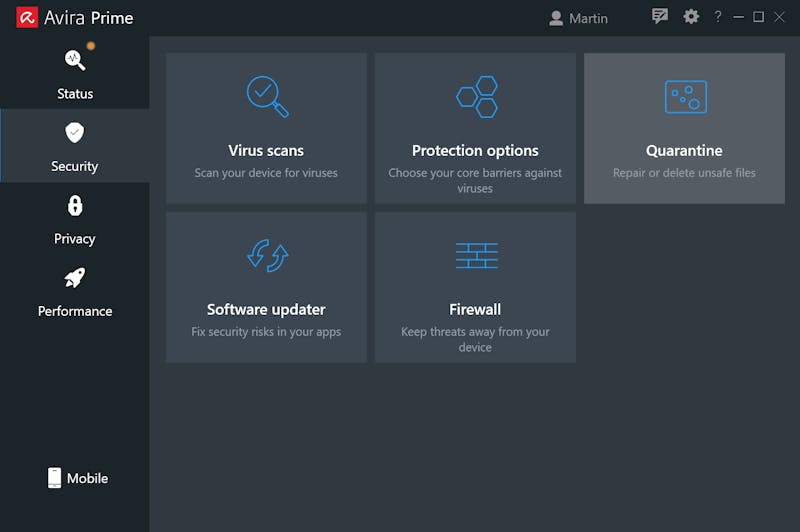 Avira Antivirus's security features.
File shredder and browser protection
Additional security features can be found under the "Privacy" tab. These include a file shredder, which wasn't offered during our last assessment. Using this, it's possible to delete files so that they can't be recovered. "Browser Protection" takes you to the Avira Browser Safety extension which guards your identity online and blocks malware and spam.
Password Manager
Avira develops more than just antivirus software, with its portfolio including all sorts of cybersecurity programs. These are made available in their entirety to Internet Security and Prime subscribers and are conveniently located within the app's "Privacy" tab.
The developer's password manager performed well in our evaluation, even though it offers fewer features and customization options than leading programs like Dashlane or 1Password. You'll be able to access all of the most important features, as well as saved passwords, payment information, and notes through the Avira dashboard. All the same, we recommend managing your data in the program's Web dashboard. In order to auto-complete passwords and other forms, you'll need to install the program's browser extension.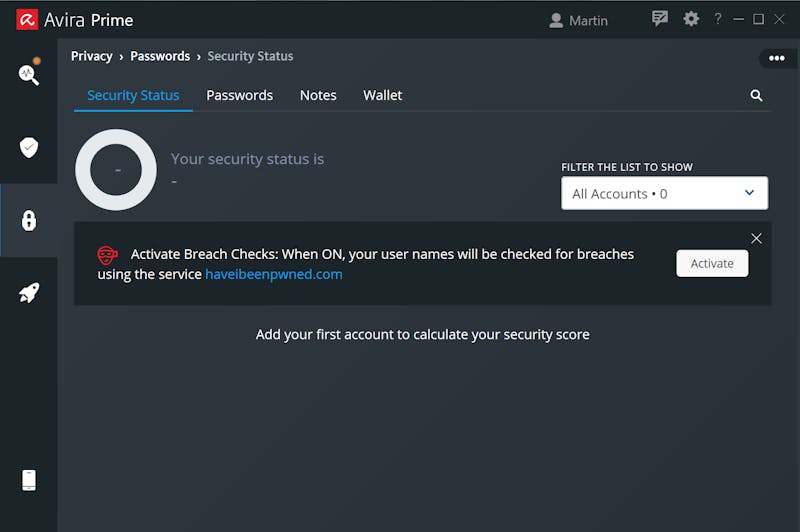 You can generate strong passwords for any account using Avira's password manager.
VPN
In our assessment, Avira's Phantom VPN only received a satisfactory score, with its security presenting cause for concern. In contrast to other VPN services, Avira's has not undergone any independent audits, and, we identified a DNS leak. Support also wasn't the best. Of course, as part of a bundle, we can hardly say no. You can change your virtual location in the antivirus software's dashboard, however, for everything else, you'll need to switch over to Phantom's app.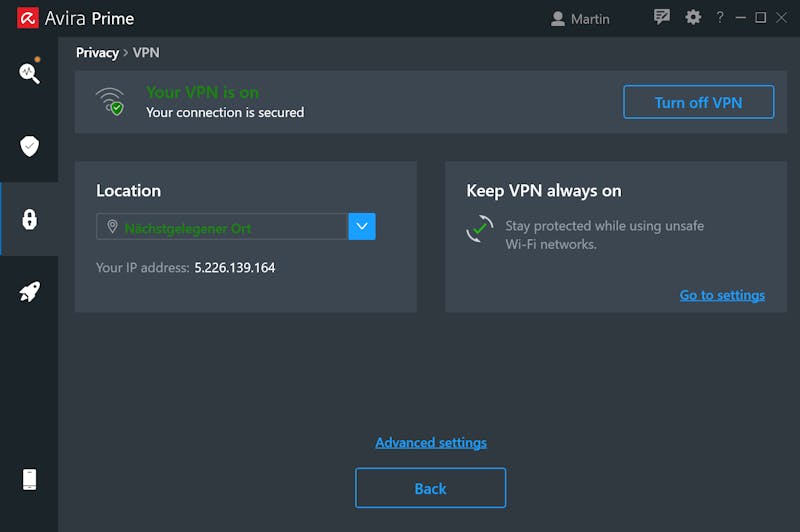 With Avira's Phantom VPN you can surf anonymously from a range of different virtual locations.
Webcam protection is not offered.
Mobile features
Alongside real-time protection and scanning, Avira's mobile app (Prime) also offers a number of additional features which help shore up your smartphone's defenses. These are grouped in the same three categories as on the desktop.
In the "Security" tab, the most important features for mobile users can be found in the anti-theft module. Using these, you can control your device remotely through your Avira account if it has been stolen. It's also possible to delete data, protect apps from unauthorized access with a PIN, trigger an alarm, or even attempt to GPS locate your device.
A number of privacy features are offered on the "Privacy" tab and include a network scanner that identifies suspicious devices connected to your WiFi network, and a permissions manager, which you can use to check which apps have access to your personal data. There's also call blocking to fend off unwanted telemarketers or scammers and a microphone guard. The VPN and password manager also found their way into the mobile app.
Rounding things out, you can enhance your device's performance and free up storage space with "Optimizer".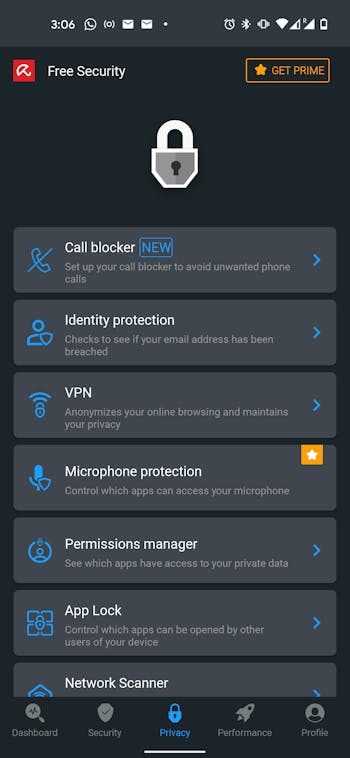 Avira Antivirus offers a number of additional features for smartphone users, such as an app lock and anti-theft tools.
Some features in the mobile app are either limited or only offered to paying subscribers. For example, users of the free version will have to make do without Web protection, the microphone guard, and the password manager. Other features are limited, with a daily data cap of 100 MB for the VPN (again, for users of the free version).
Taken together, Avira provides almost all basic features to users of the free version, also allowing them to configure virus scans. Not all of the paid extras are impressive, and in some cases, Avira could be a bit more generous. For example, ransomware protection is usually offered for free by most of Avira's competitors. Similarly, the absence of a few important features, like an integrated firewall, left us wanting more.
To assess AVG Antivirus objectively, we consulted AV-Test ⇱ and AV-Comparatives ⇱, each of which regularly awards separate scores for performance and security to a range of antivirus programs. We also ran a full system scan, paying close attention to whether any lag or issues arose when carrying out routine tasks.
| | Security | Performance |
| --- | --- | --- |
| | | |
| | | |
| | | |
In the most recent tests available from either of the two testing labs, Avira Antivirus received mixed scores. In AV-Comparatives's February-May 2021 real-world protection test ⇱, the software had only three false positives, albeit, with a protection rate of 98.9% (meaning, that in 1.1% of all cases, the software was ineffective against malware). Nearly every other program from our sample performed better, with the exceptions of ESET and Total AV (which we didn't assess).
Things were somewhat better with AV-Test, with Avira receiving 5/6 points in terms of security, and 5.5/6 points in performance. Even with what appear to be decent scores, the software wound up near the lower end of our sample, with more than half of the software we examined receiving full points in security.
As a result, it's not unreasonable to say that Avira Antivirus's performance with the testing labs was, at best, uninspiring, and at worst, poor. Almost every other program we examined appears to offer more in terms of both security and performance.
Full scan without performance issues
A full system scan with Avira Antivirus took around 50 minutes to complete. Thankfully, this ran quietly in the background, allowing us to continue working on our PC without causing any lag. We were able to load programs and copy files without issue.
In contrast to the other programs from our sample, Avira Antivirus didn't identify a single malicious file on our system. Keeping AV-Comparatives's findings in mind, we were left wondering if the program might have overlooked some threats.
Security & Performance
6.0 / 10
Avira's support center ⇱ serves up FAQs, video guides, a lab with up-to-date information about viruses and other malware, and a well-visited forum. All of the texts are well-written and informative, with some including videos that make the steps particularly clear.
You can only take up direct contact (by email or phone) with Avira if you have an account and a paid license for an Avira product. The latter is staffed from 9 AM to 4 PM.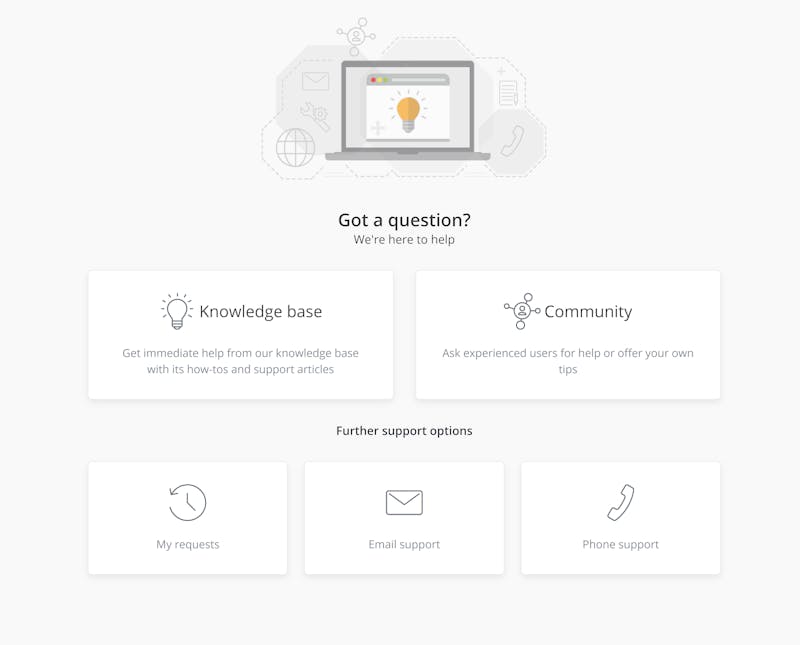 The support center is nicely arranged, featuring a solid variety of articles, guides, and video tutorials.
We received an answer to our email query within five hours. For the hotline, we were put in touch with a support staffer within a few minutes on a Friday afternoon.
Avira's support is solid, however, it would be nice if they offered some sort of live option for free users. As the saying goes though, "beggars can't be choosers".
The Free Security package is, as its name suggests, free of charge. All the same, if using this version, you will have to make do without some critical features, such as ransomware protection.
Three different paid/premium packages are offered, namely: Avira Antivirus Pro, Avira Internet Security, and Avira Prime. The first comes with all features expected of antivirus software. Internet Security adds the password manager, as well as automatic software and driver updates, while Prime includes even more features, such as unlimited VPN.
The price for each depends on how many devices (one/three/five) and for how long (one month/one year/two years/three years) you want to subscribe for.
Below, you can find an overview of Avira's current prices:
Free
Pro
Internet Security
Prime
Set-up Fee
$0.00
$0.00
$0.00
$0.00
Price per Year
$0.00
from $26.99
from $34.99
from $59.99
Contract Period (Months)
0
12
12
12
Software
OS

Windows

macOS

Android

Windows

macOS

Android

Windows

macOS

Android

Windows

macOS

Android

Max. Number of Devices
unlimited
5
5
25
Special Protection Features
Real-time Protection
Internet Security
Email Protection
Ransomware Protection
Webcam Protection
Premium Features
Firewall
Password Manager
VPN Access
Adblocker
Cloud Backup
File Shredder
Parental Control
Performance Tuning
Mobile Features
App Lock
Location Tracking
Remote Lock
Camera Trap
Since subscription packages for each program from our sample vary in terms of what they offer and how much they cost, the table below compares each provider's offering on the basis of a sample. Paid subscriptions to Avira Antivirus are in our sample's mid-range.
1.
2.
360 Total Security
Premium
3.
4.
5.
6.
Bitdefender
Internet Security
7.
8.
9.
10.
11.
12.
13.
14.
F-Secure
Internet Security
Prime can be tested for 60 days for free, however, to do so, you'll need to input a payment method to start your trial. Monthly subscriptions come with a 14-day, money-back guarantee. This is extended to 30-days for all other paid subscriptions.
Conclusion
Installation & Usage
9.4 / 10
Security & Performance
6.0 / 10
Since we last checked in, Avira has completely overhauled its antivirus software, a step that we can only applaud. The results are promising: Intuitive apps that are easy to use with readily accessible features of the sort that the average user of an antivirus wants to have at their fingertips. The software comes with plenty of these, also offering some extras such as a VPN and password manager, at least to its paying subscribers.
Even though Avira has made noticeable improvements to its antivirus software's user-friendliness, its performance has deteriorated, at least so far as the testing labs are concerned. Most worryingly, the program's security is one of the worst-rated among all of the software we assessed. Choosing between user-friendliness and security/protection is a no-brainer: Without the latter, the first is irrelevant. For that reason, in case anyone from Avira is reading, do yourself a favor and concentrate on improving your testing lab scores, particularly in terms of security, since this is where it matters most.
With highly configurable manual scans, solid test lab results, and a huge set of features (including VPN and password manager), Avira is a reliable, easy-to-use all-rounder in the antivirus space.
free version with basic protection
freely configurable scans
7.6

good
Plan
Devices
Protection Features
Premium Features
Avira Free
$0.00
Visit Website »
Download for Free
Customer Ratings
Avira Antivirus enjoys a good reputation with users, and is rated as "very good". A number of reviewers commended its ease of use, while others criticized its support.
Customer Ratings
692,712 Bewertungen
Visit Website
We analyzed the reviews and ratings from various portals and found 692,712 ratings with an overall rating of 4.7 out of 5 .
Alternatives to Avira Antivirus
You're looking for an antivirus that offers more reliable security? The best performing software from our assessment, Bitdefender, was the only service in our sample to receive a perfect "Advanced+" score from AV-Comparatives in its Real-World Protection Test. If that isn't enough, Bitdefender also comes with a firewall and webcam protection.
A list of popular alternatives can be found here:
Our 'best in test' antivirus program Bitdefender boasts strong security, confirmed by independent test laboratories, along with a flawless user interface and a comprehensive set of features.
configurable quick actions
good support with 24/7 live chat
9.6

excellent
Plan
Devices
Protection Features
Premium Features
Bitdefender Antivirus Plus
$23.99
yearly price
Visit Website »
Avast impresses with a great free version covering all the essentials, and a huge set of features that offer well-rounded antivirus protection and some nice extras. Scans can slightly impact performance, however.
Sandbox and WiFi-Inspector
scans can impact performance
8.6

good
Plan
Devices
Protection Features
Premium Features
Avast Free
$0.00
Visit Website »
Download for Free
With its robust set of features, lean applications, and a 100 % antivirus guarantee, Norton Antivirus is definitely worth a look. Sadly, the testing labs aren't unanimously impressed, and one or two features are missing.
learn, user-friendly apps
customizable child protection
100 % antivirus guarantee
8.4

good
Plan
Devices
Protection Features
Premium Features
Norton Antivirus Plus
$19.99
yearly price
Visit Website »
G Data offers virus protection "made in Germany" with solid test lab scores, lots of customization, and great support. The user interface, however, could use a facelift.
many configuration options
interface somewhat outdated
test lab scores "only" solid
8.4

good
Plan
Devices
Protection Features
Premium Features
G Data Antivirus
yearly price
Visit Website »
Trend Micro delivers a solid overall antivirus package with lots of features and some nice extras, such as social media protection. However, the testing labs are a bit divided on the reliability of its protection.
Plan
Devices
Protection Features
Premium Features
Trend Micro Antivirus+
$19.95
yearly price
Visit Website »

Janis von Bleichert studied business informatics at the TU Munich and computer science at the TU Berlin, Germany. He has been self-employed since 2006 and is the founder of EXPERTE.com. He writes about hosting, software and IT security.
Continue Reading