Best Anti-Ransomware 2023: TOP 5 Defenders Against Ransomware

Author
Janis von Bleichert
Ad disclaimer:
For links on this page, EXPERTE.com may earn a commission from the provider. This supports our work and has no influence on our editorial rating.
Ransomware isn't the most subtle type of malware. If you've been caught, you'll know. A program will likely open telling you to pay up or risk permanently losing access to your data. Alternatively known as crypto- or extortion Trojans, ransomware locks your files or even system, only 'releasing' its digital hostages after you've paid a hefty ransom.
In this article, we'll show you how to prevent this from happening in the first place.
Every year, ransomware causes billions of dollars in damages worldwide, easily making it the greatest malware threat to both individuals and businesses. Like most other kinds of malware, ransomware hides on your computer either in executable programs or corrupted files, waiting for the best time to strike.
Prevention is the best defense, and that starts with you. Think twice about opening email attachments from people you don't know and regularly update your operating system and programs to stay ahead of the game.
Best Anti-Ransomware: Our TOP 5
For even more security, most antivirus suites come with integrated anti-ransomware features. We assessed 15 of the leading antivirus programs and now present what we think are the five best ransomware defenders.
1.
Bitdefender Anti-Ransomware
Our 'best in test' antivirus program Bitdefender boasts strong security, confirmed by independent test laboratories, along with a flawless user interface and a comprehensive set of features.
configurable quick actions
good support with 24/7 live chat
9.6

excellent
Plan
Devices
Protection Features
Premium Features
Bitdefender Antivirus Plus
$23.99
yearly price
Visit Website*
Bitdefender came first in our evaluation since the program does nearly everything right when it comes to Internet security with few shortcomings. It serves as an excellent digital bodyguard, which is confirmed by the independent testing labs we consulted, has a sleek and customizable user interface, and offers plenty of features.
Alongside more extravagant extras like a VPN and password manager, the software also provides multi-level protection against ransomware. For example, you'll receive a notification whenever it notices an attempt to encrypt your files. Bitdefender also creates automatic backups of your files and removes ransomware from your system as soon as it's identified.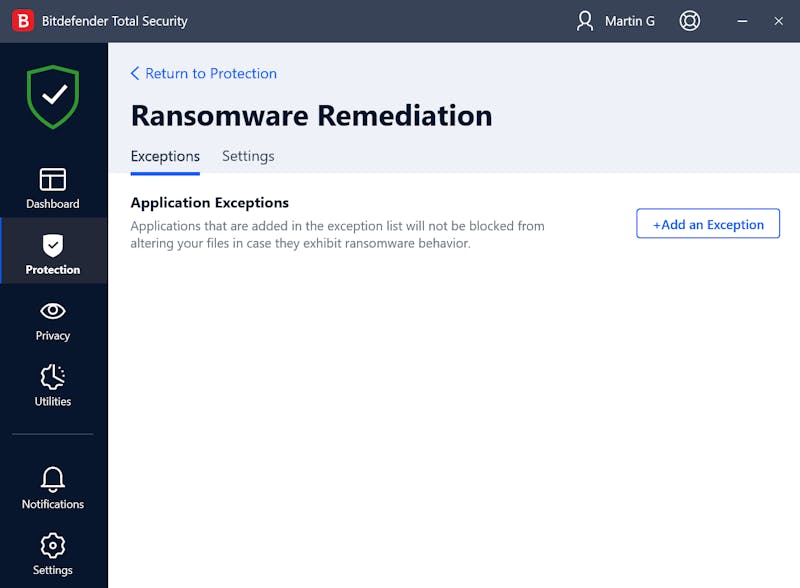 Bitdefender guards your system against online threats, including ransomware.
Thanks to Bitdefender Free, you can get basic protection against ransomware at no cost, however, for the multi-level security we've discussed above, you'll need to pay up.
Excellent user interface with customizable quick actions

Flawless testing lab results

Good support featuring a 24/7 live chat
Installation & Usage
10 / 10
Security & Performance
9.4 / 10
2.
Kaspersky Anti-Ransomware
Unfortunately no matching providers were found!
With its Internet Security antivirus suite, Kaspersky manages to pack a wide range of features into a user-friendly interface. We particularly liked the ability to customize scans and schedule them well ahead of time.
So far as real-time protection is concerned, we also couldn't find many weaknesses, with added security offered for payments (something, for example, missing from Norton). Beyond that, depending on your subscription, you'll also have extras like parental controls, backups, a VPN, and a password manager.
Ransomware protection is included in all Kaspersky packages.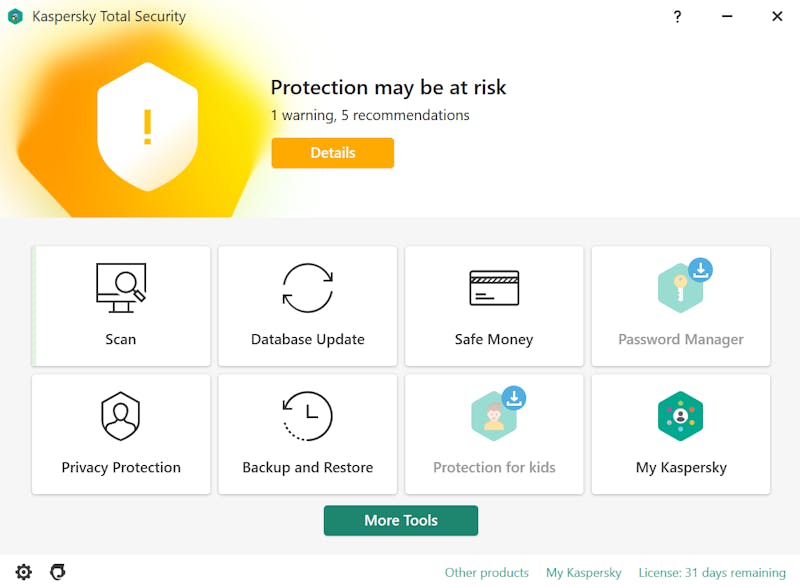 Kaspersky helps to avoid the dangers posed by ransomware.
No free version of Kaspersky's antivirus suite is offered, however, you can download a free anti-ransomware tool from the Russian developer.
Quick to set up and easy to use

Plenty of features in a tidy package

Good security scores from both testing labs
Installation & Usage
9.4 / 10
Security & Performance
8.6 / 10
Avast impresses with a great free version covering all the essentials, and a huge set of features that offer well-rounded antivirus protection and some nice extras. Scans can slightly impact performance, however.
Sandbox and WiFi-Inspector
scans can impact performance
8.6

good
Plan
Devices
Protection Features
Premium Features
Avast Free
$0.00
Visit Website*
Download for Free
Avast Antivirus is one of the most powerful antivirus programs on the market, packing a wide selection of features into an intuitive user interface. The software's "Sandbox" is a real highlight, making it possible to open questionable apps or files in a completely secure environment that won't harm your system.
Avast's robust security, backed up by high scores from the independent testing labs we consulted, also shows in how it combats ransomware. In addition to basic protection, you can add extra security to selected files. Beyond that, Avast offers some decryption tools for thwarting well-known variants of the Cryptolocker virus.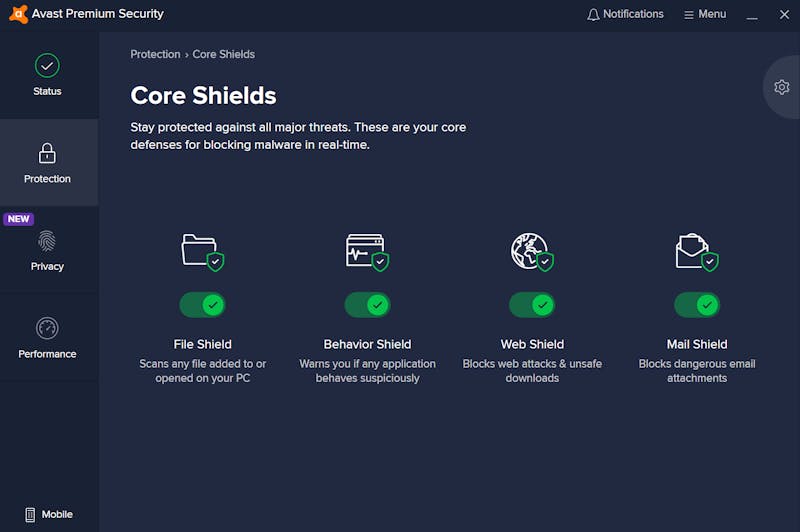 Avast Antivirus makes sure that your system isn't susceptible to ransomware.
Avast Antivirus offers one of the best free antivirus programs out there, and includes all ransomware shields and tools.
Installation & Usage
9.4 / 10
Security & Performance
8.0 / 10
With its robust set of features, lean applications, and a 100 % antivirus guarantee, Norton Antivirus is definitely worth a look. Sadly, the testing labs aren't unanimously impressed, and one or two features are missing.
learn, user-friendly apps
customizable child protection
100 % antivirus guarantee
8.4

good
Plan
Devices
Protection Features
Premium Features
Norton Antivirus Plus
$19.99
yearly price
Visit Website*
Norton's antivirus suite also performed very well among the testing labs we consulted and offers excellent security. We found its user interface to be both elegant and intuitive since it conveniently makes all features accessible. Additionally, its live chat support is deserving of high praise.
Like Bitdefender, Norton 360 also includes a VPN and a password manager, however, its catalog of features is less extensive than that of its Romanian rival. Anti-theft measures are nowhere to be found, and a file shredder needs to be purchased separately, even for premium subscribers.
Norton does provide most of the features that we look for, however: Alongside web, webcam, and email protection, there's also real-time monitoring and of course, anti-ransomware capabilities.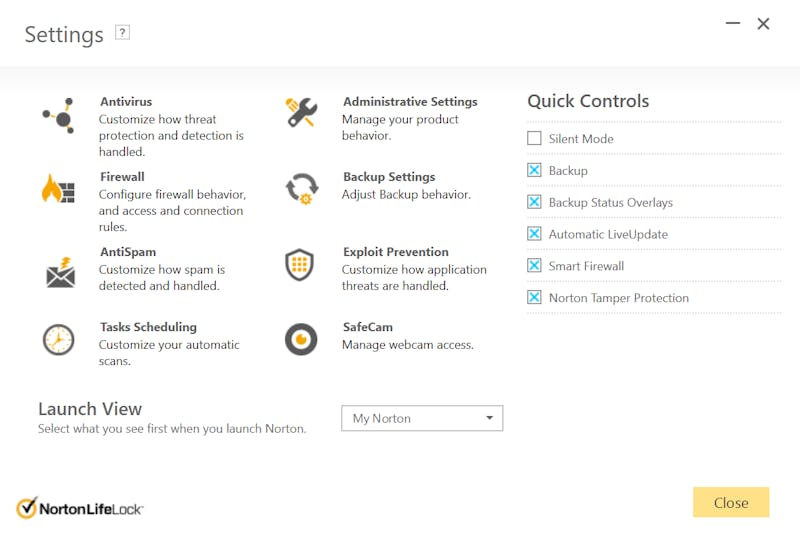 Norton offers anti-ransomware capabilities in all of its subscription packages.
Ransomware protection is included in every Norton subscription, however, the provider doesn't offer a free version of its software, unlike Bitdefender.
Elegant and intuitive user interface

Provides excellent, testing lab-confirmed security
Installation & Usage
8.6 / 10
Security & Performance
8.0 / 10
5.
Trend Micro Anti-Ransomware
Trend Micro delivers a solid overall antivirus package with lots of features and some nice extras, such as social media protection. However, the testing labs are a bit divided on the reliability of its protection.
Plan
Devices
Protection Features
Premium Features
Trend Micro Antivirus+
$19.95
yearly price
Visit Website*
Trend Micro packages strong, testing lab-verified antivirus protection in a user interface that is one of the friendliest we've crossed paths with. Apart from that, the Japanese developer offers excellent support, offering several ways to get in touch.
The software also protects against ransomware, promising to identify it early and quickly restore encrypted folders or files. With the integrated "Folder Shield", you can specify which areas of your system should receive additional security. Should it already be too late for prevention, you can take advantage of Trend Micro's Crypto-Ransomware File Decryptor Tool, which might help to unlock your files.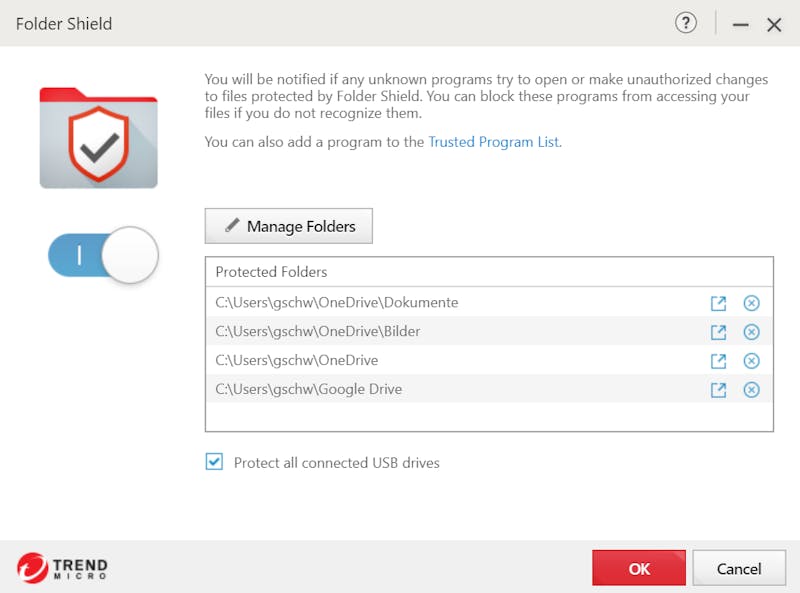 Add extra security to specific files and folders with Trend Micro.
All Trend Micro subscriptions include ransomware protection, however, the developer doesn't offer a free version of their software.
Independent testing lab-verified security and performance

Comes with plenty of features
Installation & Usage
9.4 / 10
Security & Performance
8.6 / 10
Alternatives
Alongside our Top 5 are a number of antivirus programs that afford protection against ransomware. Since ransomware is one of the biggest online threats confronting both individuals and organizations, all 15 programs offer some sort of counter-measures:
Features
Special Protection Features
More Filters
G Data offers virus protection "made in Germany" with solid test lab scores, lots of customization, and great support. The user interface, however, could use a facelift.
many configuration options
interface somewhat outdated
test lab scores "only" solid
8.4

good
Plan
Devices
Protection Features
Premium Features
G Data Antivirus
yearly price
Visit Website*
F-Secure focuses on the essentials and delivers reliable protection from most malware, as demonstrated by its results in the testing labs. But some features, such as webcam protection, are missing.
Plan
Devices
Protection Features
Premium Features
F-Secure Internet Security
yearly price
Visit Website*
Panda Security isn't as feature-rich as the competition, but it offers good protection, backed by solid results in the testing labs. Its free tier is worth a look.
Plan
Devices
Protection Features
Premium Features
Panda Security Advanced
yearly price
Visit Website*
ESET comes with lots of customization and a few handy extra features, such as its Scheduler. Sadly, testing labs aren't unanimously convinced of the program's protective powers.
simple and intuitive interface
many configuration settings
extras such as UEFI scanner
7.6

good
Plan
Devices
Protection Features
Premium Features
ESET Advanced Security
yearly price
Visit Website*
30 Days Free Trial
With highly configurable manual scans, solid test lab results, and a huge set of features (including VPN and password manager), Avira is a reliable, easy-to-use all-rounder in the antivirus space.
free version with basic protection
freely configurable scans
7.6

good
Plan
Devices
Protection Features
Premium Features
Avira Free
$0.00
Visit Website*
Download for Free
With its solid free tier, AVG offers basic protection for everyone – while paying customers get a huge set of features that covers all your basic anti malware needs and more. Sadly, AVG's support isn't great.
Plan
Devices
Protection Features
Premium Features
AVG Free
$0.00
Visit Website*
Download for Free
Sophos Home scores some points with its generous free tier and its intuitive user interface, but it doesn't have the range of features we expect from a modern antivirus suite.
affordable premium licenses
few options for manual scans
7.6

good
Plan
Devices
Protection Features
Premium Features
Sophos Home Premium
$45.00
yearly price
Visit Website*
Download for Free
How We Tested
In choosing our Top 5 we focused on our overall ranking of the best antivirus programs as well as their specific anti-ransomware capabilities. Our ranking is based on extensive reviews of all 15 providers from our sample, which in turn, reflects their scores in these four categories:
Installation & Usage
How long did it take to install the software? Is a free version available? If so, is it necessary to input a payment method to download/use it? How much time does it take to get used to the app? Is it easy to navigate? We answered all of these questions and more to kick off each review, going through the installation and setup process step by step.
Our 'best in show', Bitdefender, shined in this category: Not only is its dashboard elegant and logically arranged into different topical areas, but users can add or remove quick actions from the home screen at will, making the program their own.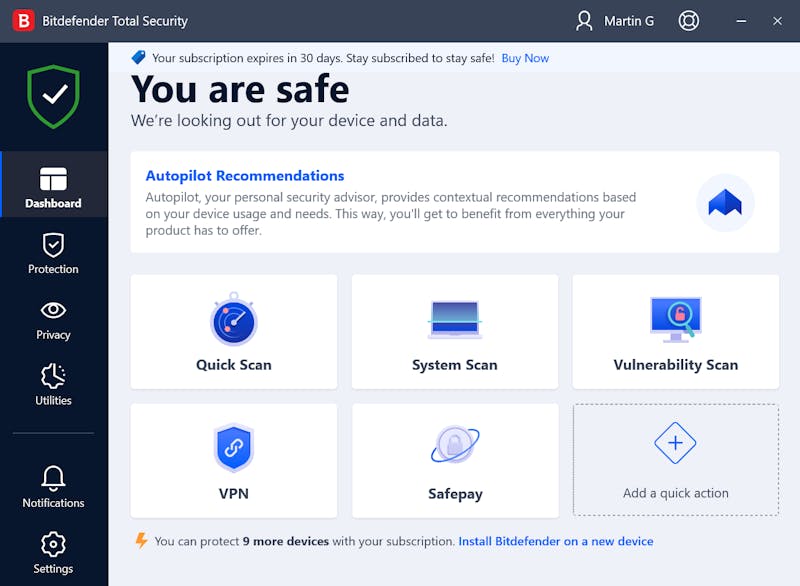 When it comes to intuitive design in antivirus software, Bitdefender is the gold standard.
Features
All antivirus software should come with a few basics, like scans and real-time protection against malware. However, even here, there can be variations, such as the ability to customize scans or real-time protection. We looked at each program's core features, as well as what else they offer, from password managers to parental controls. In concluding this section, we also examined each provider's mobile app.
Security & Performance
We don't evaluate each program's security, since others can do that much better than us. Foremost among them are the two independent testing labs we trust, AV-Test and AV-Comparatives. Both regularly and thoroughly assess nearly all well-known antivirus solutions and award security and performance scores. How effective software is at protecting against ransomware figures prominently in its security score.
Support
Some users are DIY types, others prefer to ask pros. Antivirus developers should cater to both and provide a comprehensive help center loaded with tutorials, FAQs, step-by-step guides, and other content for the first group. For the second, multiple and easy-to-find ways to contact their support staff are necessary. At the very least, this should include an email/support ticket, and ideally, a live chat and/or hotline.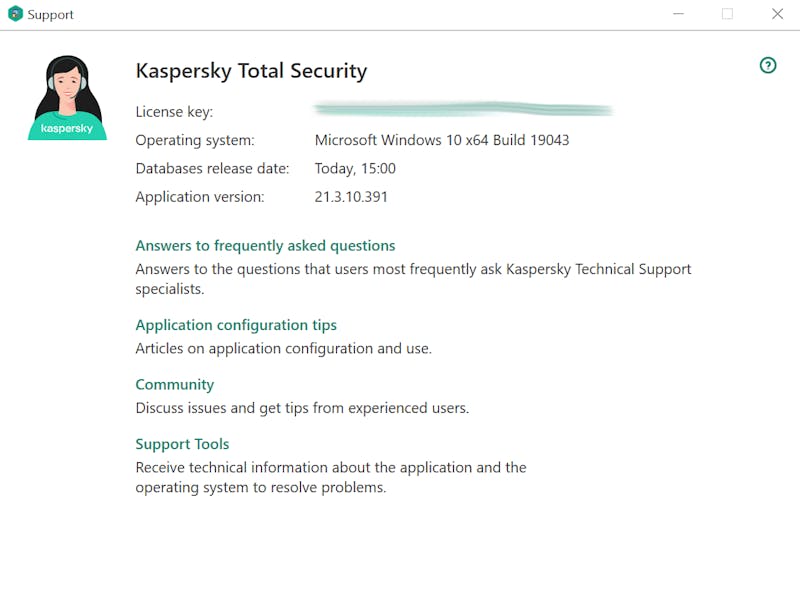 Kaspersky combines a well-stocked help center with multiple channels for reaching out to the developer's support staff.
Do you want to learn more about how we assessed each individual provider? You can read full reviews, as well as a longer explanation of our methodology in our comprehensive guide to antivirus software.
Conclusion
Unfortunately, ransomware is here to stay. Digital extortion will continue, and according to experts, likely grow, since it's easy and profitable. For that reason, it's more important than ever to protect yourself against ransomware attacks. Browsing or surfing behavior, how often you install updates for your operating system and software, and your tendency to open emails from people you don't know all impact your vulnerability.
To protect yourself even further, look no further than antivirus software, particularly since the real-time protection features accompanying modern programs specifically monitor against ransomware. The best programs in EXPERTE.com's evaluation were Bitdefender, Kaspersky, Avast, Norton 360, and Trend Micro. But don't take our word for it: You can check all of our reviews for yourself in our ranking of antivirus software.
FAQs
Ransomware is a type of malware that encrypts files, folders, or even entire operating systems, demanding a monetary payoff from their owner for the decryption key. The first ransomware attacks date back to the 1980s, however, today, these are responsible for billions of dollars in damage.
How can I guard against ransomware?
⊖
As with all types of malware: Exercise caution. Regularly update software and your operating system, don't open emails or download attachments from strangers, and create external backups, for example, on the cloud. Beyond that, you can bolster your digital defense with a solid antivirus program, since nearly all of these come equipped with anti-ransomware tools.
What does anti-ransomware do?
⊖
Typically, antivirus programs combine a number of different processes and tools to offer comprehensive protection against ransomware. Threats, often highly complex, are identified at multiple levels and blocked, with security gaps, such as missing patches, outdated software, or configuration errors recognized and fixed. Most antivirus suites also offer the ability to add extra layers of security to specific files or folders.
How can I remove ransomware from my system?
⊖
Antivirus programs offer a range of different decryption tools that you can use to restore files that have been encrypted against your will. Should you have a recent Windows backup, you can also simply restore your system from it. One thing is certain though: Don't ever pay the ransom. In our guide to combating ransomware, you can find out everything else you need to know to remove this type of malware.
* Ad disclaimer:
For links marked with an asterisk, EXPERTE.com may earn a commission from the provider. The commission has no influence on our editorial rating.

Janis von Bleichert studied business informatics at the TU Munich and computer science at the TU Berlin, Germany. He has been self-employed since 2006 and is the founder of EXPERTE.com. He writes about hosting, software and IT security.
Continue Reading