Bitwarden Review 2023: A Good Choice for Secure Passwords?

Our editors test and evaluate all services independently. For links on this page, EXPERTE.com may earn a commission from the provider.
Websites and services are constantly under digital siege with attacks a daily occurrence and data leaks proving disastrous for users and their privacy. One of the most popular defensive measures many have begun to adopt is the use of password managers.
These generate unique, secure passwords for each service that you use, saving and encrypting them in a central location, making them accessible only via your master key. One of the newest faces in the password manager game is Bitwarden.
What Is Bitwarden?
Bitwarden* is an open-source password manager developed by 8bit Solutions LLC and available for Windows, macOS, Linux, Android, iOS, and a wide range of browsers. The service was first introduced to the market as a mobile app in 2016, with standalone software for desktops following in 2018. As such, Bitwarden is something of a newcomer among password managers. Below, we'll let you know whether it can hold its own against its more experienced competitors.
Bitwarden Review
Installation & Usage
9.4 / 10
Excellent user-friendly applications

Robust, externally-tested security

Reliable autofill in the desktop version
Disappointing autofill in the mobile app

Some basic features behind paywalls
Bitwarden is available for a variety of different platforms. When starting out, the first step is to choose the appropriate installation file from the download section of the provider's website. You can create a free account either on the website or in the desktop client. As with most password managers, you'll then have to come up with a master password which serves as the combination to your digital password vault.
The app will tell you how secure your master password is and lets you add a hint in case you need help remembering it.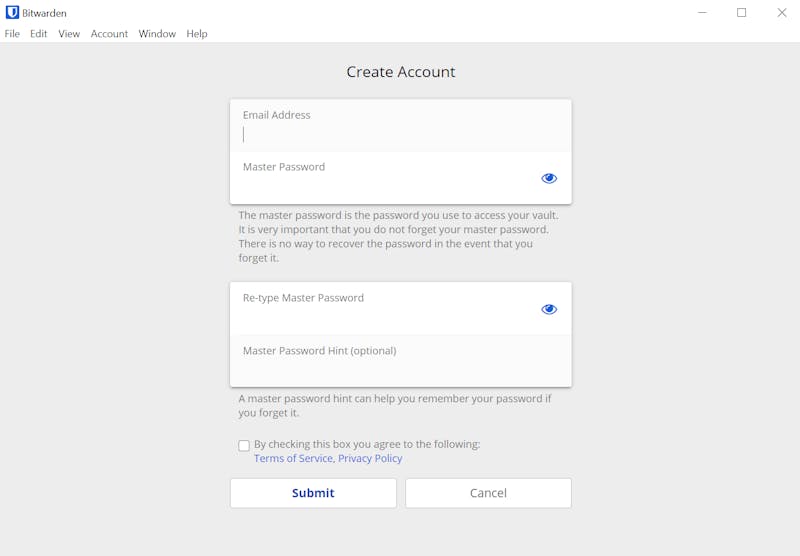 Bitwarden helps to create a strong master password.
Upon registering, you'll be taken to the dashboard, which is split into three vertical columns. In the column on the left, you'll find the main menu, shortcuts, types of data sets, and folders. The middle column displays your individual data sets and features a nifty search function. Finally, the column on the right displays additional information relating to the entries you've selected.
New entries can be created by clicking on the plus symbol. Bitwarden sticks to tried and tested designs, and it shows. The simple and clear interface is easy to use, and you won't need long to find whatever features you're looking for.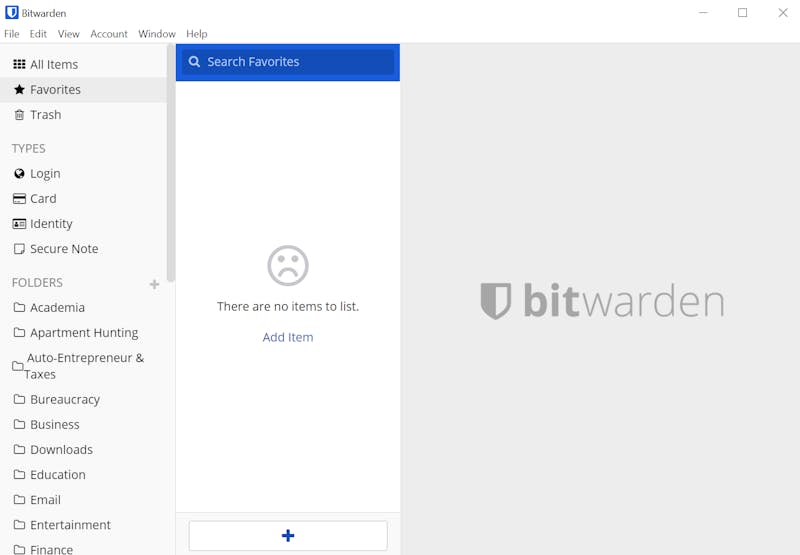 It doesn't take long to find your bearings in Bitwarden's user interface.
The only exception to this is the import function, which can be somewhat tricky to locate. Data can only be imported through your Web Vault, the browser version of the vault. We were able to successfully import a LastPass CSV file here. Usernames and passwords were correctly imported, with LastPass categories displayed as folders in Bitwarden's main menu.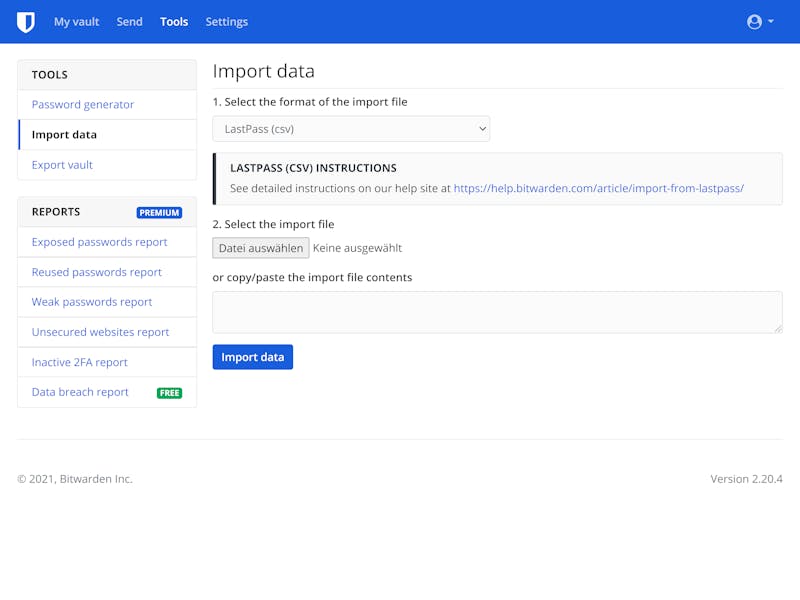 To import data sets, you'll need to head over to the Web Vault.
Bitwarden might be new to the password manager game but it has certainly been paying close attention to its more experienced competitors, incorporating elements that work into its design. Its apps are all intuitive to use and its features don't require lengthy explanations, allowing even newcomers to get started quickly.
Intuitive Usage, Whether Browser- or Desktop-Based
Bitwarden can be broken down into three components, namely, its Web Vault, the desktop app, and the browser extension.
Web Vault
The Web Vault provides access to more specialized features that ostensibly see less use, including the aforementioned import feature as well as reports about the security of your passwords. Unfortunately, the latter are only available to premium users.
To keep its desktop app svelte, Bitwarden moved a number of important features to the Web Vault, such as data imports. We have trouble understanding their underlying reasoning for exiling importing to the vault. You can access the Web Vault from the desktop app by clicking on Help > Open Web Vault. It would be nice if switching between the desktop app and the Web Vault was facilitated with a shortcut, and linked to from within the browser extension.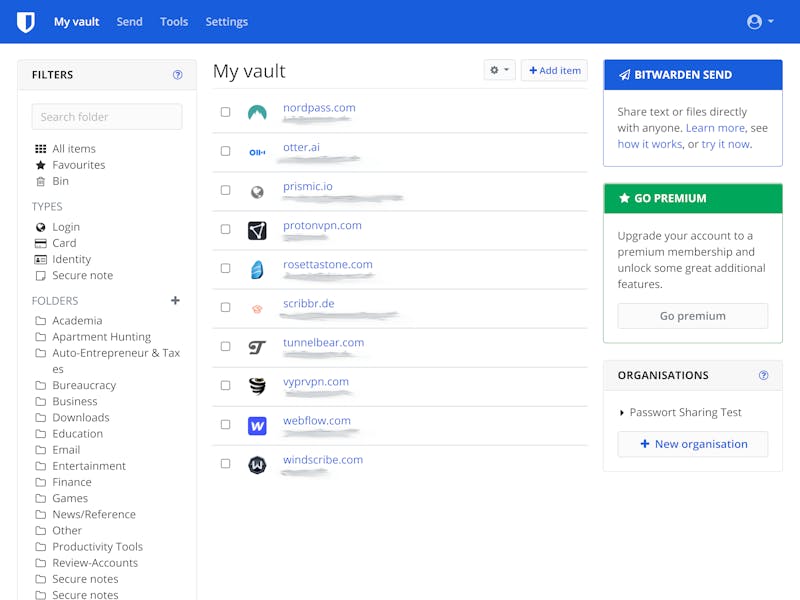 A number of features are only accessible in the Web Vault.
Desktop App
Using the desktop app, it's possible to exercise greater control over your data sets, creating new entries manually if need be. It's nice to see that this feature isn't behind a paywall. The desktop app's dashboard offers a straightforward no-frills user experience.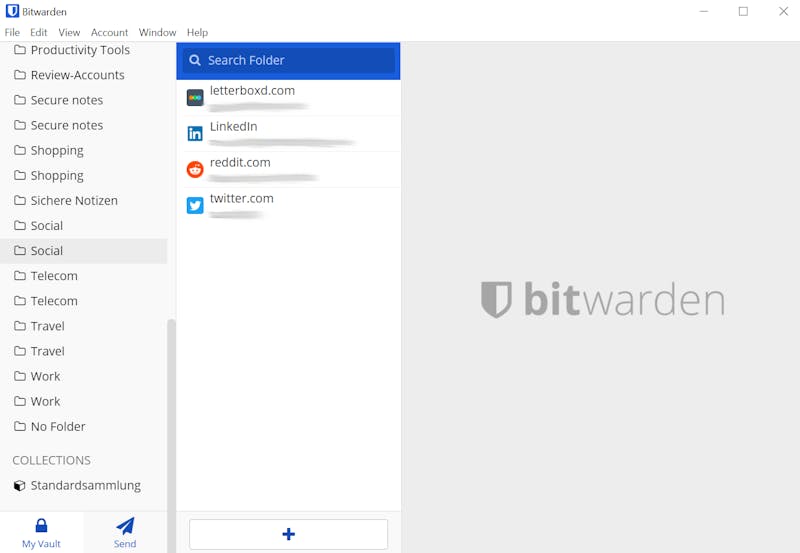 Bitwarden's desktop app is intuitive.
Powerful browser extension with solid autofill capabilities
The browser extension is not installed automatically, and as such, needs to be added manually. This is easy enough to do via the Bitwarden website and only takes a few seconds. Bitwarden's developers seem to have drawn inspiration from some of the service's competitors, with the browser extension being little more than a mini version of the desktop app.
It does come with a few more features than the browser extensions of its competitors, such as the ability to create new entries or access your entire vault. We also liked how Bitwarden allows users to open the extension in a separate window. This means that you won't always need to load the desktop version, since the browser extension offers nearly identical features.
The browser extension also comes with a password generator, making it possible to securely share data and notes (more on this in the next section).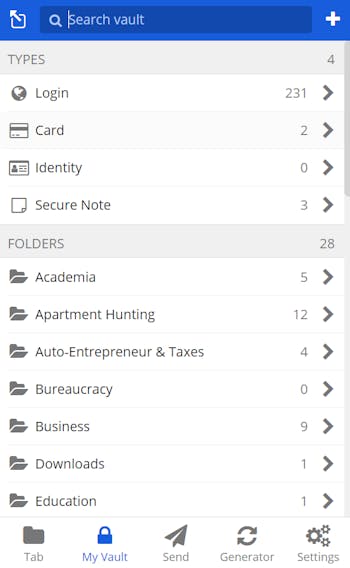 Bitwarden's browser extension offers access to a number of features.
Bitwarden doesn't put on a dog and pony show: Instead, its app is simple by design with the spotlight squarely on the password manager's core features. While perhaps controversial, the assignment of less commonly used features to the Web Vault helps keep the desktop app and browser extension free of clutter. In our opinion, this gamble pays off, since it means anyone can effectively use Bitwarden out of the box, although it might be frustrating to some who often need these features. Whatever problems you might encounter can be quickly (and easily) rectified.
Installation & Usage
9.4 / 10
Bitwarden's neatly arranged user interface offers access to a number of useful features while not neglecting to serve up any of the basics. Naturally, this entails a password generator that lets you create secure passwords and passphrases, using basic character and length settings.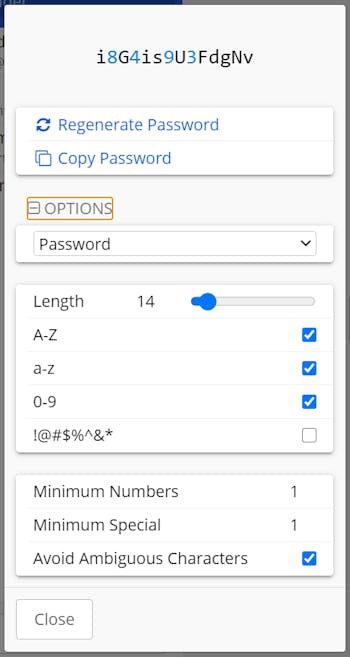 Using Bitwarden's password generator, you can create secure passwords and passphrases.
You can also set a PIN to use for unlocking your Bitwarden account in place of the master password. Thanks to the many themes on offer, it's possible to change the app's design at any time.
Password Sharing
Sharing passwords works a little differently with Bitwarden. In the Web Vault, you'll need to create "organizations", into which you insert data sets that are intended to be used by multiple users.
Unfortunately, this feature, which is offered by other providers at no charge, is not free with Bitwarden and is actually, an at-cost add-on, even for paying subscribers. Administrators can create an organization for free but are only able to add two other users to it, having to pay for anyone else beyond that. The fee for this starts at $3 per month.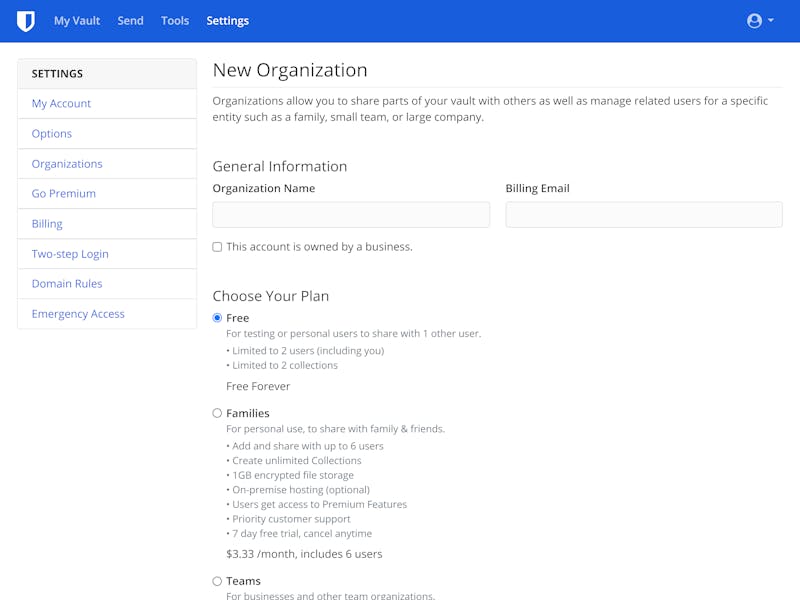 Bitwarden allows data sets in your vault to be shared with others through the creation of user-defined "organizations".
Security Test
Regrettably, security features also don't come with Bitwarden's free version, and only premium users can access these via the Web Vault. Paying customers can look forward to reports about compromised, weak, or reused passwords. Only the theft report is provided at no cost.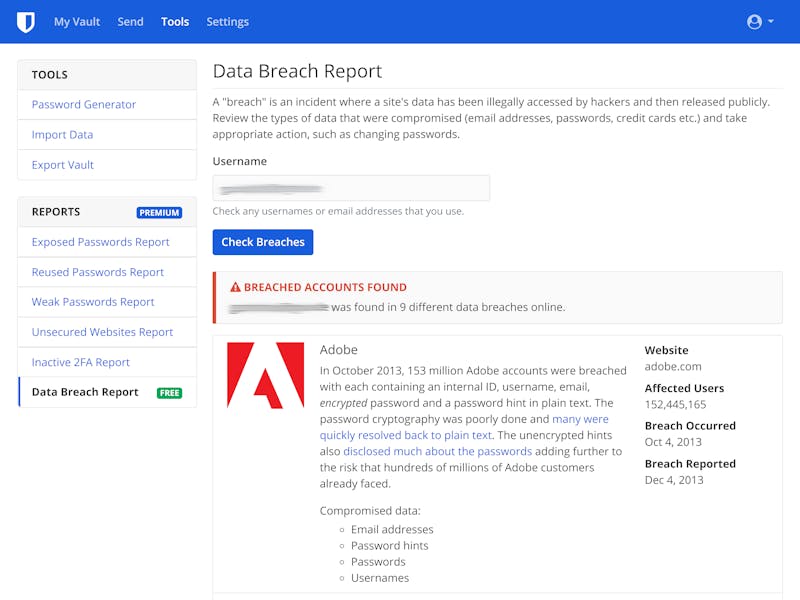 The data theft report quickly informs you if any of your accounts have been impacted by leaks.
Autofill
Bitwarden's standard login autofill left a good impression on us and the browser extension filled in login forms correctly on all of the websites we tested it on. Similarly, bank data was automatically copied to the correct form. Autosave, which automatically saves new login data, was a bit problematic during our last test, but on this occasion, worked perfectly.
Unfortunately, Bitwarden doesn't open a button directly in the login form for usernames and passwords, like most of its competitors. Especially when creating a new account or changing a password, this would come in handy. All told, the short detour through the browser extension isn't too much of an issue.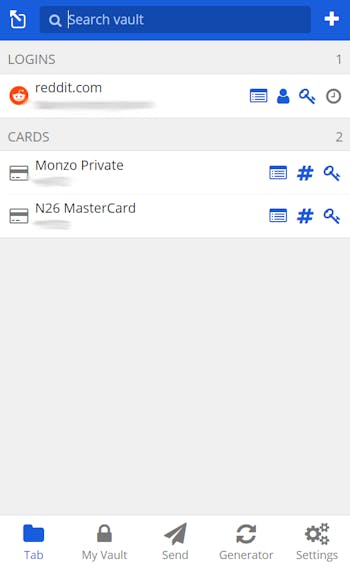 Autofill works through the browser extension.
Bitwarden scores thanks to its reliable autofill and provision of all important features. It is frustrating that you need to pay to access some of these, even if you're already a premium subscriber. However, owing to the software's reasonable pricing, this won't do a great deal of damage to your wallet.
Bitwarden makes use of AES 256, which is considered to be uncrackable. Due to their adherence to the zero-knowledge principle, only you ever know your master password and Bitwarden has no access to it.
The app also comes with two-factor authentication. Users of the free version can take advantage of authenticator apps such as Google Authenticator and Authy or verify a login via email. Premium users are given access to additional options such as Yubikey and Duo Security.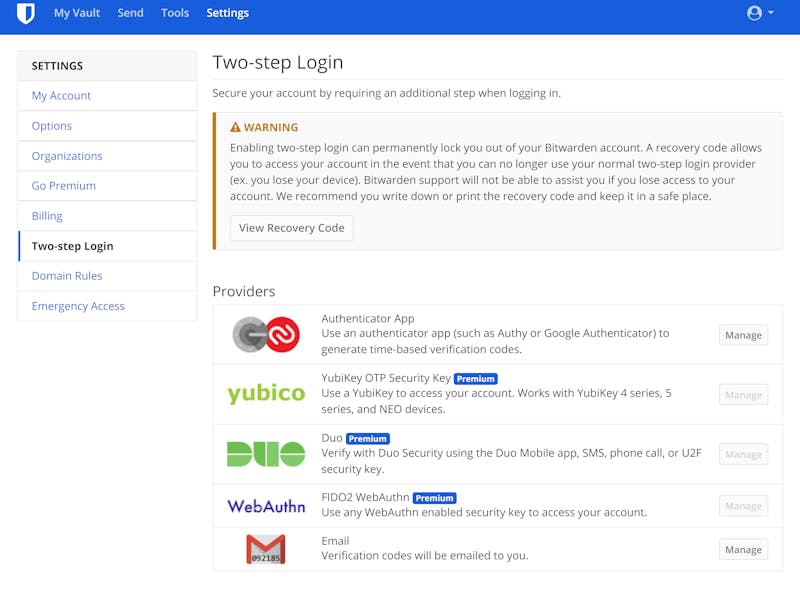 Bitwarden comes with a number of useful 2FA options.
Bitwarden last underwent an external security audit by Insight Risk Consulting in 2020, which ascertained no significant threats or vulnerabilities. Even though external audits have become increasingly popular among VPNs, they haven't come into vogue among the developers of password managers. As such, Bitwarden's willingness to undergo such an audit shows that the developer doesn't take its users' security and privacy lightly and we commend them for their initiative.
Bitwarden's mobile app is very similar to its desktop client. In the main interface, the vault, you'll find your data sets, folders, and collections. The password generator and settings are all accessible via the menu.
Bitwarden's mobile app doesn't come with a dedicated browser, so data sets open automatically in whatever browser is set as default on your phone or device. Autofill wasn't as reliable in the mobile app as it is in the desktop version, and the Bitwarden button didn't always appear in the fields where it should.
You can access all of the most important features in Bitwarden's mobile app.
Should you want to avoid constantly having to enter your master password, it's possible to unlock your mobile vault via PIN or fingerprint.
All things considered, the Bitwarden app does everything one might expect from such a service even though autofill was a bit unreliable.
Bitwarden's help center provides answers to most FAQs users might have. More specific questions can be posted to the service's forum. If you want to contact the developers directly, you can only do so via email since neither a ticket system nor live chat is in place. We received an answer to our query (on a Saturday) after around 11 hours.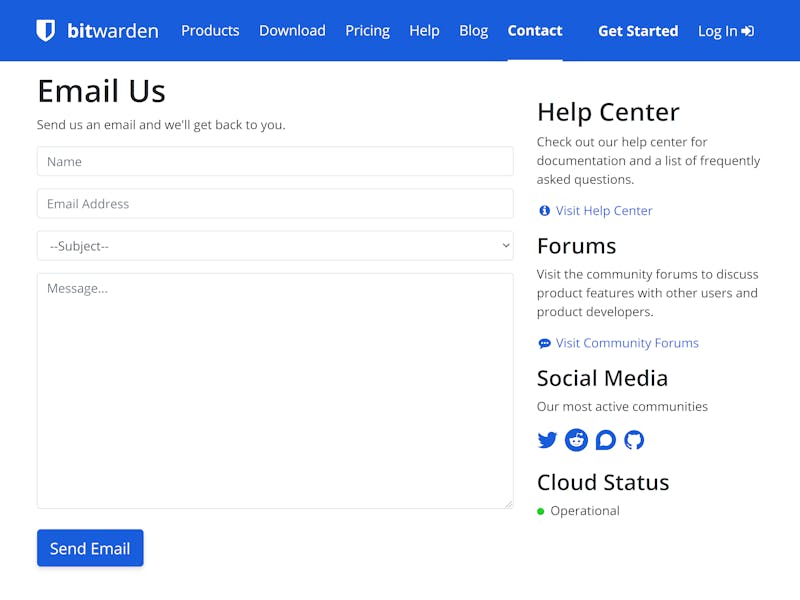 Bitwarden only offers email support, but its response times are decent.
The staffer who answered our query was quick and helpful, however, we would still like to see more support channels on offer.
Bitwarden is relatively affordable. Its premium version, which provides users with access to additional security features, data storage, and better support, costs a measly $10 per year. You should expect extra costs if you intend to use the software's sharing (organizations) feature. Businesses can take advantage of special rates.
The software's free version is also worth taking a look at. You will have to live with a few limitations, however, the number of data sets you can save isn't one of these. As such, for anyone looking for a free password manager, Bitwarden is an excellent solution.
The table below provides a detailed look at Bitwarden's current pricing structure:
Free
Premium
Teams
Families
Enterprise
Set-up Fee
$0.00
$0.00
$0.00
$0.00
$0.00
Base Price per Month
$0.00
$0.83
$0.00
$3.33
$0.00
Price per User
-
-
$3.00
-
$5.00
Contract Period (Months)
0
12
12
12
12
Limits
Number of Users
1
1
unlimited
6
unlimited
Number of Passwords
unlimited
unlimited
unlimited
unlimited
unlimited
Number of Devices
unlimited
unlimited
unlimited
unlimited
unlimited
Features
Sync Multiple Devices
Password Sharing
Teams
Zero-knowledge Encryption
Emergency Contacts
Two Factor Authentication
Local Storage
Browser

Edge

Chrome

Firefox

Safari

Opera

Edge

Chrome

Firefox

Safari

Opera

Edge

Chrome

Firefox

Safari

Opera

Edge

Chrome

Firefox

Safari

Opera

Edge

Chrome

Firefox

Safari

Opera

Platforms

Cloud / SaaS

Windows

macOS

Linux

iOS

Android

Cloud / SaaS

Windows

macOS

Linux

iOS

Android

Cloud / SaaS

Windows

macOS

Linux

iOS

Android

Cloud / SaaS

Windows

macOS

Linux

iOS

Android

Cloud / SaaS

Windows

macOS

Linux

iOS

Android
Conclusion
Installation & Usage
9.4 / 10
Bitwarden does a lot of things right: The relatively young password manager excels thanks to its intuitive apps, reliable autofill, and practical security features. Further sweetening the pot are its affordable price and highly usable free version.
Unfortunately, Bitwarden does suffer from a few shortcomings here and there. For example, autofill doesn't work as well in the mobile app as it does on the desktop. We also weren't thrilled to see that some at-cost add-ons, even for premium subscribers, feature in the mix. All the same, owing to the service's affordability, this isn't the end of the world.
Overall, Bitwarden offers excellent performance at an affordable price.
Bitwarden Password Manager
Bitwarden can impress with easy-to-use apps, reliable autofill, and a few handy security features. Plus, it's pretty affordable – and offers a solid, feature-rich free plan.
user-friendly applications
good security, externally tested
paid features (e.g. password sharing)
8.4

good
Passwords
Devices
Users
Contract Period
Bitwarden Free
$0.00
monthly price
Visit Website*
Customer Ratings
But what do users have to say about Bitwarden? To let you know, we've gathered their comments and feedback from reliable review portals below:
Customer Ratings
53,504 Bewertungen
Visit Website*
We analyzed the reviews and ratings from various portals and found 53,504 ratings with an overall rating of 4.5 out of 5 .
Alternatives
If you're looking for a password manager with an equally good free version, we can recommend NordPass. Like Bitwarden, it also doesn't limit the number of data sets you can store or devices you can sync with.
Should you be ready to pay for top-of-the-line service, we advise taking a look at Dashlane, the winner of our comprehensive evaluation.
The best alternatives can be found below:
Dashlane Password Manager
Dashlane is a great all-rounder that makes managing your logins and other account details as easy as pie thanks to its many features, a strong security posture, and an easy-to-use interface.
user friendly and intuitive
zero-knowledge encryption
comprehensive security center
automatic password changer
9.1

excellent
Passwords
Devices
Users
Contract Period
Dashlane Free
$0.00
monthly price
Visit Website*
Try for free
1Password Password Manager
1Password's password vault is filled to the brim with features, including handy extras such as the travel mode. With excellent security and a solid user interface on top, 1Password is one of the best password managers out there.
zero-knowledge encryption
reliable autofill function
8.7

good
Passwords
Devices
Users
Contract Period
1Password Standard
$2.99
monthly price
Visit Website*
Free 30 days trial
Keeper is one of the best password managers on the market thanks to its many features, high reliability, and extensive configuration options.
Passwords
Devices
Users
Contract Period
Keeper Security Unlimited
$2.04
monthly price
Visit Website*
Download Keeper
NordPass Password Manager
NordPass stands out with its beautiful design and ease of use, and offers a fully-fledged free version that allows you to create and synchronize an unlimited number of passwords.
full-featured free version
few options for customizing data sets
8.5

good
Passwords
Devices
Users
Contract Period
NordPass Free
$0.00
monthly price
Visit Website*
30-day money-back guarantee
Enpass offers intuitive application with solid features and reliable autofill. Handy: the connection to the cloud is optional, and you can synchronize locally if you prefer.
one-off price instead of subscription
optional cloud connection
not great for password sharing
8.2

good
Passwords
Devices
Users
Contract Period
Enpass Free
$0.00
monthly price
Visit Website*

Martin Gschwentner majored in American Studies and Media Studies in Germany, the USA and France and works as a freelance editor in Paris. He is a doctoral student at the Institute for English and American Studies at the University of Paris Diderot, where he is researching the influence of money on US politics. On EXPERTE.com he writes about IT security, data protection and software for the self-employed and small businesses.

Translator & Editor: D Bare
Continue Reading
Reviews
Comparisons
Tools & Guides
Ad disclaimer
* For links marked with an asterisk, EXPERTE.com may earn a commission from the provider. The commission has no influence on our editorial rating.