Android Antivirus - TOP 4 Virus Scanners for Android
On PCs and laptops, antivirus programs have become part of the furniture. Since smartphones are little more than pocket computers, which we use more to surf the net than to talk, protection against viruses on the go is critical. Not least since threats are multiplying: In 2018 alone, the number of new mobile malware variants increased by 54% - with 98% of all mobile malware targeting Android devices. In our opinion, that's reason enough to take a closer look at what antivirus solutions are available for Android devices.
As part of EXPERTE.com's comprehensive antivirus software evaluation, we reviewed 11 services on the basis of their user-friendliness, features, security, support, and pricing. To gauge the degree of security which they afford, we relied on AV Test's assessments, which are regularly summarized in a list of the best antivirus solutions for Android.
TOP 4 Android Virus Scanners
In this article, we've combined AV-Test's results with our own findings, presenting you with our Top 4 antivirus solutions for Android. Each of these offers not only excellent security but also impresses in additional areas as well. We truly only selected the best, with each of the four apps below receiving perfect 6/6 scores from AV-Test in regards to protection, performance, and usability.
1.
Bitdefender Mobile Security
excellent protection results
configurable quick actions
good support with 24/7 live chat
Our test winner Bitdefender not only offers high security, confirmed by independent test laboratories, but also convinces with its flawless usability and a comprehensive feature package.
Plan
Devices
Protection Features
Premium Features
Bitdefender Antivirus Plus
$29.99
yearly price
Visit Website »
Bitdefender Mobile Security is available either as a stand-alone product or in combination with Bitdefender Total Security. The program offers a number of features specifically for mobile devices, including powerful real-time protection, a malware scanner, as well as a number of tools for guarding your privacy online.
With the app lock, it's possible to add an additional layer of security, such as a PIN code, to your most sensitive apps. The integrated VPN provides users with 200 MB of anonymous surfing on the go per day.
Rounding out the list of what Bitdefender Total Security has to offer are anti-theft features, such as the ability to remotely locate, lock, or even wipe your device.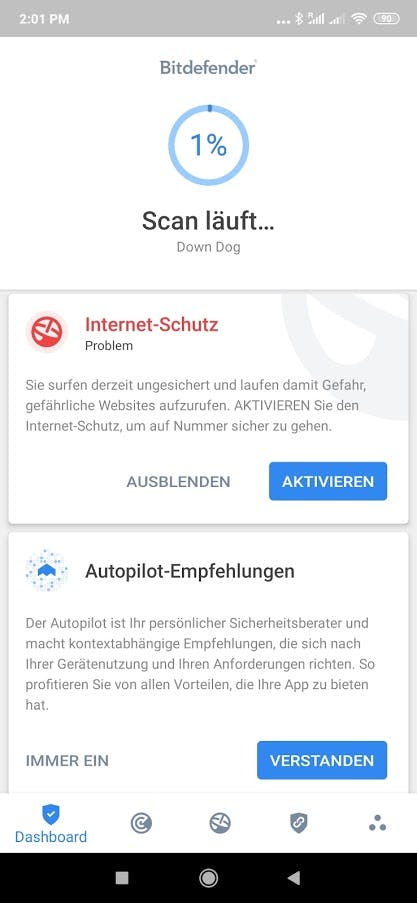 elegant-intuitive application
good protection performance
incl. password manager and VPN
missing standard features on macOS
Plan
Devices
Protection Features
Premium Features
Norton Antivirus Plus
$19.99
yearly price
Visit Website »
Norton is one of the most well-known names in cybersecurity, so, it's little surprise that its mobile security suite (Norton Mobile Security) makes an appearance on our list. This app is also available either on its own or in combination with Norton 360. Alongside standard features, such as proactive malware blocking and anti-phishing web protection, there's also an app adviser, which automatically scans apps and informs you about potential threats to your privacy and/or susceptibility to adware.
Unfortunately, Norton Mobile Security doesn't come with as many bells and whistles as some of its competitors do. For example, a VPN is only provided in the Norton 360 package, and you'll have to do without both an app lock and anti-theft measures, regardless of which subscription level you choose. This is all the odder since anti-theft measures have grown to be an almost standard feature amongst mobile antivirus solutions.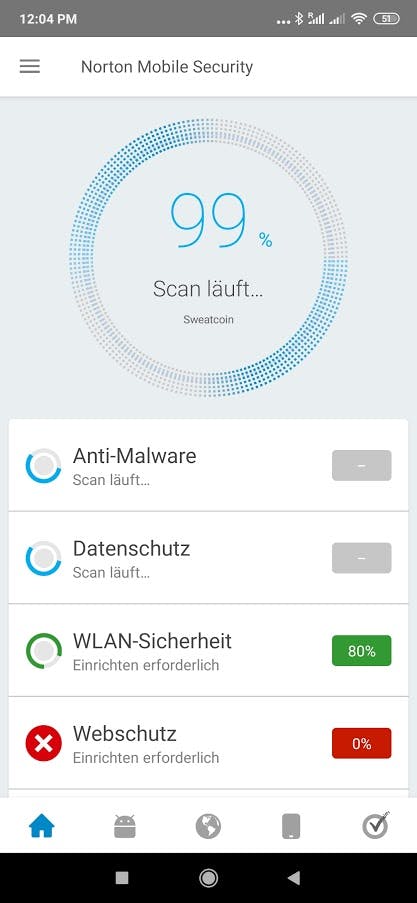 Lots of protection, but a few gaps as well.
3.
Kaspersky Internet Security for Android
special features like VPN
Kaspersky Internet Security is a user-friendly anti-virus protection with perhaps the best feature package on the market.
Plan
Devices
Protection Features
Premium Features
Kaspersky Antivirus
yearly price
Visit Website »
Free Trial Version
Kaspersky Internet Security for Android is available either for free or as part of a premium package. If choosing the latter, you'll also be able to schedule automatic scans, as well as take advantage of an app lock, which you can use to endow certain apps with an added layer of security.
Anti-theft measures that allow you to remotely lock a stolen device, activate an alarm, or restore factory settings are also provided. We found the selfie trap feature nifty, which you can use to surreptitiously photograph your phone's thief. With SIM control, you can also automatically configure the device to lock if a new SIM card is input.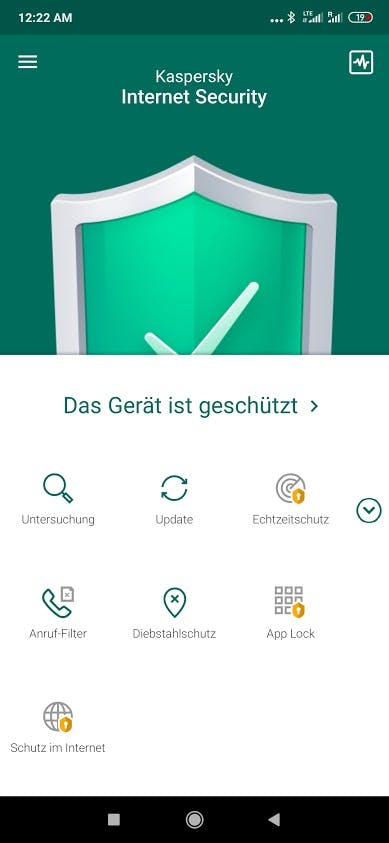 Kaspersky particularly excels in terms of its anti-theft measures.
simple and intuitive interface
many configuration settings
Plan
Devices
Protection Features
Premium Features
ESET NOD32
yearly price
Visit Website »
30 Days Free Trial
ESET also offers both free and premium versions of its mobile security app. Free users can look forward to real-time scans, basic antivirus features, and some anti-theft measures.
For premium users, the entire arsenal is thrown open and includes an app lock, anti-phishing, as well as proactive anti-theft measures. In addition, it's also possible to schedule scans and even define what these should look for, which is something of a rarity among mobile antivirus solutions. The only thing missing from ESET's offering is a VPN.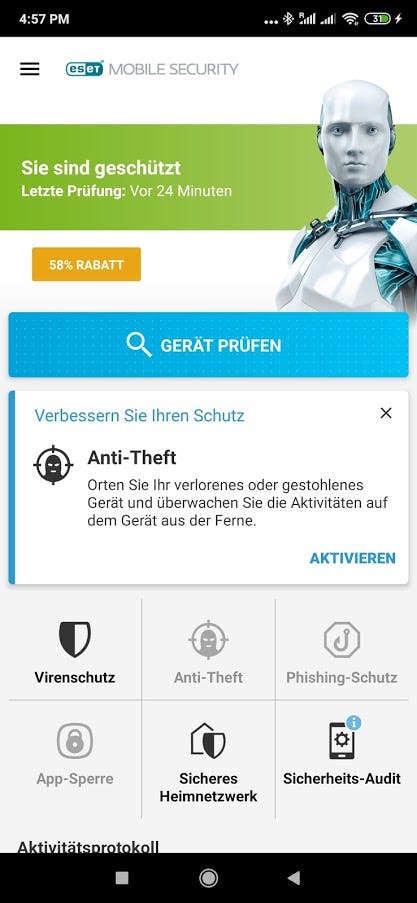 ESET's Android app truly impresses thanks to its wealth of features.
To select our Top 4, we utilized our EXPERTE.com reviews, as well as AV-Test's assessments. Our test criteria, which relate to five categories, are explained in detail in our comprehensive evaluation.
AV-Test scores three categories (out of a maximum of 6 points), and provides information on a fourth (unscored):
The heart of any antivirus program is the degree of security and protection it affords its users. Should these fail in detecting malware, all the other features in the world won't help to improve the program's primary purpose. AV-Test assesses protection in two stages, examining both real-time detection of the latest malware, as well as real-time detection of malware from the last four weeks.
For each stage, AV-Test awards a percentage, which refers to how many malware attacks the antivirus program identified. This number is then compared with the industry standard, with each threshold above the average denoting a specific score.
Turning to performance, AV-Test bases this on three different factors: How much battery life the program uses, whether the program slows the device during routine usage, and finally, what sort of burden it places on network resources. Unfortunately, AV-Test doesn't provide further information on how it measures each of these.
With regards to usability, AV-Test checks how susceptible the antivirus app is to false alarms. Here, testers examine whether the software which prompted the false alarm was downloaded from the Google Play Store or a third-party's app store.
Finally, AV-Test examines which features are included with the app, noting seven core areas:
Application Control (i.e. app lock)
Backup (either to cloud storage or on an external storage device)
Call Blocker (ability to block specific or unknown numbers)
Privacy Advisor (security center for examining what data apps are collecting on your device and what permissions they've been granted)
Safe Browsing (web protection)
VPN
Wi-Fi Advisor/ Check (assessment of secure/vulnerable WiFi networks)
Everything else, such as anti-theft measures, is included under "Other Features".
Since smartphones and tablets have grown to become the primary means through which most people access the Internet, it's become ever more important to secure these in the same manner as computers and laptops. With that said, the best protection is afforded by exercising common sense when browsing or surfing.
Still, for additional security, the four programs we've listed above can help keep you safe on the go. Don't just take our word for it: Each of the four apps above received perfect scores from AV-Test, a highly reputable, independent cybersecurity lab. If interested in learning more about any of the programs, or the other seven antivirus solutions which we reviewed check out EXPERTE.com's comprehensive antivirus software evaluation.
Do Android devices come with an integrated virus scanner?
Yes! Android's on-board virus scanner is called 'Play Protect'. In contrast to Windows Defender, Play Protect performs fairly poorly in AV-Test's evaluations: It only identified 60.1% of current Android malware, and 76.4% of Android malware from the last four weeks. For our tastes, that's simply not good enough.
Does it makes sense to download a virus scanner for my Android device?
This question is often debated by cybersecurity experts. Opponents claim that the dangers of Android malware are exaggerated. With that said, exercising caution (the common sense mentioned above) in combination with Play Protect should be enough to keep your device safe, with third-party antivirus apps providing an additional layer of security.
What is the best antivirus app for Android?
After combining EXPERTE.com's results, with those of AV-Test, an independent and highly-reputable cybersecurity lab, we've listed our Top 4 antivirus apps for Android devices above. Each of these scored perfectly with AV-Test, with the only differences being their range of features and price. As such, we recommend Bitdefender Mobile Security, Norton Mobile Security, Kaspersky Internet Security for Android, and ESET Mobile Security.

Author: Janis von Bleichert
Janis von Bleichert studied business informatics at the TU Munich and computer science at the TU Berlin, Germany. He has been self-employed since 2006 and is the founder of EXPERTE.com. He writes about hosting, software and IT security.