Best Virus Protection - Reviewing 11 Antivirus Programs
More and more areas of our lives are digital. Whether it's for banking, shopping, business meetings, job hunting, or catching up with friends, the Internet is inseparable from our professional and private lives. For all of the convenience that it brings, there are also a number of dangers accompanying this wonderful and inescapable technology: New malware, with the potential to lay waste to your files, are born every day, and cybercriminals become more and more creative with each passing moment. Accordingly, solid virus protection is more necessary now than ever before.
The terms "virus protection" or "antivirus" haven't really kept up with the time, since contemporary programs that provide these services don't only hunt viruses, but also all sorts of malware. Trojans, ransomware, or spyware are just some of the types of things that any savvy Internet user needs to steer clear of - and which any good antivirus software should be able to either remove from your system or prevent from infecting it in the first place. But, which form of virus protection is right for you?
Comparing Antivirus Protection
We examined 11 of the most popular antivirus programs from head to toe in order to determine how much of their marketing is backed up by their performances. We scored each on the basis of their user-friendliness, the number and quality of their features, their security and performance, as well as their customer support. After aggregating all four scores, we created an overall grade for each. Our favorites, the three winners (overall, price-performance, and best free program) can be seen here:
excellent protection results
configurable quick actions
good support with 24/7 live chat
Our test winner Bitdefender not only offers high security, confirmed by independent test laboratories, but also convinces with its flawless usability and a comprehensive feature package.
Plan
Devices
Protection Features
Premium Features
Bitdefender Free
$0.00
Visit Website »
Bitdefender secured first place, owing to its near-perfect results in each of the four scored categories.
Its sleek interface was one of the few that is customizable, allowing users to put the features they see as most important (quick actions) on the dashboard or remove those that aren't. The software has a long list of features, which alongside classic virus protection and a firewall, also includes parental controls, a VPN, and a password manager.
The independent test labs we consult also regularly endow Bitdefender with their highest scores, indicating that the program's security is not only of high quality but also verified by third-parties.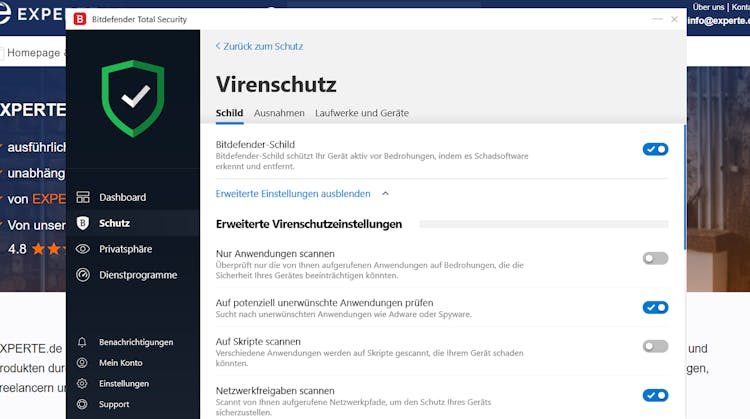 We didn't find much about Bitdefender to criticize. Its subscriptions are a bit confusing, and the integrated password manager and VPN, while nice, can't really compete with dedicated stand-alone programs. Overall, however, this is just nitpicking: In our eyes, Bitdefender is the standard to beat in antivirus software.
Review Score
09/2021
excellent
Visit Website
Installation & Usage
5.0 / 5
Security & Performance
4.7 / 5
elegant-intuitive application
good protection performance
incl. password manager and VPN
missing standard features on macOS
Plan
Devices
Protection Features
Premium Features
Norton Antivirus Plus
$19.99
yearly price
Visit Website »
Norton is hot on Bitdefender's figurative heels, however, when directly comparing the two, Bitdefender comes out ahead owing to its somewhat more comprehensive catalog of features. Still, second place is nothing to complain about. We took exception to a few issues. Norton's file shredder can only be used at cost, regardless of which subscription you have, and the program doesn't offer a dedicated browser for online banking or shopping. Anti-theft measures are also absent from the program's mobile apps, which is really inexcusable in 2020. For Mac users, the situation is even worse, with other features like parental controls and webcam protection inexplicably unavailable.
Nevertheless, Norton does impress with its user-friendly clients and excellent test lab results. Both independent labs that we consulted awarded Norton perfect scores in security, in addition to high scores in performance, noting in particular that the program taxes your system's resources less than many others do.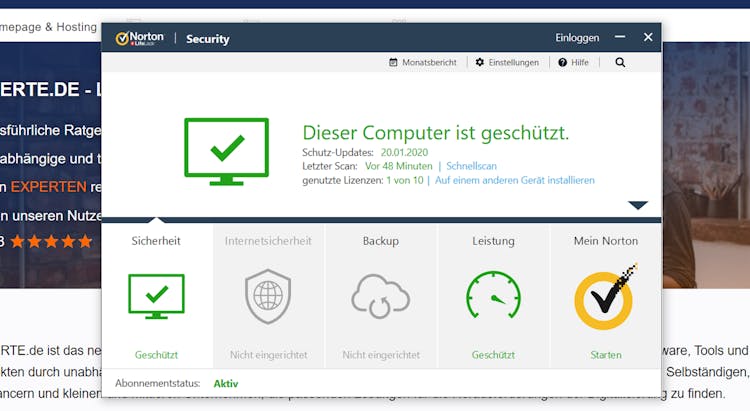 We also took a liking to Norton's approach to customer support. In addition to the ability to contact support by telephone, you can also write them around the clock in a live chat.
Basically, if you can do without anti-theft measures, Norton is an excellent choice.
Installation & Usage
4.3 / 5
Security & Performance
4.0 / 5
special features like VPN
Kaspersky Internet Security is a user-friendly anti-virus protection with perhaps the best feature package on the market.
Plan
Devices
Protection Features
Premium Features
Kaspersky Antivirus
yearly price
Visit Website »
Free Trial Version
Kaspersky could have secured first place in our evaluation if we judged antivirus programs solely on their features. In this aspect, no one surpasses the Russian antivirus software: Even in terms of scanning, Kaspersky allows users greater freedom to tinker with scan details than any of its competitors do. Beyond that, the program also includes a firewall, adblocker, protection for instant-messenger clients, a file shredder, and an integrated secure browser, in addition to more standard features like ransomware, web, email, webcam, and privacy protection. The program also includes parental controls with GPS-tracking, backup, an in-house password manager, and a VPN based on Hotspot Shield.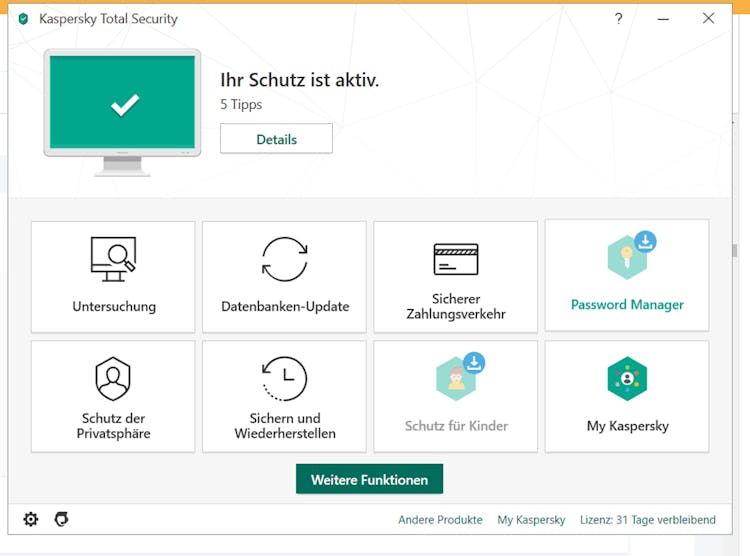 Unfortunately, Kaspersky made a far less favorable impression with the test labs: Some scored it highly, however, the identification rates for compromised files are poor. These contradictory results raise a good degree of doubt, in stark contrast to both Bitdefender and Norton.
Review Score
09/2021
excellent
Visit Website
Installation & Usage
4.7 / 5
Security & Performance
4.3 / 5
4. - 11. Place: The Alternatives
Our winners' podium only had space for three programs, however, this doesn't mean that the other eight we examined were rubbish.
For example, in terms of user-friendliness, we should mention the four programs that impressed us most in this regard, none of which made it to our winners' podium: ESET, Avast, AVG, and Malwarebytes.
ESET's desktop app really stood out, since it's not only easy to use, but also can be tinkered with by more experienced, technical types. Its undoing was its poor test lab results.
One of Avast's big advantages is its very useful free version, which makes all basic functions accessible to users. Privacy aficionados will be less eager to download the software, owing to a scandal in January 2020 relating to the sale of user data to third parties by one of the company's subsidiaries. By extension, since AVG belongs to Avast, the Czech provider is also suspect.
We enjoyed the simple interface of Malwarebytes and its straightforward approach to extras. Unfortunately, the developers were perhaps a bit too Spartan in their decision-making, with some important features missing. Similarly, questionable test lab results also raised some doubts about the program's level of security.
Hopefully, this section has shown that even outside of our Top 3, there are a number of solid antivirus software choices available, albeit with increasing numbers of caveats. One of the biggest stumbling blocks for otherwise impressive programs were conflicting test lab results. Considering the primary function of antivirus software (security), this is simply a risk that shouldn't be taken.
Avast überzeugt mit einer Gratis-Version, die bereits die wichtigsten Funktionen abdeckt. Lediglich bei der Performance gibt es leichte Abzüge.
Plan
Devices
Protection Features
Premium Features
Avast Free
$0.00
Visit Website »
Download for Free
intuitive Benutzeroberfläche
keine Firewall oder Webcam-Schutz
Plan
Devices
Protection Features
Premium Features
Trend Micro Antivirus+
$29.95
yearly price
Visit Website »
free version with basic protection
freely configurable scans
weak performance in test lab
no ransomware protection for free users
Plan
Devices
Protection Features
Premium Features
Avira Free
$0.00
Visit Website »
Download for Free
simple and intuitive interface
many configuration settings
Plan
Devices
Protection Features
Premium Features
ESET NOD32
yearly price
Visit Website »
30 Days Free Trial
Antivirus Comparison Calculator
Special Protection Features
Number of Devices
With our comparison calculator, you can find the best provider based on your individual needs. Simply select which features are important to you, which premium features (if any) you'd like to have, and the number of devices that the program should be installed on, and we'll do the rest!
Should you not know what to look for, a quick perusal of our winners will show you the three programs that we found best in general, in terms of price-performance, and for free.
Virus protection is only one component of any digital defense. Each of the 11 programs in our evaluation offers more than adequate Internet protection. Most of the programs we tested received good scores, even if their packages of features or user-friendliness varied considerably. Deciding which is the right for you depends on a number of factors, some of which are subjective (such as interface), whereas others are objective (like security). Of course, the only factor that we didn't score, price, also plays an often decisive role.
In the antivirus section of our site, you'll find exhaustive reviews of 11 of the most popular programs available on the market, which we hope will help make your choice easier.
Is virus protection necessary?
Using the Internet without virus protection of some form is risky, since each file you download, and every click on a link or banner could (unknowingly) expose you to any number of digital dangers, some of which can wreak havoc on your system without your knowledge. For that reason, we consider virus protection to be absolutely essential.
What is the best virus protection?
Bitdefender was EXPERTE.com's overall winner, owing to its exemplary security scores from independent test labs, ease of use, high configurability, and breadth of features. Which antivirus program is best for you depends largely on your needs and budget.
What is the best free virus protection?
Avast Antivirus was our favorite free antivirus program, since it offers real-time and ransomware protection and also scored highly in security and performance. With its free mobile version, users can GPS locate their mobile devices or remotely lock them, in the event that they've been stolen.

Author (German Version): Martin Gschwentner
Martin Gschwentner majored in American Studies and Media Studies in Germany, the USA and France and works as a freelance editor in Paris. He is a doctoral student at the Institute for English and American Studies at the University of Paris Diderot, where he is researching the influence of money on US politics. On EXPERTE.com he writes about IT security, data protection and software for the self-employed and small businesses.

Translator & Editor: D Bare