Best Virus Protection 2023: Reviewing 15 Antivirus Programs


Ad disclaimer:
For links on this page, EXPERTE.com may earn a commission from the provider. This supports our work and has no influence on our editorial rating.
Whether for entertainment, banking, shopping, business, or catching up with friends, the Internet is an inseparable part of our professional and private lives. For all of the convenience, there's plenty of danger lurking online too.
New malware, that can destroy your files, is born every day and sometimes every hour. And cybercriminals, eager for their next payday, become more and more creative with each passing moment. Solid virus protection is more important now than ever before.
The terms "virus protection" and "antivirus" haven't really kept up with the times. Modern programs that offer these capabilities don't just hunt viruses, but all sorts of malware, including Trojans, ransomware, and spyware. Good antivirus software should be able to either remove these from your system or prevent them from infecting it in the first place. But which is the best for your needs?
Best Virus Protection: Our TOP 5
We tested 15 of the most popular antivirus programs from top to bottom to see whether their marketing claims are backed up by their performance. Each solution was scored on the basis of its user-friendliness, the number and quality of its features, its security and performance, and finally, its customer support. By combining all four scores, we created an overall score. Our Top 5 are presented below:
1.
Place: Bitdefender Virus Protection
Our 'best in test' antivirus program Bitdefender boasts strong security, confirmed by independent test laboratories, along with a flawless user interface and a comprehensive set of features.
configurable quick actions
good support with 24/7 live chat
9.6

excellent
Plan
Devices
Protection Features
Premium Features
Bitdefender Antivirus Plus
$23.99
yearly price
Visit Website*
Bitdefender secured first place in our review series owing to its near mastery of each of our four scored categories.
Its sleek interface was one of the few from our sample that can be customized, giving users the chance to put their favorite features (quick actions) on the dashboard. Apart from classic virus protection and a firewall, the software comes with plenty of tools and options like parental controls, a VPN, and a password manager.
The independent testing labs we consulted regularly award Bitdefender their highest scores. This means that its security is not only high quality but also verified by third parties.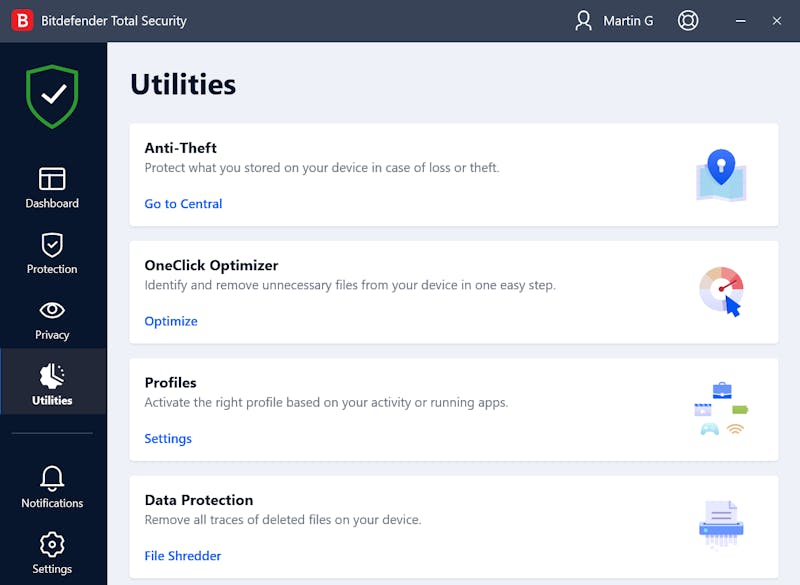 Bitdefender took first place in EXPERTE.com's comprehensive test partly owing to its wealth of features.
There isn't much to criticize about Bitdefender. Its different subscriptions are a bit confusing, and the integrated password manager and VPN, while nice, can't compete with dedicated stand-alone programs. But this is just nitpicking: In our eyes, Bitdefender is the standard to beat when it comes to antivirus software.
Installation & Usage
10 / 10
Security & Performance
9.4 / 10
2.
Place: Kaspersky Virus Protection
Kaspersky Internet Security is a user-friendly antivirus tool with a ton of features. However, some Western governments are currently warning against its use.
keylogging & webcam protection
some governments warn against use
9.1

excellent
Plan
Devices
Protection Features
Premium Features
Kaspersky Antivirus
yearly price
Visit Website*
Free Trial Version
If features were the only criteria that mattered in our antivirus software tests, Kaspersky might have taken first place since it offers an overabundance of these. Even in terms of scanning options, Kaspersky lets its users configure pretty much everything to their liking.
Beyond that, users of the Russian software can look forward to all of the usual security tools, ransomware, web, email, webcam, and file protection, a firewall, an ad blocker, instant-messaging client watchdogs, a file shredder, and a secure browser. Rounding things out are parental controls (including GPS tracking), backups, a password manager, and even a VPN (based on Hotspot Shield).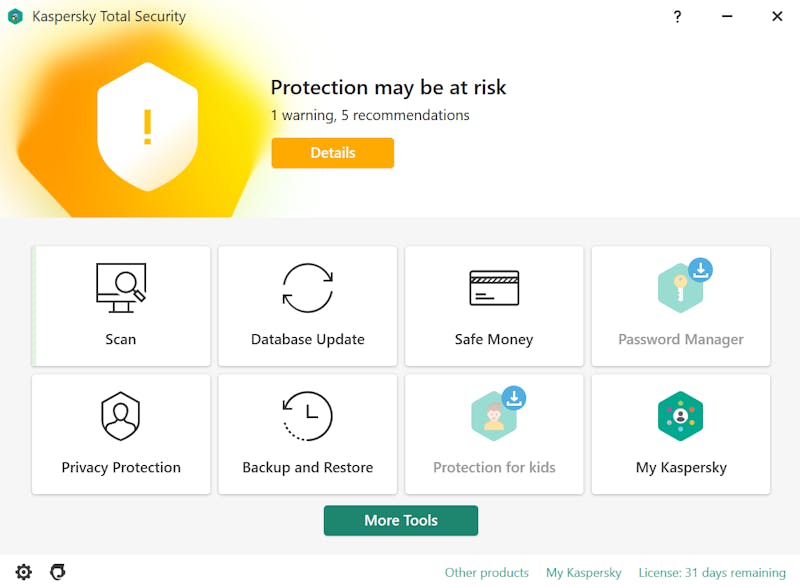 Kaspersky offers perhaps the best package of virus protection features on the market.
Kaspersky did well with the testing labs, however, its security score was lower than Bitdefender's. All the same, Kaspersky combines solid protection with excellent performance, a high degree of user-friendliness, and tons of features in what is definitely one of the best antivirus packages available.
3.
Place: Avast Virus Protection
Avast impresses with a great free version covering all the essentials, and a huge set of features that offer well-rounded antivirus protection and some nice extras. Scans can slightly impact performance, however.
Sandbox and WiFi-Inspector
scans can impact performance
8.6

good
Plan
Devices
Protection Features
Premium Features
Avast Free
$0.00
Visit Website*
Download for Free
Avast also succeeds in loading its apps with plenty of features without sacrificing user-friendliness. Even basics, like scans or real-time protection, include plenty of different settings and options. For features, you can look forward to a customizable firewall, "Wi-Fi Inspector", and a data shredder. The last comes in handy if you want to permanently delete files from your computer.
"Sandbox" is one of the program's most remarkable tools. Use it to unpack and execute suspicious files or programs in a secure environment. On top of that, there's also a VPN, a password manager, and a secure browser with an integrated ad blocker.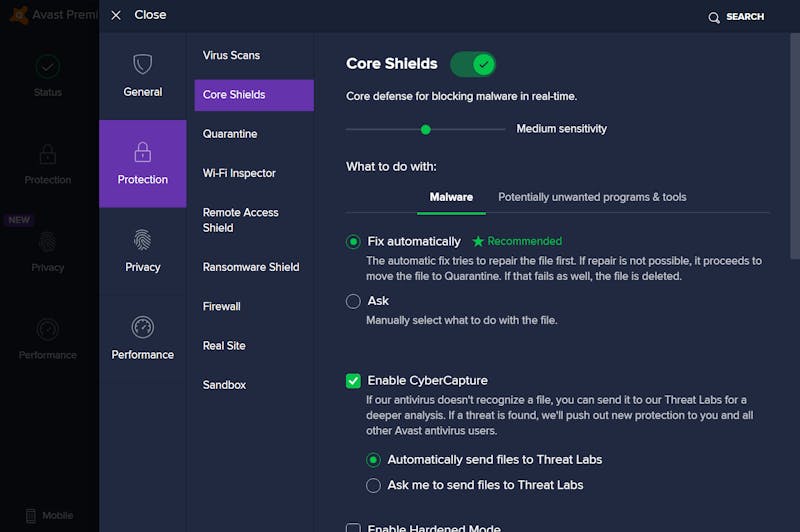 Avast gives users plenty of detailed settings and configuration options.
Unfortunately, when we performed a full system scan, it did negatively impact our computer's performance. With that said, the testing labs awarded the software top performance and security scores. Overall, Avast is one of the best antivirus programs out there, thanks in no small part to its very generous free version.
Installation & Usage
9.4 / 10
Security & Performance
8.0 / 10
4.
Place: Norton Virus Protection
With its robust set of features, lean applications, and a 100 % antivirus guarantee, Norton Antivirus is definitely worth a look. Sadly, the testing labs aren't unanimously impressed, and one or two features are missing.
learn, user-friendly apps
customizable child protection
100 % antivirus guarantee
8.4

good
Plan
Devices
Protection Features
Premium Features
Norton Antivirus Plus
$19.99
yearly price
Visit Website*
Norton just missed out on our Top 3, owing to its more limited selection of features. For example, its file shredder needs to be purchased separately, and there's no secure browser for online banking or transactions. Mobile users won't get anti-theft measures, which is strange considering how common these were among the rest of our sample. In addition, Mac users have to make do without parental controls and webcam protection.
Despite all of the negativity, there are plenty of reasons why Norton made it onto our list. In addition to basics like a firewall and webcam protection, users get a full-fledged VPN and password manager, as well as cloud backups and performance-boosting tools.
The testing labs awarded Norton "good" scores, even though the software dropped points in AV-Comparatives's Real-World Protection Test owing to too many false positives and a comparatively poor protection rate.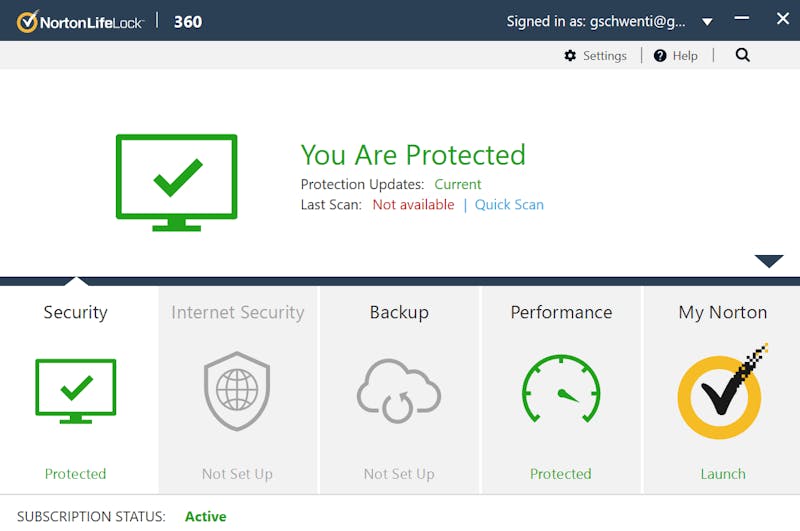 Norton left a good impression with its solid package of features and nearly unbeatable customer support.
We also enjoyed Norton's approach to customer support. In addition to the ability to contact support by telephone, you can write them around the clock in a live chat.
If you can do without anti-theft measures, Norton is an excellent choice. All the same, we hope that its security performance with AV-Comparatives improves.
Installation & Usage
8.6 / 10
Security & Performance
8.0 / 10
5.
Place: Trend Micro Virus Protection
Trend Micro delivers a solid overall antivirus package with lots of features and some nice extras, such as social media protection. However, the testing labs are a bit divided on the reliability of its protection.
Plan
Devices
Protection Features
Premium Features
Trend Micro Antivirus+
$19.95
yearly price
Visit Website*
Trend Micro is nowhere near as much of a household name as Norton or Kaspersky, however, the Japanese cybersecurity company has been offering reliable antivirus software since 1988.
The antivirus software doesn't come with as many features as the rest of our Top 5, however, what it offers is of considerable quality. "Pay Guard" helps secure your online banking and transactions by opening specific websites in a special browser. "Social Media Protection" keeps you safe on social networks. Parental controls and performance-tuning are also included.
Unfortunately, you won't get webcam protection, a firewall, or a VPN.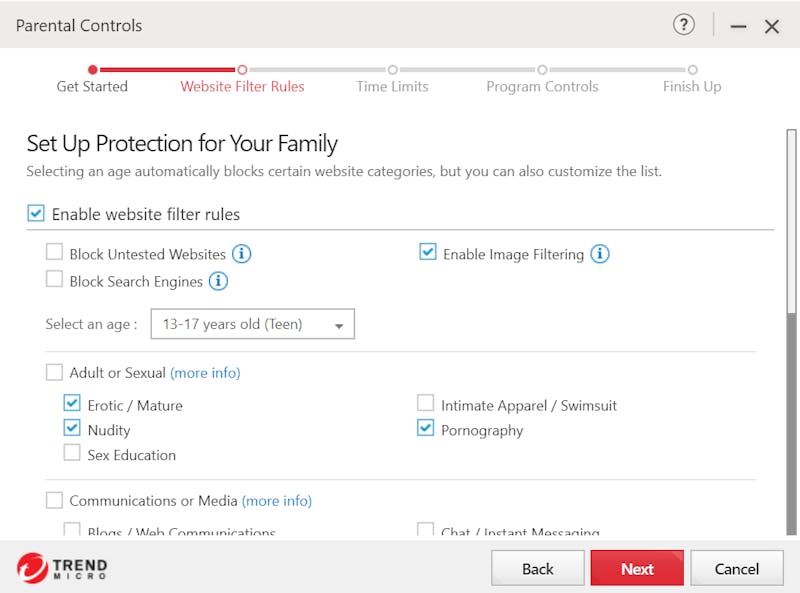 Use Trend Micro's parental controls to shield your children from the Internet's dark side.
Trend Micro did well with the testing labs, even if AV-Comparatives reported slightly too many false positives. In less technical terms, this means that the software was a bit too good at protecting systems. If you can live without a few features, Trend Micro is definitely worth a closer look.
Installation & Usage
9.4 / 10
Security & Performance
8.6 / 10
Alternatives
Our winners' podium only had space for five programs, however, this shouldn't detract from the other 10 that we reviewed.
For example, G DATA can compete with Kaspersky in terms of features, to say nothing of its high degree of customizability. Unfortunately, its applications are too overloaded and not as intuitive as we like. This makes the software difficult for beginners to come to terms with.
A number of the providers we examined focus on user-friendliness, including ESET, AVG, and Malwarebytes. By the same token, these suffered from shortcomings in other areas; ESET and Malwarebytes performed poorly with the testing labs, while AVG's support was lousy.
In general, the lower a provider ranked in our assessment, the more issues we had with it. The kiss of death for a few otherwise decent pieces of software was poor security scores from the independent testing labs. If nothing else, virus protection software should provide solid security.
All alternatives to our Top 5 can be found in the list below:
G Data offers virus protection "made in Germany" with solid test lab scores, lots of customization, and great support. The user interface, however, could use a facelift.
many configuration options
interface somewhat outdated
test lab scores "only" solid
8.4

good
Plan
Devices
Protection Features
Premium Features
G Data Antivirus
yearly price
Visit Website*
F-Secure focuses on the essentials and delivers reliable protection from most malware, as demonstrated by its results in the testing labs. But some features, such as webcam protection, are missing.
Plan
Devices
Protection Features
Premium Features
F-Secure Internet Security
yearly price
Visit Website*
Panda Security isn't as feature-rich as the competition, but it offers good protection, backed by solid results in the testing labs. Its free tier is worth a look.
Plan
Devices
Protection Features
Premium Features
Panda Security Free
$0.00
Visit Website*
McAfee leaves a good overall impression, thanks to solid test lab results and an impressive range of features. Sadly, the speed and quality of its support couldn't keep up.
somewhat clunky interface
missing features (webcam protection,..)
7.8

good
Plan
Devices
Protection Features
Premium Features
McAfee Total Protection (Plus)
$39.99
yearly price
Visit Website*
ESET comes with lots of customization and a few handy extra features, such as its Scheduler. Sadly, testing labs aren't unanimously convinced of the program's protective powers.
simple and intuitive interface
many configuration settings
extras such as UEFI scanner
7.6

good
Plan
Devices
Protection Features
Premium Features
ESET Essential Security
yearly price
Visit Website*
30 Days Free Trial
With highly configurable manual scans, solid test lab results, and a huge set of features (including VPN and password manager), Avira is a reliable, easy-to-use all-rounder in the antivirus space.
free version with basic protection
freely configurable scans
7.6

good
Plan
Devices
Protection Features
Premium Features
Avira Free
$0.00
Visit Website*
Download for Free
With its solid free tier, AVG offers basic protection for everyone – while paying customers get a huge set of features that covers all your basic anti malware needs and more. Sadly, AVG's support isn't great.
Plan
Devices
Protection Features
Premium Features
AVG Free
$0.00
Visit Website*
Download for Free
Virus Protection: Comparison Calculator
With our comparison calculator, you can find the provider that best matches your needs. Simply select which security features are the most important to you, which premium extras (if any) you'd like to have, and the number of devices that the program should be installed on, and we'll do the rest!
Special Protection Features
Number of Devices
How We Tested
To test all 15 programs from our sample, we installed their clients (on Windows and Android), awarding scores in four, different categories. Below, we've summarized what we paid attention to.
Installation & Usage
Making a good first impression is important: How quick and easy is it to install a particular antivirus program? Is the software intuitive to use? We took a look at each software's user interface and let you know what we liked about it and where there's room for improvement. Bitdefender's interface impressed us with its ease of use and customizable quick actions on the home screen.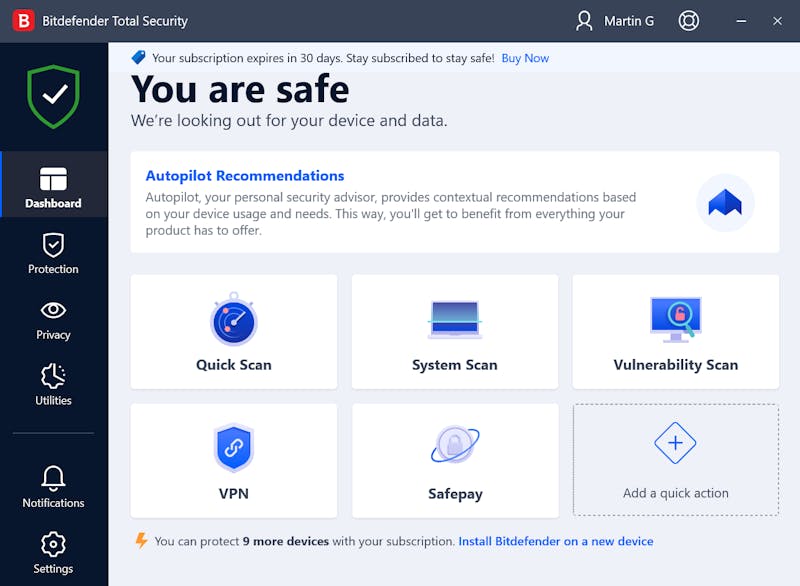 Bitdefender users can customize which quick actions are pinned to the home screen.
Features
Some features are found in every antivirus program, however, their scope and configuration options do vary In addition to scans and real-time protection, we also looked for parental controls, a password manager, and system tuning. As with most things, it's better to have a nice selection of high-quality features than a mass of half-finished or poorly conceived ones.
Security & Performance
In this area, we relied on AV-Test and AV-Comparatives, two independent testing labs that we trust. Both regularly assess the most well-known antivirus programs in terms of their security and impact on performance. For performance, we compared the testing labs report with our own experiences when using the software during a scan.
Support
For this, we have two requirements: A well-organized help center and a variety of ways to contact the provider's support staff. The help center should offer FAQs, articles, guides, and ideally, video tutorials. For live support, there should be an email address and/or a support ticket system. Beyond that, a live chat and hotline support are great to see. We contacted each provider and let you know how quickly and competently they replied.
To learn more about our testing process and criteria, check out our comprehensive article on the subject.
Conclusion
Virus protection is just one part of any digital defense. Each of the 15 programs we tested offers more than adequate cyber protection. Most of the programs received "good" scores, even if their packages of features or user-friendliness varied.
Deciding which is right for you depends on a number of factors, some of which are subjective (interface design), whereas others are objective (level of security). Of course, the only factor that we didn't score, price, often plays a decisive role.
In the antivirus section of our website, you'll find comprehensive reviews of 15 of the most popular virus protection solutions. Use these to make your choice easier.
FAQs
Is it necessary to have an antivirus program?
⊖
Using the Internet without protection against viruses is risky since each file you download and every click on a link or banner could expose you to any number of digital dangers. Some of these can wreak havoc on your system without your knowledge. For us, virus protection is absolutely essential.
What's the best virus protection?
⊖
Bitdefender was EXPERTE.com's overall winner, owing to its stellar testing lab security scores, ease of use, high degree of customizability, and breadth of features. Which antivirus program is best for you depends entirely on your needs and budget.
What's the best free virus protection?
⊖
Avast Antivirus was our favorite free antivirus program since it offers real-time and ransomware protection while also scoring highly in terms of security and performance. With its free mobile app, users can GPS locate their mobile devices or remotely lock them if they've been lost or stolen.
* Ad disclaimer:
For links marked with an asterisk, EXPERTE.com may earn a commission from the provider. The commission has no influence on our editorial rating.

Martin Gschwentner majored in American Studies and Media Studies in Germany, the USA and France and works as a freelance editor in Paris. He is a doctoral student at the Institute for English and American Studies at the University of Paris Diderot, where he is researching the influence of money on US politics. On EXPERTE.com he writes about IT security, data protection and software for the self-employed and small businesses.

Translation: D Bare
Continue Reading