RoboForm Review 2023: How Well Does the Password Manager Protect You?

For years, we've been told that robots make everything easier. Things that used to be done manually have been automated, requiring only occasional human input or attention.
Even though robots already assemble our cars, answer our emails, and pilot our aircraft, there remain a number of less challenging tasks that we insist on doing ourselves, such as creating, changing, and entering passwords.
Enter RoboForm: The software seeks to lighten your burden by managing your passwords so that you only need to act as the robot's (occasional) supervisor. Below, we've taken a look at how RoboForm handles this responsibility.
What Is RoboForm?
RoboForm ⇱ is a password manager developed by Siber Systems. Its desktop version is available for Windows, macOS, Linux, and even Chrome OS, with its mobile apps working on Android and iOS devices. Browser extensions are provided for Chrome, Edge, Firefox, Internet Explorer, Safari, Opera, as well as a host of less popular browsers.
We tested RoboForm on Windows and Android.
RoboForm Review
Installation & Usage
7.4 / 10
Offline access to saved data
Not possible to manually create login records within the app

Important features (2FA and multi-device synchronization) reserved for paying customers

Underwhelming security center
Setting up RoboForm is child's play. After downloading the installation file from the service's website, all that separates you from using the program are a few clicks.
As with any password manager, you'll need to create a master password. Should all go according to plan, this is the last password you'll ever need to remember. Conveniently, RoboForm lets you know if the password you've crafted is secure enough.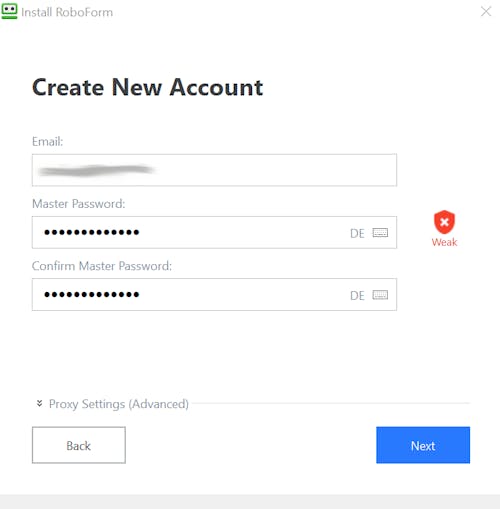 Be sure to select a master password that isn't easy to guess.
After installing "RoboForm Editor", the desktop version, you can automatically install some of the service's browser extensions. Should your browser not be supported, you'll need to manually install the extension.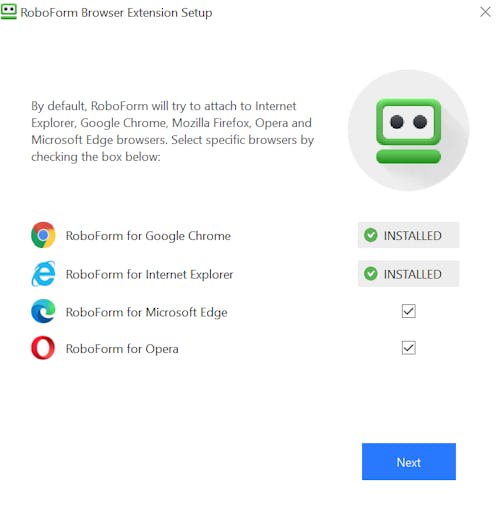 RoboForm can automatically install extensions for Internet Explorer, Google Chrome, Mozilla Firefox, Opera, and Microsoft Edge.
With RoboForm, it's easy to import data from browsers or other password managers, since programs like Dashlane, Sticky Password, and LastPass and browsers like Internet Explorer, Google Chrome, Mozilla Firefox, and Opera are supported.
You will have to prune or clean imported data sets to make sure that everything winds up where it should. During testing, we were almost always able to get usable entries with URLs, usernames, and passwords all landing in the right place. The "Imported from LastPass" message which appears alongside each imported entry is unnecessary.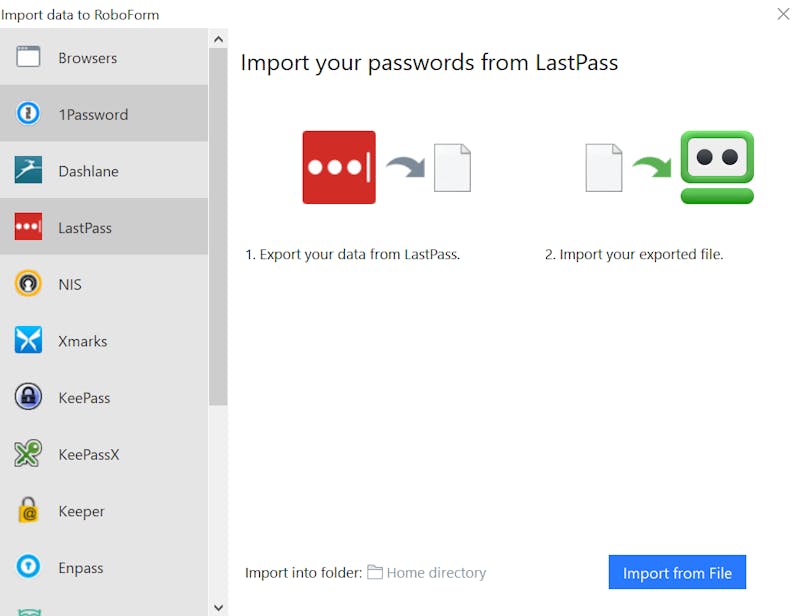 When importing, you can select from a wide variety of services.
There isn't much to complain about so far as setting up RoboForm is concerned: Installation is smooth, the first steps are intuitive, and the program is easy to get a feel for without babying more experienced users. On top of that, imports were very reliable.
Not Exactly a Cutting-Edge Robot
As is the case with plenty of password managers, RoboForm's user interface is also spread across multiple components, namely, its desktop version and browser extension. There's also a web dashboard that is somewhat sleeker than the desktop client.
RoboForm Editor
Similar to almost all of its competitors, RoboForm utilizes a three-column layout, lending the service's interface a good structure. To the left, you'll find the general categories, folders in the middle, and individual data sets on the right.
Folder management is very similar to Windows Explorer, and as such, intuitive and very easy to get a hang of. You can create sub-folders in each category and move individual entries around by dragging and dropping them, making it possible to easily manage your sensitive information to your exact specifications.
The folder structure you create for logins is also applied to other sub-folders such as those for bookmarks, contacts, and IDs. This consistency makes navigation between categories easy, however, it isn't possible to adjust individual categories.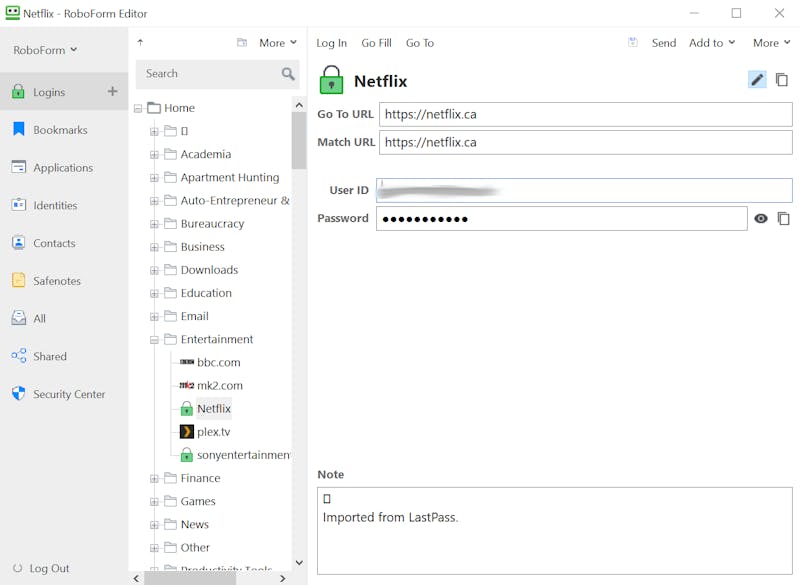 Thanks to its simple folder structure, you'll quickly find what you need in RoboForm.
RoboForm's decision to not allow users to manually input usernames or passwords directly in the application is rather controversial since the service instead relies entirely on automatically saving such information when you visit webpages. We didn't encounter any issues with this, however, we can't conceive any arguments against allowing manual creation of entries.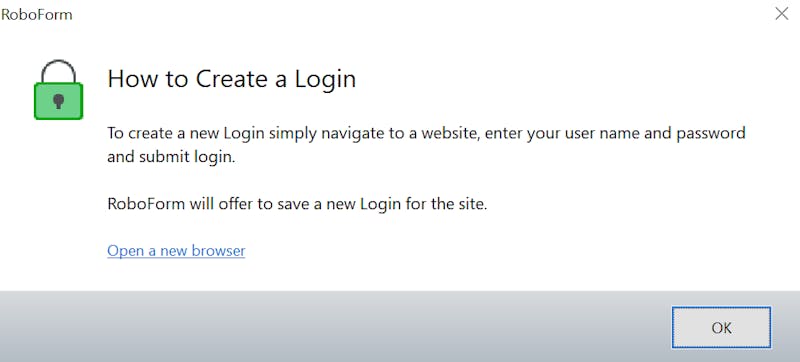 It isn't possible to add new entries manually to RoboForm.
Another of RoboForm's quirks is that the password generator cannot be accessed in the desktop app, but only via the browser extension. Once again, there's no reason to limit this function to one of the service's two components.
Browser Extension
The browser extension provides access to the vault, bookmarks, notes, and password generator, the last of which can be used to create secure passwords based on customizable guidelines.
If trying to configure more complicated settings, you'll be forwarded to the RoboForm Editor.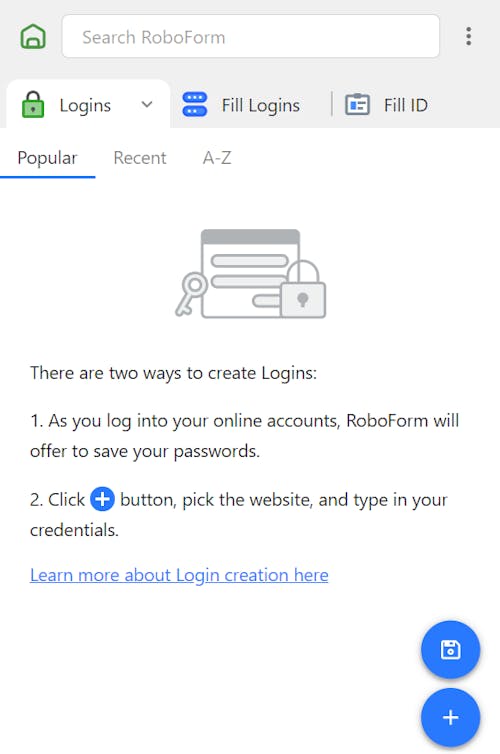 The browser extension identifies which website you're currently visiting.
RoboForm's solution to multiple accounts for the same page is rather clunky. Instead of allowing users to select from different usernames via autofill, you'll see the website's name with a number following it (such as 'Reddit' and 'Reddit (1)', as can be seen below).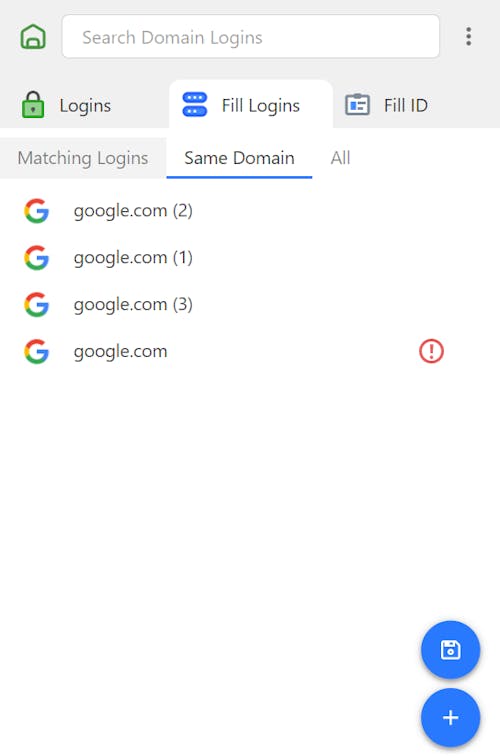 In RoboForm, you can select from multiple accounts for the same site or service.
This makes it necessary to manually change the name assigned to the registrations, which, while not requiring too much effort, could have easily been avoided.
RoboForm makes a noticeable effort to cater to both experienced hobbyists who enjoy tinkering, as well as those just starting out with a password manager and wanting the most expedient configuration possible.
In our opinion, the results are good, and you'll find numerous options behind the tidy interface. On occasion, data entry is sometimes more complicated than it needs to be, and some of the design decisions don't make much sense. Optically, the app isn't exactly up to date either, so we've deducted a few points from its score.
Installation & Usage
7.4 / 10
Right off the bat: RoboForm has all of the features that a password manager should come with. Alongside passwords, you can also save secure notes and add contacts. In the Identities area, you'll be able to add account information and IDs. The service emphasizes personalization, meaning that you aren't tied to any predefined templates, but can instead create entries with as many individual fields as you'd like.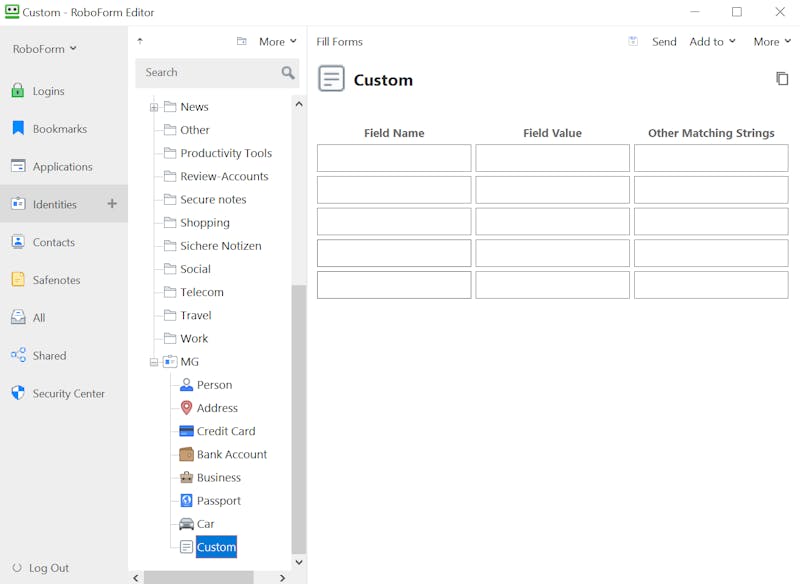 With RoboForm, you can create user-defined entries.
Autofill
During our analysis, the browser extension's autofill worked perfectly, whether for regular logins or more complex address fields and payment information. For pop-up logins, the small robot appears in the login form. By hovering over it with your mouse, you'll be shown all available data sets for that website or form type and can choose the right one.
If logging in to a site for the first time, for which no entry exists, RoboForm will make it possible to save the login data directly in the correct folder. We were completely satisfied with the extension's autofill capabilities.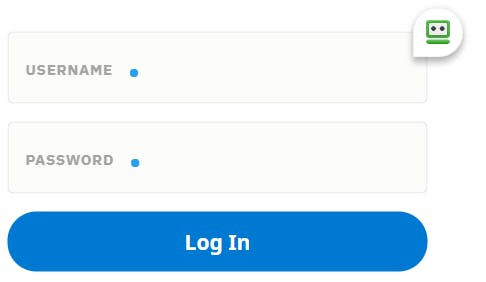 Autofill worked without a hitch during testing.
Security Center
RoboForm's Security Center is limited to the basics. Here, your general password security is reflected (as a percentage), but the software doesn't offer extensive analytical tools for improving this. RoboForm only informs you if your passwords are poor and how many of them are being used across multiple accounts or services.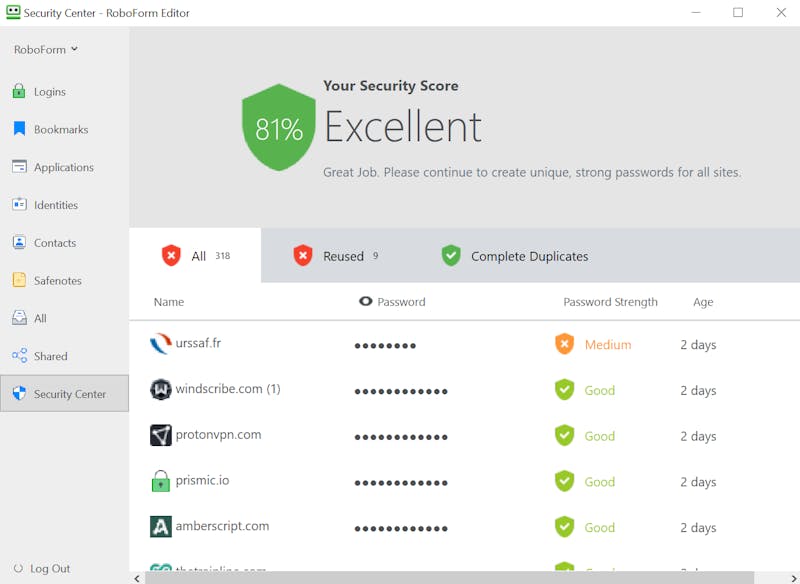 Are your passwords safe? Find out in the Security Center.
To boost your security rating, you'll need to visit each site separately, since the service lacks a password changer comparable to that offered by LastPass or Dashlane.
Sharing & Sending
RoboForm allows you to share individual items or entire folders with other users. Just select the content you want to share and enter the email address of the intended recipient. You can even limit sharing to login credentials or grant recipients additional access rights. Along with the sharing function, you can also send individual items to specific users.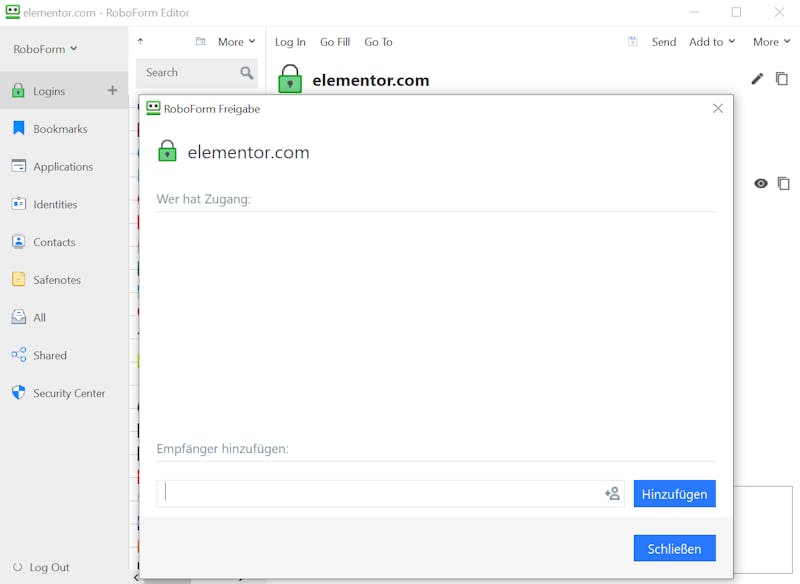 With RoboForm, it's possible to securely share passwords.
All-in-all, RoboForm left a good impression with us, scoring, in particular, owing to its customization/personalization options and excellent sharing feature. Since the program focuses on the basics, the interface(s) don't feel overloaded. With that said, a more robust security center, and tools for automatically changing passwords would certainly be welcome additions.
Like most password managers, RoboForm uses AES 256, concealing your password with several thousand rounds of PBKDF2 and SHA256 hashing.
RoboForm also adheres to the zero-knowledge principle, meaning that only you ever have access to your master password: It isn't stored anywhere on the developer's servers. While boosting security, this also means that if you lose it, there's little that customer service can do to help.
2FA is available, but only for paying subscribers.
Breaking with other password managers, RoboForm's mobile app is not a simple 1:1 copy of the desktop version, differing in both appearance and structure, which brings advantages and disadvantages.
The mobile app definitely takes some getting used to, even after considerable experience with the desktop version. It doesn't have the same three-column structure as the desktop client, but, its tile layout isn't anything to scoff at. Data sets can be synchronized between your desktop and smartphone, but only if you're a paying subscriber.
You can unlock the app using a PIN or fingerprint if you don't want to always enter the master password, saving time, but also slightly weakening your security.
Autofill worked well during testing in both the integrated browser as well as our default browser (Chrome).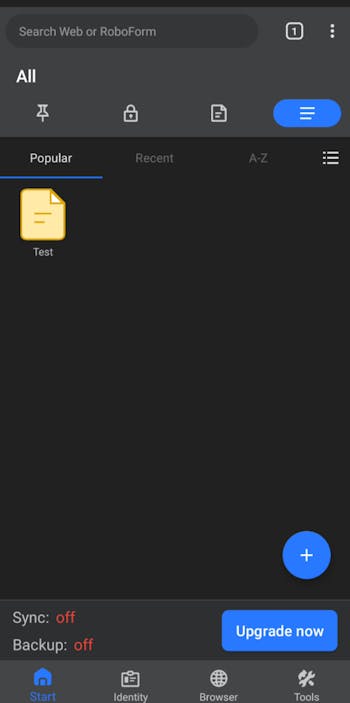 RoboForm's smartphone app handles nicely but differs somewhat from the desktop version.
RoboForm's mobile app is good with reliable autofill, being more than just an extension of the password manager for mobile devices. One noticeable drawback is that only paying subscribers can synchronize mobile devices with the desktop.
Live support, either by chat or hotline, is available (Monday-Friday, 9 AM EST to 6 PM EST) to paying subscribers.
Everyone else needs to settle for email support tickets. The interface for filing these is well-designed, and it's possible to track and check your tickets directly in the Help Center.
During testing, we received an answer within 90 minutes, which is pretty fast.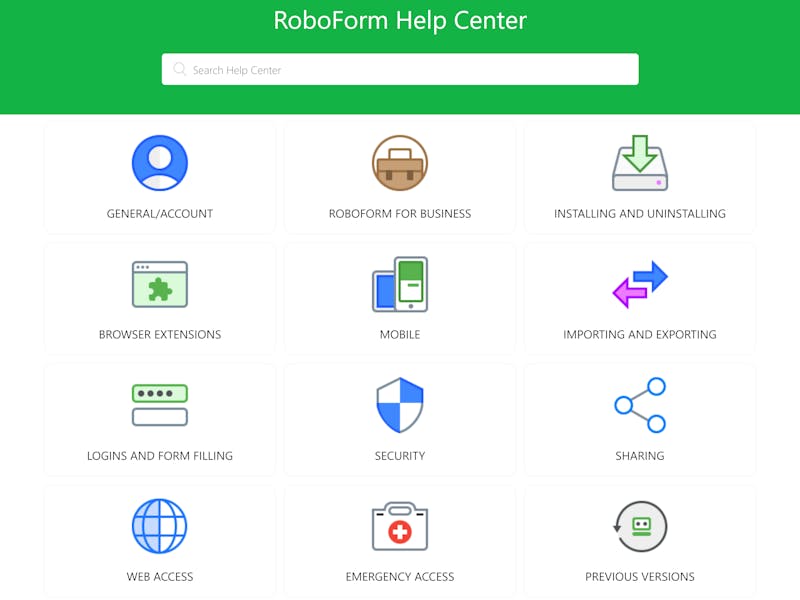 RoboForm's Help Center provides a number of guides and FAQs of varying quality.
Static support is also provided and includes a number of guides and FAQs for the software, the quality of which varies.
RoboForm is available at two different rates for private users (in addition to the free version). "Everywhere" is for individuals, while "Family" allows for the creation of up to five RoboForm accounts. In contrast to the free version, "Everywhere" subscribers can look forward to cross-device synchronization, cloud backups, 2FA, and folder sharing.
One nice feature of the free version is that the number of data sets is unlimited, making it possible to use the software as a full program without having to pay. The biggest disadvantage of the free version is that you won't be able to synchronize across your devices.
RoboForm Business is available in four packages, the prices for which vary depending on the number of users as well as the length of the subscription. As is common, the longer you commit, the lower the price will be. As of the time of writing, a 3-year subscription came with a 15% discount, while a 5-year subscription offered savings amounting to 25% off the base price.
Below you can find an up-to-date summary of RoboForm's prices:
Free
Everywhere
Business
Family
Set-up Fee
$0.00
$0.00
$0.00
$0.00
Base Price per Month
$0.00
$1.99
$0.00
$3.98
Price per User
$0.00
$0.00
$3.35
$0.00
Contract Period (Months)
0
12
12
12
Limits
Number of Users
1
1
unlimited
5
Number of Passwords
unlimited
unlimited
unlimited
unlimited
Number of Devices
1
unlimited
unlimited
unlimited
Features
Sync Multiple Devices
Password Sharing
Teams
Zero-knowledge Encryption
Emergency Contacts
Two Factor Authentication
Local Storage
Browser

Edge

Chrome

Firefox

Safari

Opera

Edge

Chrome

Firefox

Safari

Opera

Edge

Chrome

Firefox

Safari

Opera

Edge

Chrome

Firefox

Safari

Opera

Platforms

Windows

macOS

iOS

Android

Windows

macOS

iOS

Android

Windows

macOS

iOS

Android

Windows

macOS

iOS

Android
Conclusion
Installation & Usage
7.4 / 10
RoboForm integrates nicely into both desktops and browsers, toiling away, as a good robot should, blissfully in the background. The service's tidy design embraces clarity rather than flash. At the same time, this straightforwardness should not be confused with a lack of features. A variety of opportunities are offered for customizing the program, few of which (at least in our opinion) are likely to overwhelm beginners.
Turning to the negatives, RoboForm's designers could have invested more effort into beefing up the Security Center, adding a password changer and security tools; in addition, the desktop app could do with something of a facelift.
Overall though, RoboForm is a robust password manager that performs well thanks both to its simplicity and range of settings/options.
RoboForm Password Manager
RoboForm is a reliable password manager with a beginner-friendly user interface, which offers lots of adjustment and customization options for tinkerers as well.
reliable autofill function
offline access to stored data
8.1

good
Passwords
Devices
Users
Contract Period
RoboForm Free
$0.00
monthly price
Visit Website »
Use for free
Customer Ratings
Most of RoboForm's customers have rated the program well, emphasizing its user-friendliness and high level of security.
Customer Ratings
68,270 Bewertungen
Visit Website
We analyzed the reviews and ratings from various portals and found 68,270 ratings with an overall rating of 4.6 out of 5 .
Alternatives
You're looking for a password manager with an even better free version? NordPass and Bitwarden limit neither the number of data sets you can save nor how many devices you can sync with.
Among the programs we assessed, Dashlane impressed most owing to its ease of use, the wide selection of features it offers, and the excellent security it provides.
The best alternatives to RoboForm can be found below:
Dashlane Password Manager
Dashlane is a great all-rounder that makes managing your logins and other account details as easy as pie thanks to its many features, a strong security posture, and an easy-to-use interface.
user friendly and intuitive
zero-knowledge encryption
comprehensive security center
automatic password changer
9.1

excellent
Passwords
Devices
Users
Contract Period
Dashlane Free
$0.00
monthly price
Visit Website »
Try for free
1Password Password Manager
1Password's password vault is filled to the brim with features, including handy extras such as the travel mode. With excellent security and a solid user interface on top, 1Password is one of the best password managers out there.
zero-knowledge encryption
reliable autofill function
8.7

good
Passwords
Devices
Users
Contract Period
1Password Standard
$2.99
monthly price
Visit Website »
Free 30 days trial
Keeper is one of the best password managers on the market thanks to its many features, high reliability, and extensive configuration options.
Passwords
Devices
Users
Contract Period
Keeper Security Unlimited
$2.04
monthly price
Visit Website »
Download Keeper
NordPass Password Manager
NordPass stands out with its beautiful design and ease of use, and offers a fully-fledged free version that allows you to create and synchronize an unlimited number of passwords.
full-featured free version
few options for customizing data sets
8.5

good
Passwords
Devices
Users
Contract Period
NordPass Free
$0.00
monthly price
Visit Website »
30-day money-back guarantee
Bitwarden Password Manager
Bitwarden can impress with easy-to-use apps, reliable autofill, and a few handy security features. Plus, it's pretty affordable – and offers a solid, feature-rich free plan.
user-friendly applications
good security, externally tested
paid features (e.g. password sharing)
8.4

good
Passwords
Devices
Users
Contract Period
Bitwarden Free
$0.00
monthly price
Visit Website »

Martin Gschwentner majored in American Studies and Media Studies in Germany, the USA and France and works as a freelance editor in Paris. He is a doctoral student at the Institute for English and American Studies at the University of Paris Diderot, where he is researching the influence of money on US politics. On EXPERTE.com he writes about IT security, data protection and software for the self-employed and small businesses.

Translator & Editor: D Bare
Continue Reading
Reviews
Comparisons
Tools & Guides