F-Secure Antivirus Review 2023: How Good Is It Really?

Author
Janis von Bleichert
Our editors test and evaluate all services independently. For links on this page, EXPERTE.com may earn a commission from the provider.
Are you afraid of viruses and other digital threats? You're not alone: Businesses and companies are too, and they have a lot more to lose since they're not only responsible for their own trade secrets, but also, the user data of their customers.
For help, many businesses turn to antivirus solutions, with F-Secure being one of the most popular in the enterprise market segment. But, how good is it for private users? Keep reading to find out.
What Is F-Secure?
F-Secure Corporation* is a cybersecurity firm headquartered in Helsinki, known in particular for its antivirus business solutions, as well as a range of other security products, both for private and corporate users. These include antivirus suites, as well as a VPN, and a password manager.
The company's antivirus solutions are available for Windows, macOS, Android, and iOS. We tested F-Secure TOTAL on Windows and Android, but also reference other packages throughout the review.
F-Secure Antivirus Review
Security & Performance
8.6 / 10
Installation & Usage
8.0 / 10
Affords reliable protection

Complete package includes a VPN and a password manager
Missing some important features

Rather unimpressive VPN and password manager

Above average number of false positives according to the testing labs
In order to install F-Secure's antivirus software, you'll need an F-Secure account, however, you won't have to input payment information when starting your free 30-day trial. After you've created an account, you can download and install a range of different apps from F-Secure.
All told, installation wrapped up a few minutes, with no bloatware installed on our system. The only surprise was a new browser extension, but more on that below.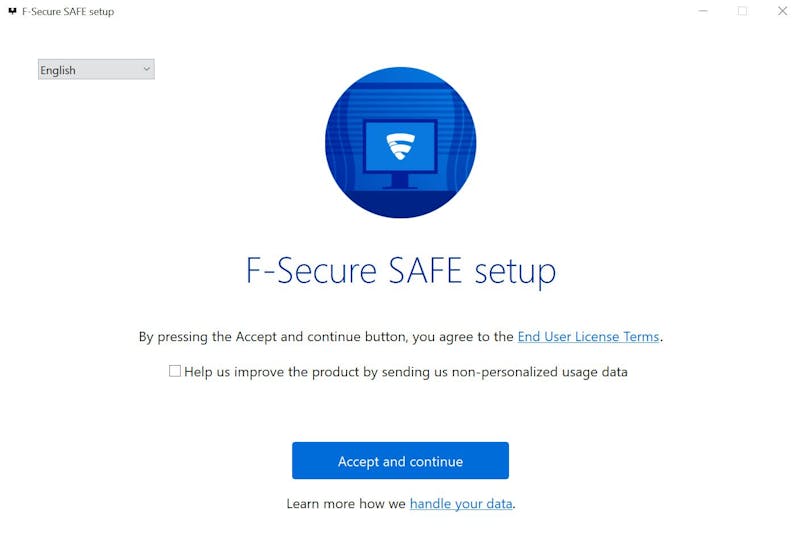 F-Secure is quickly installed.
Owing to F-Secure's limited number of features, its user interface is somewhat empty. In the Security Status section of the interface, where F-Secure keeps you up to date on your system's safety, you'll find three modules: "Viruses & Threats", "Secure Browsing & Banking", and "People & Devices". The first two are where most of F-Secure's main features are located, all of which we'll discuss in the next chapter in greater detail.
To the right, you'll find a list with information such as when you last performed a scan or how much longer your subscription will run. You can view all events by clicking on "View full timeline".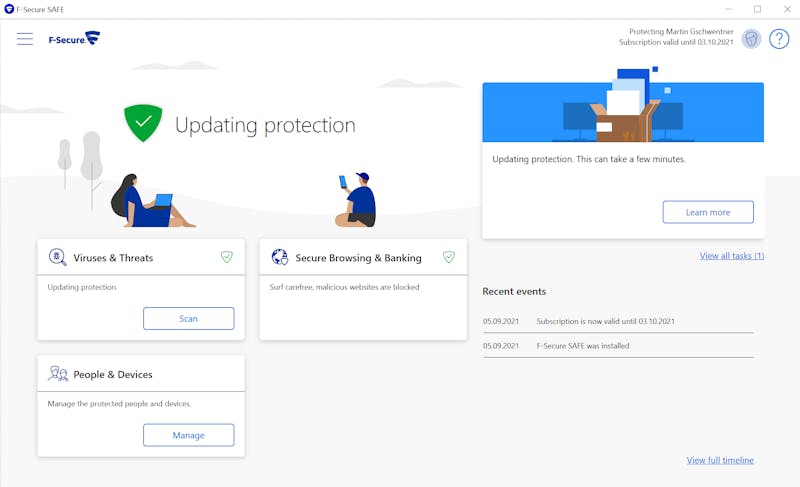 There isn't much to do in F-Secure's start screen.
Clicking on the hamburger menu in the upper left will take you to settings, where you can adjust different aspects of the program such as "Viruses and Threats", "Scanning Settings", "Secure Browsing", "Updates", "Notifications", and "Privacy". A link to the software's support channels is also provided here.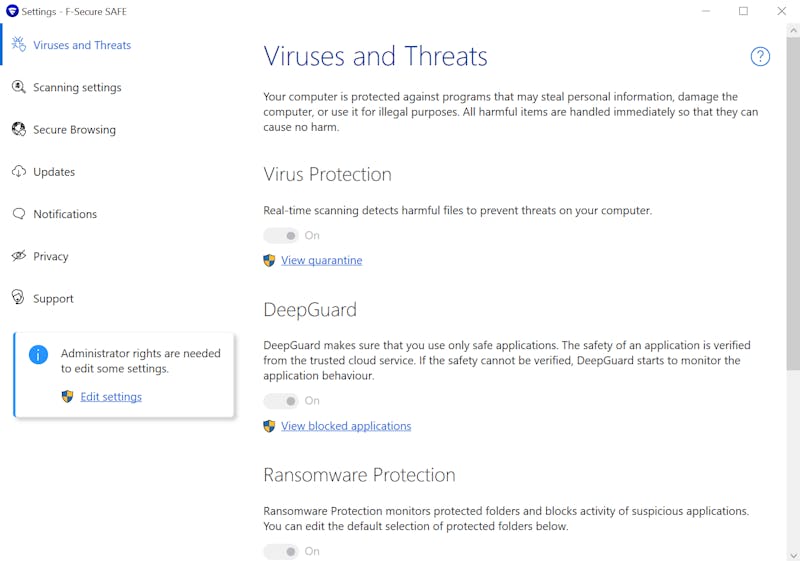 In the settings area, you can toggle a range of different features on or off.
There's also the web interface, where you can manage your My F-Secure account's applications and licenses and add new users. This is important in the event that you want to use the program's parental controls, since you'll configure the new devices here.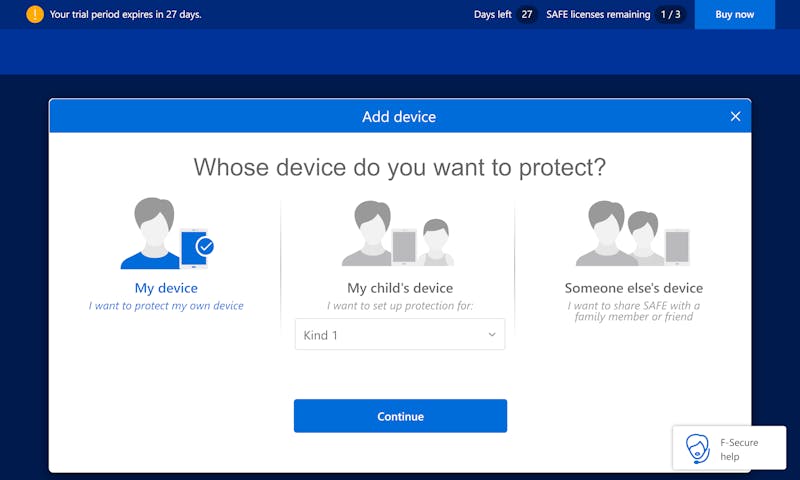 You can manage your subscriptions and licenses, as well as add news devices in the web dashboard.
We didn't have any difficulties getting started with F-Secure, and also didn't need to search high and low for the features or settings that we wanted to access. Of course, we liked that the free trial can be started without inputting payment information.
Although there weren't any major issues with using the software, the features could be packaged somewhat more efficiently with the security components receiving greater emphasis.
Installation & Usage
8.0 / 10
Even though F-Secure's range of features isn't all that impressive, the program still serves up all basic antivirus tools as well as a few extras here and there. For most users, the choice will be between an F-Secure SAFE subscription, which is limited to antivirus, or an F-Secure TOTAL subscription. Below, we'll discuss which features are included with each.
Features in F-Secure SAFE
Like all antivirus software, F-Secure offers its users the ability to scan their systems, however, the options for doing so are limited. By clicking on "Scan" on the start screen, a smart scan will commence, which assesses the most important areas of your system in a relatively short period of time. A full system scan is offered in the settings area and the "Viruses & Threats" module.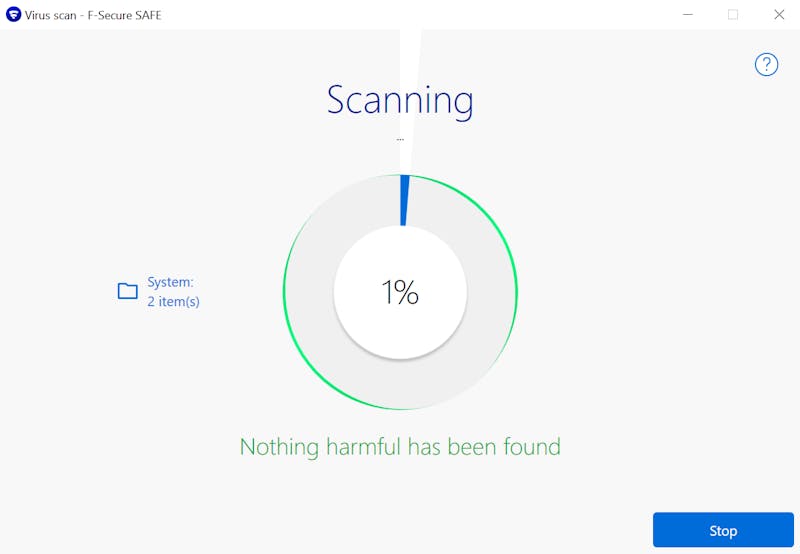 A smart scan usually only takes a few seconds.
Should you open the advanced options here, you can make a few adjustments by clicking on "Scan Settings". These include the ability to scan only for file types that typically contain malicious code, scan compressed files (or archives), or check connected USB storage devices.
Scans can be planned in advance and set to run either at specific intervals, such as a day of the week or time, with the scan's comprehensiveness defined as above. In comparison to a number of other antivirus programs we assessed, F-Secure's options are rather limited, especially considering that you can't select which folder (or folders) should be checked.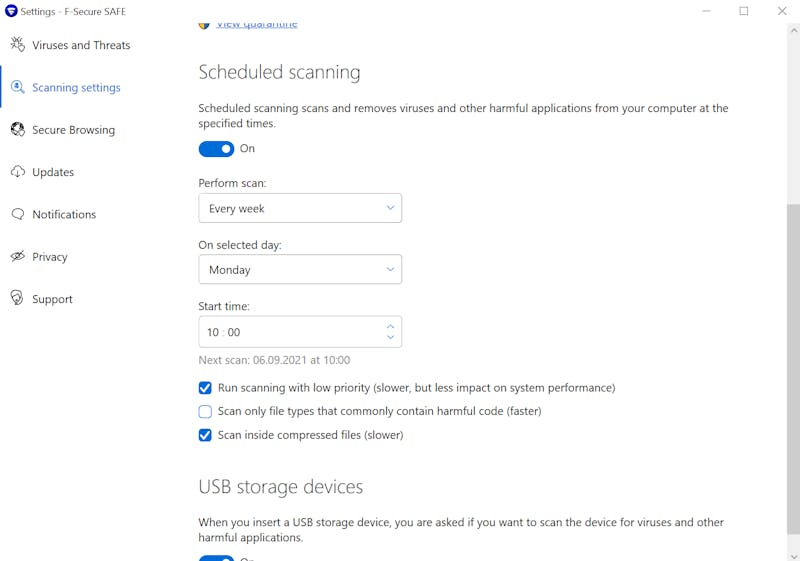 It is possible to schedule scans to run at specific intervals.
Real-time protection
Like most antivirus solutions from our sample, F-Secure offers its users not only the ability to scan their systems, but also, keeps an eye out in real-time, alerting you to viruses and other threats as they materialize. Here too, the program really only provides the basics, offering far fewer options for customization than its competitors. In general, you can toggle various protection elements either on or off in the settings menu's "Viruses and Threats" and "Secure Browsing" areas.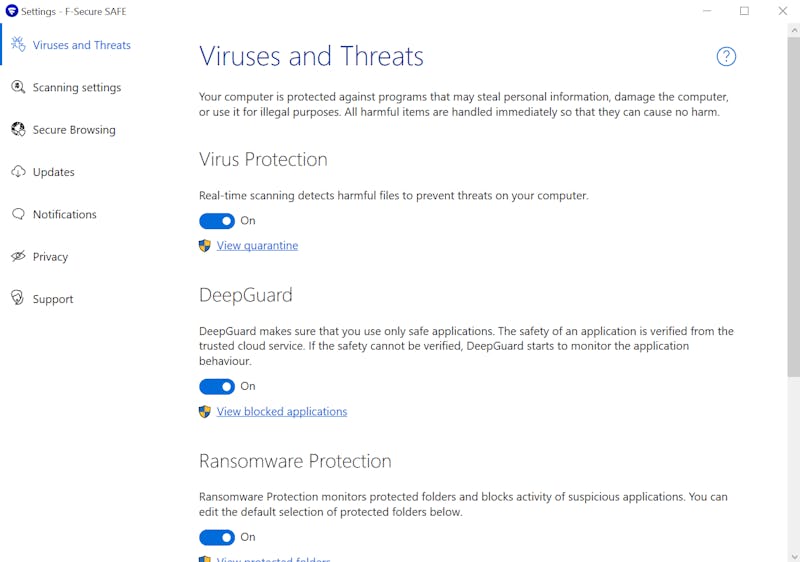 You can manage each individual security level of F-Secure's real-time protection.
Malware protection with DeepGuard
Similar to most other antivirus solutions out there, F-Secure identifies known threats like viruses, Trojans, and other malware via signatures, searching your PC for known malware code. In order to also detect more complex threats, F-Secure uses the DeepGuard identification system, which searches for potentially dangerous changes to your system.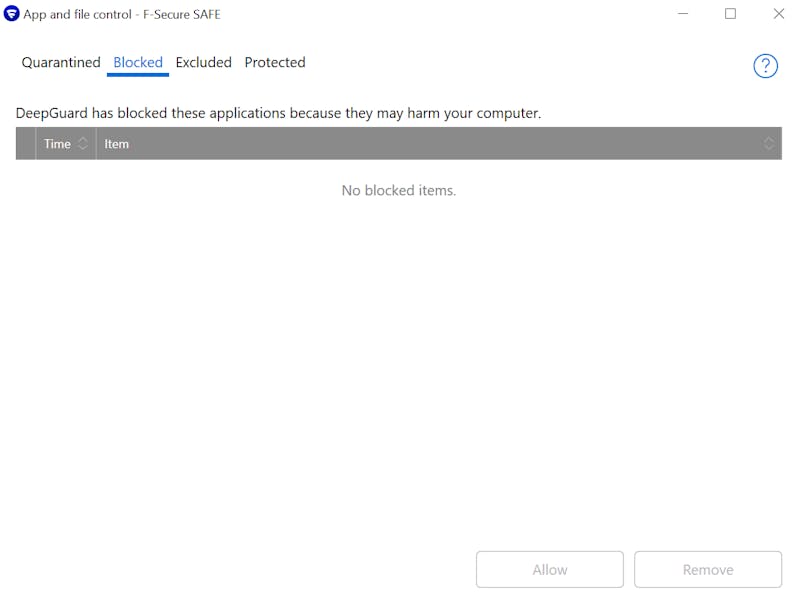 You can see which programs DeepGuard has blocked at any time.
Ransomware protection
F-Secure also protects against ransomware, a particularly nasty kind of Trojan that holds your files hostage, demanding a hefty payment for their release. Only folders that you select to be protected benefit from this, however, and must be specified in the "App and File Control" area.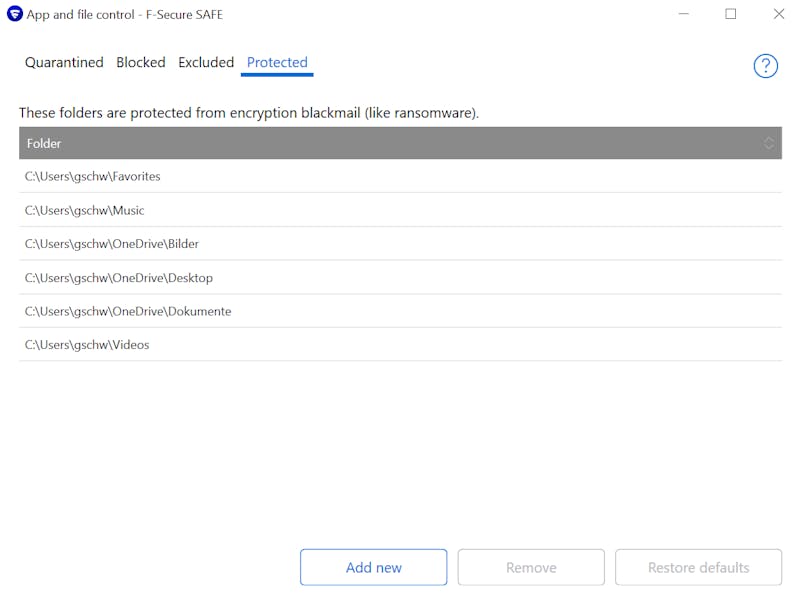 You can select which folders you'd like to protect against ransomware attacks.
Secure Browsing
F-Secure automatically blocks suspicious and malicious websites, allowing users to set exceptions in the settings area. When using search engines like Google, Yahoo, Bing, or DuckDuckGo, the program will display a reputation score next to each search result, helping you to determine whether a site is secure or potentially dangerous.
In order for secure browsing to work at maximum efficiency, you'll need to install the "Browsing Protection" extension. This gives F-Secure access to your browser but doesn't offer any additional configuration or settings options. Clicking on the accompanying icon directs you to the F-Secure homepage.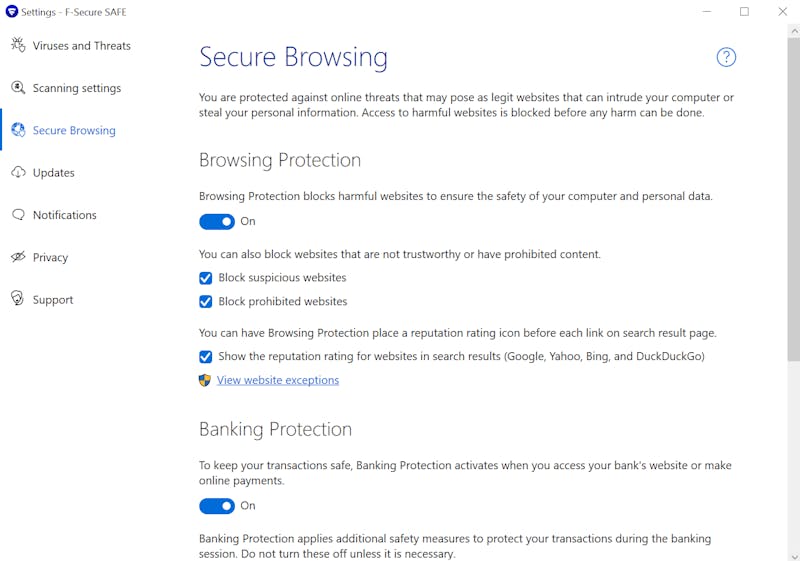 Secure Browsing prevents you from visiting dangerous websites or malicious content.
Banking protection
The program also makes sure that users are safe when handling money online. F-Secure's banking protection isn't buttressed with a secure browser, that is to say, an isolated and secure environment for making or receiving payments, as most other antivirus programs include.
Should you access an online banking website, a green frame will surround your browser, with F-Secure informing you that some websites and apps might be blocked until you navigate away from the page. This is nifty since you can use your default browser, however, we would still like to have the option to use a secure browser.

F-Secure's banking protection limits the activity of certain apps and websites while making a payment or using net banking.
Parental controls
You can add new devices for family members in your My F-Secure account, setting rules for them. These include daily time limits, as well as a "Bedtime" when the usage of all programs is curtailed. For the latter, the program differentiates between school nights and weekends.
There are also filters, with which you can prohibit illegal downloads or content relating to drugs, violence, or gambling. During our evaluation on an Android smartphone, these proved very reliable. Unfortunately, no options are offered to block websites on the basis of their URL or to exempt sites from a category.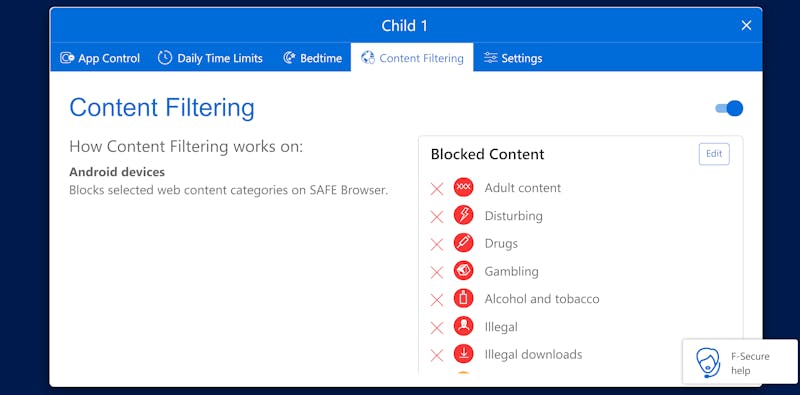 With F-Secure's parental controls, you can filter content, but not block specific websites.
F-Secure TOTAL features
That about covers the basic features. In the high-end, F-Secure TOTAL package, two additional programs are included: a VPN called FREEDOME VPN, and ID PROTECTION, a password manager. Either can also be purchased separately.
F-Secure FREEDOME VPN
FREEDOME VPN makes it possible to anonymously surf the Internet, changing your virtual location at any time. During our assessment, these included 23 different locations, however, no information was provided as to how many servers each location entails. We were able to stream video content without issue on both Netflix and Amazon Prime, however, we didn't have any luck with Disney+.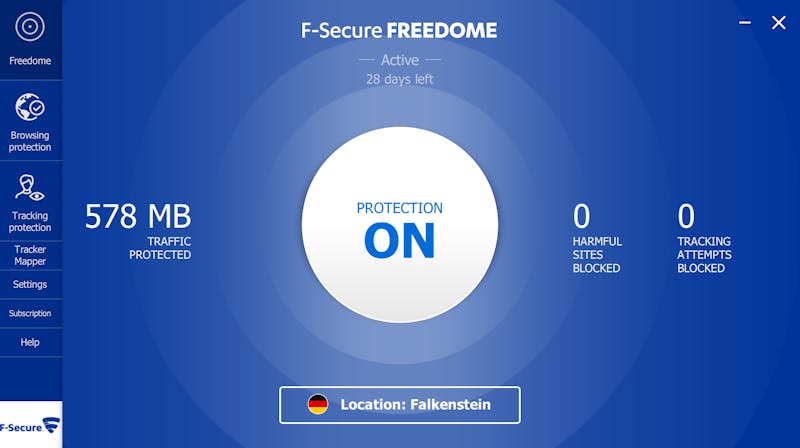 With FREEDOME VPN, F-Secure offers its premium subscribers access to a decent VPN.
In addition, F-Secure guards your privacy with browser protection and anti-tracking. FREEDOME VPN is solid, but in comparison to stand-alone programs, such as those from our comprehensive EXPERTE.com VPN review, the number of locations is somewhat limited. The same holds true for the program's other features and settings as well.
F-Secure ID PROTECTION
Just like the VPN, in order to start using F-Secure's password manager, you'll have to download it in the My F-Secure area. This offers all of the basic features expected of a password manager: You can create datasets for passwords and credit cards, or check how strong the former are in the analysis area. The "Password Manager by F-Secure" browser extension makes it possible to supply these datasets automatically on the appropriate website.
It's possible to import data from some password managers (LastPass, Dashlane, and KeePass X), as well as a few browsers (Google Chrome and Microsoft Edge). With the "Monitoring" feature, the program will check whether your email address has been part of any data leaks.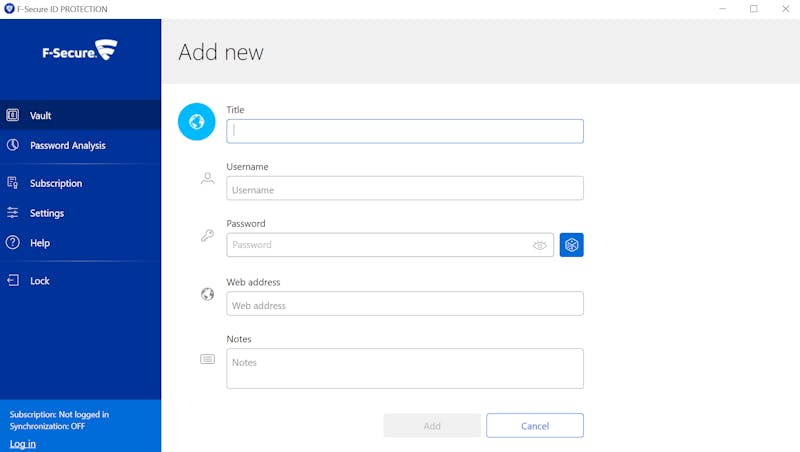 With F-Secure's straightforward password manager, you can automatically create and supply secure passwords when they're needed.
F-Secure's autofill worked reliably during our assessment, however, once again, the program's capabilities are considerably less than those of stand-alone solutions. The browser extension is little more than a connection to the browser, with the password generator and all other features located in the app itself.
Underlying this, you can only select from two dataset categories: passwords and credit cards. Custom or user-defined fields cannot be input. Should you want the TOTAL package anyways, then the password manager is a nice bonus, however, there are superior dedicated password managers that we would recommend over it. To check out the best of these, be sure to consult our extensive evaluation of password managers.
Unfortunately, F-Secure is lacking a few features that have become ubiquitous amongst antivirus programs, such as a file shredder (for permanently deleting data) or a firewall. Other notable absences include cloud backups, the ability to encrypt individual files, or dedicated webcam protection.
Mobile Features
For smartphones, it's more of the same, with F-Secure sticking to the basics, and even cutting a few features from the desktop app. You can run scans and use a secure browser, with the latter making it possible to surf the Internet without fear of malware. The password manager is also included in the app, but the VPN isn't. In addition, F-Secure markets stand-alone mobile apps for both.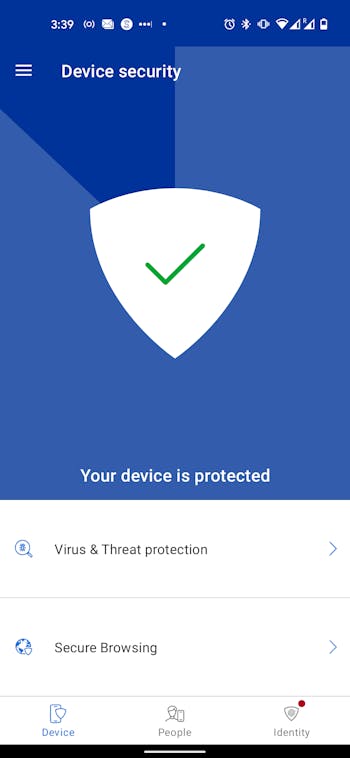 F-Secure's smartphone app offers little beyond the basics.
Anti-theft features aren't included in the smartphone app. In the past, F-Secure offered "Finder", which could be used to remotely locate a device, however, since this sort of capability now comes standard with both Android and iOS, it's been discontinued.
Overall, F-Secure doesn't really impress in terms of features. Its VPN and password manager, the two highlights of the TOTAL subscription package, aren't really worth the extra cost, since better stand-alone programs exist. Beyond that, in general, F-Secure lacks a few standard features here and there.
In this section of our reviews, we turn to AV-Test and AV-Comparatives, two independent testing labs that regularly assess the security and performance of a number of antivirus solutions, with both awarding separate scores in each area. Beyond that, we also ran a full system scan to make a subjective assessment of what sort of impact users can expect and whether or not it's possible to perform basic tasks while a scan is running.
| | Security | Performance |
| --- | --- | --- |
| | | |
| | | |
| | | |
Security first: In this area, F-Secure did excellently with AV-Test, taking a full 6 out of 6 points. In the Real-World-Protection Test, organized by AV-Comparatives, an above-average number of false positives (44) were ascertained, dragging down the overall result. The silver lining is that 100% of attacks were blocked, just a few more than necessary.
In terms of performance, the situation is reversed: As part of its performance test, AV-Comparatives awarded F-Secure first place, while with AV-Test, a number of minor issues were uncovered.
If you take the best of both, then F-Secure offers excellent security and performance. At least so far as the latter is concerned, we're of the same opinion: At no time did we feel during the full system scan we ran that our computer was lagging or under-performing.
The above-average number of false positives uncovered by AV-Comparatives does dampen our overall picture of F-Secure, however, we're confident that its security and performance are up to snuff.
Security & Performance
8.6 / 10
F-Secure's help center was right up our alley. Using the search feature, you can quickly find relevant answers to whatever questions you might have, as well as a nice selection of help articles, arranged by product. An extensive user handbook, complete with a few video tutorials, is on offer, as are some support articles. If those don't help, there's also a forum.
For more technical issues, there are also support tools on offer that can be downloaded and used to help create reports which are forwarded to F-Secure staffers, who will then interact with you directly to resolve the problem.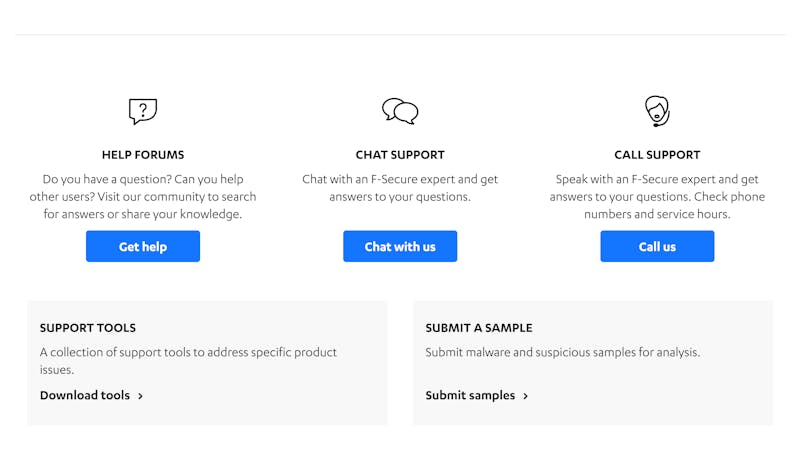 F-Secure's support impressed us with its fast response times and informative content.
To get directly in touch, you can utilize the support hotline or live chat.
For the latter, we were quickly connected to friendly staffers who competently (and professionally) addressed our queries. On the phone, we also didn't have to wait long. The only blemish is that classic support tickets aren't offered.
All told, we found F-Secure's support nearly perfect.
For private users, F-Secure offers three products: F-Secure SAFE (antivirus), F‑Secure FREEDOME VPN, and F‑Secure ID PROTECTION (password manager). Should you want all three, you can book an F-Secure TOTAL subscription.
With any of the above, you'll need to select a license period (12 or 24 months) as well as specify the number of devices you wish to use the software on. Monthly payments are not possible.
The company also offers a range of security solutions for businesses.
Below, you can find a current price list for all of F-Secure's products:
Internet Security
Total
Set-up Fee
$0.00
$0.00
Price per Year
from $49.99
from $59.99
Contract Period (Months)
12
12
Software
OS

Windows

macOS

iOS

Android

Windows

macOS

iOS

Android

Max. Number of Devices
25
25
Special Protection Features
Real-time Protection
Internet Security
Email Protection
Ransomware Protection
Webcam Protection
Premium Features
Firewall
Password Manager
VPN Access
Adblocker
Cloud Backup
File Shredder
Parental Control
Performance Tuning
Mobile Features
App Lock
Location Tracking
Remote Lock
Camera Trap
Since subscriptions and accompanying features vary from program to program, the table below compares all providers from our sample on the basis of a template with similar conditions:
1.
2.
3.
360 Total Security
Premium
4.
5.
6.
Bitdefender
Internet Security
7.
8.
9.
10.
11.
12.
13.
F-Secure
Internet Security
14.
F-Secure can be trialed for 30 days for free without having to input payment information. All paid subscriptions come with a 30-day, money-back guarantee.
Conclusion
Security & Performance
8.6 / 10
Installation & Usage
8.0 / 10
F-Secure, the enterprise specialist from our sample, has shown from the above that it also has something to offer individual users. Its user-friendly antivirus solutions focus on the essentials, serving up all of the basics with little fuss. The program fared well with the testing labs we consult, achieving top scores in both security and performance, just not across the board. Finally, the Finnish developer's support was excellent, coming very near to matching our ideal.
Unfortunately, F-Secure could do with a few more features, since it lacks some basics, like a file shredder, firewall, or secure browser. The VPN and password manager that are included with the most expensive subscription package are decent, but can't really compare to dedicated software.
We'll be blunt: We wouldn't pay for an F-Secure TOTAL subscription just to get access to its VPN and password manager, since there are better stand-alone solutions out there, and with the provider's SAFE subscription, you'll get less bang for your buck than you would elsewhere. All the same, F-Secure is reliable and intuitive, and certainly not a poor choice for an antivirus suite.
F-Secure focuses on the essentials and delivers reliable protection from most malware, as demonstrated by its results in the testing labs. But some features, such as webcam protection, are missing.
Plan
Devices
Protection Features
Premium Features
F-Secure Internet Security
yearly price
Visit Website*
Customer Ratings
What do other users think about F-Secure? We checked reputable review portals, gathering the feedback we found here, for you. In general, F-Secure is rated favorably, with many characterizing the program as reliable and fast.
Customer Ratings
16,715 Bewertungen
Visit Website*
We analyzed the reviews and ratings from various portals and found 16,715 ratings with an overall rating of 4.2 out of 5 .
Alternatives to F-Secure
One big disadvantage of F-Secure is that it doesn't offer a (long-term) free version of its software. Should you want an antivirus that won't cost you a cent, you can't miss the relatively generous free version of Avast.
If you want reliable protection against viruses, packaged in a user-friendly app, with top support, and more features than F-Secure, we can heartily recommend our best-in-show, Bitdefender.
More of the best alternatives to F-Secure can be found below:
Our 'best in test' antivirus program Bitdefender boasts strong security, confirmed by independent test laboratories, along with a flawless user interface and a comprehensive set of features.
configurable quick actions
good support with 24/7 live chat
9.6

excellent
Plan
Devices
Protection Features
Premium Features
Bitdefender Antivirus Plus
$23.99
yearly price
Visit Website*
Avast impresses with a great free version covering all the essentials, and a huge set of features that offer well-rounded antivirus protection and some nice extras. Scans can slightly impact performance, however.
Sandbox and WiFi-Inspector
scans can impact performance
8.6

good
Plan
Devices
Protection Features
Premium Features
Avast Free
$0.00
Visit Website*
Download for Free
With its robust set of features, lean applications, and a 100 % antivirus guarantee, Norton Antivirus is definitely worth a look. Sadly, the testing labs aren't unanimously impressed, and one or two features are missing.
learn, user-friendly apps
customizable child protection
100 % antivirus guarantee
8.4

good
Plan
Devices
Protection Features
Premium Features
Norton Antivirus Plus
$19.99
yearly price
Visit Website*
Trend Micro delivers a solid overall antivirus package with lots of features and some nice extras, such as social media protection. However, the testing labs are a bit divided on the reliability of its protection.
Plan
Devices
Protection Features
Premium Features
Trend Micro Antivirus+
$19.95
yearly price
Visit Website*
G Data offers virus protection "made in Germany" with solid test lab scores, lots of customization, and great support. The user interface, however, could use a facelift.
many configuration options
interface somewhat outdated
test lab scores "only" solid
8.4

good
Plan
Devices
Protection Features
Premium Features
G Data Antivirus
yearly price
Visit Website*

Janis von Bleichert studied business informatics at the TU Munich and computer science at the TU Berlin, Germany. He has been self-employed since 2006 and is the founder of EXPERTE.com. He writes about hosting, software and IT security.
Continue Reading
Ad disclaimer
* For links marked with an asterisk, EXPERTE.com may earn a commission from the provider. The commission has no influence on our editorial rating.