Surfshark Antivirus Review 2023: How Good Is It?

Author
Janis von Bleichert
Ad disclaimer:
For links on this page, EXPERTE.com may earn a commission from the provider. This supports our work and has no influence on our editorial rating.
VPNs have plenty of practical uses, however, guarding against malware like viruses and Trojans isn't one of them. For that, you'll need antivirus software. Surfshark, already well-known for its VPN, had the interesting idea to combine the two services.
The result is Surfshark One – a security suite that mixes antivirus and VPN features. In this review, we'll let you know what it can do.
What Is Surfshark Antivirus?
Surfshark Antivirus* is a cybersecurity tool that guards against malware like viruses and Trojan horses. It's only available as part of the Surfshark One Security Suite, which also includes a VPN, a safe-search tool (Surfshark Search), and data leak protection (Surfshark Alert).
We had good experiences with Surfshark in the past, and their VPN was among the Top 3 in our sample. It achieved this position owing to its combination of user-friendliness, a wide variety of features, and top speeds, all at an affordable price. Below, we'll see whether Surfshark Antivirus can impress us as much as its VPN did.
Surfshark Antivirus Review
Installation & Usage
9.4 / 10
Security & Performance
6.0 / 10
Combines a VPN with antivirus protection

Based on the tried and tested Avira engine
Relatively expensive in comparison to full-fledged antivirus programs
As mentioned above, Surfshark Antivirus is not a standalone program, but part of the Surfshark One suite. Setup is easy: Just create a user account on Surfshark's website and book a paid subscription (unfortunately, free or trial versions aren't offered). After inputting your payment information, you'll be able to download the program.
Clients for different operating systems can be found and downloaded from the Apps & Extensions section of the Surfshark user area.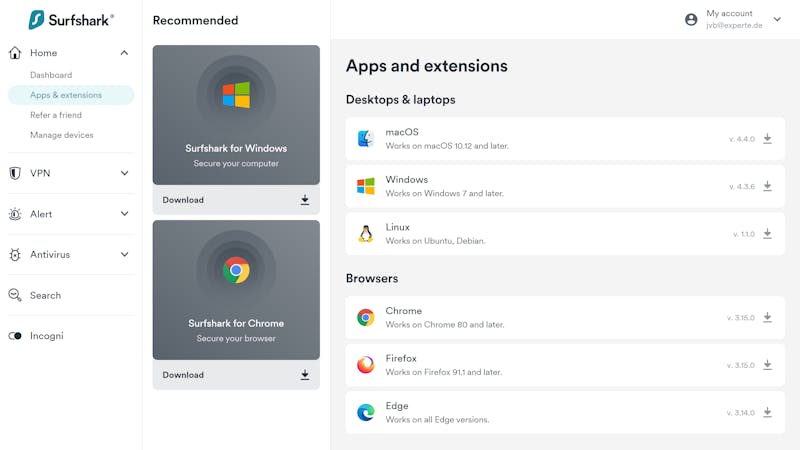 Download the version of Surfshark Antivirus that's compatible with your operating system.
Installation only takes a few minutes. Once complete, all you have to do is log in with your credentials and you'll be taken to the platform's user-friendly dashboard.
Here, you'll find all of the suite's programs: With the navigation menu on the left, you can alternate between the VPN, "Alert" (its data leak feature), "Search", and the antivirus program. When opening the antivirus program for the first time, you'll have to configure it. Surfshark will automatically install all the necessary system drivers, download the latest definitions, and activate real-time protection.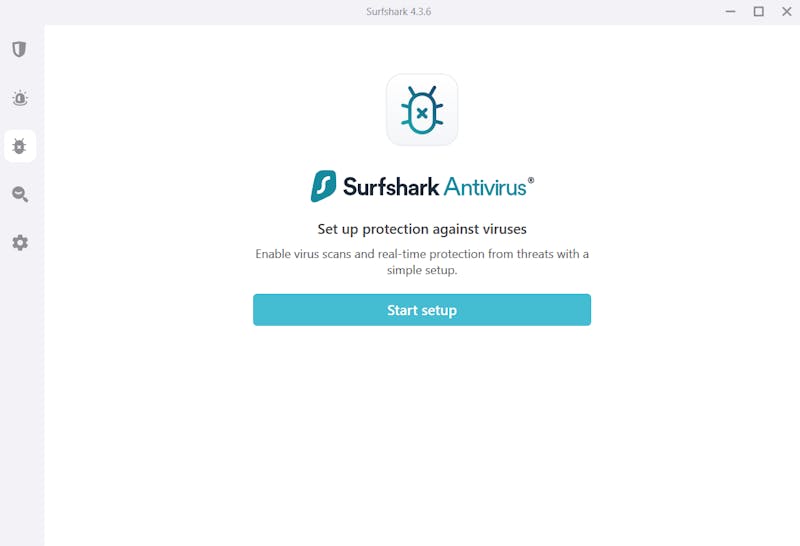 When starting the program for the first time, Surfshark Antivirus automatically configures itself for your system.
After setup is complete, you'll be asked to perform your first scan. Once finished, you'll find yourself in the Surfshark Antivirus user interface, which is simply designed. To the right, you'll see your scan options (full or quick). There's also an area where you can drag and drop files or folders to check them individually.
The program's antivirus settings are located off to the left. With these, you can customize and schedule automatic scans and exempt certain files, folders, or directories. In addition, you can update your virus definitions and toggle real-time protection on or off. Surfshark's antivirus program is fairly basic.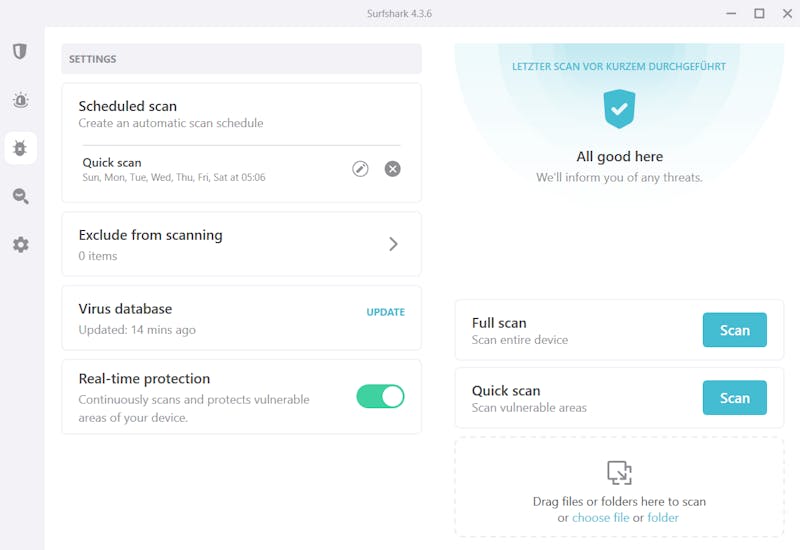 Surfshark Antivirus only offers a few features, which makes using it easy.
The other products that come with Surfshark One, namely, its VPN, "Alert", and "Search", are also easy to use. In the settings area, you can customize the app's design, change its language, and enable push notifications and crash reports.
Mobile Surfshark app
Surfshark Antivirus also has a mobile companion app. This feels more like a VPN with antivirus features than a full-fledged antivirus program. In the navigation menu, tap on One and then on Surfshark Antivirus to access the same features as on the desktop version.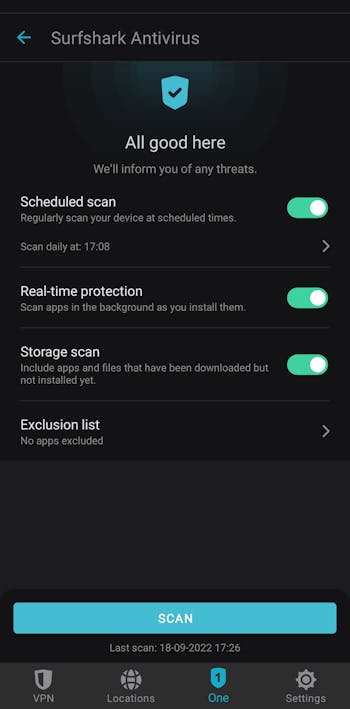 Surfshark's smartphone app includes the same features as its desktop version.
Surfshark Antivirus is intuitive and easy to use, even for beginners. This is largely owing to its relatively limited selection of features, at least in comparison to other antivirus solutions. More on this in the next section though.
Installation & Usage
9.4 / 10
Surfshark Antivirus takes a straightforward approach to features and limits users to the necessities. Let's start with its scans.
Antivirus scans
The program offers two scan options, "Full" and "Quick". Either can be customized to your specifications. All you have to do is specify when (day and time) you'd like the scan to commence.
Certain elements can be excluded from some kinds of scans. It isn't possible to schedule custom scans, so you can only plan "Full" or "Quick" ones. Other antivirus programs offer considerably more choice and flexibility in this area.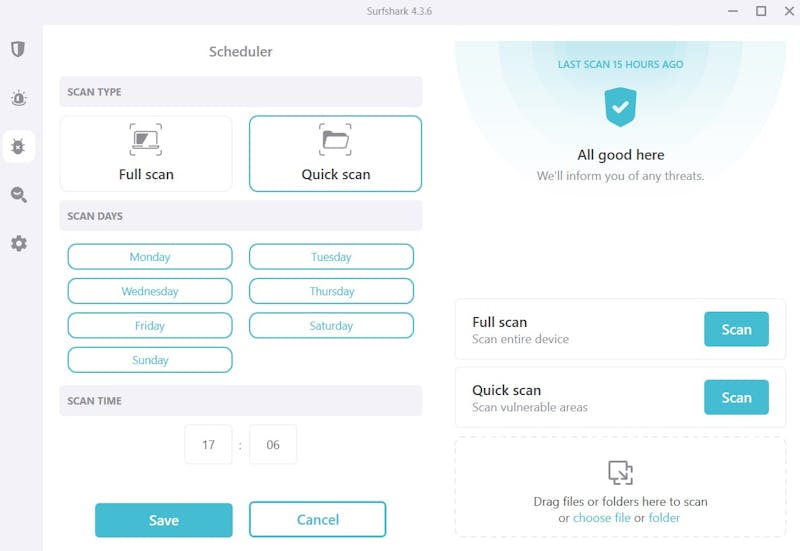 Scans can be scheduled for an entire week in advance.
Real-time protection: One size fits all
Even fewer options are offered for real-time protection since you can only really turn it on or off. Apart from that, you can specify how long the service should be paused, either for a set amount of time or until your device restarts.
Other antivirus providers are more flexible in this regard, particularly when it comes to individually configurable levels of protection. Surfshark Antivirus only gives users a simple on/off button. There's neither webcam nor email protection nor are there any advanced features for combating ransomware or brute force attacks.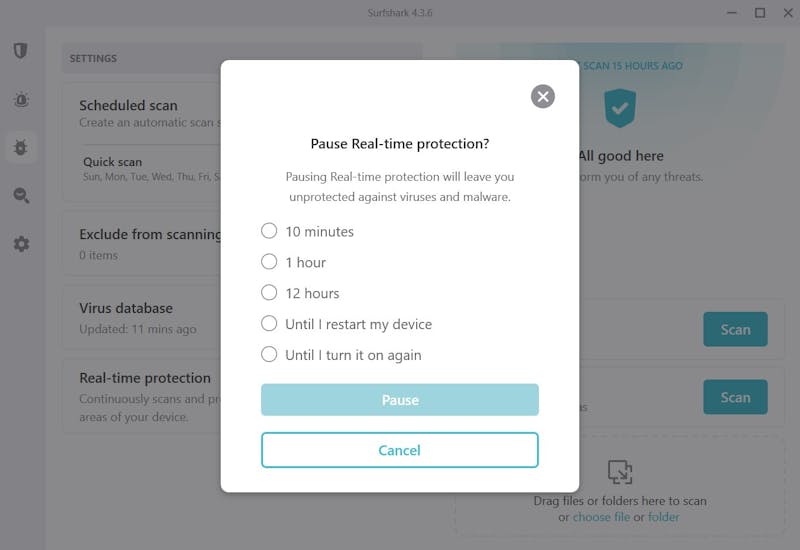 Real-time protection can only be paused for a set length of time and toggled on or off.
Lacks basic features
In addition to scans and real-time protection, most antivirus programs offer a variety of extras and tools. This isn't the case with Surfshark: There's no firewall, file shredder, or backup tool. Parental controls, anti-theft countermeasures (particularly for mobile devices), and performance tuning also aren't on the menu.
You will get an ad blocker and CleanWeb, the platform's browser-level web protection tool, both of which are included with Surfshark VPN, which we'll briefly touch upon below.
The star: Surfshark VPN
While several other antivirus solutions from our sample offer rudimentary VPNs as extras, this is one area where Surfshark surpasses them. After all, with Surfshark One, the VPN is the main attraction, owing to its excellent performance in our EXPERTE.com speed test. On top of that, it provides plenty of features and useful extras.
MultiHop, for example, routes your connection through multiple VPN servers, while Bypasser, the service's split tunneling tool (limits your VPN connection to specific apps and websites). Turning to protocols, you'll be able to select between OpenVPN and WireGuard.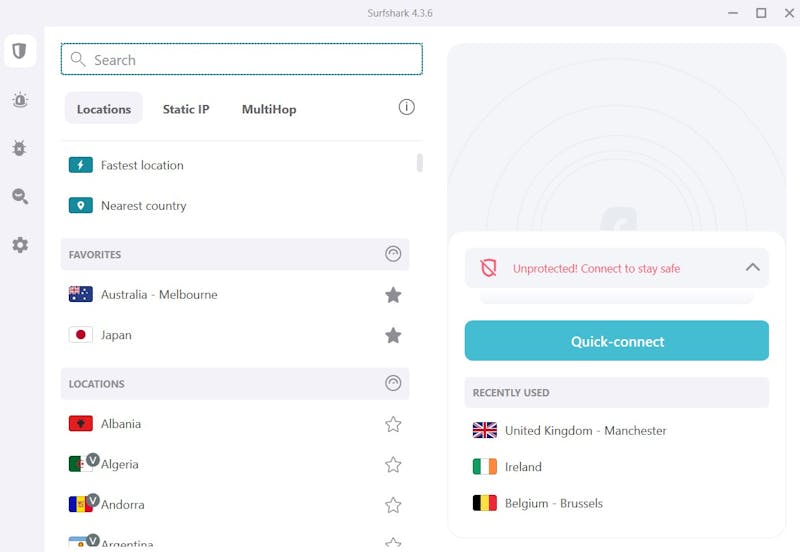 Surfshark's VPN is first in class.
Apart from that, you also get "Alert" and "Search". The first takes you to a browser environment that serves as a sort of security center for your data: Here, you'll be notified when your email address(es) or credit card number(s) appear anywhere online.
Surfshark "Search" is an anonymous search engine that limits tracking and doesn't allow ads to manipulate your search results.
A VPN with antivirus extras
If we were reviewing Surfshark Antivirus as part of a VPN program, we'd award it high scores. However, it's an antivirus solution that includes a powerful VPN. Surfshark Antivirus is simply missing too many features that we expect from antivirus software: Its scans are barely customizable, advanced protection isn't offered, and useful tools like a file shredder, anti-theft tools, or parental controls are nowhere to be found.
In this chapter, we'll take a closer look at Surfshark Antivirus's ability to provide security, and its performance, based on expert analyses. For antivirus software, we consult two testing labs, AV-Test and AV-Comparatives, each of which awards separate security and performance scores.
Because Surfshark Antivirus is so new to the market, neither of the two labs has reviewed it yet. However, since the program uses Avira's antivirus engine (integrated via SDK), its scores provide a useful indicator of where Surfshark likely stands. For Avira, these are very good:
| | Security | Performance |
| --- | --- | --- |
| | | |
| | | |
| | | |
However, just because Surfshark Antivirus uses Avira SDK doesn't mean that they're one and the same: After all, each antivirus program has its own features and security mechanisms.
Unfortunately, there is some grumbling about Surfshark Antivirus's security not being as good as we would like it to be: PC Mag gave the software a score of 53 %, the second worst in its comparison. This is because Surfshark only snapped its digital jaws at 71% of the sample viruses, and was only suspicious about half of the remaining files when opening or launching them.
Until the testing labs weigh in, we're going to hold off on rating Surfshark Antivirus's security. While Avira SDK should give it a solid foundation, there's still a lot that's up to the developers.
Security & Performance
6.0 / 10
You can access Surfshark's support area by heading to Settings > Help. Clicking on any of the links there will take you to Surfshark's website. Unfortunately, there aren't too many entries related to the developer's antivirus software. Nevertheless, the few that we found are of good quality and feature lots of screenshots.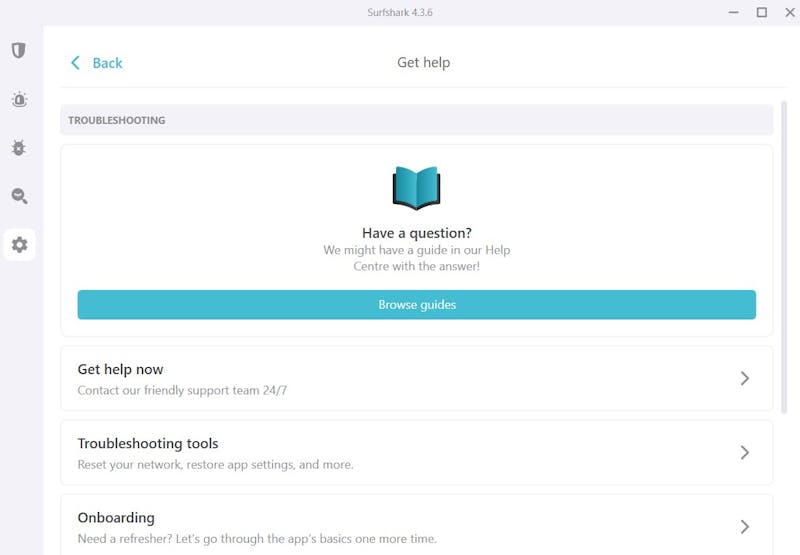 Surfshark's support area is directly integrated into its app.
Click on Get Help Now to access the developer's direct support channels. Questions or queries can be sent either via email or live chat.
During testing, we were connected via chat with a support staffer in a few seconds. They answered our questions competently and were both friendly and eager to assist us. We got a reply to our email in 15 minutes.
Overall, we were very satisfied with Surfshark's support, even though a telephone hotline would be a nice addition.
Surfshark Antivirus is only available as part of the Surfshark One suite. The exact cost depends on the length of your subscription. The most affordable option is a 24-month package, which saves 72% (in the first two years) in comparison to the monthly version. The 12-month subscription has the same basic price, meaning a saving of 62% in the first year compared to the monthly subscription.
Business packages aren't offered and features are identical in all Surfshark One subscriptions.
Below, you can find an overview of all rates:
24 months
12 months
1 month
Set-up Fee
$0.00
$0.00
$0.00
Price per Year
$47.76
$57.35
$173.28
Contract Period (Months)
24
12
1
Software
OS
Max. Number of Devices
5
5
5
Special Protection Features
Real-time Protection
Internet Security
Email Protection
Ransomware Protection
Webcam Protection
Premium Features
Firewall
Password Manager
VPN Access
Adblocker
Cloud Backup
File Shredder
Parental Control
Performance Tuning
Mobile Features
App Lock
Location Tracking
Remote Lock
Camera Trap
Setting Surfshark Antivirus next to other solutions from our sample shows that in terms of price, it's on the more expensive end of the spectrum. To be fair, you're mostly paying for the service's VPN, with antivirus capabilities thrown in as an extra. Since VPNs are more expensive than antivirus programs it isn't surprising that a Surfshark One subscription costs more than an antivirus program.
All the same, if you settle on another antivirus solution that offers a VPN, you'll likely notice the price increase (especially if you exceed the feature's data cap or other limits).
The table below compares each provider's offering on the basis of a sample, with similar conditions
1.
2.
3.
360 Total Security
Premium
4.
5.
6.
Bitdefender
Internet Security
7.
8.
9.
10.
11.
12.
13.
F-Secure
Internet Security
14.
Surfshark doesn't offer a free trial of its antivirus program, however, subscribers can request a full refund within 30 days of purchasing a subscription.
Conclusion
Installation & Usage
9.4 / 10
Security & Performance
6.0 / 10
Surfshark Antivirus provides a refreshing lesson in perspective: Those who expect Surfshark's antivirus solution to go toe-to-toe with the other, dedicated options on the market are likely to be disappointed. In terms of features, Surfshark provides the basics. The level of security it offers is hard to determine since there aren't any verified testing results, and its high price, in comparison to other anti-malware tools, is off-putting.
On the other hand, if you'd like to have a no-frills antivirus solution to go along with your Surfshark VPN subscription, the extra cost might be acceptable. For just a few dollars more, you can upgrade from a Surfshark VPN subscription to Surfshark One, and take advantage of what it has to offer. We think that those who have already subscribed to its VPN are the target audience for its antivirus solution.
Surfshark sticks with the antivirus basics, and – more disappointingly – didn't exactly wow the testing labs. We're happy users of Surfshark's quality VPN, but its antivirus solution leaves much do be desired.
Plan
Devices
Protection Features
Premium Features
Surfshark 24 months
$47.76
yearly price
Visit Website*
Customer Ratings
We haven't been able to identify enough reviews of Surfshark's antivirus solution to provide any conclusions. As a developer, Surfshark has a positive reputation, and its support often praised.
Customer Ratings
199,131 Bewertungen
Visit Website*
We analyzed the reviews and ratings from various portals and found 199,131 ratings with an overall rating of 4.4 out of 5 .
Alternatives to Surfshark Antivirus
Supposing that you'd like to combine a VPN and antivirus, but are more interested in the latter, Bitdefender and Norton are worth exploring. Bitdefender took the top spot in our antivirus comparison, however, only its pricey Premium Security subscription comes with an unlimited VPN. With Norton, you'll get the same starting with its 360 Standard plan.
On the other hand, if you're looking for a VPN with more antivirus features, the best performer from our sample, NordVPN, might be more your cup of tea. "Threat Protection" guards against trackers and viruses, however, the service doesn't include virus scans or advanced anti-malware features.
Be sure to check out more of the leading alternatives to Surfshark Antivirus here:
Our 'best in test' antivirus program Bitdefender boasts strong security, confirmed by independent test laboratories, along with a flawless user interface and a comprehensive set of features.
configurable quick actions
good support with 24/7 live chat
9.6

excellent
Plan
Devices
Protection Features
Premium Features
Bitdefender Antivirus Plus
$23.99
yearly price
Visit Website*
Avast impresses with a great free version covering all the essentials, and a huge set of features that offer well-rounded antivirus protection and some nice extras. Scans can slightly impact performance, however.
Sandbox and WiFi-Inspector
scans can impact performance
8.6

good
Plan
Devices
Protection Features
Premium Features
Avast Free
$0.00
Visit Website*
Download for Free
With its robust set of features, lean applications, and a 100 % antivirus guarantee, Norton Antivirus is definitely worth a look. Sadly, the testing labs aren't unanimously impressed, and one or two features are missing.
learn, user-friendly apps
customizable child protection
100 % antivirus guarantee
8.4

good
Plan
Devices
Protection Features
Premium Features
Norton Antivirus Plus
$19.99
yearly price
Visit Website*
Trend Micro delivers a solid overall antivirus package with lots of features and some nice extras, such as social media protection. However, the testing labs are a bit divided on the reliability of its protection.
Plan
Devices
Protection Features
Premium Features
Trend Micro Antivirus+
$19.95
yearly price
Visit Website*
G Data offers virus protection "made in Germany" with solid test lab scores, lots of customization, and great support. The user interface, however, could use a facelift.
many configuration options
interface somewhat outdated
test lab scores "only" solid
8.4

good
Plan
Devices
Protection Features
Premium Features
G Data Antivirus
yearly price
Visit Website*
* Ad disclaimer:
For links marked with an asterisk, EXPERTE.com may earn a commission from the provider. The commission has no influence on our editorial rating.

Janis von Bleichert studied business informatics at the TU Munich and computer science at the TU Berlin, Germany. He has been self-employed since 2006 and is the founder of EXPERTE.com. He writes about hosting, software and IT security.
Continue Reading