Malwarebytes Antivirus Review 2023: How Good Is the Software?

Author
Janis von Bleichert
Ad disclaimer:
For links on this page, EXPERTE.com may earn a commission from the provider. This supports our work and has no influence on our editorial rating.
Malwarebytes criticizes its competitors for being "reactive" and "ineffective". It boasts that with its multiple security mechanisms and machine-learning technology it can annihilate any virus, even those that "one-dimensional" antivirus programs can't.
Let's find out if the program truly is the virus and malware Terminator that its marketing department claims it to be.
What Is Malwarebytes?
Malwarebytes* is an antivirus program and cybersecurity software developer based in Santa Clara, California. The program comes in free and premium versions for Windows, macOS, Android, and iOS. In addition, there's specialized protection for Google Chrome devices. We tested the premium version on both Windows and Android but also referenced the free version throughout the text.
Malwarebytes Antivirus Review
Installation & Usage
10 / 10
Security & Performance
6.0 / 10
Clear subscription structure
Unremarkable testing lab results

Performance issues during scans
You won't need more than a few minutes to download and install Malwarebytes. Since the installation file is identical for all subscriptions, there isn't any confusion about which version to install either.
Once installed, you'll be asked whether you have a license, plan to use the program's free version, or if you'd like to start a 14-day free trial subscription. For the latter, you only need to supply an email address. This means that there's no danger of falling into the dreaded "subscription trap" and forgetting to cancel before you're charged.
The Malwarebytes user interface is organized into three areas: In the middle, you'll find information pertaining to your system's current security status. If action is needed on your part, you'll be informed about it here first. On the menu bar above, you can view notifications, use a link to the support area, or adjust the program's settings.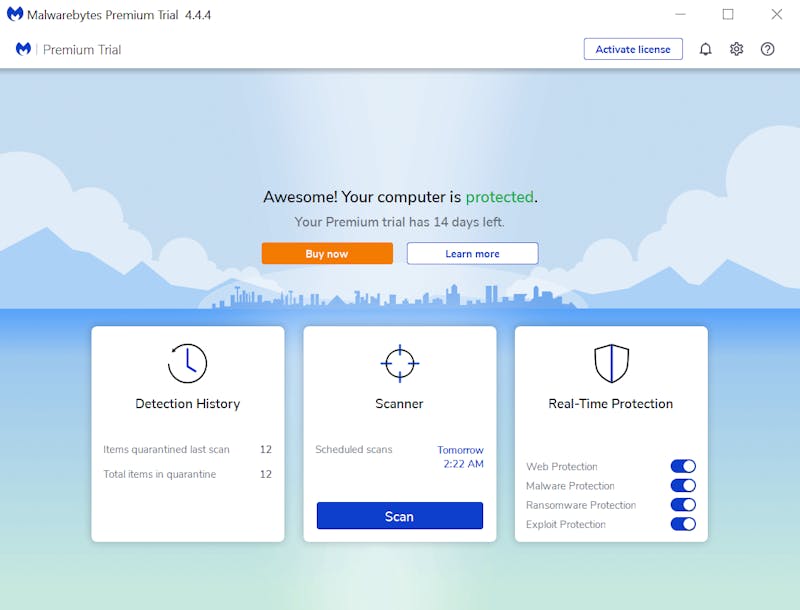 Malwarebytes user interface is intuitively designed and structured.
The lower half of the screen consists of three modules, "Detection History", "Scanner", and "Real-Time Protection". Click on any of these to access additional options and settings.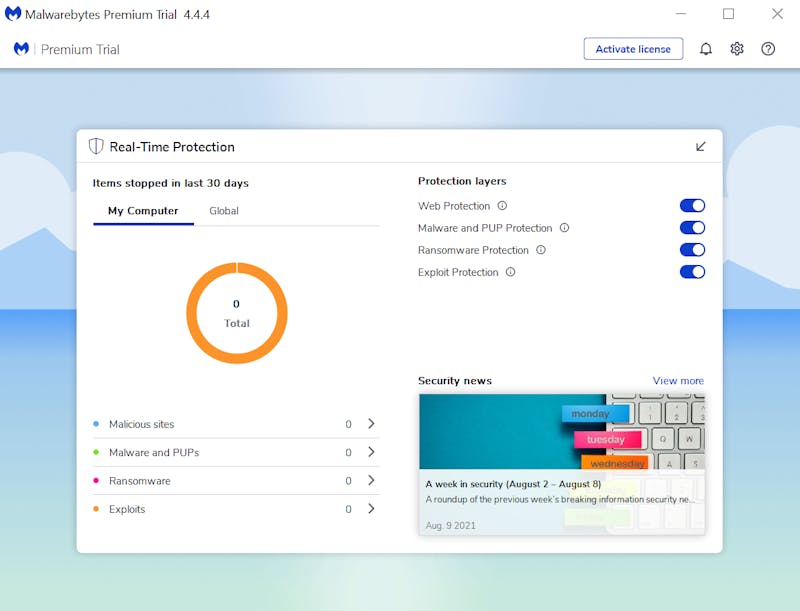 Access all of the software's features with just a few clicks.
There's not much else to say about installing Malwarebytes and its user interface: The program is sleek, quickly installed, immediately ready for use, and very easy to navigate. We particularly liked that it isn't necessary to input any payment data to start a free trial, especially since some of the developer's competitors require this.
Installation & Usage
10 / 10
In the free version, only two of the three modules can be used, since "Real-Time Protection" is reserved for premium subscribers. A full system scan, quick scan (only your memory and startup programs), or custom scan can all be performed without a license.
For custom scans, you can specify which folders and partitions should be analyzed, as well as what Malwarebytes should do if it finds any infections or unwanted programs. The options are: "Ignore", "Warn", and "Automatically treat as malware".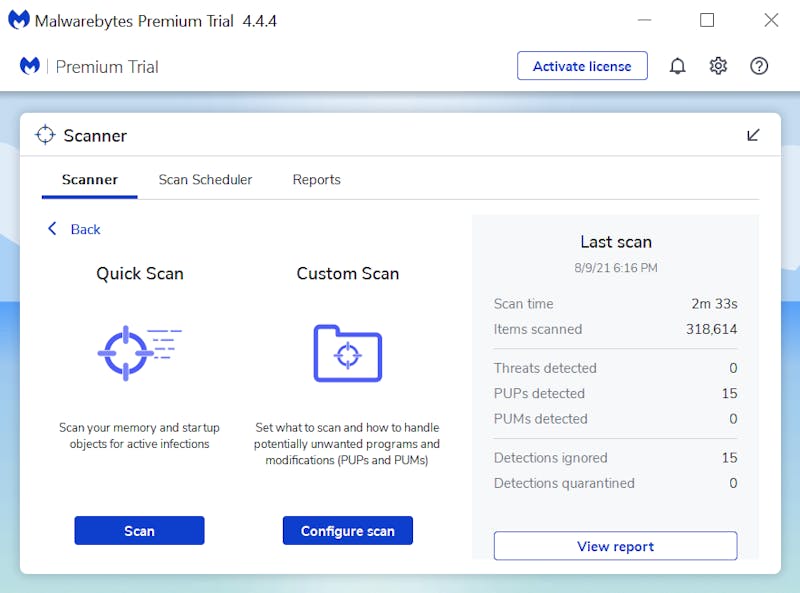 Malwarebytes allows users to perform a variety of different scans.
"Scan Scheduler" helps to plan scans from any of the three categories for specific times and intervals. All scan reports are saved and archived so that you can access and review them later on.
Real-time protection only for paying customers
This is where the Malwarebytes experience ends for free users since "Real-Time Protection" is limited to paying subscribers. This is divided into four layers:
Web Protection alerts you to dangerous websites, phishing, and other online hustles. Malware and PUP Protection keep away programs that would harm your computer, like viruses and adware. Ransomware Protection defends you against Trojans that take your files or folders hostage (by encrypting them). Rounding things out, Exploit Protection identifies malicious software that pounces on weaknesses and errors in your system.
Despite all of the above, the program lacks email protection: In other antivirus programs, you can specify whether incoming and/or outgoing emails are scanned for threats or viruses. Webcam protection, which carefully monitors which programs have access to your webcam, is also missing.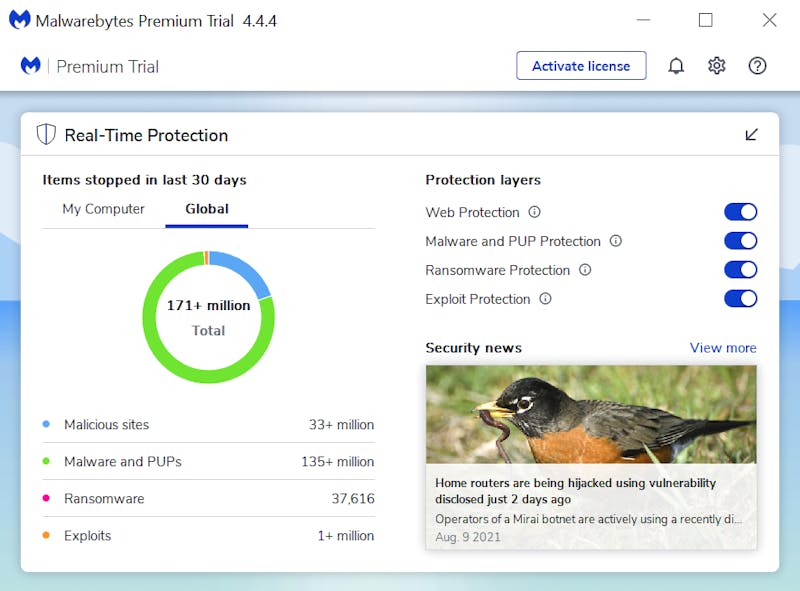 Malwarebytes offers four protection layers, covering the most dangerous kinds of threats.
Settling for the basics
Unlike ESET, Malwarebytes doesn't have any "hidden" features in its sub-menus. What you see is what you get. Unfortunately, in comparison to some other antivirus programs, this is not that much. In addition to certain real-time protection shields (email and webcam), the program also lacks a file shredder and a firewall, both of which are fairly common among the antivirus programs from our sample.
Malwarebytes does offer a special subscription package that includes a VPN, however, if you're expecting a password manager, parental controls, performance tuning, an ad blocker, or cloud backups, you'll likely be disappointed. This is more forgivable than the absence of real-time email or webcam protection since antivirus software developers artificially inflate their features or extras. Rarely are these extras as good as standalone programs.
For that reason, Malwarebytes's minimalistic approach is refreshing. The only change we'd recommend would be to add email and webcam protection layers.
Mobile features
Malwarebytes also offers a free Android app, however, it doesn't include real-time protection. Even the mobile app's premium version is kept to the bare minimum: Alongside automatic real-time scans (with a few configuration options) there's "Privacy Protection", which provides a convenient overview of which privileges you've given installed apps.
iOS users won't be able to perform scans, which, at least according to support, is owing to a restriction by Apple. As a result, iOS users can only take advantage of Malwarebytes's real-time protection.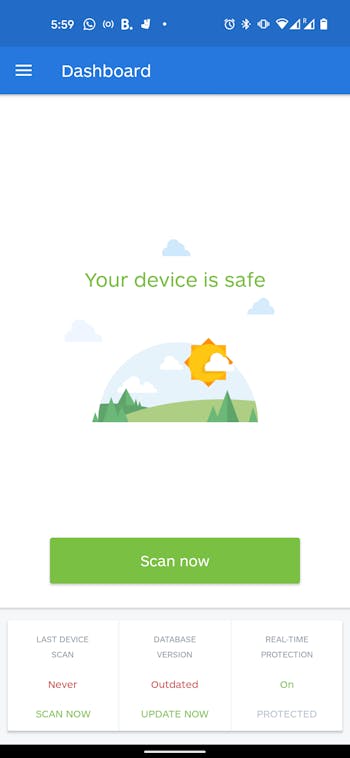 The Malwarebytes smartphone app is limited to the bare necessities.
Anti-theft features, an app lock, or remote access are also missing, with all focus instead on the mobile software's antivirus tools.
This emphasis on antivirus protection for both mobile devices and computers might have worked if Malwarebytes had truly only cut back on the unwanted bells and whistles that its competitors offer. Since several important features are missing though, most people use Malwarebytes with other software. Even though other programs might be less "one-dimensional" than Malwarebytes, they can handle viruses on their own.
To assess all antivirus software from our sample as objectively as possible, we consulted AV-Test and AV-Comparatives, two of the most reputable online testing labs. Each awards separate performance and security scores to leading antivirus solutions at regular intervals. We also ran a full system scan with the software to check whether our computer experienced any performance issues or lag.
| | Security | Performance |
| --- | --- | --- |
| | | |
| | | |
| | | |
The two testing labs we consulted awarded Malwarebytes very different scores: In the most recent analysis conducted by AV-Test, the software received high or top scores, taking 5.5 out of 6 points in security, and maximum points in performance.
AV-Comparatives had a less rosy assessment of the software. The independent testing lab rates security and performance on three levels, and Malwarebytes only did enough to reach the first. Too many false positives ruined its security score, while in terms of performance, there were issues when trying to install or run software during a scan.
Noticeable performance issues
AV-Comparatives' assessment of Malwarebytes' performance overlaps with our own experience: As soon as we started a scan, our PC slowed down. On the positive side, the scan only took a few minutes, even though it checked fewer objects than its competitors typically do. This likely has some relation to the software's machine learning. Still, we prefer a more comprehensive scan that takes longer and runs unnoticed in the background.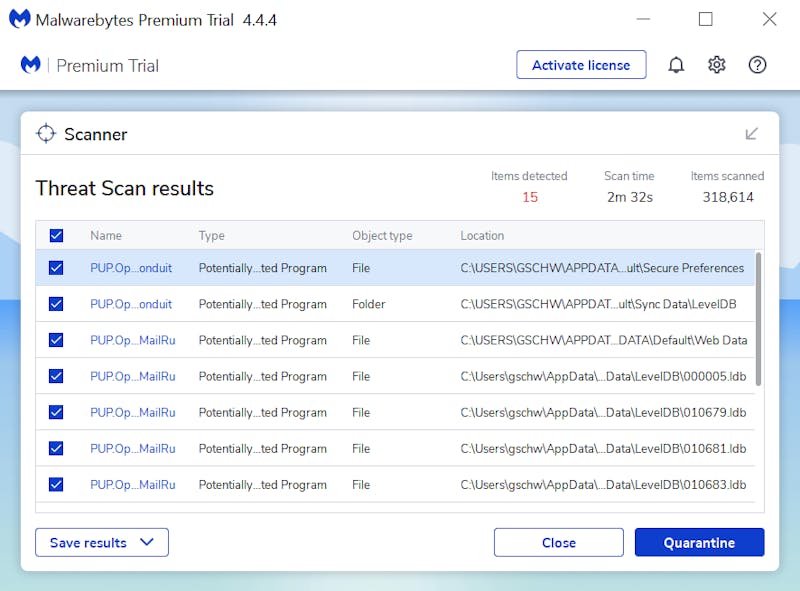 Although fast, our computer became much slower during our Malwarebytes scan.
Owing to its unimpressive testing lab results, and the issues we noted when performing a full system scan, we can only give Malwarebytes a "satisfactory" performance rating. At the same time, in terms of security, the program received a poor score from AV-Comparatives owing to the high number of false positives. Keep in mind that these do not indicate that it cannot protect your system, but rather, that it over-protects it.
Still, there are enough antivirus programs out there with better blend of security and performance.
Security & Performance
6.0 / 10
In contrast to the last section, Malwarebytes did well when it came to support. The help center provides a nice selection of informative articles and videos, arranged by operating system. Thanks to the integrated search tool, you can quickly find what you need.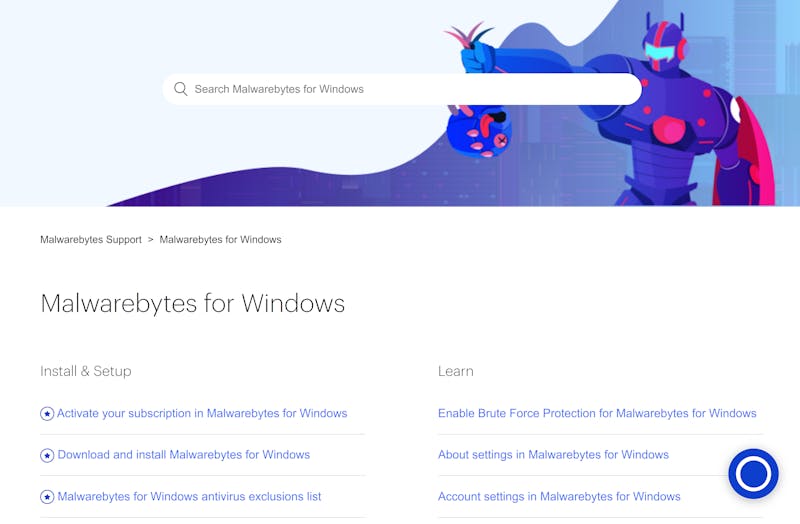 The Malwarebytes support center is solid.
In the past, Malwarebytes offered a live chat, however, direct support is now only available via a support ticket. During our evaluation, we waited a whole week for an answer, which only came after we opened a new support ticket. On the second attempt, the support team wasn't faster, which tells us that its response times are poor. Ironically, the well-visited forum should yield a faster and more informative reply from a community member.
Malwarebytes offers a solid help center, however, the lack of live support and slow response times are disappointing. No one, let alone a Premium subscriber, should have to wait a week for a reply to their query.
Malwarebytes' pricing structure is refreshingly straightforward: Individuals can use the program for free, as part of the Premium package (one device), or the Premium Home package (up to five devices). Next, you can select how long you'd like to subscribe (one or two years, with the latter costing less per month).
Apart from these, there's also the option to book the Premium + Privacy subscription, which includes the aforementioned VPN.
The offers are more personalized for business customers and depend largely on the number of expected users.
Below, we've prepared an overview of the software's various subscription packages:
Free
Premium
Set-up Fee
$0.00
$0.00
Price per Year
$0.00
from $33.74
Contract Period (Months)
0
12
Software
OS

Windows

macOS

Android

Windows

macOS

Android

Max. Number of Devices
unlimited
10
Special Protection Features
Real-time Protection
Internet Security
Email Protection
Ransomware Protection
Webcam Protection
Premium Features
Firewall
Password Manager
VPN Access
Adblocker
Cloud Backup
File Shredder
Parental Control
Performance Tuning
Mobile Features
App Lock
Location Tracking
Remote Lock
Camera Trap
Since Malwarebytes is one of the few antivirus providers from our sample to offer straightforward pricing, comparing it to other services is fairly complicated. Most of its competitors are available in different premium versions, each of which comes with various features.
As subscription packages and features for each program and package vary, the table below compares each provider's offering on the basis of a template we created. Each provider's subscription that comes closest was included as a benchmark. According to this comparison, Malwarebytes is one of the most expensive solutions among the programs we assessed.
1.
2.
3.
360 Total Security
Premium
4.
5.
6.
Bitdefender
Internet Security
7.
8.
9.
10.
11.
12.
13.
F-Secure
Internet Security
14.
Conclusion
Installation & Usage
10 / 10
Security & Performance
6.0 / 10
Despite its claim of being able to do everything that other antivirus programs can't, Malwarebytes still leaves a good impression. It's easy to use and navigate and provides most features and tools we look for in an antivirus program, without any filler. Unfortunately, Malwarebytes lacks a few must-haves, with its superior "intelligence" not reflected in the testing lab scores.
In addition, we weren't thrilled with the software's performance issues or its high number of false positives. We recommend Malwarebytes as an additional, but not a stand-alone antivirus program. For some, it may be helpful, however, for most it's overkill. There are simply too many absences in terms of features or performance issues to recommend Malwarebytes as a comprehensive antivirus solution, to say nothing of its high (premium) price.
Due to disappointing grades in the testing labs and a lack of basic features, Malwarebytes currently isn't the best antivirus option on the market.
user-friendly application
pricing easy to understand
noticeable performance issues
disappointing lab results
6.4

satisfactory
Plan
Devices
Protection Features
Premium Features
Malwarebytes Free
$0.00
Visit Website*
Download for Free
Customer Ratings
Customers like Malwarebytes: The program's user-friendliness is evidenced time and again, with nearly everyone rating the program as effective.
Customer Ratings
442,777 Bewertungen
Visit Website*
We analyzed the reviews and ratings from various portals and found 442,777 ratings with an overall rating of 4.2 out of 5 .
Alternatives to Malwarebytes
The top performer from our sample, Bitdefender is just as easy to use but received excellent scores from the two testing labs we consulted. Should you instead prefer a free antivirus program that offers robust protection, we recommend taking a look at Avast.
More of the best alternatives to Malwarebytes can be found here:
Our 'best in test' antivirus program Bitdefender boasts strong security, confirmed by independent test laboratories, along with a flawless user interface and a comprehensive set of features.
configurable quick actions
good support with 24/7 live chat
9.6

excellent
Plan
Devices
Protection Features
Premium Features
Bitdefender Antivirus Plus
$23.99
yearly price
Visit Website*
Avast impresses with a great free version covering all the essentials, and a huge set of features that offer well-rounded antivirus protection and some nice extras. Scans can slightly impact performance, however.
Sandbox and WiFi-Inspector
scans can impact performance
8.6

good
Plan
Devices
Protection Features
Premium Features
Avast Free
$0.00
Visit Website*
Download for Free
With its robust set of features, lean applications, and a 100 % antivirus guarantee, Norton Antivirus is definitely worth a look. Sadly, the testing labs aren't unanimously impressed, and one or two features are missing.
learn, user-friendly apps
customizable child protection
100 % antivirus guarantee
8.4

good
Plan
Devices
Protection Features
Premium Features
Norton Antivirus Plus
$19.99
yearly price
Visit Website*
Trend Micro delivers a solid overall antivirus package with lots of features and some nice extras, such as social media protection. However, the testing labs are a bit divided on the reliability of its protection.
Plan
Devices
Protection Features
Premium Features
Trend Micro Antivirus+
$19.95
yearly price
Visit Website*
G Data offers virus protection "made in Germany" with solid test lab scores, lots of customization, and great support. The user interface, however, could use a facelift.
many configuration options
interface somewhat outdated
test lab scores "only" solid
8.4

good
Plan
Devices
Protection Features
Premium Features
G Data Antivirus
yearly price
Visit Website*
* Ad disclaimer:
For links marked with an asterisk, EXPERTE.com may earn a commission from the provider. The commission has no influence on our editorial rating.

Janis von Bleichert studied business informatics at the TU Munich and computer science at the TU Berlin, Germany. He has been self-employed since 2006 and is the founder of EXPERTE.com. He writes about hosting, software and IT security.
Continue Reading