Trend Micro Antivirus Review: A Good Choice in 2023?

Author
Janis von Bleichert
Our editors test and evaluate all services independently. For links on this page, EXPERTE.com may earn a commission from the provider.
Digital threats grow more sophisticated by the day, and sometimes even hour. Unfortunately, classic, signature-based malware detection is no longer up to the task in a development that has seen antivirus developers like Trend Micro adopt new, AI-based virus recognition. But just how good is this new, AI-supported approach?
What Is Trend Micro?
Trend Micro* is a security software developer founded in 1988 in the US, but since 1992, based in Tokyo. In 1990, the company unveiled its first antivirus program, and now, slightly more than 30 years on, offers multiple antivirus solutions for Windows, macOS, Android, iOS, and Chromebooks.
We assessed Trend Micro on Windows and Android, but discuss all of the provider's subscription packages in the review below.
Trend Micro Antivirus Review
Installation & Usage
9.4 / 10
Security & Performance
8.6 / 10
Good protection and performance according to the testing labs

Comes with plenty of features
Lacks a VPN and the rudimentary password manager is only available as an extra program

No firewall or webcam protection
Trend Micro offers free trial versions of all of its antivirus solutions, which can be downloaded from the developer's website, in the product area, under "Free Tools and Apps". After downloading the installation file (slightly larger than 400 MB), it takes a few minutes to install the software. On the plus side, to start taking advantage of this, all we had to input was our email address and not a payment method. We like these kinds of trials because there's no risk of the user inadvertently having to pay for software that they forgot to uninstall or cancel.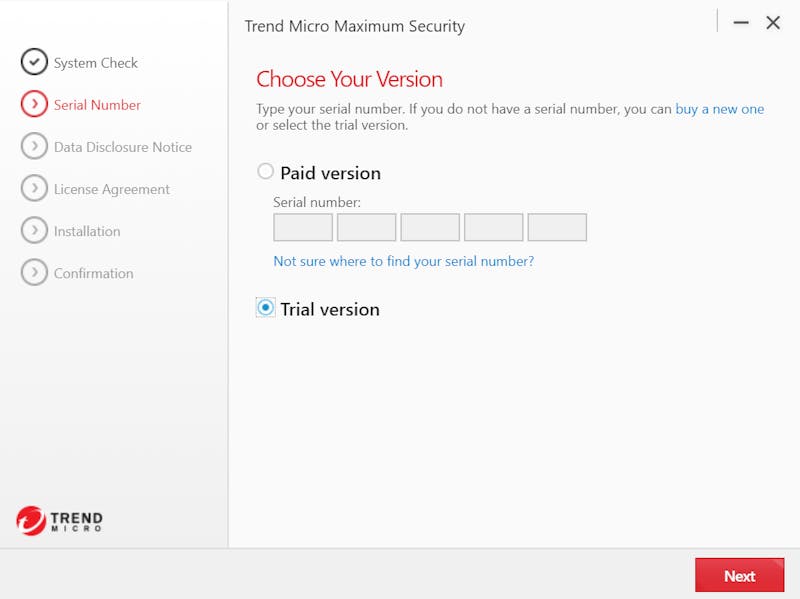 Should you only want to trial Trend Micro, you won't have to input any payment information.
After installation concluded, we found ourselves in Trend Micro's rectangular desktop dashboard, the central focal point of which is the green-bordered "Scan" button. Clicking on this launches a quick scan, however, by selecting the arrow symbol next to it, you can perform a full or user-defined scan instead. More on these in the next section.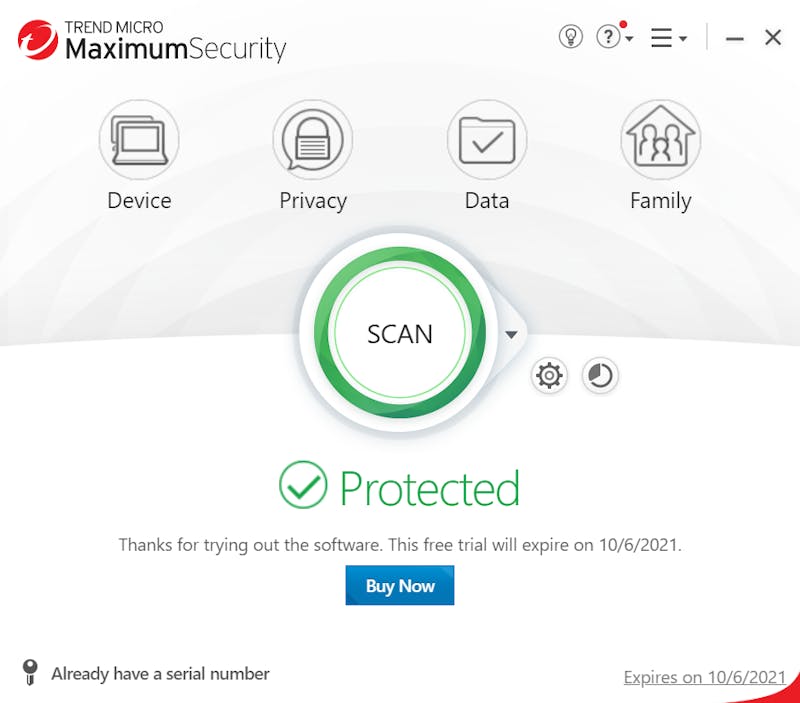 Scans are the central element of Trend Micro's user interface.
Below the scan button, Trend Micro provides information about your system's current status, in other words, whether you're protected or if it's ascertained some problems. Off to the side of the button, you can access settings and review the security report (a summary of all threats) by clicking on the gear icon.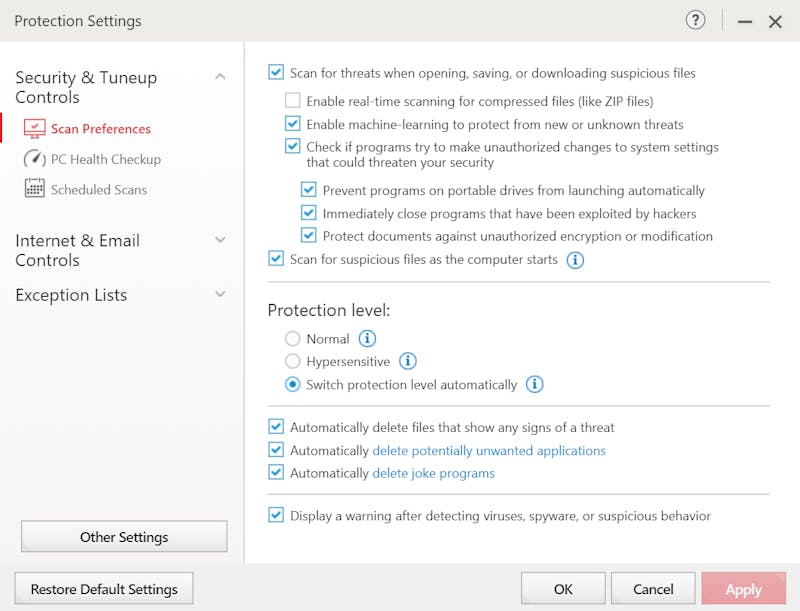 In the settings area, you can specify how the program should interact with your system and any threats it encounters.
Above the scan button, you'll find four modules containing a variety of different tools and features. These are: "Device", "Privacy", "Data", and "Family". In the "Device" area, along with advanced security settings, you'll also find PC Health Checkup, a tool for optimizing your device's performance, and Mute Mode, which blocks notifications until you turn it off.
In the next section, we'll take a closer look at all of the features offered in each of the four modules.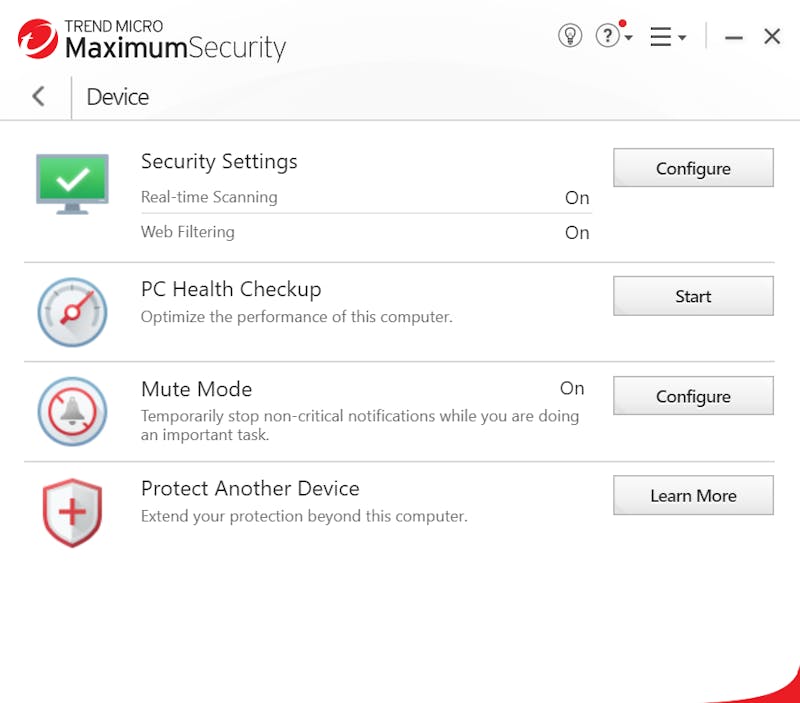 Trend Micro offers a variety of different tools and features, divided between four categories.
In sum, we found Trend Micro's user interface to be easy to come to terms with, quickly finding our way around the features which the software offers. All of the tools and components are logically organized, meaning that we didn't need long to track down what we needed. Rounding things out, we liked being able to launch a scan directly from the comfort of the dashboard's start screen.
Installation & Usage
9.4 / 10
Trend Micro offers access to different features depending on the subscription option you've selected. There are a few minor differences between the Windows and Mac versions of the software. Below, we've detailed the features available in the subscription packages for Windows, with information about the other subscriptions included in the "Pricing" chapter of this review.
Antivirus+ Security Features
Basic antivirus features are included across all of Trend Micro's subscription packages. Starting with manual scans, you can perform a quick scan, a full system scan, or a user-defined scan, the last of which will check folders or files that you select.
Scheduled scans
Trend Micro also offers the ability to schedule scans, either according to a 'smart' system (based on your last session, the program will determine when the optimal time to scan is) or your own choosing. Unfortunately, when scheduling, you can only select between the quick and full system scans and not user-defined ones.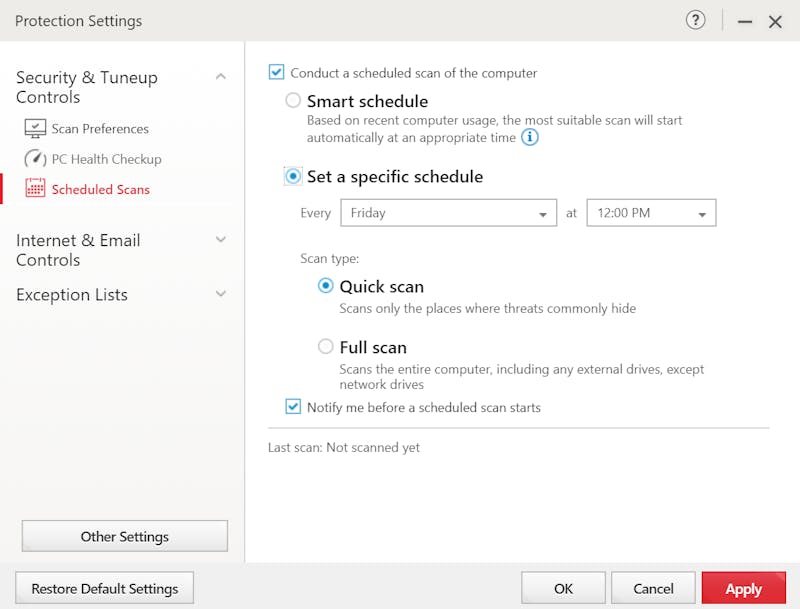 Manual scans can be scheduled or, you can let Trend Micro's Smart Scan feature take the wheel and have them run automatically.
By clicking on "Scan Preferences", you can adjust a few additional parameters, such as whether your system should be checked for suspicious files each time it boots up, or how the program should handle potentially unwanted programs (PUPs).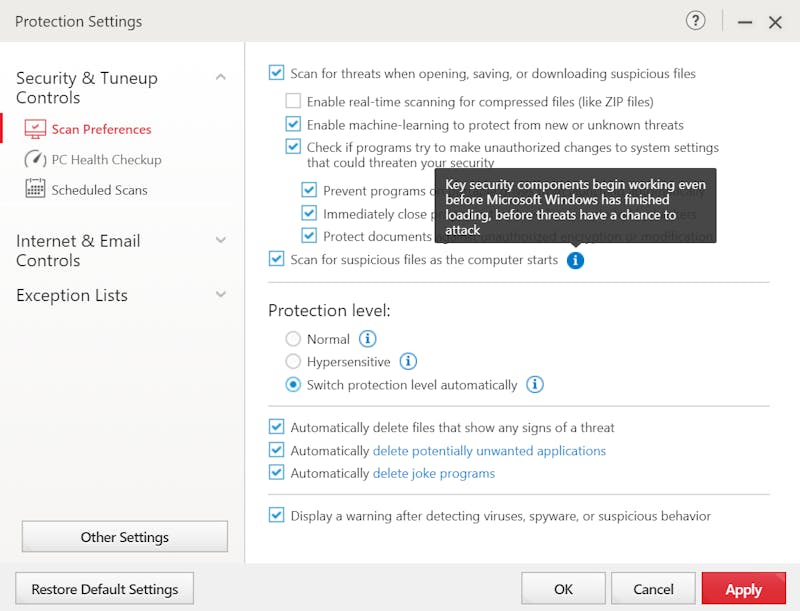 Trend Micro allows users to configure their scan preferences.
Real-time protection against ransomware
Beyond scans, Trend Micro also protects its users in real-time, against difficult and dangerous malware, such as ransomware. Otherwise known as 'extortion Trojans', these encrypt your files, only providing you with the decryption key after you pay a hefty fee. Trend Micro promises to be able to quickly identify ransomware and to restore encrypted files.
In the "Data" module, you'll also find "Folder Shield", which you can use to outfit sensitive folders on your system with additional security. Beyond that, Trend Micro also offers a Crypto-Ransomware File Decryptor Tool, that anyone can use (for free) to attempt to decrypt their files after a ransomware infection. Whether the ransomware you were targeted with is one of those it can neutralize is a matter of luck.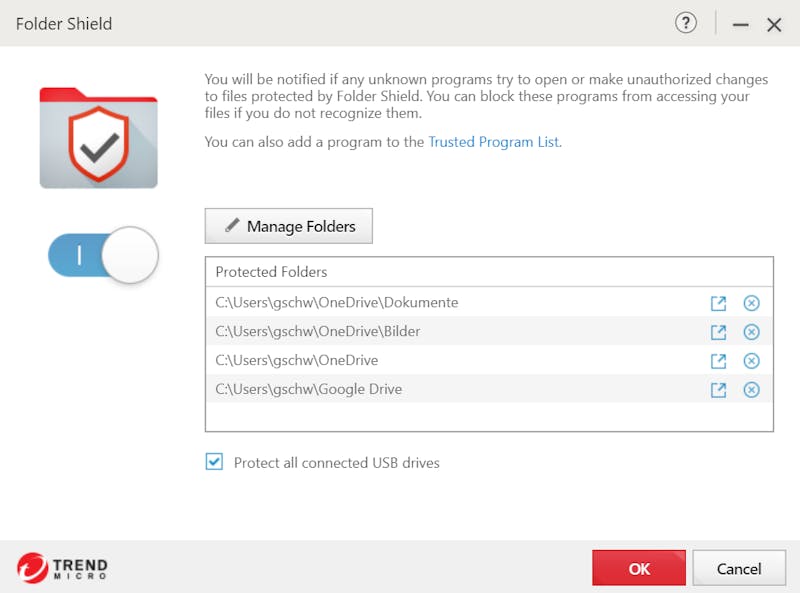 You can enhance the security of selected folders on your system with Trend Micro's "Folder Shield".
Secure online banking and shopping
With "Pay Guard", you can set specific websites to open in a special, secure browser, either manually or automatically. Generally speaking, on its own, Trend Micro has difficulty automatically discerning banking websites.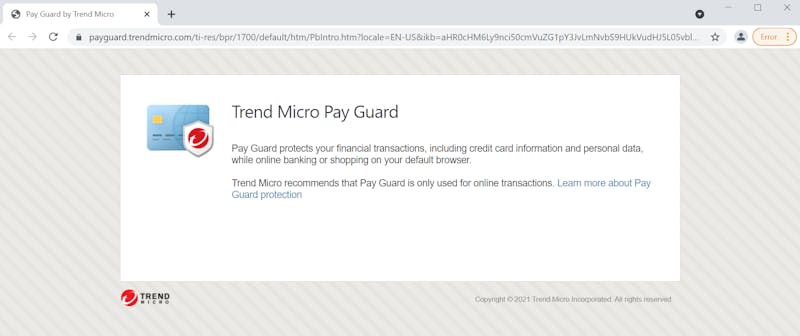 You can safely complete transactions online using Trend Micro's "Pay Guard" browser.
Email and network protection
Trend Micro also protects against email-based threats. In the settings area, you can set whether the program should look for threats in email attachments. Beyond that, there's also Spam Protection, which only works with Outlook.
The program also warns against potential threats arising from your WLAN or hotspot connections.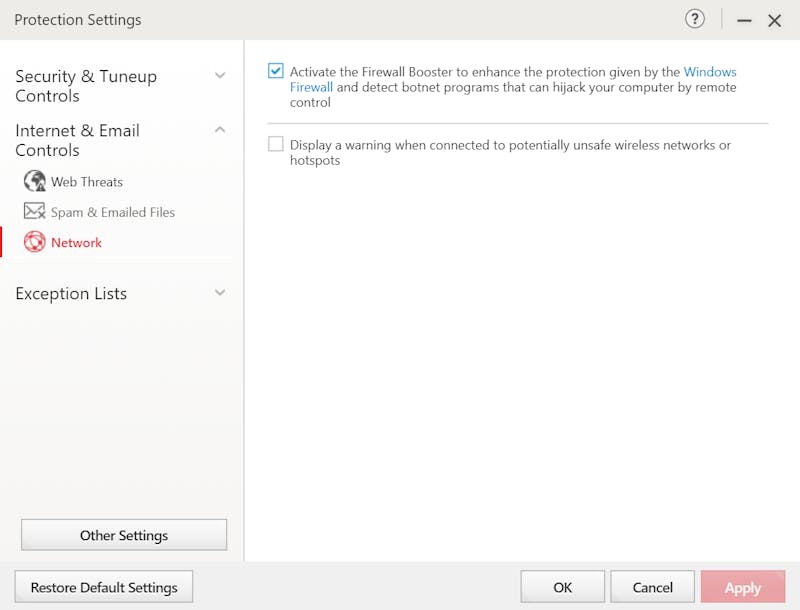 Not every network is secure: Trend Micro warns you against connecting to suspicious Wi-Fi networks or hotspots.
Permanently delete files
Trend Micro's data shredder is known as "Secure Erase", serving up the ability to permanently delete files, making them veritably unrecoverable (or, only with a significant amount of work). The tool offers two options: "Quick Erase", which overwrites the file once, or "Permanent Erase", which performs seven overwrites, and as such, can take a bit more time.
Once you've activated the software, you can utilize "Secure Erase" outside of the program by right-clicking on any file and selecting the appropriate option.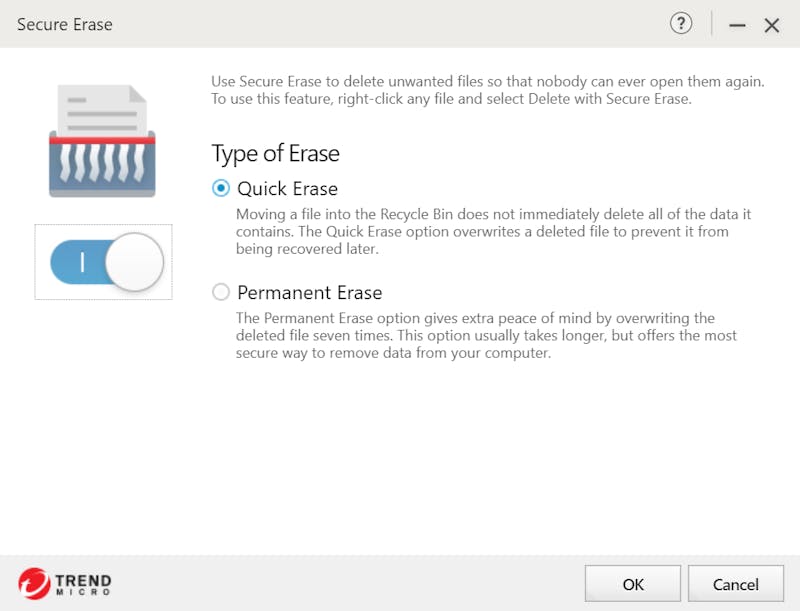 Permanently delete any file with Secure Erase.
Internet Security Features
In the next most expensive Windows subscription, Trend Micro also includes parental controls (configurable in the "Family" module). For these, you'll be able to select from a number of filter guidelines, set a fixed schedule for usage, or prohibit access to specific programs.
In the corresponding area in the dashboard, you can also create user profiles, defining rules and parameters for them. To check up on how your filters are working, you'll also be provided with information about blocked websites or website categories in the Security Report.
During our evaluation, blocked categories remained inaccessible, however, we found Trend Micro's control center to be less intuitive than those offered by other software, such as Norton.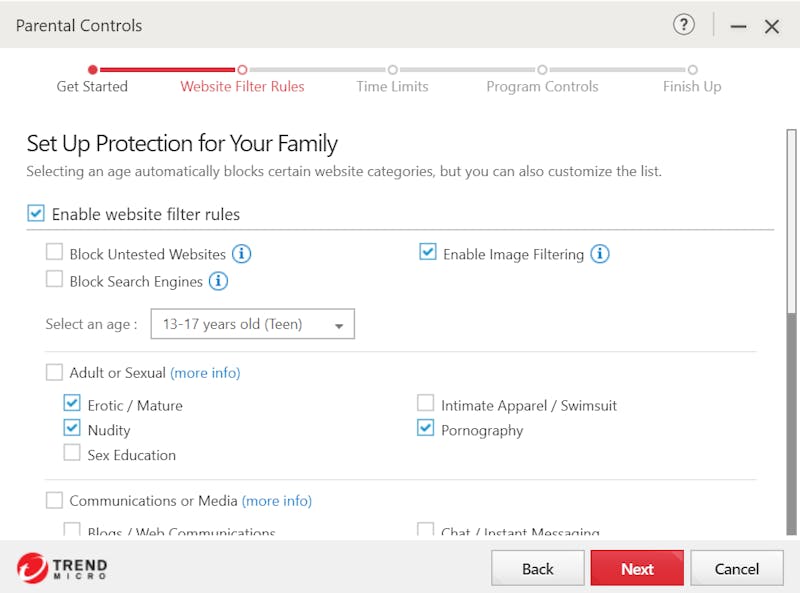 With Trend Micro's parental controls you can prevent your children from accessing dangerous or adult content, while also limiting their screentime.
Social media protection
Trend Micro offers two tools for making your social network activities more secure, one of which, "Privacy Scanner", checks your privacy settings on platforms like Facebook, LinkedIn, or Twitter. This feature also alerts you to weaknesses in your browser that might expose you to attackers. During our assessment, it didn't offer us any suggestions for improving our privacy on LinkedIn or Facebook, but in our browser, it recommended that we turn off autofill.
Beyond that, the "Social Network Protection" feature rates links on Facebook or Twitter.
System optimization
With "PC Health Checkup", you can ascertain your system's potential for optimization by reducing its boot time, or uninstalling unneeded programs.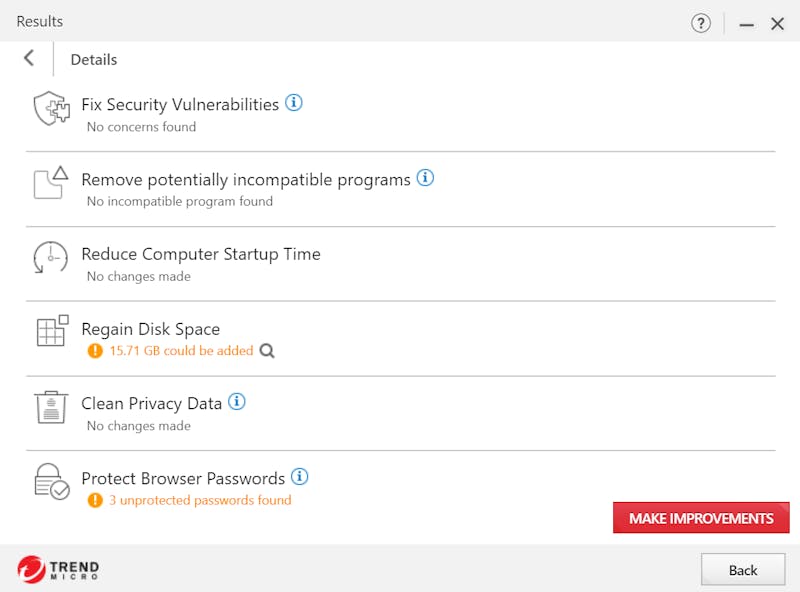 You can enhance your computer's performance with "PC Health Checkup".
And that's not all: There's also a password-protected folder, known as the "Vault", in which you can store sensitive files and data to guard them from prying eyes. As mentioned above, "Silent Mode" allows you to turn off notifications for a fixed period of time, or until you decide to start receiving them again.
Beyond these features, Trend Micro also offers a number of free programs apart from its antivirus suite, such as a password manager.
Despite all of the things it includes, Trend Micro is missing a few features that we consider important, or at least, common amongst antivirus software. To give two examples of the former, there's neither hide nor hair of webcam protection or a firewall, while for the latter, a VPN and cloud-backups are the two most notable absentees.
Mobile Features
You'll only get (automatic) access to the mobile version of Trend Micro if you're a Maximum Security package subscriber or higher, however, you can download it separately. With it, we were able to scan our device to identify threats, all the while making use of its features. These include "Web Guard", which warns you against visiting suspicious websites or links, "Fraud Buster", which checks text messages for dubious content, and "Wi-Fi Checker", which assesses the security of networks you can connect to.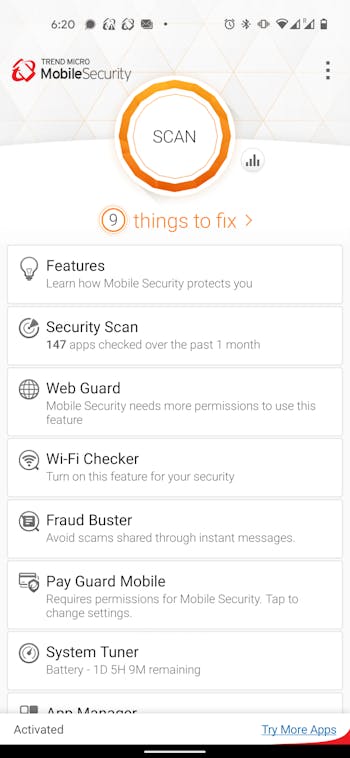 In addition to anti-theft protection, Trend Micro's mobile app also offers a range of other features and tools.
A few other features found their way from the desktop to the mobile version, such as "Pay Guard", the privacy checker for social networks, and the parental controls.
Beyond that, under the heading of "Lost Device Protection", the app also serves up a few anti-theft tools: You'll be able to remotely geo-locate your device, delete files, prevent the removal of Trend Micro, and take a picture of whoever currently has the device. In addition, you can set when the device should automatically lock (for example, if someone removes or changes its SIM card).
Overall, Trend Micro covers most of the antivirus basics, throwing in quite a few nifty extras, like its social media protection or "Silent Mode". In comparison to other antivirus solutions, however, the features on offer aren't awe-inspiring, with some notable absences like a VPN, webcam protection, or a firewall, accounting for the loss of points in this category.
In order to provide as objective an assessment as possible concerning the security and performance of all antivirus programs we evaluated, we relied on scores in these areas from two independent testing labs, AV-Test and AV-Comparatives. Both of these labs regularly review a selection of software, awarding scores in both categories.
| | Security | Performance |
| --- | --- | --- |
| | | |
| | | |
| | | |
Trend Micro fared best with AV-Test, taking maximum points in both categories owing to its ability to identify 100% of all threats while not exerting a noticeable impact upon the system's performance.
The software didn't perform as well with AV-Comparatives: During the most recent Real-World Protection Test, an above-average number of false positives materialized, costing the provider the coveted and elusive Advanced+ status. All the same, once again 100% of all threats were identified, however, this included a few files that weren't infected. Turning to performance, AV-Comparatives determined that Trend Micro significantly impacted the system's programs, relegating it to 12th place. For our part, we didn't note any performance issues while running a full system scan.
Taken together, Trend Micro's security is good, while its performance issues appear to be limited to some specific areas.
Security & Performance
8.6 / 10
Trend Micro's help center includes FAQs, a knowledgebase, and articles sorted by product type, all of which feature plenty of screenshots, hyperlinks, and sometimes videos. All content can be text-searched. In our opinion, Trend Micro's efforts are well-executed.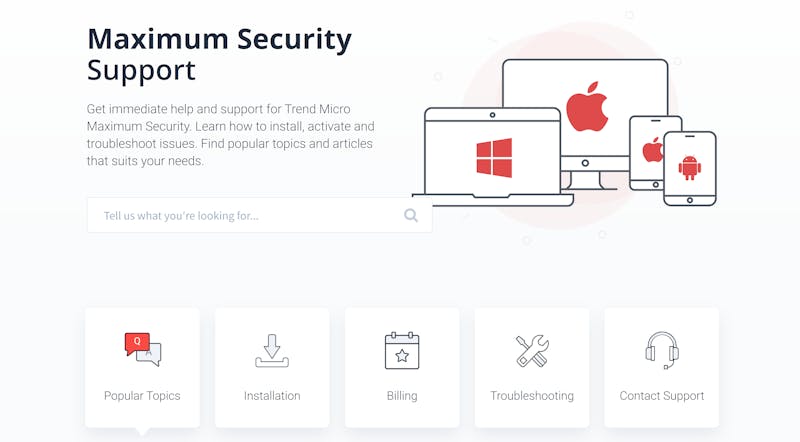 Trend Micro offers solid static support
Should you require a more human touch, you can contact Trend Micro's support team either by telephone, live chat, or support ticket. During our evaluation, we only waited a few seconds in the chat window to be connected with a friendly customer service representative. The chat is staffed around the clock. We received an answer to our support ticket query within 24 hours.
We can't really say too much negative about Trend Micro's support owing to the numerous channels the company provides for getting in touch and resolving issues.
Private Windows users can purchase a subscription to one of three subscriptions offered by Trend Micro, each of which includes more features and tools as the price increases: Antivirus+ Security, Internet Security, and Maximum Security. Internet Security adds parental controls, privacy protection for social media, and optimization tools to the features included with Antivirus+ Security. Protection for mobile devices and premium support are the main benefits of the Maximum Security subscription.
Mac users can select from one of two subscriptions: Antivirus for Mac and Maximum Security for Mac. The first lacks Pay Guard, privacy protection, optimization tools, and mobile device protection.
Should you only want Trend Micro for your mobile device, you can purchase an Android or iOS subscription. In addition, the developer also offers a range of antivirus solutions for businesses.
Below, we've provided an overview of all Trend Micro subscriptions:
Antivirus+
Internet Security
Maximum Security
Premium Security
Set-up Fee
$0.00
$0.00
$0.00
$0.00
Price per Year
$19.95
$39.95
$49.95
$59.95
Contract Period (Months)
12
12
12
12
Software
OS

Windows

Windows

Windows

macOS

Android

iOS

Windows

macOS

Android

iOS

Max. Number of Devices
1
3
10
10
Special Protection Features
Real-time Protection
Internet Security
Email Protection
Ransomware Protection
Webcam Protection
Premium Features
Firewall
Password Manager
VPN Access
Adblocker
Cloud Backup
File Shredder
Parental Control
Performance Tuning
Mobile Features
App Lock
Location Tracking
Remote Lock
Camera Trap
Each developer we assessed offers different features depending on the package a subscriber selects, making a comparison difficult. In the table below, we compared each provider's packages to a template we created, choosing the one that best fit (or was identical) to this:
1.
2.
3.
360 Total Security
Premium
4.
5.
6.
Bitdefender
Internet Security
7.
8.
9.
10.
11.
12.
13.
F-Secure
Internet Security
14.
Conclusion
Installation & Usage
9.4 / 10
Security & Performance
8.6 / 10
Trend Micro delivers reliable, testing-lab-verified protection packaged in an intuitive user interface. The multiple support channels and solid package of features, including social media protection and a file shredder, only sweeten the pot.
The above average number of false positives is worrisome, as is the absence of a few features, such as webcam protection and a firewall. If you like getting as much as possible, you might also be disappointed in the lack of an integrated VPN, although this didn't bother us that much. Should you be able to make do with these, admittedly minor shortcomings, Trend Micro might be just what you need to protect yourself against malware and other online threats.
Trend Micro delivers a solid overall antivirus package with lots of features and some nice extras, such as social media protection. However, the testing labs are a bit divided on the reliability of its protection.
Plan
Devices
Protection Features
Premium Features
Trend Micro Antivirus+
$19.95
yearly price
Visit Website*
Customer Ratings
And what do other customers and users have to say about Trend Micro's antivirus solutions? To help provide some insight, we've gathered reviews from trusted portals, collating them for you here:
Customer Ratings
134,023 Bewertungen
Visit Website*
We analyzed the reviews and ratings from various portals and found 134,023 ratings with an overall rating of 4.7 out of 5 .
Alternatives to Trend Micro
You don't want to do without webcam protection, a firewall, or VPN? Some of the other antivirus software we assessed provide users with these features and more in their higher-end subscriptions, foremost amongst them, the overall winner of our assessment, Bitdefender.
Unfortunately, no free version of Trend Micro is offered. Should you want a long-term freemium antivirus solution, we found Avast to be a particularly solid choice.
You can find all of the best alternatives to Trend Micro here:
Our 'best in test' antivirus program Bitdefender boasts strong security, confirmed by independent test laboratories, along with a flawless user interface and a comprehensive set of features.
configurable quick actions
good support with 24/7 live chat
9.6

excellent
Plan
Devices
Protection Features
Premium Features
Bitdefender Antivirus Plus
$23.99
yearly price
Visit Website*
Avast impresses with a great free version covering all the essentials, and a huge set of features that offer well-rounded antivirus protection and some nice extras. Scans can slightly impact performance, however.
Sandbox and WiFi-Inspector
scans can impact performance
8.6

good
Plan
Devices
Protection Features
Premium Features
Avast Free
$0.00
Visit Website*
Download for Free
With its robust set of features, lean applications, and a 100 % antivirus guarantee, Norton Antivirus is definitely worth a look. Sadly, the testing labs aren't unanimously impressed, and one or two features are missing.
learn, user-friendly apps
customizable child protection
100 % antivirus guarantee
8.4

good
Plan
Devices
Protection Features
Premium Features
Norton Antivirus Plus
$19.99
yearly price
Visit Website*
G Data offers virus protection "made in Germany" with solid test lab scores, lots of customization, and great support. The user interface, however, could use a facelift.
many configuration options
interface somewhat outdated
test lab scores "only" solid
8.4

good
Plan
Devices
Protection Features
Premium Features
G Data Antivirus
yearly price
Visit Website*
F-Secure focuses on the essentials and delivers reliable protection from most malware, as demonstrated by its results in the testing labs. But some features, such as webcam protection, are missing.
Plan
Devices
Protection Features
Premium Features
F-Secure Internet Security
yearly price
Visit Website*

Janis von Bleichert studied business informatics at the TU Munich and computer science at the TU Berlin, Germany. He has been self-employed since 2006 and is the founder of EXPERTE.com. He writes about hosting, software and IT security.
Continue Reading
Ad disclaimer
* For links marked with an asterisk, EXPERTE.com may earn a commission from the provider. The commission has no influence on our editorial rating.