ESET Antivirus Review 2023: Is It Secure Enough?

Author
Janis von Bleichert
Of all the cities in the world, Bratislava doesn't stand out as an IT hub, however, the Slovakian capital hosts a number of antivirus pioneers who make ends meet by combatting the latest in malware.
One of these is ESET, which, while perhaps not enjoying the same level of name-brand recognition as Norton or Kaspersky, has crafted a reputation for quality over the past few decades. Keep reading to see how well the Slovak virus hunters fare.
What Is ESET?
ESET ⇱ is a Slovak software developer and one of the world's foremost IT security specialists. The company offers an antivirus program for Windows, macOS, and Android, however, iOS is not supported.
We tested "ESET Smart Security Premium" on Windows and on Android, but we'll also reference the developer's other packages and their features over the course of this review.
ESET Antivirus Review
Installation & Usage
8.0 / 10
Security & Performance
6.0 / 10
Simple and intuitive user-interface

Offers a number of configuration options

UEFI scanner for particularly serious threats
Sub-par testing lab results

Lacks a file/data shredder
Downloading and installing ESET Smart Security takes around a minute. Very little can be configured in advance, however, you can decide whether you want to activate Live Grid, which ESET uses to gather data about threats in real-time from its users around the world. On the plus side, the program doesn't load your computer with bloatware and once the installation is complete, you can decide if you would like to set up other tools like a password manager or parental controls.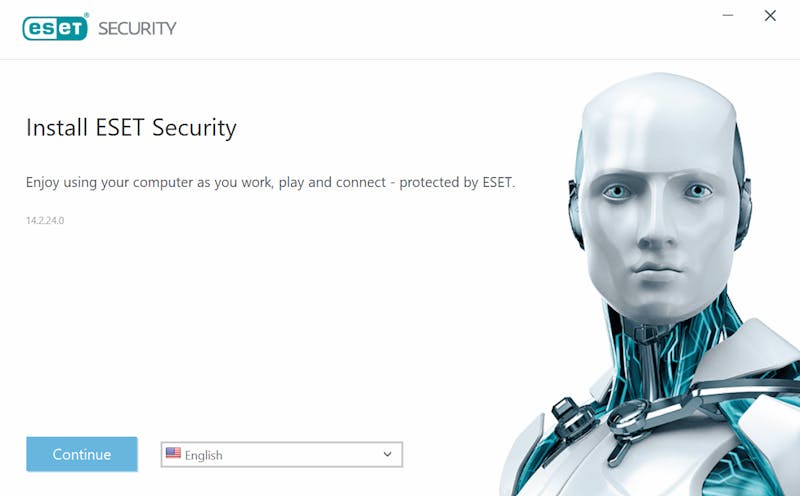 You can activate additional security tools after ESET has finished installing on your system.
Immediately after installation "Smart Security" performs the first scan, creating a baseline for your system. This is not a quick scan, but a complete analysis of all data on your computer, and can take around 45 minutes. Fortunately, this scan runs in the background, and you can set your computer to take a certain course of action after it finishes (such as shutting down or hibernating).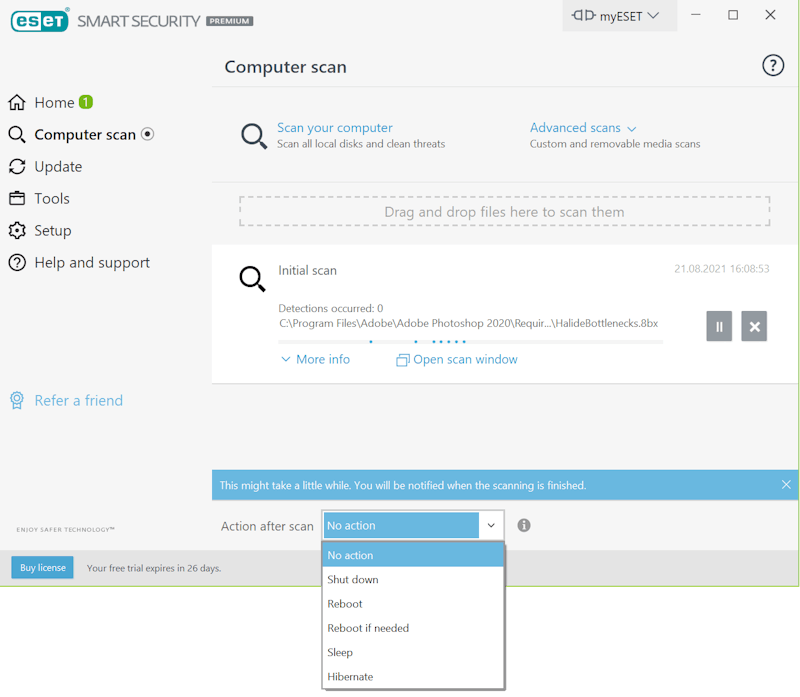 Once installation is finished, ESET launches its first scan of your system.
ESET Smart Security's user interface prioritizes simplicity over flexing the software's range of features, and this is readily apparent in the dashboard's home screen. There, you'll only find information pertaining to your current security status, a selection of important tools (the password manager, "Secure Data", and "Connected Home Monitor"), as well as when the last update was performed and your license's expiration date.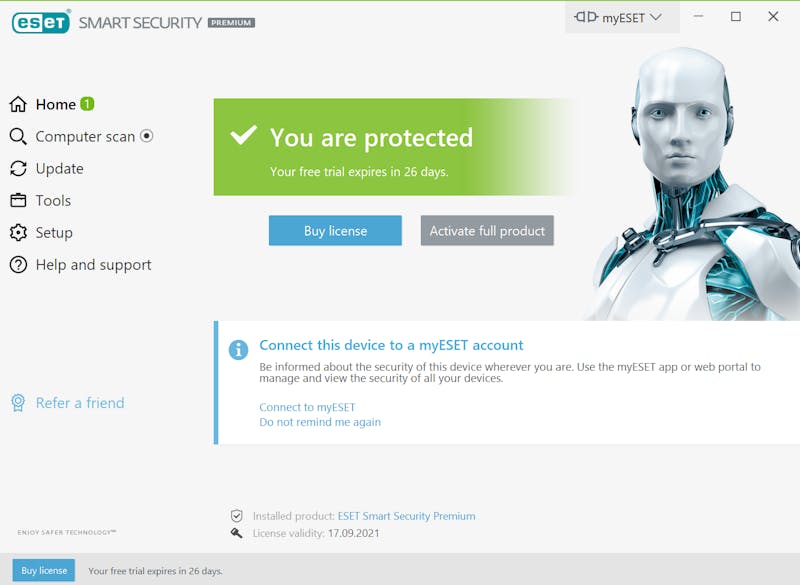 On the dashboard's home page, you'll be able to check whether your system is safe.
All of the service's tools and features can be accessed by clicking on one of the menu options off to the left. These include Computer Scan, Update, Tools, Setup, and Help and support. If you can't find what you're looking for under these, go to Tools and click on "More Tools".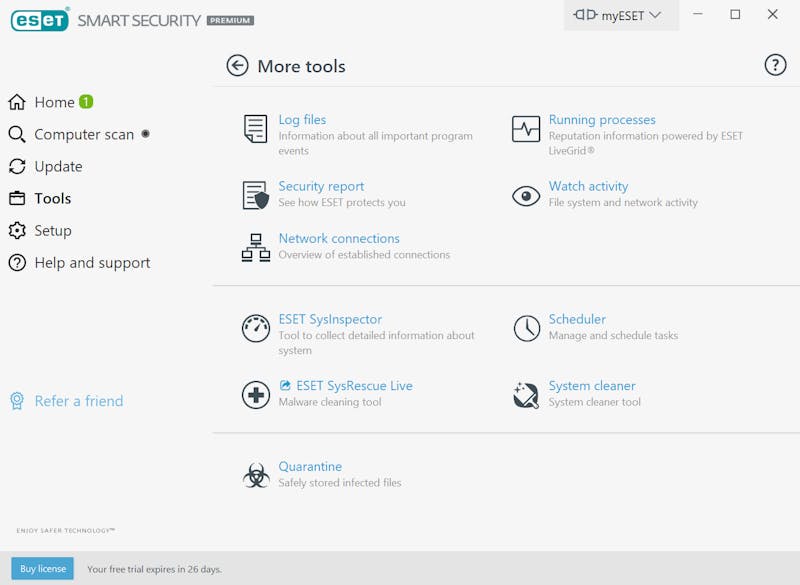 You can access all of ESET's features through the Tools menu.
Additional features and real-time protection options can be further configured under Setup, and include the ability to turn specific protection modes on or off.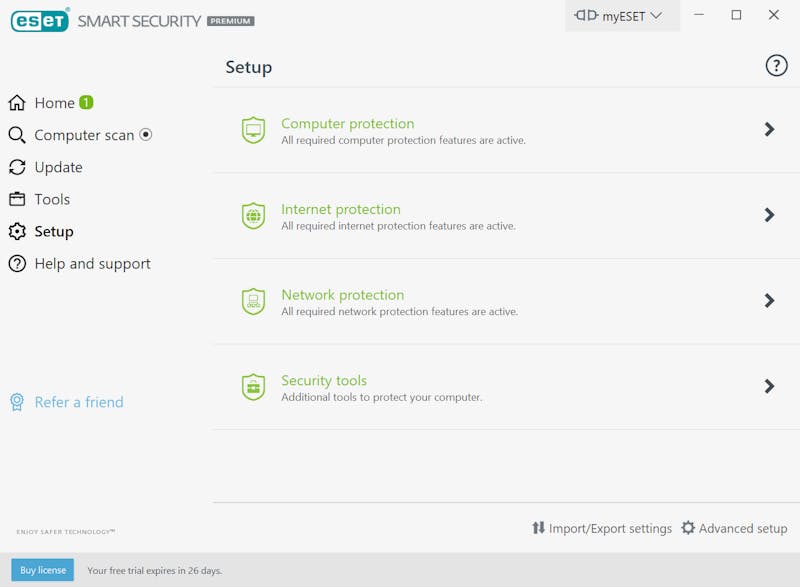 You can set how the program should interact with your system in the Setup area.
Programs that are less certain of their capabilities might have paraded these features on the interface's home screen, making it appear cramped and overloaded. ESET's restraint is refreshing: "Smart Security" is designed intelligently and is convenient to use.
At the same time, the home screen's space could have been utilized more efficiently, for example, by including more quick links to the software's most important features. On top of that, as we'll explore in the next section, some of ESET's tools and options are not as flexible as those offered by the other programs from our sample.
Installation & Usage
8.0 / 10
ESET Antivirus is available in three subscriptions, each of which offers progressively more features. These are NOD32 Antivirus, Internet Security, and Smart Security Premium.
Features available in all subscriptions
Scans are the heart of any antivirus program. ESET refrained from including a customary quick-scan feature, instead offering only a "Smart Scan" and "Custom Scan", the latter of which allows users to configure scans and create scan profiles. You can also scan external memory storage like USB sticks or hard drives, and rerun the last scan performed.
It's possible to drag and drop files directly into the scan field to check them for threats.
Scheduling scans
Scheduling scans is somewhat more complicated with ESET than other programs we assessed: Under Tools, you can access the Scheduler, which allows for "On-Demand Scans" to be performed at a specified time. It is somewhat unclear why ESET didn't group this together with the other scans, however, the extra time needed to find it is definitely worth the slight inconvenience. This is because you can also plan other activities, such as checking system startup files or launching an external application, even making this contingent upon specific events.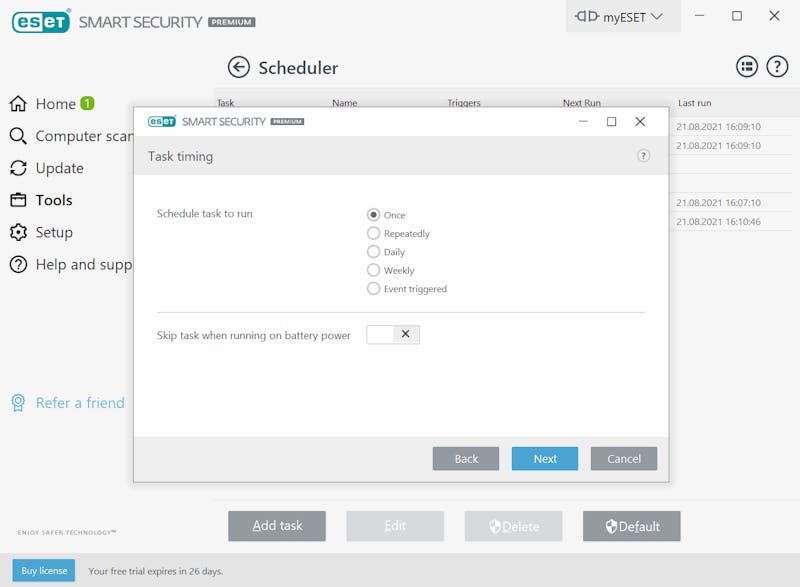 With ESET's scheduler you can plan scans and set how they should interact with your system.
Real-time and ransomware protection
Real-time protection can also be configured here, with options provided for selecting which disks or partitions should be scanned when specific conditions are present. If desired, processes can be manually exempted from the scan as well.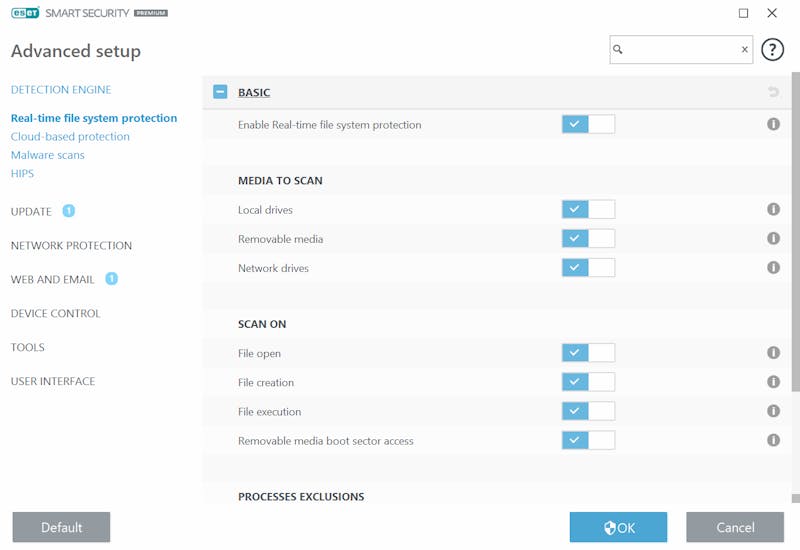 Basic real-time protection is offered in all subscription packages.
Across all of its Windows subscriptions, ESET offers ransomware protection ("Ransomware Shield") that blocks viruses and other malware from accessing your data and taking it hostage. Anti-phishing, which blocks deceptive websites, also comes standard with all versions of the software.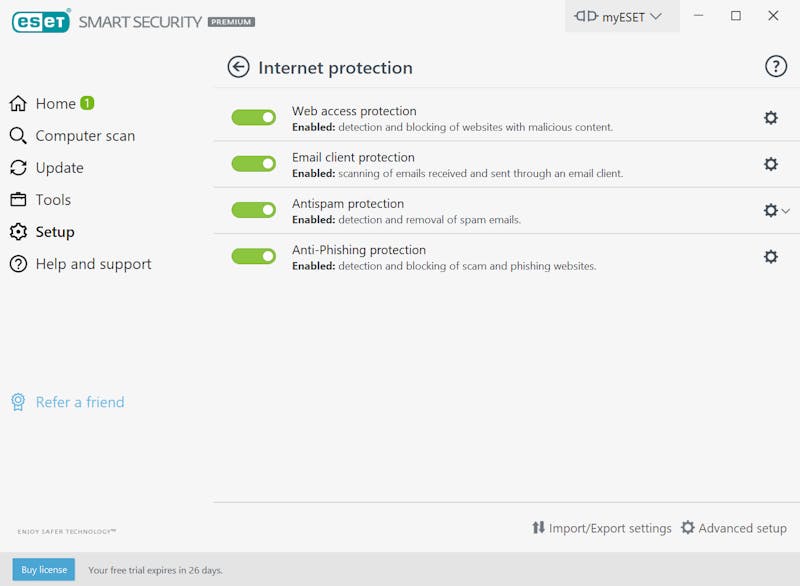 Different security modules are made available depending on your subscription.
Email and Internet protection
ESET's Windows software also comes with email client and web access protection modules. It's possible to specify how these should function, which objects they scan, and how they should go about cleaning up or neutralizing any threats they uncover. The options offered to users are plentiful and detailed, with the sub-menus making it easy to navigate through all of the choices. For those who don't want to split hairs, you can go route one with the module's on/off toggle.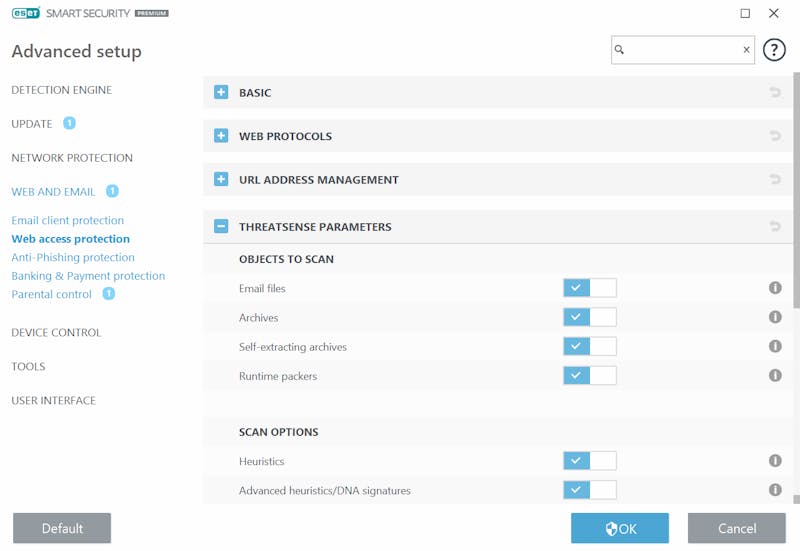 It's possible to adjust each security module to your precise specifications under advanced settings.
Another of ESET's features available across all versions of the software is "Gamer Mode", which optimizes performance when applications run in full-screen (such as games or presentations). There's also the "UEFI Scanner", which checks your system for surreptitious malware before Windows boots up.
"Internet Security" subscription features
Other features that are only available with the "Internet Security" subscription and upwards include secure banking and payment using the integrated ESET browser. This guards your personal data more effectively than regular browsers do when banking online. Under advanced settings, you can determine which websites should automatically be opened in the secure browser and when the program should ask for permission. Automatic recognition of banking websites, such as that offered by Kaspersky, is not included.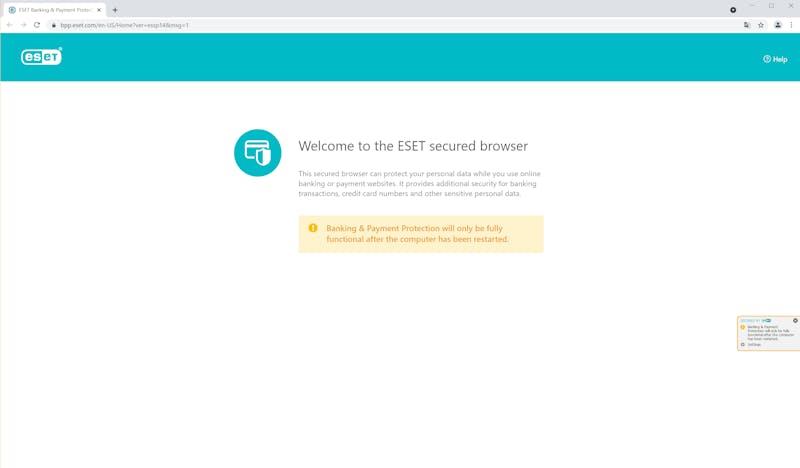 Feel more secure when doing business online with ESET's browser.
Customizable firewall and extra real-time protection features
A firewall is also integrated, which, as should be expected from ESET, can be customized to your needs. For example, you can choose different filter modes, firewall profiles, and specify individual rules and guidelines. "Spam Protection" automatically identifies and deletes spam emails. "Webcam Protection" notifies you whenever programs try to access your webcam, blocking unauthorized attempts.
Desktop anti-theft tools
ESET makes another feature available that most other antivirus solutions from our sample only offer for mobile devices, namely "Anti-Theft Protection". With your "My ESET Account" you can GPS locate any devices you have registered, take pictures of their screens, or of the person in whose possession the device currently is.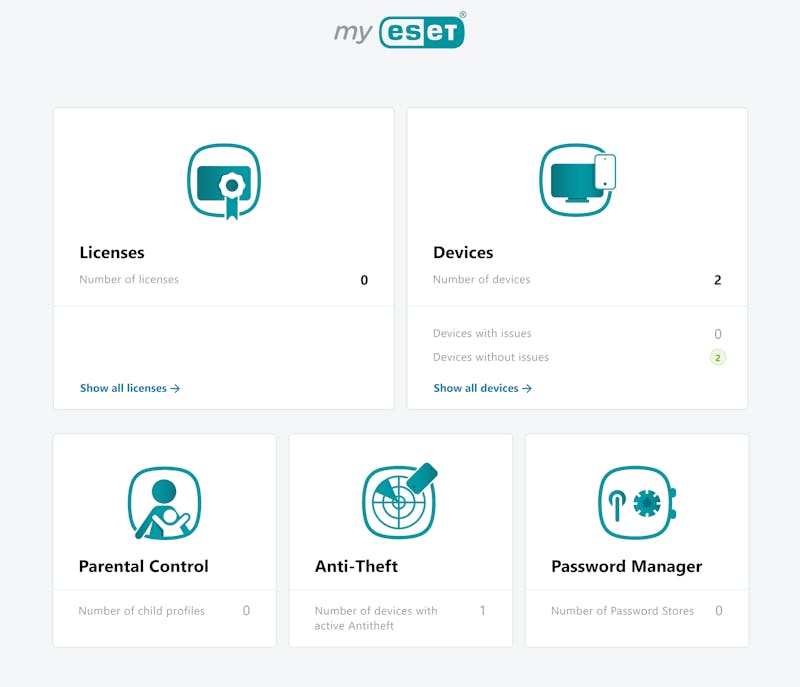 With ESET's anti-theft features, you can prepare a trap for anyone that steals your devices.
You can also set parental controls through your "My ESET Account", allowing you to limit your children's Internet activity.
Smart Security Premium features
The most expensive subscription option draws in users with a password manager and "Secure Data". To start using the first, you'll need to activate it in your ESET account and create a master password. No stand-alone desktop app is included, meaning that you'll have to use the tool's browser extension, however, this is compatible with the most popular browsers. "Secure Data" allows you to encrypt folders with certified algorithms, even on external storage devices.
File encryption
In addition to the password manager, Smart Security Premium users can also encrypt important files or data. To do this, simply create a virtual drive or an encrypted folder on an external storage device. That way, even if your device or computer is stolen by thieves, they don't be able to access your most sensitive data.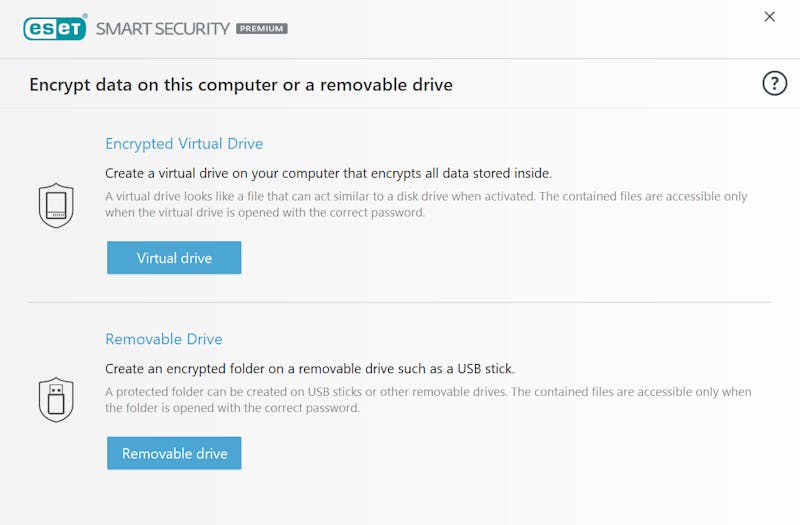 Using Secure Data, you can safely encrypt your most important files.
One notable absentee is a data shredder, capable of permanently deleting files. The most expensive subscription is somewhat thin in terms of extras and could improve its performance by adding things like a VPN. Performance tuning, apart from the limited "Gamer Mode", also isn't really offered.
Mobile Features
The basic Android version of ESET's "Mobile Security" app is free, however, to access more features, you'll need to be a paid subscriber. Still, in the freemium version, you can perform and schedule manual virus scans, such as whenever your smartphone boots up. For anyone interested in automating their device's security, this feature will be welcome, and particularly among mobile apps, we're hard-pressed to think of any other mobile apps that offer similar functionality.
Alongside real-time protection, the free version also includes anti-theft measures. In your "My ESET-Account", you can (remotely) lock your device or activate a loud siren.
For proactive anti-theft measures, you will need the app's premium version. This allows you to configure when "Mobile Security" should lock your device, such as, for example if a new, unknown SIM card is loaded. After this, an alert will be sent via SMS to a connected, alternative telephone number with data about the unknown SIM (including the telephone number assigned to it). You can also GPS locate your lost device and delete saved data.
An app lock is also included, making it possible to protect applications on your mobile device with a PIN or fingerprint. You can also remotely photograph anyone who tries to use or unlock your device.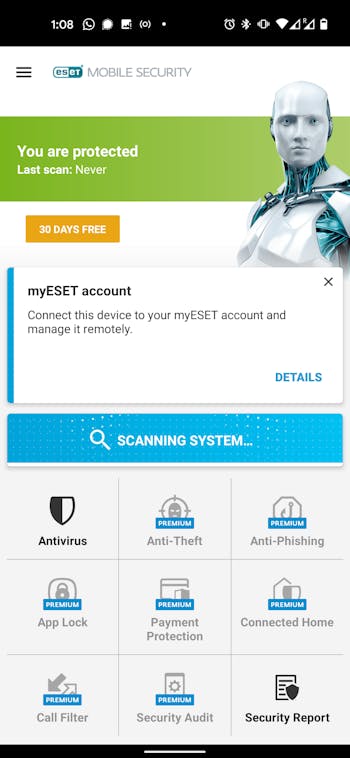 ESET's mobile app is free, however, most features are limited to paying subscribers.
Additionally, you can scan your network for threats or weaknesses, while the "Security Audit" provides an overview of which applications you've installed have which permissions, making it possible to limit them, if desired.
ESET's mobile app is not as impressive as its desktop counterpart, owing largely to the inability of features to run in the background without disrupting regular device usage, as well as the app's somewhat cluttered interface. Overall, however, ESET on Windows and Android can't really be faulted for much.
To provide a more objective representation of ESET's technical performance, we consulted AV-Test ⇱ and AV-Comparatives ⇱, each of which awards a number of antivirus solutions with separate scores for performance and security several times per year. ESET features regularly in both of their assessments.
| | Security | Performance |
| --- | --- | --- |
| | | |
| | | |
| | | |
In terms of security, it wasn't possible to reach a consensus on ESET's capabilities. With AV-Test ⇱, ESET came in under the sample's average, taking 5 from 6 points. While this might sound decent, nearly every other antivirus solution we assessed was awarded 5.5 or even maximum points in this category. ESET was even more disappointing in AV-Comparatives's most recent real-world protection test ⇱, only blocking 98.8% of attacks. Again, this might sound good, but nearly all other services we examined did better.
Things were a bit more positive when it came to performance. On AV-Comparatives's most recent performance test ⇱, ESET's excellent showing propelled it to the front of the pack, while it took maximum points from AV-Test for its speed. We can confirm this finding, as, even during a full system scan, which took around 30 minutes, we didn't notice any lagging or performance issues.
Still, the poor testing lab scores in the area of security are disappointing, and, worse than that, a cause for concern.
Security & Performance
6.0 / 10
ESET's support can be reached via the desktop app's home screen. The site you'll be forwarded to features well-written and informative articles in a knowledgebase, as well as video tutorials. We were a bit curious as to why ESET's knowledgebase can only be perused through the search function, with no table of contents offered. There's also a forum, which is fairly active.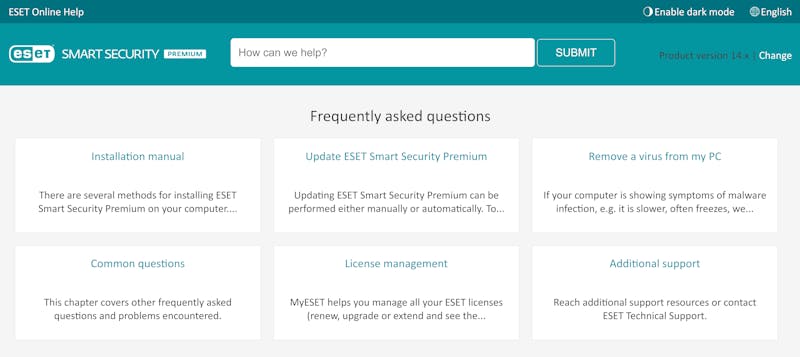 ESET's help center is comprehensive.
Direct support is only offered via support tickets, and even then, you'll have to hunt around for the form, appearing after you've clicked "No" on a series of FAQs. Should you require faster support, for 11 hours on Mondays-Fridays there's a live chat. There, our question was answered within a few minutes. Unfortunately, ESET doesn't offer a telephone hotline, however, the Slovak provider does offer better support than most of its competitors.
ESET's antivirus program is available for Windows in three subscriptions namely, ESET NOD32 Antivirus (doesn't include an Android version), ESET Internet Security, and ESET Smart Security Premium. You can specify the number of devices (1-10) and the length of the subscription (1-3 years), which offer greater savings as they increase.
For business clients, there are other subscriptions, however, these are calculated based on the size of the organization.
Essential Security
Advanced Security
Premium Security
Set-up Fee
$0.00
-
-
Price per Year
from $39.99
from $49.99
from $59.99
Contract Period (Months)
12
12
12
Software
OS

Windows

macOS

Linux

Windows

macOS

Linux

Android

Windows

macOS

Linux

Android

Max. Number of Devices
10
10
10
Special Protection Features
Real-time Protection
Internet Security
Email Protection
Ransomware Protection
Webcam Protection
Premium Features
Firewall
Password Manager
VPN Access
Adblocker
Cloud Backup
File Shredder
Parental Control
Performance Tuning
Mobile Features
App Lock
Location Tracking
Remote Lock
Camera Trap
Since subscription packages for each program vary, the table below compares all of the providers from our sample on the basis of a template with specific conditions. We then selected the package from each provider which matched or best fit this template. According to this, ESET is in our sample's mid-range.
1.
2.
360 Total Security
Premium
3.
4.
5.
6.
Bitdefender
Internet Security
7.
8.
9.
10.
11.
12.
13.
14.
F-Secure
Internet Security
You can test ESET Smart Security Premium for free for 30 days, without inputting payment information. All paid subscriptions also come with a 30-day, money-back guarantee.
Conclusion
Installation & Usage
8.0 / 10
Security & Performance
6.0 / 10
We liked ESET's desktop application: It's mostly intuitive for amateurs and still intricate enough for tinkerers. Said differently, we didn't need to search long for what we needed but could spend hours configuring the program. Lots of features are offered, and most of the tools sought after in an antivirus program are included, along with a few extras, such as the "UEFI Scanner".
Since ESET does so much so well, its poor testing lab results are both disappointing and surprising. Especially in terms of security, the program seems to be slightly less reliable than others from our sample, preventing ESET from really competing with the best antivirus solutions out there. For those who can look past the poor identification rate for compromised files, you'll get a well-rounded program which offers lots of features and possibilities for customization.
ESET comes with lots of customization and a few handy extra features, such as its Scheduler. Sadly, testing labs aren't unanimously convinced of the program's protective powers.
simple and intuitive interface
many configuration settings
extras such as UEFI scanner
7.6

good
Plan
Devices
Protection Features
Premium Features
ESET Essential Security
yearly price
Visit Website »
30 Days Free Trial
Customer Ratings
As a software developer, ESET has received largely positive reviews from customers in the aggregators we examined, with many long-term clients having good things to say about its simplicity and security. The few negative reviews, found primarily on Trustpilot, were mostly connected with payment irregularities or difficulties in renewing licenses. As a result, we recommend that you pay attention to your account balance and credit card statements when canceling or renewing a subscription.
Customer Ratings
996,859 Bewertungen
Visit Website
We analyzed the reviews and ratings from various portals and found 996,859 ratings with an overall rating of 4.7 out of 5 .
Alternatives to ESET Antivirus
Kaspersky offers a similar number of features to ESET, however, it also had its fair share of difficulties with the testing labs. For a better package overall, including price, we can recommend Bitdefender, the best-performing antivirus software from our assessment.
A list of alternatives that we recommend can be found below:
Our 'best in test' antivirus program Bitdefender boasts strong security, confirmed by independent test laboratories, along with a flawless user interface and a comprehensive set of features.
configurable quick actions
good support with 24/7 live chat
9.6

excellent
Plan
Devices
Protection Features
Premium Features
Bitdefender Antivirus Plus
$23.99
yearly price
Visit Website »
Avast impresses with a great free version covering all the essentials, and a huge set of features that offer well-rounded antivirus protection and some nice extras. Scans can slightly impact performance, however.
Sandbox and WiFi-Inspector
scans can impact performance
8.6

good
Plan
Devices
Protection Features
Premium Features
Avast Free
$0.00
Visit Website »
Download for Free
With its robust set of features, lean applications, and a 100 % antivirus guarantee, Norton Antivirus is definitely worth a look. Sadly, the testing labs aren't unanimously impressed, and one or two features are missing.
learn, user-friendly apps
customizable child protection
100 % antivirus guarantee
8.4

good
Plan
Devices
Protection Features
Premium Features
Norton Antivirus Plus
$19.99
yearly price
Visit Website »
G Data offers virus protection "made in Germany" with solid test lab scores, lots of customization, and great support. The user interface, however, could use a facelift.
many configuration options
interface somewhat outdated
test lab scores "only" solid
8.4

good
Plan
Devices
Protection Features
Premium Features
G Data Antivirus
yearly price
Visit Website »
Trend Micro delivers a solid overall antivirus package with lots of features and some nice extras, such as social media protection. However, the testing labs are a bit divided on the reliability of its protection.
Plan
Devices
Protection Features
Premium Features
Trend Micro Antivirus+
$19.95
yearly price
Visit Website »

Janis von Bleichert studied business informatics at the TU Munich and computer science at the TU Berlin, Germany. He has been self-employed since 2006 and is the founder of EXPERTE.com. He writes about hosting, software and IT security.
Continue Reading