Antivirus Software Review: ESET
Of all the cities in the world, Bratislava doesn't stand out as an IT hub, however, it does host a number of antivirus pioneers who stay on top of the newest malware. We're talking about the software developers ESET, whose name isn't so familiar to customers as Norton or Kaspersky, but for a few decades has stood for quality. Our review will show how the Slovak virus hunters fare.

ESET is a Slovak software developer and seen as a global IT security specialist. The company offers an antivirus program for Windows, MacOS, and Android, whereas iOS is not supported. Between the Windows and Mac versions of the program, there's a difference which is made apparent in their names: Three packages are offered for Windows, namely "NOD32 Antivirus", "Internet Security", and "Smart Security Premium", whereas those for Mac are called "Cyber Security" and "Cyber Security Pro".
We tested "Smart Security Premium" on Windows and "Mobile Security" on Android, but will also mention the other versions and their features over the course of this review.
Installation & Usage
4.0 / 5
Security & Performance
3.0 / 5
Simple and intuitive user-interface
Offers a number of configuration possibilities
UEFI scanner for particularly serious threats
Downloading and installing ESET Smart Security takes around a minute. Very little can be configured in advance: For example, whether you want to activate the additional Live Grid feature, which ESET uses to gather data about threats from users around the world. However, the program doesn't load your computer with bloatware and once installation is complete, you can decide if you would like to setup other tools like a password manager or parental controls.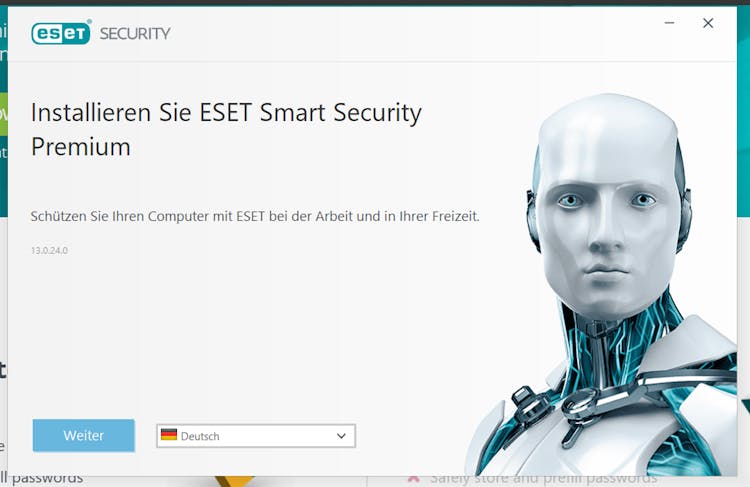 Immediately after installation "Smart Security" performs the first scan, so as to create a baseline for your system. This is not a quick scan, but a complete analysis of all data on your computer, meaning that it can take around 45 minutes. You can let this run in the background, or configure your computer to take a certain course of action after completion (such as shutting down or hibernating).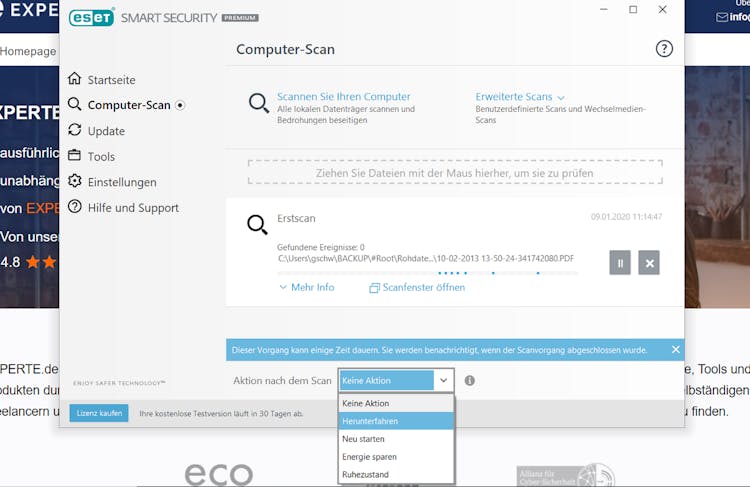 ESET Smart Security's user interface prioritizes simplicity, rather than showing off its range of features in its main window. For example, you'll only be able to view your current security status, a selection of important functions ("Password Manager", "Secure Data", and "Connected Home Monitor") as well as information about when the last update was performed and your license's expiration date.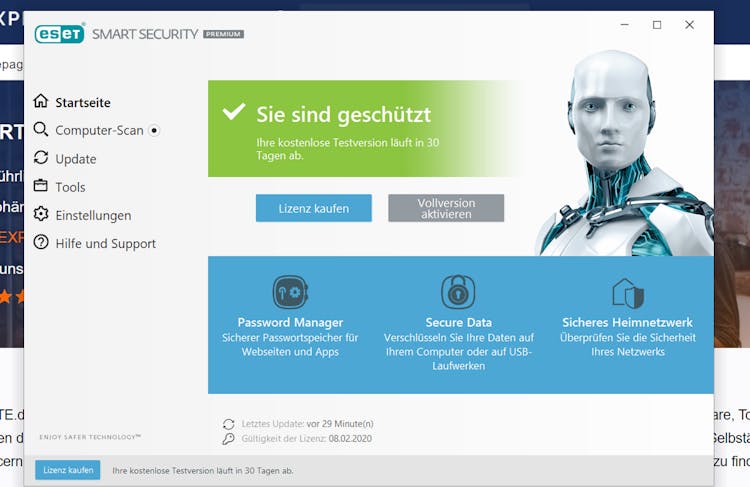 All features can be accessed through the menu to the left of the main screen. These are "Computer Scan", "Update", "Tools", "Setup", and "Help and Support". By clicking on tools, you can access the rest of the features.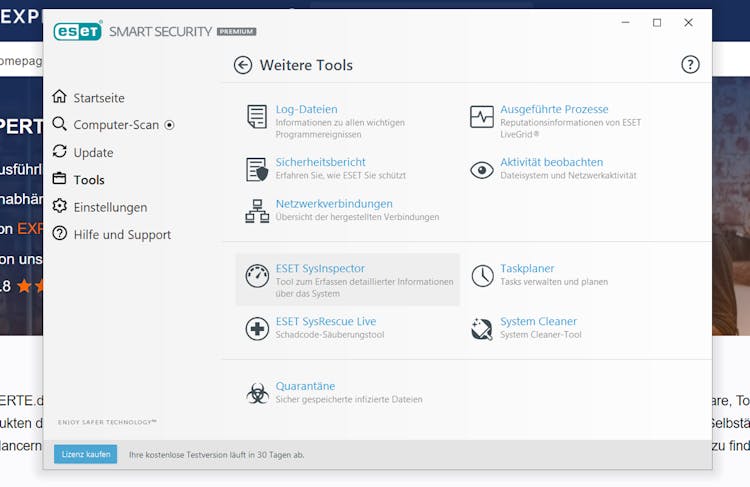 Additional features and real-time protection options can be found here, including the ability to turn specific protection modes on or off.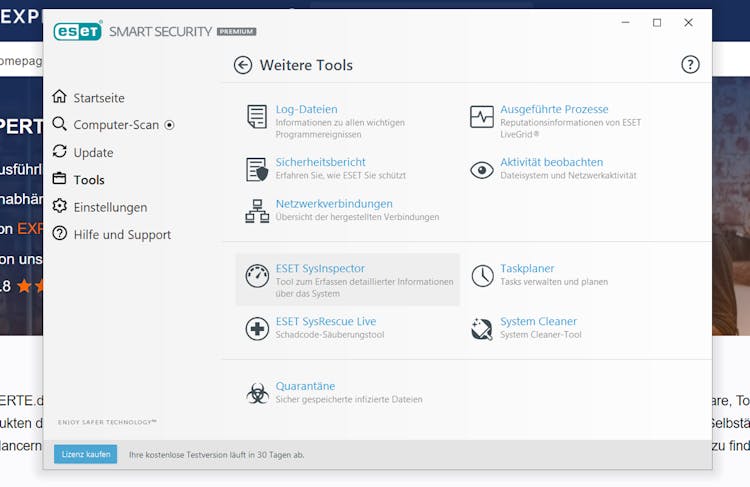 Programs that are less certain of their competences might have paraded these features in the interface's main window, making it appear crammed and overloaded. ESET's restraint is refreshing: "Smart Security" is designed intelligently and convenient to use.
Score: 4.7 / 5
ESET Antivirus is available for Windows in three subscriptions which offer differing access to features: "NOD32 Antivirus", "Internet Security", and "Smart Security Premium".
Features in all subscriptions
Scans are the heart of any antivirus program. ESET refrained from including a customary quick-scan feature, instead offering only a "Smart Scan" and "Custom Scan", the latter of which allows users to configure scans and create scan profiles. You can also scan external memory storage like USB sticks or hard drives, and rerun the last scan performed.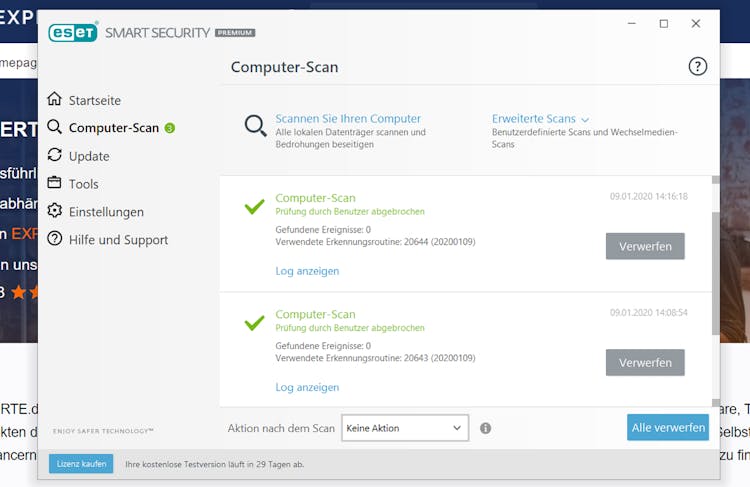 Creating a scan schedule is somewhat more complicated with ESET: Under Tools, you can access a task planner, which allows for "On Demand Scans" to be set for a fixed time. It is somewhat unclear why ESET didn't group this with the other scans, however, the extra time needed to find it is definitely worth the slight inconvenience. You can also plan other activities, such as checking system startup files or execution of an external application, even making this contingent upon specific events.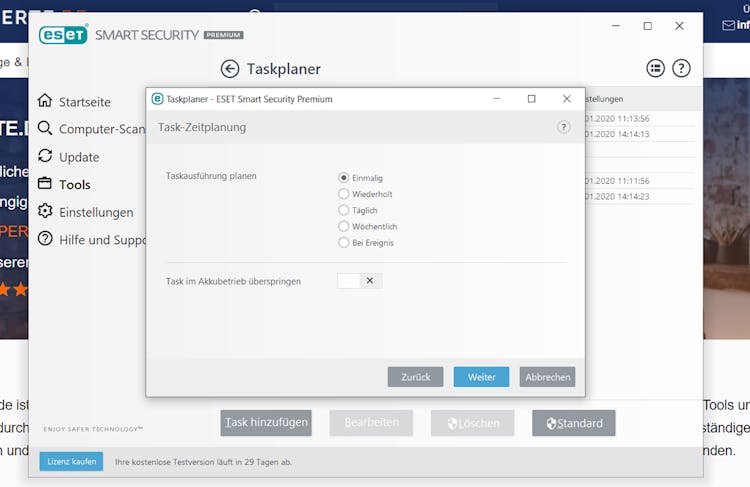 Real-time protection can also be configured in settings. Not only can you activate and deactivate it, but also determine which disks or partitions should be scanned owing to which conditions. You can exempt manual processes from the scan as well.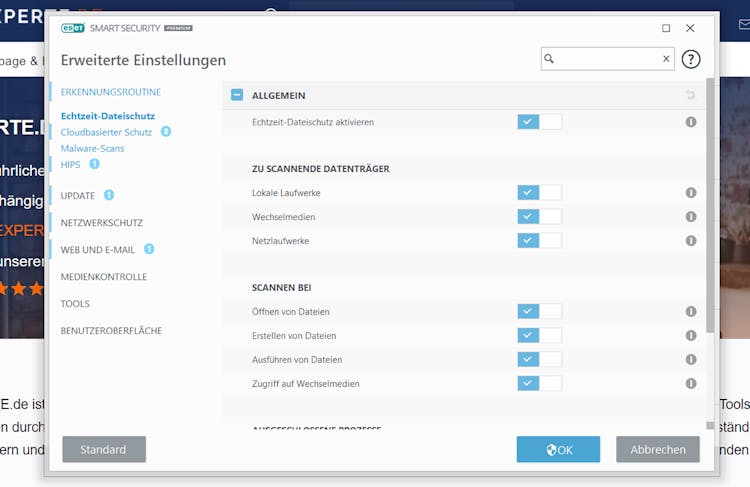 Across all Windows subscriptions, ESET offers ransomware protection ("Ransomware Shield") that blocks viruses and other malware from accessing your data, preventing you from becoming a victim of so-called extortion Trojans which take your files hostage. Anti-phishing, which blocks deceptive websites, is also included in all versions.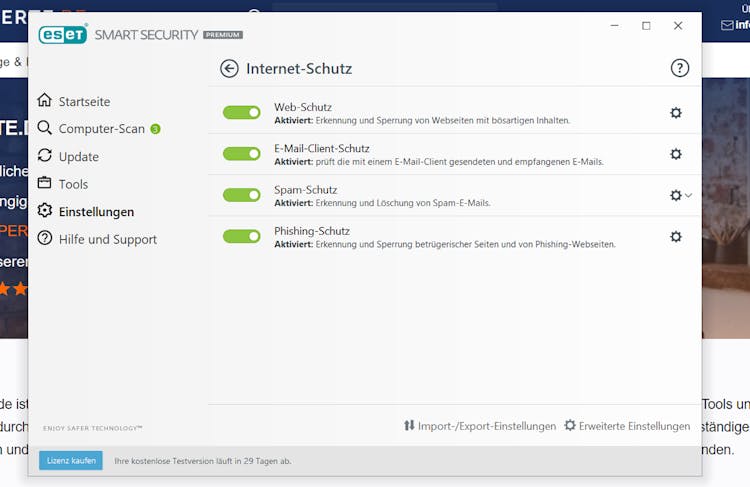 Email and web protection are also included in all of ESET's Windows software. You can also further configure how these run, which objects are scanned, and the severity of cleanup. Configuration possibilities are numerous and detailed, while the sub-menus make it easy for users to navigate their options. For those who can't be bothered, you don't need to look further than the module's on and off switch.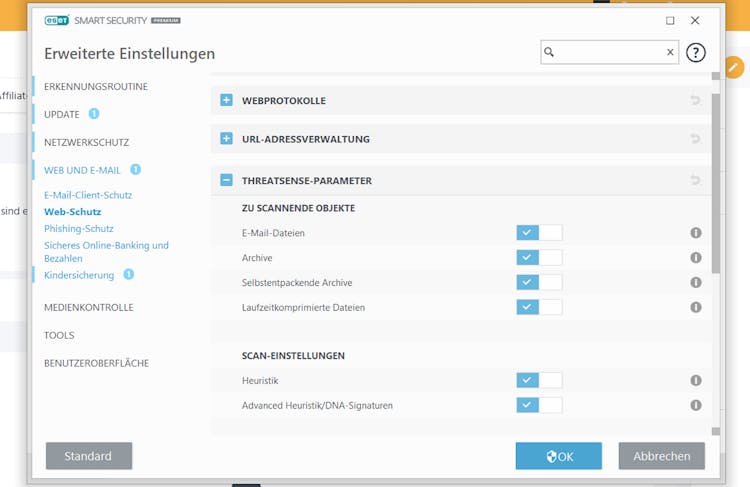 An additional feature of ESET that is present across all version of the software is the practical "Gamer Mode", which optimizes performance when applications run in full-screen mode (such as games or presentations). There is also the "UEFI Scanner", which searches for threats that might have burrowed even deeper into your computer. This checks your system before Windows boots up to find surreptitious malware.
"Internet Security" Subscription Features
Other features that are only available with the "Internet Security" subscription and upwards include secure banking and payment using the integrated ESET browser. This better protects personal data than regular browsers when banking online. In the advanced settings, you can determine which websites should automatically be opened in the secure browser and when the program should ask for permission. Automatic recognition of banking websites, such as offered by Kaspersky, is not included.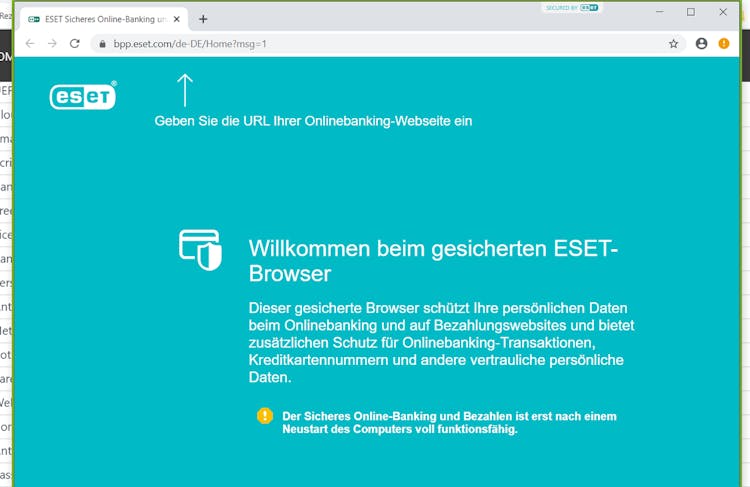 A firewall is also integrated, and, as should be expected from ESET, can be customized to your needs. For example, you can choose different filter modes, firewall profiles, and individual rules and guidelines. "Spam Protection" automatically identifies and deletes spam emails. "Webcam Protection" notifies you about who and which programs are trying to access your webcam, blocking unauthorized attempts.
ESET makes another feature available that other antivirus programs only offer for mobile devices: "Anti-Theft Protection". With your "My ESET Account" you can GPS locate any devices you have registered, take pictures of the screen, or of the thief.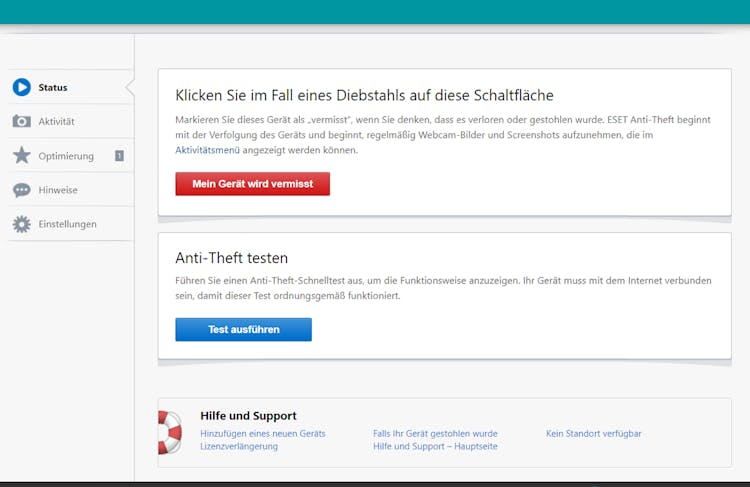 You can also set parental controls, which allow you to limit your children's Internet activity through your "My ESET Account".
"Smart Security Premium" Features
The most expensive subscription option draws in users with a password manager and the "Secure Data" feature. The second of these allows you to encrypt folders with certified algorithms even on external memory storage. ESET's password manager is a licensed version of Sticky Password, a program which impressed us when we evaluated it. However, not all features of the program are included in the licensed version. Our ranking of the best password managers can be found here.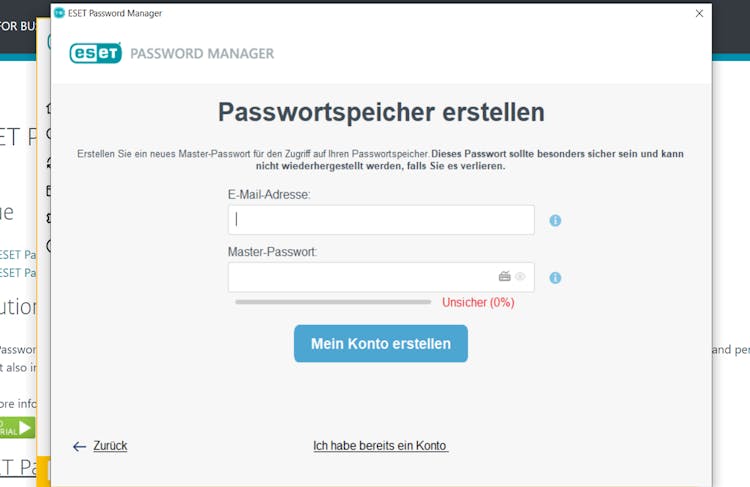 One notable absence is a data shredder which deletes files without leaving traces. The most expensive subscription is somewhat thin in terms of extra features, and could improve its performance by adding functions like a VPN. Performance tuning, apart from the limited "Gaming Mode" does also not exist.
Mobile Features
The basic Android version of ESET's "Mobile Security" app is also free, whereas the paid subscription offers more features. The freemium version allows users to perform manual virus scans which can also be scheduled. You can set your smartphone to scan automatically when starting up. For those who like to set automatic processes this feature will be welcome, and particularly among mobile apps, not many other programs come to mind that which provide similar functionality.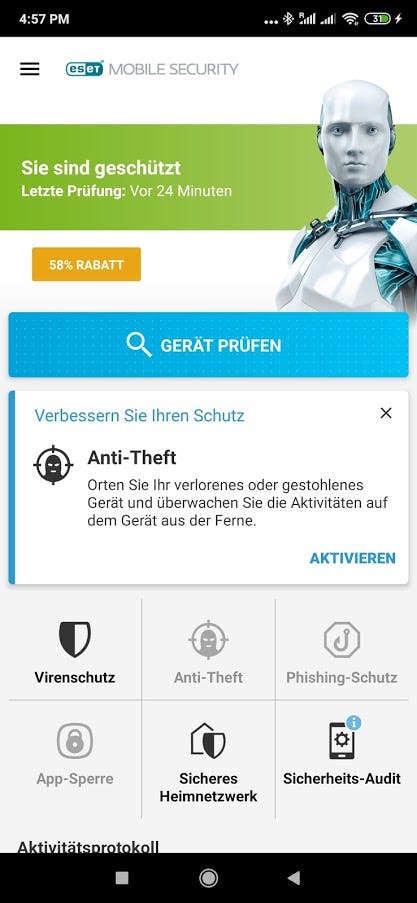 Alongside real-time protection, the free version also includes anti-theft measures. Through "My ESET-Account", you can also (remotely) lock your device or activate a siren.
For proactive anti-theft measures, you will need the app's premium version. For example, you can tell ESET "Mobile Security" when to lock your device, if a new, unknown SIM card is loaded. This sends an SMS warning to a connected alternative telephone number with data about the unknown SIM (including the telephone number assigned to it). You can also GPS locate your lost device and delete saved data.
An app lock feature is also offered, which allows you to protect applications on your mobile device with a PIN code or finger print. The ability to take pictures of the person who tried to use or open your device is also provided.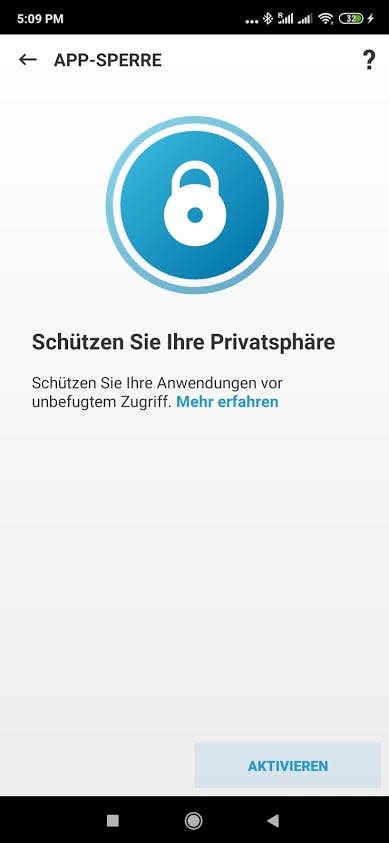 Additionally, you can also scan your network for threats or weaknesses, while the "Security Audit" checks which installed applications have which permissions, limiting them if desired.
The mobile app is not so impressive as its desktop counterpart, which can be traced to the inability to minimize features resulting in a more cluttered interface. Overall, however, ESET on Windows and Android can't really be faulted for much.
Score: 4.7 / 5
To assess ESET, we consulted AV-Test and AV-Comparatives, each of which gives separate scores for performance and security.
A general consensus on ESET's various packages could not be reached. In the most current AV test (December 2017) "Internet Security 11.0" received a nearly perfect 5.5 from 6 points for Security. The real-world protection test from AV-Comparatives was more recent (July-October 2019) and unfortunately, far less flattering. Barely any false positives were noted, however, 1.6% of files were compromised, leading the program to receive only one from three stars.
In terms of performance, the results were also a mixed-bag: In AV-Comparatives' performance test ESET got perfect scores, carving out first place among all programs, even beating out big names like McAfee, Kaspersky, and Avast. On the flip side, AV-Test only gave the program four from six points.
For these reasons, it is difficult to provide a general assessment of ESET, however, the weaknesses noted in more current tests do raise some security concerns.
Score: 3 / 5
ESET's support can be reached through the desktop app's main menu. The site features well-written and informative articles in a knowledgebase, as well as video tutorials. It is somewhat strange why ESET's knowledgebase can only be perused through the search function, with no table of contents available. There's also a forum, which is fairly active.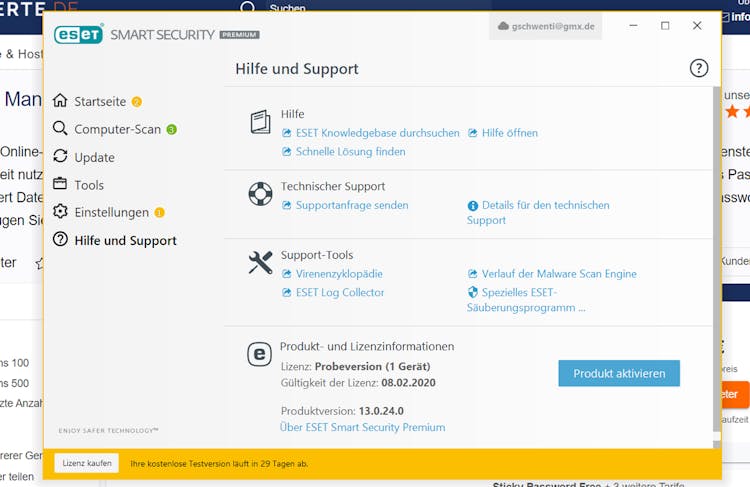 Support can only be contacted directly through a ticket, with the form available only after clicking through a series of FAQs intended to help you solve the problem beforehand. Even faster, for 11 hours on Mondays-Fridays there's a live chat. There, our question was answered within a few minutes. Unfortunately, ESET doesn't offer a hotline, however, the Slovak provider does offer better support than most of its competitors.
Score: 4.3 / 5
ESET's antivirus program is available for Windows in three subscriptions and for MacOS in two subscriptions. You can select the number of devices (1-10) and the length of the subscription (1-3 years), which offer increasing savings depending on the number and length. For Android there is only one subscription, but you can also purchase parental controls as a stand-alone product.
For business clients, there are other subscriptions which depend on the size of the organization.
NOD32
Internet Security
Smart Security Premium
Pricing
Set-up fee
$0.00
-
-
Price per year
from $39.99
from $49.99
from $59.99
Contract period (months)
12
12
12
Software
OS

Windows

macOS

Linux

Windows

macOS

Linux

Android

Windows

macOS

Linux

Android

Max. Number of devices
10
10
10
Special Protection Features
Real-time Protection
Internet Security
Email Protection
Ransomware Protection
Webcam Protection
Premium Features
Firewall
Password Manager
VPN Access
Adblocker
Cloud Backup
File Shredder
Parental Control
Performance Tuning
Mobile Features
App Lock
Location Tracking
Remote Lock
Camera Trap
In terms of price, ESET is definitely in the higher segment. Since subscription packages for each program vary, the table below compares each provider's offering on the basis of a sample, with similar conditions:
$26.99
Visit Website
$29.95
Visit Website
$29.99
Visit Website
Bitdefender
Internet Security
$34.99
Visit Website
$34.99
Visit Website
360 Total Security
Premium
$35.98
Visit Website
$39.99
Visit Website
$39.99
Visit Website
$39.99
Visit Website
Kaspersky
Internet Security
$39.99
Visit Website
$42.74
Visit Website
$44.99
Visit Website
$45.00
Visit Website
$47.15
Visit Website
$49.99
Visit Website
Installation & Usage
4.0 / 5
Security & Performance
3.0 / 5
ESET's desktop application is one of the best on the market: It's intuitive for amateurs and complex for tinkerers. Said differently, we didn't need to search long for what we needed, but could spend hours configuring the program. Lots of features are offered, and most of the standard functions are covered, with ESET surprising with some extras like its "UEFI Scanner".
Since ESET does so much so well, its poor test lab results are a bit disappointing. Especially in terms of security, the program seems to be a bit less reliable than others. The dissonance of views stemming from the test labs prevents ESET from really competing with the best programs. For those who can look past the poor rate of compromised files, you'll get a well-rounded program which offers lots of features and possibilities for customization.
simple and intuitive interface
many configuration settings
Plan
Devices
Protection Features
Premium Features
ESET NOD32
yearly price
Visit Website »
30 Days Free Trial
As a software developer, ESET received largely positive reviews from customers in the aggregators we examined. Many long-term clients reported positively on its simplicity and security. The few negative reviews were mostly connected with payment or difficulties in renewing licenses.
Customer Rating
931,205 Ratings
excellent
We analyzed the reviews and ratings from various portals and found 931,205 ratings with an overall rating of 4.8 out of 5 .
Show sources
Alternatives to ESET Antivirus
Kaspersky offers a similar number of features, however, it also ran into some difficulties with the test labs. For a program which offers a similar number of features, albeit with solid test lab results, we can recommend Bitdefender. In terms of price, ESET is only outpaced by Sophos and 360 Total Security, which also have issues in terms of security. A list of alternatives that we recommend can be found here:
excellent protection results
configurable quick actions
good support with 24/7 live chat
Our test winner Bitdefender not only offers high security, confirmed by independent test laboratories, but also convinces with its flawless usability and a comprehensive feature package.
Plan
Devices
Protection Features
Premium Features
Bitdefender Free
$0.00
Visit Website »
special features like VPN
Kaspersky Internet Security is a user-friendly anti-virus protection with perhaps the best feature package on the market.
Plan
Devices
Protection Features
Premium Features
Kaspersky Antivirus
yearly price
Visit Website »
Free Trial Version
Avast überzeugt mit einer Gratis-Version, die bereits die wichtigsten Funktionen abdeckt. Lediglich bei der Performance gibt es leichte Abzüge.
Plan
Devices
Protection Features
Premium Features
Avast Free
$0.00
Visit Website »
Download for Free
elegant-intuitive application
good protection performance
incl. password manager and VPN
missing standard features on macOS
Plan
Devices
Protection Features
Premium Features
Norton Antivirus Plus
$19.99
yearly price
Visit Website »
intuitive Benutzeroberfläche
keine Firewall oder Webcam-Schutz
Plan
Devices
Protection Features
Premium Features
Trend Micro Antivirus+
$29.95
yearly price
Visit Website »

Author: Janis von Bleichert
Janis von Bleichert studied business informatics at the TU Munich and computer science at the TU Berlin, Germany. He has been self-employed since 2006 and is the founder of EXPERTE.com. He writes about hosting, software and IT security.