Best Password Manager For Windows 2023: Our TOP 3

Take a minute to count how many apps you use and the number of digital accounts you've created; dozens, hundreds, thousands? And each with a unique password that needs to be memorized. Maybe you write them down or save login data in your browser. You probably use similar, or even identical passwords on multiple sites - one of the worst things imaginable so far as security is concerned.
The good news is that you don't have to choose either security or convenience, and can instead have both, thanks to password managers. These keep track of your passwords for you, preventing unauthorized access while providing a high degree of utmost convenience. But which is the best for Windows?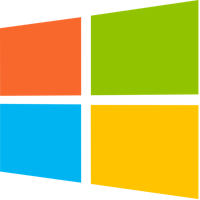 Most password managers are compatible with Windows and macOS, with a few supporting Linux or other, more obscure operating systems. On occasion, it's clear that a developer prefers one OS over another, with features, interfaces, or functionality being markedly better for that version than the rest of their clients. This article lists our top 3 password managers for Windows, saving you the time and trouble of having to try them out on your own.
Top 3 Password Managers for Windows
The list of providers is long, making selecting the right password manager being anything but easy. Making things more difficult, most services offer similar features and functionality at comparable prices. At the same time, small differences here and there can greatly affect your experience with the software. Like most things tech, each platform has developed its own fanbase, members of which swear by the superiority of their platform over those of its competitors. We've tried to take a more objective approach here, simply listing our top 3 password managers for Windows.
1.
Dashlane: Our First Choice Also on Windows
Dashlane Password Manager
Dashlane is a great all-rounder that makes managing your logins and other account details as easy as pie thanks to its many features, a strong security posture, and an easy-to-use interface.
user friendly and intuitive
zero-knowledge encryption
comprehensive security center
automatic password changer
9.1

excellent
Passwords
Devices
Users
Contract Period
Dashlane Free
$0.00
monthly price
Visit Website »
Try for free
Dashlane's strong showing during our evaluation secured it the top spot overall, with its Windows version cutting a mighty fine figure. Both the desktop client and web interface are intuitive and well-designed, offering users access to an unparalleled array of features. As if that wasn't enough, Dashlane's browser extension is one of the best on the market, brilliantly complementing the desktop version.
Getting back to those features though, Dashlane offers many which other providers lack. Its convenient password changer automatically alters passwords for a range of popular Internet services and sites with a single mouse click.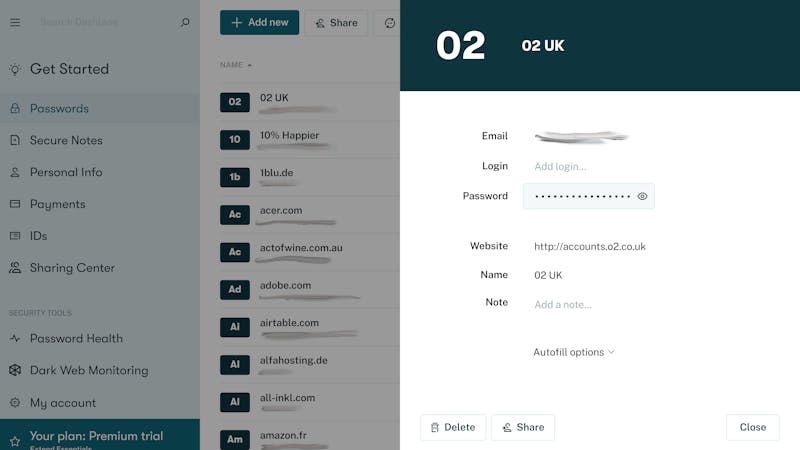 Dashlane's intuitive app puts access to a wealth of important features at your fingertips.
The app's current version even comes with a VPN. Dashlane also impresses among features common to password managers, with its security dashboard and password generator, being two of the best we encountered.
Most features are reserved for premium users, however, a Dashlane subscription is, at least in our eyes, the best option for a Windows user willing to pay for quality.
User-friendly and intuitive, even for beginners

Plenty of features, including a VPN and password changer
Installation & Usage
8.0 / 10
1Password Password Manager
1Password's password vault is filled to the brim with features, including handy extras such as the travel mode. With excellent security and a solid user interface on top, 1Password is one of the best password managers out there.
zero-knowledge encryption
reliable autofill function
8.7

good
Passwords
Devices
Users
Contract Period
1Password Standard
$2.99
monthly price
Visit Website »
Free 30 days trial
At first glance, 1Password might seem like an odd inclusion on our list of the Top 3 best password managers for Windows, considering that the software was originally developed only for Macs.
All the same, as things stand, 1Password's Windows version certainly wowed us: Loaded with features, the software includes Watchtower, from which you can keep tabs on the safety of all of your accounts, as well as Travel Mode. This makes it possible to configure which vaults you can access from which devices, a handy feature that we'd like to see other providers integrate as well.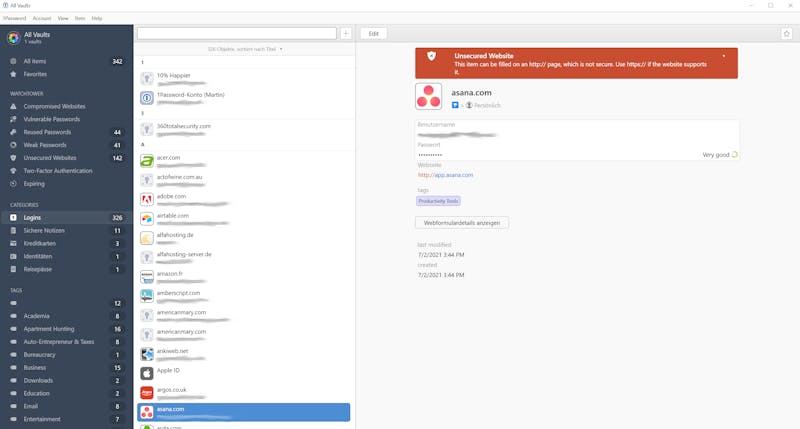 Even though it's slightly overloaded, we quickly got the hang of 1Password's app.
Autofill performed reliably, whether for inputting login credentials or payment information. One of the few drawbacks we noticed is that only Family or Business subscribers are able to securely share data sets with other 1Password users.
Plenty of features and security options
3.
NordPass - The Best Freebie
NordPass Password Manager
NordPass stands out with its beautiful design and ease of use, and offers a fully-fledged free version that allows you to create and synchronize an unlimited number of passwords.
full-featured free version
few options for customizing data sets
8.5

good
Passwords
Devices
Users
Contract Period
NordPass Free
$0.00
monthly price
Visit Website »
30-day money-back guarantee
You're looking for a full password manager for Windows, but don't want to pay? Following upon LastPass's overhaul of its free version in 2021, imposing new limits on what used to be a real favorite, NordPass has taken its place as our pick for the best free password manager. Free users can create as many data sets as they'd like, all the while synchronizing everything between the desktop client and mobile app.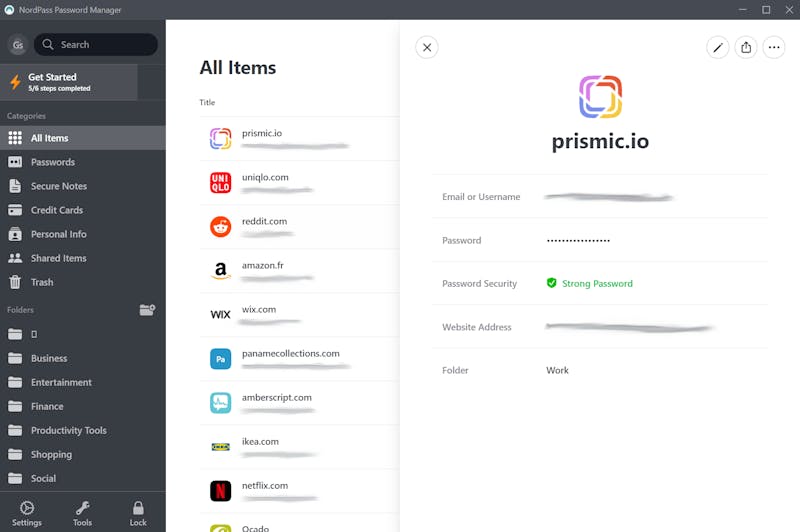 NordPass's dashboard is user-friendly and easy on the eyes.
Even beyond its price though, NordPass stands out, in a good way, staying true to the Nord name (NordVPN performed best in our comparison of VPN provides). The service is intuitive, elegantly designed, and seamlessly integrates into your browser, performing as though it were always there.
In terms of disadvantages, NordPass can't boast as many features or options as the other top services from our sample, and adding data sets isn't as flexible as it could be.
Full free version without data limits
Installation & Usage
9.4 / 10
Alternatives
During our review of 12 of the most popular password managers, we found a lot of great options, and truth be told, it was a very tight race to call. Compiling a top three list of anything is always subjective and password managers for Windows are no exception. Although we try to be as objective as possible, we don't discount the possibility that our ratings might skew in a certain direction, giving one provider the edge over another.
For that reason, we highly recommend taking a look at some of the other services we didn't mention here since each has its own strengths and weaknesses.
Below, we've provided a selection of the best alternatives:
Keeper is one of the best password managers on the market thanks to its many features, high reliability, and extensive configuration options.
Passwords
Devices
Users
Contract Period
Keeper Security Unlimited
$2.04
monthly price
Visit Website »
Download Keeper
Bitwarden Password Manager
Bitwarden can impress with easy-to-use apps, reliable autofill, and a few handy security features. Plus, it's pretty affordable – and offers a solid, feature-rich free plan.
user-friendly applications
good security, externally tested
paid features (e.g. password sharing)
8.4

good
Passwords
Devices
Users
Contract Period
Bitwarden Free
$0.00
monthly price
Visit Website »
Enpass offers intuitive application with solid features and reliable autofill. Handy: the connection to the cloud is optional, and you can synchronize locally if you prefer.
one-off price instead of subscription
optional cloud connection
not great for password sharing
8.2

good
Passwords
Devices
Users
Contract Period
Enpass Free
$0.00
monthly price
Visit Website »
RoboForm Password Manager
RoboForm is a reliable password manager with a beginner-friendly user interface, which offers lots of adjustment and customization options for tinkerers as well.
reliable autofill function
offline access to stored data
8.1

good
Passwords
Devices
Users
Contract Period
RoboForm Free
$0.00
monthly price
Visit Website »
Use for free
Sticky Password is a feature-rich password manager that offers a comprehensive at an affordable price. But the user interface could use a facelift, and autofill didn't always work for us without issues.
Passwords
Devices
Users
Contract Period
Sticky Password Free
$0.00
monthly price
Visit Website »
Get 85% discount
Avira's password manager delivers high security standards, strong usability, and reliable autofill, but a few features we'd like to see (such as password sharing) are missing.
free plan with unlimited data sets
simple and intuitive applications
7.5

good
Passwords
Devices
Users
Contract Period
Avira Free
$0.00
monthly price
Visit Website »
True Key is an affordable password manager that's aimed mainly at users of other McAfee solutions. But it's missing a few features and can't really set itself apart from the competition.
Passwords
Devices
Users
Contract Period
McAfee Free
$0.00
monthly price
Visit Website »

Martin Gschwentner majored in American Studies and Media Studies in Germany, the USA and France and works as a freelance editor in Paris. He is a doctoral student at the Institute for English and American Studies at the University of Paris Diderot, where he is researching the influence of money on US politics. On EXPERTE.com he writes about IT security, data protection and software for the self-employed and small businesses.

Translator & Editor: D Bare
Continue Reading
Reviews
Comparisons
Tools & Guides