Best Internet Security Software 2023: Reviewing 16 Programs

Author
Janis von Bleichert
Communication, entertainment, work, shopping: The Internet has grown to encompass more and more aspects of everyday life as the ever-present companion to Homo Interneticus. However, behind every personalized shopping experience or chat with friends exists the possibility that the information being exchanged digitally can fall into the wrong hands.
This is where Internet security suites come into play since they are able to protect nearly every facet of your digital life. The only question remaining is which program is right for you and your needs?
Best Internet Security: Our TOP 5
There are nearly as many online threats as there are Internet security suites, with each promising to safely and unobtrusively chaperone your digital life. We evaluated 16 of the most popular programs and selected our Top 5, however before we introduce you to them, we'd like to briefly discuss what Internet security is and how it differs from antivirus.
1.
Place: Bitdefender Internet Security
Our 'best in test' antivirus program Bitdefender boasts strong security, confirmed by independent test laboratories, along with a flawless user interface and a comprehensive set of features.
configurable quick actions
good support with 24/7 live chat
9.6

excellent
Plan
Devices
Protection Features
Premium Features
Bitdefender Antivirus Plus
$23.99
yearly price
Visit Website »
With its excellent desktop and mobile clients, bags of features, high degree of customizability, solid support, and stellar test lab performances, Bitdefender secured first place in our evaluation.
Alongside the ability to perform classic virus scans, Bitdefender makes it possible to configure the software's integrated firewall, setting exceptions for any program that you've installed. The package also includes a password manager, for guarding your passwords, credit card data, and other sensitive information. Although it's a nice extra, the password manager can't really compare to stand-alone programs owing to its lack of features. Should you be in the market for a password manager, be sure to check out our comprehensive evaluation of the best software options.
Also included are parental controls, with which you can monitor your children's Internet activity through a Web dashboard that doubles as the anti-theft command center. This puts the ability to remotely GPS locate any registered devices, lock them, view their IP address, delete data, or even activate an alarm at your fingertips. Most Bitdefender subscriptions also include system tuning and a VPN.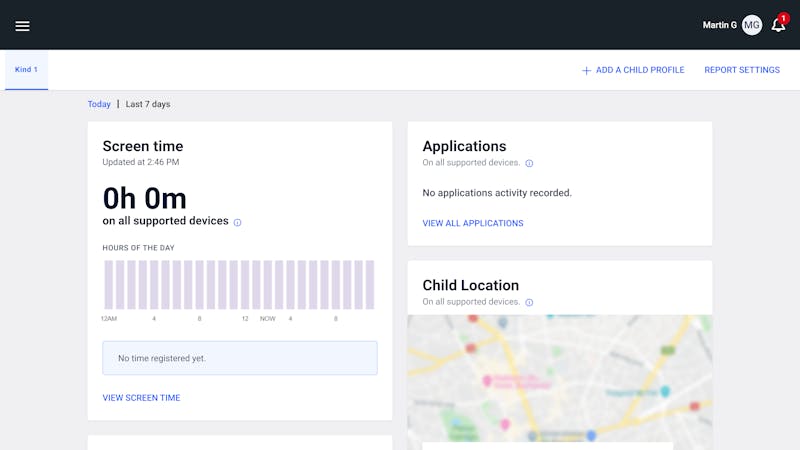 The top service from our evaluation, Bitdefender, provides far more than just antivirus capabilities.
Bitdefender's sizable catalog of features isn't its only strength: The program's security and performance have both received perfect scores from independent testing labs, while the desktop and mobile apps are intuitive and user-friendly. Taken together, in our eyes, all of these easily make Bitdefender the best Internet security package overall.
Installation & Usage
10 / 10
Security & Performance
9.4 / 10
2.
Place: Kaspersky Internet Security
Kaspersky Internet Security is a user-friendly antivirus tool with a ton of features. However, some Western governments are currently warning against its use.
keylogging & webcam protection
some governments warn against use
9.1

excellent
Plan
Devices
Protection Features
Premium Features
Kaspersky Antivirus
yearly price
Visit Website »
Free Trial Version
Kaspersky masters the fine art of integrating a seemingly endless list of features into a clear and well-arranged user interface. It also allows its users to tinker with scans more than its competitors do. Beyond that, it puts security features like ransomware, Web, email, webcam, and file protection at your fingertips.
Alongside a firewall, you'll find "Anti-Banner" which serves as a kind of adblocker, and an antivirus module for instant messaging clients, for those who still use them. Kaspersky comes with an integrated browser for secure payments and online transactions which opens automatically for websites that you select, guaranteeing total security.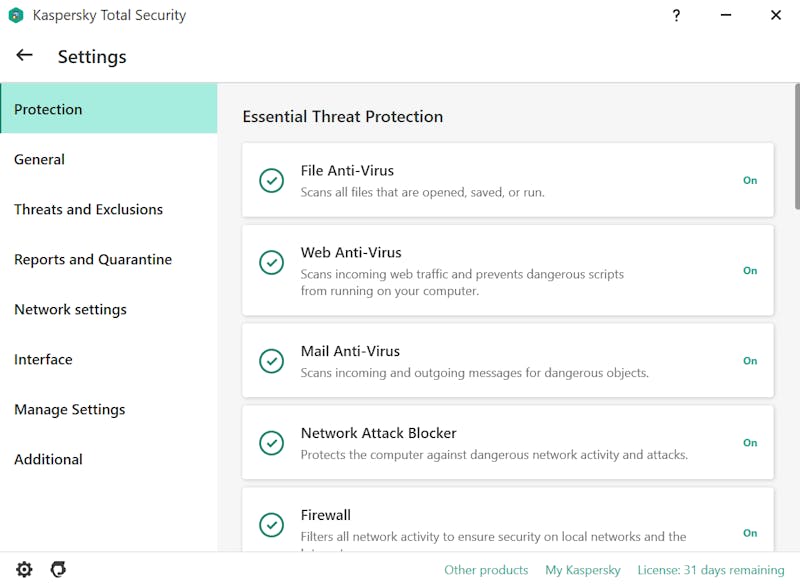 Kaspersky also scored well with us thanks to its comprehensive package of features.
But that's far from all the program is capable of. Kaspersky also creates backups of files or partitions and offers access to a range of parental controls. These include a GPS tracker, which can be used to physically locate your children. An in-house password manager comes with the software's Internet security suite too, and compared to the rudimentary managers offered by Kaspersky's competitors, this is a class above. Along with a file shredder and the ability to tune your system's performance, a VPN, based on Hotspot Shield, rounds out Kaspersky's Internet security tools.
According to the testing labs we consulted, Kaspersky also provides solid protection. As such, even though it can't compete with Bitdefender, Kaspersky is an excellent choice for robust Internet security.
Installation & Usage
9.4 / 10
Security & Performance
8.6 / 10
3.
Place: Avast Internet Security
Avast impresses with a great free version covering all the essentials, and a huge set of features that offer well-rounded antivirus protection and some nice extras. Scans can slightly impact performance, however.
Sandbox and WiFi-Inspector
scans can impact performance
8.6

good
Plan
Devices
Protection Features
Premium Features
Avast Free
$0.00
Visit Website »
Download for Free
Avast made it into our Top 5 owing to its provision of a comprehensive range of features, offered in an elegant package. Starting with the antivirus basics like scans and real-time protection, users are afforded a relatively free hand in customizing these to their exact needs, while the software offers plenty of extra tools. To name a few, these include a customizable firewall, file shredder (for permanently deleting data), and the "Wi-Fi Inspector".
One of the most interesting of these, however, is "Sandbox", in which you can open suspicious files or programs in a secure virtual environment. You'll also be given access to a password manager, VPN, and secure browser with an adblocker.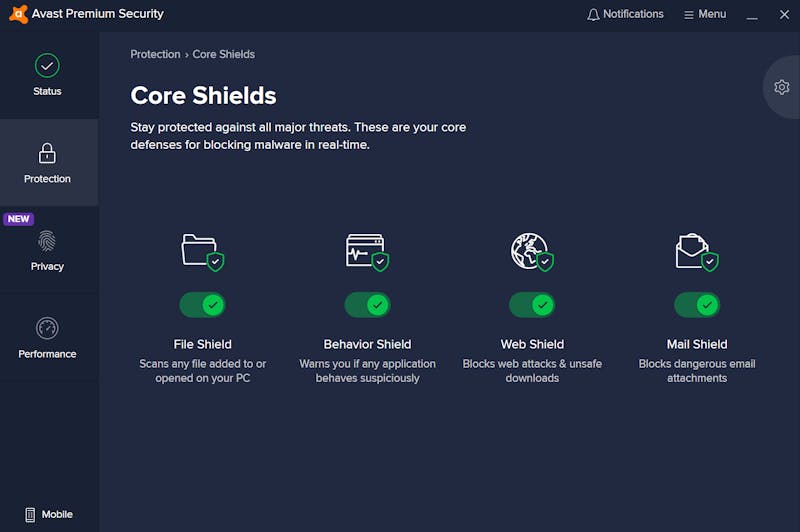 Avast offers plenty of features and configuration options.
Avast did fairly well with the testing labs, even though it had slightly too many false positives in AV-Comparatives's Real-World Protection Test. Still, it did prevent 99.9% of all attacks, with the remaining 0.1% dependent upon user behavior.
In our assessment, we noted some issues with live support, and would like to see Avast offer more ways to get in touch with its staff. Avast was on the receiving end of some bad publicity in 2020 when it was revealed that one of its subsidiaries had sold user data to third parties en masse. The company's management apologized and closed the subsidiary, however, lost trust, particularly in the world of cybersecurity, is not easily regained, if at all.
Installation & Usage
9.4 / 10
Security & Performance
8.0 / 10
4.
Place: G DATA Internet Security
G Data offers virus protection "made in Germany" with solid test lab scores, lots of customization, and great support. The user interface, however, could use a facelift.
many configuration options
interface somewhat outdated
test lab scores "only" solid
8.4

good
Plan
Devices
Protection Features
Premium Features
G Data Antivirus
yearly price
Visit Website »
Those looking for a sleek user interface should probably stick to Bitdefender and Kaspersky, as aesthetically speaking, G DATA appears a bit outdated. However, this is our biggest criticism of the Internet security suite, since, in every other area, it impressed us greatly.
Across the software's three subscriptions, users are treated to a nice mix of features, including cloud backups, a password manager, performance tuning, a firewall, parental controls, and data encryption. The smartphone app, in addition, serves up anti-theft measures. You won't get a VPN, which has become somewhat ubiquitous amongst Internet security suites.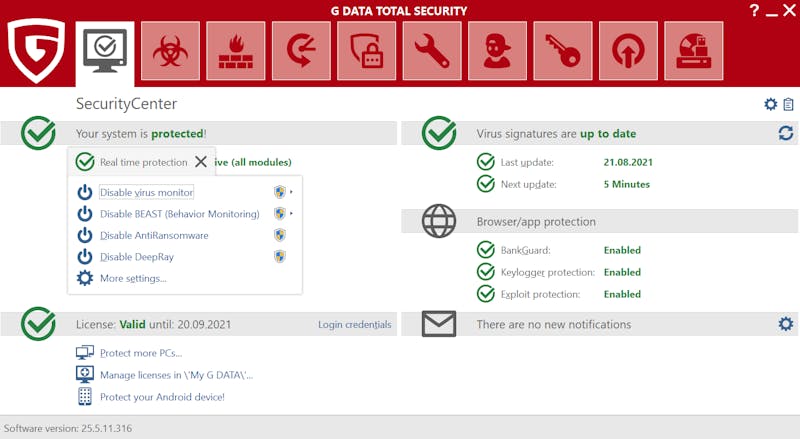 It won't win any beauty contests, but G DATA offers a powerful Internet security solution.
G DATA did well with the testing labs, despite not receiving maximum points from either AV-Test or AV-Comparatives. Therefore, it almost goes without saying that other providers from our sample were more reliable, however, G DATA still offers a powerful Internet security package, so long as looks aren't that important to you.
Security & Performance
8.0 / 10
Installation & Usage
7.4 / 10
5.
Place: Norton Internet Security
With its robust set of features, lean applications, and a 100 % antivirus guarantee, Norton Antivirus is definitely worth a look. Sadly, the testing labs aren't unanimously impressed, and one or two features are missing.
learn, user-friendly apps
customizable child protection
100 % antivirus guarantee
8.4

good
Plan
Devices
Protection Features
Premium Features
Norton Antivirus Plus
$19.99
yearly price
Visit Website »
Norton also provides a comprehensive Internet security package, despite not offering nearly as many features as our other top picks. This is particularly noticeable in the mobile version, where the absence of anti-theft measures stands out, as does the lack of a secure browser for online banking and transactions. Further, although Norton does have a file shredder, this must be paid for separately, irrespective of your subscription package. Rounding out our list of complaints, webcam protection is only available to Windows users.
Turning to the positives, alongside the usual features like a virus scanner, Norton includes cloud backups as well. The software also allows you to tune your system's performance, optimizing disks, deleting unused files, or reducing your start-up time.
Ransomware protection, which defends against extortion Trojans that encrypt your files and demand ransoms for their release, comes standard with Norton's software. Like Bitdefender, Norton also offers paid subscribers access to parental controls. All three premium subscriptions include a VPN that doesn't throttle traffic or usage, although its server network is relatively small when set alongside dedicated VPNs.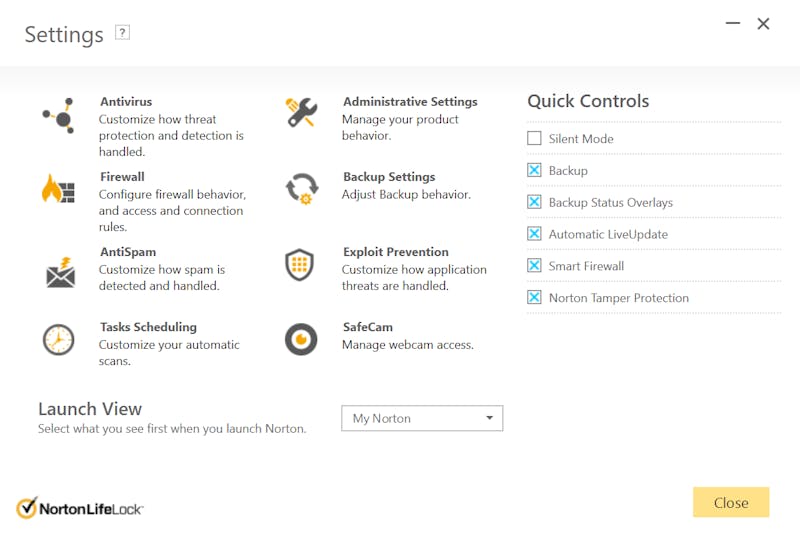 Even though it's missing a feature or two, Norton offers a decent Internet security package.
The software fared well with the testing labs, even though in AV-Comparatives's Real-World Protection Test, it had too many false positives, resulting in a less-than-impressive protection rate. On the flip side, Norton provides excellent support, not only owing to its 24/7 live chat.
If you can do without a feature here or there, Norton provides a good Internet security software package.
Installation & Usage
8.6 / 10
Security & Performance
8.0 / 10
Alternatives
The five programs detailed above performed best in our evaluation, however, this doesn't mean that the other 11 we assessed don't offer useful Internet security solutions. Both AVG and ESET provide access to similar numbers of features and are highly configurable, but scored just outside of the Top 5. They do suffer from other shortcomings though: With ESET, poor testing lab results made the difference to us, while with AVG, it was their abysmal live support.
Below, you can find a list of all of the alternatives to our Top 5:
Trend Micro delivers a solid overall antivirus package with lots of features and some nice extras, such as social media protection. However, the testing labs are a bit divided on the reliability of its protection.
Plan
Devices
Protection Features
Premium Features
Trend Micro Antivirus+
$19.95
yearly price
Visit Website »
F-Secure focuses on the essentials and delivers reliable protection from most malware, as demonstrated by its results in the testing labs. But some features, such as webcam protection, are missing.
Plan
Devices
Protection Features
Premium Features
F-Secure Internet Security
yearly price
Visit Website »
Panda Security isn't as feature-rich as the competition, but it offers good protection, backed by solid results in the testing labs. Its free tier is worth a look.
Plan
Devices
Protection Features
Premium Features
Panda Security Free
$0.00
Visit Website »
McAfee leaves a good overall impression, thanks to solid test lab results and an impressive range of features. Sadly, the speed and quality of its support couldn't keep up.
somewhat clunky interface
missing features (webcam protection,..)
7.8

good
Plan
Devices
Protection Features
Premium Features
McAfee Total Protection (Plus)
$39.99
yearly price
Visit Website »
With its solid free tier, AVG offers basic protection for everyone – while paying customers get a huge set of features that covers all your basic anti malware needs and more. Sadly, AVG's support isn't great.
Plan
Devices
Protection Features
Premium Features
AVG Free
$0.00
Visit Website »
Download for Free
With highly configurable manual scans, solid test lab results, and a huge set of features (including VPN and password manager), Avira is a reliable, easy-to-use all-rounder in the antivirus space.
free version with basic protection
freely configurable scans
7.6

good
Plan
Devices
Protection Features
Premium Features
Avira Free
$0.00
Visit Website »
Download for Free
ESET comes with lots of customization and a few handy extra features, such as its Scheduler. Sadly, testing labs aren't unanimously convinced of the program's protective powers.
simple and intuitive interface
many configuration settings
extras such as UEFI scanner
7.6

good
Plan
Devices
Protection Features
Premium Features
ESET Essential Security
yearly price
Visit Website »
30 Days Free Trial
Internet Security Comparison Calculator
Special Protection Features
Number of Devices
How We Tested
As is the case with all EXPERTE.com software reviews, we assessed the above Internet security solutions from top to bottom. Each overall score, and the ranking which we awarded the service, was calculated based on partial scores in four different categories: Installation & Usage, Features, Security & Performance, and Support. When selecting our Top 5 Internet security solutions, we factored in the extra features each offers as well.
Below, we've provided brief summaries of how we assessed each of the four categories and our scoring criteria:
Installation & Usage
Appearances matter. Even though antivirus software revolves around its ability to identify, neutralize, and ward off malware, this should be offered in as user-friendly and visually appealing an interface as possible. Beyond that, the software should be quick and easy to install and start using. We looked favorably upon developers that offer their Internet security software for free, either in freemium or trial versions. For the latter, it's important that these don't require inputting a payment method, as this allows users to stop using the software at any time without having to worry about automatic payments.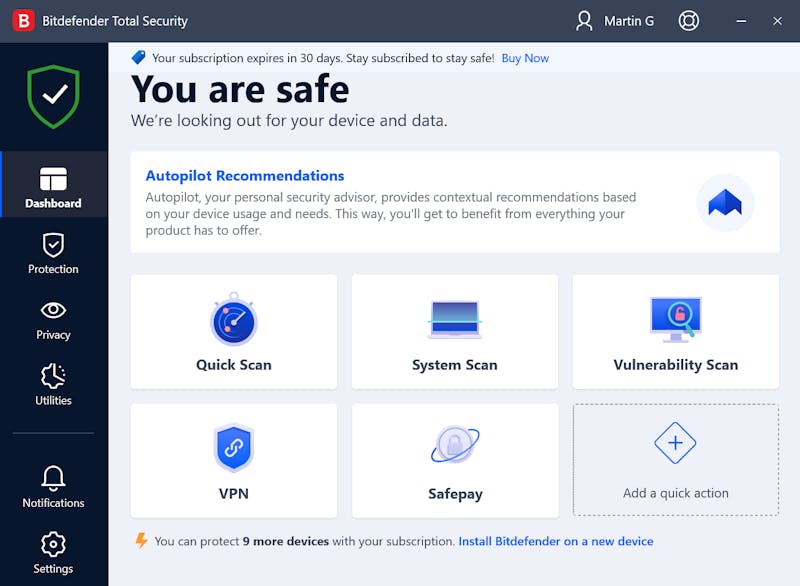 Bitdefender's interface is nearly flawless.
Features
Protection against viruses alone isn't enough to defend against all of the digital threats that exist in the 21st century. Internet security software has taken this to a new level, including more and more features that relate to cybersecurity, but not necessarily the fight against malware. Along with basic features like scans and real-time protection, we examined what else this entails, from password managers to VPNs to mobile anti-theft tools and parental controls. In our opinion, quality is more important than quantity, since any extras should offer users additional capabilities, and not create security headaches.
Security & Performance
In this section of our reviews, we relied on AV-Test ⇱ and AV-Comparatives ⇱, two independent testing labs that regularly assess the security and performance of a range of antivirus and Internet security solutions, awarding scores and certificates. We also based our performance score on our own experiences with the software, particularly whether or not it noticeably inhibited our system while performing scans.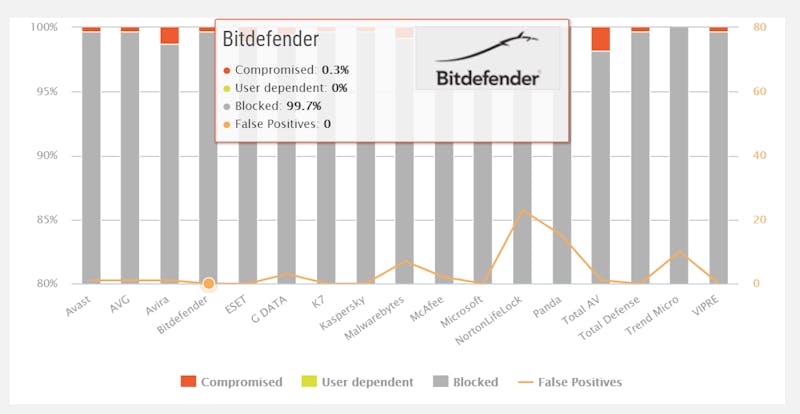 AV-Comparatives regularly assesses the protection rates of a variety of antivirus solutions.
Support
When it comes to support, we look for two things: A well-stocked help center offering plenty of information and multiple means for getting in touch with support staffers capable of providing quick and competent answers. We contacted each provider's support team and let you know whether we were satisfied with the quality and speed of their responses.
Differences Between Internet Security and Antivirus Programs
Antivirus software protects you against viruses, spyware, phishing, and all other sorts of malware, offering basic security when it comes to online threats and dangers, frequently in a single, relatively versatile program that doesn't include many additional features. The wheelhouse of any antivirus program is its virus scanner, capable of examining and removing threats from your system, either manually or automatically. With real-time protection, antivirus programs run in the background, constantly guarding you and your system against everyday dangers arising from the Internet, albeit, not all of them.
Internet security suites on the other hand almost always possess antivirus features, but go a step further, offering a wide range of security tools that aren't explicitly concerned with viruses or malware. These can include a firewall, spam blockers, or secure browsers for online banking and shopping, as well as anti-theft measures (particularly for mobile devices), a password manager, parental controls, a VPN, and more. Typically, such tools are embedded in a dashboard or offered as stand-alone programs by the suite's provider.
Put simply: Antivirus programs are a type of Internet security software, but not all Internet security components are antivirus software. As a result, Internet security suites offer more comprehensive protection than antivirus software alone. Below, we'll introduce you to the Internet security software that performed best in our comprehensive assessment.
Conclusion
Most antivirus programs are embedded in comprehensive Internet security suites that afford users far more than just basic virus protection. Your choice should depend on which features are most important to you: Anti-theft measures? A password manager? A VPN? Cloud-backups? Parental controls? The list is endless. Not every suite includes each of these, and just because a provider offers a variety of security tools doesn't mean that the program performs well.
Our Top 5 Internet security suites deliver the best overall packages with only minor limitations. Detailed reviews for 16 of the most popular antivirus and Internet security solutions can be found here.
FAQs
What Is the difference between an antivirus program and Internet security software?
⊖
As its name suggests, antivirus software protects against viruses, spyware, phishing, and other types of malware. Internet security is a more general term, with suites providing this likely to include firewalls, protection against spam, a password manager, or secure browsers for online banking, in addition to antivirus components.
Do I need Internet security software?
⊖
Since Internet security is a fairly broad term, whether or not you need it depends largely on what your goals or purposes are. For individuals who want to augment their antivirus or real-time protection capabilities with other security features in a single software package, we recommend looking into Internet security suites.
What is the best Internet security suite?
⊖
In our comprehensive evaluation, Bitdefender took first place owing to its excellent desktop and mobile clients, high level of security, bags of features, numerous configuration options, and solid support. What the best Internet security software is for you, depends to a great extent on your individual needs and requirements, as well as which features you'd like to have access to. Finally, your budget also plays a role.

Janis von Bleichert studied business informatics at the TU Munich and computer science at the TU Berlin, Germany. He has been self-employed since 2006 and is the founder of EXPERTE.com. He writes about hosting, software and IT security.
Continue Reading