Best Internet Security Software - Reviewing 11 Programs
Communication, entertainment, work, shopping: Online networks have grown to assume more and more responsibilities as the ever-present companion to Homo Interneticus, completely transforming our lives in the process. However, behind every personalized shopping experience, or chat with friends exists the danger that this information can fall into the wrong hands. This is where Internet security programs come into play since they are able to protect nearly every facet of your digital life. The only question that remains is which program is the best?
There are nearly as many online threats as there are Internet security suites that promise to chaperone your digital life. We evaluated 11 programs and selected the Top 3, however before we introduce you to these, we'd like to discuss what Internet security is in detail, and what the differences are between programs.
Differences Between Internet Security and Antivirus Programs
Antivirus software protects you against viruses, spyware, phishing, and all other sorts of malware, offering basic security from online threats and dangers, frequently in a single, relatively versatile program that doesn't include many additional features. The wheelhouse of any antivirus program is its virus scanner, capable of examining your system both manually and automatically for threats and thereafter removing them. Through their real-time protection features, antivirus programs run constantly in the background, guarding you and your system against everyday dangers arising from the Internet, but not all of them.
Internet security suites on the other hand almost always possess antivirus features, but go a step further, offering a wide range of security functions that aren't explicitly concerned with viruses or malware. These can include a firewall, spam protection, or secure browsers for online banking or shopping, as well as anti-theft measures (particularly for mobile devices), a password manager, parental controls, a VPN, and more. Typically, such features will be embedded in a dashboard or offered as stand-alone programs by the suite's provider.
Put simply: Antivirus programs are a component of Internet security software, but not all Internet security software is antivirus software. As a result, Internet security suites offer more comprehensive protection than antivirus software alone. Below, we'll introduce you to the three best Internet security programs from our evaluation.
1.
Place: Bitdefender Internet Security
excellent protection results
configurable quick actions
good support with 24/7 live chat
Our test winner Bitdefender not only offers high security, confirmed by independent test laboratories, but also convinces with its flawless usability and a comprehensive feature package.
Plan
Devices
Protection Features
Premium Features
Bitdefender Antivirus Plus
$29.99
yearly price
Visit Website »
With its excellent desktop and mobile clients, bags of features, high degree of customizability, solid support, and stellar test lab performances, Bitdefender secured first place in our evaluation.
In addition to the ability to perform classic virus scans, Bitdefender also provides a configurable firewall that allows you to set exceptions for each program you have installed. The package also includes a password manager, which protects your passwords, credit card data, and other sensitive information. Although it's a nice extra, the password manager can't really compare to stand-alone programs owing to its lack of features. You can check out our comprehensive evaluation of the best password managers here.
Also included are parental controls, which allow you to monitor and oversee your children's Internet activity. These are set through a web dashboard that doubles as the anti-theft command center. Using these, you can remotely GPS locate any registered devices, lock them, view their IP address, delete data, or even activate an alarm. Most Bitdefender subscriptions also include system tuning and a VPN.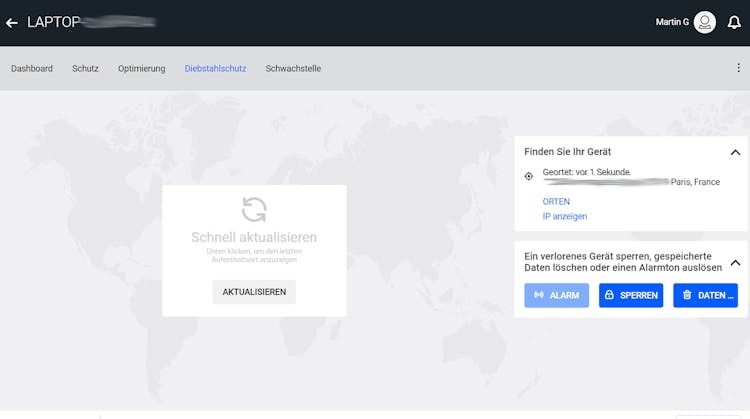 Bitdefender's sizable catalog of features isn't its only strength: The program's security and performance have both received perfect scores from independent test labs, while the desktop and mobile apps are intuitive and user-friendly. Taken together, all of these easily make Bitdefender the best Internet security package overall.
Review Score
09/2021
excellent
Visit Website
Installation & Usage
5.0 / 5
Security & Performance
4.7 / 5
2.
Place: Norton Internet Security
elegant-intuitive application
good protection performance
incl. password manager and VPN
missing standard features on macOS
Plan
Devices
Protection Features
Premium Features
Norton Antivirus Plus
$19.99
yearly price
Visit Website »
Norton also provides a comprehensive Internet security package, even if it doesn't offer nearly as many features as Bitdefender. This is particularly noticeable in the absence of anti-theft measures from the software's mobile version, or the lack of a secure browser for online banking and transactions. Further, although Norton does have a file shredder, this must be paid for separately, irrespective of your subscription package. Rounding out the list of complaints, webcam protection is only provided for Windows users.
Turning to the positives, alongside the usual features like a virus scanner, Norton includes cloud backup as well. The software also allows you to tune your system's performance, optimizing disks, deleting unused files, or shortening your start-up time.
Ransomware protection, which defends against extortion Trojans that encrypt your files and demand ransoms for their release, is integrated into Norton's software. Like Bitdefender, Norton also offers paid subscribers access to parental controls. All three premium subscriptions include a VPN that doesn't throttle traffic or usage, although the server network for this is relatively small in comparison to dedicated VPNs.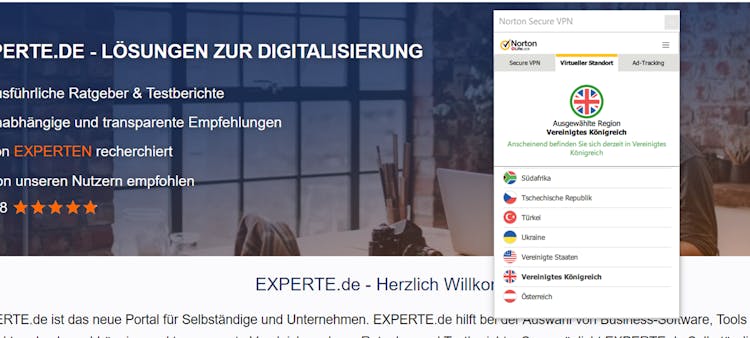 Norton provides access to a decent selection of features, however, this was the program's Achilles Heel in our evaluation. Test lab scores were excellent, the application is sleek and intuitive, and support is unparalleled with its 24/7 live chat. If you can do without anti-theft measures, and particularly if you're a Windows user, Norton is by no means a bad choice for your Internet security provider.
Installation & Usage
4.3 / 5
Security & Performance
4.0 / 5
3.
Place: Kaspersky Internet Security
special features like VPN
Kaspersky Internet Security is a user-friendly anti-virus protection with perhaps the best feature package on the market.
Plan
Devices
Protection Features
Premium Features
Kaspersky Antivirus
yearly price
Visit Website »
Free Trial Version
Kaspersky masters the fine art of integrating a seemingly endless list of features into a clear and well-arranged user interface. It also allows its users to tinker with scans more than its competitors do. Apart from this, security features like ransomware, web, email, webcam, and file protection are at your fingertips.
Alongside a firewall, the program also includes "Anti-Banner" which is a kind of adblocker as well as an antivirus module for instant messenger clients, for those who still use these. Kaspersky provides an integrated browser for secure payments and online transactions which opens automatically for websites that you select, guaranteeing total security.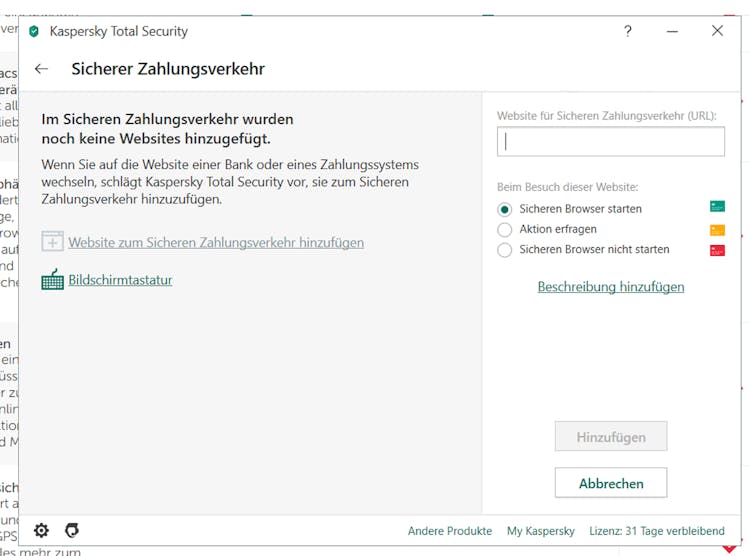 Kaspersky also creates backups of files or partitions and offers access to a range of parental controls. These include a GPS tracker, which can be used to physically locate your children. An in-house password manager is also part of the software's Internet security suite, and compared to the rudimentary managers offered by Kaspersky's competitors, this is qualitatively solid. Along with a file shredder and the ability to tune your system's performance, a VPN, based on Hotspot Shield, is also provided.
The only chink in the Russian Internet security suite's armor can be found in its test lab results. Kaspersky's security was rated markedly different by the two test labs we base our reviews on. Whereas one of these awarded the program top scores, another criticized its poor rate of identification. In contrast to Bitdefender and Norton, both of which took maximum points without any conditions, Kaspersky's disparate performances raise some concerns.
Review Score
09/2021
excellent
Visit Website
Installation & Usage
4.7 / 5
Security & Performance
4.3 / 5
The three programs detailed above performed best in our evaluation, however, this doesn't mean that the other eight programs we assessed don't offer useful Internet security solutions. For example, ESET provides access to similar numbers of features and is highly configurable, but scored just outside of the Top 3. As we go down the list, weaknesses do accumulate or increase in severity from program to program. With the exception of 360 Total Security, which owing to its lack of test lab results raises one too many security questions, all programs we evaluated were solid.
Avast überzeugt mit einer Gratis-Version, die bereits die wichtigsten Funktionen abdeckt. Lediglich bei der Performance gibt es leichte Abzüge.
Plan
Devices
Protection Features
Premium Features
Avast Free
$0.00
Visit Website »
Download for Free
intuitive Benutzeroberfläche
keine Firewall oder Webcam-Schutz
Plan
Devices
Protection Features
Premium Features
Trend Micro Antivirus+
$29.95
yearly price
Visit Website »
free version with basic protection
freely configurable scans
weak performance in test lab
no ransomware protection for free users
Plan
Devices
Protection Features
Premium Features
Avira Free
$0.00
Visit Website »
Download for Free
simple and intuitive interface
many configuration settings
Plan
Devices
Protection Features
Premium Features
ESET NOD32
yearly price
Visit Website »
30 Days Free Trial
Internet Security Comparison Calculator
Special Protection Features
Number of Devices
Most antivirus programs are embedded in comprehensive Internet security suites that afford users far more than just basic virus protection. Your choice should depend on which features are most important to you: Anti-theft measures? A password manager? A VPN? Cloud-backup? Parental Controls? The list is endless. Not every program includes each of these, and just because a provider offers a variety of features doesn't mean that the program is well-performing. Just think of the oft-forgotten second half of the phrase "Jack of all trades, master of none". Our Top 3 programs deliver the best overall packages with only minor limitations. Detailed reviews for 11 of the most popular Internet security suites can be found here.
What Is the Difference Between an Antivirus Program and Internet Security Software?
As its name suggests, antivirus software protects against viruses, spyware, phishing, and other types of malware. Internet security is a more general term and includes antivirus components, as well as many others, such as a firewall, protection against spam, a password manager, or secure browsers for online banking, to name just a few.
Do I Need Internet Security Software?
Since Internet security is a fairly broad term, whether or not you need it depends largely on what your goals or purposes are. For individuals who want to augment their antivirus or real-time protection capabilities with other security features in a single software package, we recommend looking into Internet security suites.
What Is the Best Internet Security Software?
In our comprehensive evaluation, Bitdefender took first place owing to its excellent desktop and mobile clients, high level of security, bags of features, numerous configuration possibilities, and solid support. What the best Internet security software is for you, depends to a great extent on your individual needs and requirements, as well as which features you'd like to have access to, and of course, your budget.

Author: Janis von Bleichert
Janis von Bleichert studied business informatics at the TU Munich and computer science at the TU Berlin, Germany. He has been self-employed since 2006 and is the founder of EXPERTE.com. He writes about hosting, software and IT security.