Keeper Password Manager Review 2023: A Good Choice?


Ad disclaimer:
For links on this page, EXPERTE.com may earn a commission from the provider. This supports our work and has no influence on our editorial rating.
Cybersecurity starts with a solid password. Because one good password isn't enough, password managers help you safely keep track of all your passwords and strengthen any weak combinations you might be using. Keeper claims to be "the top-rated cybersecurity software." Below, we'll let you know whether this was our experience, or if you should throw this one back.
What Is Keeper?
Keeper* is a digital vault and password manager that protects and encrypts passwords, financial information, and other sensitive data, for individuals and businesses. The software's desktop version is available for macOS, Windows, and Linux, while its mobile app can be used on iOS and Android devices. Keeper also offers browser extensions for Chrome, Firefox, Safari, Internet Explorer, Edge, and Opera.
We tested Keeper on Windows and Android.
Keeper Password Manager Review
Installation & Usage
8.0 / 10
Customize autofill settings

Clear folder structure with drag & drop functionality
Security vulnerabilities (account recovery)
As with most other password managers, setting up Keeper begins with creating a master password. Unlike the majority of its competitors though, Keeper makes a recovery method available from the getgo (user-defined security questions). These can be a lifesaver if you ever lose or forget your password.
While this recovery method is popular for individual accounts, it's risky for a password manager. Your master password doesn't just protect one of your accounts, but all of them. Research has shown that security questions are much easier to crack than passwords because they usually don't contain special characters or numbers and have logical answers. Password resets still require input of a verification code sent to your email address.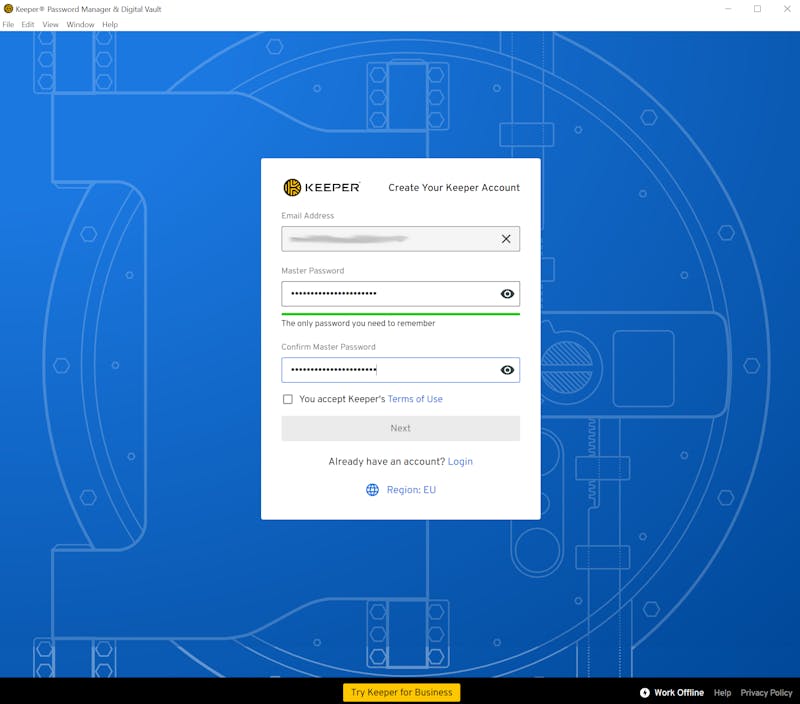 The first thing you'll need to do is set a master password.
Like most other password managers, Keeper is divided between a dedicated desktop app and a browser extension (KeeperFill). The service also includes a web vault, which is accessible via the browser's online interface. After a brief tutorial, you'll be prompted to install the browser extension, however, manual installation only takes a few seconds.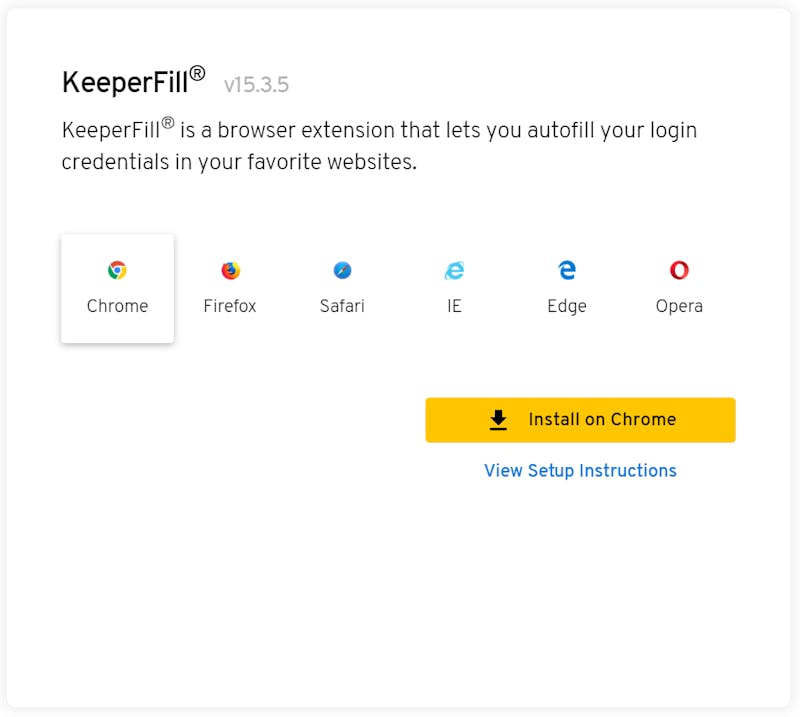 KeeperFill, the service's browser extension, is compatible with all major browsers.
If you'd like to import passwords or data sets from other services, you can in the "Settings" area. Chrome, Firefox, Internet Explorer, Edge, and Opera are supported, along with Dashlane, LastPass, Sticky Password, and many others.
Each column can be assigned to a Keeper field through the dropdown menu. This helps ensure that information is loaded where you need it. Unfortunately, all entries need to be imported at the same time, which means that you can't select which entries are stored.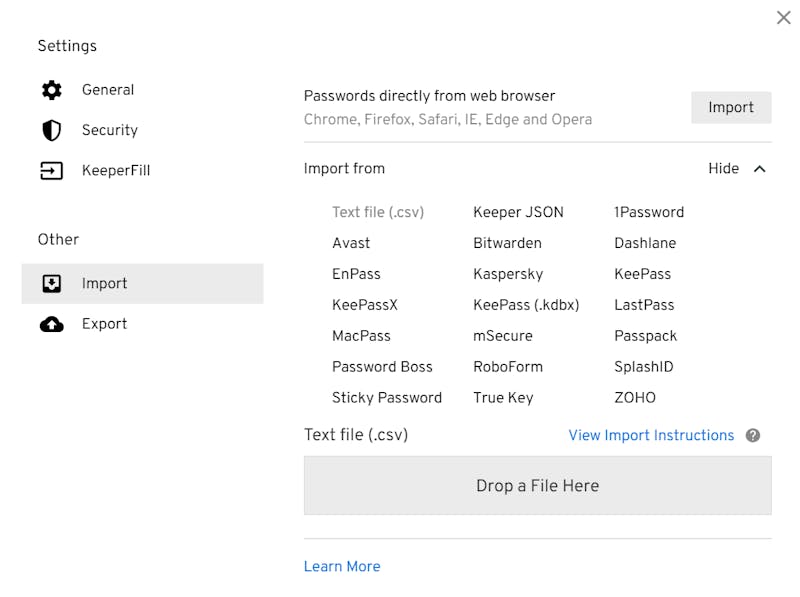 Data set imports worked well during testing.
User interface: Folder-based organization
Along with the Web Vault and mobile app, Keeper also has a desktop app and a browser extension (KeeperFill). The desktop app is identical to the Web Vault, however, offers more convenience when it comes to using all of the service's features.
Desktop app
Keeper's desktop app is divided into three sections: On the left, there's a navigable main menu, in the center you can access folders, and on the right, individual data sets within the folder you've selected. New folders and subfolders can be created, and it's possible to move or copy your data sets at will which helps to quickly organize any entries you've imported.
If using the folder view, you can assign colors to your records. Web page logos are only displayed in tile view, and even then, not all of them. Other password managers definitely provide a better overview of data sets.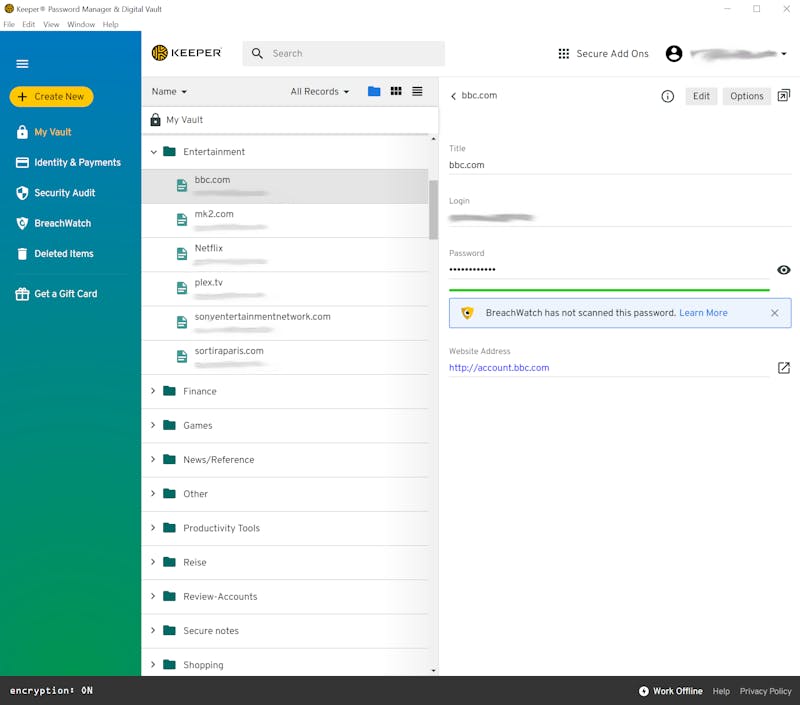 Keeper's UI logically organizes fields.
KeeperFill browser extension
Since our last review, Keeper has overhauled its browser extension and added important features, like a password generator. Autofill is still the main focus and Keeper allows users to control how the extension interacts with browser forms.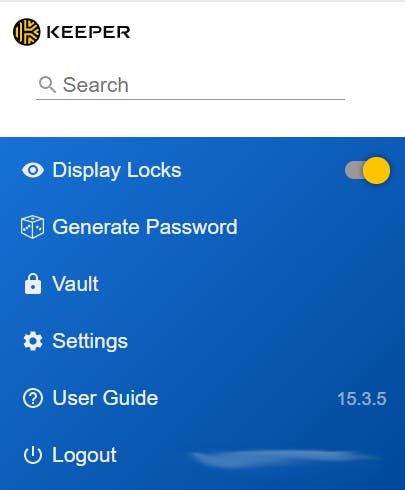 KeeperFill, Keeper's browser extension, gives users a free hand in controlling how the program interacts with forms.
By and large, Keeper is intuitive to use, thanks in no small part to its folder's drag-and-drop functionality. In comparison to more elegant password managers, the app isn't particularly stunning, however, you can adjust its color scheme.
Installation & Usage
8.0 / 10
Keeper boasts a solid range of features. However, even though it's a premium program, many of these are kept behind paywalls.
Security Audit
This screen is where Keeper shows you how strong your passwords are. The password generator from KeeperFill is integrated into the data set field, making it very convenient to change passwords, even without a dedicated tool.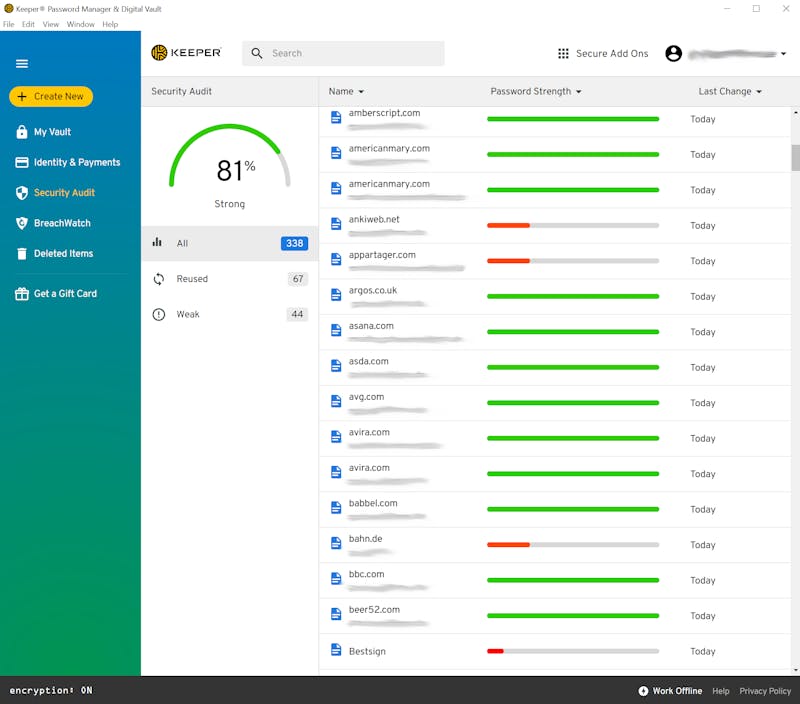 Check the strength of your passwords in Keeper's Security Audit screen.
Autofill options
Keeper truly excels when it comes to custom autofill settings, and far surpasses its competitors. Users can specify when Keeper should and should not supply data sets for forms. It's nice to be able to digitally 'muzzle' the program.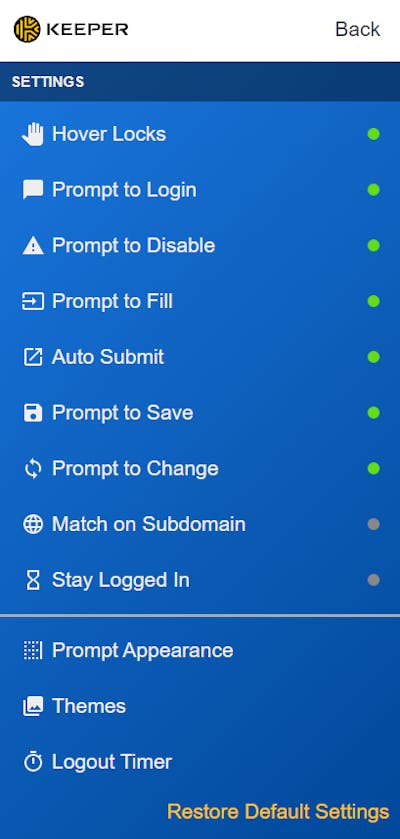 Keeper scores thanks to its variety of autofill settings.
Of course, what matters most is how reliable autofill is. During our last review, there were some issues with websites, like Reddit. This time, automatic login worked even for complicated login forms that open through a pop-up or are spread across multiple sites.
If you click on the Keeper icon in a login form, a small window opens that displays all relevant information about the data set in question as well as autofill options.
In addition to web logins, Keeper can also store app logins, something not offered by every service.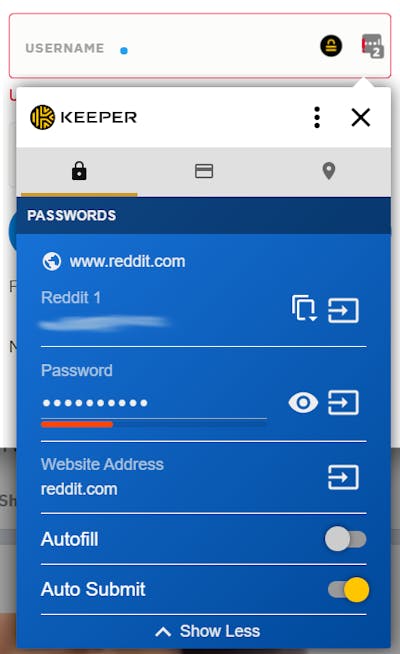 Expand the autofill field to personalize additional settings.
Access rights and sharing
Another standard feature that Keeper masters is access rights to individual entries. Simply input the email addresses of whoever you want to grant access to specific data sets. Existing folders cannot be shared with others: For this, you'll need to create shared folders.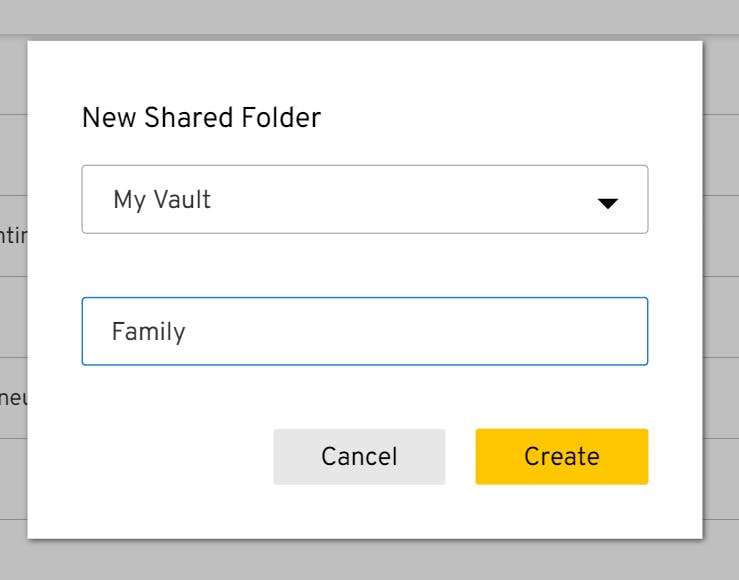 Share individual data sets with other Keeper users or entire (shared) folders.
Custom data sets
We were also satisfied with the configuration options for data sets. You can create custom fields and secure individual entries with an additional password. All the same, there could be more default settings for identities: Other programs provide preset categories for documents like passports or driver's licenses.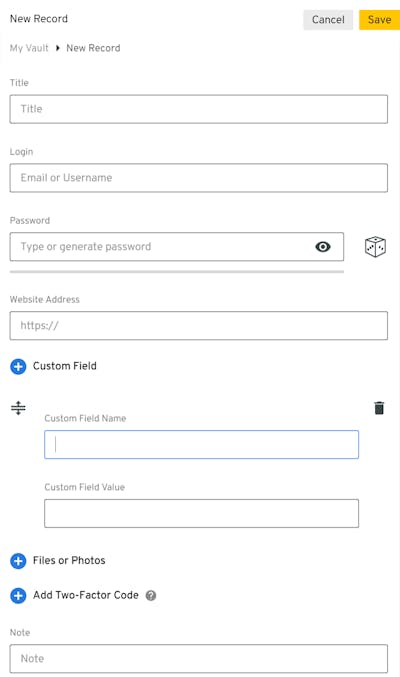 Freely customize your data sets by creating user-defined fields.
In addition to the basics, Keeper also includes a few extensions that need to be separately installed. Some are free, like "KeeperChat", a secure messaging app. Others need to be paid for. These include "Secure File Storage" and "BreachWatch", the latter of which searches the Internet and Darknet for your passwords to see if they've been stolen or leaked.
Overall, Keeper's feature package is very nearly complete and provides everything we expect from a password manager. The service also doesn't seem to suffer from any significant lapses.
Keeper's password security is based on the zero-knowledge principle. The service retains neither your master password nor does it store any data on its own servers that has not been locally encrypted and/or decrypted beforehand. Since it uses AES 256-bit encryption, the highest level of security is guaranteed.
The "Self-Destruct" feature is interesting: It allows you to automatically destroy all locally stored Keeper data following five failed login attempts.
You can add extra security to your account by activating 2FA. Apart from mobile (number) authentication and its own dedicated authenticator app, Keeper is also compatible with Google Authenticator, RSA SecurID, and Duo Security.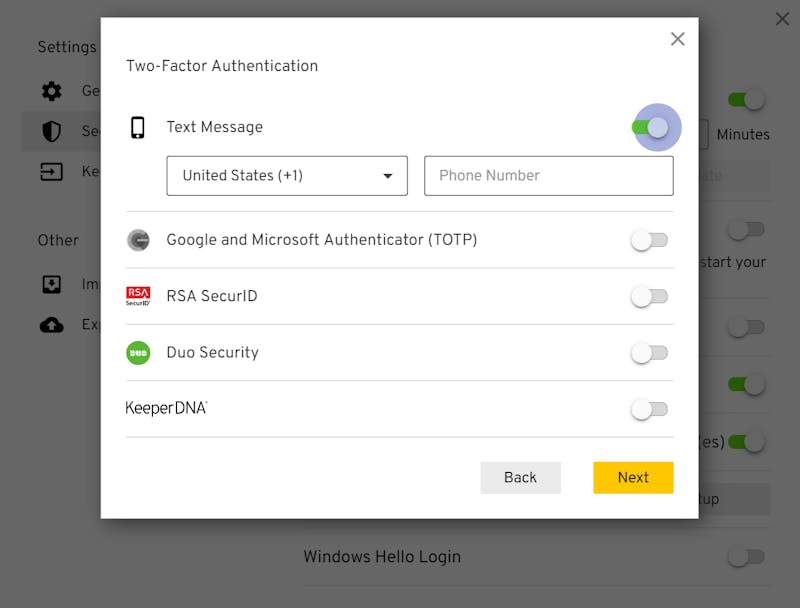 Use 2FA to make it difficult for others to gain unauthorized access to your vault.
Once you've activated 2FA, the security question recovery method mentioned above should not pose any significant risks. Nevertheless, we should emphasize that by including an (easy to crack) recovery method, Keeper gives hackers an invitation to attack. Most of its competitors have closed this gap.
Keeper's mobile version is available for Android and iOS. As mentioned above, the mobile app offers access to nearly the same features as the desktop version, including "Security Audit" and extras like "BreachWatch". You can also easily share your data sets and folders from your smartphone.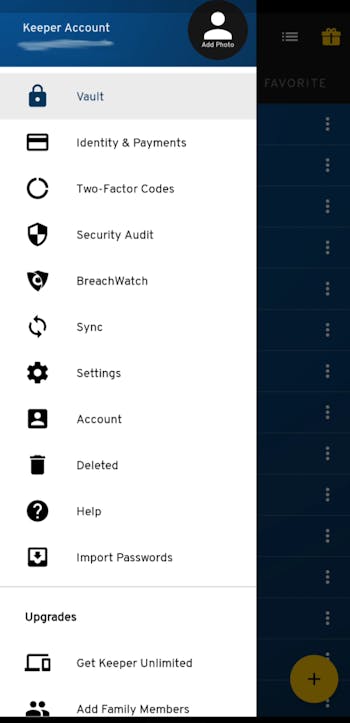 Keeper's mobile app offers the same features as its desktop version.
You can visit websites either with Keeper's integrated browser or your default browser. During testing, autofill was reliable on our smartphone and we didn't notice any issues with websites, either in Keeper's browser or Chrome.
Overall, the latest version of Keeper's mobile app impressed us. In large part, it excels thanks to the number of features from the desktop version that have found their way onto the mobile app.
Keeper offers a live chat, however, we weren't able to get in touch with a customer service representative (on an early Friday afternoon). A chatbot asked us some questions, however, this quickly led nowhere. We were only able to speak to a human through the support ticket we filed. Keeper promises round-the-clock support, and our question was answered within six hours, which is fairly good.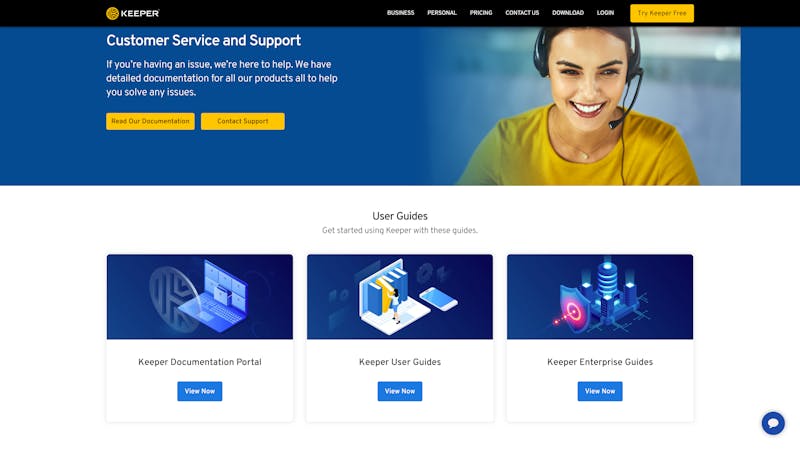 Keeper's help center is extensive, but its live support seems understaffed.
In case you're more of a DIY type, Keeper offers an extensive collection of guides, FAQs, and even video tutorials.
All in all, Keeper does fairly well in terms of support, specifically with its excellent static support and round-the-clock live assistance.
Unfortunately, Keeper is only available as a paid/premium product. Customers can book a Personal or Family subscription, with the latter including up to five vaults.
Keeper is specifically positioned as a password manager for businesses and organizations. As such, it offers a number of packages for large and small businesses, as well as special rates for managed service providers and the public sector.
Below, you can find an up-to-date overview of Keeper's prices:
Unlimited
Family
Business Starter
Business
Set-up Fee
$0.00
$0.00
$0.00
$0.00
Base Price per Month
$2.04
$4.37
$0.00
$0.00
Price per User
-
-
$2.00
$3.75
Contract Period (Months)
12
12
12
12
Limits
Number of Users
1
5
10
unlimited
Number of Passwords
unlimited
unlimited
unlimited
unlimited
Number of Devices
unlimited
unlimited
unlimited
unlimited
Features
Sync Multiple Devices
Password Sharing
Teams
Zero-knowledge Encryption
Emergency Contacts
Two Factor Authentication
Local Storage
Browser

Internet Explorer

Edge

Chrome

Firefox

Safari

Internet Explorer

Edge

Chrome

Firefox

Safari

Internet Explorer

Edge

Chrome

Firefox

Safari

Internet Explorer

Edge

Chrome

Firefox

Safari

Platforms

Cloud / SaaS

Windows

macOS

Linux

iOS

Android

Cloud / SaaS

Windows

macOS

Linux

iOS

Android

Cloud / SaaS

Windows

macOS

Linux

iOS

Android

Cloud / SaaS

Windows

macOS

Linux

iOS

Android
Prospective users can test the full version of Keeper for free for 30 days. Keeper doesn't offer a money-back guarantee on its subcriptions.
Conclusion
Installation & Usage
8.0 / 10
Keeper does a number of things extremely well and even surpasses its competitors in some areas. Its extensive autofill settings would be a welcome addition to other password managers, and they work well on both desktops and mobile devices. After all, autofill reliability is the backbone of any password manager and Keeper does not disappoint in this area.
While there are free versions of most password managers, Keeper charges all users a monthly fee. In addition, many additional features need to be purchased separately, increasing the overall price. This makes the service a non-option for those who want a free or low-priced password manager. As another negative, we also weren't swept off our feet by Keeper's desktop interface.
All the same, thanks to its variety of features, reliability, and extensive customization options, Keeper is one of the best password managers on the market.
Keeper is one of the best password managers on the market thanks to its many features, high reliability, and extensive configuration options.
Passwords
Devices
Users
Contract Period
Keeper Security Unlimited
$2.04
monthly price
Visit Website*
Download Keeper
Customer Ratings
So far as customer reviews are concerned, Keeper is rated highly and has received (mostly) very good scores. Satisfied users emphasize its ease of use.
Customer Ratings
265,054 Bewertungen
Visit Website*
We analyzed the reviews and ratings from various portals and found 265,054 ratings with an overall rating of 4.8 out of 5 .
Alternatives
For a more economical option, check out the freemium versions of NordPass and Bitwarden: Neither imposes data set limits nor restricts the number of devices that your records can be synced on.
If you're ready to pay for a password manager, Dashlane performs slightly better than Keeper, thanks to its better user interface and powerful (automatic) password changer.
More of the best alternatives to Keeper can be found below:
Dashlane Password Manager
Dashlane is a great all-rounder that makes managing your logins and other account details as easy as pie thanks to its many features, a strong security posture, and an easy-to-use interface.
user friendly and intuitive
zero-knowledge encryption
comprehensive security center
automatic password changer
9.1

excellent
Passwords
Devices
Users
Contract Period
Dashlane Free
$0.00
monthly price
Visit Website*
Try for free
1Password Password Manager
1Password's password vault is filled to the brim with features, including handy extras such as the travel mode. With excellent security and a solid user interface on top, 1Password is one of the best password managers out there.
zero-knowledge encryption
reliable autofill function
8.7

good
Passwords
Devices
Users
Contract Period
1Password Standard
$2.99
monthly price
Visit Website*
Free 30 days trial
NordPass Password Manager
NordPass stands out with its beautiful design and ease of use, and offers a fully-fledged free version that allows you to create and synchronize an unlimited number of passwords.
full-featured free version
few options for customizing data sets
8.5

good
Passwords
Devices
Users
Contract Period
NordPass Free
$0.00
monthly price
Visit Website*
30-day money-back guarantee
Bitwarden Password Manager
Bitwarden can impress with easy-to-use apps, reliable autofill, and a few handy security features. Plus, it's pretty affordable – and offers a solid, feature-rich free plan.
user-friendly applications
good security, externally tested
paid features (e.g. password sharing)
8.4

good
Passwords
Devices
Users
Contract Period
Bitwarden Free
$0.00
monthly price
Visit Website*
Enpass offers intuitive application with solid features and reliable autofill. Handy: the connection to the cloud is optional, and you can synchronize locally if you prefer.
one-off price instead of subscription
optional cloud connection
not great for password sharing
8.2

good
Passwords
Devices
Users
Contract Period
Enpass Free
$0.00
monthly price
Visit Website*
* Ad disclaimer:
For links marked with an asterisk, EXPERTE.com may earn a commission from the provider. The commission has no influence on our editorial rating.

Martin Gschwentner majored in American Studies and Media Studies in Germany, the USA and France and works as a freelance editor in Paris. He is a doctoral student at the Institute for English and American Studies at the University of Paris Diderot, where he is researching the influence of money on US politics. On EXPERTE.com he writes about IT security, data protection and software for the self-employed and small businesses.

Translation: D Bare
Continue Reading
Reviews
Comparisons
Tools & Guides