Best Password Manager for Android 2023: Safely Store Your Passwords

Whether you're a full-fledged netizen or just an occasional Internet user, the amount of accounts and passwords you have is probably growing. Like most, you're likely losing oversight of these, and, for no fault of your own, recycle the same combinations of username and password for each service that you register with.
While understandable, by doing so, you're actually playing right into the hands of data thieves and hackers.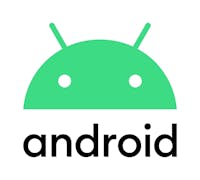 If repeatedly using a password, cybercriminals only need to get lucky once to gain access to multiple accounts. With easy-to-remember passwords, you actually do them a favor, as plenty of Internet users have learned the hard way. Should you notice one of your passwords on this list of the most popular passwords, change it immediately.
For smartphones, where inputting an entire username and password is frustrating and time-consuming, cutting corners with basic passwords is understandable. No one wants to spend a minute tapping out a password only to be told that it's incorrect because they replaced an uppercase with a lowercase letter, or forgot a number. Saving passwords automatically in your mobile browser helps, but doesn't enhance your security.
Enter password managers: What works so well on desktops and laptops, has also become available for mobile devices, making surfing on the go both easier and safer.
Top 3 Password Managers for Android Devices
When assessing desktop clients of the password managers from our sample, we paid close attention to how many features each came with. For their mobile apps, on the other hand, ease of use and autofill reliability are of greater importance. On a desktop or laptop, poor autofill functionality isn't the end of the world, since you can just copy and paste login data with a mouse and/or keyboard. However, on an Android device, autofill is the name of the game, and its absence, or subpar performance, almost completely defeats the purpose of having a mobile password manager in the first place.
The three apps below mastered the challenges we placed before them on an Android device.
Dashlane Password Manager
Dashlane is a great all-rounder that makes managing your logins and other account details as easy as pie thanks to its many features, a strong security posture, and an easy-to-use interface.
user friendly and intuitive
zero-knowledge encryption
comprehensive security center
automatic password changer
9.1

excellent
Passwords
Devices
Users
Contract Period
Dashlane Free
$0.00
monthly price
Visit Website »
Try for free
With the only cumulative score of "Very Good" in our sample, Dashlane was not only the top-performing password manager from our sample, it offered one of the best smartphone apps as well.
All important features from the desktop and web clients found their way over to the Android version. For instance, Password Health lets you keep tabs on the strength of all of your passwords, and, as its name implies, Password Changer makes it possible to effortlessly and automatically alter passwords for specific online accounts, without having to log in yourself. Even the VPN, one of Dashlane's unique extras, has been integrated into its mobile app.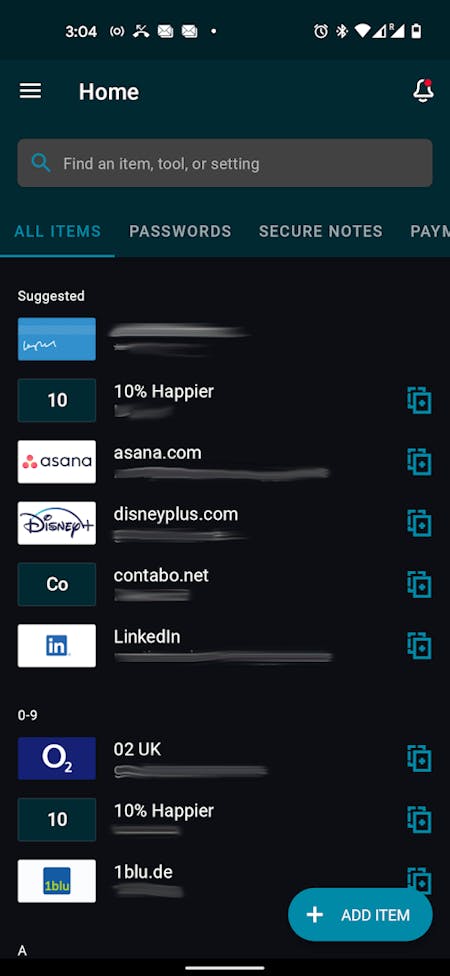 Dashlane's Android app offers as much functionality as its desktop and web clients do.
The app's autofill is also highly intuitive: Whenever you tap on a form field, the username and password you've saved for that particular site will automatically appear above your virtual keyboard. Should you have multiple accounts for the same website or service, you can toggle between them by tapping on the Dashlane icon. During our evaluation, autofill didn't trip up a single time in Chrome (Dashlane's mobile app does not come with an integrated browser of its own).
You also won't have to constantly enter your master password to enter your vault, and can configure access to instead be granted via fingerprint scan, facial recognition, or a four-number PIN.
As such, it's plain to see why Dashlane was our favorite smartphone app for Android devices.
Installation & Usage
8.0 / 10
Keeper is one of the best password managers on the market thanks to its many features, high reliability, and extensive configuration options.
Passwords
Devices
Users
Contract Period
Keeper Security Unlimited
$2.04
monthly price
Visit Website »
Download Keeper
Even though Keeper had to share second place in our evaluation with 1Password and NordPass, we found its mobile app to have an edge over the pair.
With Keeper, you won't need to worry about losing any important features known from the desktop client. Security Check, through which you can monitor the strength of your passwords, and BreachWatch, which informs you about compromised passwords, are both included in the Android app.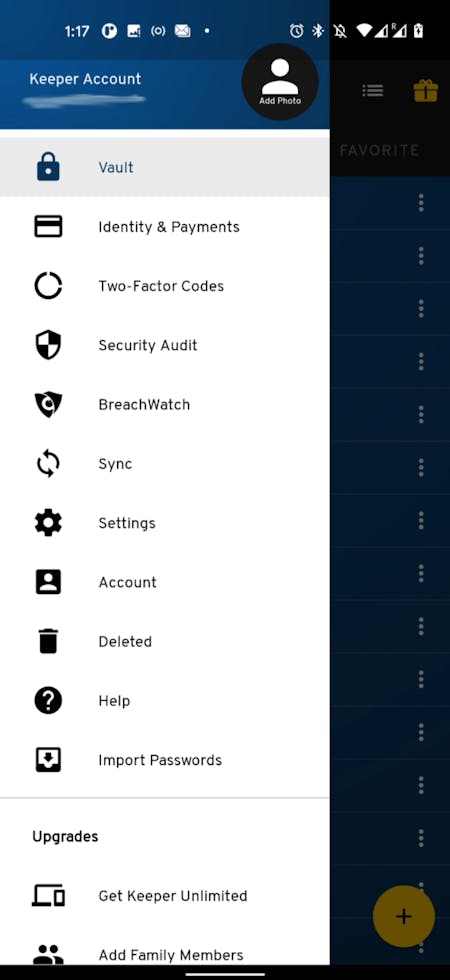 Keeper's Android app offers its users access to the same functionality they're familiar with from its desktop client.
Thanks to the integrated browser, you can easily visit websites and automatically log in using the data you've saved in your vault. Autofill also worked flawlessly on our devices when using Chrome.
As such, Keeper's Android is definitely, well, a keeper!
Installation & Usage
8.0 / 10
LastPass Password Manager
On paper, LastPass delivers everything a great password manager needs. Sadly, a few serious security incidents in 2022 have undermined our trust in the company, which is why we no longer recommend it.
simple and intuitive interface
excellent autofill performance
severe security breach in 2022
free plan used to be better
7.1

good
Passwords
Devices
Users
Contract Period
LastPass Free
$0.00
monthly price
Visit Website »
30 days free trial
LastPass's mobile app is so intuitive and easy to use because the app's menu is practically identical to that of the desktop version's browser extension. Most of all though, LastPass's Android app works, doing precisely what it's supposed to.
The service's autofill was reliable whenever a web form appeared, however, we recommend using the app's integrated browser, rather than Chrome to ensure this every time. Even with Chrome, we only had to occasionally tap again on the login form for the LastPass icon to appear.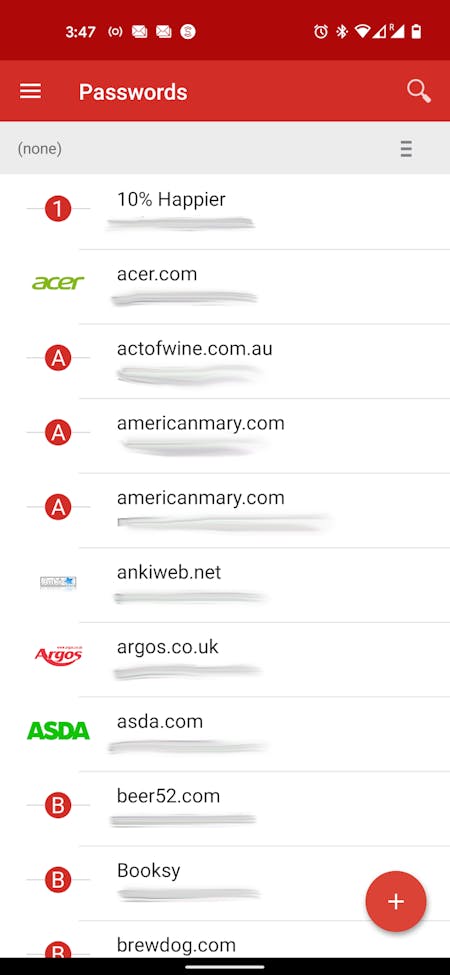 LastPass's Android app is a useful companion for when you're on the go.
LastPass's Android app also comes with plenty of nifty features, such as its convenient password generator, Emergency Access, and a security dashboard, the last of which keeps you up to date as to the safety of your online accounts.
Overall, we were definitely impressed with LastPass's Android app.
Installation & Usage
8.0 / 10
Alternatives
Some of the mobile apps we assessed performed very well as password managers. Since we focused on how intuitive and easy to use each Android app was, our Top 3 definitely reflect some subjective preferences. A number of other password manager apps exist for Android capable of providing equally good mobile experiences. Two honorable mentions that just barely missed our Top 3 are 1Password and NordPass.
Below, you can find a list of all password managers from our sample that offer Android apps:
1Password Password Manager
1Password's password vault is filled to the brim with features, including handy extras such as the travel mode. With excellent security and a solid user interface on top, 1Password is one of the best password managers out there.
zero-knowledge encryption
reliable autofill function
8.7

good
Passwords
Devices
Users
Contract Period
1Password Standard
$2.99
monthly price
Visit Website »
Free 30 days trial
NordPass Password Manager
NordPass stands out with its beautiful design and ease of use, and offers a fully-fledged free version that allows you to create and synchronize an unlimited number of passwords.
full-featured free version
few options for customizing data sets
8.5

good
Passwords
Devices
Users
Contract Period
NordPass Free
$0.00
monthly price
Visit Website »
30-day money-back guarantee
Bitwarden Password Manager
Bitwarden can impress with easy-to-use apps, reliable autofill, and a few handy security features. Plus, it's pretty affordable – and offers a solid, feature-rich free plan.
user-friendly applications
good security, externally tested
paid features (e.g. password sharing)
8.4

good
Passwords
Devices
Users
Contract Period
Bitwarden Free
$0.00
monthly price
Visit Website »
Enpass offers intuitive application with solid features and reliable autofill. Handy: the connection to the cloud is optional, and you can synchronize locally if you prefer.
one-off price instead of subscription
optional cloud connection
not great for password sharing
8.2

good
Passwords
Devices
Users
Contract Period
Enpass Free
$0.00
monthly price
Visit Website »
RoboForm Password Manager
RoboForm is a reliable password manager with a beginner-friendly user interface, which offers lots of adjustment and customization options for tinkerers as well.
reliable autofill function
offline access to stored data
8.1

good
Passwords
Devices
Users
Contract Period
RoboForm Free
$0.00
monthly price
Visit Website »
Use for free
Sticky Password is a feature-rich password manager that offers a comprehensive at an affordable price. But the user interface could use a facelift, and autofill didn't always work for us without issues.
Passwords
Devices
Users
Contract Period
Sticky Password Free
$0.00
monthly price
Visit Website »
Get 85% discount
Avira's password manager delivers high security standards, strong usability, and reliable autofill, but a few features we'd like to see (such as password sharing) are missing.
free plan with unlimited data sets
simple and intuitive applications
7.5

good
Passwords
Devices
Users
Contract Period
Avira Free
$0.00
monthly price
Visit Website »
Free Password Managers for Android?
Are you after a free password manager for your Android device? There are plenty of options, including the free versions of paid services (i.e. freemium software), as well as free software. In opting for one of these, keep in mind that you'll likely have to make do without a few features. Another disadvantage is that you'll probably be limited to how many data sets you can store, or the number of cross-device synchronizations that are allowed. The average Internet user typically has too many accounts that they want to be able to access across too many different devices to make these worthwhile.
For that reason, it's important to look for a password manager that can save an unlimited number of passwords and synchronize datasets across as many devices as you intend to use. Providers that offer this at no cost include NordPass, Bitwarden, and Avira Password Manager.
FAQs
Why should I use a password manager?
⊖
Password managers enhance the security of your passwords while also making it easier and more convenient for you to access your accounts. All you have to remember is a single master password, which, in turn, provides access to all of your other data and accounts. Password managers also take care of creating secure passwords for you, and automatically supply your login credentials when a website or service requires them. Beyond that, you can store sensitive documents or information, such as copies of your passport or ID, in your digital vault.
What is the best password manager for Android?
⊖
What's the best free password manager for Android?
⊖
NordPass, Bitwarden, and Avira Password Manager offer the best free solutions for Android devices since they don't impose any limits on data sets (saved passwords) or cross-device synchronizations.

Martin Gschwentner majored in American Studies and Media Studies in Germany, the USA and France and works as a freelance editor in Paris. He is a doctoral student at the Institute for English and American Studies at the University of Paris Diderot, where he is researching the influence of money on US politics. On EXPERTE.com he writes about IT security, data protection and software for the self-employed and small businesses.

Translator & Editor: D Bare
Continue Reading
Reviews
Comparisons
Tools & Guides