360 Total Security Review 2023: How Good Is the Antivirus Tool?

Author
Janis von Bleichert
Ad disclaimer:
For links on this page, EXPERTE.com may earn a commission from the provider. This supports our work and has no influence on our editorial rating.
You can only ever have security or speed, right? Wrong, at least according to 360 Total Security: The antivirus program offers protection and performance enhancement making your computer both safer and more efficient.
Below, we'll assess whether 360 Total Security really has more to offer and is capable of going head-to-head with its well-known competitors.
What Is 360 Total Security?
360 Total Security* is an antivirus and performance optimization program for Windows, macOS, Android, and iOS produced by Qihoo 360, a Chinese Internet security company. Users can select between two free options, as well as one paid version.
360 Total Security Review
Installation & Usage
7.4 / 10
Security & Performance
4.6 / 10
Two different free versions

Does not install bloatware on your system

Comes with a number of configurable, pre-loaded design themes
Has not been recently tested by third-parties

Questionable corporate commitment to data security/privacy
It took us around seven minutes during our last assessment to install 360 Total Security: This time, we only needed a minute to get up and running. No bloatware is loaded on your computer during this process, but you will be asked whether you would like to install any software that comes with 360 Total Security. This is better than other antivirus developers who smuggle programs onto your PC without your knowledge.
The browser extension, 360 Internet Protection, is installed automatically, however, you can delete this at any time if desired.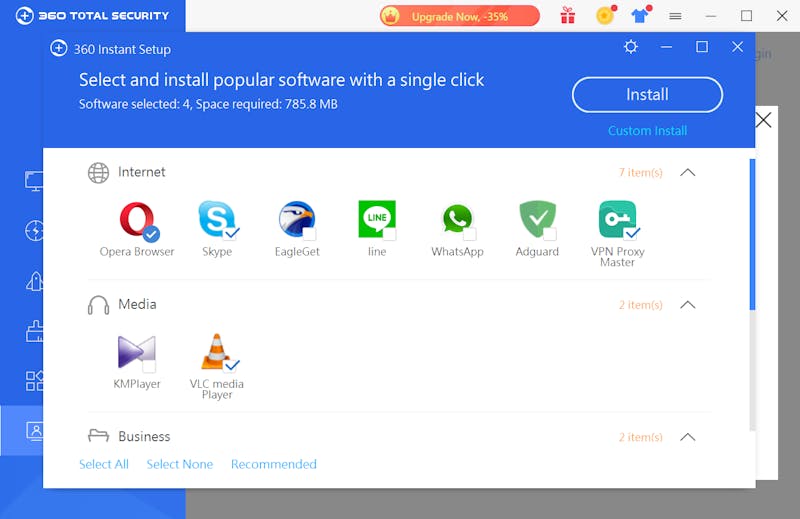 360 Total Security is quickly installed.
All attention in the program's dashboard is focused on the software's main features. Free version users are constantly reminded of the benefits of upgrading to a paid subscription through the animated banner at the top of the dashboard. This gives the software a cheap, freemium look. However, as the saying goes, beggars can't be choosers.
To the left of the dashboard, you'll find modules titled "Full Check", "Virus Scan", "Speed Up", "Clean Up", and "Tool Box", all of which we'll explore in greater detail below.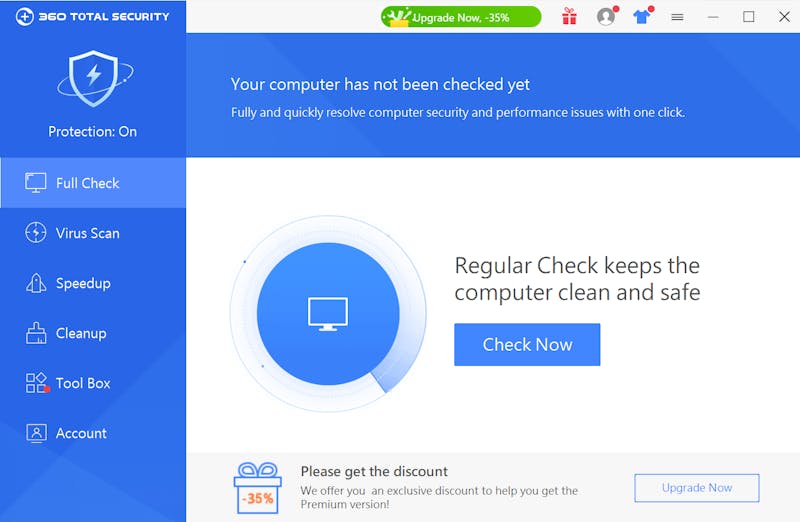 It doesn't take long to find what you need in 360 Total Security's dashboard.
The hamburger icon in the upper menu bar takes you to settings, protocols, and the support area. Without leaving the comfort of the program's dashboard, you can also conveniently file a support ticket here.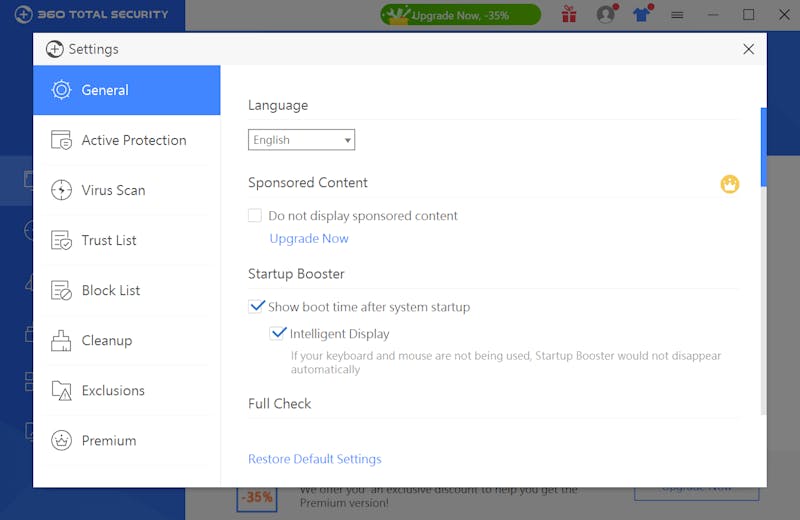 In the software's settings menu, you can adjust how the program interacts with your system.
Clicking on the T-shirt icon in the program's upper bar opens one of 360 Total Security's unique features: Like video or computer games, you can 'dress' the program in different 'skins', personalizing your experience. Some of these are reserved for premium users, however, a decent number of free ones are available at no extra cost.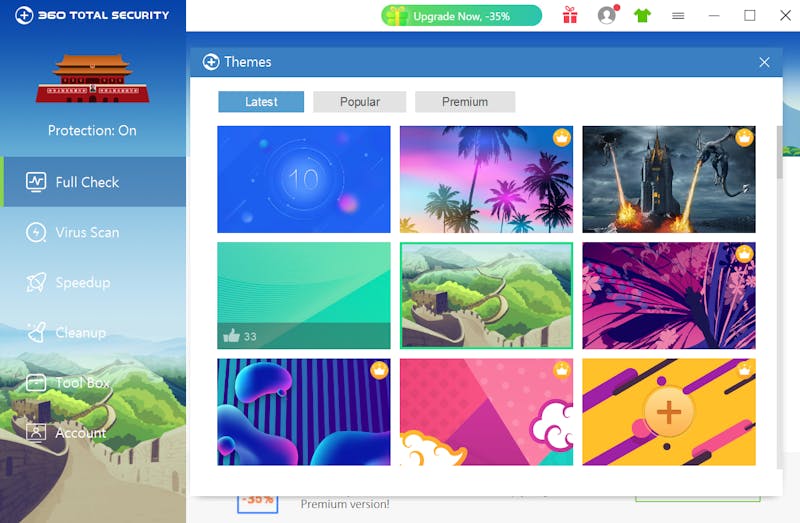 Users can jazz up 360 Total Security's interface with a number of colorful design themes.
The developer also borrows other concepts from gamification: Users can earn points by inviting friends to try out 360 Total Security, which can then be converted into extra months of a premium subscription. While not a bad idea in principle, antivirus software is a bit more serious than a computer game, and we're not sure if it's entirely appropriate.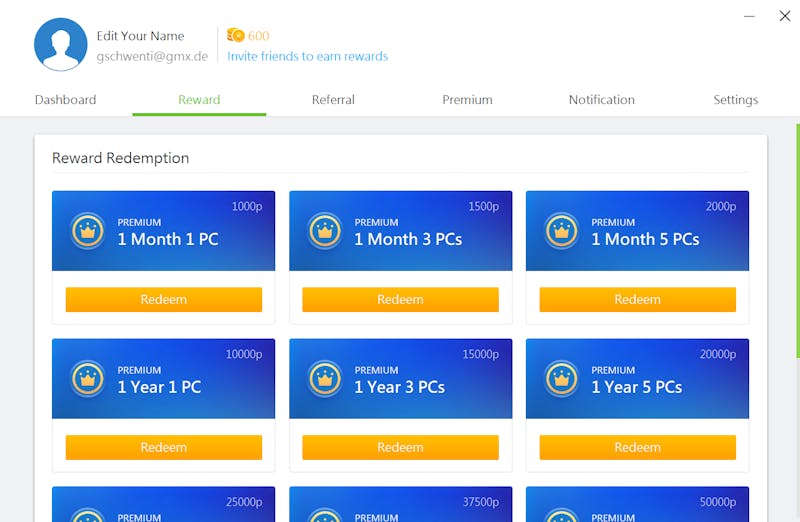 Trade in points you've earned for rewards.
Taken together, 360 Total Security has a number of positives: It's easy to install, intuitive, and free from annoying bloatware. All the same, we expect an antivirus program to be more serious, especially considering that it's handling our security. Of course, a little bit of humor or entertainment is fine, but the awards reminded us of an online casino, and that's definitely not the sort of impression an antivirus program should give off.
Installation & Usage
7.4 / 10
Like every antivirus program from our sample, 360 Total Security offers both real-time protection and manual scans. With the first, your system will be actively scanned and guarded against threats, while the latter helps identify and neutralize specific risks. Free users have full access to both components.
Customizable real-time protection with three modes
You can fine-tune real-time protection by clicking on the symbol in the upper-left corner of the interface. When you see "Protection: On", the program will alert you whenever any changes or potential threats it identifies.
360 Total Security comes with three pre-configured protection modes ("Performance", "Balanced", and "Security"), each of which prioritizes a different aspect. You can also create your own protection mode, incorporating, or removing different aspects of real-time protection at will.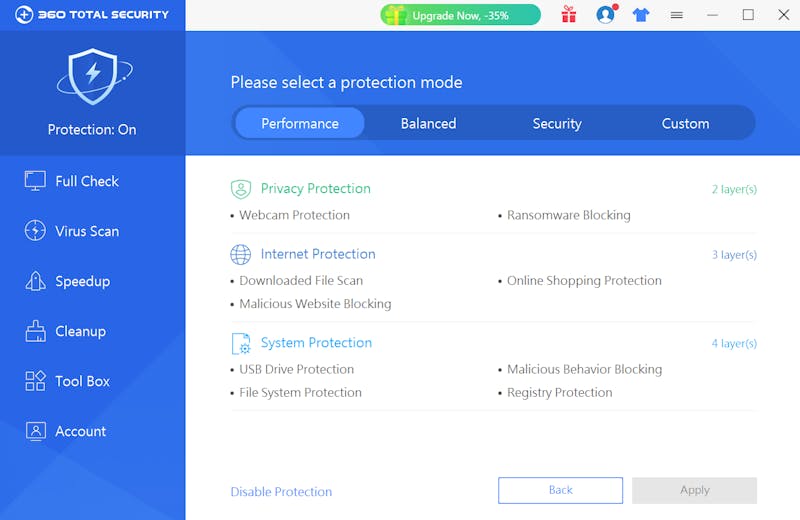 360 Total Security offers three different protection modes.
Each of these modes is also divided into three areas. "Privacy Protection" secures your digital currencies, and webcam, while fending off ransomware attacks. Ransomware encrypts important files on your computer, demanding payment in exchange for the decryption key.
The next area, "Internet Protection", analyzes data you've downloaded and prevents you from visiting potentially harmful websites. The third area, "System Protection", provides options for automatic data scanning when opening files, and for blocking network threats.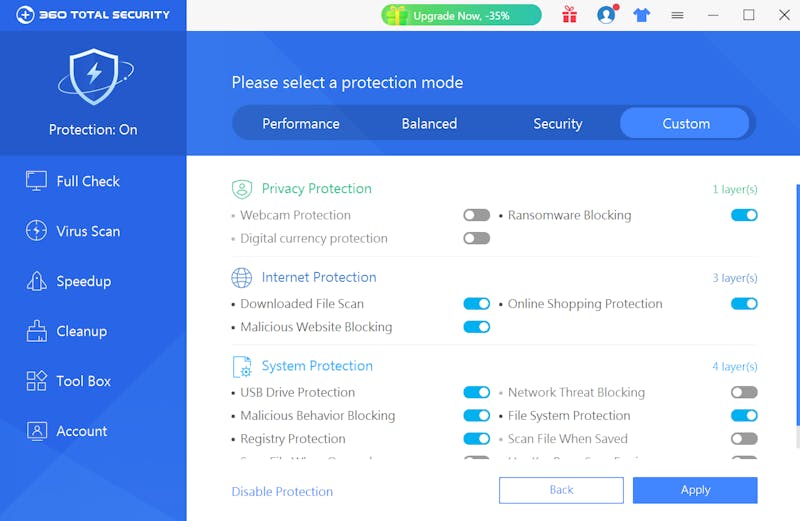 You specify which aspects of real-time protection are activated.
360 Total Security is not the only antivirus program that lets users customize their real-time protection, however, it makes doing so very easy.
Manual scans
In 360 Total Security, it's also possible to customize manual scans to your preferences: Alongside "quick" and "full" scans, you'll be able to run a "user-defined" scan, limited to specific partitions, folders, or files. Scans can be scheduled in the settings area, however, not those you've created. Compared to Avira, which allows users to create different scan profiles and schedule them, 360 Total Security's options are somewhat limited.
In the bottom left of the interface, you can review the different scan engines that 360 Total Security uses. We needed to manually install the developer's KunPeng engine since it was not automatically installed with the software.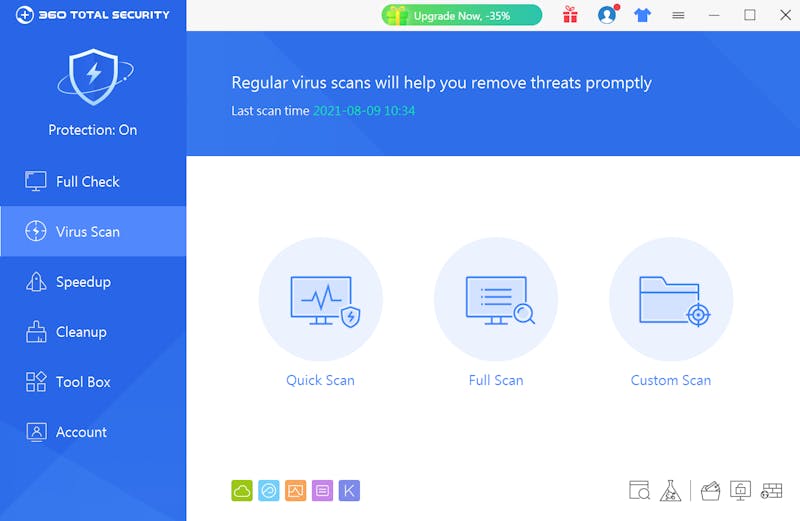 You can perform quick, full, or custom scans.
Give your system a boost
Performance optimization is 360 Total Security's second core competence. In the "SpeedUp" section of the dashboard, you'll find features that enhance your system's performance by automatically or manually adjusting its configuration. After a single scan, the program identifies what's holding your system back, resolving any issues with just a few mouse clicks. It's also possible to choose which settings, programs, or files should be optimized.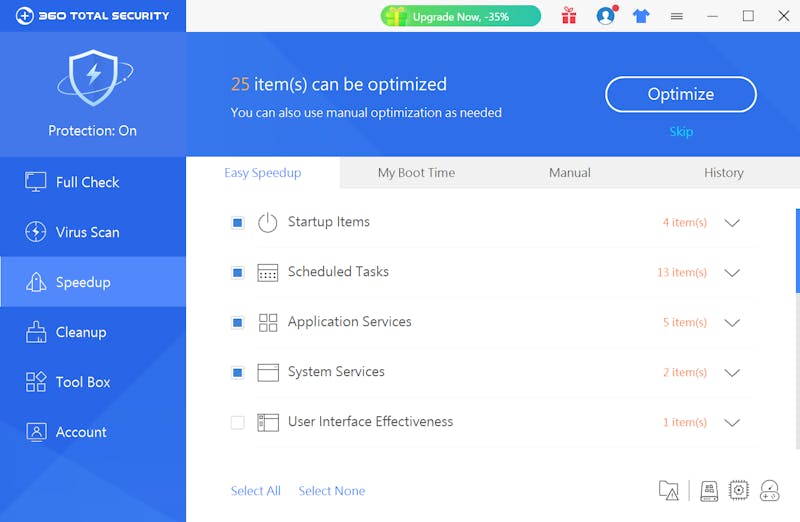 360 Total Security also helps optimize your system's performance.
Free-up storage space
Under "Cleanup" there's another scan, which shows unnecessary data that you can automatically delete. Doing so will also improve your computer's performance.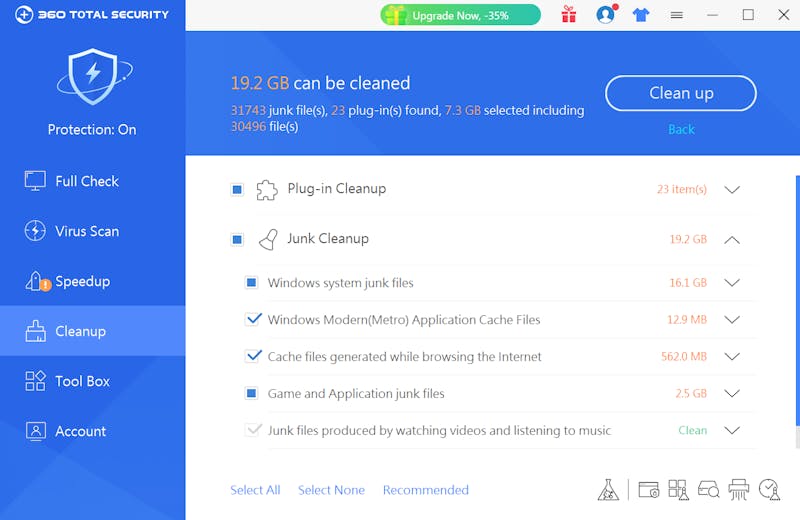 Get rid of files you don't need anymore and make space for new ones with the Cleanup feature.
A full toolbox
More features can be found in the "Tool Box", and include "Sandbox." With this, you'll be able to open risky or suspicious files and programs in a secure partition, preventing damage to your system. There's also a Zip program for compressing and extracting files, and a game booster for improving the loading speed of games.
Unfortunately, the rest of the toolbox is limited to premium users: These include a firewall, which shields your computer from unauthorized access, and "Privacy Cleaner." This can be used to delete cookies and processes and helps minimize your digital footprint. The data shredder will assist you in completely removing files without leaving a trace. An ad blocker and a VPN are also offered, but just to paying subscribers.
360 Total Security does not come with a password manager.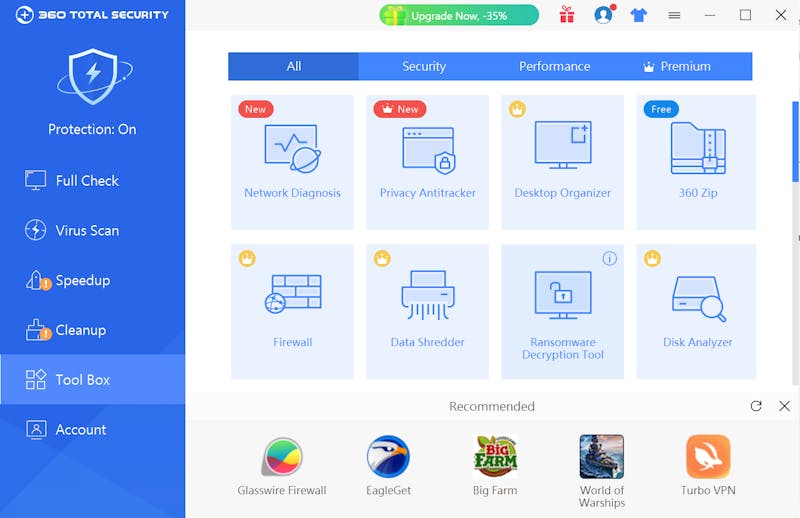 Additional features and extras can be found in the "Tool Box", however, not all of these are available to free version users.
Mobile features
In the past, Qihoo 360 offered a mobile app called "360 Security", which has since been renamed "Safe Security". This makes the relationship to Qihoo 360 unclear, except in the app's URL in Google's PlayStore. The website that "Safe Security" is paired with (https://www.safesecurityapps.com/) is a dead-end, raising quite a few questions about the company's relationship to the software.
Despite the name change and somewhat shady nature of its developer, not much is new in the app itself: In contrast to its desktop counterpart, the mobile app focuses more on performance, providing only a handful of antivirus features as an afterthought. You can use it to give your smartphone a performance boost, delete unnecessary data and files, or increase its battery life.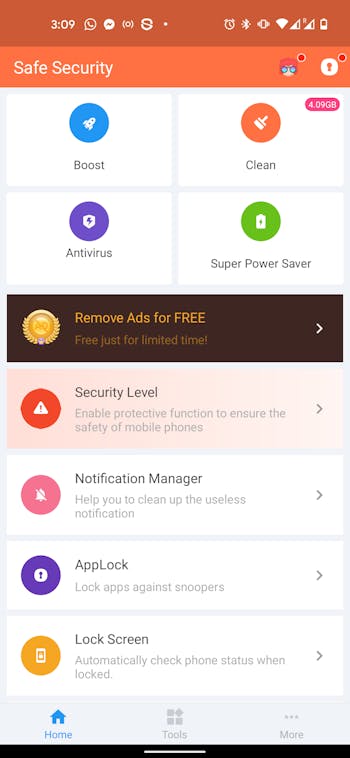 Qihoo 360's smartphone app has been renamed "Safe Security", with all ties to Qihoo (apart from its URL) removed.
Under "Antivirus" in the menu, you'll find a scan that automatically identifies and blocks threats. The "WLAN-Security" feature checks your connection for weaknesses and intruders.
Also included are a number of integrated anti-theft tools: With "Intruder Selfie", your smartphone's camera secretly takes a picture whenever the wrong PIN is entered. "App-Block" adds an extra layer of security to selected apps. Unfortunately, GPS locating or remote access is not possible with 360 Security.
Taken together, the mobile app seems a bit underdeveloped in comparison to its desktop counterpart. It appears to be a separate program that was quickly adopted into the 360 "family", and then just as quickly shown the door. The app's anti-theft tools, in particular, could be significantly enhanced. On the flip side, 360 Total Security's desktop program impressed us owing to the wide variety of features it offers, even in its free versions.
To assess 360 Total Security, we consulted AV-Test and AV-Comparatives, each of which regularly awards separate performance and security scores to antivirus software. Unfortunately, neither of the leading third-party testing labs has evaluated 360 Total Security in the recent past; AV-Test last checked it in 2017, and AV-Comparatives, even further back, in 2014. For that reason, we've excluded AV-Comparatives' scores from consideration here.
| | Security | Performance |
| --- | --- | --- |
| | | |
| | | |
Lack of reliable or current tests
The tests performed by both labs are too old to be of relevance. In the last AV-Test review (October 2017), 360 Total Security's default engine received 1 out of 6 points, whereas when Avira+Bitdefender's engine was used, the score improved to 4 points out of 6. Unfortunately, this engine is no longer available, having been replaced by the aforementioned, in-house KunPeng engine.
Performance was rated with 5.5/6. The program's security features fared better, earning a perfect score of 3/3 stars in AV-Comparatives's real-world protection test, however, that was in 2014, which is too far back to have any bearing upon the program in the present.
Full scan without performance issues
Our full system scan took 37 minutes and did not have any noticeably negative impact upon our computer's performance.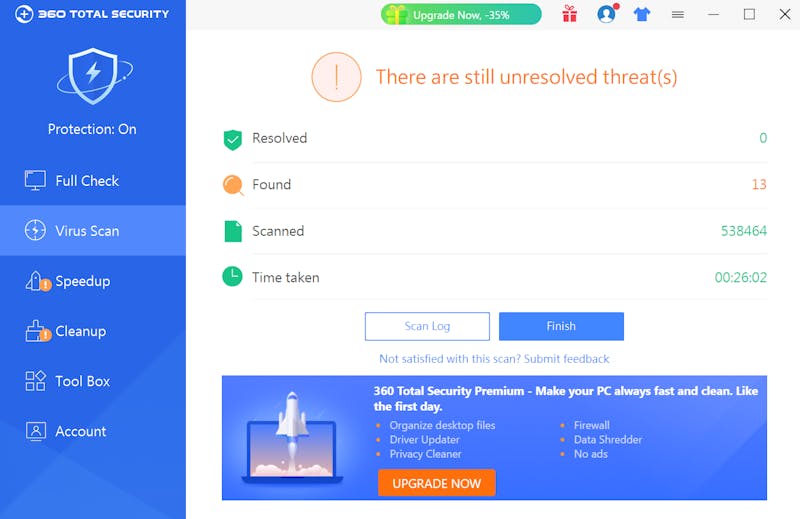 A full system scan took around 37 minutes with 360 Total Security.
Privacy Concerns
We must mention that Qihoo 360 raises some eyebrows when it comes to privacy, and not in a good way. For example, according to the company's privacy policy:
"Some information we collect may be transferred to other countries, such as to our own servers or servers of our database providers in Singapore, and the United States and accessed from China by us and our external IT services providers. These countries may not have equivalent data protection laws to those applicable in the European Union.
We do, however, ensure an adequate data protection level by agreements with our data base provider and other arrangements."
The meaning of "adequate" is very subjective and users simply have to take the Beijing-based provider at their word.
Unfortunately, there are reasons to doubt their sincerity: In 2016, AV-Comparatives, AV-Test, and Virus Bulletin released a joint statement accusing Qihoo 360 of inappropriate business practices. They claimed that the company's products they received behaved differently than those that were later sold or marketed to end-users. As a result, these three reviewers revoked the certificates they had previously awarded the company's products.
We don't doubt that Qihoo 360 might have improved its behavior since then, particularly since AV-Test's 2017 review of 360 Total Security was favorable. All the same, the company's communication strategy concerning ownership of its smartphone app gives us grounds to remain skeptical.
Security & Performance
4.6 / 10
360 Total Security's desktop app features an integrated support center. There, you can click on links to FAQs and guides, or report any issues you might be having in a support ticket, without leaving the program. However, other options, like a live chat, aren't offered.
Even though the support center doesn't offer much more than the bare necessities, it does save its users a trip to the software's website. Still, if you prefer to file your support ticket on the center's website, you can.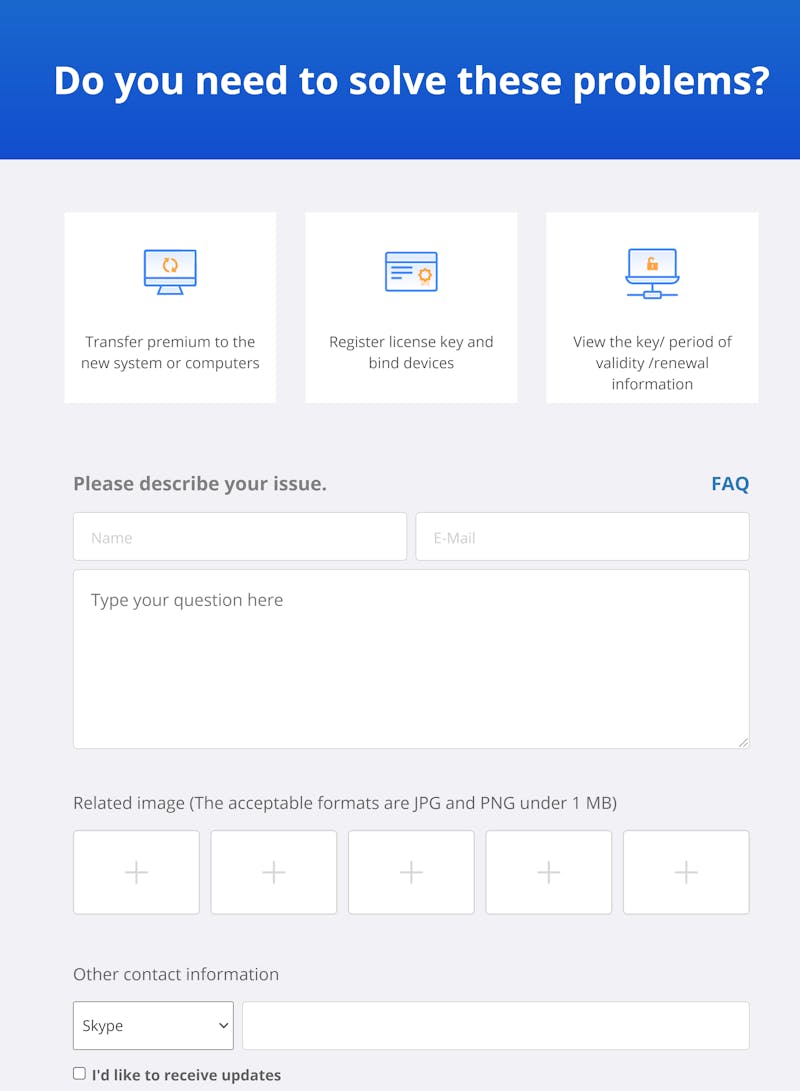 Directly contact 360 Total Security's support either within the desktop app or by filing a ticket.
Unfortunately, we never received an answer to our first question. A few weeks later, we tried a second time and again did not receive any answer to our query. Since no alternative contact options exist, we were left entirely to our own devices. Based on our experience, 360 Total Security fails to meet even the most basic requirements in terms of support, namely, being there to help users.
360 Total Security's freeware version offers a complete antivirus program, only restricting access to a handful of extra features. If you're looking for things like a firewall, data shredder, or VPN, you'll need to pay for a premium subscription. How much this will cost depends on the length of your subscription. A current price list can be found below:
All-In-One
Premium
Set-up Fee
$0.00
$0.00
Price per Year
$0.00
from $26.99
Contract Period (Months)
0
12
Software
OS

Windows

macOS

Windows

macOS

Max. Number of Devices
unlimited
5
Special Protection Features
Real-time Protection
Internet Security
Email Protection
Ransomware Protection
Webcam Protection
Premium Features
Firewall
Password Manager
VPN Access
Adblocker
Cloud Backup
File Shredder
Parental Control
Performance Tuning
Mobile Features
App Lock
Location Tracking
Remote Lock
Camera Trap
Since subscription packages for each program from our sample vary, the table below compares rates on the basis of a fictional template we created, with similar conditions. According to this, 360 Total Security is priced moderately, falling in the middle of the pack.
1.
2.
3.
360 Total Security
Premium
4.
5.
6.
Bitdefender
Internet Security
7.
8.
9.
10.
11.
12.
13.
F-Secure
Internet Security
14.
Conclusion
Installation & Usage
7.4 / 10
Security & Performance
4.6 / 10
With its playful appearance, intuitiveness, and breadth of features, 360 Total Security makes a good first impression as an antivirus program.
Unfortunately, the third-party testing lab results are simply too old to provide any idea of what's under the figurative hood in regard to the program's security and performance. For this reason, we were unable to assess either of these factors. Assuming that a drastic change has not occurred since 2017, the program offers decent security. Live support is non-existent, so the less said about it, the better.
The feature-laden free version is worth a look, however, alternatives with externally certified security definitely raise fewer red flags.
360 Total Security has a nice user interface and lots of features, but due to a lack of up-to-date lab results and inadequate support, we currently can't recommend the software.
Plan
Devices
Protection Features
Premium Features
360 Total Security All-In-One
$0.00
Visit Website*
Customer Ratings
Even though we took a thorough look at 360 Total Security, our experience is a single snapshot. Did others have more luck with customer service? Or maybe they liked its user interface? To find out, we compiled ratings from some of the most well-known and reputable review aggregators.
Customer Ratings
3,018 Bewertungen
Visit Website*
We analyzed the reviews and ratings from various portals and found 3,018 ratings with an overall rating of 4.6 out of 5 .
Alternatives to 360 Total Security
Are you looking for antivirus software whose performance and security have been assessed by third-party testing labs? Bitdefender and Kaspersky Internet Security both fit the bill.
A list of solid alternatives to 360 Total Security can be found below:
Our 'best in test' antivirus program Bitdefender boasts strong security, confirmed by independent test laboratories, along with a flawless user interface and a comprehensive set of features.
configurable quick actions
good support with 24/7 live chat
9.6

excellent
Plan
Devices
Protection Features
Premium Features
Bitdefender Antivirus Plus
$23.99
yearly price
Visit Website*
Avast impresses with a great free version covering all the essentials, and a huge set of features that offer well-rounded antivirus protection and some nice extras. Scans can slightly impact performance, however.
Sandbox and WiFi-Inspector
scans can impact performance
8.6

good
Plan
Devices
Protection Features
Premium Features
Avast Free
$0.00
Visit Website*
Download for Free
With its robust set of features, lean applications, and a 100 % antivirus guarantee, Norton Antivirus is definitely worth a look. Sadly, the testing labs aren't unanimously impressed, and one or two features are missing.
learn, user-friendly apps
customizable child protection
100 % antivirus guarantee
8.4

good
Plan
Devices
Protection Features
Premium Features
Norton Antivirus Plus
$19.99
yearly price
Visit Website*
Trend Micro delivers a solid overall antivirus package with lots of features and some nice extras, such as social media protection. However, the testing labs are a bit divided on the reliability of its protection.
Plan
Devices
Protection Features
Premium Features
Trend Micro Antivirus+
$19.95
yearly price
Visit Website*
G Data offers virus protection "made in Germany" with solid test lab scores, lots of customization, and great support. The user interface, however, could use a facelift.
many configuration options
interface somewhat outdated
test lab scores "only" solid
8.4

good
Plan
Devices
Protection Features
Premium Features
G Data Antivirus
yearly price
Visit Website*
* Ad disclaimer:
For links marked with an asterisk, EXPERTE.com may earn a commission from the provider. The commission has no influence on our editorial rating.

Janis von Bleichert studied business informatics at the TU Munich and computer science at the TU Berlin, Germany. He has been self-employed since 2006 and is the founder of EXPERTE.com. He writes about hosting, software and IT security.
Continue Reading