Best Free Password Manager: Top 5 Free Providers 2023

Author
Janis von Bleichert
Ad disclaimer:
For links on this page, EXPERTE.com may earn a commission from the provider. This supports our work and has no influence on our editorial rating.
No one should use the Internet without a password manager. These not only equip your accounts with powerful passwords but also automatically supply login information whenever it's needed. Cost is the main reason why some hesitate to use them, however, there are great free options.
In this article, we'll introduce you to the best free password managers, and let you know which limitations these have in comparison to their premium versions.
Free Password Managers: Top 5 Providers
Of the 12 password managers that we carefully examined in our EXPERTE.com review series, 10 offer free versions. But free doesn't always mean the same thing, since each service limits different aspects or features.
So, without further ado, here are our Top 5 free password managers:
1.
Bitwarden: The Best Free Password Manager
Bitwarden Password Manager
Bitwarden can impress with easy-to-use apps, reliable autofill, and a few handy security features. Plus, it's pretty affordable – and offers a solid, feature-rich free plan.
user-friendly applications
good security, externally tested
paid features (e.g. password sharing)
8.4

good
Passwords
Devices
Users
Contract Period
Bitwarden Free
$0.00
monthly price
Visit Website*
In our EXPERTE.com review series, Bitwarden managed a respectable fifth place. However, among free solutions, it comes in first. This can be attributed both to its quality and comprehensiveness, to say nothing of the generous selection of features that are included.
For starters, free users can save unlimited passwords and sync them across as many devices as desired. All of the program's main features are present, and password sharing is possible through the "Organizations" option.
Differences between its subscriptions mostly relate to advanced features. With the free version, you won't be able to add encrypted file attachments and have to make do without some security features like "Emergency Access".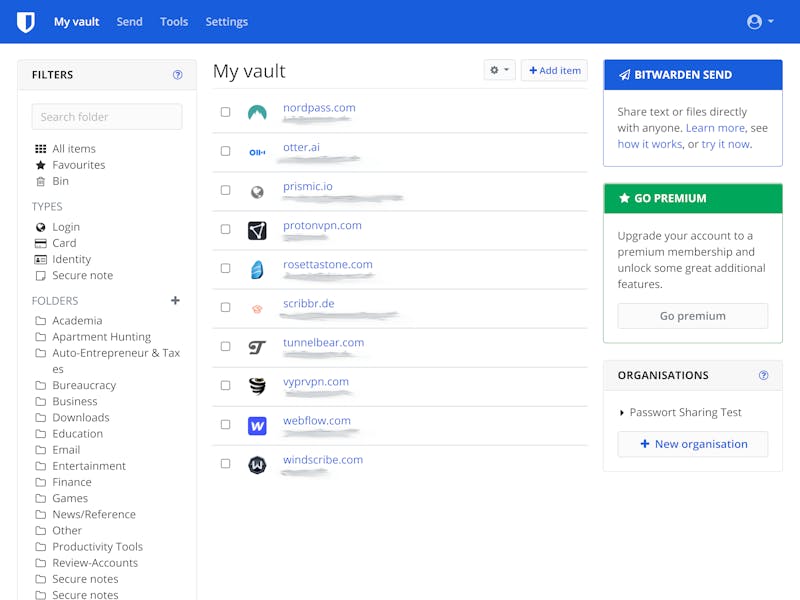 Bitwarden's free version is a full-fledged password manager.
Bitwarden shined during testing thanks to its reliable autofill, intuitive usage, and high security, the last of which is guaranteed by external audits. Taken together, these make Bitwarden the best option when it comes to free password managers.
Includes all main features
Missing some security features

No encrypted file attachments
Installation & Usage
9.4 / 10
2.
NordPass: Generous Free Version With Few Drawbacks
NordPass Password Manager
NordPass stands out with its beautiful design and ease of use, and offers a fully-fledged free version that allows you to create and synchronize an unlimited number of passwords.
full-featured free version
few options for customizing data sets
8.5

good
Passwords
Devices
Users
Contract Period
NordPass Free
$0.00
monthly price
Visit Website*
30-day money-back guarantee
If NordPass does one thing better than Bitwarden, it's in terms of usage: NordPass apps are slightly easier to handle and more well-thought-through. In addition, you can save as many passwords with NordPass as you'd like, and use them across all of your devices.
One limitation does make the free version of NordPass less user-friendly than Bitwarden's though: When switching to another device, you'll be automatically logged out. This means that you can only stay logged in on a single device. If you frequently alternate between your computer and smartphone, the constant back and forth will probably get on your nerves.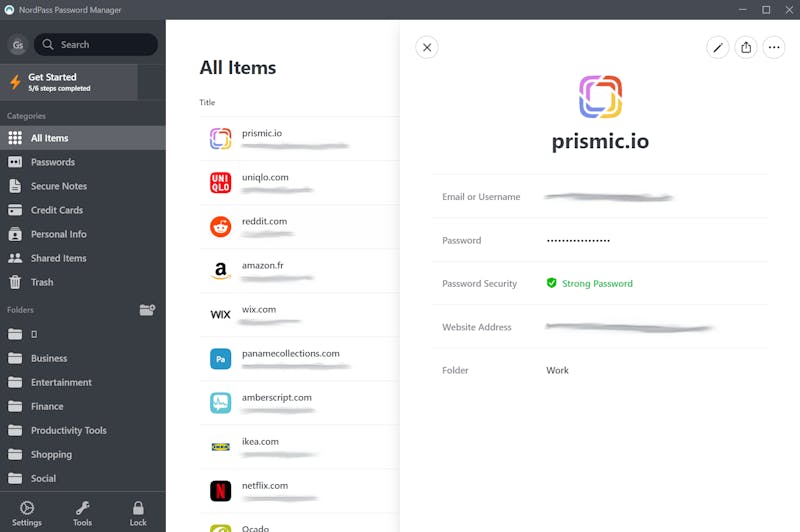 NordPass gives free users unlimited data sets.
Apart from this minor issue, few would disagree that NordPass offers one of the most generous free password managers on the market. Its autofill and imports are reliable and the apps all feature elegant user interfaces.
No cross-device sync limits

Intuitive and elegant user interface
Only stay logged in on one device
Installation & Usage
9.4 / 10
Avira's password manager delivers high security standards, strong usability, and reliable autofill, but a few features we'd like to see (such as password sharing) are missing.
free plan with unlimited data sets
simple and intuitive applications
7.5

good
Passwords
Devices
Users
Contract Period
Avira Free
$0.00
monthly price
Visit Website*
Avira Password Manager also doesn't impose any annoying data set or device sync limits: Free users can as many passwords on as many devices as they like.
Among the premium features that free users need to do without is the software's "Security Status" dashboard. Here, Premium subscribers can monitor the security of their passwords and accounts. This is actually to Avira's advantage though, as its Premium subscription, which lacks things like password sharing, isn't noted for its features anyway.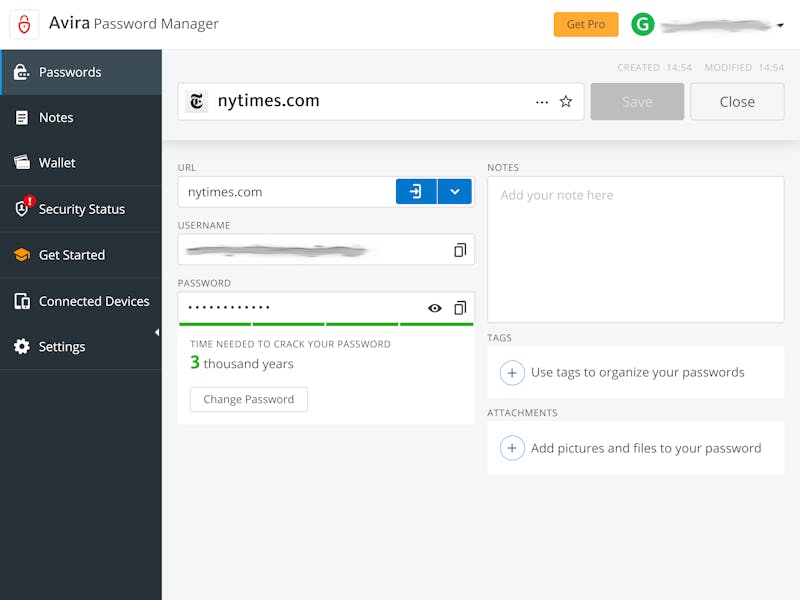 Avira didn't excel in our EXPERTE.com assessment, but its free version is a solid choice.
The free version of Avira Password Manager is a good choice if you can live without "Security Status" and advanced features like password sharing or emergency access. The last of these is rarely included in free password managers anyways.
Automatic cross-device syncs
Installation & Usage
7.4 / 10
4.
LastPass: Unlimited Passwords, but Only One Device
LastPass Password Manager
On paper, LastPass delivers everything a great password manager needs. Sadly, a few serious security incidents in 2022 have undermined our trust in the company, which is why we no longer recommend it.
simple and intuitive interface
excellent autofill performance
severe security breach in 2022
free plan used to be better
7.1

good
Passwords
Devices
Users
Contract Period
LastPass Free
$0.00
monthly price
Visit Website*
30 days free trial
LastPass used to offer one of the best free password managers, however, since 2021, it's fallen down our list. Users can still sync data sets across their devices but have to select one type (such as a computer or smartphone). You can change your choice later on, but free users can't conveniently use the password manager on both their PC and smartphone.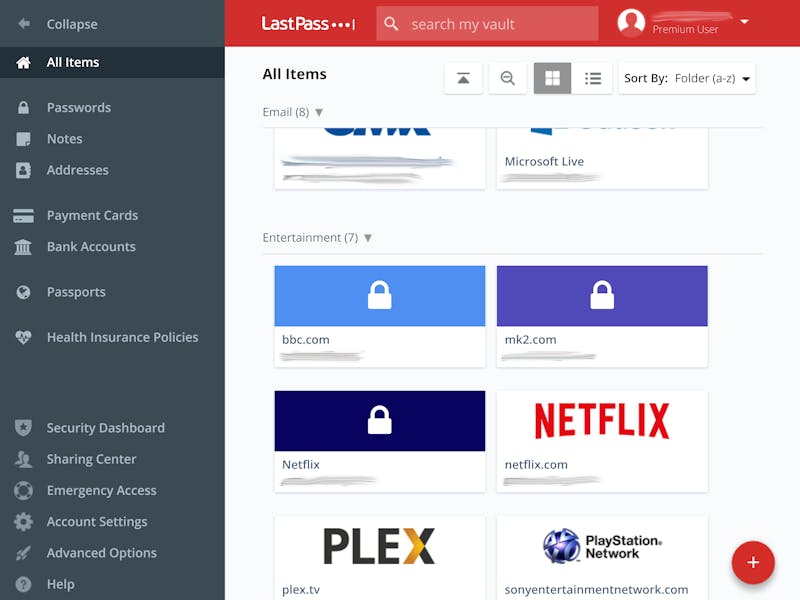 If you use the free version of LastPass, you have to select a single device type.
If this isn't an issue for you, the free version of LastPass remains a good choice. It's still one of the most versatile and reliable password managers, and its "Web Vault" is easy to use in connection with the feature-heavy browser extension.
Many features that are usually behind paywalls, like password sharing, are also available in the free version.
Unlimited synchronizations...
...but only one one device type

No advanced features (security dashboard, Darknet monitoring)
Installation & Usage
8.0 / 10
5.
Dashlane: EXPERTE.com's Winner With Limited Free Version
Dashlane Password Manager
Dashlane is a great all-rounder that makes managing your logins and other account details as easy as pie thanks to its many features, a strong security posture, and an easy-to-use interface.
user friendly and intuitive
zero-knowledge encryption
comprehensive security center
automatic password changer
9.1

excellent
Passwords
Devices
Users
Contract Period
Dashlane Free
$0.00
monthly price
Visit Website*
Try for free
In our comprehensive password manager review, Dashlane sprinted to first place thanks to its extensive features, high reliability, and easy usage.
Dashlane's free version is also good, however, does have some limitations in comparison to the other services on this list. The most frustrating of these is that you can only save 50 passwords on a single device. Since the average person has around twice as many accounts/passwords these days, this poses a major hurdle.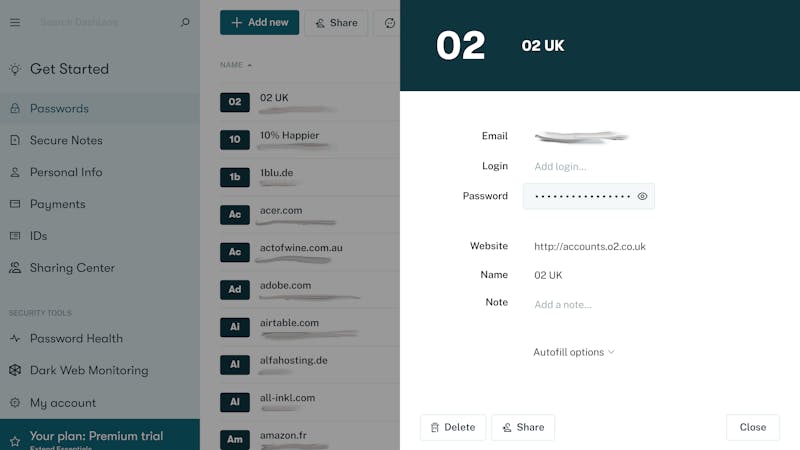 You can only save 50 data sets with Dashlane's free version.
The data set limitation isn't the only restriction in Dashlane's free version: Advanced features like "Secure Notes" and encrypted file storage are limited to paying subscribers.
Overall, Dashlane's free version isn't comprehensive. Those who only have a few accounts will find it useful, as will anyone who wants to try the software out before purchasing a subscription.
Winner of EXPERTE.com's review series
Can only be used on one device

Advanced features for paying subscribers only
Installation & Usage
8.0 / 10
Overall Result
Apart from our Top 5 there are quite a few other password managers that offer free versions of their software. Below, we'll introduce some of these alternatives:
RoboForm Password Manager
RoboForm is a reliable password manager with a beginner-friendly user interface, which offers lots of adjustment and customization options for tinkerers as well.
reliable autofill function
offline access to stored data
8.1

good
Passwords
Devices
Users
Contract Period
RoboForm Free
$0.00
monthly price
Visit Website*
Use for free
Roboform gives free users unlimited passwords, however, it isn't so generous with automatic cross-device syncs: You'll need to manually save all of your data sets on every device that you intend to use them on and update them whenever they're changed. This somewhat defeats the purpose of having a password manager in the first place.
Sticky Password is a feature-rich password manager that offers a comprehensive at an affordable price. But the user interface could use a facelift, and autofill didn't always work for us without issues.
Passwords
Devices
Users
Contract Period
Sticky Password Free
$0.00
monthly price
Visit Website*
Get 85% discount
Sticky Password, like RoboForm offers unlimited passwords, however, only paying subscribers can sync their data sets.
True Key is an affordable password manager that's aimed mainly at users of other McAfee solutions. But it's missing a few features and can't really set itself apart from the competition.
Passwords
Devices
Users
Contract Period
McAfee Free
$0.00
monthly price
Visit Website*
McAfee True Key allows users of its free version to save 15 passwords. This is much more a trial for the premium version than a piece of standalone software.
Kaspersky Password Manager isn't too generous either and lets free users save 15 data sets. It's difficult to recommend it for everyday use.
Conclusion
Password managers have become as essential as antivirus software and are highly affordable. Even if your budget is tight, there are many solid free options among the password managers that we tested.
Bitwarden, NordPass, and Avira Password Manager offer particularly impressive free versions that don't limit data sets, devices, or syncs. Of course, you will have to make do without some features like password sharing and security tools, but these aren't essential.
Check out our comprehensive EXPERTE.com password manager review series for more information about all of the software we evaluated.
FAQs
Why do I need a password manager?
⊖
To maintain the integrity of your accounts, you'll need secure and unique passwords. Password managers automatically create passwords and help you manage them in a secure vault that you have the only key to. Beyond that, they allow you to autofill login information online, so you'll never need to manually input passwords again.
Is a free password manager enough?
⊖
This depends on your needs and the password manager you've selected. Some free password managers are excellent for everyday usage since they don't limit data sets or cross-device syncs. However, be ready to make do without certain features if you choose a free option. At the end of the day, providers do their best to offset costs with premium subscriptions.
Are free password managers safe?
⊖
The free password managers reviewed in EXPERTE.com's series are safe since they do their utmost to protect sensitive data and are "freemium". All developers are well-established and reputable and offer free versions as marketing for their premium subscriptions. There are entirely "free" solutions that we didn't review. These are generally suspicious and we don't recommend trusting them with your sensitive data.
What's the best free password manager?
⊖
We feel that Bitwarden offers the best free password manager since it doesn't limit data sets, devices, or syncs, and includes password sharing. NordPass and Avira Password Manager are also excellent free options.
* Ad disclaimer:
For links marked with an asterisk, EXPERTE.com may earn a commission from the provider. The commission has no influence on our editorial rating.

Janis von Bleichert studied business informatics at the TU Munich and computer science at the TU Berlin, Germany. He has been self-employed since 2006 and is the founder of EXPERTE.com. He writes about hosting, software and IT security.
Continue Reading
Reviews
Comparisons
Tools & Guides
Other languages
Deutsch