Kaspersky Antivirus Review 2023: How Good Is It?

Author
Janis von Bleichert
Ad disclaimer:
For links on this page, EXPERTE.com may earn a commission from the provider. This supports our work and has no influence on our editorial rating.
Kaspersky has built a name for itself in both cybersecurity and antivirus protection. Its Russian developers, Kaspersky Lab, have a large portfolio, however, their crusade against viruses and malware remains their company's mainstay.
Is a program's degree of familiarity among consumers a sign of its quality, or has Kaspersky been overtaken by its less well-known competitors in all but name recognition? Find out in our review below.
What Is Kaspersky Internet Security?
Kaspersky Internet Security* is an antivirus program from the Moscow-based Kaspersky Lab. More precisely, Kaspersky Internet Security is one of three antivirus packages the company offers, along with Kaspersky Anti-Virus and Kaspersky Total Security. Rounding out the group, the dynamic Kaspersky Security Cloud also offers broader security options. Its antivirus programs are compatible with Windows, macOS, Android, and iOS.
Kaspersky Antivirus Review
Installation & Usage
9.4 / 10
Security & Performance
8.6 / 10
Quick installation, intuitive

Lots of neatly packaged features

Extras like a password manager and VPN
VPN data caps in all subscription package

Unimpressive password manager
It only takes a few minutes to download and install Kaspersky Internet Security. Once complete, you can watch a video overview of the program's features, however, this is more of an advertisement than a tutorial. Since the program's user interface is both intuitive and well-organized the tutorial isn't all that necessary.
Once installation wraps up, you can watch a video introducing the program's features.
The upper third of the home screen's interface displays your current security status. Click on "Details" to head to the notification center. There, you can review your license or install and activate additional programs and features.
Below, in the "Status" area, icons indicate the most important features: "Scan", "Database Update", "Safe Money", "Password Manager", "Privacy Protection", "Backup and Restore", "Protection for kids", and "My Kaspersky".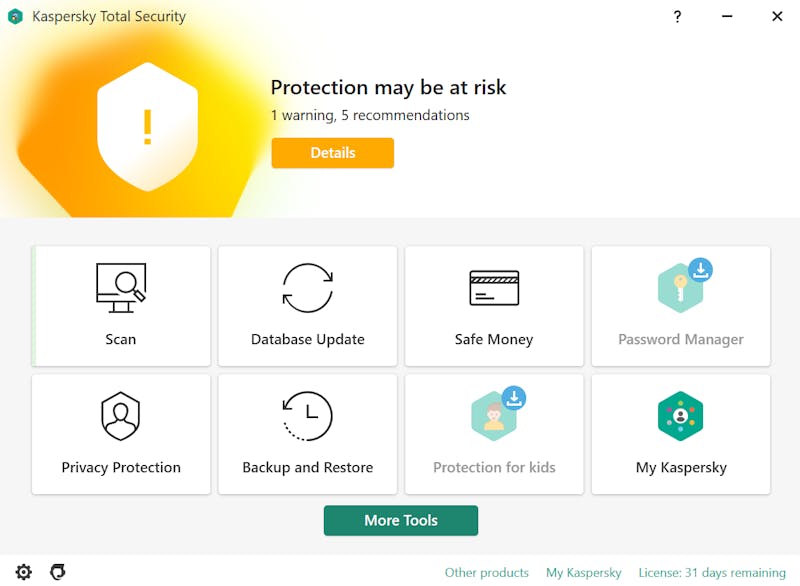 Kaspersky will let you know in the dashboard if there are any issues.
You can access settings and support, or check your license expiration date at the bottom of the interface.
Click on the "More tools" button in the center of the interface to review more features. Tools here are neatly organized into one of five categories ("Security", "My Network", "Manage applications", "Data Protection", or "Clean & optimize"). If you click on one of these, a new panel will open to the right, providing you with statistics and additional information.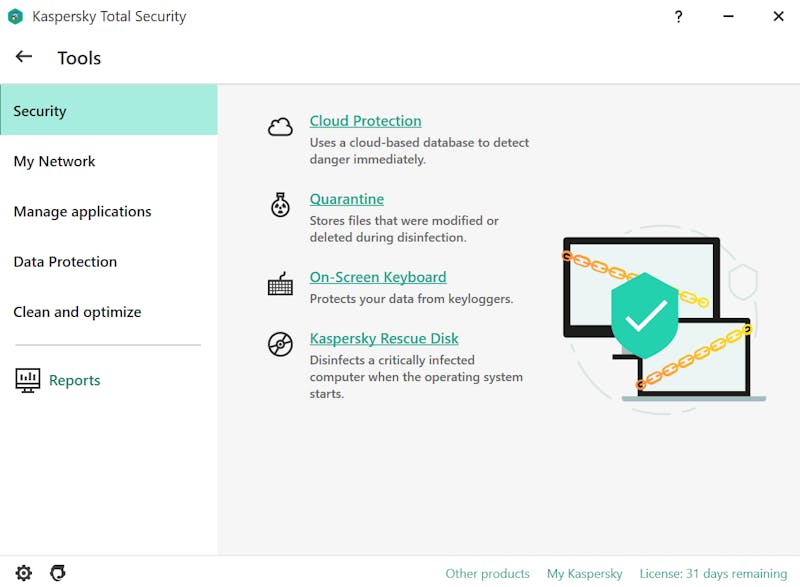 All of Kaspersky's features are grouped into one of five categories.
Kaspersky Internet Security is well-organized and easy to use. At the same time, it might take you a few days to find all of its features and tools. Once you've gotten used to it though, Kaspersky is comfortable and convenient.
Installation & Usage
9.4 / 10
All Kaspersky subscriptions provide basic security and protection. This is primarily achieved through the four different kinds of manual scans: "Quick Scan" checks the most commonly used files and folders, "Full Scan" reviews your entire system, "Custom Scan" is for specific files or folders, and "Removable Drives Scan" evaluates external devices.
In addition, you can also check your system's storage and boot drive sectors for threats or installed programs for vulnerabilities and weaknesses with the "Critical Areas Scan".
Detailed, customizable scans
You can access the scan settings menu if you click on the gear symbol. Here, you can specify what action should be taken if a threat or malicious file is found, as well as what methods the program should use to neutralize it. To save time, we recommend limiting scans to new or modified files.
With the scheduling feature, you can plan scans in advance. Compared to other programs, Kaspersky makes it very easy to customize scans to your exact preferences.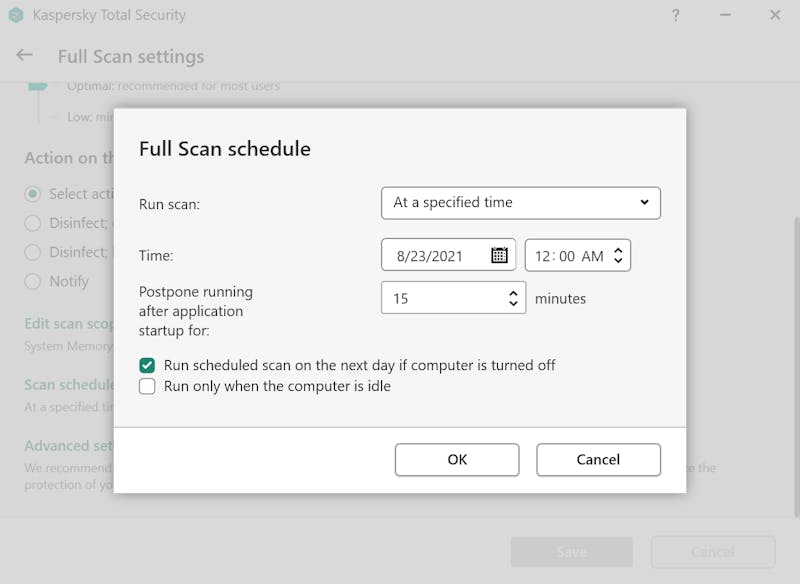 Kaspersky gives users a free hand when configuring scans.
Comprehensive real-time protection in all subscriptions
Real-time protection is included in all Kaspersky subscriptions, even though some options are limited to Internet Security or Total Security subscribers.
In the settings area, you can configure security and toggle individual components on or off. One of these is "Web Anti-Virus", which checks incoming files for malware, while "Ransomware Protection" wards off cyber hostage takers. During these attacks, cybercriminals encrypt your data, only providing you with the decryption key in exchange for a fee.
"File Anti-Virus" checks all files that are opened, saved, or executed for viruses, while "Application Control" monitors your installed programs for threats.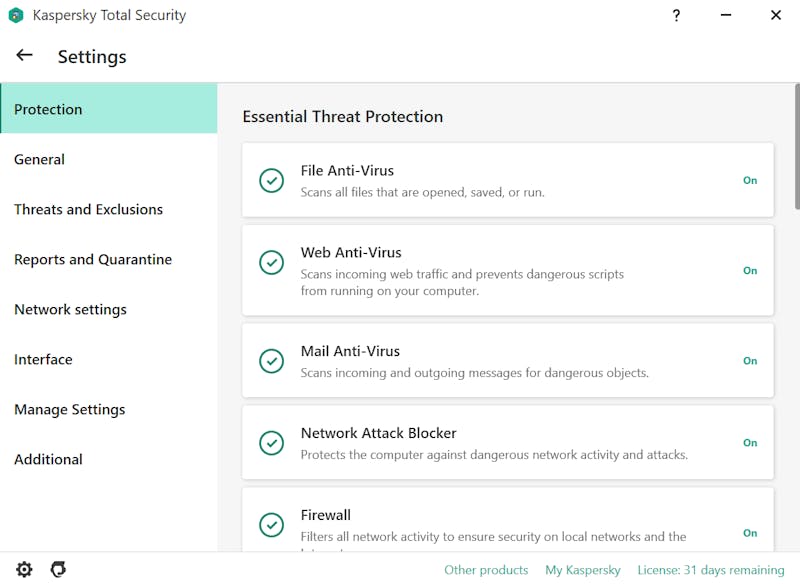 Adjust a module's level of security by clicking on it.
Firewall, ad blocker, email protection, and a file shredder
Also included is a firewall that guards your network against unauthorized access. Then there's "Anti-Banner", a kind of ad blocker/antivirus tool for instant messenger clients.
Beyond that, Kaspersky provides email protection ("Mail Anti-Virus") and a file shredder. With the latter, you can permanently delete data and make it unrecoverable.
Kaspersky Internet Security features
"Webcam Protection", which keeps hackers away from your webcam, is only part of the Internet Security subscription. The same goes for protection against data harvesting, to stop websites you visit from gathering information about you and your online activities.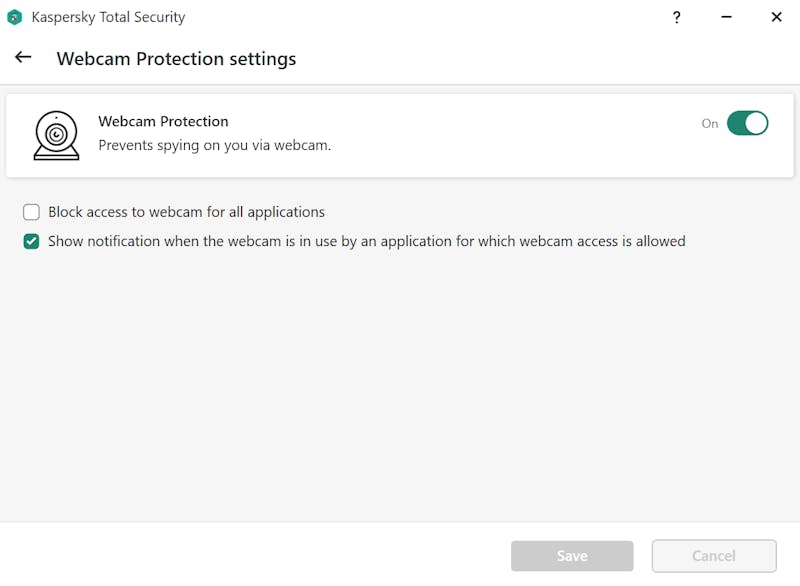 Kaspersky offers "Webcam Protection", which prevents cybercriminals from exploiting your webcam.
Secure online transactions
Internet Security subscribers can also take advantage of the service's secure online payment feature, "Safe Money". This is based on Kaspersky's "Secure Browser", and automatically opens URLs for sites that you'd like to make safe payments on. You can do this manually, or have Kaspersky automatically identify them.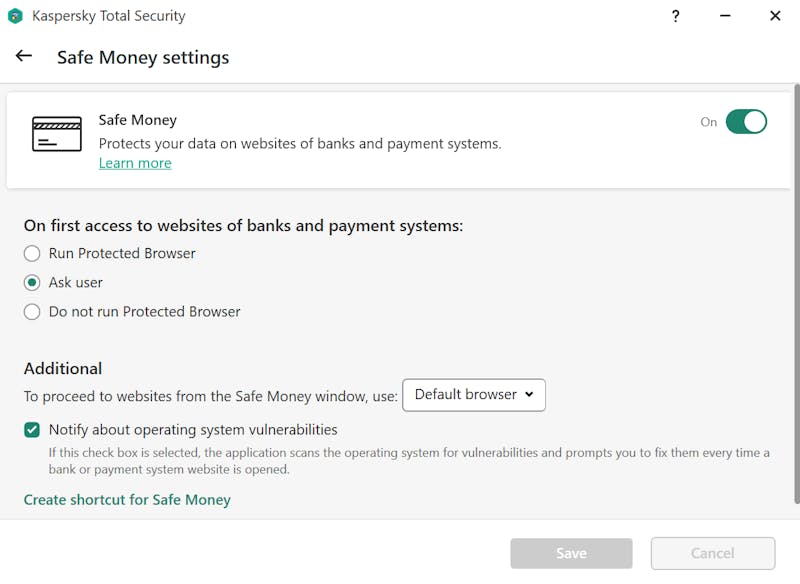 Kaspersky can professionally encrypt your online transactions and credit card data.
A VPN for safer connections
Then there's Kaspersky's in-house VPN, Secure Connection. This is based on Hotspot Shield, which, in our test, performed well thanks to its extensive server network and nice selection of features. There are a few privacy issues with the program, however.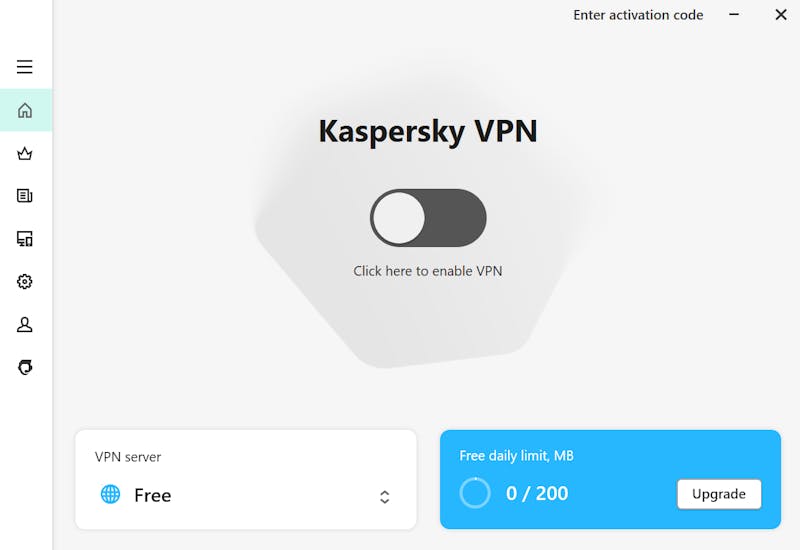 Surf anonymously with Kaspersky's VPN. Unfortunately, users only get 300 MB of data per day.
Parental controls
Internet Security subscribers can also take advantage of parental controls to block content that they don't want their children to be exposed to. It's also possible to configure how much screen time kids should have and to lock access to computers or mobile devices once this is exceeded. Total Security subscribers can even GPS track their children around the clock.
All parental controls can be managed in your browser through your desktop-based My Kaspersky account.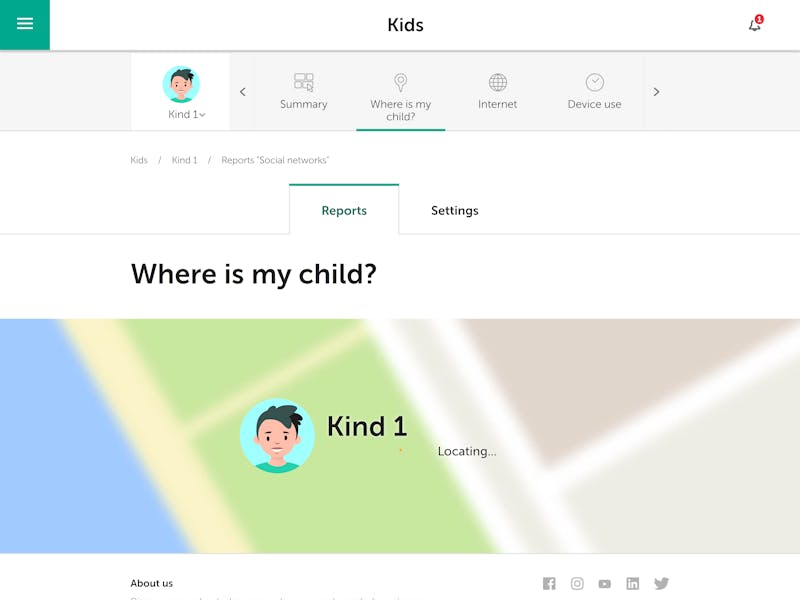 GPS locate your kids with Kaspersky's parental controls
Total Security features
Total Security subscribers get access to the service's password manager. As mentioned before, this isn't a rudimentary add-on like most other password managers that antivirus developers include, but a full-fledged, stand-alone program. Unfortunately, it wasn't one of the better services we evaluated: It performed decently but did have some issues.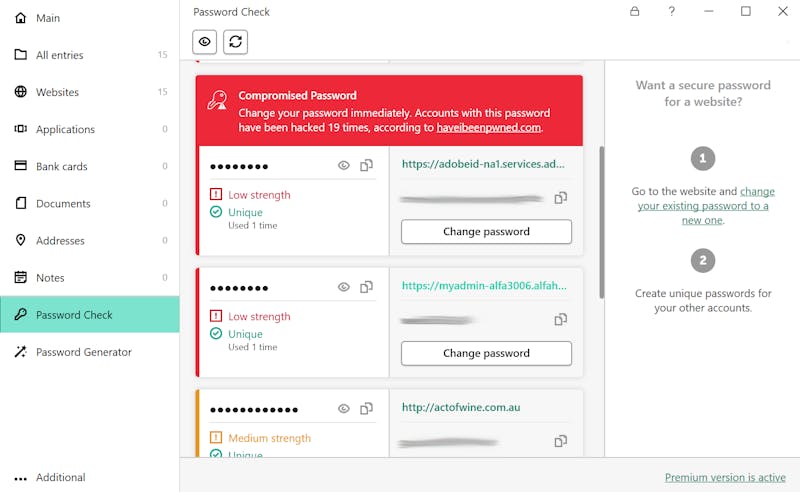 We had mixed feelings about Kaspersky Password Manager, however, it's a nice extra in the Total Security subscription.
Unlike other programs on the market, Kaspersky's VPN simply lacks too many features, while its security is weak. We expect more from self-proclaimed security specialists.
Kaspersky Internet Security comes with a lot of features: These include "Network Attack Blocker", which allows you to review the activity of all installed applications, and a screen keyboard, that should help you outwit keyloggers. In the "Quarantine", you'll also find backups of files that Kaspersky has deleted or changed owing to the potential or real threat they pose.
For space considerations, we can't list all of the software's features. Instead, we'll say that it is loaded to bursting with tools and extras.
Mobile features
Kaspersky also offers a digital bodyguard for your Android and iOS devices. The basic version of the Internet Security app is free, however, most of its features are limited to paying subscribers. You can scan your device or turn on real-time protection (again, only if you're a paid subscriber), and take advantage of a handful of other features. "Call Filter" is interesting, since it allows you to create a blacklist of numbers that cannot call you.
"Anti-Theft Protection", which requires a My Kaspersky Account and a premium license, can be used to remotely lock or locate a device, restore it to factory settings, delete files, or even activate an alarm. There's also a camera trap to secretly photograph the thieves who stole your phone. With "SIM Control", you can specify when your device should automatically lock, for example, if a new SIM card is detected.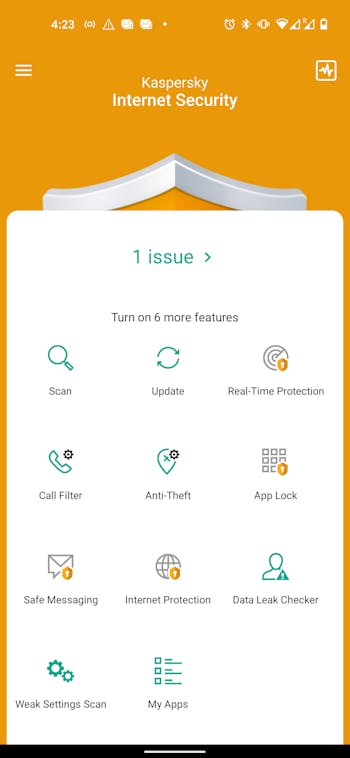 Kaspersky's smartphone app also offers an impressive assortment of features.
Premium features include real-time protection and an app lock. With this, you can add extra security to certain programs (PIN or fingerprint scan) and make it harder for them to be accessed by strangers. There's also mobile web protection for blocking malicious websites and phishing.
Overall, Kaspersky Internet Security is one of the most feature-filled programs we've reviewed. However, it doesn't sacrifice organization or design to accommodate these. We can't help but notice that some extras are lacking in quality. Its password manager, for example, has quite a bit of room for improvement. Even in the Total Security package, Kaspersky could be somewhat more generous and remove its VPN's data limit.
To assess Kaspersky Internet Security, we consulted AV-Test and AV-Comparatives, each of which regularly awards separate performance and security scores. We also ran a full system scan to see what sort of impact, if any, the program had on our computer's performance.
| | Security | Performance |
| --- | --- | --- |
| | | |
| | | |
| | | |
Kaspersky Internet Security received good-very good scores from both of the testing labs we consulted. AV-Test regularly awards the software perfect scores in both security and performance.
The software took an excellent second place on the performance test conducted by AV-Comparatives, however, in the group's real-world protection test, it only received 2 out of 3 stars. We should point out that most of the tested programs received similar security scores from AV-Comparatives. In Kaspersky's case, even though it didn't register any false positives, it "only" detected 99.5% of threats.
Full scan without noticeable lag
During our assessment, a full system scan took around 70 minutes, however, our PC didn't exhibit any sluggishness. Launching programs, copying files, or performing other routine tasks weren't noticeably affected in any way.
Overall, Kaspersky did well with the testing labs and appears not to consume too many system resources when performing a full scan.
Security & Performance
8.6 / 10
Kaspersky Internet Security features an in-app support area that links users to FAQs, an extensive and well-sorted knowledge database (somewhat hidden under "Recommendations" in the settings area), and a forum. You can also turn on activity logging which helps support team members solve any issues you might encounter.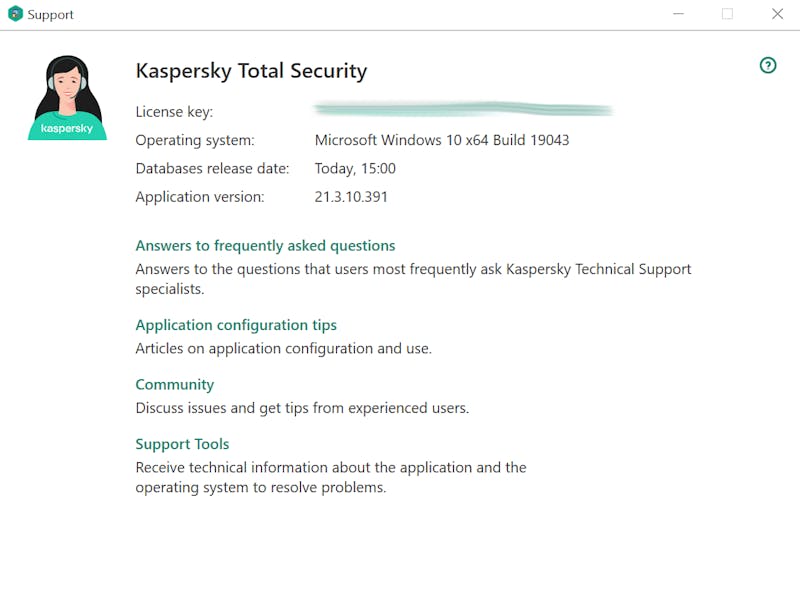 Different support areas can be accessed through Kaspersky's app, however, for live support, you'll need to visit the developer's website.
Unfortunately, users can't open a support ticket in the app, or even directly contact the support team. It seems that Kaspersky has borrowed a strategy from some of its competitors: Users should solve issues on their own using the software's static support resources.
However, if you look for it, you will find a contact form on the developer's website. We received an extensive answer to our query after 14 hours. Live chat and a support hotline are also offered 24/7. During our assessment, we waited around two minutes for a support staffer in the live chat.
Kaspersky provides a nice assortment of static resources for those who want to solve issues on their own, as well as several options for contacting the support team.
Kaspersky offers three different antivirus protection packages: Kaspersky Anti-Virus provides basic protection for Windows PCs, whereas Kaspersky Internet Security protects Windows, macOS, Android, and iOS users. It also serves up extras like digital payment and webcam protection. More extravagant features like a password manager are included with Kaspersky Total Security. All three can be licensed for 1-3 years and 1-5 devices.
There's also Kaspersky Security Cloud, which is nearly identical to Kaspersky Total Security. The only difference is that it includes a web dashboard. The word "cloud" isn't entirely accurate since Security Cloud gives you the same benefits as the other packages, with the added ability to oversee them via cloud management.
For corporate users, Kaspersky markets a range of cloud and local solutions. Prices for these depend on the organization's size.
Below, we've compiled a current price list:
Antivirus
Internet Security
Total Security
Small Office Security
Set-up Fee
$0.00
$0.00
$0.00
$0.00
Price per Year
from $29.99
from $39.99
from $44.99
from $180.00
Contract Period (Months)
12
12
12
12
Software
OS

Windows

Windows

macOS

Android

Windows

macOS

Android

Windows

macOS

Android

Max. Number of Devices
5
5
5
25
Special Protection Features
Real-time Protection
Internet Security
Email Protection
Ransomware Protection
Webcam Protection
Premium Features
Firewall
Password Manager
VPN Access
Adblocker
Cloud Backup
File Shredder
Parental Control
Performance Tuning
Mobile Features
App Lock
Location Tracking
Remote Lock
Camera Trap
Since subscription packages for each program vary, the table below compares each provider's offering on the basis of a template that we created. For this, we use the subscription that comes closest to our template as a benchmark.
1.
2.
3.
360 Total Security
Premium
4.
5.
6.
Bitdefender
Internet Security
7.
8.
9.
10.
11.
12.
13.
F-Secure
Internet Security
14.
Any Kaspersky subscription can be trialed for 30 days. All subscriptions come with a 14-day, money-back guarantee.
Conclusion
Installation & Usage
9.4 / 10
Security & Performance
8.6 / 10
The name Kaspersky still stands for quality, and the company's antivirus suite is a highly intuitive program that's loaded with features (including a password manager and VPN). On the surface and under the hood, there were only a few weaknesses. Even the testing labs agreed that the software does well. Beyond that, prospective users can look forward to a nice blend of reliable static and live support.
On the downside, considering how much its premium subscriptions cost, Kaspersky could offer more features. For example, the 300 MB of VPN data per day is very limiting, especially for someone who pays top dollar for the developer's most comprehensive package. We also weren't swept off our feet with Kaspersky's password manager, owing to its security issues.
All the same, Kaspersky definitely offers one of the most feature-filled antivirus packages on the market.
Kaspersky Internet Security is a user-friendly antivirus tool with a ton of features. However, some Western governments are currently warning against its use.
keylogging & webcam protection
some governments warn against use
9.1

excellent
Plan
Devices
Protection Features
Premium Features
Kaspersky Antivirus
yearly price
Visit Website*
Free Trial Version
Customer Ratings
Kaspersky Internet Security is generally well-reviewed by its users, with many noting its simplicity, reliability, and tenacity in combatting malware and viruses. The only criticism we found concerned the negative impact of scans on system performance.
Customer Ratings
4,114,228 Bewertungen
Visit Website*
We analyzed the reviews and ratings from various portals and found 4,114,228 ratings with an overall rating of 4.7 out of 5 .
Alternatives to Kaspersky Internet Security
If you're looking for a program that offers similar features but has better testing lab results, we recommend Bitdefender.
More of the best alternatives to Kaspersky Internet Security can be found here:
Our 'best in test' antivirus program Bitdefender boasts strong security, confirmed by independent test laboratories, along with a flawless user interface and a comprehensive set of features.
configurable quick actions
good support with 24/7 live chat
9.6

excellent
Plan
Devices
Protection Features
Premium Features
Bitdefender Antivirus Plus
$23.99
yearly price
Visit Website*
Avast impresses with a great free version covering all the essentials, and a huge set of features that offer well-rounded antivirus protection and some nice extras. Scans can slightly impact performance, however.
Sandbox and WiFi-Inspector
scans can impact performance
8.6

good
Plan
Devices
Protection Features
Premium Features
Avast Free
$0.00
Visit Website*
Download for Free
With its robust set of features, lean applications, and a 100 % antivirus guarantee, Norton Antivirus is definitely worth a look. Sadly, the testing labs aren't unanimously impressed, and one or two features are missing.
learn, user-friendly apps
customizable child protection
100 % antivirus guarantee
8.4

good
Plan
Devices
Protection Features
Premium Features
Norton Antivirus Plus
$19.99
yearly price
Visit Website*
Trend Micro delivers a solid overall antivirus package with lots of features and some nice extras, such as social media protection. However, the testing labs are a bit divided on the reliability of its protection.
Plan
Devices
Protection Features
Premium Features
Trend Micro Antivirus+
$19.95
yearly price
Visit Website*
G Data offers virus protection "made in Germany" with solid test lab scores, lots of customization, and great support. The user interface, however, could use a facelift.
many configuration options
interface somewhat outdated
test lab scores "only" solid
8.4

good
Plan
Devices
Protection Features
Premium Features
G Data Antivirus
yearly price
Visit Website*
* Ad disclaimer:
For links marked with an asterisk, EXPERTE.com may earn a commission from the provider. The commission has no influence on our editorial rating.

Janis von Bleichert studied business informatics at the TU Munich and computer science at the TU Berlin, Germany. He has been self-employed since 2006 and is the founder of EXPERTE.com. He writes about hosting, software and IT security.
Continue Reading