Antivirus Software Review: Kaspersky Internet Security
Kaspersky has built a name for itself in both cybersecurity and antivirus protection. Its Russian developers, Kaspersky Lab, have a large portfolio, however, their crusade against viruses and malware remains their company's mainstay. Is a program's degree of awareness among consumers a sign of its quality, or has Kaspersky been overtaken by its less well-known competitors in all but name recognition? Find out in our review below.

What is Kaspersky Internet Security?
Kaspersky Internet Security is an antivirus program produced by the Moscow-based Kaspersky Lab. Said more precisely, Kaspersky Internet Security is one of three antivirus packages offered by the company, the other two being "Kaspersky Anti-Virus" and "Kaspersky Total Security". Rounding out the group, the dynamic "Kaspersky Security Cloud" also offers broader security options. Kaspersky's antivirus programs are compatible with Windows, MacOS, Android, and iOS.
Review Score
09/2021
excellent
Visit Website
Installation & Usage
4.7 / 5
Security & Performance
4.3 / 5
Quick to install, intuitive
Lots of neatly packaged features
Includes extras such as a password manager and VPN
Average security performance; varied test results
Kaspersky Internet Security can be downloaded and installed in a matter of minutes. Once complete, there's an optional video summary of features, however, this is more of an advertisement than a tutorial. Watching isn't really necessary as the program's user interface is both intuitive and clearly arranged.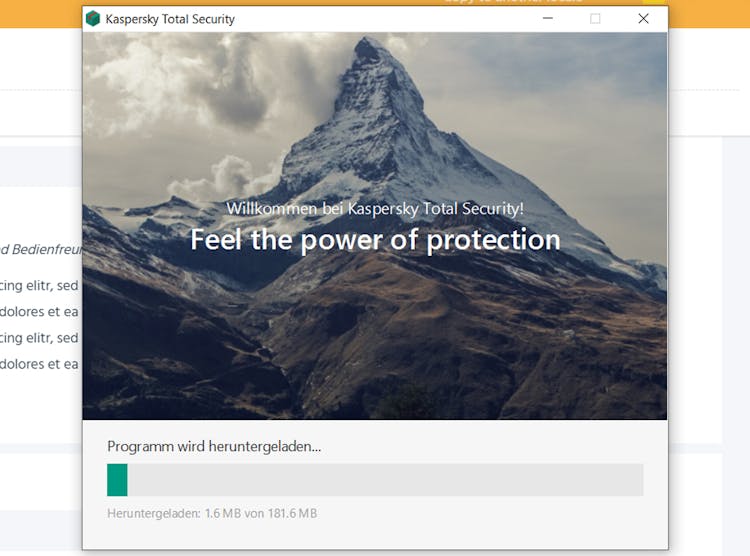 The upper third of the main screen's interface shows your current security status. Clicking on "Details" will transfer you to the notification center, where you can review your license or install and activate additional programs and features.
In "Status", icons indicate the most important features: "Scan", "Database Update", "Safe Money", "Password Manager", "Privacy Protection", "Backup and Restore", "Protection for Kids", and "My Kaspersky".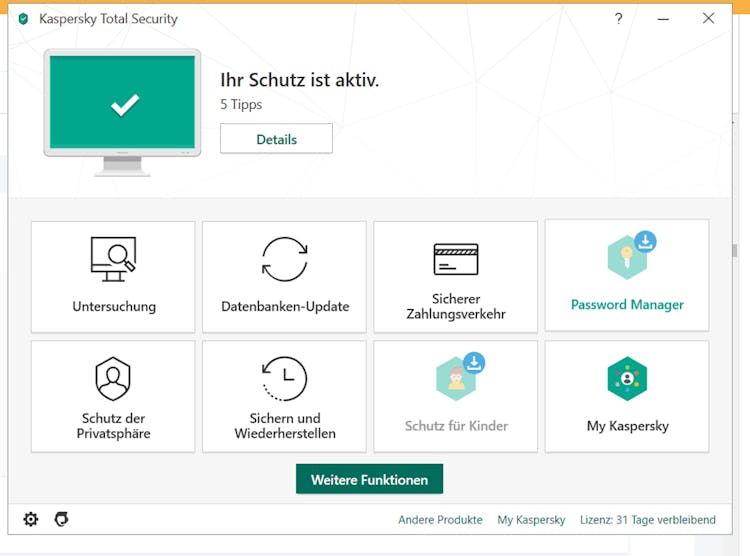 At the bottom of the interface, you can access settings, support, and check your license expiration date on the lower right.
Additional tools can be accessed by clicking on the "More Tools" button in the middle of the interface. All features are neatly organized into one of five categories ("Security", "My Network", "Manage Applications", "Data Protection", or "Clean & Optimize"). Clicking on any one of these will provide you with reports, allowing you to view statistics and further information.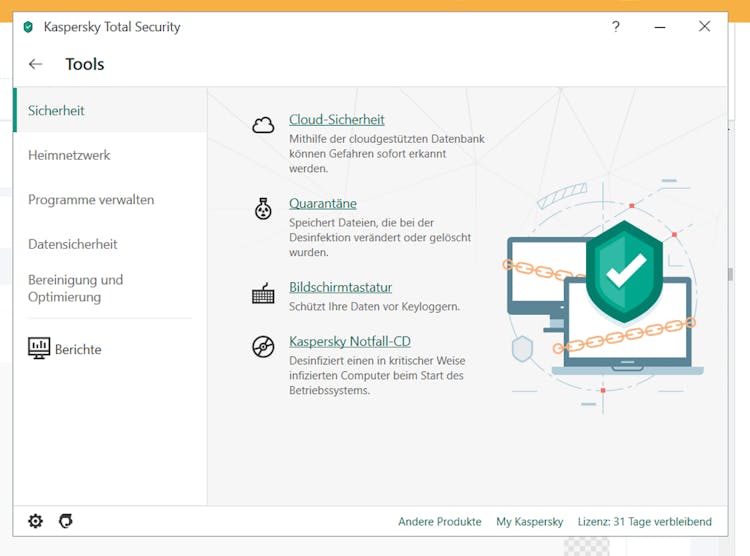 Kaspersky Internet Security is well-organized and easy to use.
Score: 4.7 / 5
Across all Kaspersky subscription packages, there are four categories of scans: A "Quick Scan" of the most commonly used files and folders, a "Full Scan" of the entire computer, an examination of external devices, or a user-defined scan of specific folders or files.
Using the scheduling feature, you can plan scans for specific times in advance. Kaspersky's configurability greatly surpasses that of many other antivirus programs, allowing you, for example, to perform scans during the work week, or when you're not using the computer.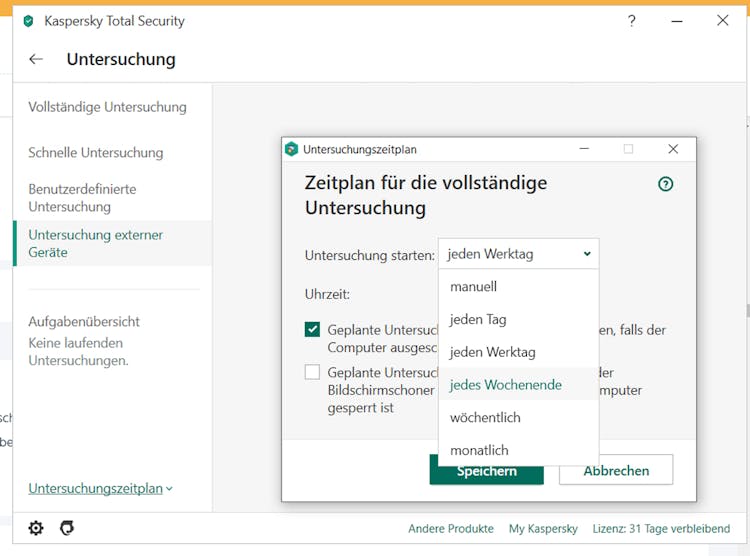 Real-time protection is offered across all subscription packages. Under settings, you can configure security and toggle individual aspects on or off. One of these is "Web Anti-Virus", which checks incoming data for malware, whereas "Ransomware Protection" defends you against extortion attacks, wherein cyber criminals encrypt your data, only providing you with the decryption key in exchange for a ransom.
There's also "File Anti-Virus" which checks all files that are opened, saved, or executed for viruses, as well as "Application Control" for all installed programs.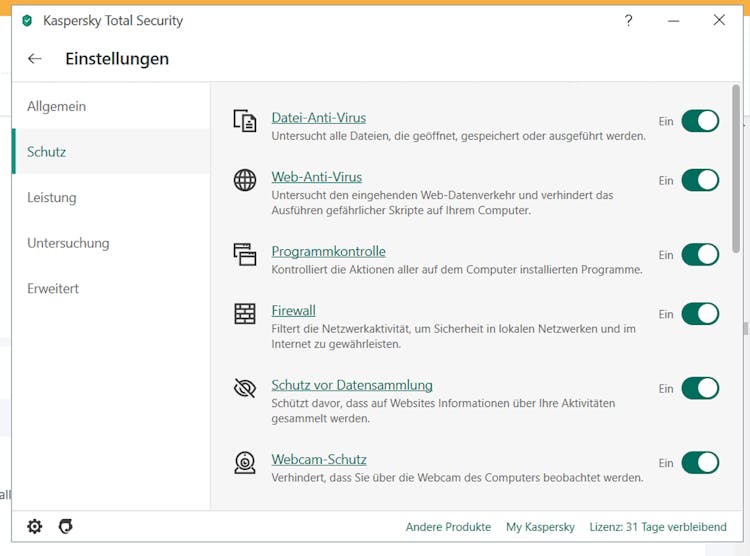 A firewall is also integrated that guards your network against unauthorized access. There's also "Anti-Banner" a kind of adblocker/antivirus module for instant messenger clients. Kaspersky also offers email protection.
"Webcam Protection", which bars hackers from accessing your webcam, is only available with the "Internet Security" package and above, as is protection from data collection, which prevents websites you visit from gathering information about you and your activities online.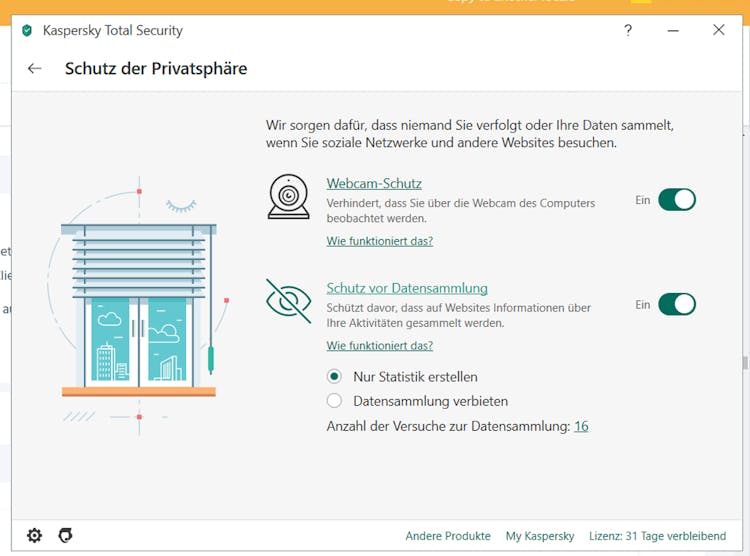 Likewise starting with "Internet Security" is a secure online payment feature. This uses Kaspersky's Security Browser, automatically opening URLs you input for sites on which you'd like to make safe payments. You can input these manually or allow Kaspersky to automatically identify them.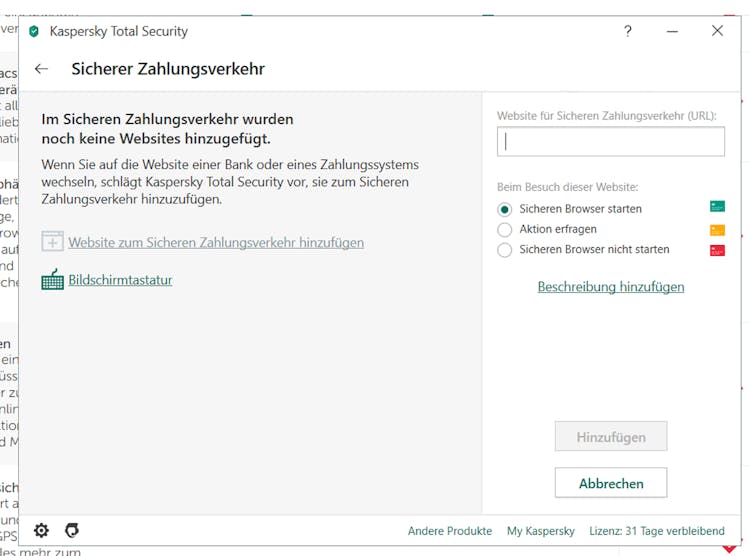 Starting with the "Total Security" package, a password manager is also included. This is not a rudimentary add-on like in most antivirus software: Kaspersky's "Password Manager" is a stand-alone program, and while not one of the best, still achieved a respectable place in the mid-table of our ranking.
A backup/restore function and parental controls are also included for "Total Security" users. The parental controls don't only block certain content that isn't for kids, but also include a GPS tracker that allows you to locate your children via their devices. Further, you can set screen time for devices that your children use. System backups are saved either to Dropbox, or to external storage devices of your choice.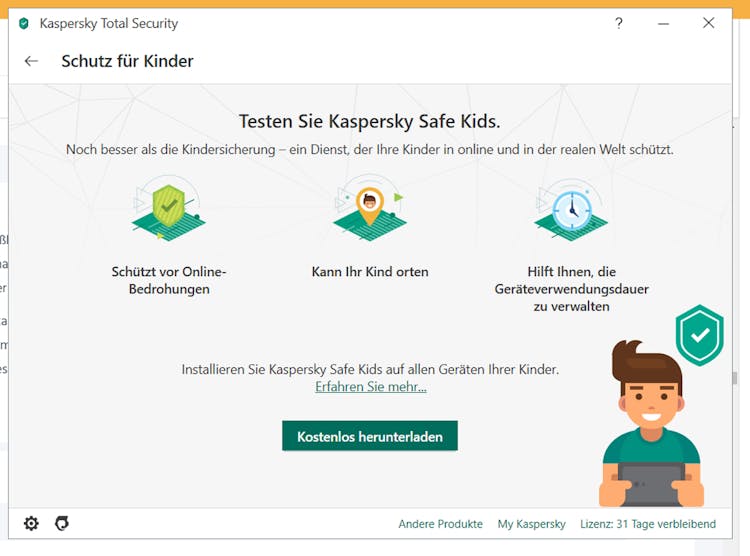 A data shredder, with which you can delete files without leaving any trace, is also in Kaspersky's toolbox. Accompanying this are a number of performance tuning tools that allow for "Total Security" subscribers (and above) to clean and optimize their computers.
On top of all that, there's also Kaspersky's "VPN Secure Connection", a free version of which is installed and offers a daily limit of 200 MB of data. This is based on Hotspot Shield, a program which performed well in our test, has an extensive server network and solid features, albeit does raise some concerns in terms of privacy.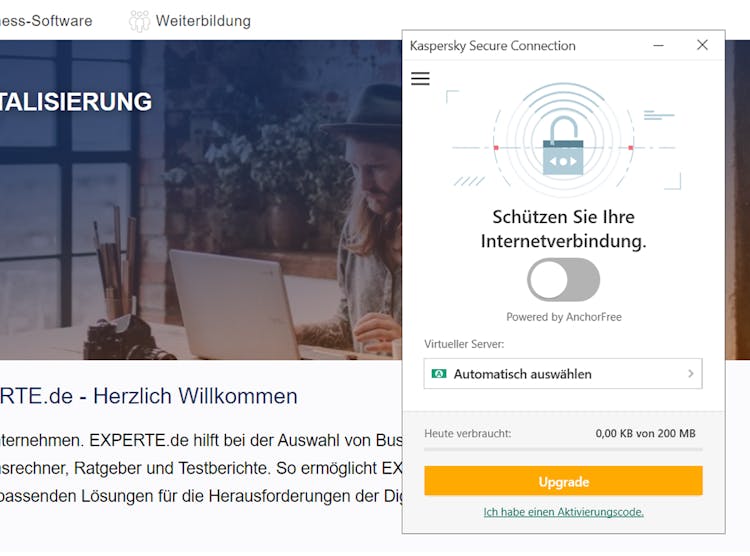 The number of features offered by "Kaspersky Internet Security" is so large that we're still not finished: These include a network monitor, which allows you to review the activity of all applications you have installed, and a screen keyboard, that should help you trick keyloggers. In the quarantine section, you can find backups of files that Kaspersky has deleted or changed owing to the potential threat they pose.
For space considerations, we can't list all of the features provided by "Kaspersky Internet Security"; suffice it to say that the program is absolutely filled to the brim with useful extras.
Mobile Features
Kaspersky also offers a digital bodyguard for your Android and iOS devices. The basic version of the "Internet Security" app is free, however, most functions are restricted to paying subscribers. Similarly to the desktop version, the mobile app allows you to scan your device or turn on real-time protection (only with a subscription), along with a handful of other features. Of particular interest is "Call Filter", with which you can create a blacklist of numbers that are barred from calling you.
With "Anti-Theft Protection", which requires a My Kaspersky Account and a premium license, you can lock and find your device in the event that it is stolen, restore it to its factory settings, delete data, or even activate an alarm. Similar to other providers, there's also a camera trap with which you can clandestinely photograph the thieves who took your phone. With "SIM Control" you can set when the device should automatically lock, for example, if a new SIM card is detected.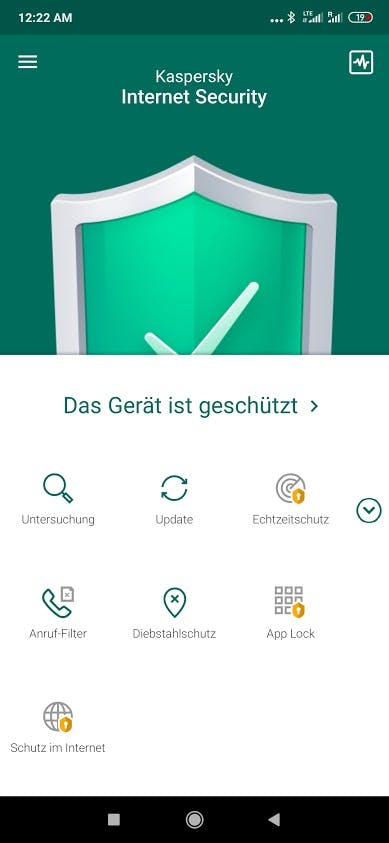 The subscriber-only premium features include real-time protection and an app lock with which you can set access parameters for specific apps, such as a PIN or fingerprint scan, further minimizing the risk of unauthorized access. There's also mobile web protection which blocks malicious websites or phishing attempts.
In sum, "Kaspersky Internet Security" is one of the most feature-laden programs we've reviewed; what really sets it apart, however, is not only that its packed to bursting with extras, but that it doesn't sacrifice organization or design to accommodate these.
Score: 5 / 5
To assess Kaspersky Internet Security, we consulted AV-Test and AV-Comparatives, each of which gives separate scores for performance and security.
The figurative jury of test labs is out on "Kaspersky Internet Security's" safety. AV-Test regularly gives out high scores for the program's security, as well as its performance. AV-Comparatives rated the program's performance well, whereby its security only received two from three stars in their October 2019 real-world protection test. Kaspersky didn't evidence any false positives, however, it "only" blocked 99.1% of threats, meaning that 0.9% of scanned files were compromised.
"Kaspersky Internet Security" received good marks, but this is mostly because of AV-Test's high score. The less positive review from AV-Comparatives does raise a bit of concern.
Score: 3.7 / 5
"Kaspersky Internet Security" has an in-app support area which links users to FAQs, an extensive and well-sorted knowledge database (somewhat hidden under "Recommendations" in program settings), and a forum. You can also activate logging which helps support team members solve any issues you might encounter.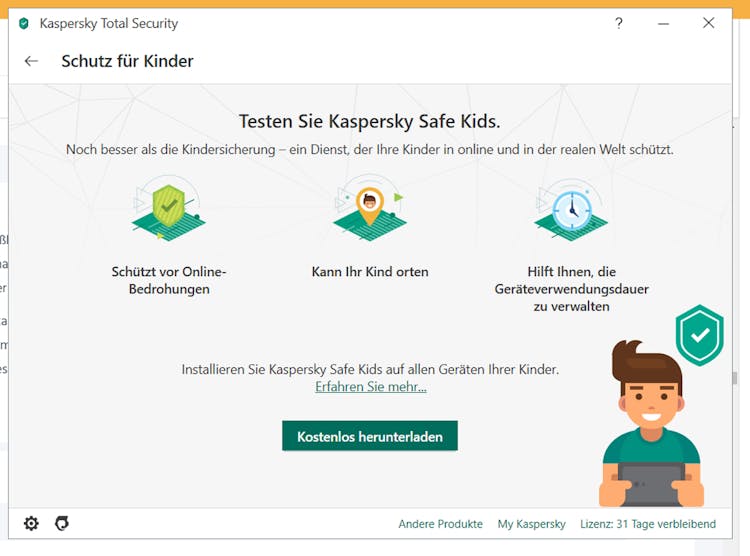 Unfortunately, users cannot open a support ticket in the app, or even directly contact the support team for that matter. It seems that Kaspersky has adopted a strategy similar to that of its competitors, namely, offering as much non-human and DIY support as possible in the hope that users will be able to solve any issues that arise without requiring the need for support team intervention. Nevertheless, Kaspersky's support team can be contacted via the company's website. We received an extensive answer to our query in around 14 hours.
Score: 4.3 / 5
Kaspersky offers antivirus protection in three different subscription packages. "Kaspersky Anti-Virus" provides basic protection exclusively for Windows PCs, whereas "Kaspersky Internet Security" protects Windows, MacOS, Android, and iOS and includes additional features like web or webcam protection. More extravagant features like a password manager are included in "Kaspersky Total Security". All three products are available in one-, two-, or three-year subscriptions for one, three, or five PCs.
In addition to these, there's also "Kaspersky Security Cloud", which is, for all intents and purpose, identical with "Kaspersky Total Security", albeit with a web dashboard added. The word "cloud" is perhaps a bit of a misnomer: The "Security Cloud" provides you with the same benefits offered by the other packages, albeit with the added ability to oversee them using cloud management.
Kaspersky offers different cloud and local solutions for corporations, the prices of which are dependent upon the organization's size.
Antivirus
Internet Security
Total Security
Pricing
Set-up fee
$0.00
$0.00
$0.00
Price per year
from $29.99
from $39.99
from $44.99
Contract period (months)
12
12
12
Software
OS

Windows

Windows

macOS

Android

Windows

macOS

Android

Max. Number of devices
5
5
5
Special Protection Features
Real-time Protection
Internet Security
Email Protection
Ransomware Protection
Webcam Protection
Premium Features
Firewall
Password Manager
VPN Access
Adblocker
Cloud Backup
File Shredder
Parental Control
Performance Tuning
Mobile Features
App Lock
Location Tracking
Remote Lock
Camera Trap
In terms of price, Kaspersky is in the middle of the pack. Since subscription packages for each program vary, the table below compares each provider's offering on the basis of a sample, with similar conditions:
$26.99
Visit Website
$29.95
Visit Website
$29.99
Visit Website
Bitdefender
Internet Security
$34.99
Visit Website
$34.99
Visit Website
360 Total Security
Premium
$35.98
Visit Website
$39.99
Visit Website
$39.99
Visit Website
$39.99
Visit Website
Kaspersky
Internet Security
$39.99
Visit Website
$42.74
Visit Website
$44.99
Visit Website
$45.00
Visit Website
$47.15
Visit Website
$49.99
Visit Website
Review Score
09/2021
excellent
Visit Website
Installation & Usage
4.7 / 5
Security & Performance
4.3 / 5
The name Kaspersky still stands for (and represents) quality: "Internet Security" is a highly intuitive antivirus program loaded with features (including a password manager and VPN). On the surface, there are few weaknesses, however, the test labs, which dug deeper, did identify certain issues. Still, these evaluations were not uniform; on some, Kaspersky received perfect scores, while others pointed to low identification rates. As a result, we're unable to unconditionally recommend Kaspersky despite its excellent usability, breadth of features, and fair price.
special features like VPN
Kaspersky Internet Security is a user-friendly anti-virus protection with perhaps the best feature package on the market.
Plan
Devices
Protection Features
Premium Features
Kaspersky Antivirus
yearly price
Visit Website »
Free Trial Version
"Kaspersky Internet Security" performed very well in the customer reviews that we assessed. Many users praised its simplicity, reliability, and tenacity in contending with malware and viruses. The only issue reported in these evaluations was the program's impact upon computer performance.
Customer Rating
3,696,103 Ratings
excellent
We analyzed the reviews and ratings from various portals and found 3,696,103 ratings with an overall rating of 4.8 out of 5 .
Show sources
Alternatives to Kaspersky Internet Security
If you're looking for a program that offers similar features albeit with better test lab results than "Kaspersky Internet Security", we recommend Bitdefender. A complete list of popular alternatives can be found here:
excellent protection results
configurable quick actions
good support with 24/7 live chat
Our test winner Bitdefender not only offers high security, confirmed by independent test laboratories, but also convinces with its flawless usability and a comprehensive feature package.
Plan
Devices
Protection Features
Premium Features
Bitdefender Free
$0.00
Visit Website »
Avast überzeugt mit einer Gratis-Version, die bereits die wichtigsten Funktionen abdeckt. Lediglich bei der Performance gibt es leichte Abzüge.
Plan
Devices
Protection Features
Premium Features
Avast Free
$0.00
Visit Website »
Download for Free
elegant-intuitive application
good protection performance
incl. password manager and VPN
missing standard features on macOS
Plan
Devices
Protection Features
Premium Features
Norton Antivirus Plus
$19.99
yearly price
Visit Website »
intuitive Benutzeroberfläche
keine Firewall oder Webcam-Schutz
Plan
Devices
Protection Features
Premium Features
Trend Micro Antivirus+
$29.95
yearly price
Visit Website »

Author: Janis von Bleichert
Janis von Bleichert studied business informatics at the TU Munich and computer science at the TU Berlin, Germany. He has been self-employed since 2006 and is the founder of EXPERTE.com. He writes about hosting, software and IT security.