McAfee True Key Review 2023: How Well Does It Protect You?

Few good arguments remain against using a password manager. The perfect blend of both security and convenience, these store all of your digital logins and sensitive data under a single master password, known only to you. With McAfee, this is referred to as your "True Key".
What Is True Key?
True Key ⇱ is a password manager developed by McAfee, which helps Windows, macOS, Android, and iOS users create, manage, and secure their passwords. Although available on its own, the service is particularly attractive for existing users of any of McAfee's other programs. In this review, we'll let you know whether True Key has a leg to stand on, or if it's just profiting off its developer's reputation.
McAfee True Key Review
Installation & Usage
6.0 / 10
Reliable autofill and autosave

Lots of options for multi-factor authentication
Lacks a full-fledged browser extension

Missing a security dashboard
In order to start using the password manager, you'll need to create a free True Key account. Simply enter your name, email address, and master password, the last of which will be used for future logins. Be careful when creating a master password and try not to pick one that is easy or obvious. We recommend making it as complex as possible, but still, something that you can recall off the top of your head. True Key will provide feedback about the password you've entered and give hints on how to strengthen it.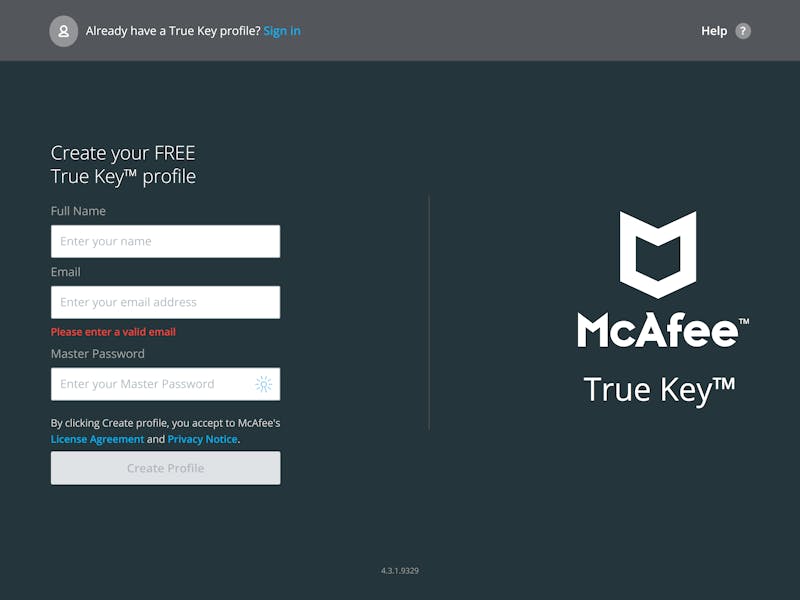 To get started, you'll need to come up with a secure master password.
The desktop version of True Key seems to be little more than a forwarding service for the browser dashboard. You can install something called the "True Key app", which is necessary for importing data sets, however, when double-clicking on this, the browser dashboard opens. After registering, a brief tutorial walks you through the dashboard's ins and outs, also explaining the different menu items.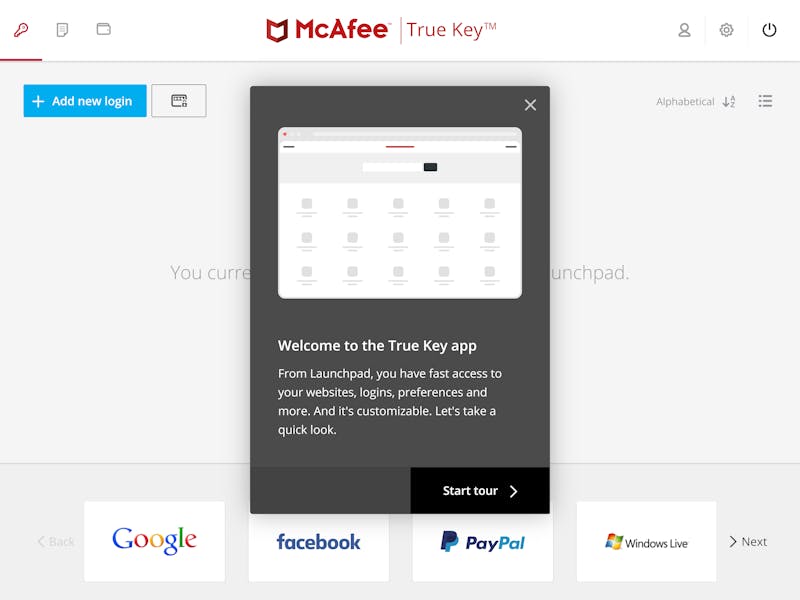 McAfee walks you through using True Key in a brief tutorial.
Should you be switching to True Key from another password manager or have a set of passwords already saved in your browser, it's easy to import this data into the program. As of the time of writing, True Key only supports imports from LastPass, Dashlane, Google Chrome, Internet Explorer, and Firefox. To make use of imports, you'll need to export data from other programs as CSV files.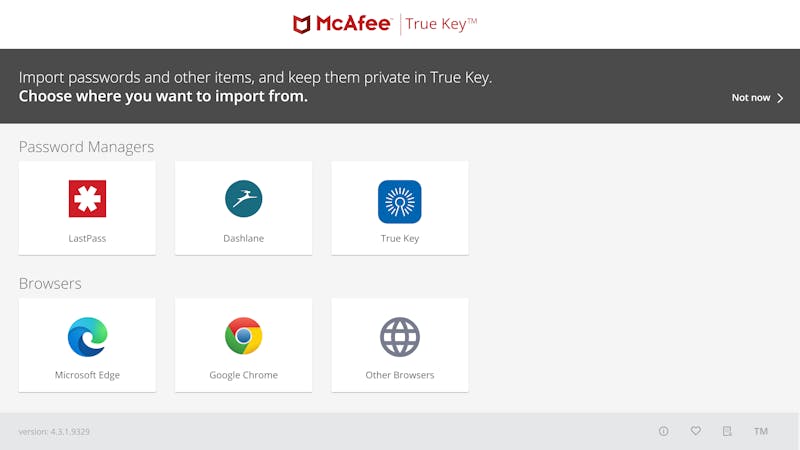 Should you already have saved other data sets with a password manager or browser, you can easily import them to True Key.
When importing, you can select which data sets should be transferred. During our assessment, this worked very well, and most data sets were accurately imported, however, credit cards and other data with different formats can create issues for the program.
Browser-Centric Usage
Instead of dividing its features between a desktop app and browser extension, as most other password managers do, True Key is centered around a web dashboard, from which users can keep track of all of their data. Clicking the browser extension doesn't open a second window, but simply forwards the user to the web dashboard, making the browser extension really just a link to the web dashboard. For that reason, we took a closer look at what it has to offer.
Web Dashboard
Data sets in True Key are sub-divided into logins, safe notes, and your wallet. The last of these is where you'll find your addresses, credit cards, licenses, memberships, passport, and social security number. Data sets can be displayed on a grid, in a list, or sorted alphabetically or chronologically (e.g. last opened or most frequently used). Clicking on an entry will automatically forward you to the respective login page and, should you have ticked the appropriate option in the data set submenu, automatically log you into your account.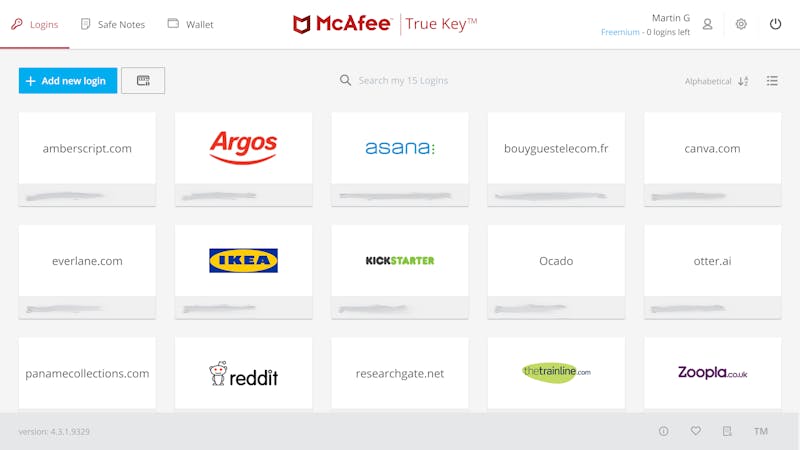 It's possible to alternate between tile or list views.
If you activate quick login in the app's settings, when visiting a site for which your login data is saved, you'll be automatically logged in. However, autologin and autofill didn't always work seamlessly during testing (more on that below). An enhanced browser extension capable of quickly supplying login credentials to the proper fields would come in particularly handy here.
As far as usability is concerned, we're torn. The dashboard is well organized and easy to get a feel for, with login records more readily accessible than in other programs. At the same time, however, the absence of a "true" browser extension is felt for all the wrong reasons, with some of the service's features made unnecessarily complicated to use via the web dashboard.
Particularly if you're accustomed to easy logins with other password managers, you might become frustrated with True Key's insistence on jumping between tabs and manually copying data.
Installation & Usage
6.0 / 10
Generally speaking, True Key does everything that a password manager is meant to: It saves your login data, generates secure passwords, and helps to log in fast using its autofill option for existing accounts on known websites.
Autofill
True Key's autofill is not as reliable as we had hoped: Even minor adjustments or differences to a stored URL can cause the password manager to stop working. On occasion, even after updating the URL, the blue True Key logo failed to appear in the login form. Once again, an expandable browser extension without different tabs would be more practical, since it would make it possible to copy login credentials quickly without having to jump between windows.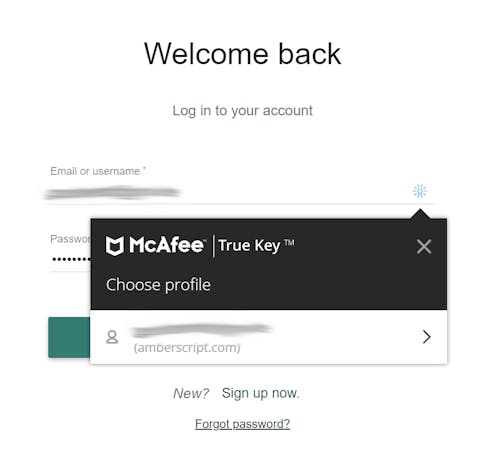 Autofill worked most of the time during our evaluation, but not always.
However, True Key is flexible when it comes to creating new passwords. Should you set up a new account somewhere, you can easily and automatically save its password by clicking on the True Key logo. Unfortunately, not every password field is identified as such, and on some occasions, we needed to jump to the True Key window in order to activate the password generator.
All in all, it must be said that McAfee's insistence on browser-based usage does sacrifice a fair deal of convenience and comfort.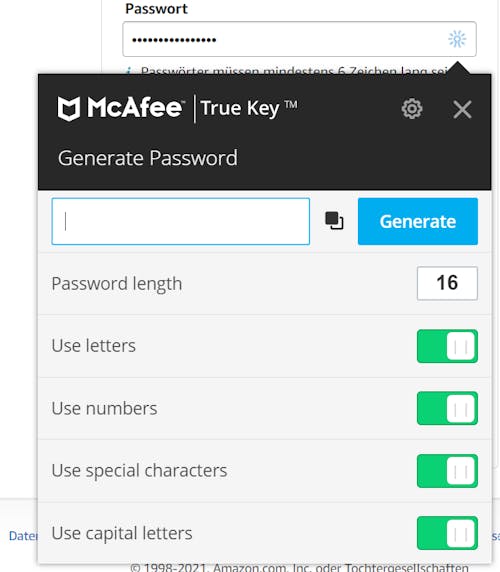 True Key can automatically generate a password for you in login forms.
Autosave
New logins for websites that you are already registered on can either be added manually to the dashboard or saved automatically when logging in. The second option is certainly the more convenient of the two, working without issue during our evaluation.
For new accounts, True Key will automatically create a data set, but with the option to veto it. You can select whether entries should "never" be saved or simply "not now". We would have preferred that the program simply ask each time a new account is created and provide the option to edit existing data or leave a note.
If you select "never", but have a change of heart later on, all you have to do is head over to the app's settings.

New login data is automatically saved unless you opt of it.
Password Generator
By default, True Key's password generator sets password length at 16 numbers and letters. Other specifications, such as the inclusion of special characters and uppercase letters, can be toggled on or off. Once a password has been generated, it will automatically be saved to the clipboard.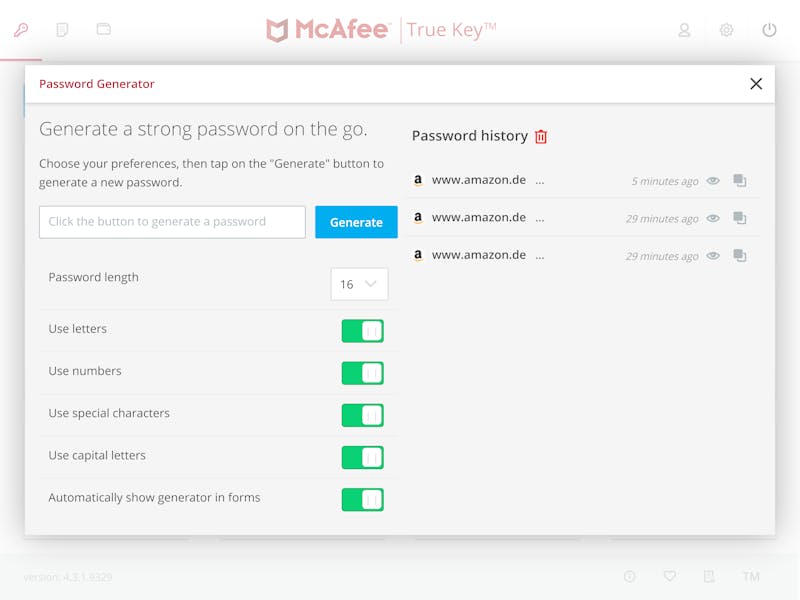 True Key's password generator automatically crafts secure passwords in the blink of an eye.
Multi-factor Authentication
Another bright spot is True Key's emphasis on multi-factor authentication. With it, you're able to select from several authenticators to use for confirming your identity. If desired, you can even disable the master password, but, we wouldn't recommend doing this.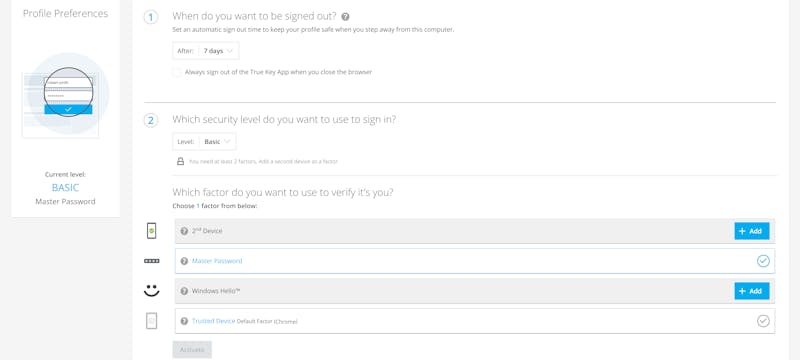 True Key impresses with its multi-factor authentication options.
Despite all of the glitz, the fact remains that True Key is missing a few features that come standard elsewhere. Most password managers offer security checks, which monitor the strength of your passwords and whether or not they have been compromised. Sadly, True Key doesn't. Similarly, the service also lacks sharing functionality, which comes in handy for securely supplying other users with passwords or sensitive data, as well as an automatic password changer, like Dashlane. As such, despite the highlights, True Key drops a few points in terms of features.
True Key encrypts all data using AES 256, which is considered to be uncrackable. It also adheres to the so-called zero-knowledge principle, which means that all encryption and decryption of data occurs locally, on your system. In other words: Only you have access to your master password.
Security is further heightened thanks to True Key's impressive array of multi-factor authentication options, which it makes easy to tailor to individual preferences. The same is true for automatic logouts: By default, these are set to a very generous seven days, far more than what we would recommend. If you misplace or lose your device, seven days could easily see someone retrieve all of your data and unleash a world of hurt.
True Key's intuitive mobile app for Android and iOS does an impressive job of bringing the browser application's experience to smartphone users. The launchpad contains all of your logins, displayed in either list or grid view. By tapping on a data set, you can select the browser to use for logging in. Other password managers don't offer this feature, lending True Key an edge.
The easiest and fastest way to automatically log in is by using True Key's integrated browser. Otherwise, you'll have to enable access to your default browser in order to guarantee automatic access. But don't worry, True Key helps out here as well. Once you're all set up, you can autofill your login data by tapping on the True Key symbol whenever it appears in your browser.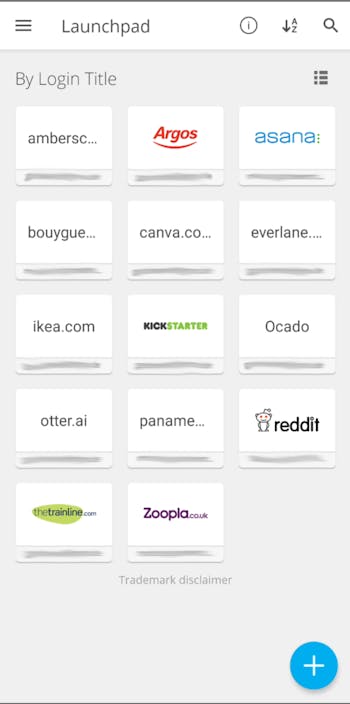 True Key's mobile app borrows all of the browser version's features as well as its design.
Beyond that, the mobile app also automatically synchronizes notes and information in your wallet, while providing access to the service's password generator. Rounding it all out, you can choose between displaying or hiding your password when logging in, changing your account name, and clearing your browsing history.
True Key's mobile app is a nifty extension of the desktop experience, possessing all of its best features and guaranteeing a solid user experience. Unfortunately, autofill also wasn't reliable 100% of the time, and even with the integrated browser and the correct URL, the former simply didn't want to open.
McAfee's True Key is just one program in the developer's (sizable) portfolio. As such, the support center is not focused exclusively on True Key, but all McAfee products. One advantage of this is that you can reach a support staffer in live chat 24/7 or via their hotline. Beyond that, you can also request help on the community forum. Oddly, it isn't possible to open a support ticket via email.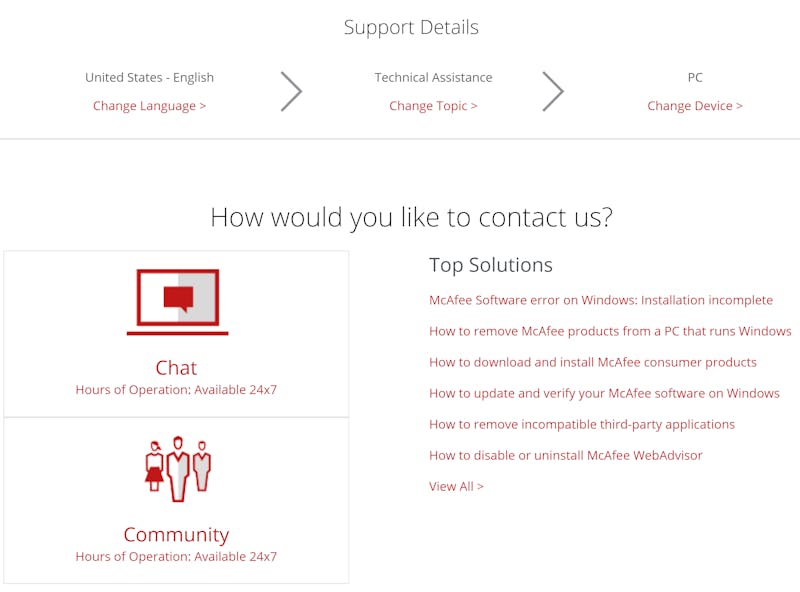 You can get in touch directly with McAfee's support via 24/7 live chat or hotline.
During our evaluation, we waited anywhere from one to ten minutes for the support chat. Our questions were competently answered, even though the staffers didn't stay connected for long. If you have a little more time on hand, we recommend seeking advice on the community forum.
We found McAfee's live chat to be excellent, however, static support isn't as well-organized as it could be, especially for anyone who only uses McAfee for True Key.
The free version of True Key limits you to 15 data sets, meaning that it is basically just a trial rather than a full-fledged password-managing solution. The premium version, which can be accessed via an annual subscription, allows unlimited logins and is relatively inexpensive. For a summary of current prices, check out the table below:
Free
Premium
Set-up Fee
$0.00
$0.00
Base Price per Month
$0.00
$1.67
Price per User
$0.00
$0.00
Contract Period (Months)
0
12
Limits
Number of Users
1
1
Number of Passwords
15
unlimited
Number of Devices
unlimited
unlimited
Features
Sync Multiple Devices
Password Sharing
Teams
Zero-knowledge Encryption
Emergency Contacts
Two Factor Authentication
Local Storage
Browser

Edge

Chrome

Firefox

Safari

Edge

Chrome

Firefox

Safari

Platforms

Cloud / SaaS

iOS

Android

macOS

Windows

Cloud / SaaS

iOS

Android

macOS

Windows
Conclusion
Installation & Usage
6.0 / 10
True Key is a solid password manager which will help in managing all sensitive data you store or use digitally. The impressive multi-factor authentication options are, in our opinion, worth the subscription price alone. Users who are already McAfee customers are likely to find True Key a convenient and useful addition to their suite.
All told though, True Key doesn't really provide anything outstanding or groundbreaking. To be completely frank, most other password managers we reviewed offer better packages, either in terms of features or usability. Especially when it comes to the latter, True Key's insistence on managing passwords exclusively through the web dashboard makes it less user-friendly than programs that have true browser extensions.
True Key is an affordable password manager that's aimed mainly at users of other McAfee solutions. But it's missing a few features and can't really set itself apart from the competition.
Passwords
Devices
Users
Contract Period
McAfee Free
$0.00
monthly price
Visit Website »
Customer Ratings
To accurately assess what sort of reputation True Key has among its users and customers, we collected ratings from some of the most respected reviewing portals below:
Customer Ratings
996,005 Bewertungen
Visit Website
We analyzed the reviews and ratings from various portals and found 996,005 ratings with an overall rating of 4.1 out of 5 .
Alternatives
Although its monthly subscription costs nearly twice as much as True Key, Dashlane, the service that came out top in our comprehensive evaluation, offers plenty of extra features as well as an automatic password changer.
If, on the other hand, you'd prefer not to pay anything for a password manager, Bitwarden and NordPass were our two favorites since they don't impose any data set or cross-device synchronization limits on free users.
The best alternatives to True Key can be found below:
Dashlane Password Manager
Dashlane is a great all-rounder that makes managing your logins and other account details as easy as pie thanks to its many features, a strong security posture, and an easy-to-use interface.
user friendly and intuitive
zero-knowledge encryption
comprehensive security center
automatic password changer
9.1

excellent
Passwords
Devices
Users
Contract Period
Dashlane Free
$0.00
monthly price
Visit Website »
Try for free
1Password Password Manager
1Password's password vault is filled to the brim with features, including handy extras such as the travel mode. With excellent security and a solid user interface on top, 1Password is one of the best password managers out there.
zero-knowledge encryption
reliable autofill function
8.7

good
Passwords
Devices
Users
Contract Period
1Password Standard
$2.99
monthly price
Visit Website »
Free 30 days trial
Keeper is one of the best password managers on the market thanks to its many features, high reliability, and extensive configuration options.
Passwords
Devices
Users
Contract Period
Keeper Security Unlimited
$2.04
monthly price
Visit Website »
Download Keeper
NordPass Password Manager
NordPass stands out with its beautiful design and ease of use, and offers a fully-fledged free version that allows you to create and synchronize an unlimited number of passwords.
full-featured free version
few options for customizing data sets
8.5

good
Passwords
Devices
Users
Contract Period
NordPass Free
$0.00
monthly price
Visit Website »
30-day money-back guarantee
Bitwarden Password Manager
Bitwarden can impress with easy-to-use apps, reliable autofill, and a few handy security features. Plus, it's pretty affordable – and offers a solid, feature-rich free plan.
user-friendly applications
good security, externally tested
paid features (e.g. password sharing)
8.4

good
Passwords
Devices
Users
Contract Period
Bitwarden Free
$0.00
monthly price
Visit Website »

Martin Gschwentner majored in American Studies and Media Studies in Germany, the USA and France and works as a freelance editor in Paris. He is a doctoral student at the Institute for English and American Studies at the University of Paris Diderot, where he is researching the influence of money on US politics. On EXPERTE.com he writes about IT security, data protection and software for the self-employed and small businesses.

Translator & Editor: D Bare
Continue Reading
Reviews
Comparisons
Tools & Guides