Antivirus Software Review: Sophos Home
Industrial-grade security at home: That's what Sophos Home promises. The affordable antivirus program (with a free version) offers the cutting edge in corporate security technology in a user-friendly package for private users. Our review explores whether this is truly the case, or if Sophos Home is just a second-rate version of the British provider's flagship product.

Sophos Home is an antivirus program created by the British developer, Sophos. The company is well-known for their enterprise cybersecurity solutions, such as "Intercept X" or "XG Firewall". Sophos Home was designed in order to allow private users to also profit from the company's innovative security technologies, and is available for Windows and MacOS; Android and iOS users can protect themselves using the mobile version of "Intercept X".
Security & Performance
4.3 / 5
Installation & Usage
3.3 / 5
Easy to use and features a cloud-based web interface
Offers a free version in addition to highly-affordable premium licenses
Can be used on up to 10 devices (3 in the free version)
Relatively few current test lab analyses
Prior to downloading Sophos Home, it's necessary to create an account, which simultaneously unlocks a 30-day free trial version of the program. Once you've confirmed your registration via email, you can download the program. The installation file is fairly large (300 MB), meaning that it could take time to complete if you're on a poor Internet connection.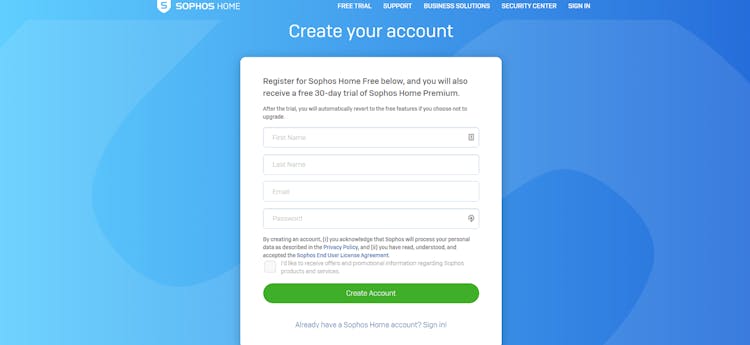 Installation takes around 15 minutes, making it longer than most other providers. Once complete, Sophos Home performs the first system scan, which also consumes a great deal of time and system resources. For us, this scan never progressed beyond 0% and we had to stop it by restarting our computer. The second scan also taxed our system, but did complete successfully after 15 minutes.
There's not much else to do in the Sophos Home dashboard beyond starting a scan or monitoring an ongoing one. The program is largely cloud-based and as such, almost all features are found in the web dashboard, rather than on the desktop.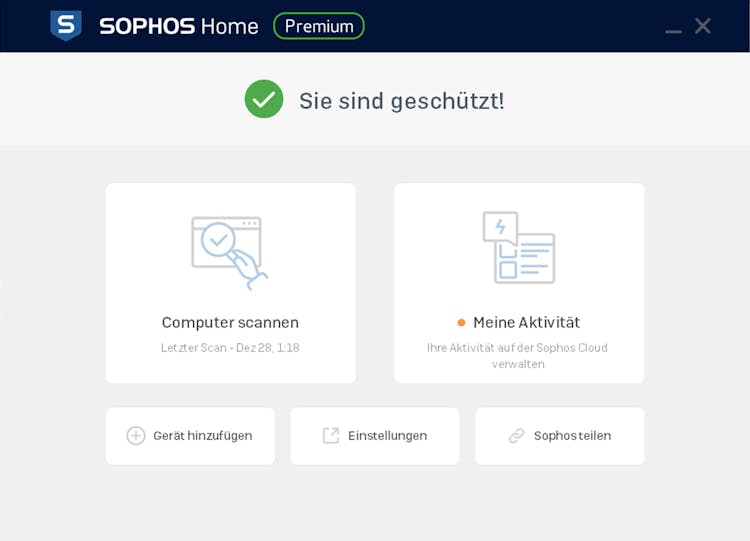 The program's web interface is well-structured and navigation is not made unnecessarily complicated. The main menu bar has five tabs: "Status", "History", "Protection", "Web Filtering" and "Privacy", clicking on any of which opens further sub-directories or modules. We examine these features below in greater detail.
You can access settings by clicking on your email address in the upper right of the interface. Here, you can change the dashboard language, extend your license, or delete your account.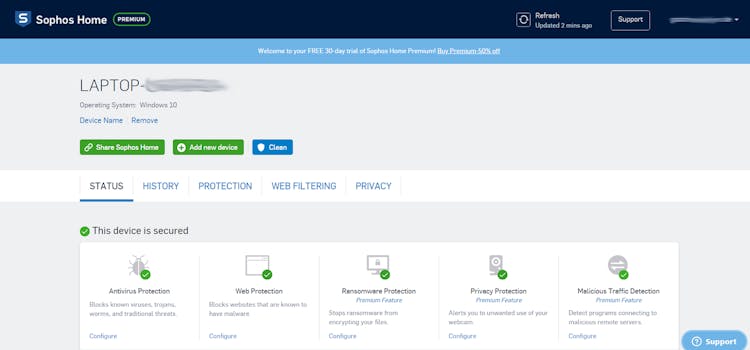 Owing to its cloud-based web interface, Sophos Home breaks with most other antivirus program. We liked the idea of managing our antivirus efforts from a browser, and for users with multiple devices, this sort of interface is highly practical.
Sophos Home definitely takes some time to download and install, pushing our system to the limit during the latter. Once setup is complete, however, the program's well-organized web interface does leave a good impression. As an additional plus, no bloatware was installed surreptitiously by the program.
Score: 4 / 5
Sophos Home's web dashboard provides a clear overview of the service, which is a good indicator of the program's quality of design owing to its numerous features and settings.
"Status" serves as a kind of start menu: From your cyber security cockpit, you can always keep track of the most important features. In particular, this includes real-time protection, which is sub-divided into a number of different modules. For free users, this includes standard "Antivirus Protection" (which guards against known viruses, Trojans, and other malware) as well as "Web Protection", which chaperones you across the Internet.
Expanded real-time protection features are reserved for premium subscribers: With "Ransomware Protection" you're guarded against so-called extortion Trojans, which encrypt files on your computer, demanding a payoff for their decryption. "Webcam Protection" ensures that you or your system won't be compromised through unauthorized access to your webcam. "Malicious Traffic Detection" identifies programs that might attempt to connect your system to harmful remote servers.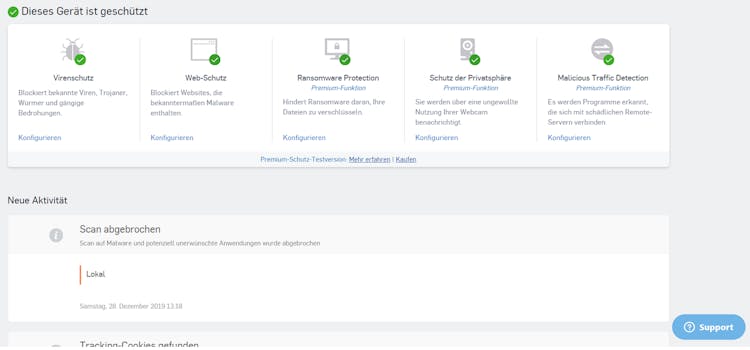 Unter den Status-Modulen finden Sie den Verlauf, den Sie auch über das Navigationsmenü erreichen. To configure different real-time protection features, click on the third tab, "Protection". In the "Web" sub-register, you can add URL exceptions (websites that should never be blocked). By clicking on options, you can schedule scans.
Additional features are again reserved for premium subscribers. "Exploit Defense" protects susceptible applications or programs against future attacks. Through one of this module's sub-menus, you can select which apps or programs should receive this added protection.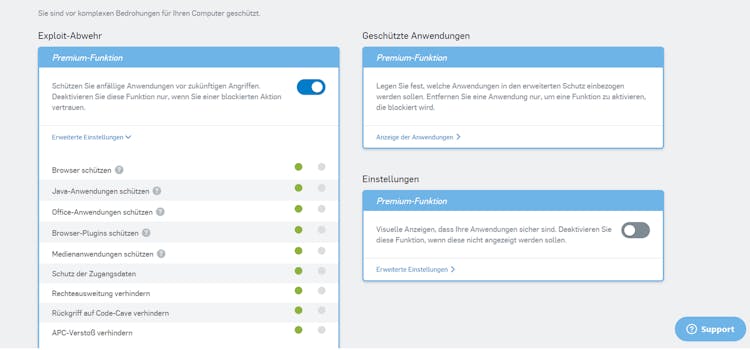 "Web Filtering" allows you to select in detail which site categories and program content are blocked, or only accessible after confirming a warning.
As of the time of writing, the "Privacy" tab only includes webcam protection. Why this requires its own menu tab, rather than being part of the "Protection" tab is unclear to us. Sophos Home doesn't really need to artificially inflate its content or variety of features since the British developer already provides an adequate amount of both.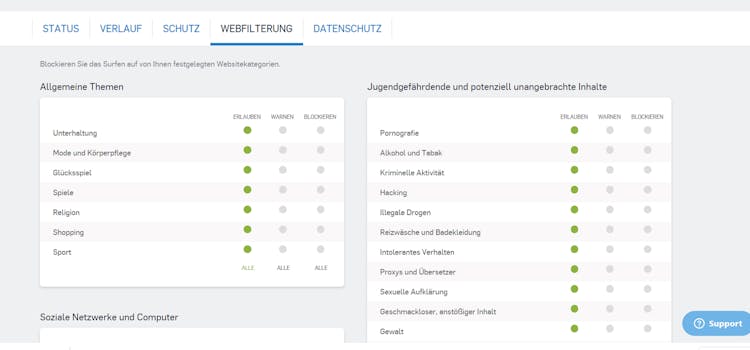 Virus scans can be controlled via the desktop application. Here, Sophos seems to have (unfortunately) cut a few corners, as users are limited to running a full system scan (no quick scan or user-defined scan options are visible). The ability to scan specific folders is not explicitly indicated, however, it is possible, namely, by right clicking on a folder or file and selecting "Scan with Sophos Home". In the web dashboard you can schedule scans, however, this only applies to the pre-configured desktop app's system scan. Despite the work-around, Sophos Home's scanning options are still in the Stone Age when set against those of their competitors. There's really no excuse for an antivirus program to not offer user-defined or quick scans in the 21st century.
We also noticed the absence of a few important features, such as dedicated email protection, a firewall, or a data shredder (which allows you to permanently delete data from your computer without a trace). Although by no means a necessity, it should be noted that extravagant features, like a password manager, or VPN are also not included with Sophos Home.
Mobile Features
Sophos Home does not have a mobile version, however, the provider offers "Sophos Intercept X" in its stead for both Android and iOS devices. In addition to real-time protection features and scans, the app also serves as a multi-factor authentication app. The program features an app block tool, which allows you to add a PIN, password, or fingerprint to any app for which you'd like to have extra protection.
Rounding out the mobile features are a QR code scanner, and a rudimentary password manager (compatible with KeePass - KDBX - files) which while nice, is no substitute for a dedicated password manager.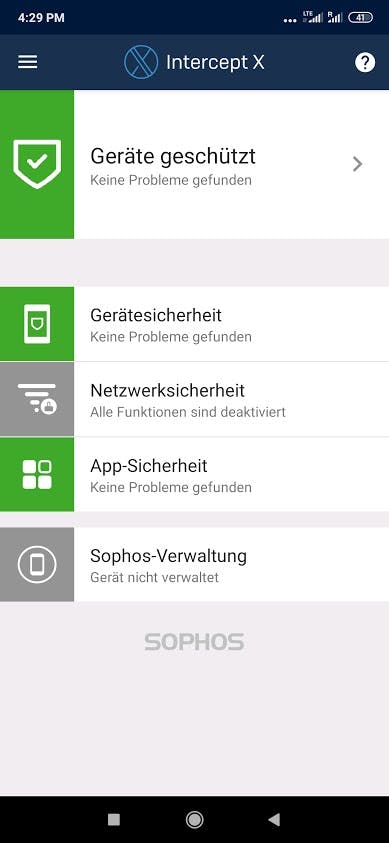 Again, we have to take note of what's missing, namely, anti-theft features which are more or less the most sought-after antivirus/security functions on mobile devices. Sophos would be well-advised to integrate a mobile port into "Intercept X", mirroring the approach taken by its cloud-based desktop app. We were truly impressed with this, since it offers a variety of functions which are intuitive to use, and there's no reason mobile devices couldn't profit from the same sort of web cockpit. In sum, there are definitely some minor issues with both the desktop and mobile apps, specifically in regards to the absence of common features, but these can certainly be rectified.
Score: 4 / 5
To assess antivirus programs, we typically consult AV-Test and AV-Comparatives, each of which gives separate scores for performance and security. Unfortunately, Sophos Home (in contrast to its enterprise program) has not featured regularly for either of those two labs, with its most recent results being rather dated. The program was evaluated by SE Labs as part of its home anti-malware protection test in the third quarter of 2019.
Security
Performance

100% [Note: Test from July 2016]

100% (6 / 6) [Note: Test from December 2017]

92% (5.5 / 6) [Note: Test of the enterprise "Endpoint Security and Control" software Sept-Oct 2019]

100% (6 / 6) [Note: Test from December 2017]

100% (6 / 6) [Note: Test of the enterprise Endpoint Security and Control software Sept-Oct 2019]
SE Labs awarded Sophos Home its highest scores: The program identified and blocked (or otherwise neutralized) 100% of attacks. AV-Test's most recent evaluation of the software (December 2017) also gave it the maximum number of points. Much might have transpired in the interim, with the program, for example, taking a turn for the worse. More recent tests of the developer's enterprise software, "Endpoint Security and Control", should be comparable to those of Sophos Home.
The last test from AV-Comparatives is even older (July 2016), but also resulted in a perfect score (100%).
All of that sounds rather promising, at least on paper, however, the program's absence from more recent testing by two of the largest and most reputable test labs leaves us somewhat skeptical.
Score: 4.3 / 5
Free users will have to solve any problems which might arise on their own: But don't worry, you'll have access to a knowledge database featuring around 100 articles. Premium users can contact support staff directly through the dashboard, either by live chat (Monday-Friday, 12 hours a day) or through the traditional support ticket.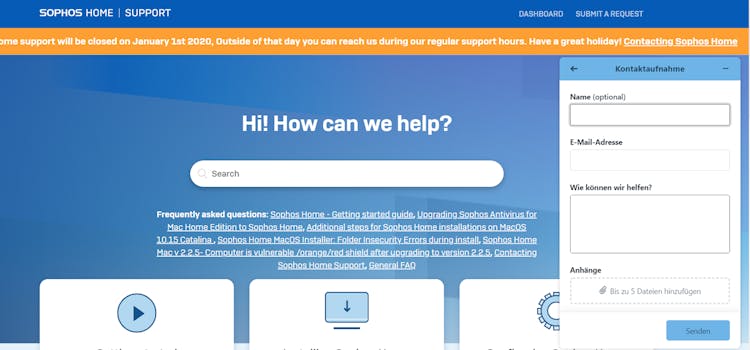 Our query was answered in around an hour, and that on a weekend. A hotline would be a nice addition, as would any kind of support for free users, but as the saying goes "beggars can't be choosers". The level and quality of support provided for paying customers on the other hand, is definitely solid.
Score: 4.3 / 5
The basic version of Sophos Home is completely free of charge. This enables you to scan your system (and, as we've shown above, files and folders) and to provide up to three devices with real-time protection. The premium package for up to 10 devices can be purchased in one- or two-year subscriptions. A current price list can be found here:
Home Free
Home Premium
Pricing
Set-up fee
$0.00
-
Price per year
$0.00
$45.00
Contract period (months)
0
12
Software
OS

Windows

macOS

Windows

macOS

Max. Number of devices
3
10
Special Protection Features
Real-time Protection
Internet Security
Email Protection
Ransomware Protection
Webcam Protection
Premium Features
Firewall
Password Manager
VPN Access
Adblocker
Cloud Backup
File Shredder
Parental Control
Performance Tuning
Mobile Features
App Lock
Location Tracking
Remote Lock
Camera Trap
In terms of price, Sophos Home is a real bargain. Since subscription packages and features for each program vary, the table below compares each provider's offering on the basis of a sample, with similar conditions:
$26.99
Visit Website
$29.95
Visit Website
$29.99
Visit Website
Bitdefender
Internet Security
$34.99
Visit Website
$34.99
Visit Website
360 Total Security
Premium
$35.98
Visit Website
$39.99
Visit Website
$39.99
Visit Website
$39.99
Visit Website
Kaspersky
Internet Security
$39.99
Visit Website
$42.74
Visit Website
$44.99
Visit Website
$45.00
Visit Website
$47.15
Visit Website
$49.99
Visit Website
Security & Performance
4.3 / 5
Installation & Usage
3.3 / 5
Sophos Home won us over with its (feature-filled and functional) free version, as well as very affordable premium license. However, irrespective of cost, the program still performs well: Its user-friendly cloud interface and web dashboard make navigating easy, and most features that are needed or desirable, are included. Nevertheless, we still had the impression that Sophos Home somewhat slowed our computer's performance, however, we can't back this up with any statistics, either from our own analysis, or those of the test labs. For that reason, a few questions remain unanswered concerning the program's security and performance.
We also come back to the handful of features which are missing, and the inability to perform quick, or user-defined scans (the latter, without using the workaround of right-clicking on the individual file or folder). These certainly relegate Sophos Home below most of its competitors, however, the fact remains that the program provides solid protection against viruses and a variety of functions at an extremely low (if not non-existent) cost.
Users seem to have very positive experiences with Sophos software, however, most reviews we analysed were of the software's mobile apps. These were praised by many users for their provision of solid real-time protection and a wealth of functions. Some users criticized performance issues which arose in connection with using the app.
Customer Rating
45,207 Ratings
good
We analyzed the reviews and ratings from various portals and found 45,207 ratings with an overall rating of 4.3 out of 5 .
Show sources
Alternatives to Sophos Home
360 Total Security costs roughly the same as Sophos Home, however, has even bigger issues in terms of security owing to its absence from the test labs (owing to conflicts between the test labs and the developer, with the former accusing the latter of sending it software to evaluate which did not reflect the products subsequently marketed to customers). If you're looking for even more features, we can recommend Bitdefender or ESET. A list of popular alternatives can be found here:
excellent protection results
configurable quick actions
good support with 24/7 live chat
Our test winner Bitdefender not only offers high security, confirmed by independent test laboratories, but also convinces with its flawless usability and a comprehensive feature package.
Plan
Devices
Protection Features
Premium Features
Bitdefender Free
$0.00
Visit Website »
special features like VPN
Kaspersky Internet Security is a user-friendly anti-virus protection with perhaps the best feature package on the market.
Plan
Devices
Protection Features
Premium Features
Kaspersky Antivirus
yearly price
Visit Website »
Free Trial Version
Avast überzeugt mit einer Gratis-Version, die bereits die wichtigsten Funktionen abdeckt. Lediglich bei der Performance gibt es leichte Abzüge.
Plan
Devices
Protection Features
Premium Features
Avast Free
$0.00
Visit Website »
Download for Free
elegant-intuitive application
good protection performance
incl. password manager and VPN
missing standard features on macOS
Plan
Devices
Protection Features
Premium Features
Norton Antivirus Plus
$19.99
yearly price
Visit Website »
intuitive Benutzeroberfläche
keine Firewall oder Webcam-Schutz
Plan
Devices
Protection Features
Premium Features
Trend Micro Antivirus+
$29.95
yearly price
Visit Website »

Author: Janis von Bleichert
Janis von Bleichert studied business informatics at the TU Munich and computer science at the TU Berlin, Germany. He has been self-employed since 2006 and is the founder of EXPERTE.com. He writes about hosting, software and IT security.