Sophos Antivirus Review: Still Recommended in 2023?

Author
Janis von Bleichert
Ad disclaimer:
For links on this page, EXPERTE.com may earn a commission from the provider. This supports our work and has no influence on our editorial rating.
Enterprise-grade cybersecurity at home: Sophos Home promises this at an affordable price (and even a free version). Can private users really get the cutting edge in digital security in a user-friendly package?
Below, we'll find out whether this is actually the case, or if Sophos Home is just a second-rate version of the British provider's flagship product.
What Is Sophos Home?
Sophos Home* is a British antivirus program whose developer is well-known for enterprise cybersecurity solutions like Intercept X Endpoint and Sophos Firewall. Sophos Home was designed to give private users access to the company's innovative security technologies.
The software is available for Windows and macOS, with Intercept X Endpoint offered for Android and iOS users.
Sophos Antivirus Review
Security & Performance
8.6 / 10
Installation & Usage
6.6 / 10
Remotely control through your browser or a smartphone app

Can be used on up to 10 devices (3 in the free version)
Few current testing lab assessments
A free version of Sophos Home is offered, however, it takes some time to find it. Apart from that, you can try a premium subscription without having to input payment data. After downloading the installer, all you have to do is create a Sophos account.
Installation takes around 10 minutes, which is longer than most of the other providers from our sample. Once complete, a mini-tutorial that walks you through the dashboard's features starts. We then needed to restart our computer to finish an update to the software's newest version. Unfortunately, as soon as the program was installed on our system, it felt like our system's performance had been impacted, but more on that below.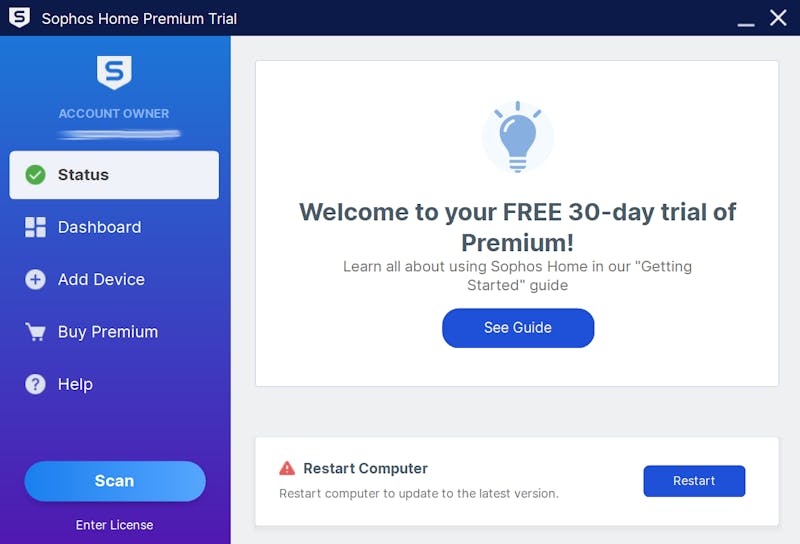 After installation, a brief tutorial introduces you to its features.
At first glance, Sophos Home's interface looks like any other antivirus program, with a menu bar to the left and different security modules and features in the center. However, after clicking on a menu item or module, the tool or option opens in your browser instead of the app.
This means that the app is more like a bulletin board for your system's security that forwards you to the software's features. One exception is the "Scan" button in the bottom left, which starts a scan in the app. Apart from that, almost all of the cloud-based service's features are in its web dashboard.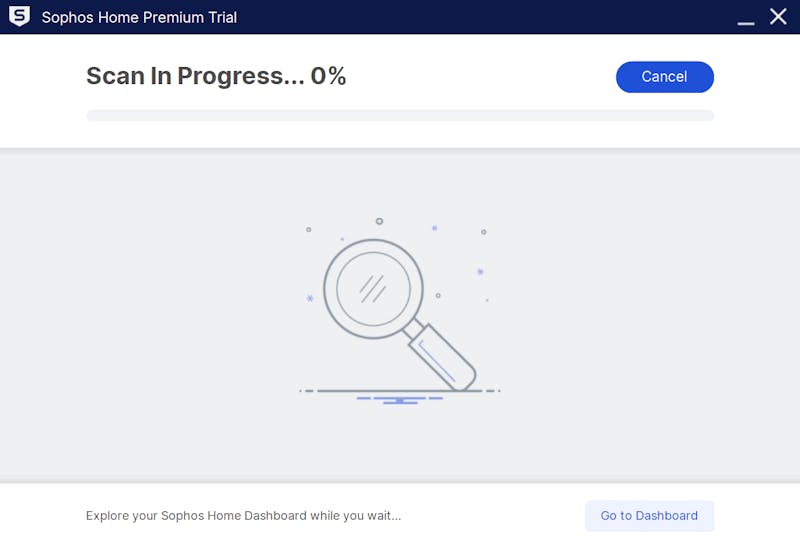 You can run scans in the desktop app, however, you'll be forwarded to the software's browser interface for everything else.
The program's web interface is well-organized and straightforward to use. The main menu bar has five tabs: "Status", "History", "Protection", "Web Filtering" and "Privacy". Click on any of these to open additional sub-directories or modules. In the next section of this review, we'll explore all of these in greater detail.
Settings can be accessed by clicking on your email address in the interface's top right corner. These include options to change the dashboard's language, extend your license, or delete your account.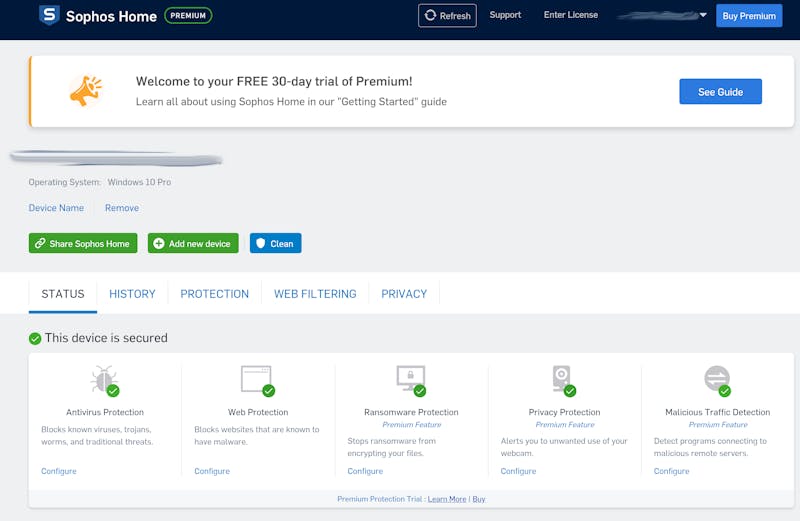 Sophos Home's web interface is well-designed.
Sophos Home sets itself apart from most of its competitors thanks to its cloud-based web interface. Even though we didn't encounter any issues, we still prefer a functional app/client. While Sophos Home technically offers this, it's fairly useless. In the future, Sophos might want to consider offering users the choice between the two kinds of interfaces.
In addition, for some time after installing the program, we felt that our computer was noticeably slower. However, once configured, the program's well-organized web interface made a good impression. As an additional positive, no bloatware was shuttled onto our system during installation.
Installation & Usage
6.6 / 10
Sophos Home's features are grouped into five sub-menus in its web dashboard. The "Status" area serves as a kind of home screen and allows you to keep tabs on the most important features, like real-time protection. This is comprised of different modules. Free version users get "Antivirus Protection" (which guards against known viruses, Trojans, and other malware) as well as "Web Protection", which chaperones you across the Internet.
Exclusive real-time protection for premium users
Enhanced real-time protection is reserved for premium subscribers: "Ransomware Protection" defends against extortion Trojans that encrypt files on your computer and demand a payoff for the decryption key. "Privacy Protection" ensures that you and your system aren't compromised through unauthorized webcam access. "Malicious Traffic Detection" identifies programs that might try to connect your system to harmful remote servers.
You can view any threats that have been detected underneath the five modules, or in the "History" tab.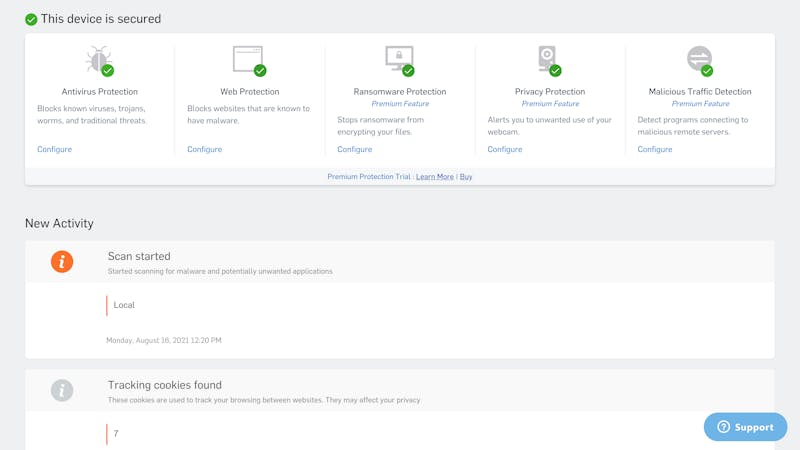 Keep track of the security provided by Sophos Home on the "Status" screen.
Schedule scans in advance
Should you want to adjust the software's real-time protection capabilities, click on "Protection". In the "Scheduled Scan" module you can plan scans for an entire week in advance. Unfortunately, Sophos Home only allows you to plan a "Full" system scan, unlike its competitors who also allow custom scans to be scheduled.
Even though the program doesn't advertise its ability to scan individual folders or even storage devices, this is possible by right-clicking on the folder or device and selecting "Check with Sophos". Still, as with scheduled scans, Sophos's options are more limited than those of its competitors.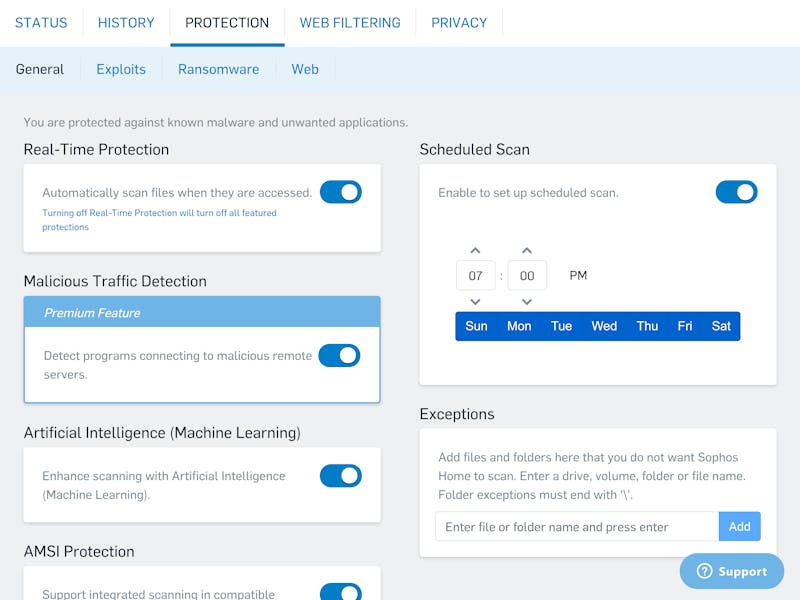 Schedule scans throughout the week with Sophos Home.
More features, particularly against ransomware and exploits, can be found in the "Protection" area. These are reserved for premium subscribers but make it possible to select which of your installed programs should benefit from enhanced security. For example, "Exploit Defense" protects vulnerable applications or programs against attacks by allowing you to select which apps or programs it should monitor.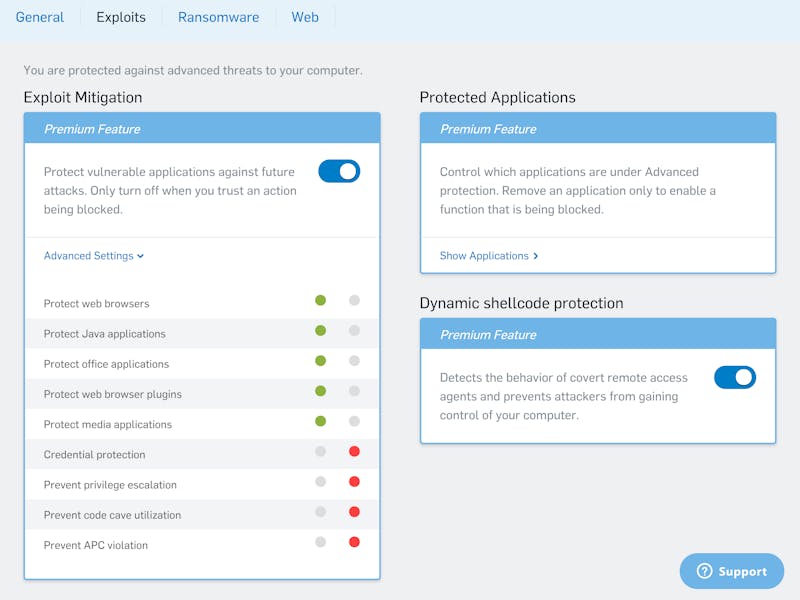 Choose which of your installed applications should benefit from enhanced security.
"Web Filtering" functions like parental controls and gives you control over which categories of websites and activities are blocked, or only accessible after acknowledging a warning about their nature. These include general topics like "Entertainment" or "Religion", as well as more specific ones, such as "Adult or Sexually Explicit", "Intolerance and Hate", and "Violence".
This worked well during our testing, however, we were able to access some sites that should have been out of bounds. This module doesn't include additional settings or options, such as the ability to limit screen time or block specific apps.
The "Privacy" tab only includes webcam protection. It is not clear why this requires its own menu area, rather than being under the "Protection" heading.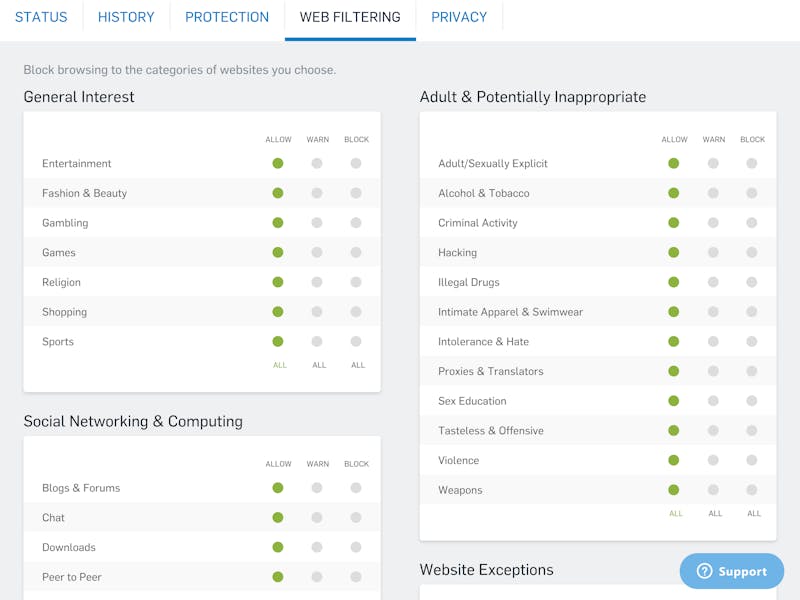 Manage what sort of online content your children can access with Sophos Home.
Some important features, like dedicated email protection, a firewall, and a file shredder (to permanently delete data from your computer) are missing. Unfortunately, Sophos Home also lacks the extras typically included with most antivirus suites, like a password manager or VPN.
Mobile features
Although there's an Android/iOS app called Sophos Home, it serves more as a remote control for the desktop app than an antivirus solution for on-the-go. You can use it to remotely start scans or adjust settings, like "Web Filtering" categories, or manage your ransomware protection.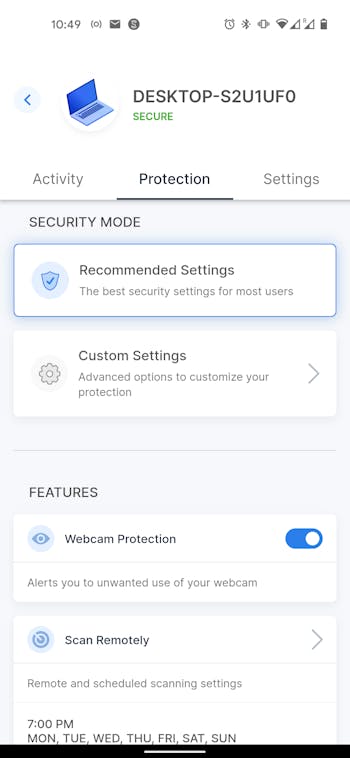 Use Sophos Home's smartphone app to manage your computer's security from anywhere.
For mobile antivirus protection, you'll need Sophos Intercept X. In addition to real-time protection and scans, the app also serves as a multi-factor authenticator. The program features an app block, with which you can add a PIN, password, or fingerprint to any app that you want to equip with extra protection.
A QR code scanner is also included, as is a rudimentary password manager (compatible with KeePass - KDBX - files). While this is nice, it can't replace a dedicated password manager.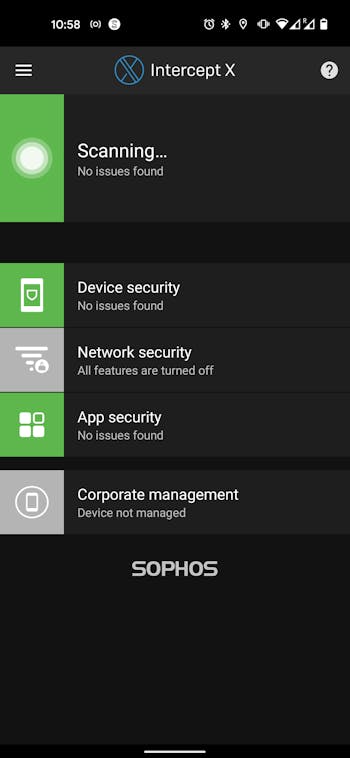 For true mobile security, you'll need to download Sophos Intercept X.
Once again it was more apparent what Intercept X was missing rather than what it included: The mobile app doesn't have any anti-theft tools. Apart from antivirus capabilities, these are usually the most sought-after among mobile users. Sophos would also be well-advised to integrate a mobile port into Intercept X, mirroring the approach taken by its cloud-based desktop app.
Overall, Sophos Home provides the antivirus basics in a neat, cloud-based app. At the same time, this lacks the level of customization and variety of features found among its competitors. Not having extras like a VPN or password manager isn't a big problem, however, more extensive scanning options, a file shredder, and anti-theft tools for Intercept X would be significant improvements.
We consulted AV-Test and AV-Comparatives, each of which regularly awards separate performance and security scores to a selection of antivirus software. Unfortunately, Sophos Home (in contrast to its enterprise version) has not featured in either of those two labs. However, the program was evaluated by SE Labs in its home anti-malware protection test.
| | Security | Performance |
| --- | --- | --- |
| | | |
| | | |
| | | |
| | | |
[1] Test of Business version, Sophos Intercept X Advanced
[2] Test of Business version, Sophos Intercept X Advanced 10.8 from June 2021
SE Labs awarded Sophos Home its highest scores: The program identified and neutralized 100% of attacks. No recent evaluations by AV-Test and AV-Comparatives exist. The developer's Business version is regularly assessed, and we're confident that its strengths and weaknesses are similar to those of Sophos Home.
We needed about 10 minutes to perform a manual scan using Sophos Home. During the first scan, our PC's performance was impacted, however, not during successive scans.
We can report that Sophos Home appears to be a reliable antivirus program, even if it hasn't been included in recent tests conducted by the larger testing labs.
Security & Performance
8.6 / 10
Free version users have to solve any problems that might arise on their own: But don't worry, you'll have access to a knowledge database with numerous articles and a nice selection of video guides.
Premium users can contact the developer's support staff without leaving the dashboard, either by live chat (available Monday-Friday, 12 hours a day) or a support ticket.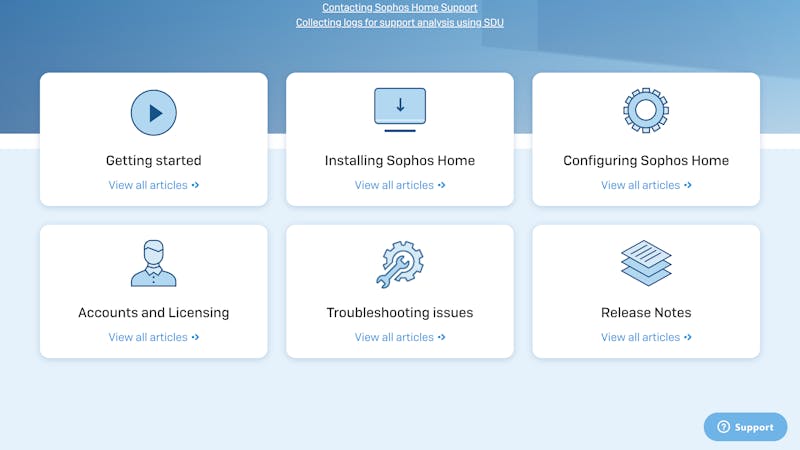 Sophos offers free and premium users a variety of options for resolving technical issues.
We were connected to a staffer in the live chat in around a minute. Our support ticket was competently answered in four hours. A hotline would be a nice addition, as would any kind of direct support for free users, but beggars can't be choosers. The level and quality of support for subscribers are definitely solid.
The basic version of Sophos Home is free. It can be used to scan your system (and, as we've shown above, files and folders) as well as give real-time protection to up to three devices. The premium package for up to 10 devices can be purchased in one-, two-, or three-year subscriptions.
A current price list is provided below:
Home Free
Home Premium
Set-up Fee
$0.00
-
Price per Year
$0.00
$45.00
Contract Period (Months)
0
12
Software
OS

Windows

macOS

Windows

macOS

Max. Number of Devices
3
10
Special Protection Features
Real-time Protection
Internet Security
Email Protection
Ransomware Protection
Webcam Protection
Premium Features
Firewall
Password Manager
VPN Access
Adblocker
Cloud Backup
File Shredder
Parental Control
Performance Tuning
Mobile Features
App Lock
Location Tracking
Remote Lock
Camera Trap
Since subscription packages and features vary from program to program, the table below compares each provider's offering that comes closest to our template. As can be seen in the comparison below, Sophos Home is priced above our sample's average.
1.
2.
3.
360 Total Security
Premium
4.
5.
6.
Bitdefender
Internet Security
7.
8.
9.
10.
11.
12.
13.
F-Secure
Internet Security
14.
The premium version of Sophos Home can be tested for 30 days for free without inputting any payment details. After purchasing a premium subscription, you'll have 30 days to claim a full refund.
Conclusion
Security & Performance
8.6 / 10
Installation & Usage
6.6 / 10
Sophos Home won us over with its feature-laden and functional free version and user-friendly cloud interface. The latter might not be everyone's cup of tea, but you'll get everything expected from an antivirus program, including some control over the program's settings. The big highlight for us was the ability to adjust configuration options and remotely start scans through the web interface and smartphone app.
Unfortunately, some important tools are missing, like a file shredder, and scan options are very limited. We also felt like the program negatively impacted our system's performance. Making matters worse, Sophos Home is not regularly evaluated by the two testing labs we consult, which isn't a good sign.
At the end of the day, Sophos Home is a solid antivirus program that can be remotely controlled. Keep in mind that it offers far less than its competitors and at a similar price.
Sophos Home scores some points with its generous free tier and its intuitive user interface, but it doesn't have the range of features we expect from a modern antivirus suite.
affordable premium licenses
few options for manual scans
7.6

good
Plan
Devices
Protection Features
Premium Features
Sophos Home Free
$0.00
Visit Website*
Download for Free
Customer Ratings
Users seem to have very positive experiences with Sophos software, however, most reviews we checked related to the software's mobile apps. These were praised for their solid real-time protection and a variety of features. Some reviewers criticized app performance.
Customer Ratings
46,414 Bewertungen
Visit Website*
We analyzed the reviews and ratings from various portals and found 46,414 ratings with an overall rating of 4.1 out of 5 .
Alternatives to Sophos Home
Would you prefer to entrust your digital security to a program that testing labs like AV-Test and AV-Comparatives regularly review? If so, look no further than the top-performing antivirus software from our assessment, Bitdefender, which also offers more features than Sophos Home.
If you'd rather have a free antivirus solution, be sure to consult our guide on the best solutions available.
More of the best alternatives to Sophos Home can be found here:
Our 'best in test' antivirus program Bitdefender boasts strong security, confirmed by independent test laboratories, along with a flawless user interface and a comprehensive set of features.
configurable quick actions
good support with 24/7 live chat
9.6

excellent
Plan
Devices
Protection Features
Premium Features
Bitdefender Antivirus Plus
$23.99
yearly price
Visit Website*
Avast impresses with a great free version covering all the essentials, and a huge set of features that offer well-rounded antivirus protection and some nice extras. Scans can slightly impact performance, however.
Sandbox and WiFi-Inspector
scans can impact performance
8.6

good
Plan
Devices
Protection Features
Premium Features
Avast Free
$0.00
Visit Website*
Download for Free
With its robust set of features, lean applications, and a 100 % antivirus guarantee, Norton Antivirus is definitely worth a look. Sadly, the testing labs aren't unanimously impressed, and one or two features are missing.
learn, user-friendly apps
customizable child protection
100 % antivirus guarantee
8.4

good
Plan
Devices
Protection Features
Premium Features
Norton Antivirus Plus
$19.99
yearly price
Visit Website*
Trend Micro delivers a solid overall antivirus package with lots of features and some nice extras, such as social media protection. However, the testing labs are a bit divided on the reliability of its protection.
Plan
Devices
Protection Features
Premium Features
Trend Micro Antivirus+
$19.95
yearly price
Visit Website*
G Data offers virus protection "made in Germany" with solid test lab scores, lots of customization, and great support. The user interface, however, could use a facelift.
many configuration options
interface somewhat outdated
test lab scores "only" solid
8.4

good
Plan
Devices
Protection Features
Premium Features
G Data Antivirus
yearly price
Visit Website*
* Ad disclaimer:
For links marked with an asterisk, EXPERTE.com may earn a commission from the provider. The commission has no influence on our editorial rating.

Janis von Bleichert studied business informatics at the TU Munich and computer science at the TU Berlin, Germany. He has been self-employed since 2006 and is the founder of EXPERTE.com. He writes about hosting, software and IT security.
Continue Reading