Anti-Malware - Comparing 11 Malware Scanners
Is your computer slower than usual? Have your disks become full despite not downloading any new files? Do pop-ups appear on your desktop even when you're not browsing the web? Any of these is a symptom of a malware infection on your system, however, unfortunately, not all types of malware make their presence known so tellingly. With anti-malware software, you can rest easy knowing that everything on your computer is functioning as it should be. The selection of programs offering these capabilities is large, but we've looked at 11 of the best for you, evaluating them from head to toe, with our Top 3 presented below.
Malware, the portmanteau of "malicious software" is a broad term that encompasses dangerous programs like viruses, Trojans, or ransomware, all of which operate on your computer without your best interests in mind. The terms antivirus and anti-malware are similar, whereby all viruses are malware, but not all malware are viruses. With this little difference aside, each program in our evaluation, depending on the subscription package chosen, protects against every type of malware. Below, we'll review which of these do that best.
1.
Bitdefender Anti-Malware
excellent protection results
configurable quick actions
good support with 24/7 live chat
Our test winner Bitdefender not only offers high security, confirmed by independent test laboratories, but also convinces with its flawless usability and a comprehensive feature package.
Plan
Devices
Protection Features
Premium Features
Bitdefender Antivirus Plus
$29.99
yearly price
Visit Website »
Bitdefender is the gold standard of anti-malware software. From its sleek user interface, which allows users to configure quick actions to their needs, to its impressive provision of security, and its excellent 24/7 live support chat, we loved pretty much everything about Bitdefender.
Turning to features, there's no disappointment either: Along with basic scans and real-time protection, the Romanian anti-malware program also includes a firewall that can be configured for each program you have installed on your system, as well as a password manager. Most subscriptions to Bitdefender also provide access to a VPN as well. And, last, but certainly not least, Bitdefender comes in a mobile app too.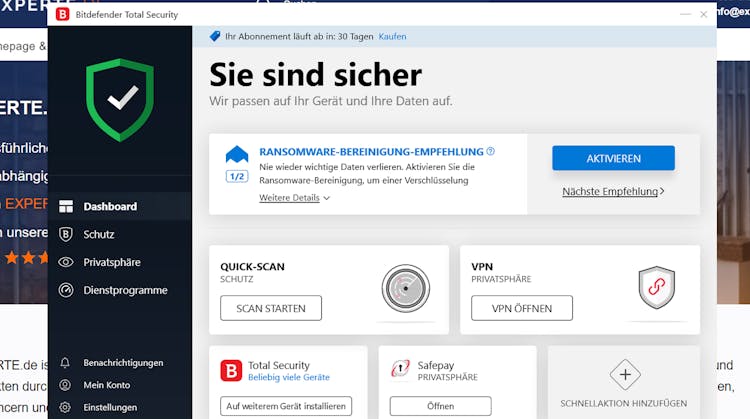 We're not quite done yet: Further security features can be accessed via the web dashboard, and include an anti-theft command center, as well as parental controls (which are identical). These allow you to GPS locate registered devices, remotely delete data, or view an IP address, as well as monitor your children's Internet browsing and set limitations for them.
The test labs that we rely on for our evaluations unanimously affirm Bitdefender's security and performance, awarding the software maximum points in both.
With its variety of features, high degree of security, and nearly perfect user interface, Bitdefender impresses across the board.
Excellent test lab results
Configurable quick actions
Solid 24/7 live support chat
Review Score
09/2021
excellent
Visit Website
Installation & Usage
5.0 / 5
Security & Performance
4.7 / 5
elegant-intuitive application
good protection performance
incl. password manager and VPN
missing standard features on macOS
Plan
Devices
Protection Features
Premium Features
Norton Antivirus Plus
$19.99
yearly price
Visit Website »
Norton has long been one of the biggest names in anti-malware, and its good reputation is not undeserved: The complete security solution offers excellent performance, packaged in a highly elegant and intuitive application.
In terms of features, Norton does lose out to Bitdefender though: Extra protection for online banking, or a dedicated secure browser aren't included, while a file shredder needs to be paid for on top of the subscription price, even for the most expensive packages. Apart from these missteps, Norton offers a number of features which basically cover all the bases.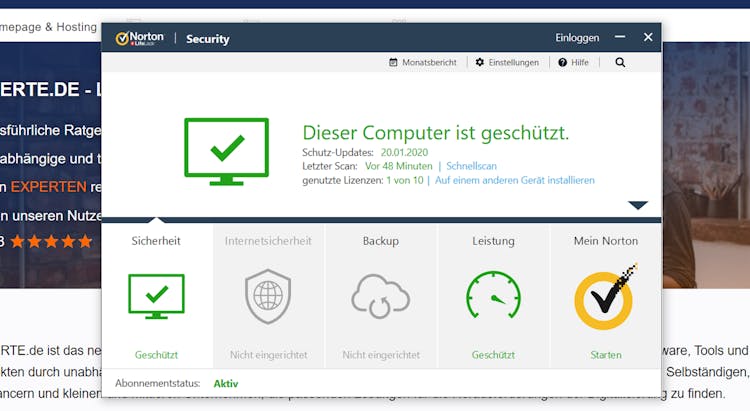 Mac users should be careful though since Norton limits certain features to its Windows versions, such as webcam protection, cloud backup, or parental controls. The provider's VPN and password manager are included on both Mac and Windows, however.
The majority of these features are extras anyways, and where it really counts, security, Norton makes a very strong showing.
Provides excellent security, confirmed by test labs
Elegant and intuitive application
Installation & Usage
4.3 / 5
Security & Performance
4.0 / 5
special features like VPN
Kaspersky Internet Security is a user-friendly anti-virus protection with perhaps the best feature package on the market.
Plan
Devices
Protection Features
Premium Features
Kaspersky Antivirus
yearly price
Visit Website »
Free Trial Version
Kaspersky expertly navigates the tricky balance between providing a lot of features in a user-friendly package. The program allows greater scan configurability than most of its competitors, and its scheduling options are very convenient and practical.
Real-time protection ticks all of the proverbial boxes, allowing users to perform secure payments and transactions, and receive webcam protection in addition to the more standard features. Depending on your subscription, extras like a password manager, backup, parental controls, or in-house VPN, based on Hotspot Shield, are also included.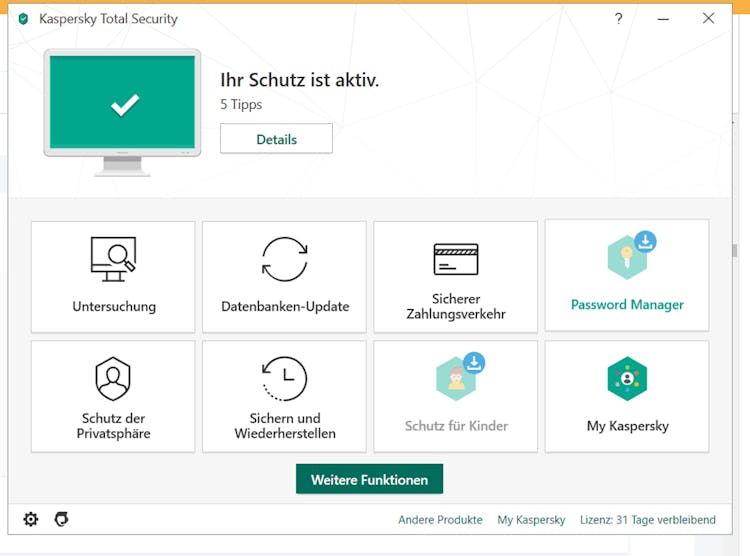 So far, so good, right? Almost: The two test labs we consulted for our original evaluations presented markedly different assessments of Kaspersky's security and performance. In the meantime, the latest real-world protection test (February-May 2020) from AV-Comparatives awarded three stars (out of three).
Owing to this discrepancy, Kaspersky falls slightly behind the other two top programs but is still one of the best anti-malware options available.
Offers a variety of neatly-packaged functions
Security confirmed by test labs
Review Score
09/2021
excellent
Visit Website
Installation & Usage
4.7 / 5
Security & Performance
4.3 / 5
Nearly all other programs that we evaluated achieved good overall scores, despite the odd issue here and there. The only exception to this was 360 Total Security, which has not been reviewed by the test labs owing to a dispute and disappoints with its poor support. In the middle of the anti-malware pack, you can easily find programs that afford excellent, test-lab-verified security, such as Avira Antivirus. Others, like ESET performed less well with the test labs, but still provide solid user experiences.
All alternatives to our Top 3 can be found here:
Avast überzeugt mit einer Gratis-Version, die bereits die wichtigsten Funktionen abdeckt. Lediglich bei der Performance gibt es leichte Abzüge.
Plan
Devices
Protection Features
Premium Features
Avast Free
$0.00
Visit Website »
Download for Free
intuitive Benutzeroberfläche
keine Firewall oder Webcam-Schutz
Plan
Devices
Protection Features
Premium Features
Trend Micro Antivirus+
$29.95
yearly price
Visit Website »
free version with basic protection
freely configurable scans
weak performance in test lab
no ransomware protection for free users
Plan
Devices
Protection Features
Premium Features
Avira Free
$0.00
Visit Website »
Download for Free
simple and intuitive interface
many configuration settings
Plan
Devices
Protection Features
Premium Features
ESET NOD32
yearly price
Visit Website »
30 Days Free Trial
Malware is more clever, fast, and deceptive than ever before, all of which make having effective protection against it relevant for anyone using the Internet. If you opt for third-party software, you can't go wrong with any of the programs we've suggested: Each offers excellent protection, a wide variety of functions, and reliable support.
Although not nearly as expensive as buying a car or a house, selecting an anti-malware program isn't just a question of maximizing what you want, but rather, finding a practical solution that doesn't break the bank. Choosing the right program is easy with the help of our comparison calculator, as it allows you to sort through providers on the basis of price, features, and other conditions.
What is an Anti-Malware Program?
An anti-malware program protects your computer, laptop, and/or smartphone against malicious software of any kind, including viruses, Trojans, ransomware, spyware, and adware. Anti-malware programs allow you to scan your device or computer for threats that have already established themselves, while real-time protection monitors your system in the background, responding to any dangers which may appear.
Do I Need Protection Against Malware?
Every system should have some sort of protection against malware installed. Whether pre-installed software, like Windows Defender, is adequate, depends largely on your requirements and needs. Premium, third-party programs offer additional security features and often provide access to extras such as a VPN, parental controls, or a password manager, making them one-stop-shops for constructing a digital defense.
What Is the Difference Between Antivirus and Anti-Malware?
Strictly speaking, all viruses are malware, but not all types of malware are viruses. Both terms have grown increasingly synonymous with one another as digital threats have diversified.
What Is the Best Anti-Malware Program?
During EXPERTE.com's evaluation of 11 of the most popular anti-malware programs, Bitdefender secured first place owing to its impressive provision of security, top performance, intuitive interface, and lengthy catalog of features. Norton and Kaspersky carved out 2nd and 3rd place, respectively. Determining which software is best depends largely on your budget, as well as your requirements.

Author (German Version): Martin Gschwentner
Martin Gschwentner majored in American Studies and Media Studies in Germany, the USA and France and works as a freelance editor in Paris. He is a doctoral student at the Institute for English and American Studies at the University of Paris Diderot, where he is researching the influence of money on US politics. On EXPERTE.com he writes about IT security, data protection and software for the self-employed and small businesses.

Translator & Editor: D Bare