Best Anti-Malware 2023: Comparing 15 Malware Scanners

Is your computer slower than usual? Have your disks become full despite not downloading any new files? Do pop-ups appear on your desktop even when you're not browsing the Web? Any of these can be a symptom of a malware infection on your system, however, unfortunately, not all types of malware make their presence known so tellingly.
With anti-malware software, you can rest easy knowing that everything on your computer is functioning as it should be. The selection of programs offering these capabilities is large, but we've looked at 15 of the best for you, evaluating them from head to toe. Below, we'll introduce you to our Top 5 picks.
Malware, the portmanteau of "malicious software" is a broad term that encompasses dangerous programs like viruses, Trojans, or ransomware, all of which operate on your computer without your best interests in mind. The terms antivirus and anti-malware are similar, whereby all viruses are malware, but not all malware are viruses. With this little difference aside, each program in our evaluation, depending on the subscription package chosen, protects against every type of malware, whether a virus or not. Below, we'll introduce you to which of these, at least in our eyes, do that best.
1.
Bitdefender Anti-Malware
Our 'best in test' antivirus program Bitdefender boasts strong security, confirmed by independent test laboratories, along with a flawless user interface and a comprehensive set of features.
configurable quick actions
good support with 24/7 live chat
9.6

excellent
Plan
Devices
Protection Features
Premium Features
Bitdefender Antivirus Plus
$23.99
yearly price
Visit Website »
Bitdefender ⇱ is the gold standard when it comes to anti-malware software. From its sleek user interface, which allows users to add or remove quick actions based on their needs, to its impressive provision of security, and its excellent 24/7 live support chat, we loved pretty much everything about the program.
Turning to features, there's no disappointment either: Along with basic scans and real-time protection, the Romanian anti-malware program also includes a firewall that allows you to set exceptions for each program installed on your system, as well as a password manager. Most subscriptions to Bitdefender also provide access to a VPN as well. And, last, but certainly not least, Bitdefender has a mobile app too.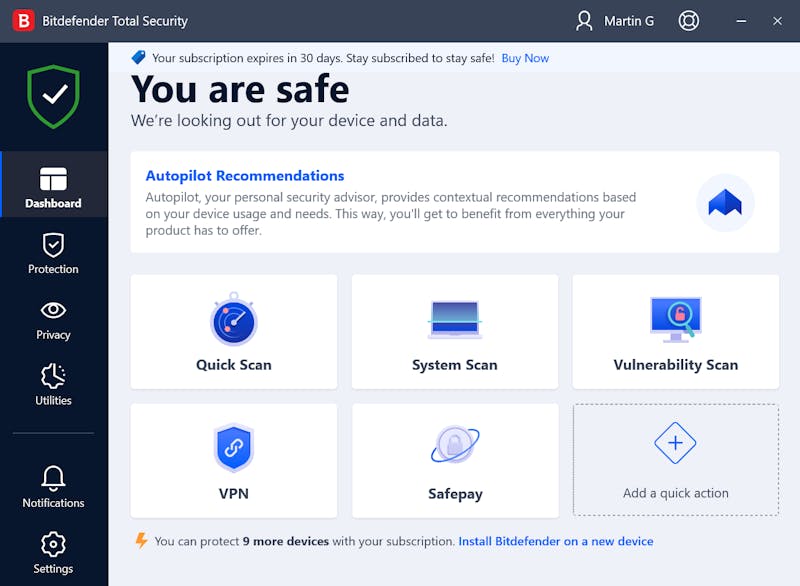 The quick actions in Bitdefender's user interface can be customized to your exact preferences.
Further security features can be accessed via the Web dashboard, and include an anti-theft command center which doubles as a hub for parental controls These allow you to GPS locate registered devices, remotely delete data, view an IP address, or monitor your children's Internet browsing and set limitations for them.
The testing labs that we rely on for our evaluations unanimously affirm Bitdefender's security and performance, awarding the software maximum points in both areas.
With its variety of features, high degree of security, and nearly perfect user interface, Bitdefender impresses across the board.
Excellent testing lab results

Configurable quick actions

Solid 24/7 live support chat
Installation & Usage
10 / 10
Security & Performance
9.4 / 10
Kaspersky Internet Security is a user-friendly antivirus tool with a ton of features. However, some Western governments are currently warning against its use.
keylogging & webcam protection
some governments warn against use
9.1

excellent
Plan
Devices
Protection Features
Premium Features
Kaspersky Antivirus
yearly price
Visit Website »
Free Trial Version
Kaspersky ⇱ also expertly navigates the tricky balance between providing a wealth of features in a user-friendly package. The program allows users a freer hand in configuring scans than most of its competitors do, with its scheduling options particularly convenient and practical.
Real-time protection ticks all of the proverbial boxes, making it possible for users to complete secure payments and transactions, and receive webcam protection in addition to the more standard features. Depending on your subscription, you'll be afforded access to extras like a password manager, cloud backups, parental controls, or an in-house VPN.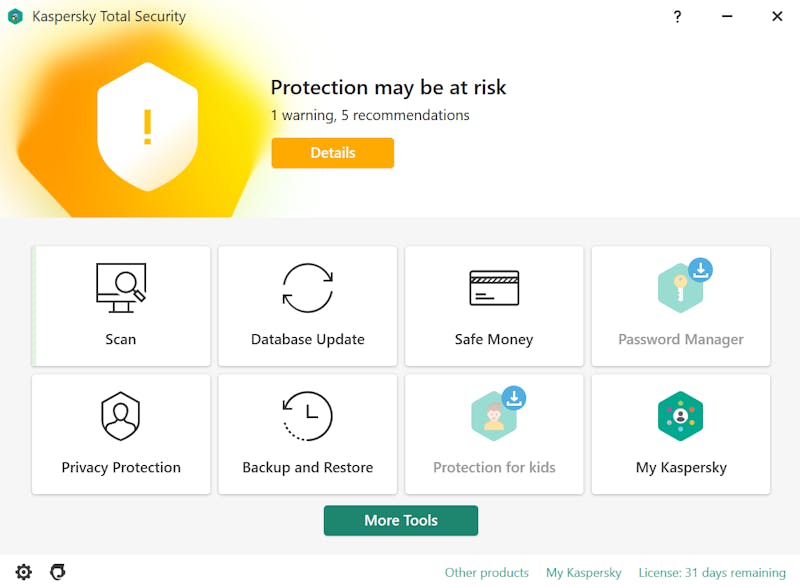 Kaspersky is one of the biggest names when it comes to anti-malware software.
Kaspersky performed well with the testing labs, however, it couldn't match Bitdefender's scores. AV-Test awarded it perfect scores in security and performance, but AV-Comparatives wasn't as impressed with its provision of security.
Owing to this discrepancy, Kaspersky falls slightly behind Bitdefender in our ranking but is still one of the best anti-malware options available.
Quick to set up and intuitive to use

Comes with plenty of features, all of which are neatly arranged

Security verified by testing labs
Installation & Usage
9.4 / 10
Security & Performance
8.6 / 10
Avast impresses with a great free version covering all the essentials, and a huge set of features that offer well-rounded antivirus protection and some nice extras. Scans can slightly impact performance, however.
Sandbox and WiFi-Inspector
scans can impact performance
8.6

good
Plan
Devices
Protection Features
Premium Features
Avast Free
$0.00
Visit Website »
Download for Free
Avast Antivirus likewise only suffers from a few shortcomings: Its support isn't as forthcoming as that of its competitors and a full system scan had a noticeable impact upon our computer's performance. We should note, however, that the testing labs found its performance to be excellent.
Apart from those minor issues, our experience with Avast was a positive one: A nice selection of features are on offer, one of the most interesting of which is the practical "Sandbox", in which you can open suspicious programs or files without causing damage to your system. The "Wi-Fi Inspector" also stood out as another nifty tool. The best part? Everything was packaged in a nice user interface.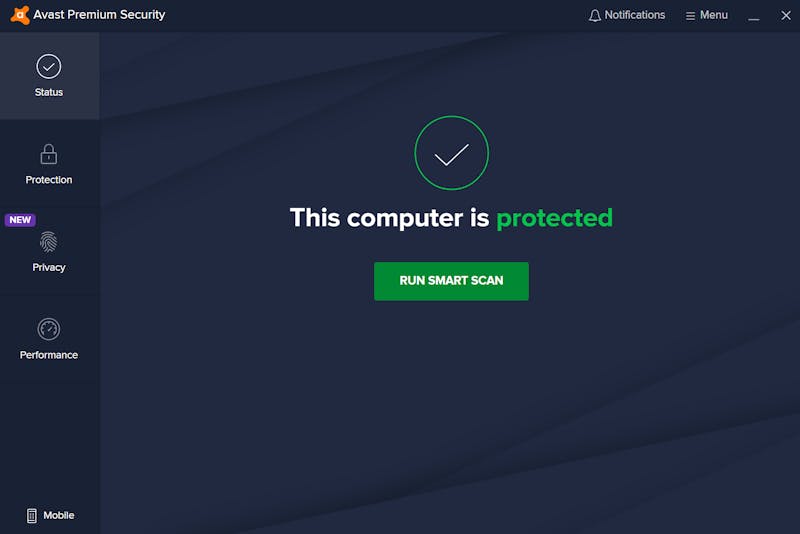 When everything is green on the status screen, your computer is protected.
That a free version of Avast is offered, providing basic antivirus protection, is just the figurative cherry on top. Whether free or premium: Avast offers one of the best antivirus programs on the market.
Plenty of features and easy to use

Highly-functional free version
Installation & Usage
9.4 / 10
Security & Performance
8.0 / 10
With its robust set of features, lean applications, and a 100 % antivirus guarantee, Norton Antivirus is definitely worth a look. Sadly, the testing labs aren't unanimously impressed, and one or two features are missing.
learn, user-friendly apps
customizable child protection
100 % antivirus guarantee
8.4

good
Plan
Devices
Protection Features
Premium Features
Norton Antivirus Plus
$19.99
yearly price
Visit Website »
Norton ⇱ has long been one of the biggest names in anti-malware, and its good reputation is not undeserved: The complete security solution offers excellent performance, packaged in a highly elegant and intuitive application.
In terms of features, Norton does lose out to Bitdefender though: Some features, like extra protection for online banking or a dedicated secure browser, aren't included, while a file shredder needs to be paid for on top of the subscription price, even for the most expensive packages. Apart from these missteps, Norton offers a number of features that cover pretty much all of the bases.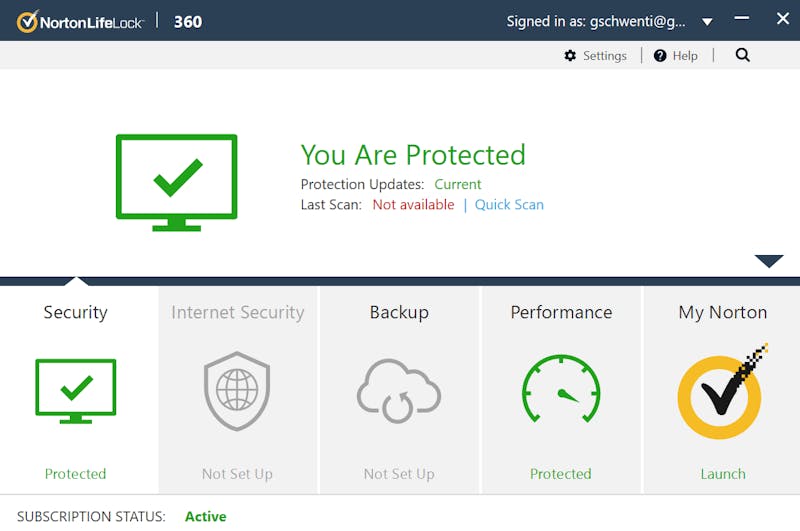 Norton's highly-intuitive user interface is divided between five modules.
Mac users should be careful though since Norton limits certain features, like webcam protection, cloud backup, or parental controls to its Windows versions. The provider's VPN and password manager are included on both Mac and Windows, however.
In terms of what sort of protection Norton provides, the testing labs were of different opinions: For AV-Comparatives, the American software registered too many false positives, leading to a disappointing protection rate. AV-Test awarded the program maximum points, however.
Elegant and intuitive application

Comes with a full-fledged password manager and VPN
Installation & Usage
8.6 / 10
Security & Performance
8.0 / 10
5.
Trend Micro Anti-Malware
Trend Micro delivers a solid overall antivirus package with lots of features and some nice extras, such as social media protection. However, the testing labs are a bit divided on the reliability of its protection.
Plan
Devices
Protection Features
Premium Features
Trend Micro Antivirus+
$19.95
yearly price
Visit Website »
Trend Micro outfits its users with all of the antivirus basics in a user-friendly dashboard, from which it's possible to do nearly anything with only a few clicks. Alongside the usual suspects (ransomware protection, a file shredder, and an email watchdog), you'll also find practical features such as social network security and PC tuning. Rounding things out are the service's multiple support channels.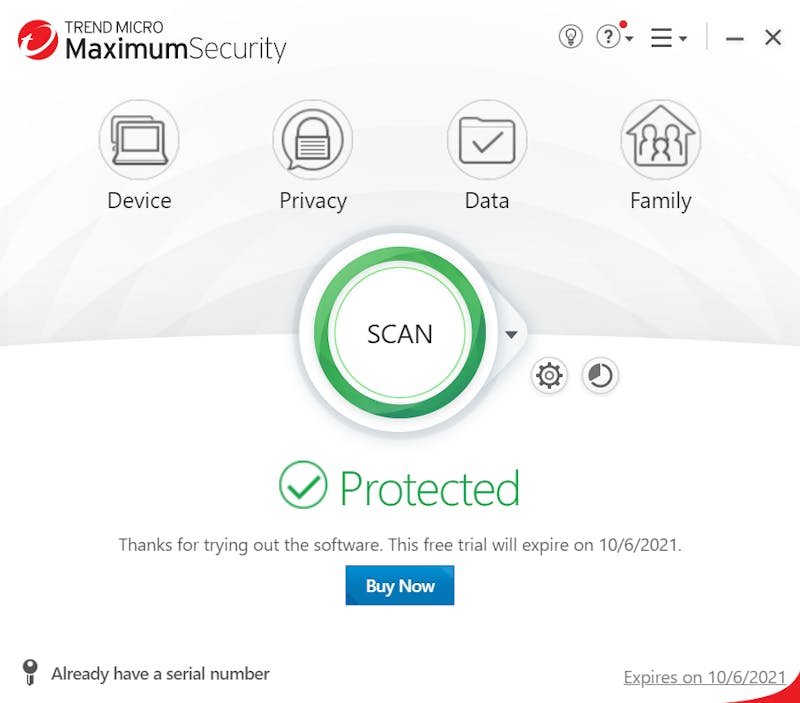 Trend Micro might be less of a household name than some of the other services in our Top 5, however, this has no correlation to its capabilities.
Trend Micro also did well with the testing labs, even though AV-Comparatives noted a slightly higher-than-average number of false positives. Likewise in the negatives column are the absence of a few typical anti-malware features, such as a VPN, a firewall, or webcam protection. Should you be able to live without these, Trend Micro represents a solid choice.
Provides good protection and performance according to the testing labs
Installation & Usage
9.4 / 10
Security & Performance
8.6 / 10
Alternatives
Most of the programs from our sample managed to achieve a good overall score, despite the odd shortcoming here and there. Only a few, like Malwarebytes, BullGuard, and 360 Total Security received noticeably poorer scores from the testing labs than the rest, but even then, we rated these as performing satisfactorily.
Some of the anti-malware programs that barely missed this list were F-Secure and Panda Security, both of which received excellent security scores from the testing labs. Others, with aesthetically pleasing user interfaces, like ESET Antivirus, lost out owing to their mediocre testing lab results.
You can find a list of all alternatives to our Top 5 below:
G Data offers virus protection "made in Germany" with solid test lab scores, lots of customization, and great support. The user interface, however, could use a facelift.
many configuration options
interface somewhat outdated
test lab scores "only" solid
8.4

good
Plan
Devices
Protection Features
Premium Features
G Data Antivirus
yearly price
Visit Website »
F-Secure focuses on the essentials and delivers reliable protection from most malware, as demonstrated by its results in the testing labs. But some features, such as webcam protection, are missing.
Plan
Devices
Protection Features
Premium Features
F-Secure Internet Security
yearly price
Visit Website »
Panda Security isn't as feature-rich as the competition, but it offers good protection, backed by solid results in the testing labs. Its free tier is worth a look.
Plan
Devices
Protection Features
Premium Features
Panda Security Free
$0.00
Visit Website »
McAfee leaves a good overall impression, thanks to solid test lab results and an impressive range of features. Sadly, the speed and quality of its support couldn't keep up.
somewhat clunky interface
missing features (webcam protection,..)
7.8

good
Plan
Devices
Protection Features
Premium Features
McAfee Total Protection (Plus)
$39.99
yearly price
Visit Website »
With its solid free tier, AVG offers basic protection for everyone – while paying customers get a huge set of features that covers all your basic anti malware needs and more. Sadly, AVG's support isn't great.
Plan
Devices
Protection Features
Premium Features
AVG Free
$0.00
Visit Website »
Download for Free
With highly configurable manual scans, solid test lab results, and a huge set of features (including VPN and password manager), Avira is a reliable, easy-to-use all-rounder in the antivirus space.
free version with basic protection
freely configurable scans
7.6

good
Plan
Devices
Protection Features
Premium Features
Avira Free
$0.00
Visit Website »
Download for Free
ESET comes with lots of customization and a few handy extra features, such as its Scheduler. Sadly, testing labs aren't unanimously convinced of the program's protective powers.
simple and intuitive interface
many configuration settings
extras such as UEFI scanner
7.6

good
Plan
Devices
Protection Features
Premium Features
ESET Essential Security
yearly price
Visit Website »
30 Days Free Trial
How We Tested
As is the case with all EXPERTE.com software reviews, we award each program a single score which is comprised of four partial scores in the following areas:
Installation & Usage
How much time does it take to download and install the program? Is it easy to find everything in the software's interface? We go step-by-step through the entire installation process of each program we assess, letting you know what you can expect.
We look favorably upon programs that are offered either in freemium or free trial versions. For the latter, these should be available without inputting a payment method. Generally speaking, software downloads should be easy to find, take as little time as possible, and not load bloatware or unwanted programs onto a system.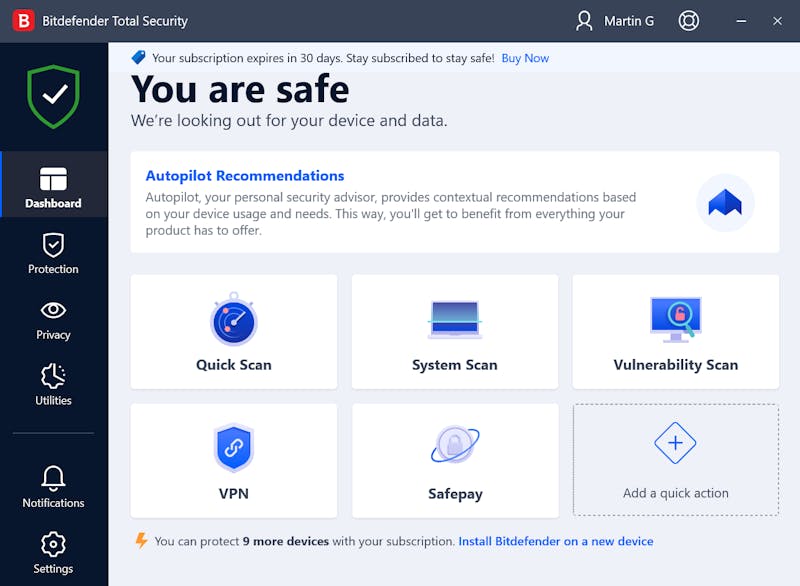 We particularly liked Bitdefender's user interface owing to the ability to customize the program's quick actions.
User interfaces should be intuitive with the features on offer easy to find, requiring no more than a few clicks to access. Important components, like scans, should be accessible directly from the start or home screen. Users lacking in technical knowledge should be able to effectively use the software out of the box, however, we also like to see enough configuration options for enthusiasts to sink their teeth into.
Features
Every anti-malware should come with a few standard features for protecting your computer or device. However, apart from these, there exist a number of extras that a provider can offer. Because the threats for PCs and mobile devices differ, apps for the latter should come with a few additional tools.
We place particular emphasis on the following:
Security Features
Scans
Scans check your computer for threats that have managed to find their way onto your system. Most anti-malware programs from our sample offer smart scans, which quickly assess the most important areas of your system. Full scans or user-defined scans (of specific drives, folders, or files) are also common. It's important that users can configure and customize scans (and their scheduling) to a considerable degree.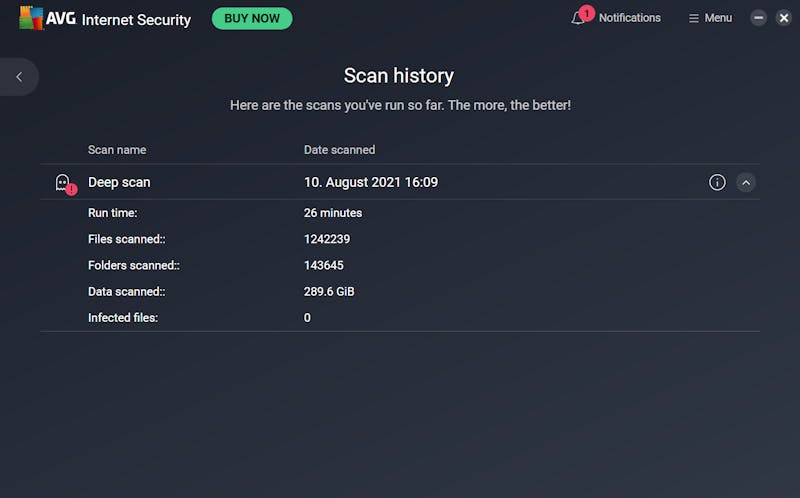 With many programs, such as AVG (pictured above), you can create different scan profiles and schedule them in advance.
Real-time protection
Anti-malware programs should also proactively defend your system against threats before they can burrow into it. Here, it's important that adequate defenses exist against viruses, malware, keyloggers, and other types of malware.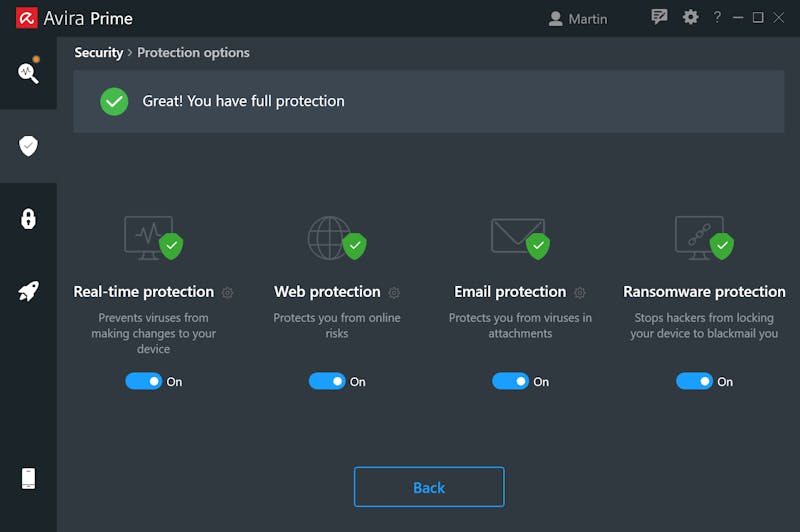 With most programs, it's possible to toggle specific real-time protection shields on or off.
The most important real-time protection shields often have their own areas of the dashboard, where additional configuration options are available. These include:
Ransomware protection

Alternatively known as extortion Trojans, ransomware is a particularly nasty kind of malware that works by encrypting your files and demanding a pay-off for the decryption key (which you should, under no circumstances, ever pay). The more levels of ransomware protection a program has, the easier it can identify and neutralize these threats in a timely manner.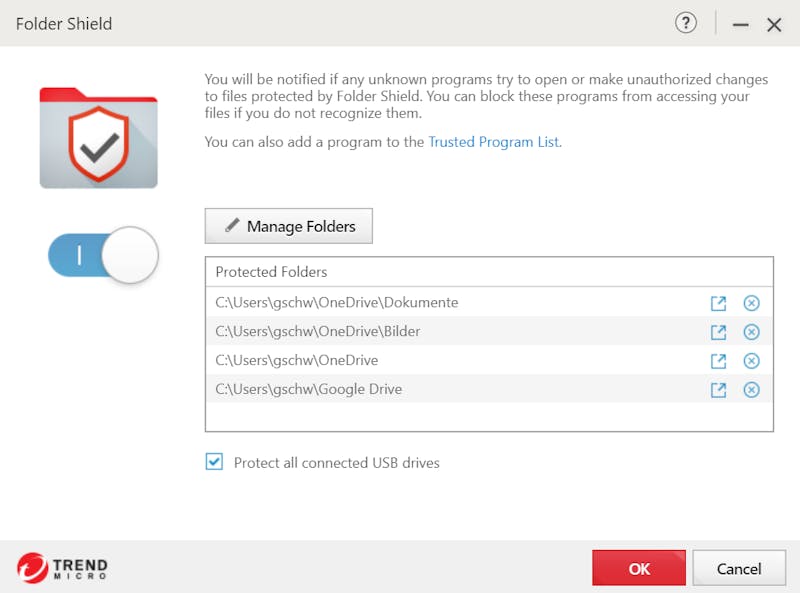 Trend Micro offers a "Folder Shield", with which you can secure specific folders against ransomware.
Internet security

Your anti-malware software should also warn you against visiting suspicious websites or downloading dangerous files. To do this, some programs from our sample offer browser extensions or even browsers for secure banking and online shopping.

Email protection
One of the favored routes for malware to find its way onto a system is via email attachments or links. Should your anti-malware software possess email protection, it will filter out this sort of content as well as spam.

Webcam protection
You can tear off the duct tape: Webcam protection prevents unauthorized access to your webcam and microphone.
That covers the basic features we look for. Most anti-malware programs go beyond this, offering users far more.
Premium features
Firewall
More and more anti-malware software comes with integrated firewalls with which users can set rules for all incoming and outgoing data traffic on their network. These help to identify and block unauthorized access.

VPN access

VPNs make it possible to

anonymously and safely surf the Web

and circumvent geographic content restrictions by hiding your location, encrypting your data, and

masking your IP address

. In contrast to standalone programs, the VPNs that come with anti-malware software often have strict data limits or fewer server locations. There are some exceptions to this as a few of the pricier subscription packages do include full-fledged VPNs.

Password managers

Think of a password manager like a digital safety deposit box, in which you can store your username/password combinations, credit card information, and other sensitive data, such as copies of your passport or driver's license. A number of anti-malware developers have recognized that their customers want more security for their data and as such, have integrated password managers into their subscription packages. Similar to the VPNs, however, these password managers are, more often than not, inferior, in terms of quality, to dedicated solutions.
Adblocker

Anti-malware programs often block ads or annoying pop-ups.

Data/file shredder
Files that you delete can often be retrieved or restored with relative ease. Data shredders ensure that deleted files are gone forever.

Cloud backups

On the flip side, some anti-malware software also comes with protection against unintended data loss, allowing users to back up their entire system or specific folders.

Performance tuning
Optimization tools help to improve your computer's performance by deleting unused files or speeding up your boot time by removing programs from the autostart list.

Parental controls
Should you want to monitor your children's Internet consumption, you can with parental controls. Using these, all you'll have to do is make a profile for each child, with which you can then block types of content or even specific websites. Typically, these also make it possible to GPS locate your children via their devices.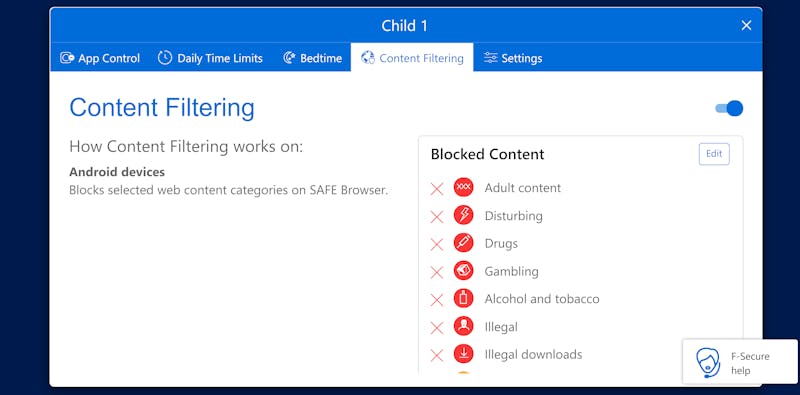 With parental controls you can set what sort of content and websites users of the device in question have access to.
Mobile Features
As mentioned above, other features are designed for mobile devices, including:
App-lock
With this, you can add a second layer of security, such as a PIN code or fingerprint scan, to specific apps.

Anti-theft tools
Smartphones are far easier for thieves to make off with than laptops or PCs. With anti-theft tools, anti-malware programs limit the amount of damage that inadvertent loss of your mobile device can cause. You can set an alarm to activate whenever a new SIM card is input, GPS locate your device, remotely delete files, or lock your device. Some programs even include a camera trap, which allows you to (secretly) take a picture of the person holding your phone.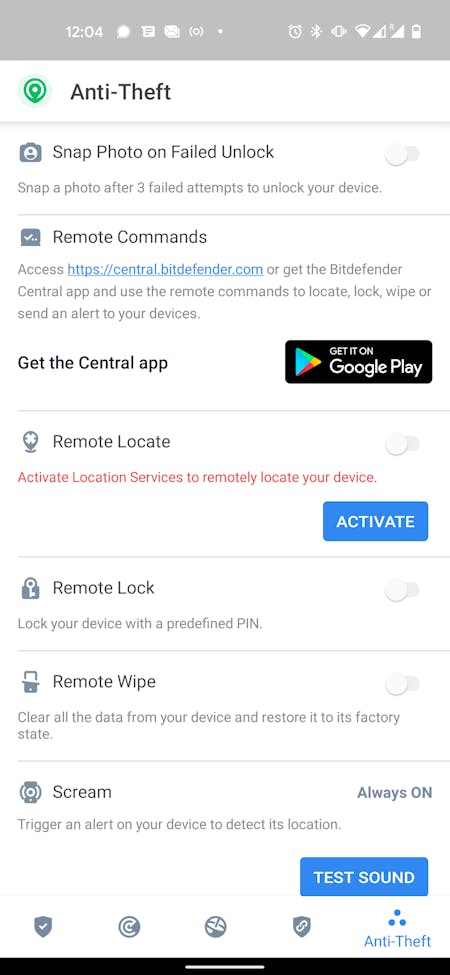 With Bitdefender's smartphone app you can remotely locate, lock, or even delete files from stolen or lost devices.
Security & Performance
Even the most user-friendly app with an awe-inspiring impressive package of features will mean little if the software's anti-malware engines are not up to the task of identifying and neutralizing the most complicated threats. Thankfully, there exist independent testing labs that regularly assess how reliable most of the programs featured in our sample are at protecting users against malware.
Specifically, we rely on the testing results from AV-Test ⇱ and AV-Comparatives ⇱, each of which regularly awards scores in the areas of security and performance. Security is measured largely on the number of false positives and the general identification rate for threats that a program demonstrates.
For performance, we also add our own two cents by relating how our computer performed while a full scan was running in the background. Should we have noticed lag or been otherwise hampered while performing routine tasks (such as opening a browser, copying and pasting text, etc.), we'll let you know in this part of our assessment and deduct points accordingly.
Generally speaking, the two testing labs awarded all of the anti-malware programs from our sample good-very good scores in terms of both security and performance. During our most recent evaluation, Bitdefender scored highest in both categories.
Support
Should a user have questions or problems with their anti-malware software, there are generally two solutions: Find an answer on their own, or consult with the developer's support staff. For the first group, a developer should make sure that they offer comprehensive handbooks, guides, and FAQs in an easy-to-navigate help center. Forums are also a nice touch.
For the latter group, at the very least, the developer should offer a contact form, email, or support ticket system. Beyond that, we also like to see a live chat or hotline, ideally staffed as often as possible. In a perfect world, the developer offers everything, as is the case with Norton: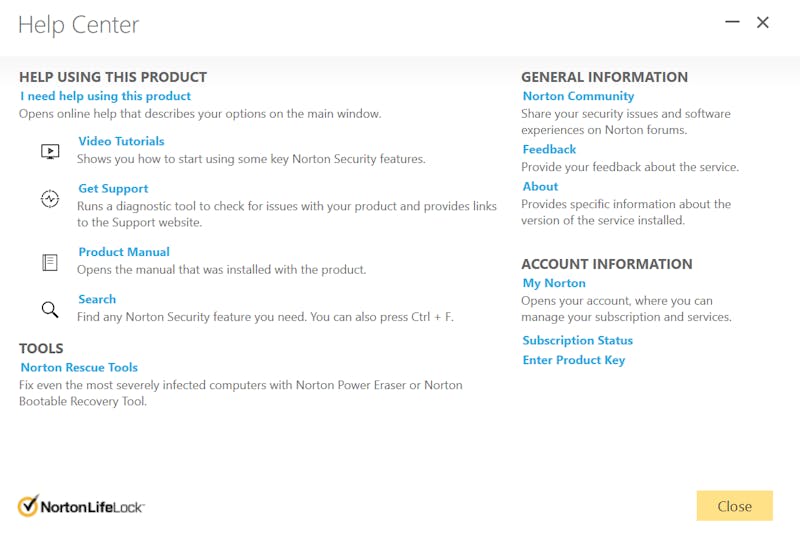 Norton scored high in terms of support with us thanks to its excellent help center and multiple live support channels.
Conclusion
Malware is faster, more clever, and more deceptive than ever before, all of which make having effective protection against it essential for anyone using the Internet. If you opt for third-party software, you can't go wrong with any of the programs we've assessed: Each offers excellent protection, a wide variety of features, and reliable support.
Although not nearly as expensive as buying a car or a house, selecting an anti-malware program is also more than just a question of maximizing what you want, since you should also find a practical solution that doesn't break the bank. Choosing the right program is easy with the help of our comparison calculator, which allows you to sort through providers on the basis of their price, features on offer, and other conditions.
FAQs
What is anti-malware software?
⊖
An anti-malware program protects your computer, laptop, and/or smartphone against malicious software of any kind, including viruses, Trojans, ransomware, spyware, and adware. With anti-malware software, you can scan your device or computer for threats that have already established themselves, while real-time protection monitors your system in the background, responding to any dangers which may arise.
Do I need protection against malware?
⊖
Every system should have some sort of protection against malware installed. Whether pre-installed software, like Windows Defender, is adequate, depends largely on your requirements and needs. Premium, third-party programs offer additional security features and often provide access to extras such as a VPN, parental controls, or a password manager, making them one-stop-shops for constructing a digital defense.
What Is the difference between antivirus and anti-malware?
⊖
Strictly speaking, all viruses are malware, but not all types of malware are viruses. Both terms have grown increasingly synonymous with one another as digital threats have diversified.
What is the best anti-malware program?
⊖
During EXPERTE.com's evaluation of 15 of the most popular anti-malware programs, Bitdefender secured first place owing to its impressive provision of security, top performance, intuitive interface, and sizable catalog of features. Kaspersky and Avast's anti-malware software took second and third place, respectively. Deciding which software is the best depends largely on your budget and feature requirements.

Martin Gschwentner majored in American Studies and Media Studies in Germany, the USA and France and works as a freelance editor in Paris. He is a doctoral student at the Institute for English and American Studies at the University of Paris Diderot, where he is researching the influence of money on US politics. On EXPERTE.com he writes about IT security, data protection and software for the self-employed and small businesses.

Translator & Editor: D Bare
Continue Reading