The 3 Best Free Antivirus Programs
Can you put a price on security? In terms of antivirus programs, only in some cases. Windows users can use Windows Defender, which is more than adequate and comes pre-installed on every computer that uses the operating system. Dedicated third-party software with advanced security features doesn't need to break the bank though (or even tap at its door). We evaluated 11 antivirus providers, some of which offer free versions of their software. Below, we'll show you which of these impressed us the most.
Each of our Top 3 is freemium software, that is, a basic version of a program that is offered free of charge in the hope that users will be enticed to purchase subscriptions to unlock additional features. Set against "full" versions, freemium software often lacks certain features and almost always doesn't include extras, all of which we've taken into consideration during our review.
Avast überzeugt mit einer Gratis-Version, die bereits die wichtigsten Funktionen abdeckt. Lediglich bei der Performance gibt es leichte Abzüge.
Plan
Devices
Protection Features
Premium Features
Avast Free
$0.00
Visit Website »
Download for Free
Avast Antivirus received good scores from the test labs, making a positive impression in terms of both security and performance, the two areas where an antivirus program should do well. Its wide variety of features delighted us, even though many of these are limited or inaccessible in the free version. In terms of basic security features, the program offers free real-time and ransomware protection but lacks Internet, email, or webcam protection for all but premium users.
The free version of Avast also comes with a password manager, however, all other extras, from a firewall to a file shredder, are limited to paying customers. The software's mobile app is also free and allows you to GPS locate your devices, or remotely lock them; additional features like an app-lock or "camera trap" are reserved for subscribers.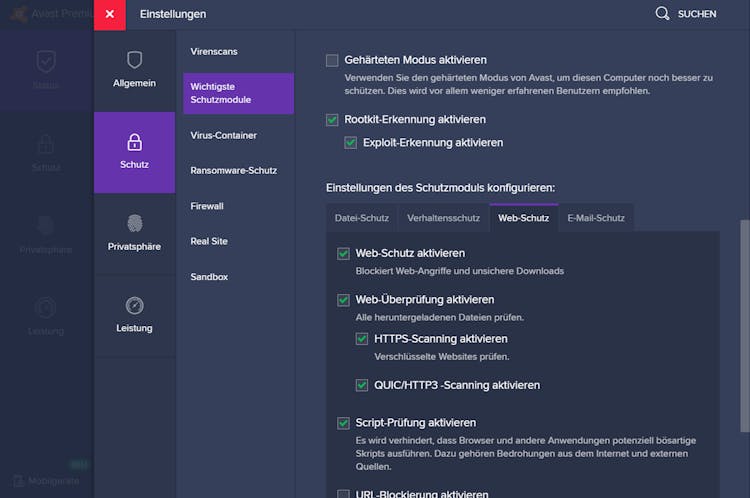 In terms of live support, free users are definitely reminded of their status: Only paying customers can open support tickets, while everyone else needs to hope that emails they send are answered by kindly support staff. On the other hand, the program's support center, with its Academy for Online Threats is so extensive that we really wonder if it's necessary to contact support at all.
There are enough things missing from the program to convince free users to cough up for a premium subscription, however, Avast does include the most important features free-of-charge both on mobile devices, and in the desktop app, in a user-friendly package.
Essential features are free
Offers a good degree of security
Authoritative support center
Installation & Usage
4.7 / 5
Security & Performance
4.0 / 5
Sophos Home offers free real-time and Internet protection for PCs, however, in contrast to Avast, limits access to its ransomware protection. The free software also doesn't dole out any extras, like a firewall or password manager, however, even paying customers have to do without these since Sophos concentrates strictly on the basics.
"Sophos Intercept X" is not a mobile version of "Sophos Home", but it does offer Android and iOS users a free mobile security app from the same developer. Along with several basic security features, including app lock, the program also includes a rudimentary password manager and can be used as a multi-factor authenticator.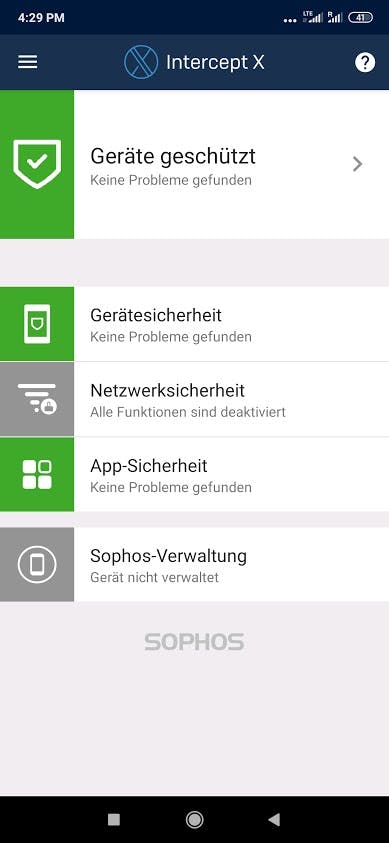 Gauging the level of security afforded by "Sophos Home" is difficult since the test labs that we refer to in our evaluations haven't reviewed the software for quite a while. Nevertheless, those results were positive, and more recent evaluations of the developer's enterprise solutions have commended their excellent security standards.
Altogether, "Sophos Home", featuring a user-friendly cloud-based dashboard, is a solid antivirus program that offers more than adequate security, even in its freemium version.
Can be installed on up to three devices
Intuitive cloud-based web interface
Security & Performance
4.3 / 5
Installation & Usage
3.3 / 5
free version with basic protection
freely configurable scans
weak performance in test lab
no ransomware protection for free users
Plan
Devices
Protection Features
Premium Features
Avira Free
$0.00
Visit Website »
Download for Free
Did we save the best for last? At least in terms of the test labs, we did, with Avira Antivirus outperforming both of the above programs in recent tests of its security and performance. For example, in the latest real-world protection test carried out by AV-Comparatives, the program identified 100% of malware, and that without a single false positive.
In terms of features, Avira is similar to Avast, offering real-time and email protection for desktop users, as well as GPS-location and remote locking for mobile devices at no cost. If you're looking for anything else though, be ready to pay. Extras like a password manager are reserved for subscribers.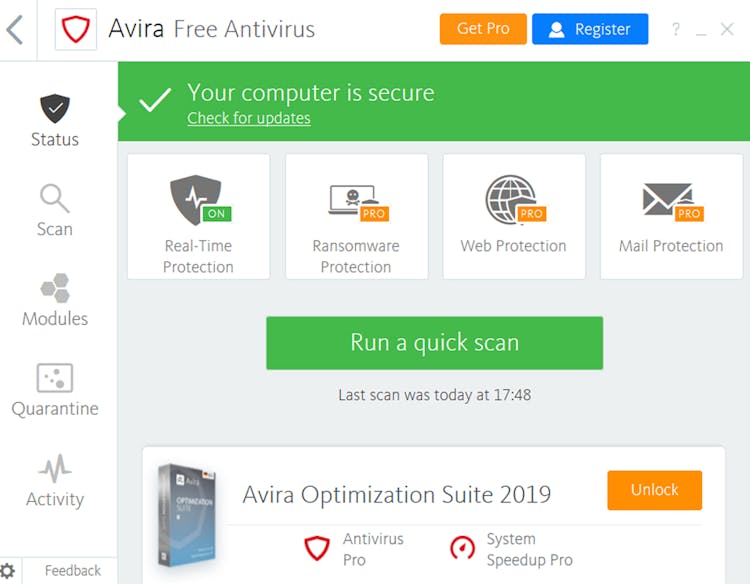 One of our biggest problems with Avira was its user interface, which looks cluttered, and seemed to serve more as an advertising billboard for other products in the developer's portfolio than an antivirus command center. In the same spirit, during installation, Opera, a browser, is automatically installed and cheekily sets itself as your default browser.
For those who can live with bloatware, Avira Antivirus offers its users a competent antivirus program at an unbeatable price.
Basic features included in the free version
Offers good security and performance
Installation & Usage
4.7 / 5
Security & Performance
3.0 / 5
Bitdefender
So long as the price is good, can we sneak one premium product in? An "Antivirus Plus" subscription to our winner, Bitdefender costs about $2.50 per month (one-year subscription, $29.99 as of October 15th, 2010). For this, you'll receive access to significantly more features than any of the three programs above, including ransomware and Internet protection, an adblocker, and a data shredder, all packaged in a nearly perfect user interface. In terms of security and performance, we'd also like to point out that Bitdefender was awarded maximum points by the independent test labs.
excellent protection results
configurable quick actions
good support with 24/7 live chat
Our test winner Bitdefender not only offers high security, confirmed by independent test laboratories, but also convinces with its flawless usability and a comprehensive feature package.
Plan
Devices
Protection Features
Premium Features
Bitdefender Antivirus Plus
$29.99
yearly price
Visit Website »
AVG Antivirus
AVG Antivirus impressed with its intuitive app and robust protection, even for free users. We had a major issue with the developer's support though: It took them two weeks (14 days) to answer our support ticket and to make matters worse, the Czech company doesn't offer a hotline or live chat. As long as you don't need help, AVG Antivirus is one of the best free options available, not least owing to its ease of use and high scores in security and performance.
Malwarebytes Antivirus
The free version of Malwarebytes might be the Oliver Twist of antivirus software since we'd tell the developers "Please sir, I want some more". Real-time protection is restricted to paying customers, and only basic scans can be performed in the free version. Test labs also seem to have not paid much attention to the software, with only one of those we rely on rating the program, and even then "only" as satisfactory. Nevertheless, the program is easy to use and provides good support via a live chat.
user-friendly application
solid results in the test lab
pricing easy to understand
noticeable performance issues
Plan
Devices
Protection Features
Premium Features
Malwarebytes Free
$0.00
Visit Website »
Download for Free
Being safe online doesn't need to cost an arm and a leg, and the freemium antivirus programs we've explored above are perfect examples of this. The "cost" of reliable real-time protection, should you be unwilling to fork over any cold, hard cash, is reduced functionality or second-class service. If rudimentary security features are enough for you, a number of interesting and free options are available.
Should you still be undecided, you can check full reviews for all 11 programs in our exhaustive evaluation.
What Does an Antivirus Program Do?
An antivirus program protects your computer, laptop, smartphone, and/or tablet against viruses, Trojans, ransomware, and other malware. A good antivirus program will allow you to both scan and protect your system in real-time, constantly monitoring for threats in the background. Many antivirus programs come with additional security features like parental controls, a VPN, or an adblocker, while for mobile devices, anti-theft measures like GPS location and remote locking or access are highly sought after.
What Is the Best Free Antivirus Program?
Determining what the best antivirus program is depends to a great extent on what your needs and objectives are. The most important criteria (in our mind) are security, performance, user-friendliness, price, support, and presence of a mobile app. In EXPERTE.com's evaluation of free antivirus programs, Avast excelled in all of these categories, winning our evaluation.
Do Free Antivirus Programs Provide Enough Security?
Free antivirus programs offer access to fewer features than their premium counterparts, however, the level of security they provide is the same. Whether or not a free program is adequate enough for your security needs, depends almost entirely on what these are. Should you be able to make do without certain features (like email or webcam protection), free programs can definitely cover all of the security bases.

Author (German Version): Martin Gschwentner
Martin Gschwentner majored in American Studies and Media Studies in Germany, the USA and France and works as a freelance editor in Paris. He is a doctoral student at the Institute for English and American Studies at the University of Paris Diderot, where he is researching the influence of money on US politics. On EXPERTE.com he writes about IT security, data protection and software for the self-employed and small businesses.

Translator & Editor: D Bare