Best Free Antivirus 2023: TOP 8 Free Antivirus Programs


Ad disclaimer:
For links on this page, EXPERTE.com may earn a commission from the provider. This supports our work and has no influence on our editorial rating.
Can you put a price on security? When it comes to antivirus programs, only in some cases. Windows users have the pre-installed and free Windows Defender, which is more than adequate. Still, dedicated third-party software with advanced security features doesn't need to break the bank and can even be free.
We evaluated 15 antivirus solutions, some of which offer free versions of their software. Below, we'll let you know which impressed us the most.
Each of our Top 8 is freemium software. This means that it's a basic, free version of a program offered in the hope that users will be enticed to purchase full subscriptions to unlock additional features. Freemium software often lacks certain features that the full version has, and we've taken this into consideration below.
Avast impresses with a great free version covering all the essentials, and a huge set of features that offer well-rounded antivirus protection and some nice extras. Scans can slightly impact performance, however.
Sandbox and WiFi-Inspector
scans can impact performance
8.6

good
Plan
Devices
Protection Features
Premium Features
Avast Free
$0.00
Visit Website*
Download for Free
Avast Antivirus* received good testing lab scores and made a positive impression in terms of both security and performance, the two areas that matter most for antivirus programs. Its wide variety of features delighted us, even though many are limited or unavailable in its free version. In terms of security standards, the program offers free real-time and ransomware protection - only premium subscribers get web, email, or webcam protection.
The free version of Avast Antivirus includes a password manager, however, all other extras, from a firewall to a file shredder, are limited to paying customers. The software's mobile app is free and allows you to GPS locate your devices, or remotely lock them - additional features like an app lock or camera trap are reserved for subscribers.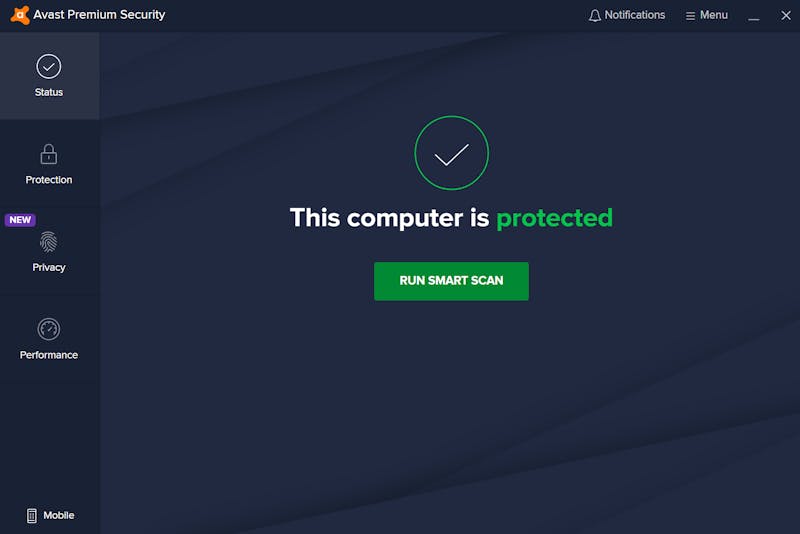 Avast protects against malware at no charge.
In terms of live support, free users shouldn't expect any favors: Only subscribers can file support tickets, while everyone else needs to hope that emails they send are answered by support staff. On the other hand, the program's support center, with its Academy for Online Threats is so extensive that we really wonder if it's necessary to contact Avast's support team at all.
There are enough things missing from the program to convince free users to purchase a premium subscription. At the same time, Avast includes the most essential features in a user-friendly package at no cost both for mobile devices and desktops.
Essential features are free

Offers a good degree of security

Authoritative support center
Installation & Usage
9.4 / 10
Security & Performance
8.0 / 10
Panda Security isn't as feature-rich as the competition, but it offers good protection, backed by solid results in the testing labs. Its free tier is worth a look.
Plan
Devices
Protection Features
Premium Features
Panda Security Free
$0.00
Visit Website*
Panda Security offers Windows users free basic protection. This includes scans and even a VPN (limited to 150 MB of traffic per day). You can also take advantage of a free Android app capable of performing real-time virus scans, locating stolen devices, and assessing what sort of permissions your installed apps have.
More extensive real-time protection modules like ransomware protection, along with a number of Windows and Android features (such as an app lock or call blocking), are limited to paying customers.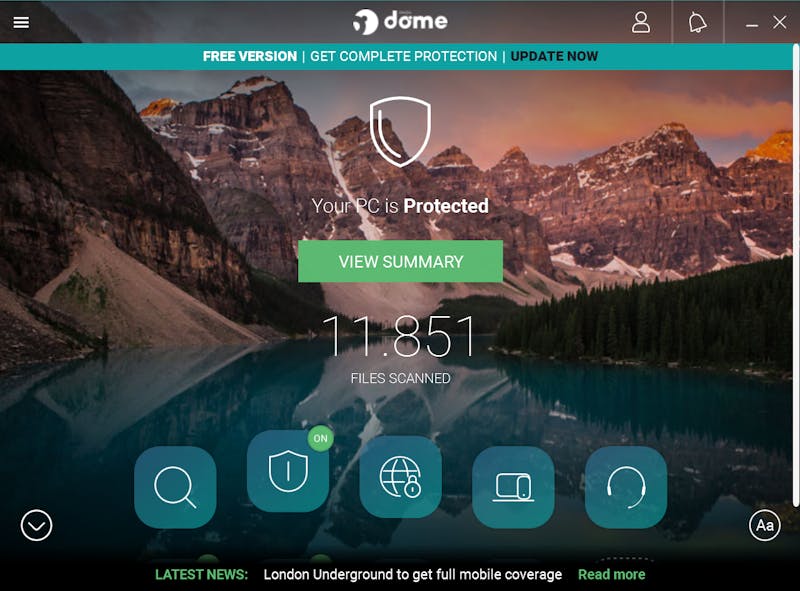 Panda Security offers free versions of its Windows and Android apps.
We felt that Panda Security's user interface was somewhat messy, however, there isn't much else to complain about. The testing labs were impressed with the software and its support is solid. Thanks to its variety of subscription packages, upgrading is easy in case you need more features than you originally thought.
Free protection for Windows and Android users

Free VPN (150 MB of traffic per day)
Security & Performance
8.6 / 10
Installation & Usage
6.6 / 10
Our 'best in test' antivirus program Bitdefender boasts strong security, confirmed by independent test laboratories, along with a flawless user interface and a comprehensive set of features.
configurable quick actions
good support with 24/7 live chat
9.6

excellent
Plan
Devices
Protection Features
Premium Features
Bitdefender Antivirus Plus
$23.99
yearly price
Visit Website*
Bitdefender took the top spot in our antivirus comparison and we think it's the best overall solution on the market. The testing labs awarded maximum scores in security, its desktop and mobile apps are nearly perfect, and the provider offers some of the best support available.
There is a free version of Bitdefender, but only for Windows. Users can perform scans and take advantage of basic real-time protection, which includes ransomware, web filtering, and phishing shields.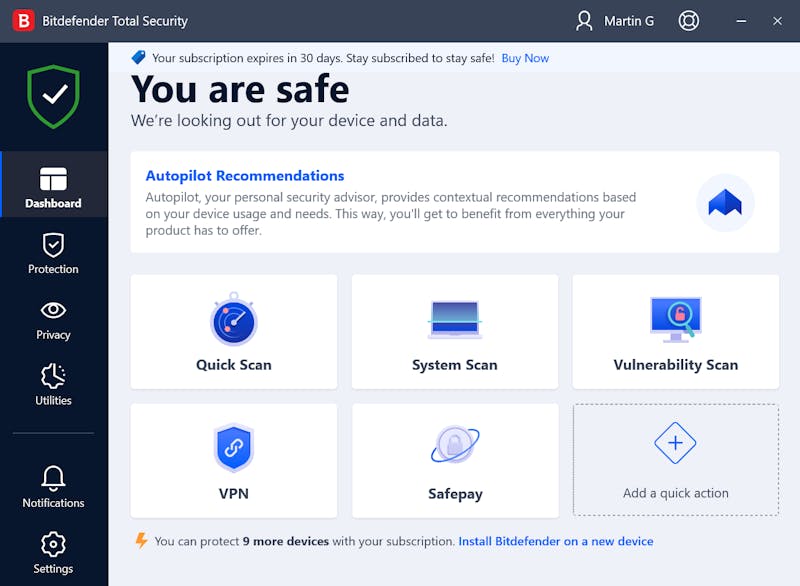 Bitdefender, the best-performing service from our sample provides free protection to Windows users.
There are a few drawbacks in the free version though: It can only be used on a single device and doesn't provide any security for smartphones. In addition, non-subscribers have to make do without more advanced ransomware protection or network threat prevention.
Still, if you're only looking for basic protection on your Windows computer or laptop, Bitdefender Free is an option worth exploring.
Free protection for a single Windows device

EXPERTE.com's top performer

Excellent testing lab scores
Sophos Home scores some points with its generous free tier and its intuitive user interface, but it doesn't have the range of features we expect from a modern antivirus suite.
affordable premium licenses
few options for manual scans
7.6

good
Plan
Devices
Protection Features
Premium Features
Sophos Home Free
$0.00
Visit Website*
Download for Free
Sophos Home* offers free real-time and web protection for PCs, however, unlike Avast, limits access to its ransomware shields. It's also best not to expect any extras, like a firewall or password manager: Sophos focuses on the basics and even paying customers have to make do without them.
The developer's mobile app, Sophos Intercept X is not a 1:1 mobile version of Sophos Home. All the same, it offers Android and iOS users a free mobile solution. Along with several basic security tools, including app lock, the program also provides a rudimentary password manager and can be used as a multi-factor authenticator.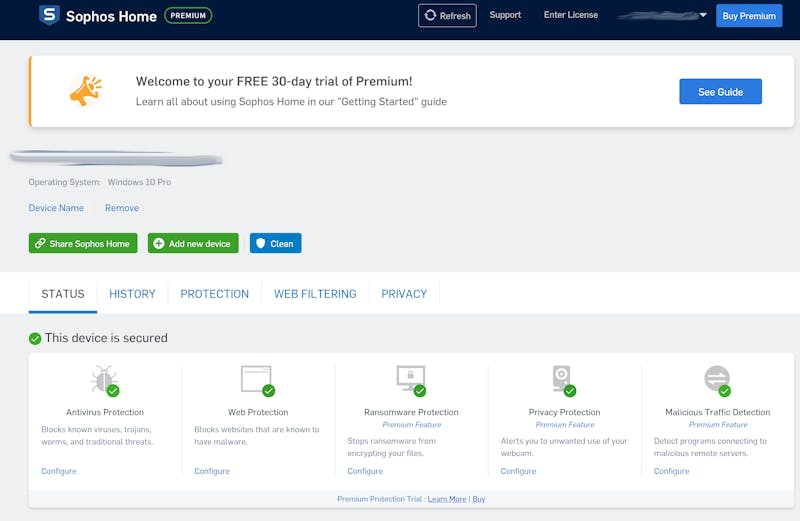 With Sophos Home, you also won't need to pay for any antivirus basics.
It's hard to determine how much security Sophos Home offers since neither of the testing labs that we consult (AV-Comparatives and AV-Test) has recently reviewed the software. Nevertheless, older results were positive, and more recent evaluations of the developer's enterprise solutions have praised their excellent security standards.
Altogether, the free version of Sophos Home, featuring a user-friendly cloud-based dashboard, is a solid antivirus program that offers more than adequate security.
Install on up to three devices

Intuitive cloud-based web interface
Security & Performance
8.6 / 10
Installation & Usage
6.6 / 10
With its solid free tier, AVG offers basic protection for everyone – while paying customers get a huge set of features that covers all your basic anti malware needs and more. Sadly, AVG's support isn't great.
Plan
Devices
Protection Features
Premium Features
AVG Free
$0.00
Visit Website*
Download for Free
The only thing we disliked about AVG was its support since the division between paying and non-paying users is made painfully clear: Free users don't have any way to contact the developer's support staff. Making matters worse, even with a Premium subscription, we waited more than a week for an answer to our question.
Apart from that, the free version is solid and provides access to a range of different scans. Free users also get real-time protection against viruses, ransomware, and other types of malware, along with an email shield. Unfortunately, there are paywalls for other features like webcam or online banking protection.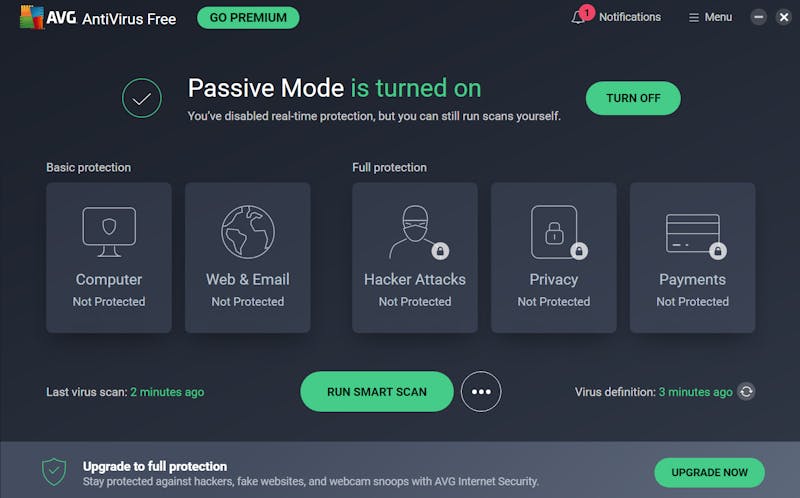 AVG offers free protection to Windows and smartphone users.
AVG's smartphone app is free, however, you will have to put up with ads. In addition to scans and real-time protection, free users can utilize the app's data shredder to permanently delete folders or files, as well as its photo vault, in which you can store sensitive images. Some of the app's anti-theft tools are offered at no charge, whereas a few, like the camera trap, are only available to paying subscribers.
Overall, AVG's free desktop and mobile apps are a solid choice.
Free desktop and mobile protection

Good security and performance
Installation & Usage
9.4 / 10
Security & Performance
8.0 / 10
With highly configurable manual scans, solid test lab results, and a huge set of features (including VPN and password manager), Avira is a reliable, easy-to-use all-rounder in the antivirus space.
free version with basic protection
freely configurable scans
7.6

good
Plan
Devices
Protection Features
Premium Features
Avira Free
$0.00
Visit Website*
Download for Free
Avira's breadth of features is similar to that of Avast and includes real-time and email protection on the desktop, as well as remote device location and locking in the mobile app. If you're looking for more than that, like a password manager, you'll have to pay. On another sour note, Avira's most recent testing lab scores were lower than in the past.
Installation & Usage
9.4 / 10
Security & Performance
6.0 / 10
Due to disappointing grades in the testing labs and a lack of basic features, Malwarebytes currently isn't the best antivirus option on the market.
user-friendly application
pricing easy to understand
noticeable performance issues
disappointing lab results
6.4

satisfactory
Plan
Devices
Protection Features
Premium Features
Malwarebytes Free
$0.00
Visit Website*
Download for Free
Unfortunately, the free version of Malwarebytes Antivirus is somewhat too limited for us. Since real-time protection is reserved for paying subscribers, the free version is only useful for virus scanning. The two testing labs we consulted scored the program differently: AV-Comparatives awarded it a "satisfactory" security score owing to an above-average number of false positives.
On the plus side, Malwarebytes impressed us with its ease of use and support, which includes a live chat.
Installation & Usage
10 / 10
Security & Performance
6.0 / 10
360 Total Security has a nice user interface and lots of features, but due to a lack of up-to-date lab results and inadequate support, we currently can't recommend the software.
Plan
Devices
Protection Features
Premium Features
360 Total Security All-In-One
$0.00
Visit Website*
360 Total Security rounds out our list of the best free antivirus programs. Unfortunately, owing to a lack of recent testing lab scores, we couldn't evaluate its security. Further, we were disappointed with 360's support, which completely ignored our query. Should none of the above be all that much of an issue, the program's nice package of features makes its free version worth a look.
Installation & Usage
7.4 / 10
Security & Performance
4.6 / 10
How We Tested
When selecting our Top 8 free antivirus programs we paid attention to three factors: Their position in our comprehensive ranking, the number and quality of features included in their free versions, and finally, the number of devices that the software can be installed on.
As such, there were a few differences between the best free options and our overall ranking. Bitdefender, for example, came first in our overall ranking, but only third here owing to its lack of (free) support for mobile devices.
In our antivirus reviews, we scored the following categories:
Installation & Usage
Download, installation, and setup: We start from square one with each program and let you know what you need to do to get up and running. Extra points were awarded for free antivirus software that doesn't require inputting a payment method. Since these programs should see regular use, we look for intuitive and accessible user interfaces that are straightforward, especially for people who don't have any technical expertise.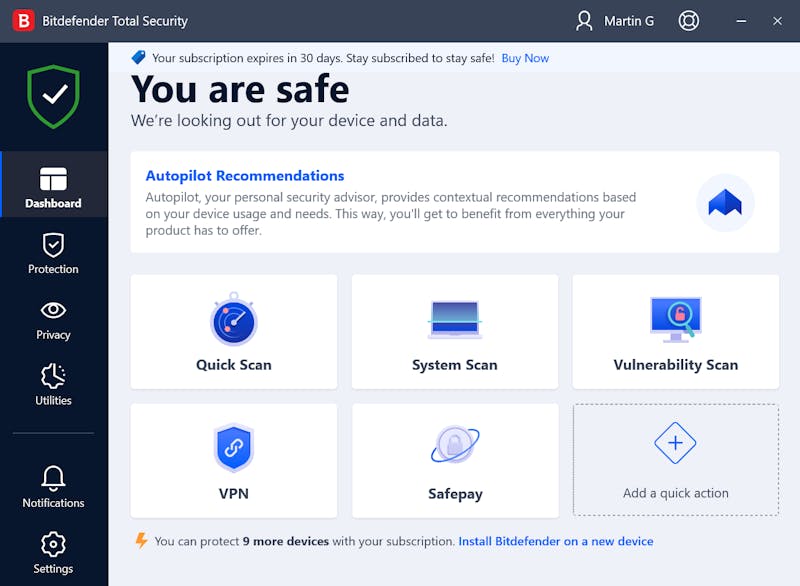 Bitdefender's user interface does everything right in our book.
Features
Many features, like scans and real-time protection, come standard with nearly every antivirus program. At the same time, the scope and quality of these can vary from provider to provider. Expanded features and extras, like parental controls, cloud backups, a VPN, or even a password manager, are now offered to sweeten the pot. We like to see a nice variety of options for the basic tools, and useful extras included for paying subscriptions.
Security & Performance
In this area, we relied on the expert opinions of two independent testing labs, AV-Test and AV-Comparatives. Both regularly assess the most well-known antivirus programs and report on how much security they provide as well as what impact (if any) scans have on a system's performance.
Support
In terms of support, we like to see a well-organized help center with FAQs and guides, along with options for getting in touch with the provider's support staff, ideally via email/tickets and live chat or a hotline.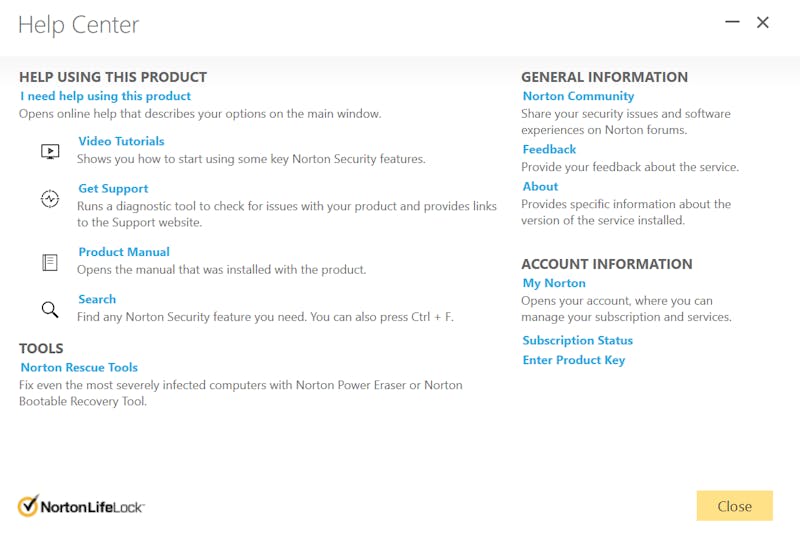 Norton offers some of the best support on the market.
To learn more about our testing process and criteria, be sure to consult our comprehensive article on the subject.
Conclusion
Being safe online doesn't need to cost an arm and a leg: The freemium antivirus programs we've explored above clearly demonstrate this. If you're unwilling to pay up, the trade-off for reliable real-time protection is reduced functionality or second-class service. In the event that rudimentary security features are enough for you, a number of interesting and free options are available.
Should you still be undecided, you can check full reviews for all 15 programs we assessed in our comprehensive evaluation.
FAQs
What does an antivirus program do?
⊖
An antivirus program guards your computer, laptop, or device against viruses, Trojans, ransomware, and other malware. They provide scans and monitor background threats to give you real-time protection. Many antivirus programs include additional security tools like parental controls, a VPN, or an ad blocker. For mobile devices, anti-theft measures like GPS location and remote locking or access are important.
What's the best free antivirus program?
⊖
Deciding what the best antivirus program is depends on what your needs and objectives are. We value security, performance, user-friendliness, price, support, and presence of a mobile app. In EXPERTE.com's evaluation of free antivirus programs, Avast excelled in all of these categories and is our best free solution.
Do free antivirus programs provide enough security?
⊖
Free antivirus programs offer access to fewer features than their premium counterparts, however, they provide the same level of security. Whether or not a free program is adequate for your security needs, depends almost entirely on what these are. Should you be able to make do without certain features (like email or webcam protection), free programs will be more than enough.
* Ad disclaimer:
For links marked with an asterisk, EXPERTE.com may earn a commission from the provider. The commission has no influence on our editorial rating.

Martin Gschwentner majored in American Studies and Media Studies in Germany, the USA and France and works as a freelance editor in Paris. He is a doctoral student at the Institute for English and American Studies at the University of Paris Diderot, where he is researching the influence of money on US politics. On EXPERTE.com he writes about IT security, data protection and software for the self-employed and small businesses.

Translation: D Bare
Continue Reading
Other languages
Deutsch