Dashlane Review 2023: Really the Best Password Manager?

Whenever a list of the best password managers is published, Dashlane usually makes the cut. That's more than enough reason for us to take a closer look at the widely popular all-rounder.
What Is Dashlane?
Dashlane ⇱ is a password manager, digital wallet, and full-fledged security app all in one. Desktop versions are available for Windows and macOS, mobile apps for Android and iOS, and browser extensions for Chrome, Firefox, Internet Explorer, Safari, and Edge.
The password manager is well-known for the bounty of features it offers, far surpassing the basics that most password managers come with. Some of its paid packages even include a VPN. Considering all of the above, it isn't difficult to see why Dashlane has built a reputation as one of the best all-rounders out there.
But, in being a jack of all trades, is Dashlane a master of none, forgetting its core mission of being a password manager? Or perhaps, is the service lacking in user-friendliness? Read on and we'll let you know!
Dashlane Review
Installation & Usage
8.0 / 10
Extensive security center with an automatic password changer

User-friendly and intuitive, even for beginners

Some packages include a VPN

Responsive live chat support
Handy features like the password changer or VPN only available to premium subscribers

As of the time of writing, the web app is not completely developed
It doesn't take much fiddling around to get Dashlane up and running. One nifty feature which the service offers that users will notice off the bat is the ability to download the browser extension without having to install the desktop version. To do this, simply click on the "Get Dashlane" button on the service's website.
After that, you'll have to create a master password, but don't worry, the app will help you with this too. Once Dashlane has been properly configured, you'll only need to remember the master password. We recommend choosing something that can't be easily guessed by others, but that you won't forget either!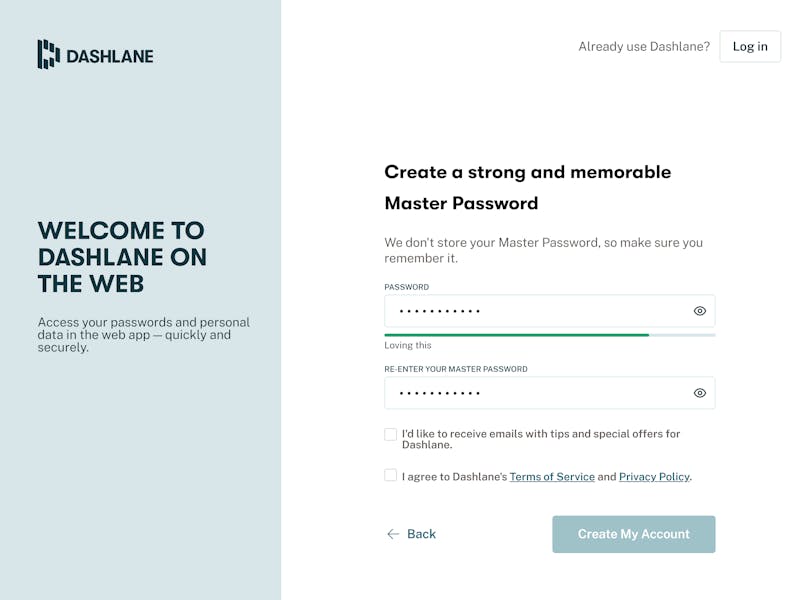 Dashlane helps users to create a secure master password.
Next, the app guides you through its basic features in a tutorial, showing how to use "Try Autofill" and to get started with the software. A QR code with a link for the mobile app is also provided in case you want to download the service for your smartphone or device.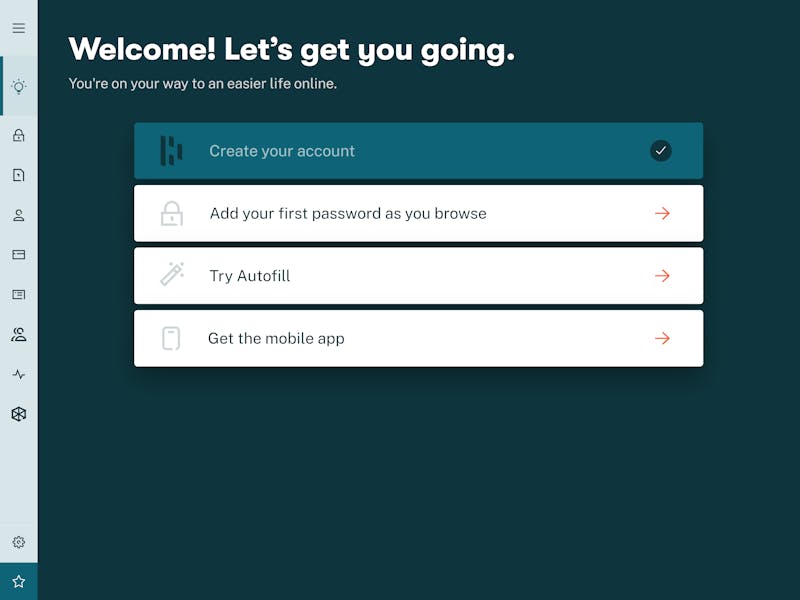 Dashlane helps users get started with its software.
Should you switch to Dashlane from another password management program, you can import data sets (CSV files) by clicking on My Account > Import Passwords. We tested how Dashlane handles this with a CSV file from LastPass, and were relatively satisfied with the results. Unfortunately, we weren't able to select which data sets should be imported from the file, and the categories and credit card information we had added in LastPass didn't transfer.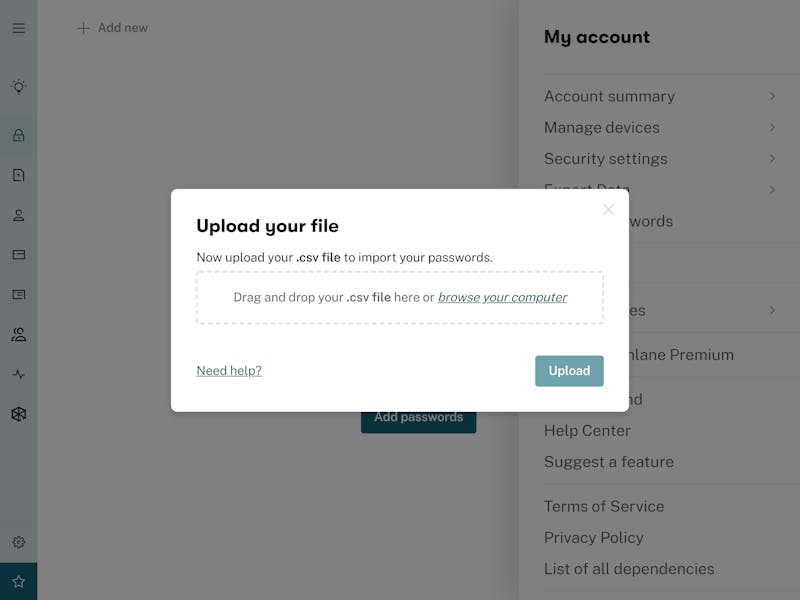 Dashlane allows you to immediately use data sets you might have created with other services.
Even if you're technically inept, installing Dashlane is a walk in the park, because the service lends a helping hand every step of the way. We had a few (minor) issues with importing, but if only planning to use the software's basic features, you'll be ready to go in no time.
Dashlane Reinvents Itself
Whereas in the past, Dashlane was based around its desktop version, now, it's become much less prominent, even though you'll still need it to take advantage of all of the program's features. The desktop app can be downloaded from the web dashboard by clicking on My Account > Additional Features.
With that said, when we conducted this review, Dashlane appeared to be reinventing and overhauling itself: Support for the desktop version is supposedly ceasing at the end of 2021. As such, it seems plausible that the desktop app's features will either be integrated into the web app or discontinued altogether.
Below, we'll introduce you to all of Dashlane's components.
Web app
Dashlane's new web app provides access to all basic features in a user-friendly interface. Through the menu bar on the left, you'll find all available data set categories (passwords, secure notes, personal data, payment methods, and IDs), along with the Sharing Center, where you can safely share entries, and the Password Health and Dark Web Monitoring tools.
To the right of the menu bar, all data set entry types in your vault are listed. These can be sorted alphabetically, by category, or last use. When clicking on an entry, a detailed view will open, in which you can edit usernames or passwords. Oddly enough, it isn't possible to modify categories, and after querying support, they informed us that this functionality still hasn't been integrated into the new web app.
One of Dashlane's special features is its password changer, which you can use to automatically change passwords for specific online services. We'll discuss this in greater detail below, however, this feature is still undergoing beta testing. Other bells and whistles, such as the VPN, have not yet made the jump over to the software's browser version.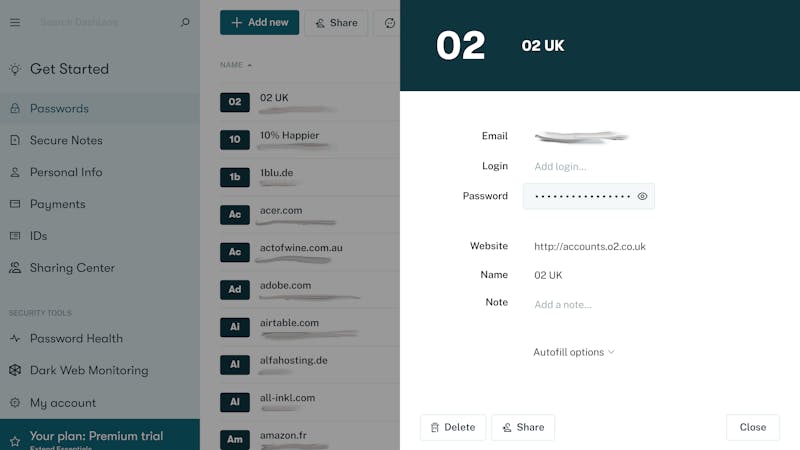 You'll be able to access Dashlane's most important features in its web app.
Desktop app
To tap into Dashlane's full potential, you'll need to use its desktop app, which is designed similarly to the web app. To the left of the navigation menu, you'll also find entries (the "receipts" data set type is also included, as is the ability to set an emergency contact). In the center of the interface, you'll find all of your data sets.
The detailed view provides nearly the same options, however, you can assign entries to categories and create new categories.
The service's VPN, which is only available to premium subscribers, is accessible via the upper menu bar.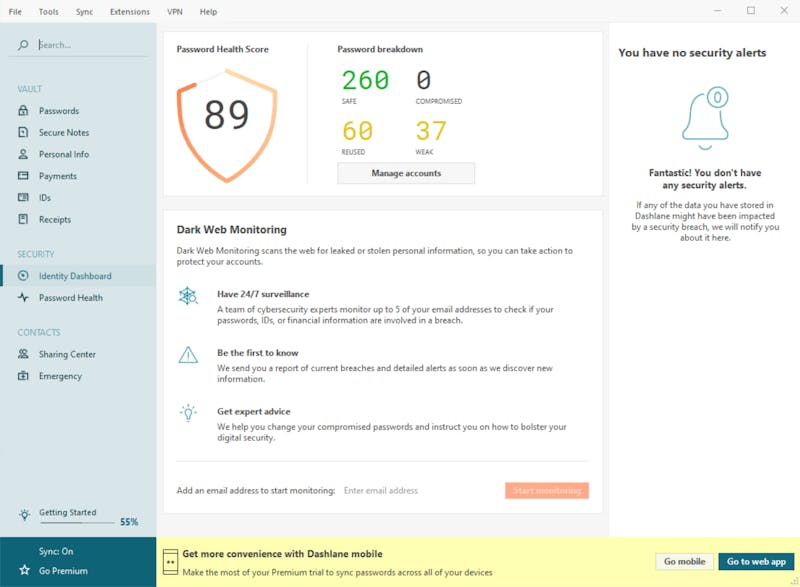 A number of Dashlane's features are still only available in the desktop app, however, the password manager's future is clearly browser-based.
Browser extension
The service's browser extension, which is pinned to your browser's taskbar, serves as the control center for the program's autofill features. In the vault tab, you can view all saved entries, with entries for the site that you're presently on listed first. Beyond that, you can adjust autofill settings for each website, or create secure passwords using the password generator. For anything more beyond that, you'll be forwarded to the browser app.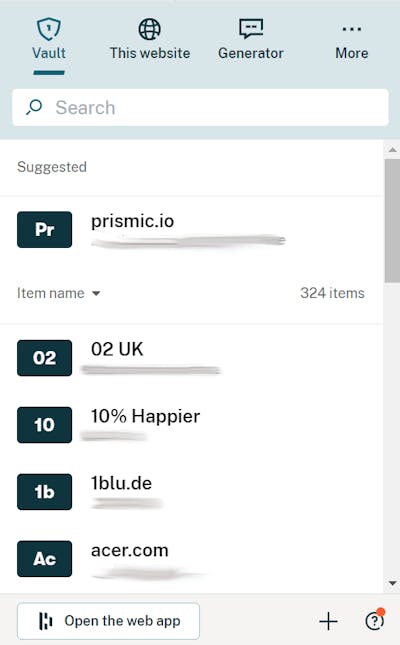 Data sets for the site you're currently visiting are displayed first in the browser extension.
As we've noted above, while preparing this review, Dashlane was in something of a transitional phase. The desktop app seems to be on the way out, with the password manager relying on its web dashboard and browser extension moving forward. Even though we had no difficulties with the interfaces of these, we did notice one or two issues with their usage concepts. In addition, we also find it unfortunate that support for the desktop app will be discontinued.
Accordingly, Dashlane feels less well-rounded than it did when we last reviewed it. Once the transition from desktop to browser has been completed, and the features are no longer spread across multiple platforms, Dashlane should return to its former glory.
Installation & Usage
8.0 / 10
Dashlane has all the features one expects from a password manager: password management, autofill settings, encrypted notes, and more. But the app offers more than just the bare minimum and gives some popular features a dash of extra convenience while including others that its competitors lack completely.
Password Changer
One of these is Dashlane's password changer. This handy premium feature allows paying subscribers to change multiple saved passwords with a single click. Should you use the same password for every website but want to plug that security gap in one fell swoop, Dashlane has got you covered. The password changer also lets you check the effectiveness of your passwords and change whatever needs correcting.
The disadvantage is that the tool doesn't work with every website. From the 300 entries in our sample, a measly six could be automatically changed (three of these were with the same service), a fairly poor yield. With that said, a new version of the password changer is in the process of beta testing, with Dashlane constantly supplementing its list of supported sites.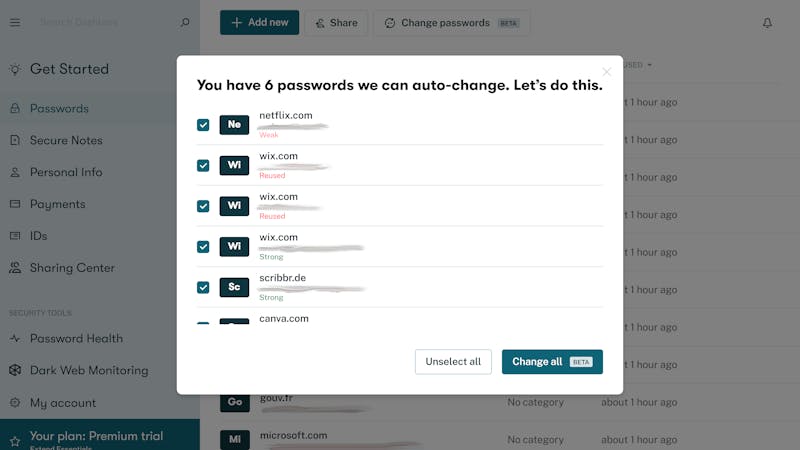 With Dashlane's password changer you can automatically change unsafe passwords.
Autofill
So far as convenience is concerned, the most important aspect of a password manager is its autofill system. Dashlane, like all other services, handles the automatic input of login data and other forms through its browser extension.
Whenever the password manager identifies an input field, the Dashlane icon appears. After clicking on this, you'll be able to select from saved entries and automatically enter a username and password. Dashlane also automatically saves new registration data, lending a hand by offering users the ability to create and save passwords that it automatically generates.
During testing, Dashlane's autofill feature didn't disappoint, whether with classic registration forms, addresses, or bank data.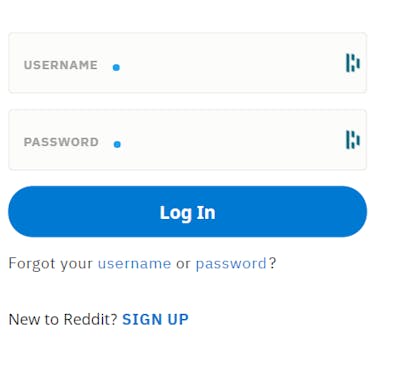 To automatically fill in login and password data, click on the Dashlane icon.
Password Generator
A password manager wouldn't be complete without a password generator. Dashlane's version is prominently integrated into the browser extension, making it easy for users to configure and create secure passwords with a single click. On top of that, the service's password generator ⇱ is easy to find, lightning-fast, and intuitive, but unfortunately, unable to create full password phrases.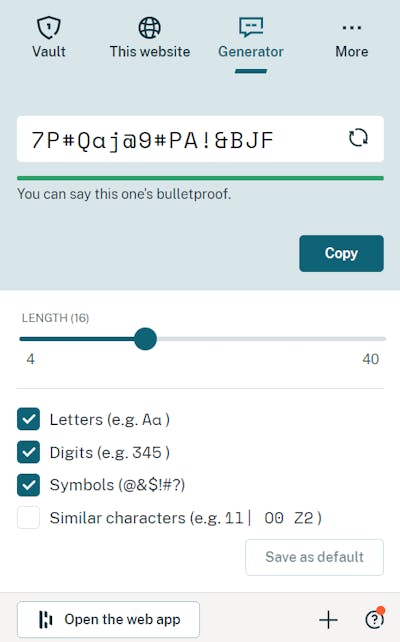 Dashlane's password generator makes it easy to automatically create secure passwords.
Password Health
Dashlane's Password Health serves as a virtual bulletin board for your passwords. The number of points, displayed in large numbers, keeps you informed about how secure each of your passwords is. This score relates to each password's complexity and other factors, such as how often you've used the same password. Passwords rated as weak should be changed as quickly as possible, either manually or with the automatic password changer.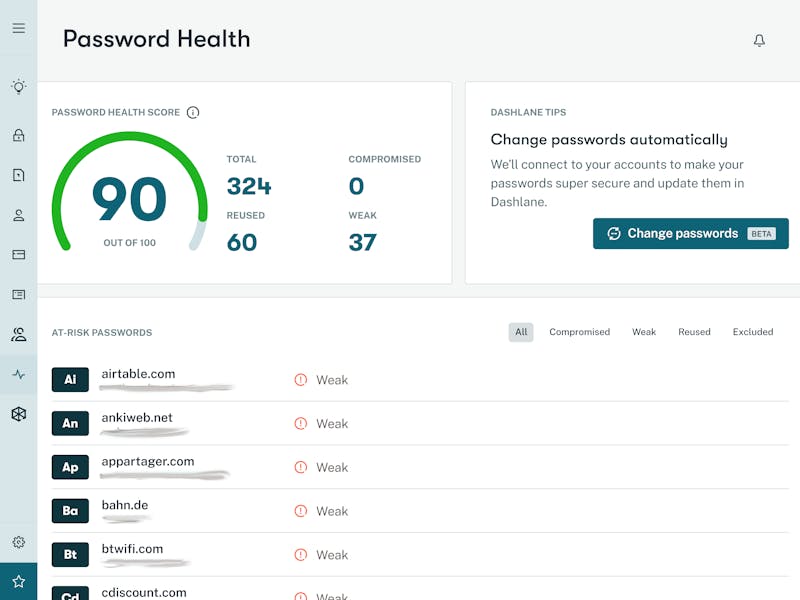 Dashlane allows you to check the security and integrity of all of your accounts.
Premium users can take advantage of a rather ominous-sounding feature called "Dark Web Monitoring", which tasks Dashlane's security experts with checking whether your data or passwords have been misused on the 'Dark Web'.
Password Sharing
Individual entries or entire categories can be shared with other Dashlane users in the Sharing Center. In addition, you can grant these users limited or full access, with the former being able to use shared data sets, but not modify or share them.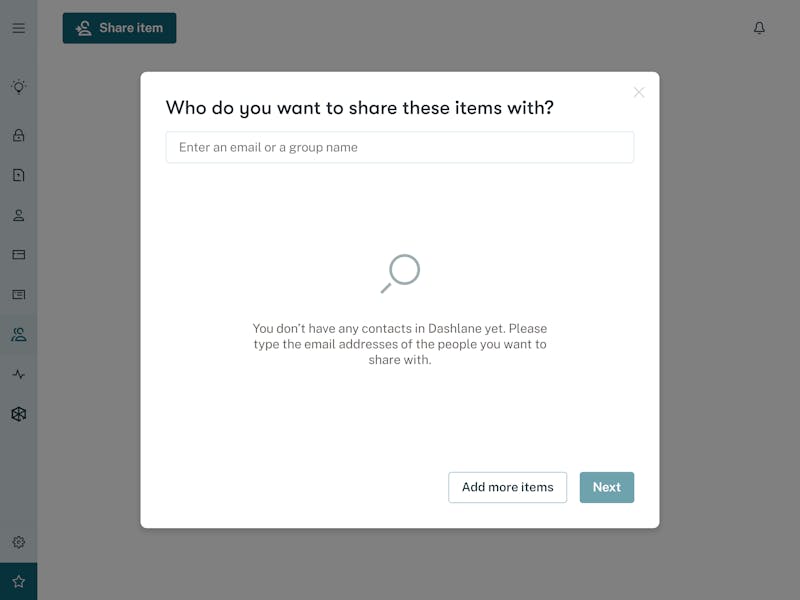 You can share passwords and other data sets with friends and family with just a few clicks.
VPN
Starting with its sixth iteration, Dashlane's password manager came with a virtual private network (VPN), albeit again, only for premium users. The feature offers users an added layer of data security, especially when browsing on public WiFi networks. Compared to dedicated VPNs, Dashlane's offering is fairly limited but does allow you to change your virtual location to 20 different countries.
As of the time of writing, the VPN was only accessible via Dashlane's desktop version, with no date set for its return to all of the software's components. For that reason, it remains to be seen whether the VPN will be integrated into the browser extension.
Taken together, Dashlane comes loaded with practical features, offering one of the best packages out there. Unfortunately, some of these features are behind paywalls.
Dashlane saves passwords using AES 256-bit encryption, which is considered to be extremely secure. Just how secure your master password is though depends on you. Since there's no way of recovering your master password, – besides adding one or more emergency contacts – it's impossible to abuse the recovery feature to obtain it, making Dashlane more secure than a number of its competitors.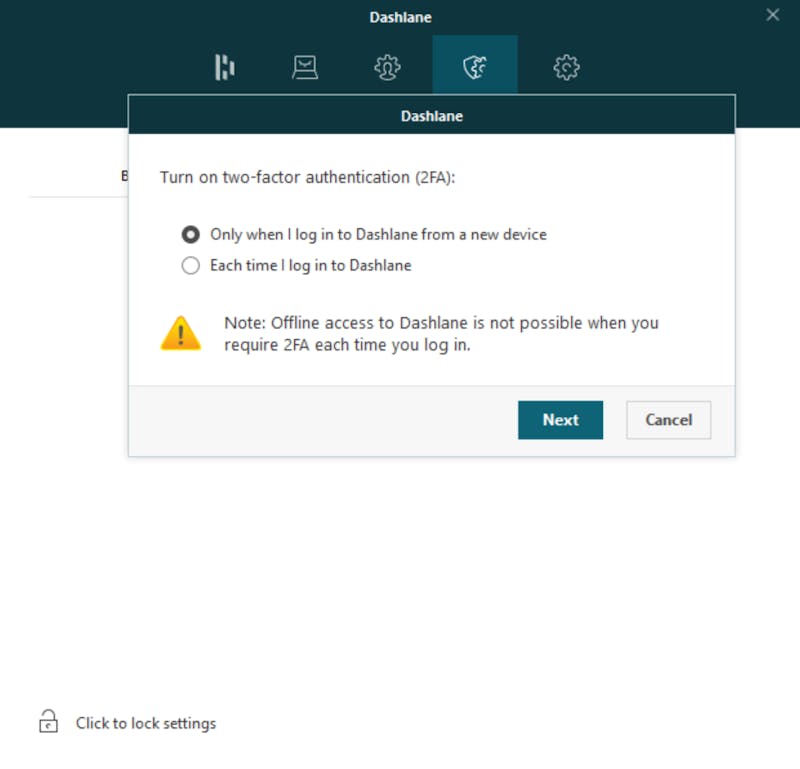 You can enhance your vault's security by adding two-factor authentication.
Using the mobile app creates a potential security risk. In addition to the master password, users can enable fingerprint verification for logging into websites, however, this is optional and its utilization depends on your security priorities.
Dashlane's mobile apps are available for Android and iOS devices. Since data sets are synchronized with your desktop, you'll find the same types and categories on your smartphone as your PC or laptop. The features are identical as well: Password Health, Password Changer, Dark Web Monitoring, and the VPN are all in the mobile version.
The most important aspect of the mobile app is autofill. The app doesn't have its own browser, however, autofill worked without a hitch in Chrome during testing. When you start typing into an input field, you'll be shown saved usernames and passwords for the website you're visiting, which you can select using the virtual keyboard. By tapping on the Dashlane icon, you can select from all available accounts.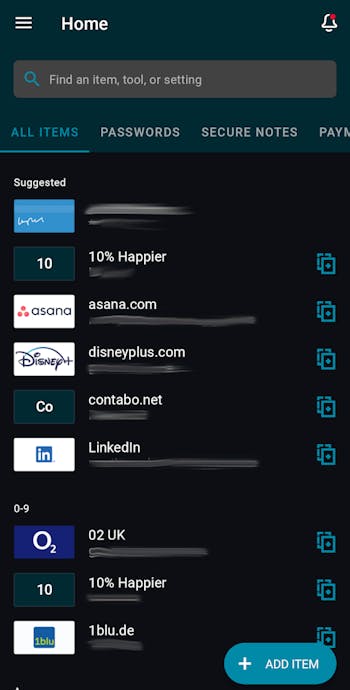 Dashlane's mobile app offers users access to all important features on the go.
In the event that you're tired of inputting our master password, it's possible to log in using your fingerprint, or a four-number PIN. Login via facial recognition can also be toggled on, so long as your device supports this.
Overall, Dashlane's mobile app is a reliable accompaniment that offers more than just the basics, including a number of extras from the desktop version.
There are two ways to contact Dashlane's support team. Monday to Friday, you can receive live chat support from 9-5. Each time we tested this, we received assistance within less than a minute.
Outside of these times, you can request support through the contact form. With this method, we had to wait around 21 hours for a response.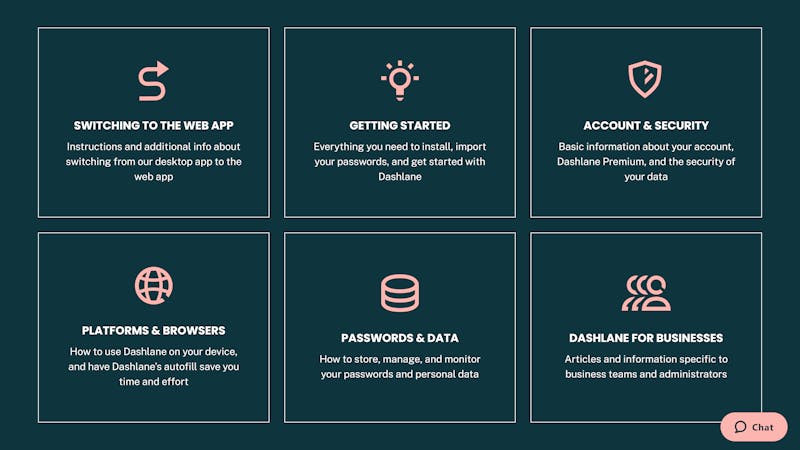 You can reach out to Dashlane's support via live chat or email.
In the event that you prefer to solve issues on your own, Dashlane also has a well-curated static support center that includes comprehensive help articles and guides. Here, you'll find a number of articles about the changeover from Dashlane's desktop version to its web app. The help center also features a search function.
Taken together, we felt well looked after by Dashlane, being able to quickly find competent and quick answers to our queries.
For private users, Dashlane offers four packages. The free version is limited to 50 saved passwords and a single device. Of course, you can use the mobile version with the same account, but you won't be able to synchronize passwords.
The Essentials package sheds all of these limits, however, you won't get the VPN or encrypted data storage, and you'll be limited to two devices. To access everything that Dashlane has to offer, you'll need a Premium subscription. In the event that you want multiple Premium accounts, you can book a Family subscription.
Payments can be made either monthly or annually, with the latter cost around 20% less than the former.
Corporate rates (Team and Business) are also available. The Business package includes SAML-based single sign-on and a free family subscription for each individual license.
Below, we've provided a summary of Dashlane's current prices:
Free
Advanced
Premium
Business Team
Friends & Family
Business
Business Starter
Set-up Fee
$0.00
$0.00
$0.00
$0.00
$0.00
$0.00
$0.00
Base Price per Month
$0.00
$2.75
$4.99
$0.00
$7.49
$0.00
$20.00
Price per User
-
-
-
$5.00
-
$8.00
-
Contract Period (Months)
0
12
12
12
12
12
12
Limits
Number of Users
1
1
1
unlimited
10
unlimited
unlimited
Number of Passwords
unlimited
unlimited
unlimited
unlimited
unlimited
unlimited
unlimited
Number of Devices
1
unlimited
unlimited
unlimited
unlimited
unlimited
unlimited
Features
Sync Multiple Devices
Password Sharing
Teams
Zero-knowledge Encryption
Emergency Contacts
Two Factor Authentication
Local Storage
Browser

Internet Explorer

Edge

Chrome

Firefox

Safari

Opera

Internet Explorer

Edge

Chrome

Firefox

Safari

Opera

Internet Explorer

Edge

Chrome

Firefox

Safari

Opera

Internet Explorer

Edge

Chrome

Firefox

Safari

Opera

Internet Explorer

Edge

Chrome

Firefox

Safari

Opera

Internet Explorer

Edge

Chrome

Firefox

Safari

Opera

Internet Explorer

Edge

Chrome

Firefox

Safari

Opera

Platforms

Windows

macOS

iOS

Android

Windows

macOS

iOS

Android

Windows

macOS

iOS

Android

Windows

macOS

iOS

Android

Windows

macOS

iOS

Android

Windows

macOS

iOS

Android

Windows

macOS

iOS

Android
You can trial the Premium subscription for free for 30 days. Beyond that, all subscriptions come with a 30-day, money-back guarantee.
Conclusion
Installation & Usage
8.0 / 10
Dashlane definitely deserves top billing in whichever rankings it appears on. It does the basics well and has an intuitive dashboard, even if a number of additional features that make surfing more secure and comfortable are behind paywalls. All the same, you can rely on Dashlane's autofill for passwords, bank data, and addresses.
The otherwise well-performing password manager is, as of the time of writing, in a sort of transitional phase, which has generated a few issues here and there. The desktop version's days are numbered, however, not everything has been integrated into the new web interface. This might make using the software somewhat frustrating, since it's necessary to jump between the web app and desktop version, with it being difficult to remember which features are where.
However, in the grand scheme of things, this is a temporary problem and we're excited about the new web application.
Dashlane Password Manager
Dashlane is a great all-rounder that makes managing your logins and other account details as easy as pie thanks to its many features, a strong security posture, and an easy-to-use interface.
user friendly and intuitive
zero-knowledge encryption
comprehensive security center
automatic password changer
9.1

excellent
Passwords
Devices
Users
Contract Period
Dashlane Free
$0.00
monthly price
Visit Website »
Try for free
Customer Ratings
Dashlane enjoys considerable popularity among its users, as can be seen in the reviews we've gathered below:
Customer Ratings
204,101 Bewertungen
Visit Website
We analyzed the reviews and ratings from various portals and found 204,101 ratings with an overall rating of 4.6 out of 5 .
Alternatives
1Password Password Manager
1Password's password vault is filled to the brim with features, including handy extras such as the travel mode. With excellent security and a solid user interface on top, 1Password is one of the best password managers out there.
zero-knowledge encryption
reliable autofill function
8.7

good
Passwords
Devices
Users
Contract Period
1Password Standard
$2.99
monthly price
Visit Website »
Free 30 days trial
Keeper is one of the best password managers on the market thanks to its many features, high reliability, and extensive configuration options.
Passwords
Devices
Users
Contract Period
Keeper Security Unlimited
$2.04
monthly price
Visit Website »
Download Keeper
NordPass Password Manager
NordPass stands out with its beautiful design and ease of use, and offers a fully-fledged free version that allows you to create and synchronize an unlimited number of passwords.
full-featured free version
few options for customizing data sets
8.5

good
Passwords
Devices
Users
Contract Period
NordPass Free
$0.00
monthly price
Visit Website »
30-day money-back guarantee
Bitwarden Password Manager
Bitwarden can impress with easy-to-use apps, reliable autofill, and a few handy security features. Plus, it's pretty affordable – and offers a solid, feature-rich free plan.
user-friendly applications
good security, externally tested
paid features (e.g. password sharing)
8.4

good
Passwords
Devices
Users
Contract Period
Bitwarden Free
$0.00
monthly price
Visit Website »
Enpass offers intuitive application with solid features and reliable autofill. Handy: the connection to the cloud is optional, and you can synchronize locally if you prefer.
one-off price instead of subscription
optional cloud connection
not great for password sharing
8.2

good
Passwords
Devices
Users
Contract Period
Enpass Free
$0.00
monthly price
Visit Website »
FAQs
Dashlane is a password manager for Windows, macOS, Android, and iOS. It also serves as a digital wallet and offers a number of additional features including a VPN. As such, Dashlane is widely considered to be one of the best all-rounders in its market segment.
How much does Dashlane cost?
⊖
Dashlane offers both free and premium/paid versions. Users of the free version are limited to 50 passwords, a single device, and unable to sync their desktops with the mobile application. An Essentials subscription, which removes these restrictions, costs $2.49 per month. Dashlane Premium will run you $3.99 a month and includes advanced security tools. Family and Business rates are also available.
Dashlane is highly secure, protecting login data with AES 256, the highest encryption standard available as of the time of writing. You can also make use of two-factor authentication to further minimize security risks. However, it's important to create a secure master password that isn't easy for others to guess.
Dashlane is one of the best password managers we've reviewed. The company probably offers the strongest package on the market, wrapped in an intuitive user interface and bursting with useful features. The best part? You can access it for a reasonable price.

Martin Gschwentner majored in American Studies and Media Studies in Germany, the USA and France and works as a freelance editor in Paris. He is a doctoral student at the Institute for English and American Studies at the University of Paris Diderot, where he is researching the influence of money on US politics. On EXPERTE.com he writes about IT security, data protection and software for the self-employed and small businesses.

Translator & Editor: D Bare
Continue Reading
Reviews
Comparisons
Tools & Guides