Enpass Review 2023: How Secure Is the Password Manager?

What if you never had to worry about any of your passwords ever again? You won't, with password managers, or at least, you'll only have to remember a single master password. Should you lose this password, or if it becomes compromised, you'll be back at square one, or even worse off.
Below, we'll let you know how well Enpass, one such password manager, performs.
What Is Enpass?
Enpass ⇱ is a password manager available for Windows, macOS, and Linux desktops. The service also offers apps for Android and iOS, as well as a range of browser extensions. We tested it on Windows and Android.
Enpass Review
Installation & Usage
9.4 / 10
Intuitive desktop version

Optional cloud synchronization
Allows dangerous password sharing
When installing Enpass, you'll be directed to the appropriate marketplace for the operating system you're planning to use. We selected the Windows version, which was downloaded from the Microsoft Store. Once installation is complete, you'll need to create your master password, however, the program provides tips on how to do this.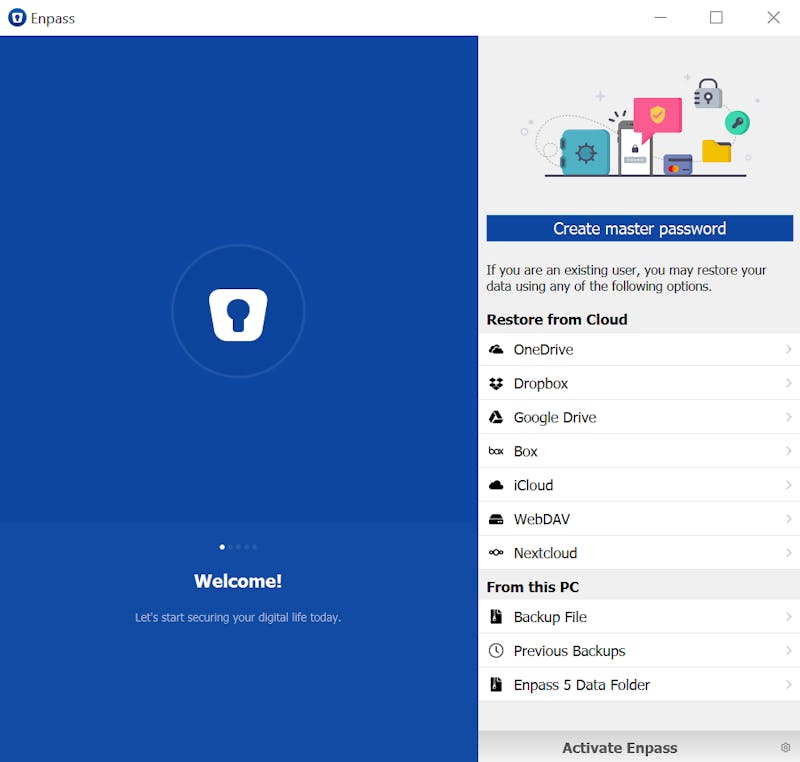 The first thing you'll need is a master password.
After you've set your master password, you'll be taken to the dashboard in Enpass's desktop client, which has a similar layout to that of most other password managers (three columns). You'll have to manually install other components (browser extensions and mobile apps), but that's done easily enough via Enpass's website.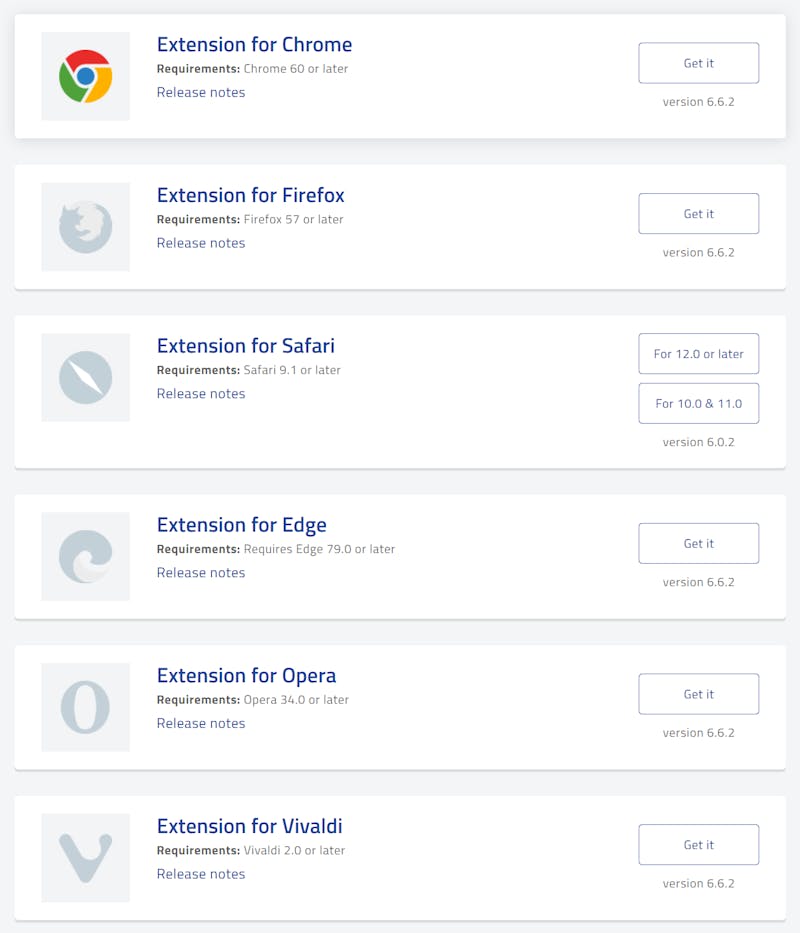 Enpass is compatible with all of the most commonly-used browsers.
To import data from a variety of other password managers, click on the hamburger menu and select File > Import.
We tested this with a CSV file from LastPass and had good results: Most entries were transferred accurately, with usernames and passwords ending up (by and large) where they were supposed to. A few adjustments had to be made here and there, but compared to some of the other programs we evaluated, there was really not all that much to complain about.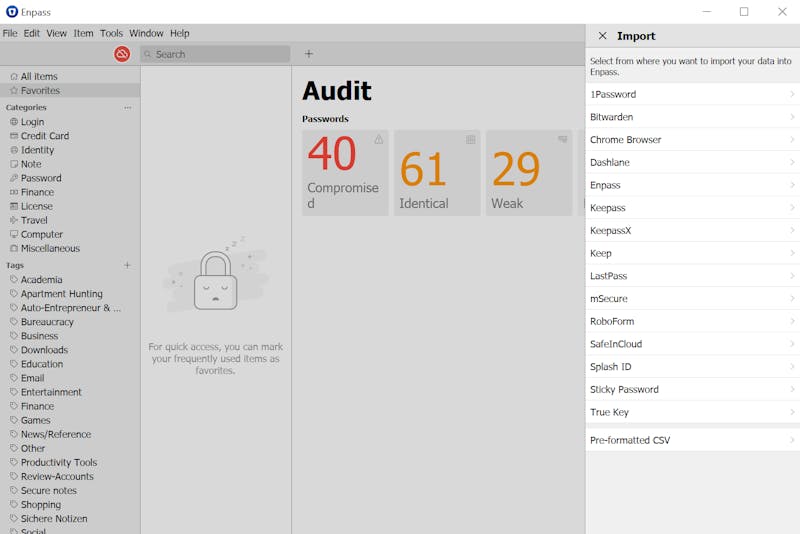 It's possible to import data sets from a wide range of other password managers.
Enpass does quite a bit to make new users feel as comfortable as possible with the software, requiring only a few minutes to be completely set up.
The service utilizes two desktop components, namely, an app that can be used offline, as well as a browser extension.
Desktop App
As mentioned above, Enpass's desktop version relies on a three-column interface, making it similar to most other password managers on the market. To the left, you'll find a scrollable menu that includes data set categories, tags, and a kind of security center. In the middle, you'll be able to view a categorically organized list of data sets, and to the right, individual entries.
Most known websites are accompanied by their logo in the client, while all other logins are assigned a generic icon.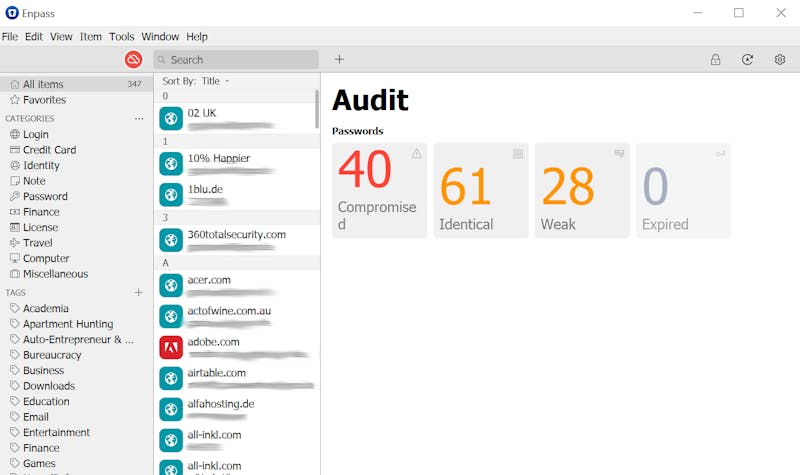 Enpass utilizes a classic, three-column layout.
Only premium users are able to create custom categories for their records, however, all users can assign different tags to categories, which will then appear in the main menu on the left-hand side of the interface. These serve as de facto sub-categories. During our import, categories that we had created in LastPass were converted into tags. While the tags do help to maintain an overview, Enpass could improve navigation by making it possible to sort sub-categories.
New data sets can be manually added by clicking on the "plus" sign in the upper menu. Here, you'll also find the password generator and settings menu.
Browser Extension
The browser extension also looks and performs well. Its simplified menu provides users with access to favorites, credit cards, identities, and the password generator. You'll also find a search function in the browser window, frequently and recently used logins, and have the ability to directly create new entries.
Autofill was reliable, but more on that below.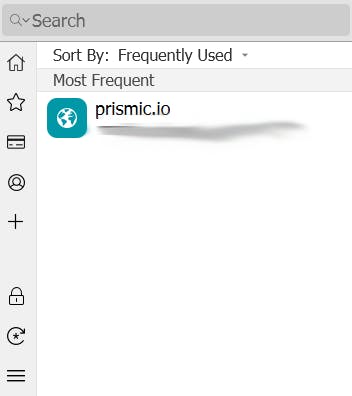 The browser extension stood out thanks to its reliable autofill and easy access to important features.
Enpass's designers seem to have relied upon proven concepts when designing their software's interface and data entry features, an approach that we believe has paid off. The dashboard is easy to use and doesn't require long to find features or functions.
Installation & Usage
9.4 / 10
Enpass comes with nearly all of the basics that a password manager should. The password generator, which is accessible through both the desktop app and the browser extension, serves up a multitude of different options for creating secure passwords and passphrases.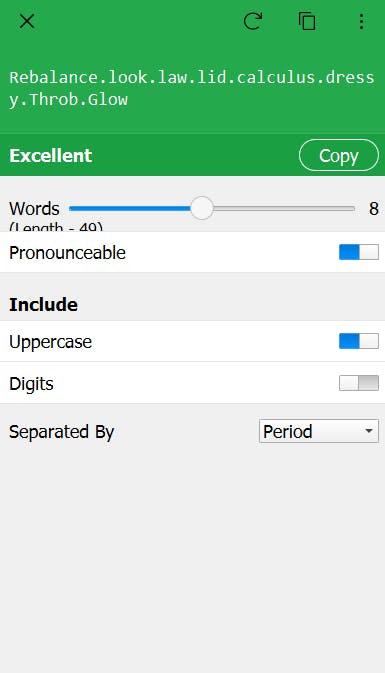 Enpass estimates how secure each password is.
Optional Usage of the Cloud
While most password managers rely on integrated cloud functionality, Enpass makes this optional. If desired, you can synchronize your data with well-known providers such as Dropbox, Google Drive, or OneDrive. By default, data is only secured locally, making the program particularly appealing for some users. All the same, the integration of regular cloud synchronization would be a practical step.
Security Features
Enpass does not offer a sophisticated security center akin to those of its competitors, however, in the "Password Audit" submenu, it's possible to see which of your passwords do not meet the program's standards as well as which you have used more than once.
You can also find out which of your existing passwords are weak and compromised and requiring modification as quickly as possible. Unfortunately, the software doesn't include an automatic password changer like that offered by Dashlane.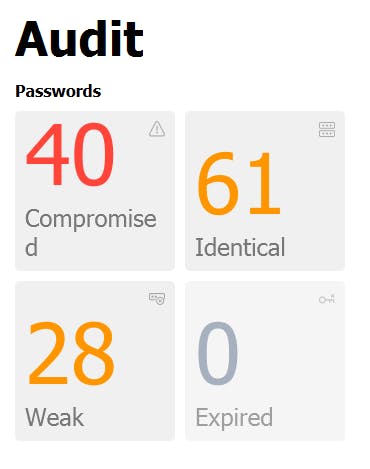 Compromised passwords should be changed as quickly as possible.
Autofill you can count on
During testing, we came to the conclusion that Enpass's browser extension was fairly reliable. When visiting a website for which login data is already stored, clicking on the Enpass logo in the address bar should load the correct entry. With another click, you can fill in the fields and automatically log in.
Other password managers offer similar functionality by adding buttons to the login forms, making it unnecessary to open the browser extension. While the latter is certainly more elegant and practical, particularly if you need to create a new password, Enpass's approach isn't that bad.
When logging in to a website for the first time, the extension automatically adds your login data to your saved data sets.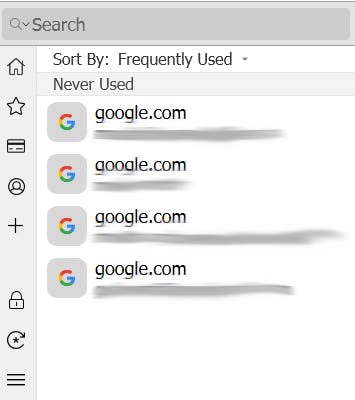 By double-clicking on a specific entry, the accompanying username and password will be entered into the appropriate fields.
In terms of features, Enpass also seems to focus on the basics, which unfortunately leads to a few compromises. Compared to what its competitors offer, Enpass's security center is not nearly as robust, with automatic password changing an unfortunate omission.
Sharing could do with some work as well: When sharing a data set, by default, Enpass exports passwords and usernames in plain text. We strongly recommend defining a pre-shared key (PSK) in the advanced settings if you plan on sharing data sets. Other programs offer more elegant solutions to password sharing.
What Enpass does, it does well, however, we would like to see a bit more refinement as well as the introduction of a few sorely missed features.
Enpass encrypts your data, like the majority of its competitors, with AES 256, the industry gold standard. Should you not plan on using cloud synchronization, your data will only be stored locally, which some security-conscious users might see as an advantage. However, if using the cloud, the safety of your data depends on the standards of those providers and services.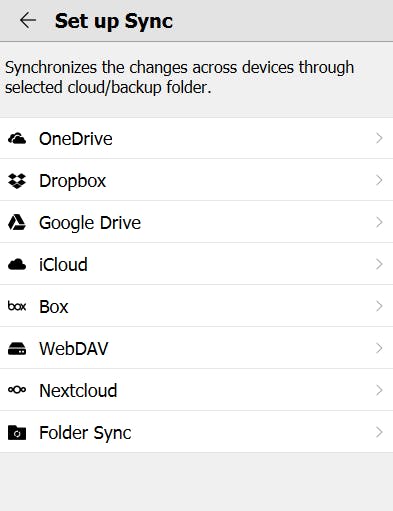 You can synchronize your data with a variety of cloud services.
Enpass doesn't offer typical 2FA options, however, it is possible to assign internally created one-time codes, known as TOTPs (time-based one-time passwords) to certain data sets. These work like an integrated authenticator app, repeatedly generating TOTPs within Enpass that remain valid for 30 seconds.
This approach seems unnecessarily complicated, and a basic 2FA option would, in our opinion, be better. Apart from that, a lack of security when sharing is certainly the platform's Achilles' heel, however, Enpass does well by warning its users against making too much usage of this feature.
So far as features are concerned, Enpass's mobile apps are almost identical to the desktop version. The UI is adapted to smartphone screens, and instead of the three-column structure, you'll find a collapsable main menu with different tabs for entries and settings. The mobile app can be unlocked by fingerprint or PIN, making it unnecessary to repeatedly input your master password.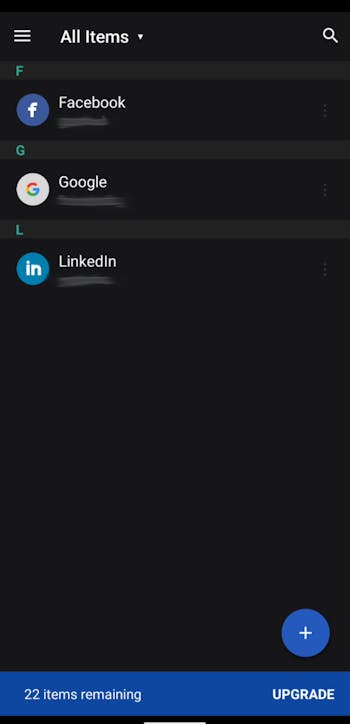 Autofill was also reliable on the go in the mobile app.
During our last assessment, we were somewhat disappointed with how autofill performed on our smartphone. This time, the "Autofill with Enpass" interface reliably appeared in the login forms whenever we were on a relevant site.
The mobile app doesn't come with an integrated browser: With other password managers, saved websites open after tapping on a data set, with Enpass, websites open in your default browser after tapping on the URL.
Since our last review, a number of changes have been made to the Android app, leaving little to complain about. The free version of the Android app is limited to 25 entries (in contrast to the desktop version's unlimited number of entries), making it fairly useless.
In Enpass's support area, you'll find a number of FAQs and handbooks for the desktop, iOS, and Android versions of the software, all of which can be readily accessed using the practical built-in text search. There's also a fairly active forum ⇱ in which support staff and users regularly communicate with one another.
Enpass offers a nice selection of static support options.
Direct support is only offered via a contact form, as neither a hotline nor live chat is provided. We waited around 14 hours for a helpful response to our query, which is acceptable.
More live support channels would be a positive addition, but beyond that, Enpass provides decent assistance to its users and customers.
The free version of Enpass is useful on the desktop since it doesn't come with any data set limits. For smartphone users, however, it's a different story, as you'll be limited to 25 entries. For that reason, the free version is only recommended if you intend to abstain from mobile usage, or want to keep tabs on a limited number of accounts on the go.
Should you want to make use of premium features, two options are available. In the past, Enpass was marketed at a flat one-time fee, however, its developers have also borrowed the subscription model favored by its competitors and now offer a monthly subscription alongside the lifetime license. A summary of Enpass's current prices can be found below:
Free
Individual
Family
Premium (One-time)
Set-up Fee
$0.00
$0.00
$0.00
$99.99
Base Price per Month
$0.00
$0.79
$2.39
$0.00
Price per User
$0.00
-
-
$0.00
Contract Period (Months)
0
12
12
0
Limits
Number of Users
1
1
6
1
Number of Passwords
25
unlimited
unlimited
unlimited
Number of Devices
1
unlimited
unlimited
unlimited
Features
Sync Multiple Devices
Password Sharing
Teams
Zero-knowledge Encryption
Emergency Contacts
Two Factor Authentication
Local Storage
Browser

-

-

-

Edge

Chrome

Firefox

Safari

Opera

Platforms

Windows

macOS

Linux

iOS

Android

Windows

macOS

Linux

iOS

Android

Windows

macOS

Linux

Windows

macOS

iOS

Android

Linux
Enpass doesn't offer a money-back guarantee, however, since you can test the program rather thoroughly in its desktop version, this isn't all that much of an issue.
Conclusion
Installation & Usage
9.4 / 10
Enpass does a number of things well. Its pricing model is reasonable, particularly in light of its highly useful free desktop version and lifetime license fee. We liked the software as well since it includes all of the most important features, a user-friendly interface, and reliable autofill. A handful of features are either missing or underdeveloped but this isn't the end of the world.
Some features that we expect from password managers were nowhere to be found, however: No support is offered for classic multi-factor authentication, and password sharing seems to be poorly secured. Extras like a security center or automatic password changer also aren't part of the Enpass package.
Taken together, there's definitely some space between Enpass and the best password managers on the market. All the same, its strong desktop performance and reliability mean that it shouldn't be overlooked entirely.
Enpass offers intuitive application with solid features and reliable autofill. Handy: the connection to the cloud is optional, and you can synchronize locally if you prefer.
one-off price instead of subscription
optional cloud connection
not great for password sharing
8.2

good
Passwords
Devices
Users
Contract Period
Enpass Free
$0.00
monthly price
Visit Website »
Customer Ratings
Ratings in a number of online review portals provide insight into how a particular service, in this case, Enpass, is generally received among its userbase. To help in making your choice as to which password manager best meets your needs, we've compiled a selection of these for you below:
Customer Ratings
19,217 Bewertungen
Visit Website
We analyzed the reviews and ratings from various portals and found 19,217 ratings with an overall rating of 4.1 out of 5 .
Alternatives
If you'd prefer a free password manager that doesn't impose any data set limits, even on smartphones, we recommend taking a look at Bitwarden and NordPass.
Should you be willing to pay for a password manager, Dashlane, the service which performed best in our comprehensive evaluation, should be on your radar. The software excels, providing numerous features and a high degree of security, all the while remaining intuitive to use.
Below, you can find a selection of the best alternatives to Enpass:
Dashlane Password Manager
Dashlane is a great all-rounder that makes managing your logins and other account details as easy as pie thanks to its many features, a strong security posture, and an easy-to-use interface.
user friendly and intuitive
zero-knowledge encryption
comprehensive security center
automatic password changer
9.1

excellent
Passwords
Devices
Users
Contract Period
Dashlane Free
$0.00
monthly price
Visit Website »
Try for free
1Password Password Manager
1Password's password vault is filled to the brim with features, including handy extras such as the travel mode. With excellent security and a solid user interface on top, 1Password is one of the best password managers out there.
zero-knowledge encryption
reliable autofill function
8.7

good
Passwords
Devices
Users
Contract Period
1Password Standard
$2.99
monthly price
Visit Website »
Free 30 days trial
Keeper is one of the best password managers on the market thanks to its many features, high reliability, and extensive configuration options.
Passwords
Devices
Users
Contract Period
Keeper Security Unlimited
$2.04
monthly price
Visit Website »
Download Keeper
NordPass Password Manager
NordPass stands out with its beautiful design and ease of use, and offers a fully-fledged free version that allows you to create and synchronize an unlimited number of passwords.
full-featured free version
few options for customizing data sets
8.5

good
Passwords
Devices
Users
Contract Period
NordPass Free
$0.00
monthly price
Visit Website »
30-day money-back guarantee
Bitwarden Password Manager
Bitwarden can impress with easy-to-use apps, reliable autofill, and a few handy security features. Plus, it's pretty affordable – and offers a solid, feature-rich free plan.
user-friendly applications
good security, externally tested
paid features (e.g. password sharing)
8.4

good
Passwords
Devices
Users
Contract Period
Bitwarden Free
$0.00
monthly price
Visit Website »

Martin Gschwentner majored in American Studies and Media Studies in Germany, the USA and France and works as a freelance editor in Paris. He is a doctoral student at the Institute for English and American Studies at the University of Paris Diderot, where he is researching the influence of money on US politics. On EXPERTE.com he writes about IT security, data protection and software for the self-employed and small businesses.

Translator & Editor: D Bare
Continue Reading
Reviews
Comparisons
Tools & Guides