G Data Antivirus Review 2023: How Does It Perform?

Author
Janis von Bleichert
Ad disclaimer:
For links on this page, EXPERTE.com may earn a commission from the provider. This supports our work and has no influence on our editorial rating.
"Made in Germany" is usually seen as a sign of quality. The motto of G DATA, a German software producer, is "Trust in German Sicherheit (Security)". Is there more to the provider than just a marketing gimmick?
Way back in 1987, G DATA did something none of the other providers from our sample have ever claimed: It developed the first antivirus software. All the same, since then, malware has gone through millions of mutations, achieving levels of sophistication once thought impossible. In this review, we'll take a look at whether or not G DATA has managed to keep up with the times.
What Is G DATA Antivirus?
G DATA* is a German cybersecurity company headquartered in Bochum, which offers antivirus software for Windows, macOS, Android, and iOS, in addition to a wide range of solutions for individuals and corporate clients. Like nearly all providers from our sample, G DATA's software can be purchased in a variety of packages, which differ in terms of price and features.
We tested Total Security for Windows, but also reference other packages throughout this review.
G Data Antivirus Review
Security & Performance
8.0 / 10
Installation & Usage
7.4 / 10
Wide selection of features and configuration options

Review all security levels in the menu bar/dashboard
Fairly complicated desktop app

"Only" solid testing lab scores

Slightly outdated user interface
G DATA is not the fastest out of the gate: It took us eight minutes after launching the program's installer before we could use the program on our laptop. Once installed, you can either input a registration code to access the full version or start a free trial. Unlike other antivirus programs, no payment method is needed for the trial, so there's no risk of falling into the dreaded subscription trap.
After installation and setup are finished, restart your computer to start using the program.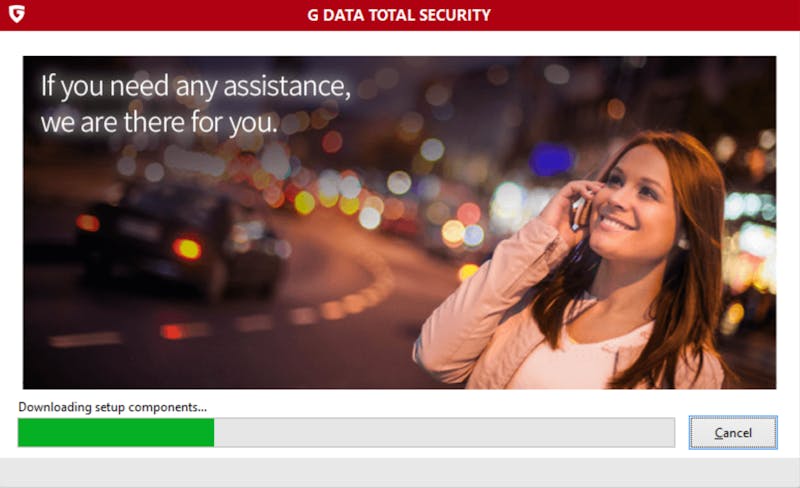 G DATA takes a long time to install.
Red usually symbolizes danger, but, this isn't the case with G DATA: Its dashboard's upper menu bar is crimson-clad by default. When clicking on any of its icons, they'll change to grey. For our eyes, the color scheme was a bit striking and required a few seconds to get used to, but this is more a question of taste than anything else.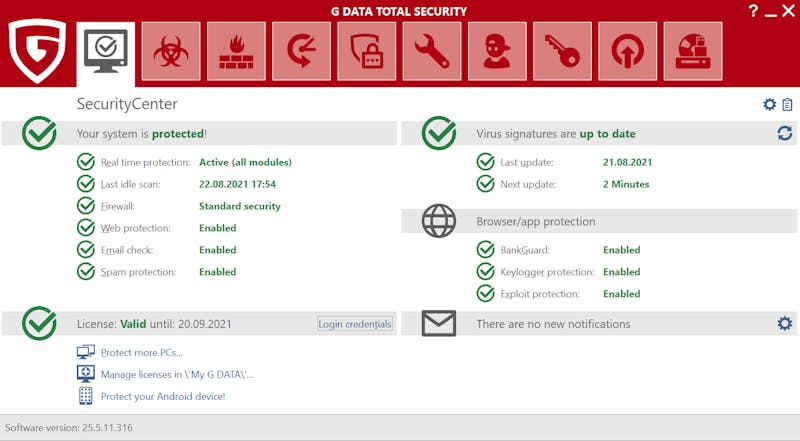 Don't worry when you see red in G DATA Total Security; this is part of the dashboard's normal color scheme.
Most of the dashboard is located below the red menu bar and includes all of the software's features, grouped into categories. Here, G DATA follows the industry standard: Green is good, and red requires attention.
Hopefully, you'll see lots of green, since, in contrast to other providers from our sample, G DATA doesn't randomly display individual components that require your attention, but rather, the status of all security levels and whether your virus definitions are up-to-date. We liked this transparent approach, even if it meant that G DATA's main screen was somewhat more overloaded than those of its competitors.
By clicking on a particular security level, you can adjust settings and toggle elements on or off. Click on the gear symbol in the upper right to access settings.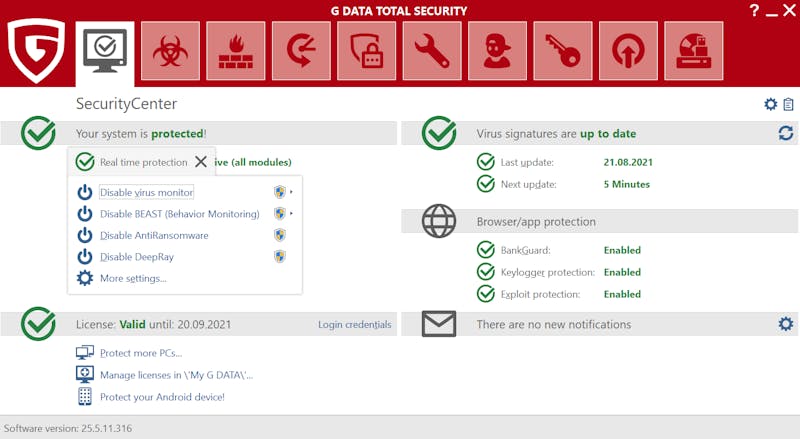 Switch individual components on or off, or adjust additional settings by clicking on a security level.
In the Total Security package's main menu, you'll find 10 modules. These are: "Security Center", "AntiVirus", "Firewall", "Backup", "Password Manager", "Tuner", "Parental Controls", "Encryption", "Autostart Manager", and "Device Control". You'll only see their names when you hover over the corresponding symbol or click on it, however, they are fairly self-explanatory and the accompanying icons make sense.
Unfortunately, the program does lag a little: Menu titles don't appear immediately, and switching between the submenus is not as smooth as it should be.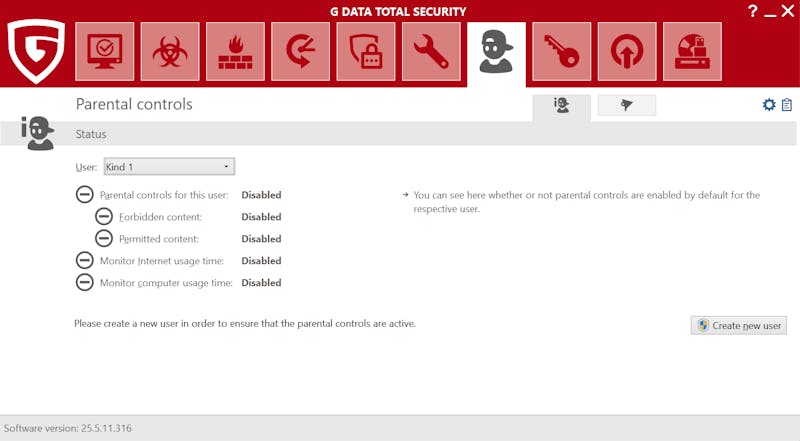 You can alternate between the program's different features using the navigation bar at the top of the dashboard's interface.
Unlike ESET, G DATA doesn't try to hide its power. Instead of burying features in submenus, G DATA plays with its cards on the table. For those less experienced in technical details and only interested in boosting their security, G DATA's interface might be too much. On the other hand, if you want to fine-tune your computer's security, we think you'll be pleased with how intuitive the program is.
Still, G DATA's user interface is too slow and, in our opinion, not exactly up-to-date when it comes to appearances. In terms of usage, we preferred how other programs handled, so, we've deducted some points from G DATA.
Installation & Usage
7.4 / 10
All G DATA packages include basic security features, real-time protection, and manual scans. As a dual-engine program, G DATA utilizes its own engine as well as that of Bitdefender. This additional power helps the program since Bitdefender received excellent ratings from independent testing labs. G DATA comes pre-installed with both engines, however, you can change this if desired.
Manual scans with plenty of customization options
You'll find manual scans in the "AntiVirus" section (second option from the left) in the dashboard's upper menu bar. Go to "Manual virus check". Six scans are offered, among which is "Computer check". This examines all local hard drives and can be adjusted to check folders, files, removable media, rootkits, and storage, as well as autostart.
It's also possible to automate and schedule scans, with G DATA offering considerable customization in both areas. For example, you can schedule a one-off, hourly, daily, weekly, or even monthly check-up. Beyond that, you can configure scans to launch when your system starts. In terms of analysis, it's possible to add exceptions and specify what the program should do with infected files.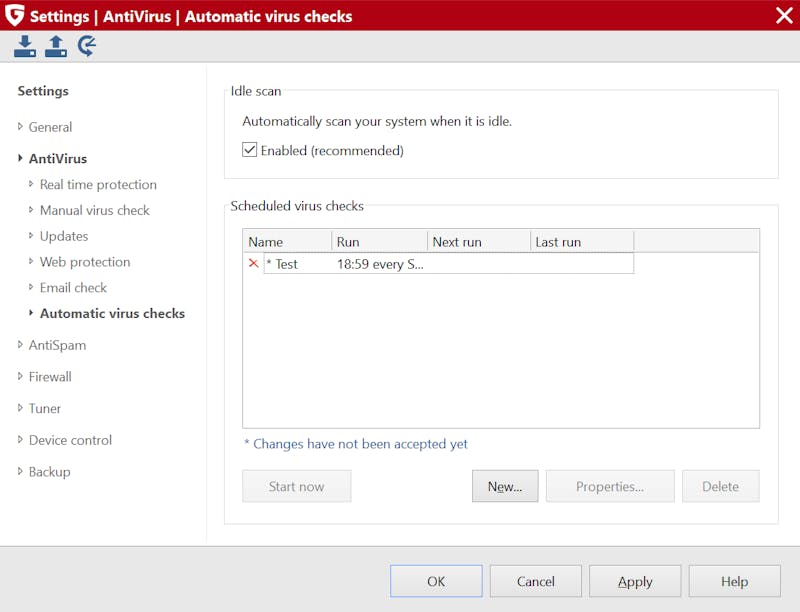 Automate and schedule user-defined scans.
Real-time protection for a comprehensive defense
In terms of real-time protection, you can independently toggle several different shields. These include "BEAST" (behavior-based malware identification), "Exploit Protection" (guards against security weaknesses in software you've installed), "Deep Ray" (protects against unauthorized access), and "Ransomware Protection" (defends against crypto-Trojans that take your files hostage and demand a ransom for their "release").
All three of G DATA's paid subscriptions include Internet and phishing protection. Browser protection for Google Chrome, Mozilla Firefox, and Microsoft Edge is offered via dedicated extensions. The software also checks incoming and outgoing emails.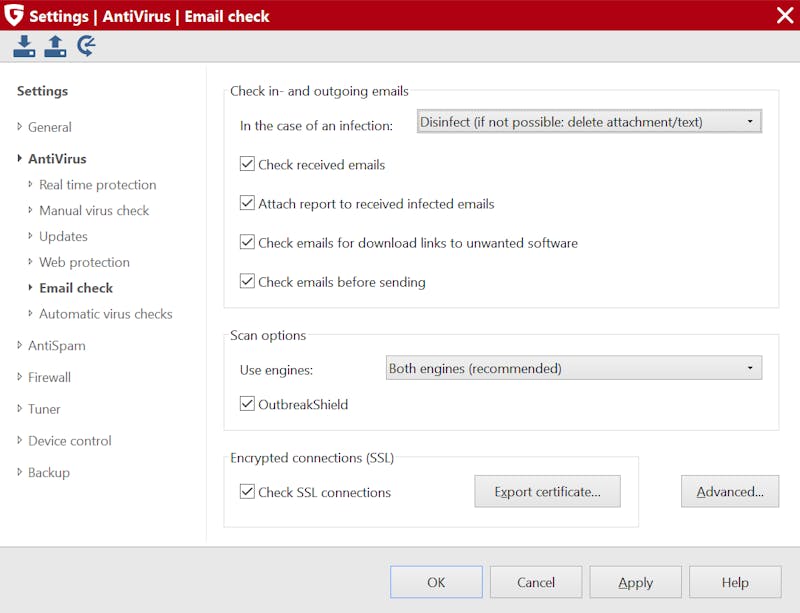 Select which emails should be checked when as well as what G DATA should do if it encounters an infection.
With "BankGuard", G DATA protects your online banking and digital transactions. This component automatically identifies Trojans and repairs any impacted areas. Apart from that, the software comes with protection against keylogging and the ability to choose which programs it's activated for.
Data shredding, or, deleting files so that they leave no traces on your device, can be performed by right-clicking on the file or folder in question and selecting the appropriate option.
G DATA Internet Security features
Internet Security subscribers get a firewall, which can be used to keep unwanted guests away from your network. By default, this includes five levels of security but can be user-customized, if desired.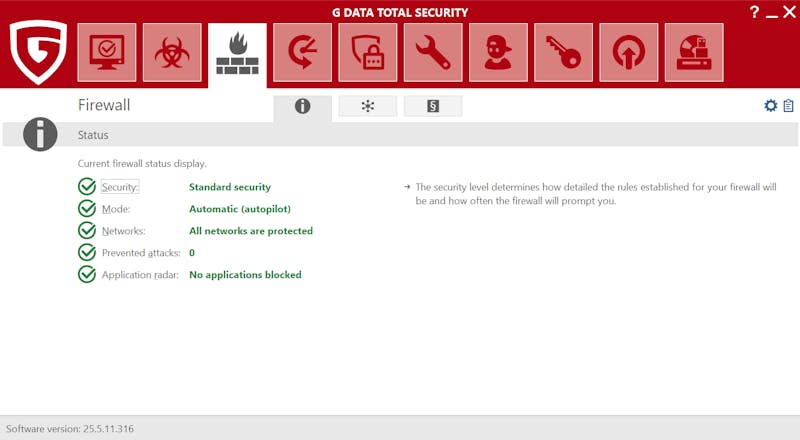 G DATA's firewall has different security levels.
Parental controls that allow you to manage your children's Internet usage are also included. Administrators can easily create a new user and specify what content they can and cannot access. You can select broad categories to block, such as pornographic or violent content, or set a daily time limit for Internet browsing. During testing, sites that we blocked were not accessible, indicating that the parental controls were reliable.
Internet Security customers can also take advantage of cloud backups to create encrypted backups of files stored on Dropbox, Google Drive, or DriveOnWeb. Total Security users get access to expanded backup features.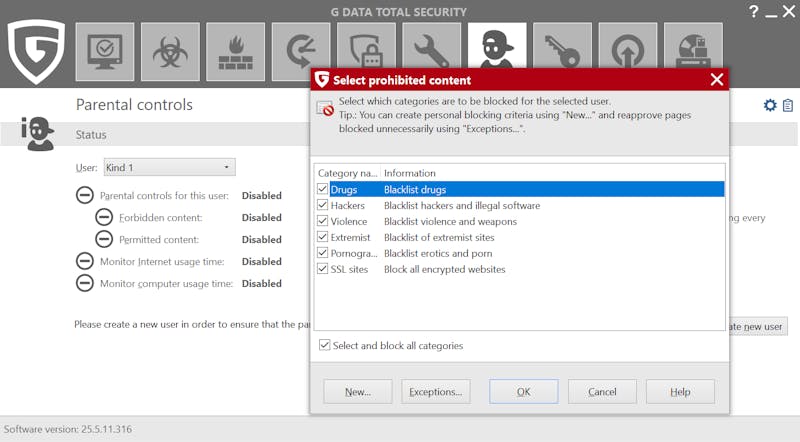 With G DATA's parental controls, you can prevent your children from accessing specific types of content or visiting certain websites.
Total Security Features
Total Security subscribers package can back up entire drives either to the cloud or locally, on a PC or external storage device.
This package also includes a password manager that works in conjunction with a browser extension (Chrome, Firefox, or Edge/Internet Explorer). With it, you can save logins, contact data, and notes, as well as automatically generate secure passwords. This is okay, but dedicated solutions, like those from our comprehensive password manager comparison, are better.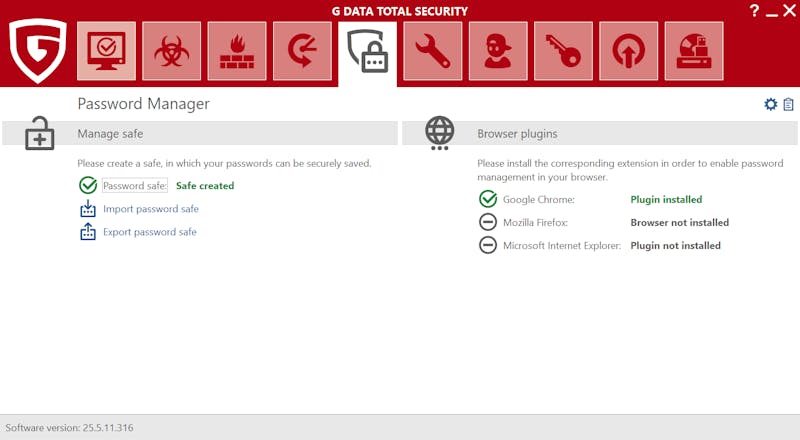 G DATA's password manager is fairly basic, but capable of performing the most important tasks.
Add an extra password to sensitive information and files with the program's data encryption feature. In this way, entire storage devices, like USB sticks, can be protected.
You'll also get access to performance tuning and device control. The latter lets you select who can connect USB sticks, hard drives, or other devices to your PC or laptop. This helps prevent malware from being smuggled onto your system via external storage devices.
None of G DATA's subscriptions include a VPN.
Mobile features
Extend G DATA's antivirus protection to your Android and iOS devices with G DATA Mobile Security. Licenses are included in every package starting with the Internet Security subscription; Antivirus customers will need to purchase Mobile Security separately. A free version, Mobile Security Light, is also available, but this only offers definition-based antivirus protection and doesn't have real-time protection, web protection, or anti-theft tools.
In contrast to its desktop counterpart, the mobile app's design is fairly basic, but this makes it easy to navigate. A tap on the hamburger icon in the upper left takes you to the main menu, where all features are listed. There, you can also configure virus scans, set their frequency (in days), and specify whether your entire system should be scanned, or just installed apps.
Thanks to the software's web protection, you can prevent phishing attacks in Chrome and Firefox. The Settings area features Wi-Fi protection, which prevents ARP spoofing and plugs any security gaps on networks that you connect to.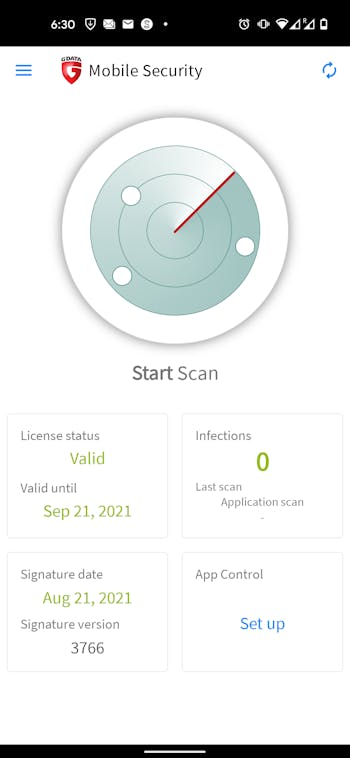 G DATA's mobile app doesn't look like its desktop counterpart.
An app lock is also included, which you can use to secure specified apps with an additional password. Biometric authentication can also be configured, however, the software doesn't have a camera trap.
Anti-theft protection and parental controls
G DATA Mobile Security includes anti-theft protection, which allows you to remotely lock or locate your phone whenever a change in SIM card is detected. You can set your phone to automatically ping its location if its battery is low or to set off a warning signal whenever headphones are removed. This makes it possible to quickly identify an attempted theft. In the Action Center, you can manage your device, locate it, or remotely delete files.
Parental controls in the mobile version offer a number of interesting options for children and teenagers. These include the ability to block certain apps or configure usage limits. The Panic Button is particularly nifty: With this home screen widget, you can quickly let the contacts you've linked know where you are and that you're in an emergency.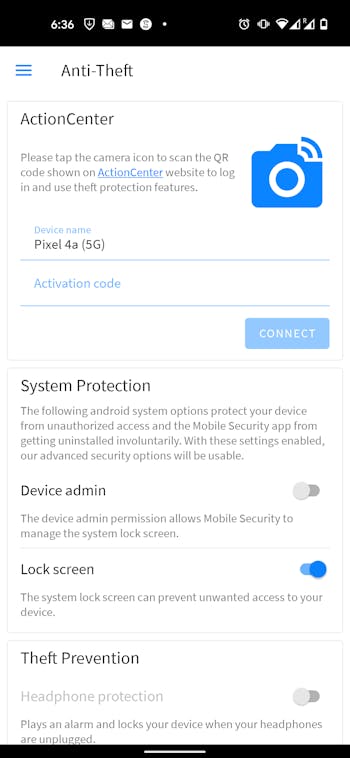 G DATA offers mobile users a nice variety of anti-theft measures.
G DATA impressed us with its powerful and intuitive desktop app, serving up a nice selection of features and customization options. Thankfully, it doesn't hide them owing to their complexity. The mobile app also gets our seal of approval owing to its equally strong assortment of features.
To assess G DATA's antivirus software, we consulted AV-Test and AV-Comparatives, each of which awards separate performance and security scores. Both testing labs regularly assess G DATA, as well as other programs from our sample, and compare them to one another.
| | Security | Performance |
| --- | --- | --- |
| | | |
| | | |
| | | |
The two labs reached somewhat different conclusions about G DATA. It usually performs better with AV-Test and achieves very high scores. For example, it scored 5.5 points (out of 6) in security and maximum points in performance. During AV-Comparatives's Real-World Protection Test, points were deducted owing to 0.7% false positives during analysis, while in the performance test, G DATA finished near the bottom of the pack.
We didn't notice any major performance issues during our assessment. A full system scan took around 40 minutes and there wasn't much lag when performing routine tasks, like launching programs or copying data.
Our overall impression was good, even if AV-Comparatives's review leaves much to be desired.
Security & Performance
8.0 / 10
G DATA's support center makes available a nice range of guides, tips & tricks, and FAQs. You can find exactly what you're looking for thanks to the full-text search. The help page is nicely arranged and filled with plenty of step-by-step tutorials.
Live support (hotline and email) is promised around the clock. For the former, we had to wait anywhere from one to ten minutes to start speaking with a (very friendly and helpful) support staffer. Our email was responded to within eight hours.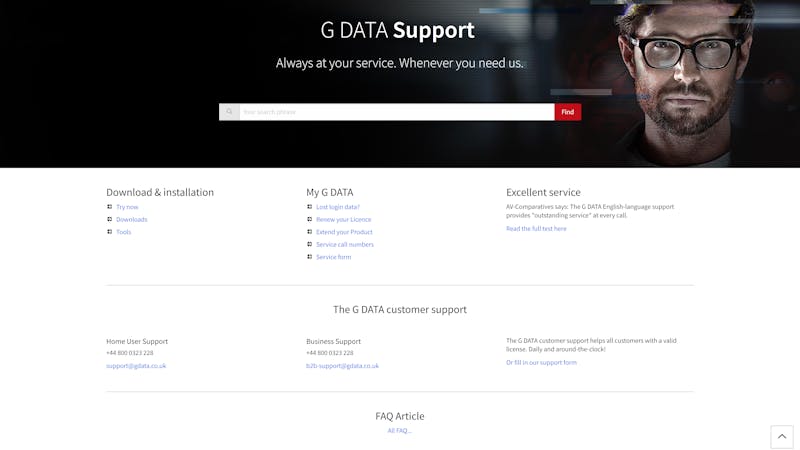 Support from G DATA is available 24/7.
Overall, our experiences with G DATA's support were good. A live chat would be a nice touch, but all of our questions were answered quickly and competently.
G DATA offers three antivirus packages for private users: Antivirus, Internet Security, and Total Security. For each, you can select how many devices you intend to use (1-10) as well as the length of the subscription (1-3 years). Like most antivirus solutions, the longer your contract, the lower your monthly fee.
Corporate rates are also offered, however, these are tailored to the needs of your organization, and, as a result, must be agreed upon with G DATA on a case-by-case basis.
A current price list is provided below:
Antivirus
Internet Security
Total Security
Set-up Fee
$0.00
$0.00
$0.00
Price per Year
from $29.95
from $39.95
from $49.95
Contract Period (Months)
12
12
12
Software
OS

Windows

macOS

Windows

macOS

iOS

Windows

macOS

iOS

Max. Number of Devices
5
10
10
Special Protection Features
Real-time Protection
Internet Security
Email Protection
Ransomware Protection
Webcam Protection
Premium Features
Firewall
Password Manager
VPN Access
Adblocker
Cloud Backup
File Shredder
Parental Control
Performance Tuning
Mobile Features
App Lock
Location Tracking
Remote Lock
Camera Trap
G DATA's pricing structure is fairly consistent, which is unlike the rest of our sample. To gain a clear idea of what each provider's premium packages offer, we created the table below. Since each offers different features, we created a single subscription and booked identical or similar packages from each provider. According to this rubric, G DATA is one of the more expensive programs from our sample:
1.
2.
3.
360 Total Security
Premium
4.
5.
6.
Bitdefender
Internet Security
7.
8.
9.
10.
11.
12.
13.
F-Secure
Internet Security
14.
Conclusion
Security & Performance
8.0 / 10
Installation & Usage
7.4 / 10
Thanks to its features and user-friendly package, G DATA doesn't need to fall back on its "Made in Germany" status. The antivirus software offers a significant amount of customization and performed well in terms of security among the independent testing labs we consulted. Rounding things off, its support is of a very high quality.
For those who want the easiest solution to securing their system, there are less complicated antivirus programs. Similarly, if you're after a more streamlined or minimalistic dashboard, G DATA likely won't be your cup of tea. According to AV-Comparatives at least, G DATA is one of the least impressive programs, disappointing particularly in terms of performance.
During our evaluation, we couldn't confirm the AV-Comparatives verdict. We think that anyone who can come to terms with the program's user interface and enjoys being able to micro-manage their system's security will likely have a positive experience with G DATA.
G Data offers virus protection "made in Germany" with solid test lab scores, lots of customization, and great support. The user interface, however, could use a facelift.
many configuration options
interface somewhat outdated
test lab scores "only" solid
8.4

good
Plan
Devices
Protection Features
Premium Features
G Data Antivirus
yearly price
Visit Website*
Customer Ratings
In the customer reviews that we analyzed, G DATA performed well, receiving a "good" score. Many users praised its neatly arranged interface and the reliable protection it offers against viruses. We did notice several critical comments on Trustpilot regarding its customer support and payment process. These warned against the dreaded "subscription trap", even for canceled contracts.
Customer Ratings
11,504 Bewertungen
Visit Website*
We analyzed the reviews and ratings from various portals and found 11,504 ratings with an overall rating of 4.0 out of 5 .
Alternatives to G DATA Antivirus
Providers like Bitdefender (our top pick) or ESET offer access to an equally large selection of features without suffering from any of G DATA's shortcomings.
More of the best alternatives to G DATA Antivirus can be found below:
Our 'best in test' antivirus program Bitdefender boasts strong security, confirmed by independent test laboratories, along with a flawless user interface and a comprehensive set of features.
configurable quick actions
good support with 24/7 live chat
9.6

excellent
Plan
Devices
Protection Features
Premium Features
Bitdefender Antivirus Plus
$23.99
yearly price
Visit Website*
Avast impresses with a great free version covering all the essentials, and a huge set of features that offer well-rounded antivirus protection and some nice extras. Scans can slightly impact performance, however.
Sandbox and WiFi-Inspector
scans can impact performance
8.6

good
Plan
Devices
Protection Features
Premium Features
Avast Free
$0.00
Visit Website*
Download for Free
With its robust set of features, lean applications, and a 100 % antivirus guarantee, Norton Antivirus is definitely worth a look. Sadly, the testing labs aren't unanimously impressed, and one or two features are missing.
learn, user-friendly apps
customizable child protection
100 % antivirus guarantee
8.4

good
Plan
Devices
Protection Features
Premium Features
Norton Antivirus Plus
$19.99
yearly price
Visit Website*
Trend Micro delivers a solid overall antivirus package with lots of features and some nice extras, such as social media protection. However, the testing labs are a bit divided on the reliability of its protection.
Plan
Devices
Protection Features
Premium Features
Trend Micro Antivirus+
$19.95
yearly price
Visit Website*
F-Secure focuses on the essentials and delivers reliable protection from most malware, as demonstrated by its results in the testing labs. But some features, such as webcam protection, are missing.
Plan
Devices
Protection Features
Premium Features
F-Secure Internet Security
yearly price
Visit Website*
* Ad disclaimer:
For links marked with an asterisk, EXPERTE.com may earn a commission from the provider. The commission has no influence on our editorial rating.

Janis von Bleichert studied business informatics at the TU Munich and computer science at the TU Berlin, Germany. He has been self-employed since 2006 and is the founder of EXPERTE.com. He writes about hosting, software and IT security.
Continue Reading