Norton 360 Antivirus Review 2023: Does It Protect Your Computer?

Author
Janis von Bleichert
These days criminals seem to make the most headlines in the digital realm. Because malware never sleeps and new dangers arise online daily, if not hourly, any user of 21st-century tech would be well-advised to have an antivirus program capable of keeping up with these persistent threats at their beck and call.
Norton promises such all-in-one protection across multiple security levels in a single user-friendly package. Below, we'll check whether the American program makes the grade.
What Is Norton 360?
Norton 360 ⇱ is a complete package of antivirus and security tools produced by the US-based NortonLifeLock (earlier, Symantec Corporation). Whether on Windows, macOS, Android, or iOS, this package protects you against viruses, ransomware, and other threats, all the while enhancing the security of your devices and your digital privacy. The developer even offers a special version of its software targeted at PC gamers.
We tested Norton 360 Premium on Windows and Norton Mobile Security on Android, however, in this review, we'll also discuss the developer's other packages.
Norton 360 Antivirus Review
Installation & Usage
8.6 / 10
Security & Performance
8.0 / 10
Sleek, intuitive application

Provides excellent, testing lab-verified security

Includes a useful password manager and VPN
Lacks anti-theft features

Missing several basic features, particularly on macOS
Prior to downloading any Norton program, you'll need to create an account and purchase a software license. Even if just using the free test version, you'll have to input payment information. As such, it's important to remember to cancel your trial once it finishes (if not intending to purchase a license), or else you'll be charged automatically when it expires.
After this, a download link for the software you've purchased or are trialing will appear in your "My Norton" account. Installation took us around three minutes. Prior to installing, you can opt in to "Norton Community Watch", which allows the program to collect and transmit certain data to Norton to improve the identification of malware. We did not notice any other optional installation features.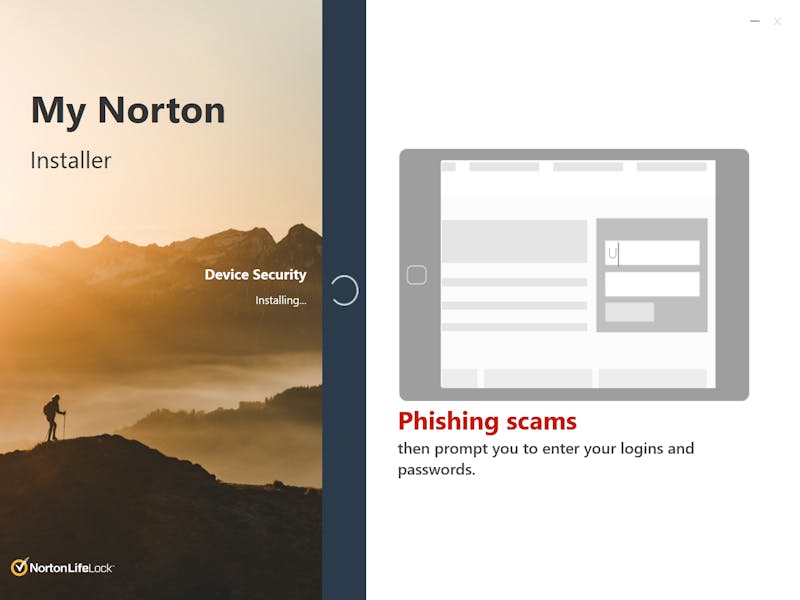 The installation process only took a few minutes.
After purchasing a Norton 360 subscription, you can send an installation link to your other devices. Then, you can access the program's different features through the "My Norton" hub. These include (depending on your subscription) Dark Web Monitoring, Secure VPN, Cloud Backup, a password manager, and Parental Controls.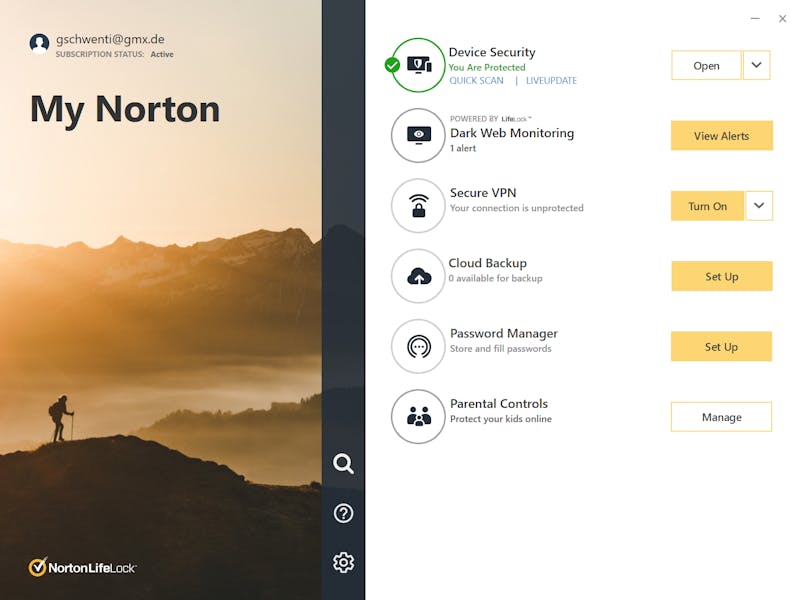 In the central My Norton hub, you can select which antivirus and security features you'd like to use.
With other providers, the "bundle" strategy of packing features into a central dashboard rubbed us the wrong way, particularly when user-friendliness was sacrificed for the sake of advertising a company's software portfolio. This isn't the case with Norton though, since nearly all programs are included in the 360 subscription and you're truly protected against viruses. Thankfully, Norton doesn't install any bloatware and even lets users decide whether or not the program should start automatically when you boot up your system.
All of the usual suspects expected from an antivirus program are offered through an intuitive control panel containing five modules. Under "Security", you'll find system scans, live updates, webcam protection, and an overview. "Internet Security" includes browser extensions, real-time protection, and the developer's password manager, "Backup" allows you to manage your system's backup schedule, while in the "Performance" area, you can optimize your device. Clicking on "My Norton" returns you to the hub's home screen.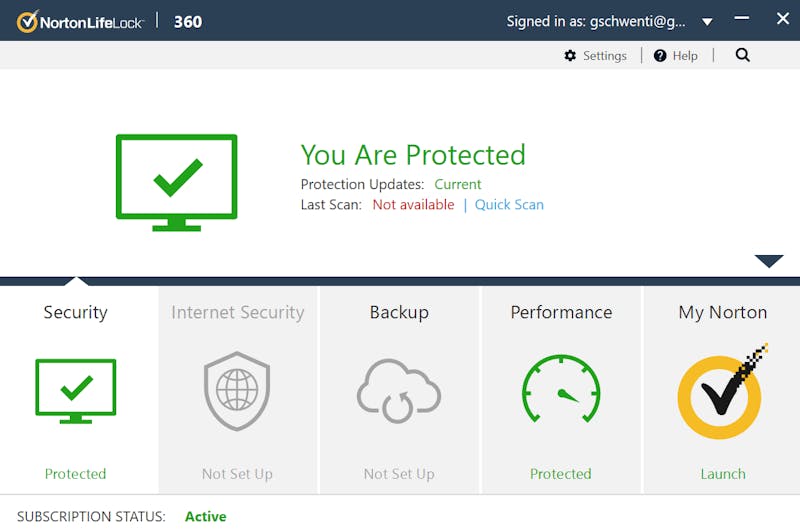 In Norton's dashboard, you can select from five modules.
The top half of the interface shows the current status of each module and can be expanded to allow additional settings to be configured. Here, you can also take more detailed action: Within the module, you can only toggle certain features on or off, such as the firewall, whereas in settings, you can configure these.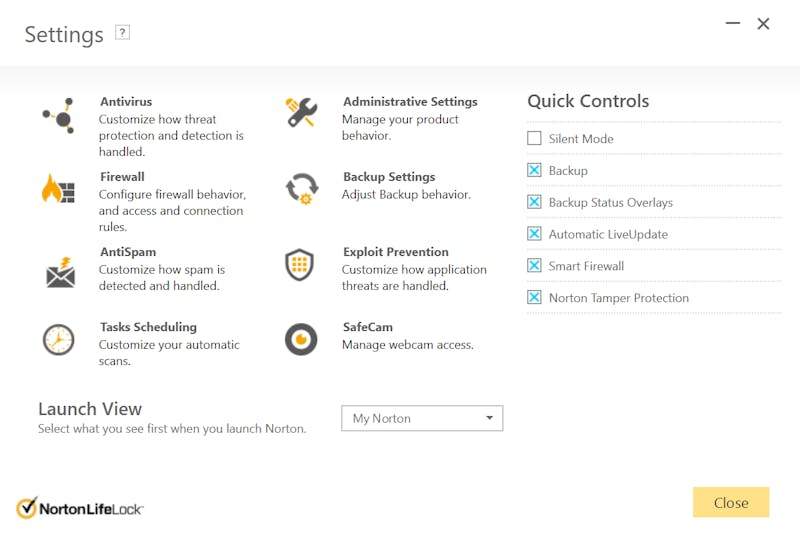 Under settings, it's possible to configure each security feature.
Beyond that, there's the "Norton Web Interface" in which you can set parental controls, amongst a number of other features. Here, you'll also find links to all Norton programs that are available and a list of your saved passwords.
Between the "My Norton" hub and the antivirus dashboard there is some overlap, undermining the purpose of the former. Since parental controls are primarily administered through the web dashboard, and the password manager is included amongst the dashboard's features, if Norton had added the VPN there as well, it could have done away with the hub altogether.
Despite this oversight, Norton still shines, particularly owing to its sleek and intuitive user interface which makes understanding the ins and outs of the program a cinch.
Installation & Usage
8.6 / 10
Norton provides real-time protection across all of its subscriptions, constantly probing your devices for threats. In addition, you can begin one of three types of scan at any time: Quick Scan, which checks key areas of your computer, Full System Scan, for your entire device, or a User-Defined Scan, with which you can select the files, folders, or partitions to be evaluated.
Scans based on your needs
User-defined scans can be scheduled in advance, with a number of options offered for their frequency. They can also be named and edited afterward. For scanning, it's possible to select which drives, folders, or files should be checked, at what time, and with what sort of veracity.
Nevertheless, the configuration options aren't as wide-reaching as they sound. With other programs, such as G DATA, you can fine-tune analyses, while Kaspersky offers users the ability to check only modified or new files.
It's possible to create user-defined scans, however, don't expect a wide variety of configuration options.
Email protection and Internet security
You can adjust the real-time protection afforded by the software to some extent. For example, it's possible to automatically scan external devices whenever they are connected to your computer. Of note is also the (pre-installed) SONAR feature, which identifies threats based on a file's behavior, even before a virus definition is found.
Across all versions of its software, Norton also offers Email Protection, with which you can scan incoming and outgoing mails for viruses or other malware, and decide what action should be taken in the event that any is found.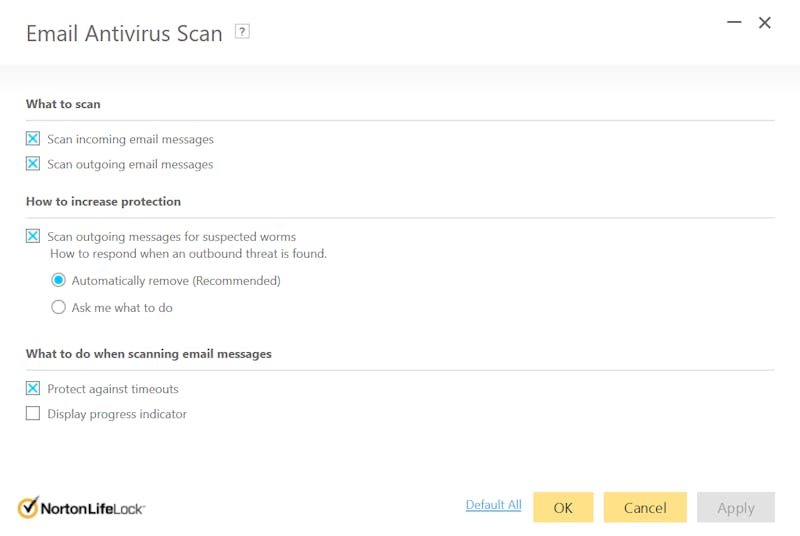 Norton protects against dangerous email worms.
Protection online is partly provided by browser extensions (for Chrome, Edge, Internet Explorer, and Firefox). Safe Search identifies risky search results, while Safe Web warns against dangerous websites. Both components are easily accessible in the dashboard.
Password manager with an integrated generator
Norton also offers all subscribers access to a password manager. This can be acquired separately as a stand-alone product, and as a result, is more comprehensive than the freebies tacked on to other antivirus programs. With it, you can administer your logins, addresses, and payment methods, and create secure notes. As mentioned above, the password manager comes with a browser extension, for automatically filling in login forms. During testing in Chrome, this functioned without issue.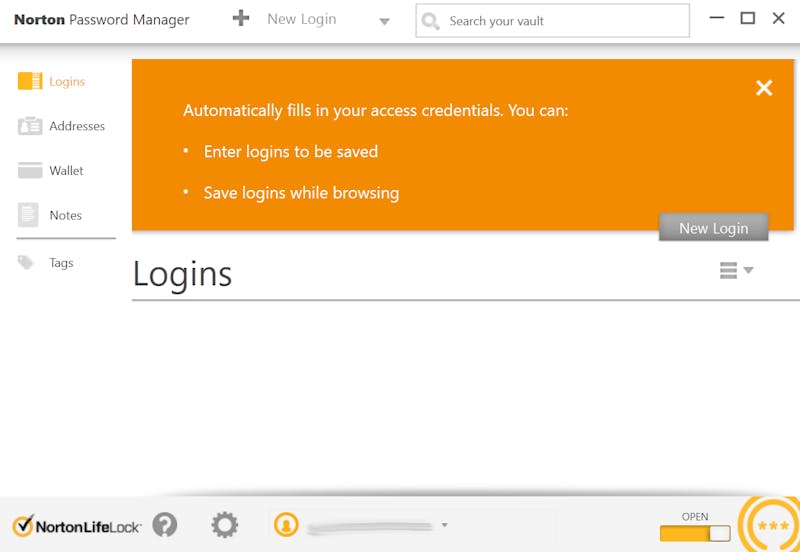 Norton's password manager can be used via app, web-interface, or browser extension.
The password manager also includes an integrated generator for automatically creating secure passwords which can be used independently.
Ransomware protection and a firewall
Norton also guards you against ransomware attacks. Alternatively known as extortion Trojans, these are a particularly nasty type of malware that encrypts your files, only providing you with the decryption key after paying a ransom.
The software's firewall (included in all subscriptions) can be configured in settings. Users are able to set individual rules and exceptions, as well as turn specific security features on or off, independently of one another.
Performance boost and cloud backup
In the "Performance" area, Norton provides access to several additional features. Here, users can optimize disks, delete unused files, or reduce their system's boot-up time by setting which programs should and shouldn't start automatically.
"Cloud Backup", also included with all subscriptions, is only available for Windows and comes with certain limitations. Antivirus Plus subscribers receive 2 GB of storage space, whereas 360 subscribers receive 10, 50, or 75 GB, depending on the package they've booked.
Features offered with Norton 360 Standard
SafeCam, Norton's webcam protection software, is only offered to Windows Norton 360 subscribers (Antivirus Plus users don't have access to this feature). This guards against spyware attacks and prevents unauthorized access to your webcam.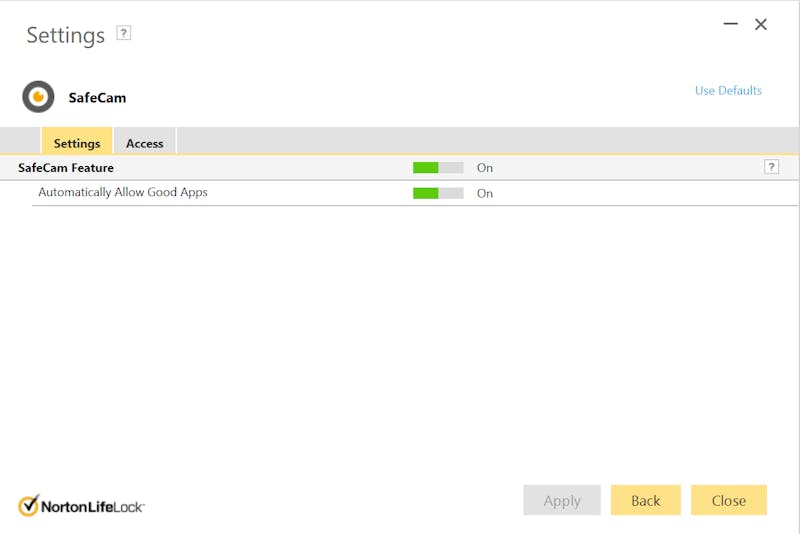 Norton SafeCam prevents unauthorized access to your webcam.
Streaming-capable VPN
A VPN is only provided to 360 package subscribers (and up). Across its three subscriptions, it offers protection for one, up to five, or up to ten devices. The server network, encompassing 31 countries, is relatively small when set alongside dedicated providers, however, there are no limits (as is common with other antivirus VPNs).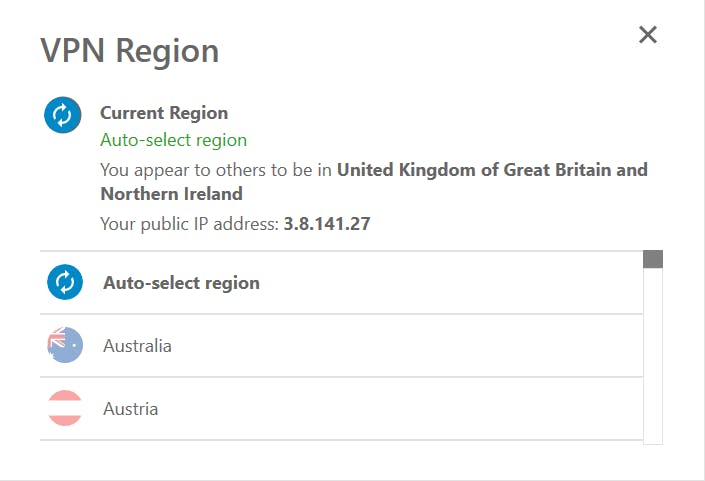 Norton Secure VPN allows anyone to surf the Web anonymously and stream geo-restricted content.
For streaming geo-restricted content, Norton's VPN performed well: We were able to watch US Netflix and Amazon Prime content from abroad.
Safe surfing for children
Parental controls come standard with Norton 360 Deluxe and up, and can be set either in the Web dashboard or through the supplementary "Norton Family" mini-app. Simply create browser profiles for each member of your family and set the level of content restriction (ranging from "very high" to "low"). Then, each profile can be assigned to any device by installing the control app on it. Windows, Android, and iOS are supported, with Mac users again getting the short end of the stick.
With "Schooltime", you can ensure that your child has a stable Internet connection while distance learning (even if a connection limit has been exceeded) all the while being unable to access certain non-scholastic content.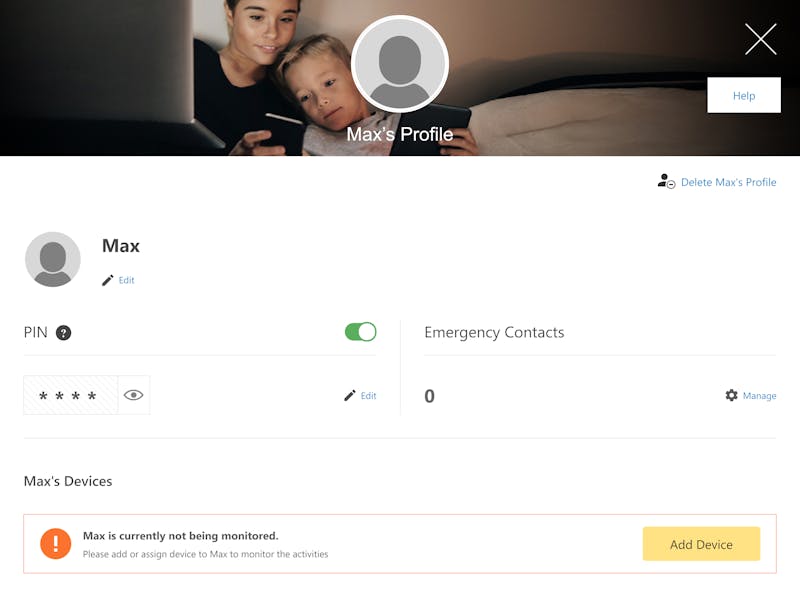 With the software's parental controls, it's possible to make sure that your children have a safe Internet experience.
"Dark Web Monitoring" is also part of the 360 Deluxe package. With this, Norton will comb through marketplaces on the so-called Darknet, looking for your personal data, alerting you if it finds any.
Norton certainly didn't spare any cost on features, however, there remains some room for improvement. Extra protection for online banking in the form of a secure browser (as is the case with other antivirus programs) would be one extra Norton might want to consider developing. Similarly, a file shredder, which comes standard with most of the other software from our sample, needs to be paid for separately in Norton.
Mobile Features
Norton Mobile Security is available for Android and iOS in a stand-alone version, but also included with Norton 360 (for Basic package subscribers this is limited to a single device). On the app's home screen, you can scan your system by tapping on "Scan Now" or configure automatic smart or system scans, however, it isn't possible to schedule these like in the desktop counterpart.
Norton also provides real-time protection on mobile devices, as well as Web protection and tools to help secure your device. WiFi protection analyses your network, guarding against potential threats.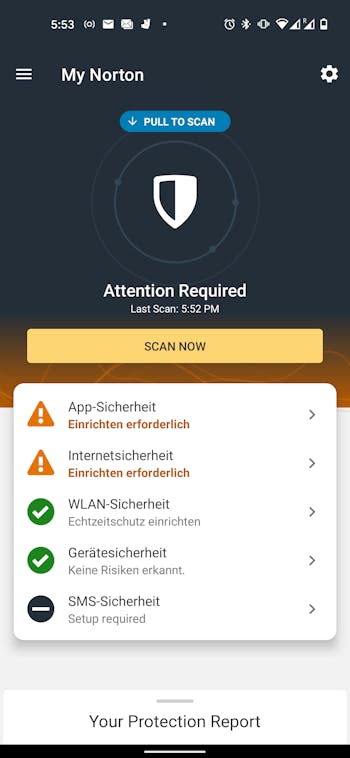 For on the go, Norton divides its features between a few different mobile apps.
Extras found in the desktop version like the VPN and password manager are not integrated into Norton's mobile app, but have their own individual applications that can be downloaded in the "My Norton" area. It is understandable that Norton gave each of these features its own app, however, App Block was one of the few that could have been integrated directly into the main mobile app. This makes it possible to provide selected apps with an extra layer of security (such as a PIN or fingerprint scan), and would mesh well with the Mobile Security app.
The most noticeable absences are anti-theft measures: The ability to GPS locate a lost device, remotely delete data, or even take pictures of your device's current possessors are important, but unfortunately, nowhere to be found. Earlier, Norton offered these, however, since December 2019, they've been discontinued. The support personnel we interacted with couldn't provide us with any reasons for this, and on Norton's website only unspecified "quality issues" are cited. Hopefully, these features will return in the future, however, until that day, Norton offers absolutely no support for lost or stolen mobile devices.
In general, Norton's feature portfolio is nice, even if a few things are missing here and there.
In order to objectively assess Norton 360, we consulted AV-Test ⇱ and AV-Comparatives ⇱, each of which regularly awards separate scores for performance and security to a number of antivirus solutions. We also ran a full system scan to determine if the program inhibited our computer's performance in any way.
| | Security | Performance |
| --- | --- | --- |
| | | |
| | | |
| | | |
Norton received mixed scores from the two testing labs we consulted. At the time of writing, the software was awarded maximum points by AV-Test (April 2021) ⇱ in both security and performance, and with it, commendation as a "Top Product".
The software's security came in for criticism from AV-Comparatives during their real-world protection test ⇱ (February-May 2021), which noted a relatively high number of false positives and a protection rate of only 99.5%, entitling it to a basic certificate and only one out of three stars. In the testing lab's performance test ⇱, Norton was able to make up some lost ground, securing 85 out of 100 points. This coincides with our experience as well, since we didn't encounter any noticeable performance changes while running a full system scan.
The testing labs came to somewhat different conclusions, with AV-Comparatives's poor security score raising some questions about how thorough AV-Test's evaluations were. All the same, Norton 360 left us with a good impression so far as security and performance are concerned.
Security & Performance
8.0 / 10
More than a few antivirus software developers seem to view support as an annoyance, which should only be provided in the most difficult of cases. Thankfully, this is not the case with Norton: Even DIY users will be pleased with the developer's efforts to aid them, including a question mark symbol on every sub-menu page, which links to a relevant FAQ page.
Links in the app's support area will take you to the user handbook, the online help center, the developer's forum, and a practical feature search. Should you want to take up direct contact, you'll have to complete an FAQ diagnostic first, which ensures that your question cannot be answered in the FAQs. You can chat with Norton's support personnel around the clock, however, help in certain languages is limited to specific times. A support hotline is offered, albeit only on weekdays.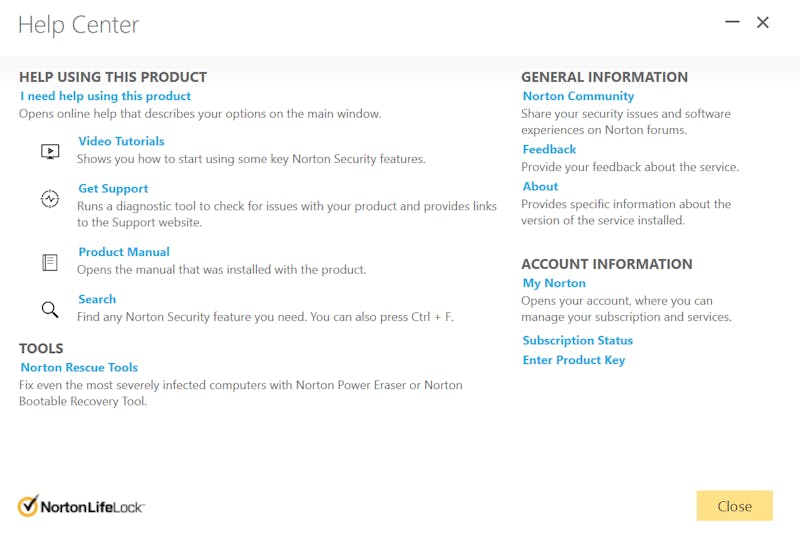 In comparison to a number of other antivirus services from our sample, Norton offers excellent support.
In the live chat, we waited for less than a minute to be connected to a helpful and knowledgeable support staffer. Our call to the hotline was taken immediately and our queries were dealt with to our utmost satisfaction.
Thankfully, Norton didn't drop the ball in terms of support, providing, on the contrary, some of the best support among all of the programs from our sample.
Norton protection is available in four subscriptions, divided into Norton Antivirus Plus and the three Norton 360 packages (Standard, Deluxe, and Premium). The first of these is only offered in yearly subscriptions, whereas the latter can be booked for two years, however, we recommend against this. Oddly enough, a two-year subscription to Norton 360 is more expensive than a one-year subscription.
For US businesses, the developer offers a "Small Business" package.
A current price list can be found here:
Antivirus Plus
360 Standard
360 Deluxe
360 Premium
Set-up Fee
-
-
-
-
Price per Year
$19.99
$39.99
$49.99
$58.84
Contract Period (Months)
12
12
12
12
Software
OS

macOS

Windows

macOS

Windows

Android

macOS

Windows

Android

macOS

Windows

Android

Max. Number of Devices
1
1
5
10
Special Protection Features
Real-time Protection
Internet Security
Email Protection
Ransomware Protection
Webcam Protection
Premium Features
Firewall
Password Manager
VPN Access
Adblocker
Cloud Backup
File Shredder
Parental Control
Performance Tuning
Mobile Features
App Lock
Location Tracking
Remote Lock
Camera Trap
Since subscription packages and features vary, the table below compares each provider's offering on the basis of a sample we created, with each provider's offering that comes closest to our template included:
1.
2.
360 Total Security
Premium
3.
4.
5.
6.
Bitdefender
Internet Security
7.
8.
9.
10.
11.
12.
13.
14.
F-Secure
Internet Security
You can test any of Norton's premium packages for free for 30 days, however, you will have to input a payment method to do so. Full, money-back refunds can be applied for up to 60 days after purchasing a subscription.
Conclusion
Installation & Usage
8.6 / 10
Security & Performance
8.0 / 10
A sleek app with nice features and unparalleled support: Norton does a lot of things right, providing solid security for any device or computer. Bonus features, like the VPN and password manager, are stand-alone programs, and better than a lot of the half-finished add-ons included by Norton's competitors.
Unfortunately, a few essential features were missing that we would expect from a premier provider, such as a file shredder or anti-theft tools for mobile devices. For Mac users in particular, there aren't many positives about Norton 360. Adding insult to injury, the testing lab results were mixed, with poor security scores from AV-Comparatives owing to too many false positives and a less-than-excellent rate of virus identification souring our overall impression.
The service does have its advantages, however, at the moment, there are more reliable antivirus programs on the market.
With its robust set of features, lean applications, and a 100 % antivirus guarantee, Norton Antivirus is definitely worth a look. Sadly, the testing labs aren't unanimously impressed, and one or two features are missing.
learn, user-friendly apps
customizable child protection
100 % antivirus guarantee
8.4

good
Plan
Devices
Protection Features
Premium Features
Norton Antivirus Plus
$19.99
yearly price
Visit Website »
Customer Ratings
Based on a number of reviews in the Play Store and on iTunes, Norton can claim a relatively good reputation for itself. Make no mistake: On Trustpilot, most of the ratings are negative. Many customers complain about frequent crashes, poor support, and billing irregularities. Particularly with regards to the latter, we advise keeping an eye on your credit and debit card statements.
Customer Ratings
1,772,766 Bewertungen
Visit Website
We analyzed the reviews and ratings from various portals and found 1,772,766 ratings with an overall rating of 4.7 out of 5 .
Alternatives to Norton Antivirus
Should you want an antivirus program with an equal number of features that is easier to use than Norton, the top-performing service from our sample, and amongst the testing labs, was Bitdefender.
On the other hand, if you want a free antivirus, Avast is worth checking out, however, you'll have to make do with some lapses in terms of support and performance.
Popular alternatives to "Norton 360" can be found in the table below:
Our 'best in test' antivirus program Bitdefender boasts strong security, confirmed by independent test laboratories, along with a flawless user interface and a comprehensive set of features.
configurable quick actions
good support with 24/7 live chat
9.6

excellent
Plan
Devices
Protection Features
Premium Features
Bitdefender Antivirus Plus
$23.99
yearly price
Visit Website »
Avast impresses with a great free version covering all the essentials, and a huge set of features that offer well-rounded antivirus protection and some nice extras. Scans can slightly impact performance, however.
Sandbox and WiFi-Inspector
scans can impact performance
8.6

good
Plan
Devices
Protection Features
Premium Features
Avast Free
$0.00
Visit Website »
Download for Free
G Data offers virus protection "made in Germany" with solid test lab scores, lots of customization, and great support. The user interface, however, could use a facelift.
many configuration options
interface somewhat outdated
test lab scores "only" solid
8.4

good
Plan
Devices
Protection Features
Premium Features
G Data Antivirus
yearly price
Visit Website »
Trend Micro delivers a solid overall antivirus package with lots of features and some nice extras, such as social media protection. However, the testing labs are a bit divided on the reliability of its protection.
Plan
Devices
Protection Features
Premium Features
Trend Micro Antivirus+
$19.95
yearly price
Visit Website »
F-Secure focuses on the essentials and delivers reliable protection from most malware, as demonstrated by its results in the testing labs. But some features, such as webcam protection, are missing.
Plan
Devices
Protection Features
Premium Features
F-Secure Internet Security
yearly price
Visit Website »

Janis von Bleichert studied business informatics at the TU Munich and computer science at the TU Berlin, Germany. He has been self-employed since 2006 and is the founder of EXPERTE.com. He writes about hosting, software and IT security.
Continue Reading