Antivirus Software Review: Norton 360
These days criminals seem to be the most industrious in the digital realm. Because malware never takes a break and online threats develop daily, if not hourly, any user of 21st century tech would be well-advised to use an antivirus program capable of keeping up with and defending you against these incessant changes. Norton promises such all-in-one protection with multiple security levels in a single user-friendly package. Below, we'll check whether the American program makes the grade.

"Norton 360" is a complete package of antivirus and security features produced by the US-based Symantec Corporation. Whether on Windows, MacOS, Android, or iOS, this package protects you against viruses, ransomware, and other threats, all the while offering device security and privacy. "Norton Antivirus Plus", a less-expensive program offers all of the security features, albeit without those intended to beef up your privacy. We tested "Norton 360 Deluxe" on Windows and "Norton Mobile Security" on Android, however, in this review, we'll discuss all of the developer's packages.
Installation & Usage
4.3 / 5
Security & Performance
4.0 / 5
Sleek, intuitive application
Provides excellent, test-lab-verified security
Includes a useful password manager and VPN
Does not offer anti-theft features
Missing several basic functions, particularly on MacOS
Prior to downloading any Norton program, you need to create an account and purchase a software license. A download link for the software you've purchased will then appear in your "My Norton" account. Installation took us around three minutes. Prior to installing, you can opt in to "Norton Community Watch", which will allow the program to collect and transmit certain data to Norton to improve the identification of malware. We did not notice any other optional installation features.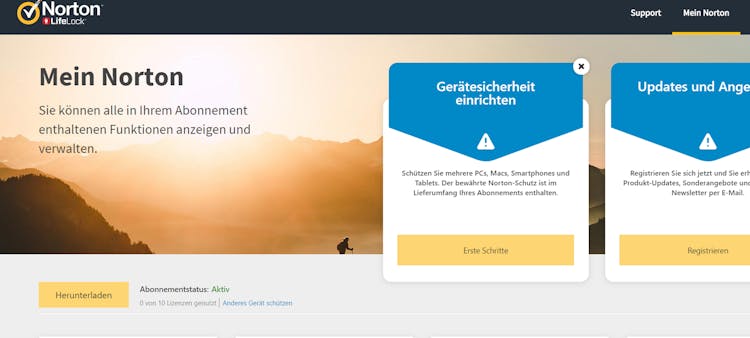 Once you've paid for a "Norton 360" subscription (and not the "Antivirus" subscription) you can send an installation link to your other devices. Then, you can access the program's different features through the "My Norton" hub. These include (depending on your subscription) "Device Security" (antivirus), "Secure VPN", "Cloud Backup", "Password Manager", and "Parental Controls".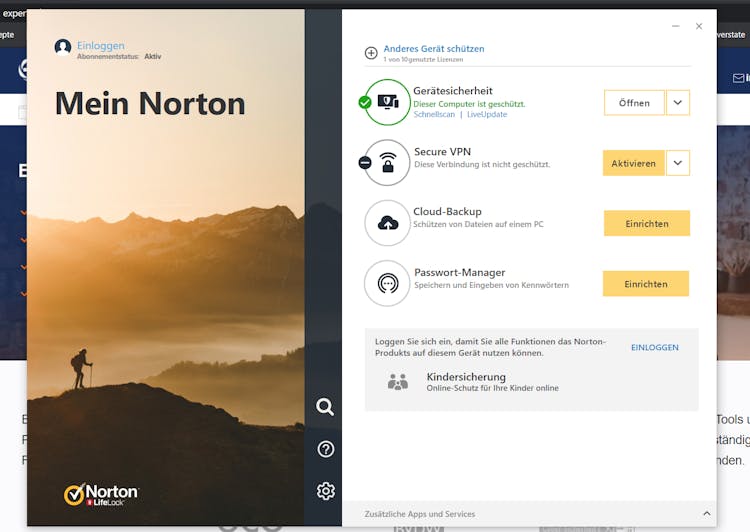 With other providers, such as Avira, the strategy of bundling features in a central dashboard rubbed us the wrong way, particularly when user-friendliness was sacrificed for the sake of advertising a company's software portfolio. This isn't really the case with Norton though, since a) Nearly all programs are included in the "360" subscription, and b) You're truly protected against viruses owing to the ability to head them off in a variety of ways. Thankfully, Norton doesn't install any bloatware on your system, and allows you to decide whether you want the program to open when you boot up your system.
All typical antivirus features are packaged in an intuitive control panel with five modules. Under "Security", you can find system scans and webcam protection, "Internet Security" includes browser extensions, real-time protection, and a password manager, "Backup" relates to your partition backups, while in the "Performance" sub-menu, you can gauge and improve you're device's performance. Clicking on "My Norton" will return you to the main hub.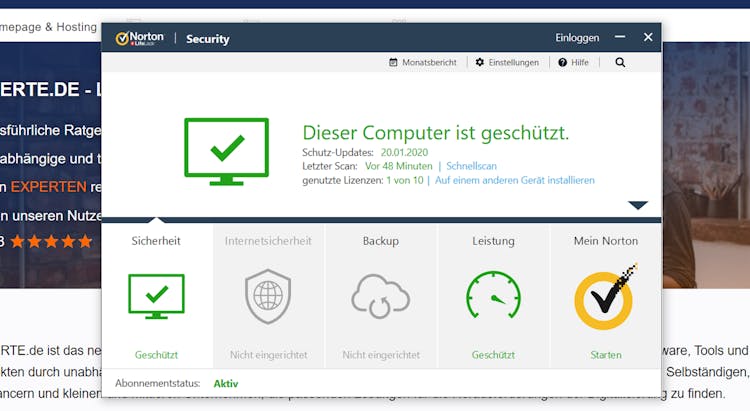 The top half of the interface shows the current status of each module and can be expanded to allow for further settings to be configured. In the upper menu column, you can also view a monthly report showing how your Norton programs have protected you over the past month. You can take detailed actions here: Within the module, you can only turn certain features, such as the firewall, on or off, whereas in settings, you can actually configure them.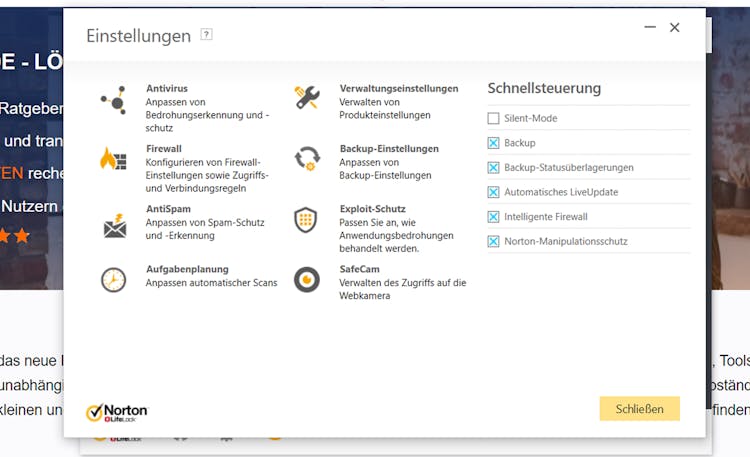 In addition, there's also the "Norton Web Interface" in which you can set parental controls.
Between the "My Norton" hub and the antivirus interface there is some redundancy, undermining the purpose of the former. Since parental controls are primarily administered through the web dashboard, and the password manager is present in the modules, by also adding VPN to the modules, Norton could have done away with the hub altogether. Despite this slight faux pas, Norton still shines, particularly owing to its sleek and intuitive user interface which makes understanding the ins and outs of the program a cinch.
Score: 4.3 / 5
Norton provides real-time protection for all subscriptions, constantly probing your devices for threats. In addition, you can begin one of three types of scan at any time: A "Quick Scan" that checks key areas of your computer, a "Full System Scan" for your entire device, and a "User-Defined Scan", which allows you to choose which files, folders, or partitions should be evaluated. User-defined scans can also be scheduled in advance with all sorts of frequency options. You can also assign a name to any scan you've created, and easily modify them.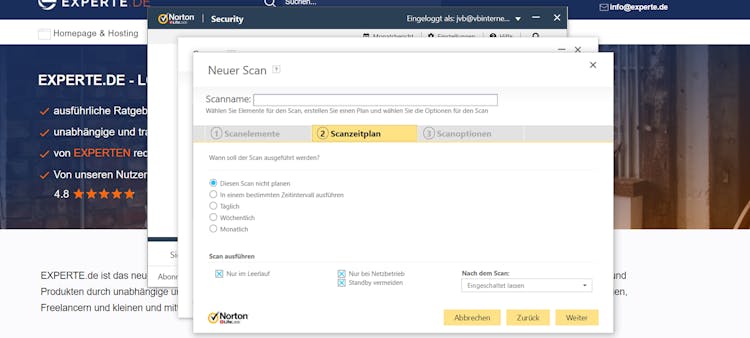 Real-time protection can be tweaked to some extent, for example, you can set external devices to automatically be scanned when connected to your computer. Of note is also the (pre-installed) SONAR feature, which identifies threats based on a file's behavior, even before a virus definition is found.
Across all versions, Norton also offers "Email Protection", in which you can set incoming and outgoing mails to be scanned for viruses or other malware.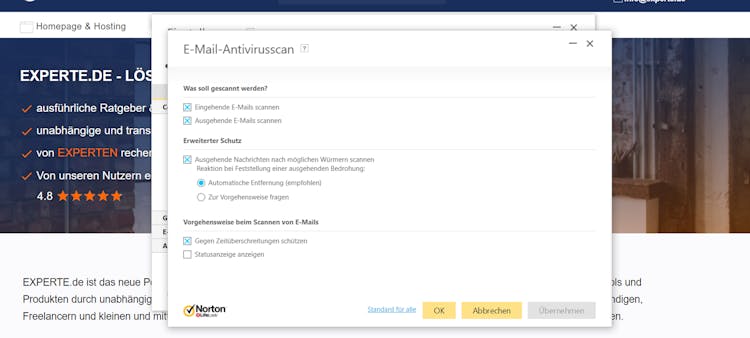 Internet protection is partly provided by browser extensions which are available for Chrome, Edge, Internet Explorer, and Firefox. "Safe Search" identifies risky search results, while "Safe Web" warns against dangerous websites, both of which are easily accessible from the central control panel.
A password manager is also made available for all subscribers. This can be acquired separately as a stand-alone product, and as a result, is more comprehensive than the freebies tacked on to other antivirus programs. You can administer your logins, addresses, and payment methods, as well as create secure notes. There's also a password generator for the automatic creation of secure passwords. As mentioned above, a browser extension is also included in the package, which automatically fills in login fields on websites. During testing in Chrome, this functioned without issue.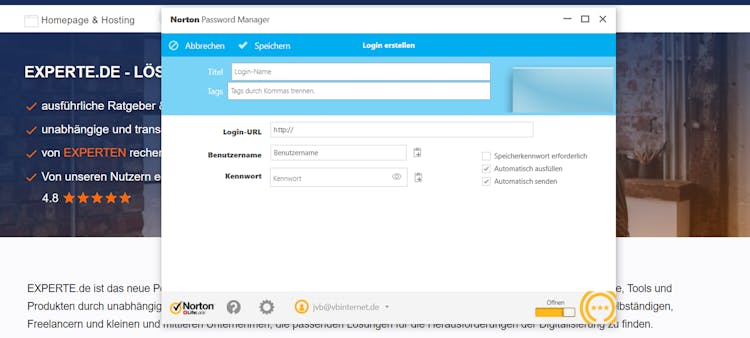 Norton also guards you against ransomware attacks. These so-called extortion Trojans are particularly nasty, and rely on encrypting your data, only providing the decryption key in exchange for a ransom. The inclusive firewall (all subscriptions) can be configured in settings. For example, you can set individual rules and exceptions, as well as turn specific security features on or off, independently of one another.
Under "Performance" Norton offers several additional features. You can optimize disks, delete unused data, or reduce the boot up time by setting which programs should and shouldn't start automatically.
Webcam protection, called "Norton SafeCam", is only accessible in the "360" package (and therefore, not for "Norton Antivirus Plus", making it only available for Windows). This prevents unauthorized access to your webcam by spyware or hackers.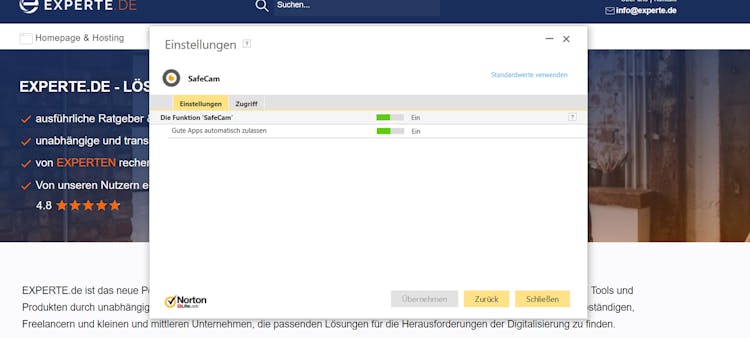 A VPN is only provided with the "360" package (and up). Across its three subscriptions, it offers protection for one, up to five, or up to ten devices. The server network, entailing servers in 28 countries is relatively small in comparison to dedicated providers, however, there are no limits (as is common with other antivirus VPNs). In terms of streaming, the performance was mixed: We were unable to watch foreign Netflix content, however, we had no difficulty in viewing the BBC's iPlayer from abroad.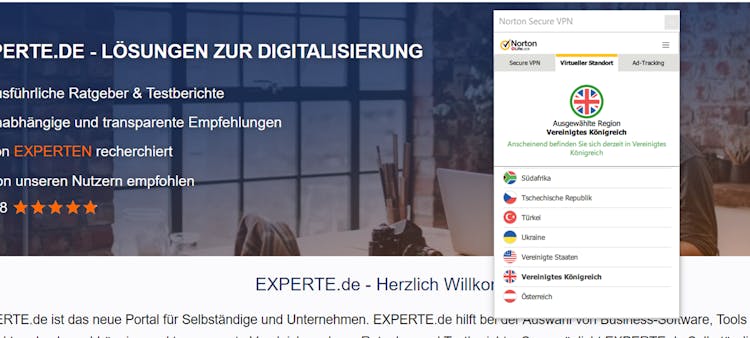 "Cloud Backup" is also provided across all subscription packages, however, only for Windows users, and with varying limits. The limit for "Antivirus Plus" is 2 GB, for while for "360" subscriptions it's 10 GB, 50 GB, or 75 GB.
Parental controls are included starting with "Norton 360 Deluxe", and can be set either in the web dashboard, or through the supplementary "Norton Family" mini app. These allow you to create browser profiles for each member of your family with four different levels of content restriction ranging from "very high" to "low", which can then be transferred to any device through installation of the control app. Windows, Android, and iOS are supported, with Mac users again getting the short end of the stick.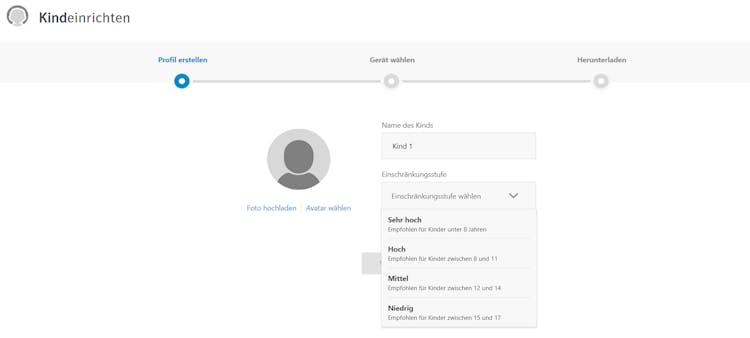 Norton certainly didn't spare any cost on features, however, they still have some room for improvement. Additional online banking protection provided by a secure browser (as is the case with other antivirus programs) would be one such feature that Symantec could work on including. Similarly, some features that are standard to other providers, such as a data shredder, need to be paid for separately in Norton.
Mobile Features
"Norton Mobile Security" is available for Android and iOS in a stand-alone version, but also included in the "360" packages (for the basic subscription, however, this is limited to a single device). You can scan your system by swiping down on the start window, however, you cannot schedule this scan like in the desktop version.
Norton also provides real-time protection on mobile devices, as well as web protection and an anti-malware function. WiFi protection analyses your network and protects you from potential threats.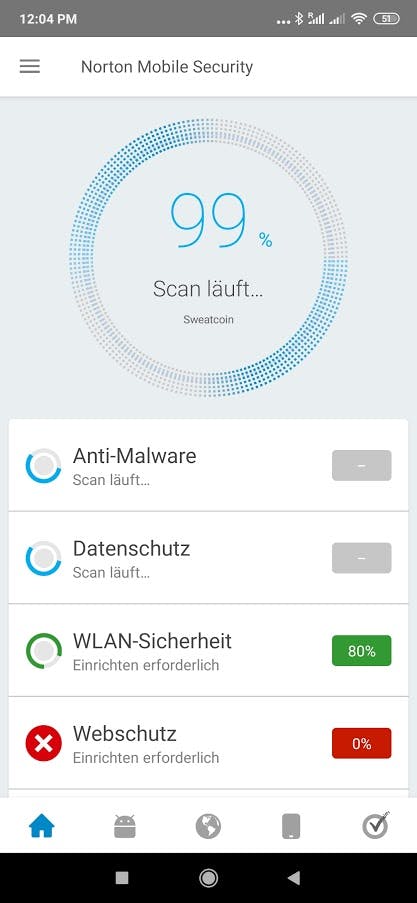 Desktop extras like the VPN and password manager are not integrated in Norton's mobile app, but have their own individual applications that can be downloaded in the "My Norton" area. It is understandable that Norton gave each of these functions their own app, however, "App Block" was one of the few that could have been integrated directly into the main mobile app. This function, which allows you to provide selected apps with an extra layer of security (such as a PIN or fingerprint scan) would fit seamlessly into "Mobile Security".
The most noticeable absence are anti-theft measures: The ability to GPS locate a lost device, remotely delete data, or even take pictures of your device's thieves are important, but unfortunately, nowhere to be found. Earlier, Norton included these features, however, since December 2019, they've been discontinued. The support personnel we interacted with couldn't provide us with any reasons for this, and on Norton's website only unspecified "quality issues" are cited. Hopefully, these features will return in the future, however, until that day, Norton offers absolutely no support for lost or stolen mobile devices.
In general though, Norton's feature portfolio is nice, even if there are a few notable absences.
Score: 4 / 5
To assess Norton 360, we consulted AV-Test and AV-Comparatives, each of which gives separate scores for performance and security.
Norton received excellent results from the test labs. In the most recent (in regards to the time of this review's publication) AV-Test evaluation, Norton Security took maximum points in both security and performance, receiving the "Top-Product" commendation as a result. During AV-Comparatives' real-world protection test (July-October 2019) the program impressed with 0% of compromised files. This means that during testing, the program was able to neutralize every threat; seven false positives were reported. In the performance test too, Norton secured 90 out of 100 points.
In total, Norton impressed on all fronts: The program is secure and fast, and perhaps, most importantly, can back-up these claims with results from independent testing authorities.
Score: 4.7 / 5
More than a few antivirus program developers seem to view support as an annoyance, which should only be provided in the most difficult of cases. This is not the case with Norton: Even DIY users will be pleased with the developer's efforts to aid them, including a question mark symbol on every sub-menu page, which takes users to the relevant FAQ page.
In the in-app support area, links will take you to the user handbook, the online help center, Norton forum, and a practical feature search. Should you want to take up direct contact, you'll have to pass through a self-diagnosis first, which ensures that your question cannot be answered in the FAQs. You can chat with Norton support personnel around the clock, however, help in certain languages is limited to specific times. Support by telephone is also provided, albeit only on weekdays.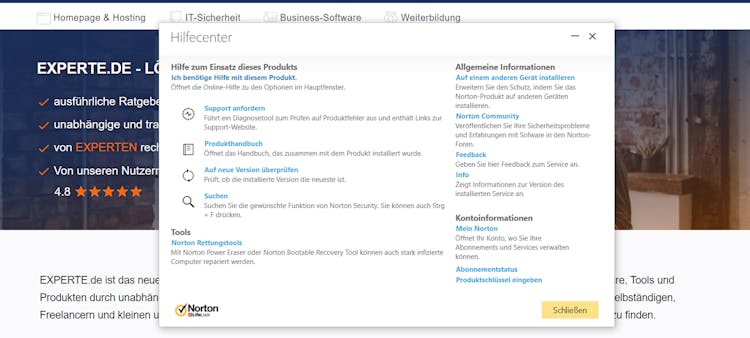 In live chat, we were warned of a 19 minute waiting time, however, after less than five minutes, we were connected to a very helpful support staffer. Contacting support by telephone was even quicker.
Thankfully, Norton didn't drop the ball in terms of support, as so many other providers do, and on the contrary, actually provides the best support among all of the programs we evaluated
Score: 5 / 5
Norton protection is available in four subscriptions, divided into "Norton Antivirus Plus" and the three Norton "360" packages ("Standard", "Deluxe", and "Premium"). The first of these is only available in yearly subscriptions, whereas the latter can be subscribed to for two years, however, we recommend against this. Oddly enough, a two-year subscription to "Norton 360" is more expensive than a one-year subscription.
For US organizations, Norton offers a "Small Business" package.
A current price list can be found here:
Antivirus Plus
360 Standard
360 Deluxe
Pricing
Set-up fee
-
-
-
Price per year
$19.99
$39.99
$49.99
Contract period (months)
12
12
12
Software
OS

macOS

Windows

macOS

Windows

Android

macOS

Windows

Android

Max. Number of devices
1
1
5
Special Protection Features
Real-time Protection
Internet Security
Email Protection
Ransomware Protection
Webcam Protection
Premium Features
Firewall
Password Manager
VPN Access
Adblocker
Cloud Backup
File Shredder
Parental Control
Performance Tuning
Mobile Features
App Lock
Location Tracking
Remote Lock
Camera Trap
Since subscription packages and features for each program vary, the table below compares each provider's offering on the basis of a sample, with similar conditions:
$26.99
Visit Website
$29.95
Visit Website
$29.99
Visit Website
$34.99
Visit Website
Bitdefender
Internet Security
$34.99
Visit Website
$34.99
Visit Website
360 Total Security
Premium
$35.98
Visit Website
$39.99
Visit Website
$39.99
Visit Website
Kaspersky
Internet Security
$39.99
Visit Website
$42.74
Visit Website
$44.99
Visit Website
$45.00
Visit Website
$47.15
Visit Website
$49.99
Visit Website
Installation & Usage
4.3 / 5
Security & Performance
4.0 / 5
A sleek app with excellent test results and unparalleled support: Norton does a lot of things right, and it's reliable to boot. Bonus features, like the VPN and password manager are stand-alone programs, and better than a lot of the half-finished add ons included by competitors. Unfortunately, a few essential features were missing that we would expect from a premiere provider. Similarly, the lack of attention for Mac users is lamentable. In spite of these miscues, however, Norton remains one of the most trustworthy antivirus providers on the market.
elegant-intuitive application
good protection performance
incl. password manager and VPN
missing standard features on macOS
Plan
Devices
Protection Features
Premium Features
Norton Antivirus Plus
$19.99
yearly price
Visit Website »
Based on a number of reviews in Play Store, Capterra, and iTunes, Norton can stake out a relatively good reputation for itself. Don't let this confuse you though; On Trustpilot, most of the ratings are negative. Many customers complain about program crashes, poor support, and subscription irregularities.
Customer Rating
1,661,942 Ratings
excellent
We analyzed the reviews and ratings from various portals and found 1,661,942 ratings with an overall rating of 4.6 out of 5 .
Show sources
Alternatives to Norton Antivirus
Norton's biggest rival in terms of test lab results, price, and features, is Bitdefender. If you're searching for a more affordable program, although with not nearly as good test results take a look at Sophos Home and 360 Total Security. Popular alternatives to "Norton 360" can be found in the table below:
excellent protection results
configurable quick actions
good support with 24/7 live chat
Our test winner Bitdefender not only offers high security, confirmed by independent test laboratories, but also convinces with its flawless usability and a comprehensive feature package.
Plan
Devices
Protection Features
Premium Features
Bitdefender Antivirus Plus
$29.99
yearly price
Visit Website »
special features like VPN
Kaspersky Internet Security is a user-friendly anti-virus protection with perhaps the best feature package on the market.
Plan
Devices
Protection Features
Premium Features
Kaspersky Antivirus
yearly price
Visit Website »
Free Trial Version
Avast überzeugt mit einer Gratis-Version, die bereits die wichtigsten Funktionen abdeckt. Lediglich bei der Performance gibt es leichte Abzüge.
Plan
Devices
Protection Features
Premium Features
Avast Free
$0.00
Visit Website »
Download for Free
intuitive Benutzeroberfläche
keine Firewall oder Webcam-Schutz
Plan
Devices
Protection Features
Premium Features
Trend Micro Antivirus+
$29.95
yearly price
Visit Website »

Author: Janis von Bleichert
Janis von Bleichert studied business informatics at the TU Munich and computer science at the TU Berlin, Germany. He has been self-employed since 2006 and is the founder of EXPERTE.com. He writes about hosting, software and IT security.