Malware Removal 2023: How to Remove Malware

Author
Janis von Bleichert
Ad disclaimer:
For links on this page, EXPERTE.com may earn a commission from the provider. This supports our work and has no influence on our editorial rating.
Do annoying pop-up ads constantly appear on your device? Is your PC noticeably slower than it was just a few days ago? Or, did you click on a link in an email from someone you don't know? If you've experienced any of the above, or think that your device may be infected with malware, don't waste any time.
Before you can finish an article like this, dangerous programs can access your information and take over your system, utilizing its resources for their own evil purposes.
Let's get right to the point: There are lots of ways to heal your system from a malware infection and prevent threats from gaining a foothold to begin with. Some programs that offer basic security features are free, however, you'll need to pay for premium tools. Below, we'll show you three ways to solve malware problems in just a matter of minutes.
1.
Option: Remove Adware With AdwCleaner for Free
AdwCleaner is a free anti-malware program produced by Malwarebytes. It targets spyware, adware, potentially unwanted programs (PUPs), and browser hijackers. The program doesn't protect against all types of malware, but it does offer a good defense against uninvited visitors to your system.
AdwCleaner is lightweight and can be downloaded and installed in a matter of seconds. Unlike more complex antivirus suites, its functionality is very limited, and it cannot do much more than fight malware. Click on "Scan Now" in AdwCleaner's dashboard to immediately scan for unwanted software.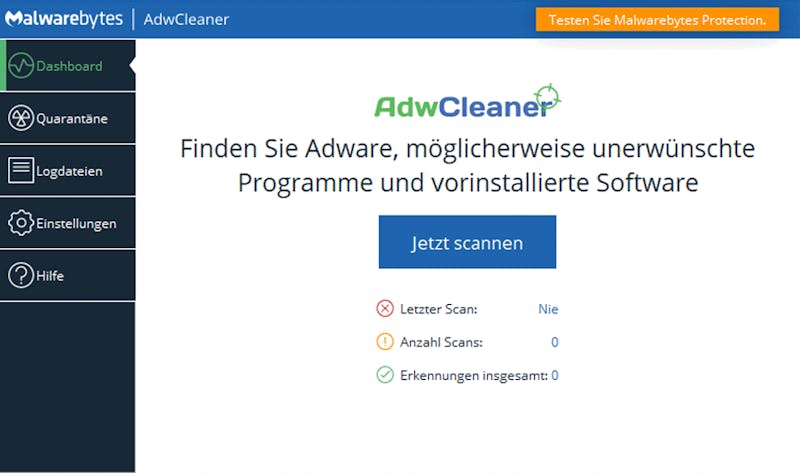 AdwCleaner is a free program for removing some types of malware.
This scan should only take a matter of seconds (depending on the number of objects to be searched).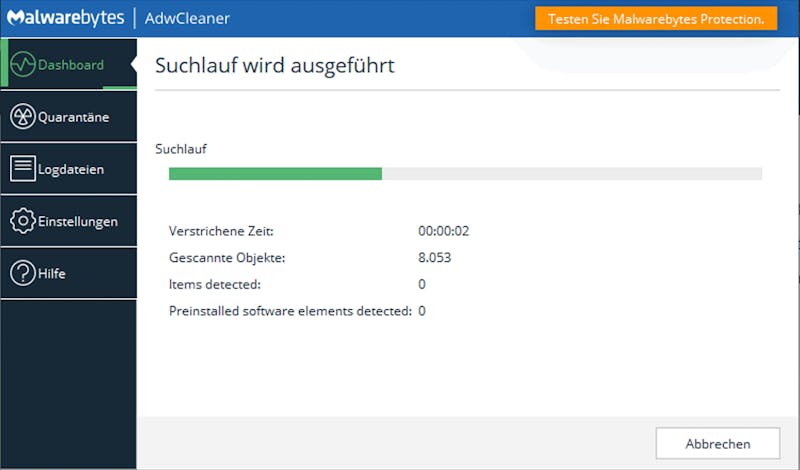 AdwCleaner's scans only take a few seconds to complete.
Once finished, you can view the scan results and see any files that AdwCleaner considers dangerous or unnecessary. If you want, you can quarantine these to prevent them from damaging your system. Before doing this, make sure that you first save all of your work and close any programs that might be open, since AdwCleaner will automatically stop all running processes.
Use AdwCleaner's quarantine to isolate potentially dangerous files and programs.
After AdwCleaner has quarantined the selected files, you'll need to restart your computer to complete the process.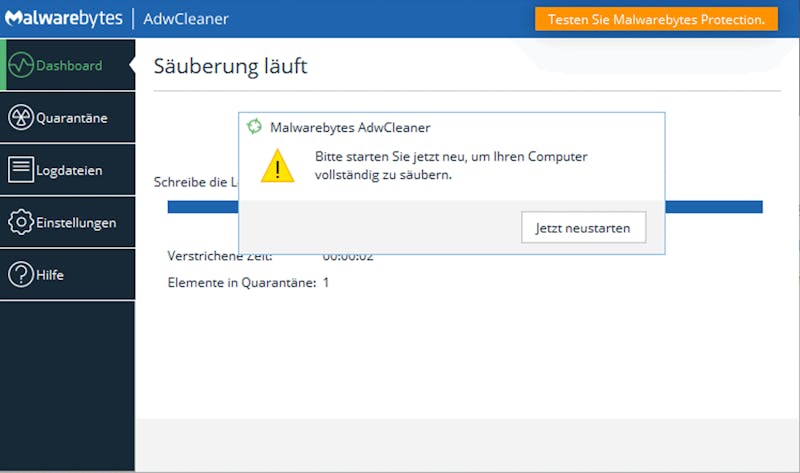 Finish AdwCleaner's scan by restarting your system.
After the restart, the process is complete, and you can view log files under the appropriate menu.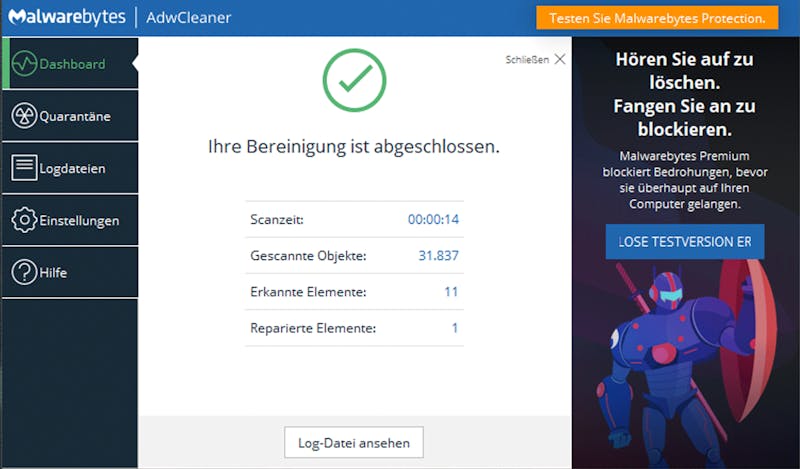 Review quarantined files in AdwCleaner's log.
If you feel completely at ease and want to conserve system resources, you can easily uninstall the program by clicking on settings and selecting "Remove AdwCleaner".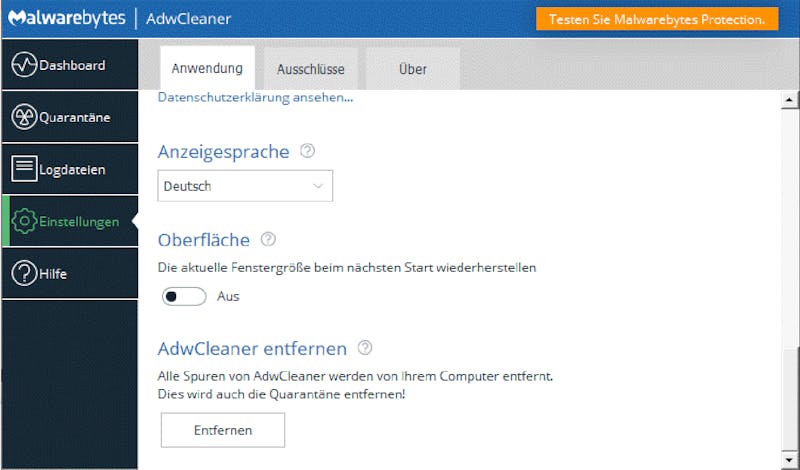 Once you've neutralized all malware on your system, feel free to uninstall the program.
It only takes a few minutes to download and install AdwCleaner and perform a scan. Best of all, doing so is completely free. Of course, the program is somewhat basic and can't identify or protect against all types of malware. In case your malware problem is more serious, you'll need a comprehensive anti-malware solution.
There are several free anti-malware programs. Many developers embrace the freemium model and offer a basic version of their software at no cost, with special features behind paywalls and reserved for premium subscribers. In EXPERTE.com's evaluation, Avast Antivirus provides the most impressive freemium anti-malware program.
2.
Option: Remove Malware With Avast Antivirus Free
Like AdwCleaner, downloading Avast Free Antivirus only takes a matter of seconds. Once installation is finished, after clicking on the green "Confirm" button, the program automatically performs its first scan of your system.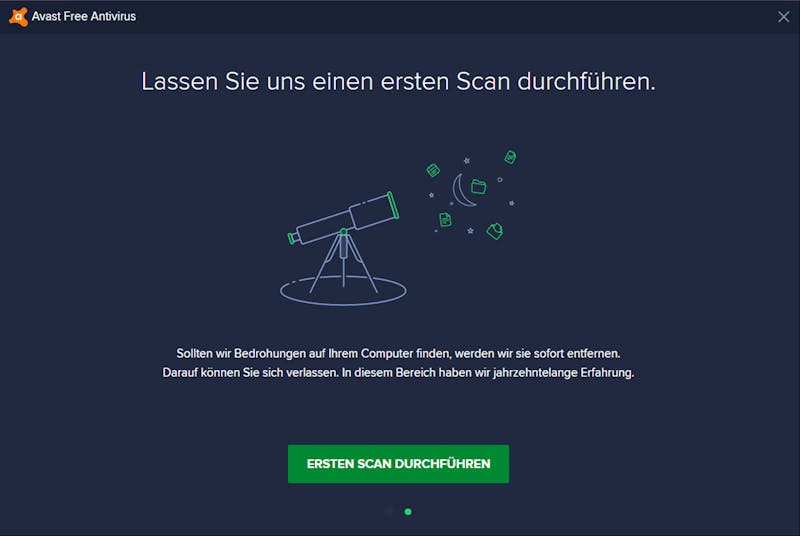 Avast Antivirus performs its first system scan immediately after installation.
This scan is much more thorough than that of AdwCleaner and also takes a bit longer. Avast checks four areas, "Browser Threats", "Outdated Applications", "Hidden Viruses", and "Other Issues".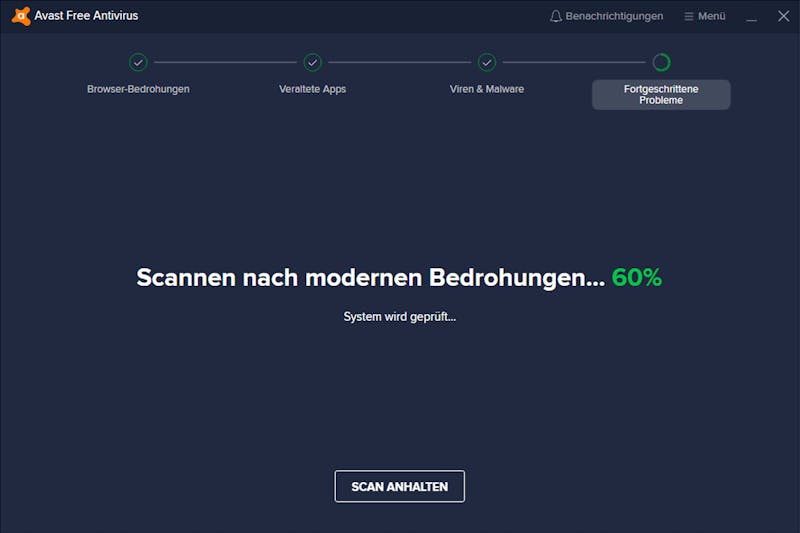 Avast Antivirus scans your system for four kinds of issues.
If Avast identifies any problems in the first three categories, you can resolve them for free in the next step.
With Avast Antivirus, you can resolve browser threats, outdated applications, and hidden viruses for free.
However, to fix "Other Issues", you'll need a paid subscription. This is Avast's way of attracting (paying) customers since any system is likely to have a number of these.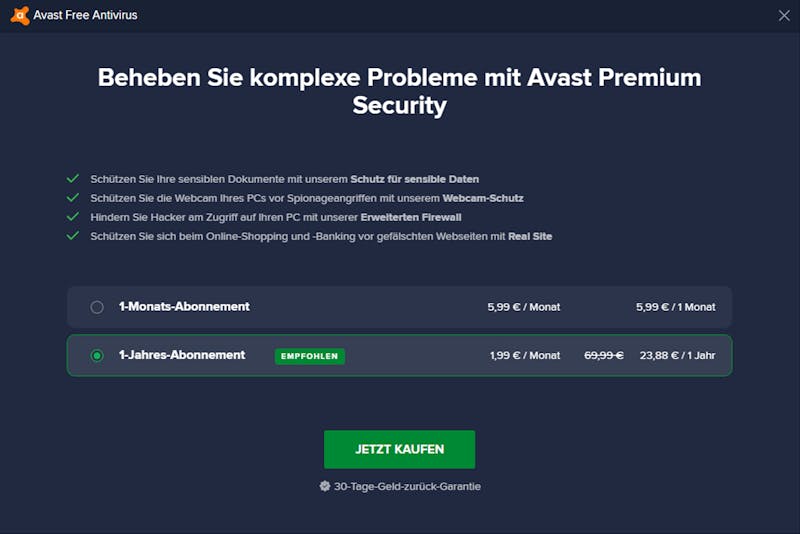 Don't be surprised if Avast Antivirus detects "Other Issues" on your system - This is one of the developer's methods to gain new paying subscribers.
Avast Free Antivirus is great for basic scans and giving your system real-time protection. However, for more comprehensive real-time protection, you'll need to purchase a premium subscription. The same goes for nearly every antivirus program though.
If you're going to pay for an antivirus subscription, why not get the best? Bitdefender was EXPERTE.com's best anti-malware program, owing to its high security, excellent features, and user-friendliness.
3.
Option: Real-Time Protection With Our Winner, Bitdefender
Our 'best in test' antivirus program Bitdefender boasts strong security, confirmed by independent test laboratories, along with a flawless user interface and a comprehensive set of features.
configurable quick actions
good support with 24/7 live chat
9.6

excellent
Plan
Devices
Protection Features
Premium Features
Bitdefender Antivirus Plus
$23.99
yearly price
Visit Website*
We recommend Bitdefender if you want to fully combat malware. Owing to its size, the program takes a few minutes to install, which is significantly longer than the other two solutions we've explored above. You'll have three scanning options in the program's dashboard: A "Quick Scan", a "System Scan", or a "Vulnerability Scan" that looks for weaknesses (like outdated software).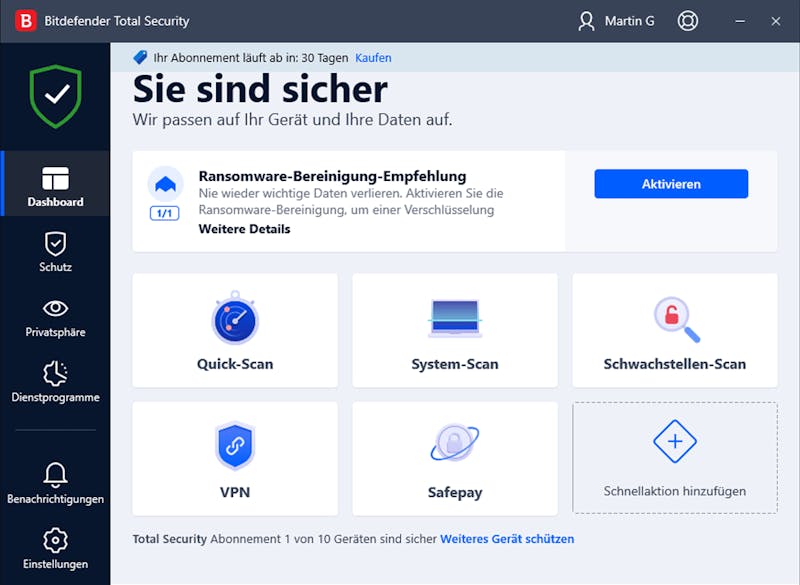 Bitdefender offers three kinds of scans: Quick, System, or Vulnerability.
A "Quick Scan" only takes a few minutes but should catch most malware threats. On the other hand, a "System Scan" takes longer and requires a restart.
A "Quick Scan" is fast, however, a "System Scan" is more thorough.
Once the scan is finished, you can resolve any problems that have been found directly in the program's dashboard with just a few clicks.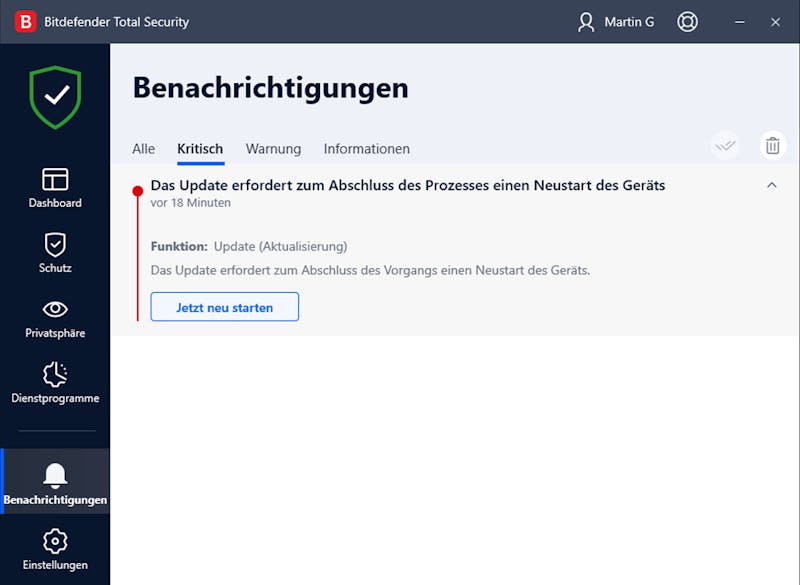 Bitdefender informs you about any issues it identified during scanning.
Scans are only one of Bitdefender's cybersecurity tools. The program's real-time protection constantly monitors your system in the background, while in the "Security" menu, you can configure advanced settings for all of its features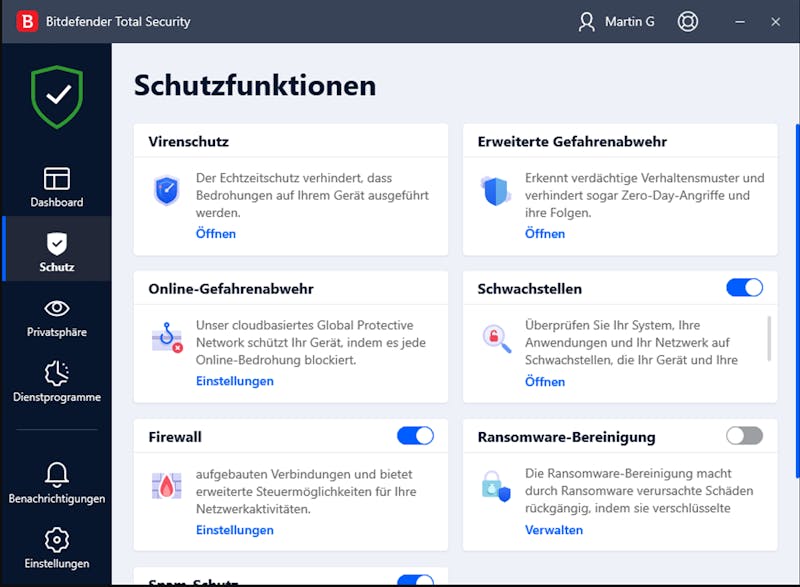 Bitdefender offers a nice variety of security tools and features.
The program's premium version also includes a password manager, a VPN, and anti-theft measures. Bitdefender Central, the provider's comprehensive safety center, helps you to prevent both malware and other digital dangers, resolve existing problems, and enhance your privacy.
Conclusion
Free tools like AdwCleaner or freemium ones like Avast help to quickly flush out any malware on your computer. Should you want a comprehensive anti-malware suite that includes additional security features, we recommend the winner of our evaluation, Bitdefender.
To view all results from our review of anti-malware programs, be sure to check out our comprehensive guide.
* Ad disclaimer:
For links marked with an asterisk, EXPERTE.com may earn a commission from the provider. The commission has no influence on our editorial rating.

Janis von Bleichert studied business informatics at the TU Munich and computer science at the TU Berlin, Germany. He has been self-employed since 2006 and is the founder of EXPERTE.com. He writes about hosting, software and IT security.
Continue Reading