Sticky Password Review 2023: What Can the Password Manager Do?


Ad disclaimer:
For links on this page, EXPERTE.com may earn a commission from the provider. This supports our work and has no influence on our editorial rating.
Do you know anyone who keeps their passwords stored on Post-it notes arranged around their computer screen? Even though every online service requires an account and password, this approach is not only impractical but also unsafe and sloppy.
Sticky Password, a password manager, offers an alternative that helps to cut through the clutter with secure virtual data set storage.
What Is Sticky Password?
Sticky Password* is a password manager designed by Lamantine Software, and available for Windows, macOS, Android, and iOS. Beyond these, the program also supports a number of lesser-known browsers. With nearly 20 years of experience, Lamantine Software is a true veteran of the world of password managers. In this review, we'll explore whether the company's two decades of activity are noticeable in Sticky Password.
We tested Sticky Password on Windows and Android.
Sticky Password Review
Installation & Usage
6.0 / 10
User-friendly and straightforward installation
Sticky Password is not difficult to install: Download the installation file from the service's homepage and follow the usual installation steps. Then, create a Sticky account and set your master password. This unlocks your password database and should be the last password you'll ever need to memorize. Choose carefully because if you lose or forget it, you'll lose access to your account.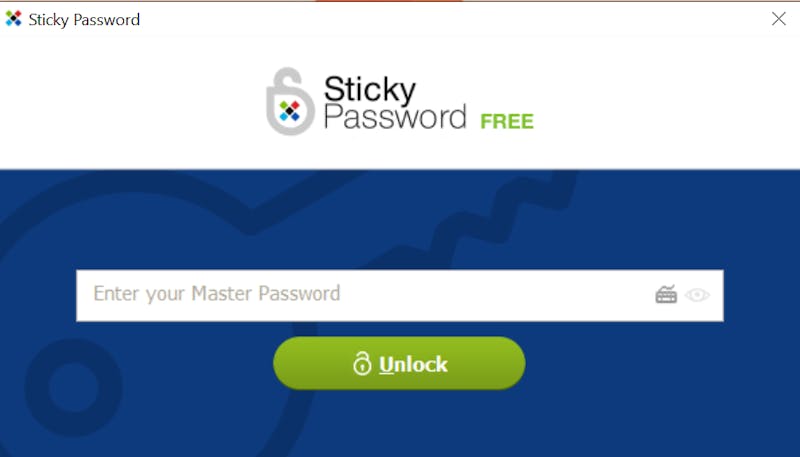 Sticky Password helps you create your master password.
Once installation is finished, you can integrate the appropriate extension for your browser, which should be automatically identified. Even though, this doesn't always happen, manual configuration is both quick and easy.
Sticky Password's user interface opens after installation is finished. If you've used a password manager before, you'll likely want to import your existing data sets. To do this, go to Menu > Import. The software supports imports from RoboForm, KeePass, LastPass, Dashlane, Kaspersky Password Manager, and 1Password, as well as most common browsers.
We didn't have any difficulty when we imported a LastPass CSV file and liked the ability to choose which entries to import. Most other solutions import everything. Categories we had created in LastPass weren't transferred and all data sets were grouped together. Sticky Password gave every entry the title "New Web Account" instead of using the website's name. To make sense of this, we had to manually re-organize our entries.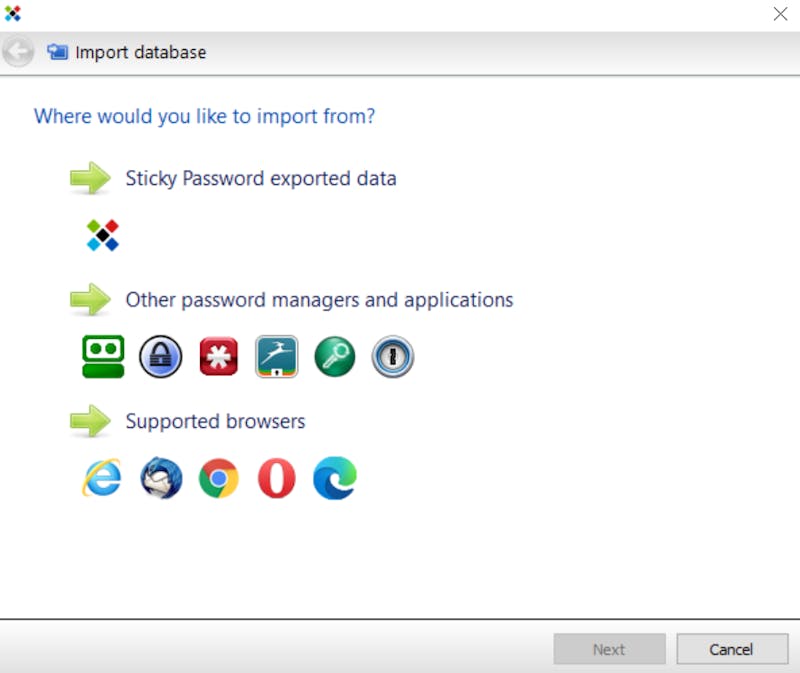 Sticky Password supports data set imports from other services and browsers.
User interface: Old-fashioned but endearing
Sticky Password's interface reminded us of the late 90s and AOL, which made us somewhat nostalgic. Even though its appearance is a bit outdated, the program is highly versatile and doesn't take long to get used to. All the same, Sticky Password can't keep up with its competitors' sleeker dashboards.
Next, we'll discuss Sticky Password's two main components: Its desktop app and its browser extension (we review its mobile app later in the review).
Desktop app
The desktop app serves as Sticky Password's core. Click on "Quick Access" to add a new account, secure memo, identity, or portable password. This is also where you'll find the "Security Dashboard", where you can review the security of your accounts.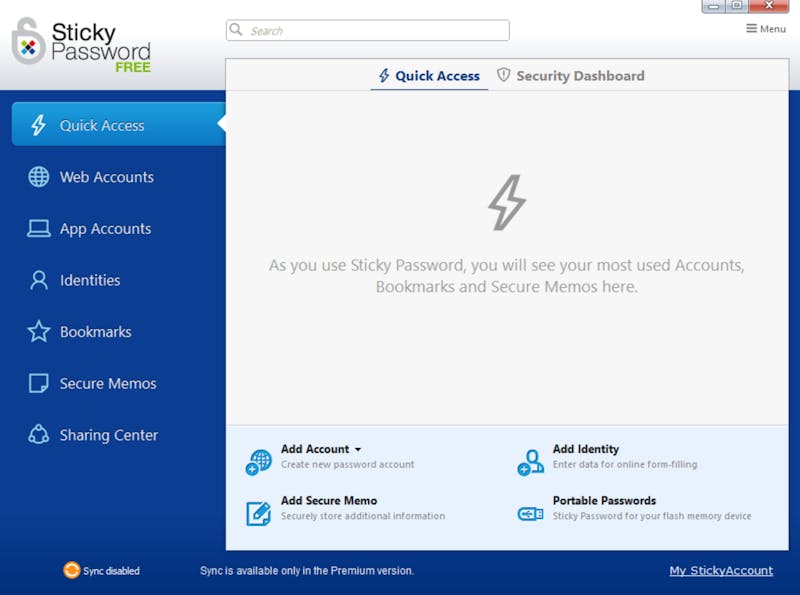 Sticky Password's user interface is not as modern looking as those of its competitors.
Data sets can be arranged into groups and sub-groups by dragging and dropping entries. By default, you can select from the following categories: "Web Accounts", "App Accounts", "Identities", "Bookmarks", and "Secure Memos". "Identities" include personal information such as addresses or payment methods, making it easy to automatically complete web forms.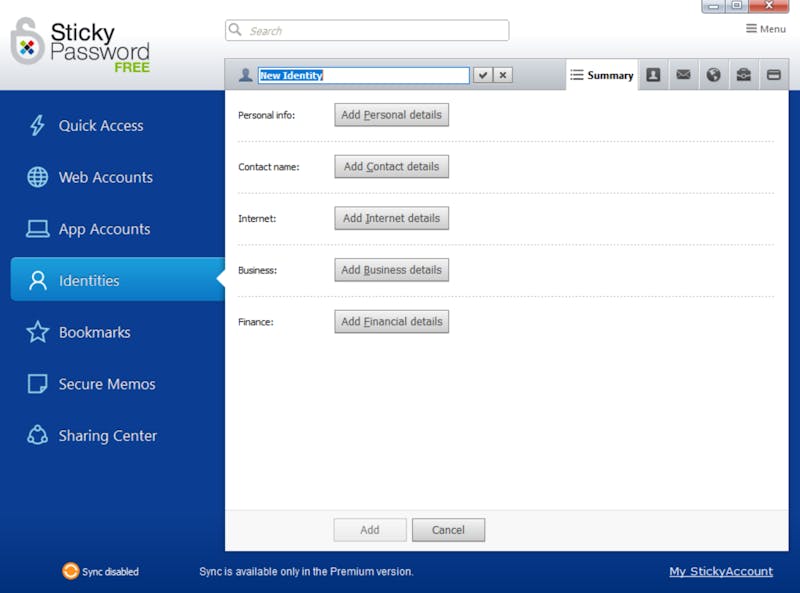 Store personal information in "Identities".
Browser extension
The browser extension is really nothing more than a slimmed-down version of Sticky Password's desktop app. You can add new web accounts or go directly to a specific website. For pretty much everything else, the extension forwards you to the desktop app. Since our last review, Sticky Password has added a password generator to its extension. This allows users to create secure passwords directly in their browser.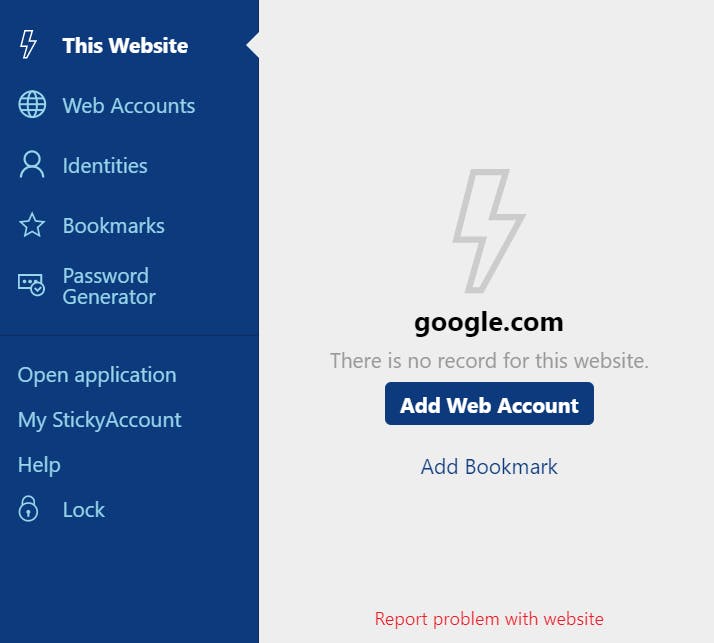 Sticky Password's browser extension is essential for the service's autofill.
Sticky Password might not be the sleekest-looking password manager. However, if you can look past its appearance, you'll get a reliable and user-friendly password management tool. All the same, we expect such a well-established service to keep up with the times and make some updates to its apps.
Installation & Usage
6.0 / 10
Sticky Password comes with a solid package of features that includes most of what is sought after in a password manager. This ranges from autofill to a password generator. The program even has a few (positive) surprises, especially in terms of security.
Security Dashboard
The "Security Dashboard" is your password protection hub. Here, you'll be given an overview of how strong (or weak) your existing passwords are. The criteria used to evaluate this are the password's relative strength, its usage for multiple accounts, and its age.
Unfortunately, weak passwords have to be modified manually. Unlike Dashlane or LastPass, Sticky Password doesn't offer an integrated password changer.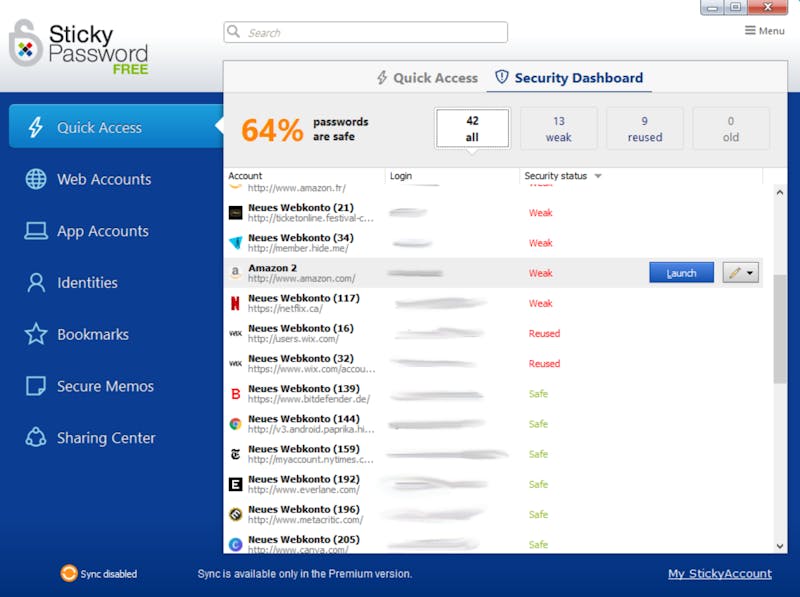 See which of your passwords need to be changed in the "Security Dashboard".
Portable Version
You can export your Sticky Password data to an external USB storage device and create a portable version of your password vault. To enable another device to read your encrypted data, you'll need to enter your master password. While this might seem a bit of a hassle, it means that losing or misplacing the storage device will not compromise the security of your passwords: They remain inaccessible to whoever finds them.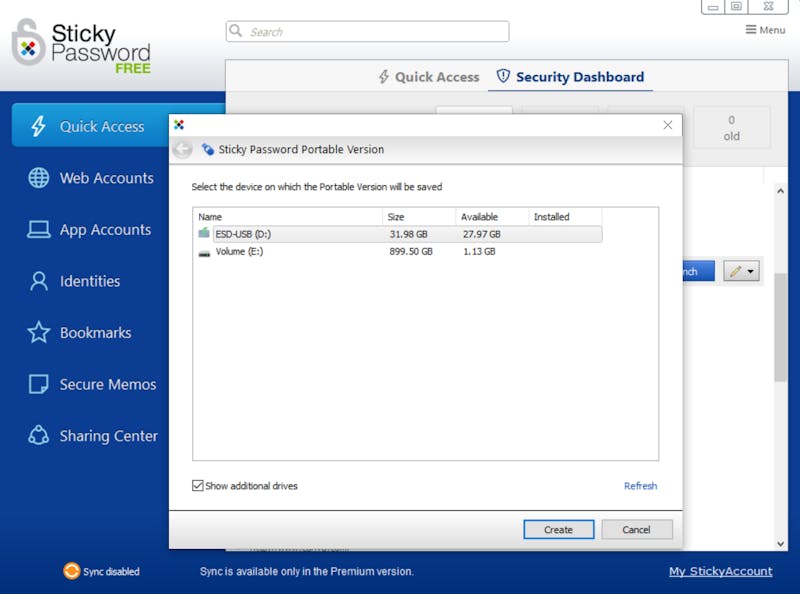 Sticky Password's portable version allows you to safely take your password vault with you on an external storage device.
Autofill
Sticky Password should automatically identify login and other web forms and display an icon near their information fields. You'll be automatically logged in if only a single record is available. However, in case there are multiple logins, click on the icon to select which data set you'd like to use.
Whenever you create a new account online, you can generate a secure password by clicking on the Sticky Password icon in the password field. Once you've registered a new account for a website where you've never saved data before, the program will automatically store your account details.
For autofill, Sticky Password does well most of the time. Usually, but not always, it correctly identified the relevant information fields and provided the necessary data sets. With Amazon, for example, the service couldn't find the credit card we had saved.
Beyond that, Sticky Password is a bit strict with URLs: Other providers like LastPass recognize Amazon accounts on different localizations such as Amazon.com and Amazon.co.uk. Sticky Password doesn't automatically supply the required login credentials unless specifically configured for that website.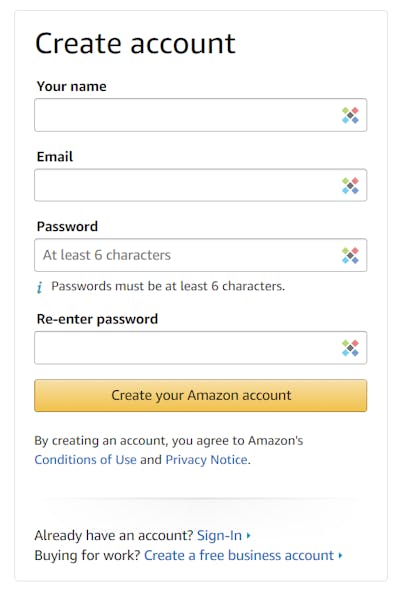 Sticky Password automatically saves new login data.
Comprehensive browser support
While other password managers are often only compatible with well-known browsers, Sticky Password works with many lesser-known ones too. Secure browsers like Comodo Dragon, as well as Yandex and Pale Moon, are all supported.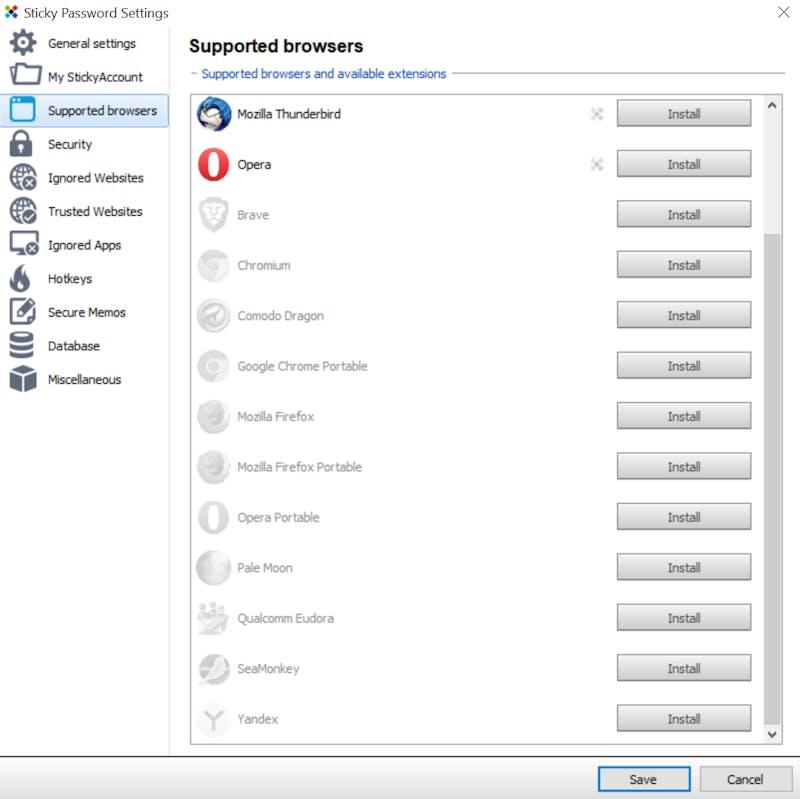 Sticky Password is compatible with a number of less-common browsers.
Password sharing
Do you want to share account data or entries with your friends, co-workers, or family? You can, but only if you're a premium Sticky Password subscriber. The service even makes it possible to configure access rights and privileges for different users. Those with limited access can only use data sets, but not edit or share them. Anyone you've given full access to has the same privileges as you.
Taken together, Sticky Password provides a nice range of features. Even though these aren't breathtaking they do fulfill most expectations users have for password managers. There were some minor issues with autofill, but overall, the browser extension is reliable.
Like many other password managers, Sticky Password uses AES 256 to encrypt data. The program's security philosophy is based on the zero-knowledge proof: Only you know your master password and it cannot be retrieved from the program's servers. If you forget it, there's nothing that can be done to recover it. While this might sound scary, it makes the program highly secure.
When you activate cloud sync, the program synchronizes encrypted data using Sticky Password's secure servers. In addition, you can limit sync to wireless internet (WiFi) only, or even deactivate it. if you choose this option after installation, your data will only be stored locally.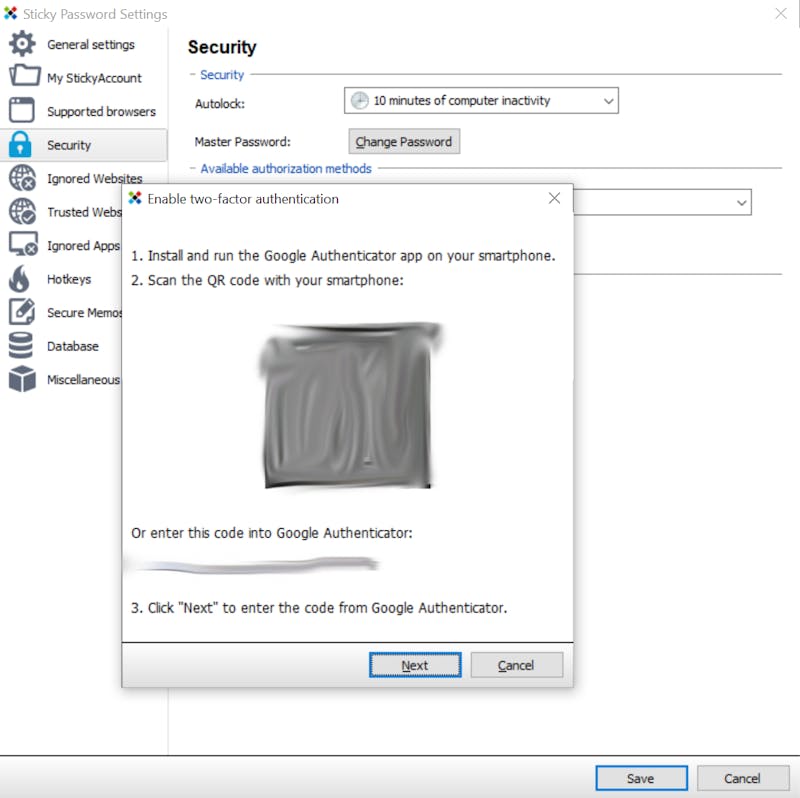 Protect your account against unauthorized access with multi-factor authentication.
You can add extra security to your Sticky Password account with two-factor authentication. Right now, only Google's authenticator app is supported.
Sticky Password is highly secure, and thanks to its flexible sync settings and lack of account recovery options, it does have a few advantages over its competitors.
Sticky Password offers mobile apps for Android and iOS. When you log in for the first time with your StickyID and master password, your account will be automatically synced with your desktop, but only if you're a premium subscriber. Free users must make do without syncs and have to use the mobile app separately from the desktop version.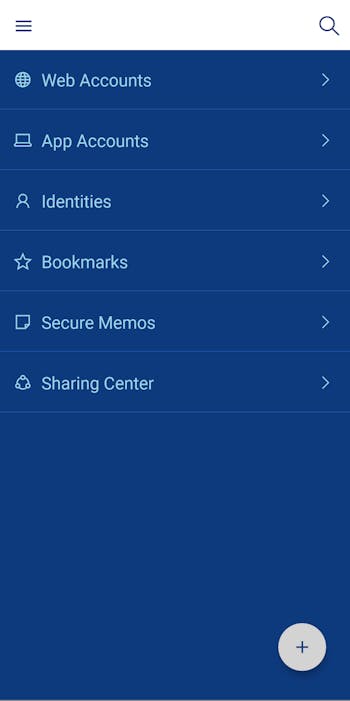 You'll need a premium Sticky Password subscription to sync data sets between your desktop and mobile device.
Sticky Password's mobile app comes with its own browser, however, autofill performs similarly to the desktop version's browser (in our case, Chrome). When you access a website, the Sticky Password logo should appear in any information fields that it has a data set for. During testing, autofill was reliable, and saved new login/registration data.
You can unlock the mobile app with a master password, PIN, pattern, graphic key, or fingerprint scan, and if desired, you can disable protection altogether. Sticky Password gives users a choice between security and comfort. However, we strongly recommend against too much convenience in case someone steals your smartphone or you lose it: This would instantly compromise any stored data and accounts.
Taken together, Sticky Password's mobile app is a good companion to its desktop version. It isn't going to win any design awards, but it does offer access to a wide range of features.
Sticky Password's help center features a number of tutorials and FAQs that cover a nice variety of topics. These include step-by-step guides with screenshots that are sorted by category and operating system. Conveniently, you can use a full-text search to find precisely what you're looking for.
A forum is also offered, but this doesn't appear to be particularly active.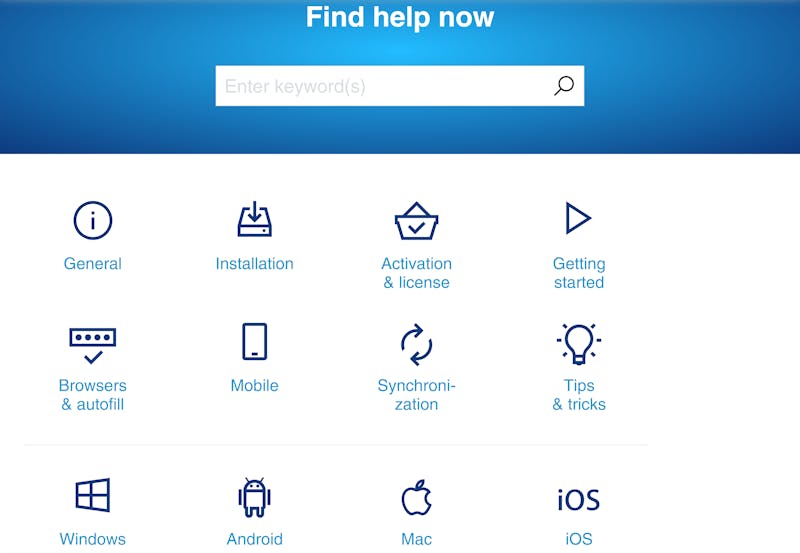 Sticky Password's support includes a number of guides and FAQs.
Unfortunately, direct contact with the support team is only possible via email. A live chat, like that offered by Dashlane, would be more practical. To access email support, click on the "Support for Premium Clients" button, which can be difficult to find. The company guarantees answers within 24 hours. Despite its labeling, non-premium clients can also contact support at the same email address, but there's no 24-hour guarantee.
During testing, our question (Premium) was answered within 16 hours.
Sticky Password keeps things simple: Individual users can either use the software's free version or purchase a Premium subscription. For the latter, there are annual and lifetime options. Paying users can look forward to cloud backups, device syncs, and secure password sharing, along with priority customer support.
There is also Premium for Team which is charged per user, per year.
As a bonus for nature lovers: A portion of each premium subscription is donated to the "Save the Manatees" foundation.
Below, you can find an overview of Sticky Password's current prices:
Free
Premium
Lifetime
Teams
Set-up Fee
$0.00
$0.00
$29.99
$0.00
Base Price per Month
$0.00
$0.83
$0.00
$0.00
Price per User
$0.00
-
-
$2.50
Contract Period (Months)
0
12
0
12
Limits
Number of Users
1
1
1
unlimited
Number of Passwords
unlimited
unlimited
unlimited
unlimited
Number of Devices
1
unlimited
unlimited
unlimited
Features
Sync Multiple Devices
Password Sharing
Teams
Zero-knowledge Encryption
Emergency Contacts
Two Factor Authentication
Local Storage
Browser

Internet Explorer

Chrome

Firefox

Safari

Opera

Internet Explorer

Chrome

Firefox

Safari

Opera

Internet Explorer

Chrome

Firefox

Safari

Opera

Internet Explorer

Chrome

Firefox

Safari

Opera

Platforms

Windows

macOS

iOS

Android

Windows

macOS

iOS

Android

Windows

macOS

iOS

Android

Windows

macOS

iOS

Android
You can try out Sticky Password Premium for free for 30 days. New subscribers also get a 30-day, money-back guarantee.
It's possible to pay for Sticky Password by credit card or PayPal.
Conclusion
Installation & Usage
6.0 / 10
At first glance, Sticky Password doesn't look like much: Its interface is dated, however, the feature-heavy password manager can easily go toe-to-toe with any of its more flashy competitors. Sticky Password scores highly with us owing to its total package, inexpensive Premium license and subscription, and impressive extras and features, which include detailed sync options and a portable version.
Sticky Password dropped points for its somewhat tacky design, which can be easily freshened up by its developers. It also tripped up owing to some minor autofill issues. Finally, data set management was not as smooth as we would have liked it to be or as customizable.
Apart from these minor complaints, Sticky Password is a good password manager that does precisely what its designers promise.
Sticky Password is a feature-rich password manager that offers a comprehensive at an affordable price. But the user interface could use a facelift, and autofill didn't always work for us without issues.
Passwords
Devices
Users
Contract Period
Sticky Password Free
$0.00
monthly price
Visit Website*
Get 85% discount
Customer Ratings
To see how users view Sticky Password, we looked at its performance on reputable review portals. We compiled user opinions from these and generated an overall score.
Customer Ratings
10,382 Bewertungen
Visit Website*
We analyzed the reviews and ratings from various portals and found 10,382 ratings with an overall rating of 4.4 out of 5 .
Alternatives
In case you'd like a more modern-looking password manager, Dashlane is a solid choice. The service took the first place in our review series and offers even more features than Sticky Password.
NordPass also impressed us with its tasteful design and more generous free version. Free users don't only get unlimited data sets but can sync across as many devices as they'd like.
You can check out more of the best alternatives to Sticky Password here:
Dashlane Password Manager
Dashlane is a great all-rounder that makes managing your logins and other account details as easy as pie thanks to its many features, a strong security posture, and an easy-to-use interface.
user friendly and intuitive
zero-knowledge encryption
comprehensive security center
automatic password changer
9.1

excellent
Passwords
Devices
Users
Contract Period
Dashlane Free
$0.00
monthly price
Visit Website*
Try for free
1Password Password Manager
1Password's password vault is filled to the brim with features, including handy extras such as the travel mode. With excellent security and a solid user interface on top, 1Password is one of the best password managers out there.
zero-knowledge encryption
reliable autofill function
8.7

good
Passwords
Devices
Users
Contract Period
1Password Standard
$2.99
monthly price
Visit Website*
Free 30 days trial
Keeper is one of the best password managers on the market thanks to its many features, high reliability, and extensive configuration options.
Passwords
Devices
Users
Contract Period
Keeper Security Unlimited
$2.04
monthly price
Visit Website*
Download Keeper
NordPass Password Manager
NordPass stands out with its beautiful design and ease of use, and offers a fully-fledged free version that allows you to create and synchronize an unlimited number of passwords.
full-featured free version
few options for customizing data sets
8.5

good
Passwords
Devices
Users
Contract Period
NordPass Free
$0.00
monthly price
Visit Website*
30-day money-back guarantee
Bitwarden Password Manager
Bitwarden can impress with easy-to-use apps, reliable autofill, and a few handy security features. Plus, it's pretty affordable – and offers a solid, feature-rich free plan.
user-friendly applications
good security, externally tested
paid features (e.g. password sharing)
8.4

good
Passwords
Devices
Users
Contract Period
Bitwarden Free
$0.00
monthly price
Visit Website*
* Ad disclaimer:
For links marked with an asterisk, EXPERTE.com may earn a commission from the provider. The commission has no influence on our editorial rating.

Martin Gschwentner majored in American Studies and Media Studies in Germany, the USA and France and works as a freelance editor in Paris. He is a doctoral student at the Institute for English and American Studies at the University of Paris Diderot, where he is researching the influence of money on US politics. On EXPERTE.com he writes about IT security, data protection and software for the self-employed and small businesses.

Translation: D Bare
Continue Reading
Reviews
Comparisons
Tools & Guides