McAfee Antivirus Test 2023: How Good Is the Protection?

Author
Janis von Bleichert
Ad disclaimer:
For links on this page, EXPERTE.com may earn a commission from the provider. This supports our work and has no influence on our editorial rating.
McAfee is one of the most widely recognized names in antivirus and cybersecurity. Its software protects more than 600 million devices, PCs, tablets, and smartphones around the world. But what makes it so special? To find out, we've taken a closer look at McAfee's antivirus software and will let you know in this review.
What Is McAfee Antivirus?
McAfee Antivirus* is the cybersecurity giant's flagship antivirus software. Named after the company's eccentric founder and cybersecurity pioneer, John McAfee (1945-2021), the San Jose-based developer offers a range of private and enterprise solutions.
McAfee software is available for Windows, macOS, Android, and iOS. We tested McAfee Total Protection on Windows and Mobile Security on Android.
McAfee Antivirus Review
Security & Performance
8.6 / 10
Installation & Usage
7.4 / 10
Lots of features (ransomware protection, firewall, and a password manager)

High security and performance testing lab scores
Disjointed user interface

No webcam protection or secure browser
McAfee's antivirus packages and their free trials can be downloaded directly from the provider's website. It took us around three minutes to download and install Total Protection. An email address is all that's required to start a free trial. This means that there's no danger of falling into the dreaded "subscription trap" should you forget to cancel your trial before it expires.
After installation, the McAfee Total Protection dashboard opens, with a short tutorial introducing you to the program's features and capabilities.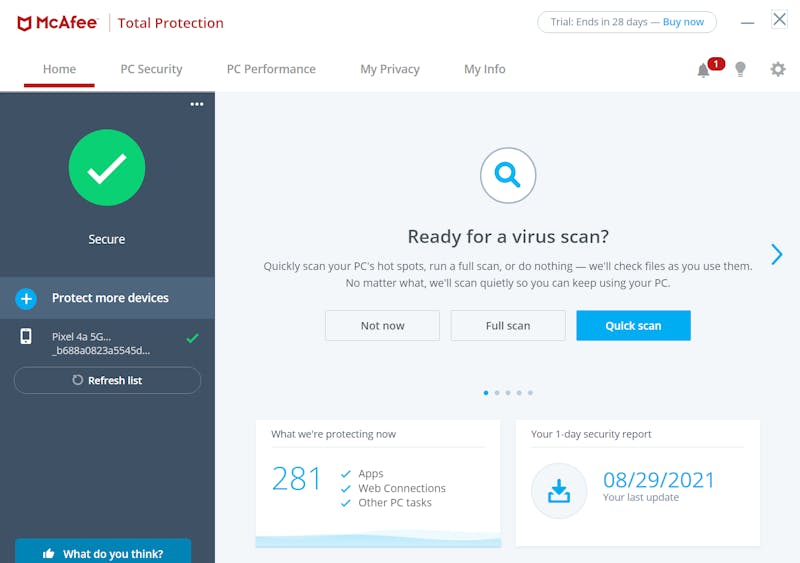 It didn't take long to become familiar with McAfee's dashboard.
The user interface is divided into five areas, that you can navigate between by clicking on the appropriate heading at the top of the dashboard. Apart from the "Home" tab, these are "PC Security", "PC Performance", "My Privacy", and "My Info" options. The "Home" screen displays your security status as well as some statistics and information. If your subscription includes support for multiple devices, you can link them here.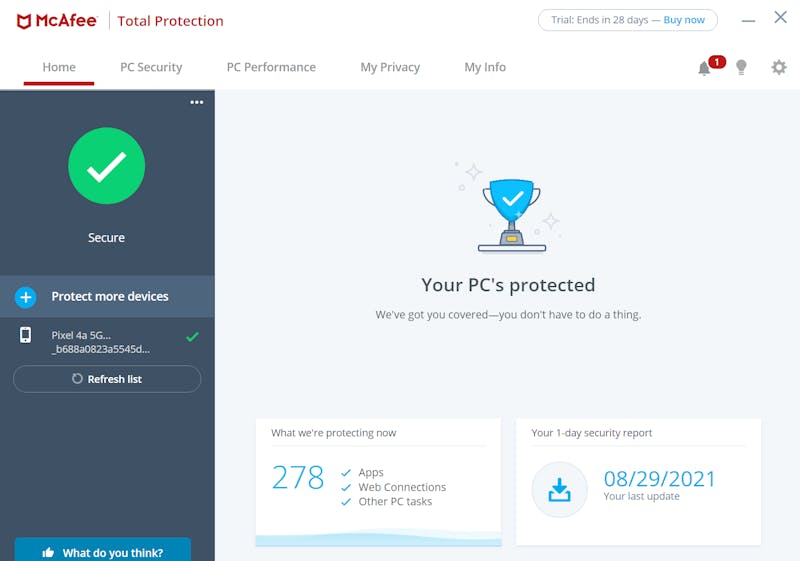 The "Home" page lets you know at a glance if there are any threats to your system.
McAfee's interface is fairly intuitive, but, if you're having trouble, click on the lightbulb icon in the upper right. Small text bubbles will then open to explain each on-screen component.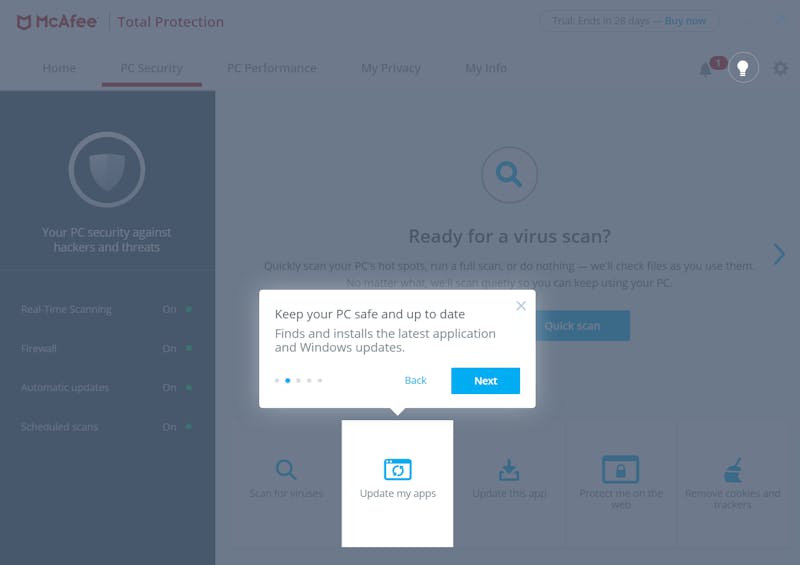 The interface's mini-tutorials help to quickly familiarize yourself with the software.
Click on the gear symbol in the upper right to access settings. In addition to settings, you can also activate or deactivate several protection, performance, and privacy features here.
McAfee could do with a bit of an overhaul in this area: Some of the boxes, which expand after clicking on them, only contain a single entry or component. When you expand one box, all other entries close. This requires more clicking than software that lists all entries on a single page and regulates their usage with on/off toggles and switches.
Another complaint: The "Back" button returns you to the "Home" page rather than the settings menu you were previously on.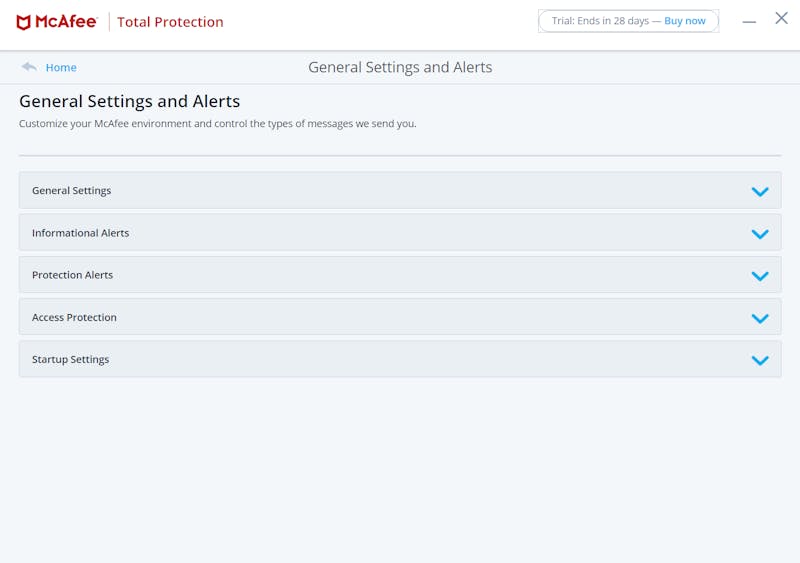 Customize McAfee to your preferences in the settings menu.
McAfee's dashboard is definitely intuitive and makes it easy for anyone to access important features or settings. Because of the stiff menu structure in the settings area, we weren't too thrilled with the software's submenus. Other providers offer a more harmonious user experience.
Installation & Usage
7.4 / 10
McAfee has straightforward pricing, with packages differing mostly in the number of devices they support. We mention this here because the features below are included in all packages.
Security features
Out of the box, the software comes with everything needed to preserve the integrity (and security) of your PC. First and foremost among these are its virus scans.
Manual scans
With McAfee, you can choose between two types of scans, full or quick. There's also an option for user-defined scans, but this is just the ability to right-click on individual files or folders and manually scan them.
In terms of planning, McAfee is less flexible than other programs from our sample. For example, you can only specify the interval or create one, but not select which types of scans will be performed, what will be scanned, or what the program does if it identifies a threat. We expect more from the flagship program of an established name in the cybersecurity market.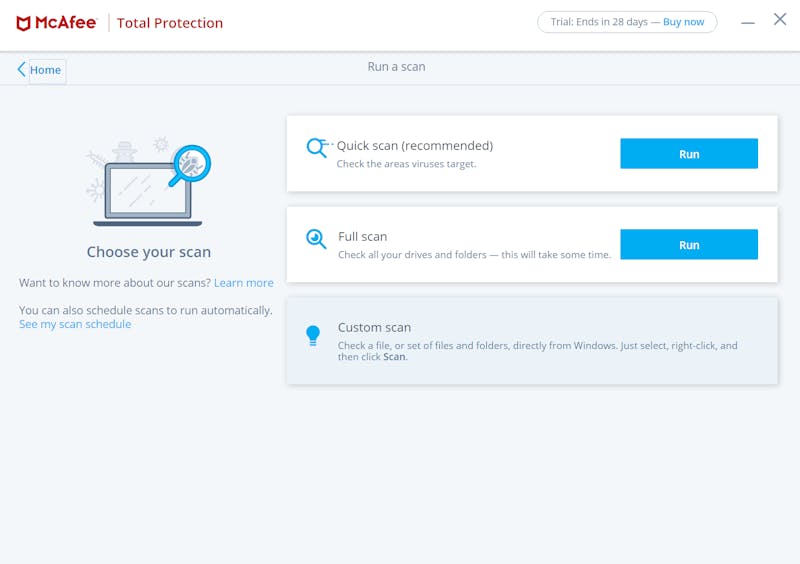 McAfee gives users a choice between full system scans or quick scans: The latter only check your PC or laptop's most vulnerable areas.
Ransomware and web attack protection
McAfee doesn't just guard against threats when you tell it to, but also on its own, in real-time. Unlike most of its competitors, the software lacks a dedicated and configurable module for this. For example, ransomware protection is provided by "Ransom Guard", but does have its own dashboard entry.
Web protection is offered through "McAfee WebAdvisor", a browser extension that blocks online threats. You can adjust its email and spam protection in the settings area. During our evaluation, we couldn't find any dedicated webcam protection.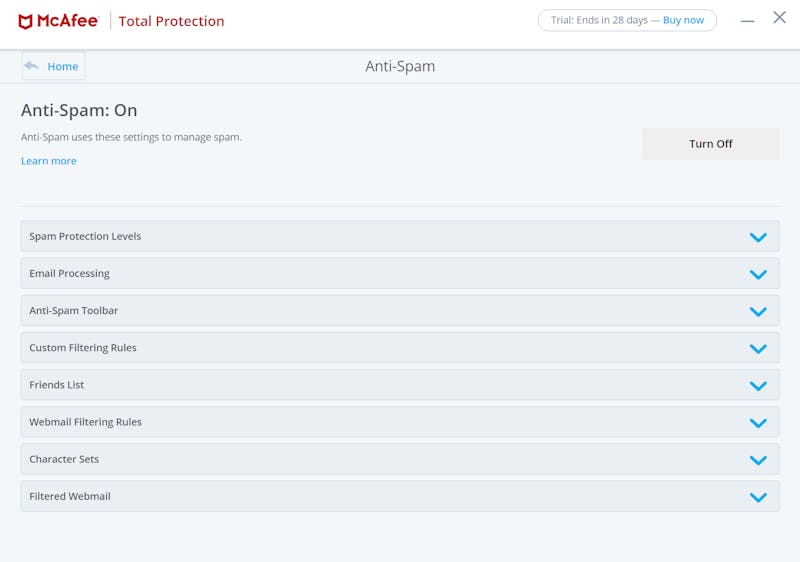 The software offers five spam protection levels, ranging from "Minimal" to "Restricted".
Firewall & secure program updates
Next, you'll find a quick cleaning feature for getting rid of cookies and trackers, as well as the ability to check apps for updates. McAfee also includes a firewall, with quite a few customization options. You can specify how it should interact with programs that want to connect to the Internet, allowing or prohibiting this at will. This firewall also prevents unwanted guests from accessing your home network.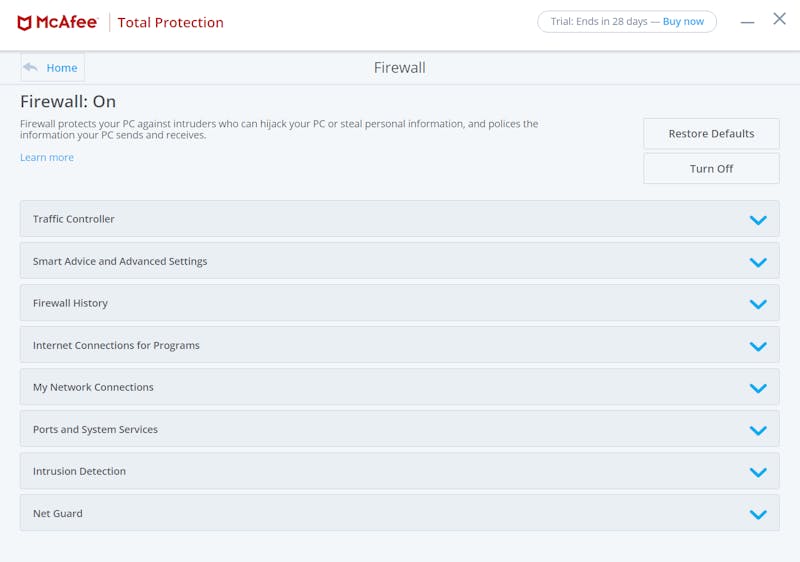 McAfee's firewall protects against intruders.
In sum, McAfee definitely gives users access to all of the most important features, however, these aren't very flexible or customizable, especially when compared to the other solutions from our sample.
Performance features
Not content with merely securing your system, McAfee also helps you to enhance it. "App Boost" gives installed software a performance jolt, while "Web Boost" helps to surf the Internet faster by preventing videos from autoplaying. To use "Web Boost", you'll need to install a browser extension.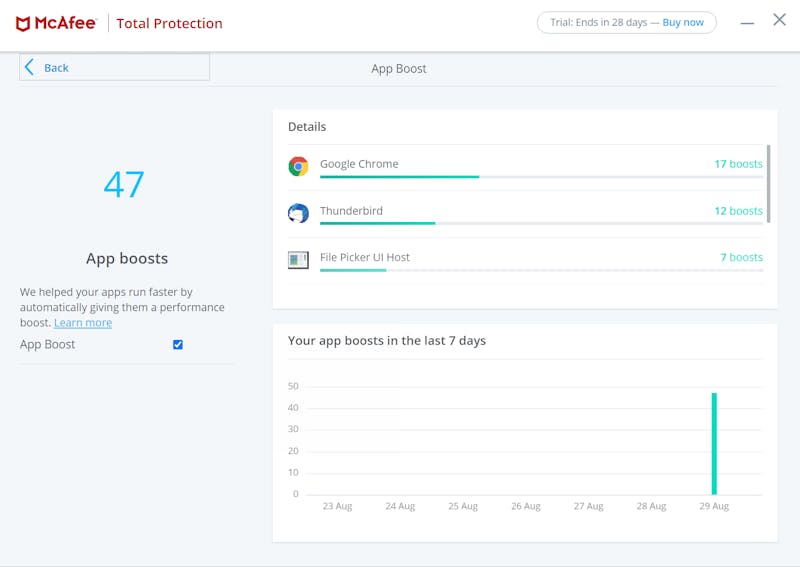 McAfee promises faster software and surfing.
Privacy features
Security can cover a lot of areas and privacy is definitely one of them. To help protect your identity online, McAfee offers several tools, including a file shredder for permanently deleting data. Of course, these can be recovered, but it would require a lot of effort and not necessarily successful. Like user-defined scans, you can easily shred files by right-clicking on them.
Password manager: Decent, but far from the best
McAfee's packages also include True Key, a password manager. This is controlled through a special web dashboard and browser extension. True Key did well during our assessment but offers fewer features than several of its competitors. We also weren't swept off our feet by its browser extension.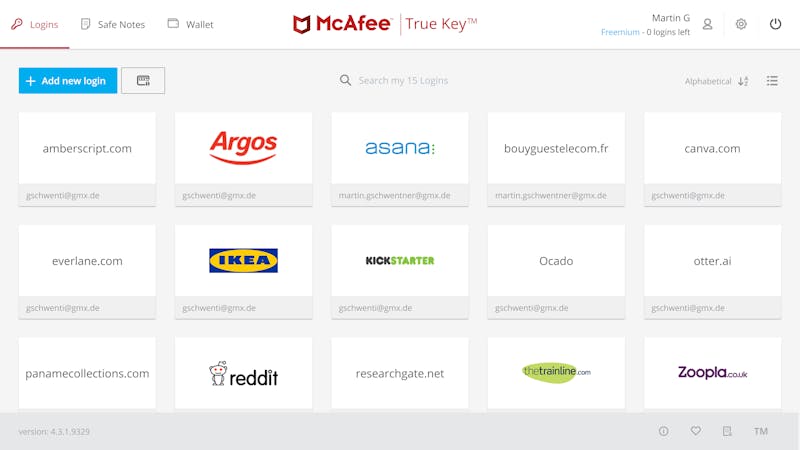 McAfee True Key is decent, but somewhat off the pace of the leading solutions on the market.
Intuitive parental controls
Should you have children, you can use McAfee Safe Family to monitor their device usage and set screen time and content limits. We found this feature to be particularly intuitive: Simply download the Safe Family app on each device that your children use and indicate who uses it. You'll then be able to monitor your children's activities in the dashboard, limit their screen time, and block certain types of websites or apps.
If your child wants more screen time, there's also a convenient chat window in the app that they can use to ask you for it. Beyond that, you can GPS track your child's location.
Overall, McAfee's parental controls impressed us, reliably blocking sites that we had added to the restricted category list.
Use "Safe Family" to monitor your children's online activity.
The desktop software also includes "File Lock", a feature that you can use to secure sensitive files in a password-protected safe on your PC.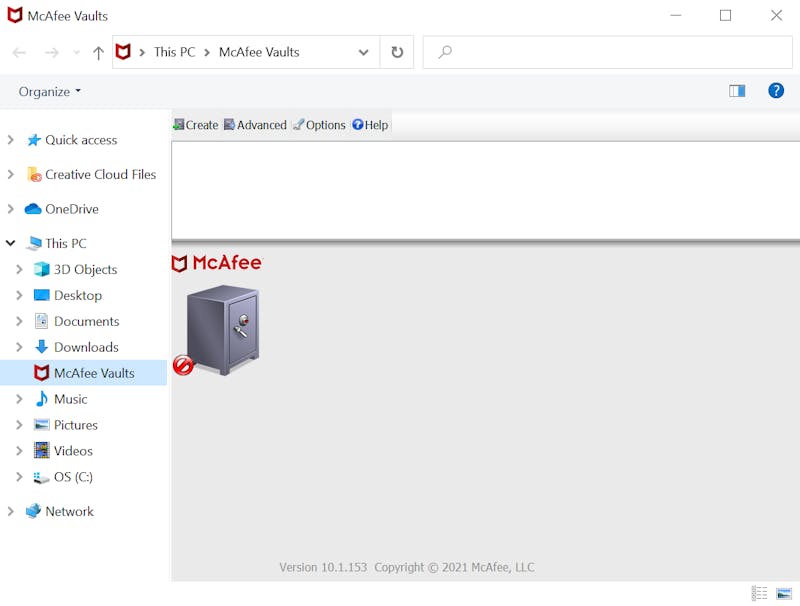 Do you have sensitive files? Store them in a digital safe with "File Lock".
That's not all: Unlimited access to McAfee's VPN (Safe Connect VPN) is available to users who activate automatic subscription renewal. You'll need to download it in your account area since there's no in-app link to the VPN.
Unfortunately, despite all of the above, McAfee doesn't offer a secure browser for online banking or cloud backups.
Mobile features
McAfee's smartphone app is available for Android and iOS. It's as powerful as its desktop counterpart while also providing a few additional nifty features. Wi-Fi protection ensures that you surf safely when on a public network or do online banking without having to worry about digital eavesdroppers. "Safe Web" alerts you to dangerous websites and links.
With the software's app lock, you can secure apps with an additional PIN or fingerprint scan. Anti-theft features are also included: If you lose your device, you can remotely lock, locate, or wipe all of its stored data through your web account.
As on the desktop, there are also several performance-enhancing features to give your smartphone a new lease on life. These include clearing up junk files as well as optimizing your battery usage and storage space.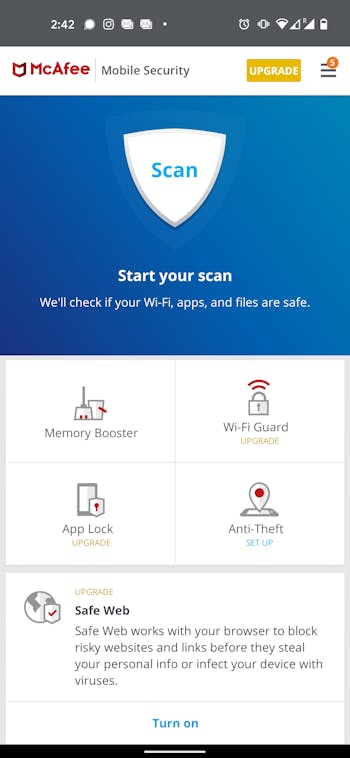 McAfee's smartphone app doesn't skimp on features.
Overall, McAfee serves up most features we like to see in an antivirus program, along with a nice selection of extras. Among the things that are missing are a secure browser for online banking and dedicated webcam protection, both of which are important. More flexibility in configuring and scheduling scans would also be better.
At the end of the day, it doesn't matter how user-friendly or feature-filled an antivirus program is: If it doesn't offer adequate threat protection or makes your system sluggish, you'd best look elsewhere. To assess both security and performance, we checked the scores regularly awarded in these areas by two independent testing labs, AV-Test and AV-Comparatives.
| | Security | Performance |
| --- | --- | --- |
| | | |
| | | |
| | | |
Starting with security, McAfee received maximum points from AV-Test. In the Real-World Protection test conducted by AV-Comparatives, McAfee just missed out on Advanced+ status (protection rate of 99.6% and six false positives), entitling it to "only" 2 out of 3 points. With that said, amongst the programs receiving 2 out of 3 points, McAfee Total Protection is one of the strongest.
Turning to performance, McAfee took 5.5 out of 6 points from AV-Test and received a score of 85/100 (and fourth place) in AV-Comparatives Performance Test. Both testing labs rated the program's performance as more than solid and we concur. We didn't notice any performance issues during the roughly 50 minutes it took to perform a full system scan.
McAfee didn't disappoint in the areas that matter most for antivirus software. Our own findings matched those of the two independent testing labs. As a result, we can say that McAfee provides a high degree of security while not inhibiting performance.
Security & Performance
8.6 / 10
McAfee offers a lot of DIY content including FAQs, an extensive Knowledge Base, online help with step-by-step guides, and a forum. Unfortunately, we couldn't find any video tutorials.
Live support is offered through a 24/7 live chat, which launches after inputting your name, email address, and telephone number.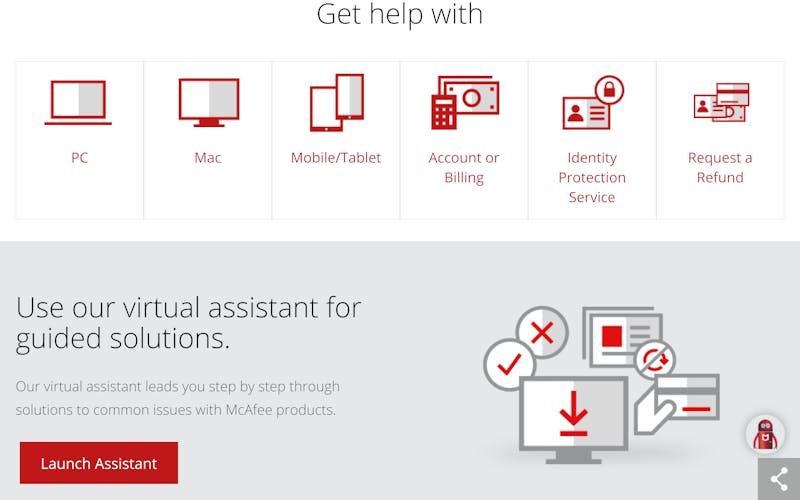 McAfee provides a 24/7 live chat for English-speaking users.
We waited around a minute to start speaking with a helpful staffer who competently answered our questions. It wasn't clear if chat support would be able to handle a more complicated query, but this is just the perception we had.
McAfee's live support is pretty good, while its static support is excellent, even if it doesn't include video tutorials.
As mentioned above, McAfee's pricing structure is relatively straightforward: Whereas most of McAfee's competitors group features into different packages, McAfee offers all paying customers access to the same tools. The only difference between subscriptions is the number of users/devices: Total Protection is available for 1, 5, or 10 devices, each as part of a 1-year subscription.
Corporate solutions are also offered, however, the Enterprise wing of the company was sold to Symphony Technology Group (STG) in July 2021, which has led to a rebranding of the product.
Below, we've provided a current price list:
Total Protection (Plus)
Premium
Advanced
Set-up Fee
$0.00
$0.00
$0.00
Price per Year
$39.99
$54.99
$89.99
Contract Period (Months)
12
12
12
Software
OS

macOS

Windows

Android

iOS

macOS

Windows

Android

iOS

macOS

Windows

Android

iOS

Max. Number of Devices
10
unlimited
unlimited
Special Protection Features
Real-time Protection
Internet Security
Email Protection
Ransomware Protection
Webcam Protection
Premium Features
Firewall
Password Manager
VPN Access
Adblocker
Cloud Backup
File Shredder
Parental Control
Performance Tuning
Mobile Features
App Lock
Location Tracking
Remote Lock
Camera Trap
McAfee's pricing structure is not nearly as complicated as those of most of its competitors. To accurately compare these, we created a fictional package and selected the subscription from each provider that came closest to it. The table below shows the results of this comparison:
1.
2.
3.
360 Total Security
Premium
4.
5.
6.
Bitdefender
Internet Security
7.
8.
9.
10.
11.
12.
13.
F-Secure
Internet Security
14.
McAfee Total Protection can be tested for 30 days at no cost. Paying customers can also take advantage of a 30-day, money-back guarantee.
Conclusion
Security & Performance
8.6 / 10
Installation & Usage
7.4 / 10
McAfee continues to offer high-quality antivirus software, with its Total Protection suite offering a full package of features and plenty of security. This isn't just our opinion, but also that of the two testing labs we consulted. You shouldn't notice the program on your system either, since even while scanning, it didn't lower our performance or cause any lag.
All the same, we weren't entirely satisfied with the software's apps. Even though everything appears to be user-friendly, a few design decisions rubbed us the wrong way. We were disappointed that some critical security extras were missing, like a secure browser for online banking, or more scan options.
Nevertheless, McAfee Total Protection is definitely one of the better and more affordably priced antivirus solutions on the market.
McAfee leaves a good overall impression, thanks to solid test lab results and an impressive range of features. Sadly, the speed and quality of its support couldn't keep up.
somewhat clunky interface
missing features (webcam protection,..)
7.8

good
Plan
Devices
Protection Features
Premium Features
McAfee Total Protection (Plus)
$39.99
yearly price
Visit Website*
Customer Ratings
McAfee enjoys overwhelmingly positive ratings on nearly all of the review portals we checked. The only exception was Trustpilot, where several complaints were made (as is the case with most other antivirus programs) about billing irregularities, even after canceling a subscription. We recommend that you pay close attention to your bank account or credit card and make sure that you're being charged for services you're actually using.
Customer Ratings
1,002,969 Bewertungen
Visit Website*
We analyzed the reviews and ratings from various portals and found 1,002,969 ratings with an overall rating of 4.0 out of 5 .
Alternatives to McAfee Total Protection
We recommend Bitdefender, the winner of our assessment, if you're looking for an antivirus program that performed even better with the testing labs, has more features (including webcam protection and a secure browser), and is as intuitive as McAfee.
On the other hand, if you'd prefer a free antivirus program, Avast is a solid choice.
Below, you can find more of the best alternatives to McAfee Total Protection below:
Our 'best in test' antivirus program Bitdefender boasts strong security, confirmed by independent test laboratories, along with a flawless user interface and a comprehensive set of features.
configurable quick actions
good support with 24/7 live chat
9.6

excellent
Plan
Devices
Protection Features
Premium Features
Bitdefender Antivirus Plus
$23.99
yearly price
Visit Website*
Avast impresses with a great free version covering all the essentials, and a huge set of features that offer well-rounded antivirus protection and some nice extras. Scans can slightly impact performance, however.
Sandbox and WiFi-Inspector
scans can impact performance
8.6

good
Plan
Devices
Protection Features
Premium Features
Avast Free
$0.00
Visit Website*
Download for Free
With its robust set of features, lean applications, and a 100 % antivirus guarantee, Norton Antivirus is definitely worth a look. Sadly, the testing labs aren't unanimously impressed, and one or two features are missing.
learn, user-friendly apps
customizable child protection
100 % antivirus guarantee
8.4

good
Plan
Devices
Protection Features
Premium Features
Norton Antivirus Plus
$19.99
yearly price
Visit Website*
Trend Micro delivers a solid overall antivirus package with lots of features and some nice extras, such as social media protection. However, the testing labs are a bit divided on the reliability of its protection.
Plan
Devices
Protection Features
Premium Features
Trend Micro Antivirus+
$19.95
yearly price
Visit Website*
G Data offers virus protection "made in Germany" with solid test lab scores, lots of customization, and great support. The user interface, however, could use a facelift.
many configuration options
interface somewhat outdated
test lab scores "only" solid
8.4

good
Plan
Devices
Protection Features
Premium Features
G Data Antivirus
yearly price
Visit Website*
* Ad disclaimer:
For links marked with an asterisk, EXPERTE.com may earn a commission from the provider. The commission has no influence on our editorial rating.

Janis von Bleichert studied business informatics at the TU Munich and computer science at the TU Berlin, Germany. He has been self-employed since 2006 and is the founder of EXPERTE.com. He writes about hosting, software and IT security.
Continue Reading