Data Recovery - Restoring Deleted Files
It can happen in the blink of an eye: Whether accidentally, as the result of a crash, or owing to malware, losing a file is a very frustrating experience. Regardless of whether it's a critical work document or just pictures from your last vacation, fear that the files are lost forever can cause a great deal of heartache. Thankfully, there exist ways and means to restore files, even if you think that they've been deleted.
This is because, with the exception of rare cases, files are almost never completely deleted. Rather, only their entry in the file directory disappears, while the files themselves remain hidden on your drive.
And this is where data recovery tools enter the picture: Such programs specialize in locating and restoring "deleted" files from data storage devices like hard drives, USBs, or SD cards, making it possible to recover files presumed to be no more. In this article, we'll introduce you to the Top 5 data recovery solutions out there.
TOP 5 Data Recovery Solutions
A Google search for data recovery software returns around 810 million results. To help find the right program, we took a closer look at some of the leading solutions and will introduce them below. After that, using Recuva, one of the tools from our sample, we'll show you how to recover lost files.
Recuva is a data recovery program offered by the British company Piriform, best known for their optimization tool, CCleaner. Recuva restores files from hard drives, SSDs, USB sticks, or memory cards, even if these are damaged or have been recently formatted, supporting all common file formats (image, music, video, document, email, etc.).
The quick-start assistant walks users through the individual steps, helping to configure the ensuing search to their individual needs. This makes it possible to achieve the desired results without a significant investment of time or the need for technical background knowledge. Particularly appealing for those low on patience: Based on the parameters you set, the program estimates the likelihood it will be able to restore the lost files.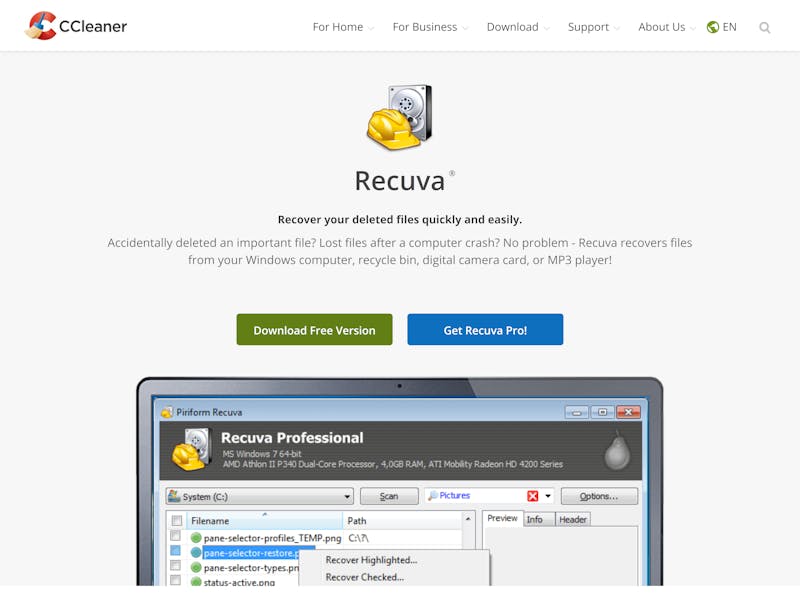 In addition to data recovery, Recuva also offers professional data deletion.
Should the basic scan not be enough, it's also possible to perform a deep scan to find hidden files. Alongside the search and recovery functions, Recuva can also safely and completely delete files from your system.
The free version is capable of performing most tasks that users will need it for, however, the "Professional" version also works on virtual drives while providing its subscribers with premium support. The "Business" version, marketed towards businesses, makes it possible to recover entire data networks.
Easy to use thanks to the quick-start assistant

Offers a Business version which provides extensive data recovery for networks

Professional data deletion
Only for Windows and Linux
TestDisk is a free data recovery tool envisioned for restoring deleted drive partitions and the reactivation of non-booting hard drives. This tool also doesn't differentiate between why or how the files were deleted (whether by accident, owing to a software error, or a virus/malware).
The program also provides a variety of solutions for specific problems, making it well-suited for advanced users. Those who are just getting started with data recovery might be overwhelmed, however, TestDisk is still a good option for performing the first analysis.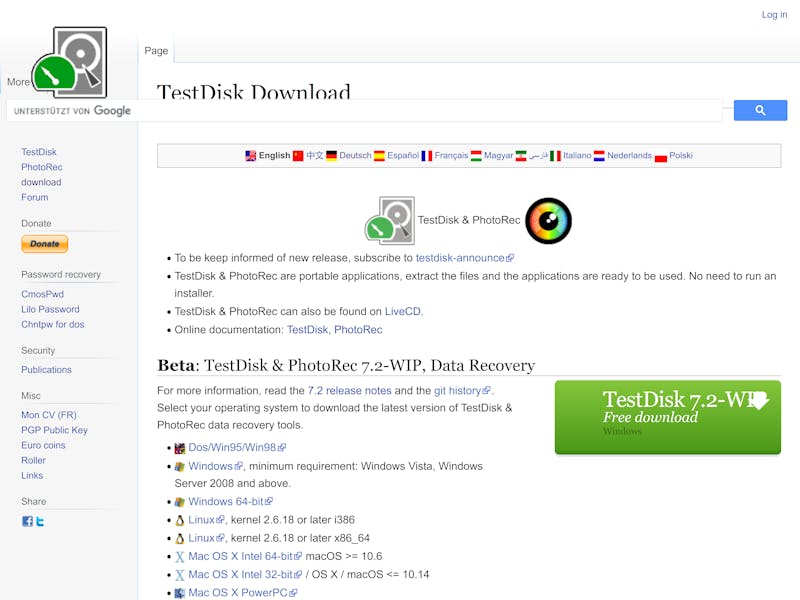 TestDisk excels at restoring deleted drive partitions.
TestDisk can, among other things, restore FAT32/NTFS boot sectors (so long as they have been backed up), FAT12/FAT16/FAT32/NTFS boot sectors, and localize ext2/ext3/ext4 backup superblocks. The affected partitions are either repaired or created anew. The software is compatible with all ubiquitous operating systems (DOS, Windows, Linux, FreeBSD, NetBSD, OpenBSD, SunOS, and Mac OS X).
Capable of solving a wide range of problems

Compatible with all of the most ubiquitous operating systems
Fairly complex, only recommended for experienced/advanced users
With EaseUS Data Recovery you can easily find lost files and repair hard drives. This applies not only to files that you've deleted after emptying the recycle bin or lost owing to a faulty backup, but also those on formatted devices, raw devices, or deleted drive partitions. The tool is compatible with Microsoft Windows and macOS.
Using the tool, it's possible to recover data from a significant proportion of storage devices, hard drives, fusion drives, SSDs, USB drives, memory cards, as well as digital and action cameras like GoPros and DJI cameras. More than 1,000 different data formats are supported, including images, videos, music, documents, archives, emails, and browsing history.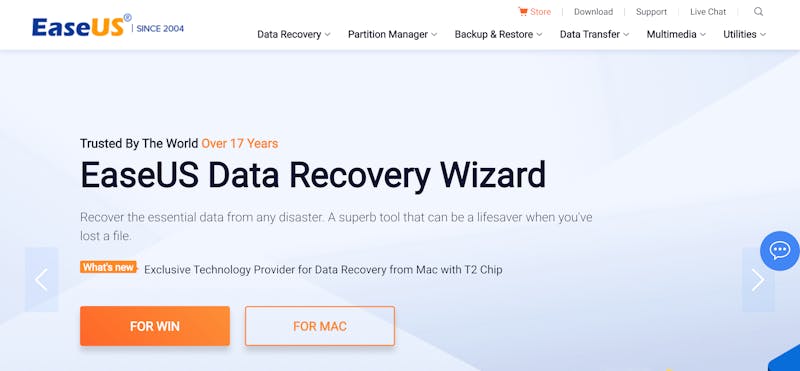 EaseUS's design is very user-friendly.
EaseUS's free version includes all basic features needed for data recovery, however, is limited to 2 GB. In addition, you'll only be able to take advantage of the full 2 GB if you promote the software on social networks.
The paid "Pro" version starts at $69.95 for Windows, has no limits, and includes remote support. "Pro+Bootable Media" for für 96 € adds the ability to boot your system using a downloadable WinPe file should it not start or crash.
Intuitive to use - easy for beginners

Supports more than 1,000 different file formats
Free version limited to 2 GB

Relatively expensive Pro version
PhotoRec is an open-source data recovery solution specialized in finding photo, video, and other visual media files. In addition to data storage devices like hard drives, USB sticks, and SD cards, CDs, DVDs, and Blu-Ray discs are also supported. Beyond that, the internal storage on digital cameras can also be checked, so long as the manufacturer is supported. Some of those which are in this group include Canon, Nikon, and Sony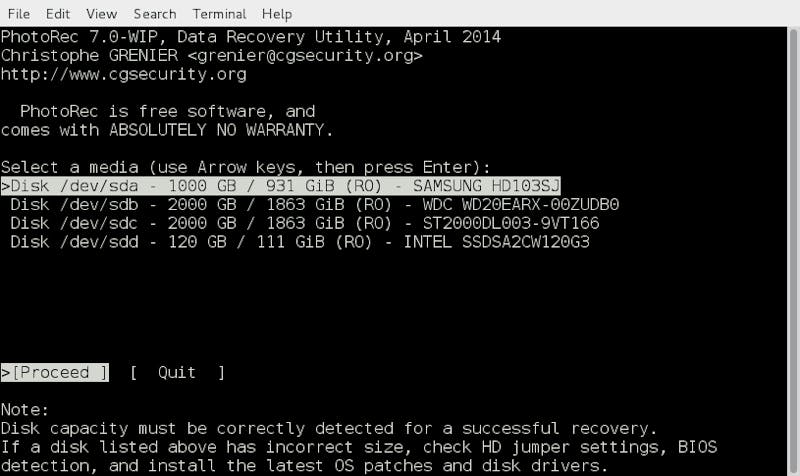 PhotoRec's interface is similar to that of Command Prompt.
Although originally developed specifically for JPEGs and MOV files, with time, PhotoRec has grown to support around 200 different formats. Irrespective of the system, PhotoRec searches for lost files on the hardware level, making it possible to recover data from highly damaged or formatted data storage devices.
Since it's open-source, PhotoRec is compatible with a wide range of operating systems, including DOS, Windows, Linux, Ubuntu, Debian, openSUSE, Sun Solaris, macOS, FreeBSD, NetBSD, and OpenBSD.
Open-source – compatible with a number of operating systems

Can restore files from digital cameras

Capable of recovering files even if the device is badly damaged
Supports fewer file formats than other providers

Cannot recover data from SSDs

Spartan user interface (Command-Prompt-esque layout)
Recoverit is a paid data recovery tool for Microsoft Windows and macOS developed by Wondershare. The recovery process can be tailored to your individual needs, with the user interface well-arranged and easy to navigate for beginners.
With the program's trial version anyone can run a scan to identify missing files, however, only paying customers can restore them. A license also includes additional features such as the recovery of formatted data storage devices and partitions.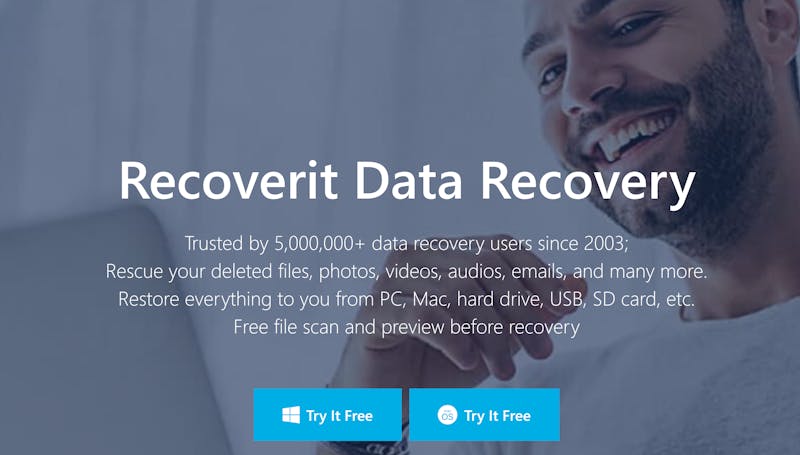 Recoverit offers a variety of different usage models suitable for whichever scenario you're in.
Three different versions of Recoverit are offered – "Essential", "Standard", and "Advanced" – each of which offers three different options, depending on the desired length of usage (monthly, annual, or lifetime license). The cheapest of these, "Essential", starts at $79.99 per month. The year and lifetime licenses are available for $99.99 and $159.99, respectively.
For anyone that needs help setting up bootable media or restoring data after a crash, "Standard" should be enough. The lifetime license for an "Advanced" subscription is the most expensive option but comes with additional video recovery and repair, as well as video fragment scanning.
Data recovery only for paying subscribers

Only for Windows and macOS
How To: Data Recovery with Recuva
In comparison to most of the other solutions we have examined, Recuva's free version is relatively generous, making it one of the popular options out there for anyone looking to restore lost files. Below, we'll briefly show how you can recover files using Recuva.
1. Start by downloading and installing the program.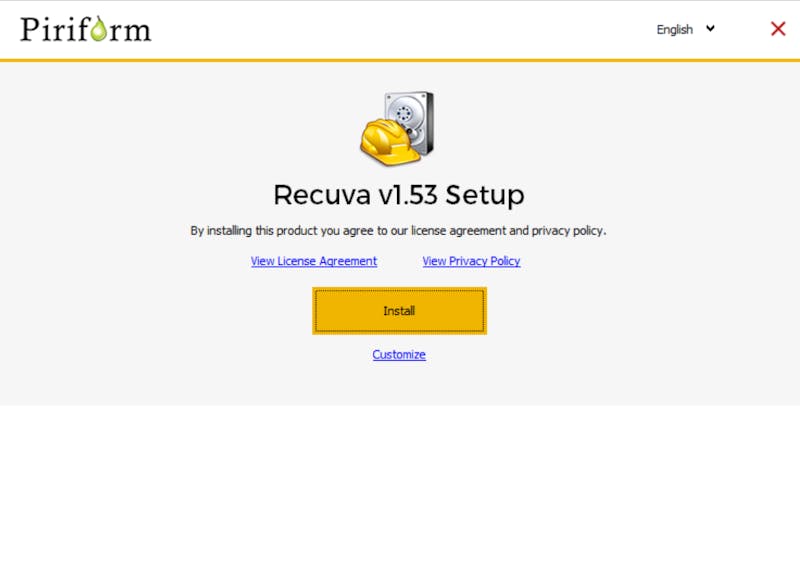 Installing Recuva only takes a few seconds.
2. Once installed, the software's assistant will walk you through the process of recovering your files. Click on "Next" and select what type of file you're looking for. In case you're not sure, or you're looking for multiple types of files, select the "All Files" option.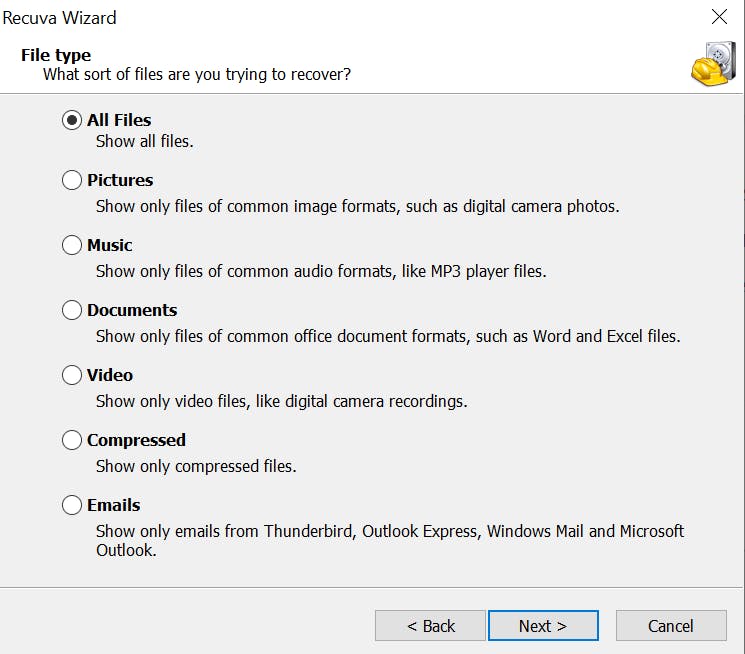 Select the relevant file format.
3. In the next step, you'll need to specify where Recuva should look for the lost files. If you don't know, click on "I'm not sure", and the tool will search your entire computer. Otherwise, you can select a specific folder or storage device.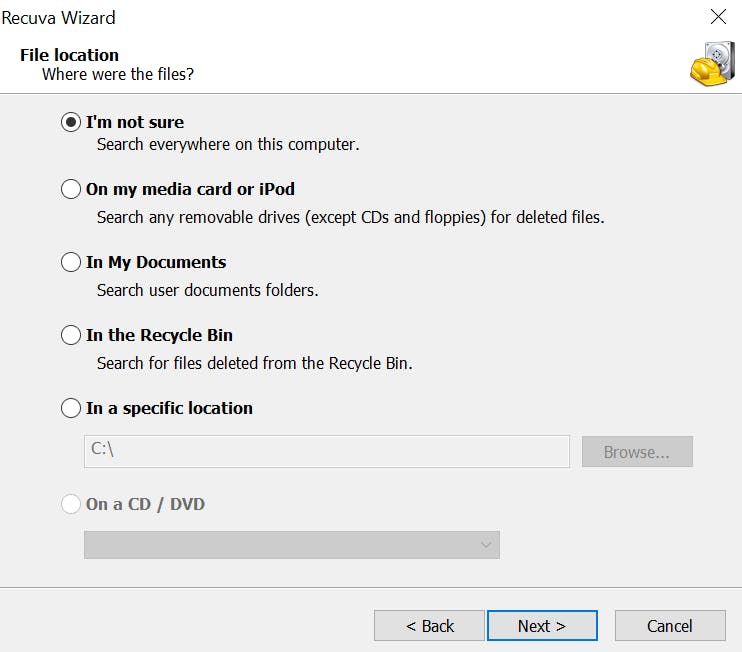 With Recuva, you can select whether the program should search your entire computer or just certain locations for the lost files.
4. Next, click on "Start", for Recuva to begin the search. Should your first search not end to your satisfaction, you can check the "Deep Scan" option and begin a new search, however, this can take several hours to complete.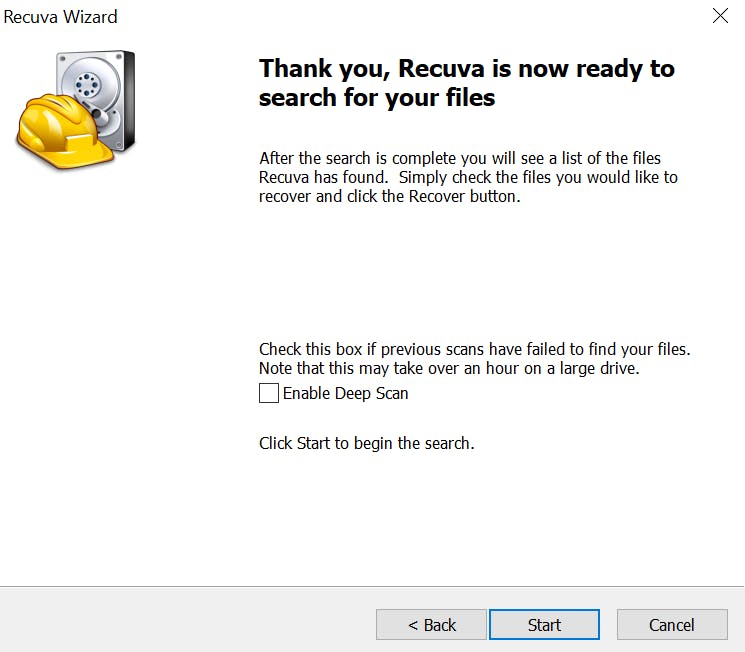 Using "Deep Scan", Recuva will search more thoroughly.
5. In the results window, Recuva will show you all deleted files that it identified, their condition, and information about their recoverability. Select all entries from the list that you want to restore and click on the "Recover" button in the bottom right.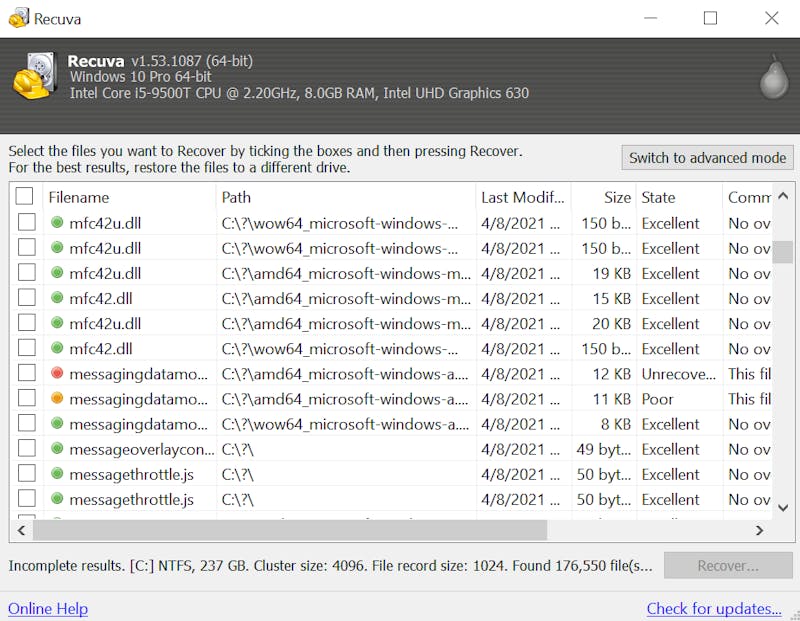 In the results window, you can view all deleted files that Recuva has identified.
6. In the next step, you can choose where the files should be restored to. We recommend selecting a different drive than that where the files were found in order to increase the chances of success. After that, click on "OK".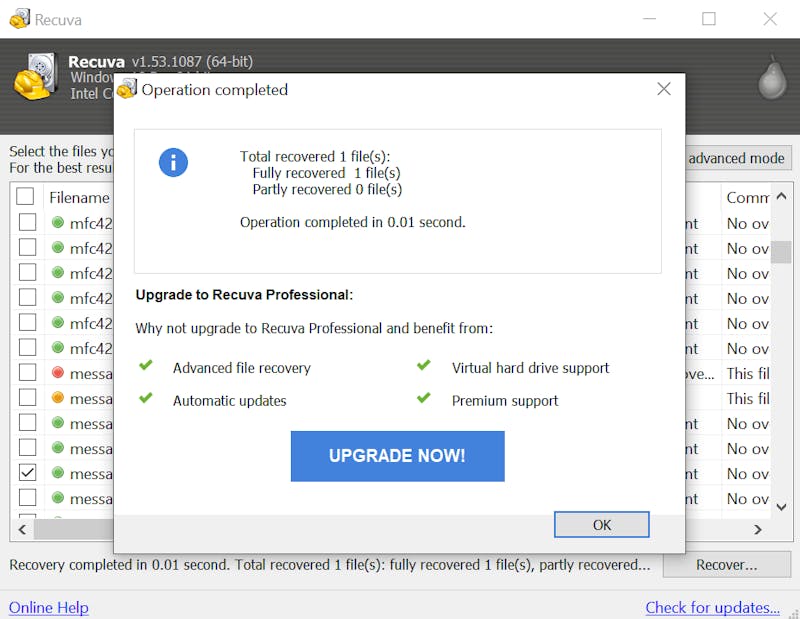 All it takes to restore your data is one more click.
7. You can now find the recovered files in the folder/location you've specified in Step 6.
Conclusion
In most cases, data recovery tools are capable of restoring files believed to have been lost or missing, however, each program we've reviewed differs in terms of its power and target audiences.
Finding the solution that is best for your needs depends, in large part, on what it is that you plan on doing (recovering files, permanently deleting files, or restoring an entire data storage device or partition, etc.). Some programs are not offered for macOS, others specialize in specific file formats, and some support SSDs.
Differences can also be identified in terms of user-friendliness: While most of the tools are intuitive to use, some rely on a more bare-bones command-prompt-like layout.
In our opinion, Recuva is the best for restoring deleted files owing to its full free version and easy-to-navigate user interface.
FAQs
How can I restore lost files?
⊖
A number of special tools are available for restoring lost files, storage devices, or even drives. Most of these allow anyone to start the recovery process in little more than a few steps. After entering a few parameters (Where should be searched? What should be searched for?), the search will commence, after which you can select what should be restored from the results. For the last step, we recommend using an additional data storage device so that the files won't be overwritten.
Can I restore deleted hard drives and USB sticks?
⊖
Yes, damaged and formatted (cleared) hard drives, USB sticks, and other storage devices can be repaired and recovered using programs which include this functionality. The most important factor to keep in mind is that the data storage device shouldn't be re-used after being formatted. Only in this way can you be certain that the files won't be overwritten.
How reliable is data recovery?
⊖
A number of providers advertise a 99% rate of success, however, it's important to take this with a few grains of salt. For example, overwritten or professionally deleted data can usually not be restored and is not included in the marketing materials. To safely recover data, the programs often operate in Read-Only mode, meaning that files are just read and recovered, but not changed or damaged.
Continue Reading