Antivirus
How to Remove Trojans» 3 Easy Ways
If you're reading this, you've probably already noticed that your computer isn't performing as it should be, or that something has gone completely wrong, and a Trojan has made its presence known to you in one way or another. As we'll show you below, there's little reason to worry as a few relatively easy ways exist for removing malware from your system and reclaiming your digital domain.
Since a Trojan itself is just the means through which malware makes its way onto your computer, you're most likely noticing the impact of these programs, rather than the Trojan itself. If you've become the latest victim of ransomware, we recommend jumping over to our EXPERTE.com guide for removing ransomware. Below, we'll show you how you can disinfect your system from most types of Trojans and their accompanying malware.
1st Option: Download a Free Malware Scanner
Removing a Trojan from your system doesn't need to be costly or time-intensive. Free software exists which checks your system for malware, and removes it in a matter of minutes. To show how easy this can be, we've used Malwarebytes.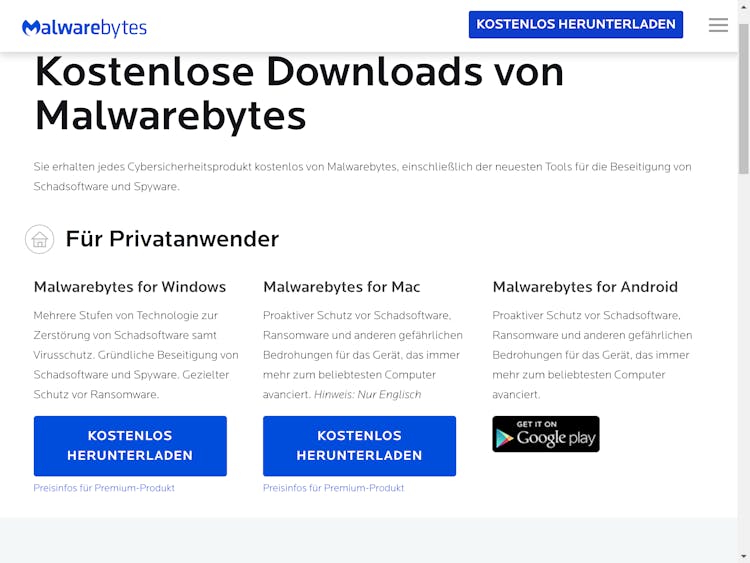 Malwarebytes is available for Windows, Mac, and Android.
After downloading and installing the software, you can activate a license, or purchase a subscription package, however, as we promised, Malwarebytes can be used completely free of charge. A Premium subscription does unlock all preventative measures, however, if you're already under the yoke of a Trojan, these won't do you all that much good. You can take advantage of a free 14-day trial of the software's full version, thankfully, without having to input any payment methods.
In addition to its very popular free version, you can purchase a Premium license, which unlocks even more features and tools.
Guide: Removing Trojans with Malwarebytes
1. Clicking on Scan will begin an analysis of your system, which, depending on how large it is, can take a few minutes. While scanning, Malwarebytes checks your files and programs for malware.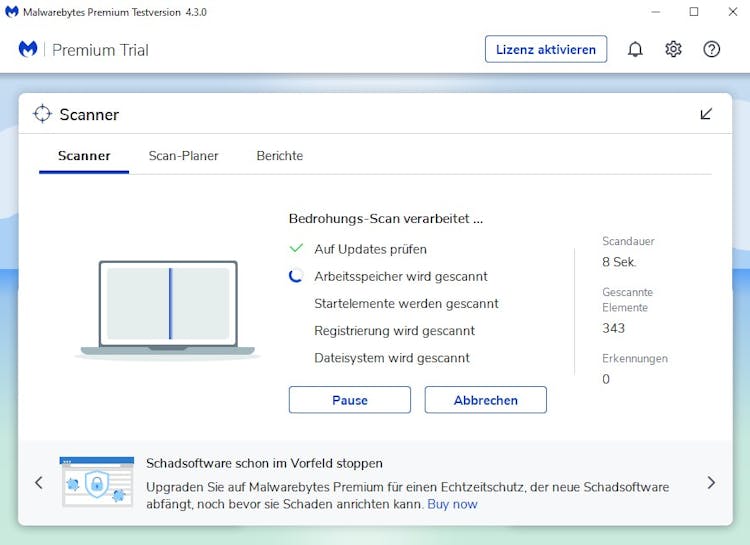 Malwarebytes scans your computer in the background; you can continue working on whatever it is you were previously doing while it runs.
2. Once the scan is complete, the results will be shown. Malwarebytes lists all of the threats which it found, which you can then quarantine. Once quarantined, these files can no longer damage your system.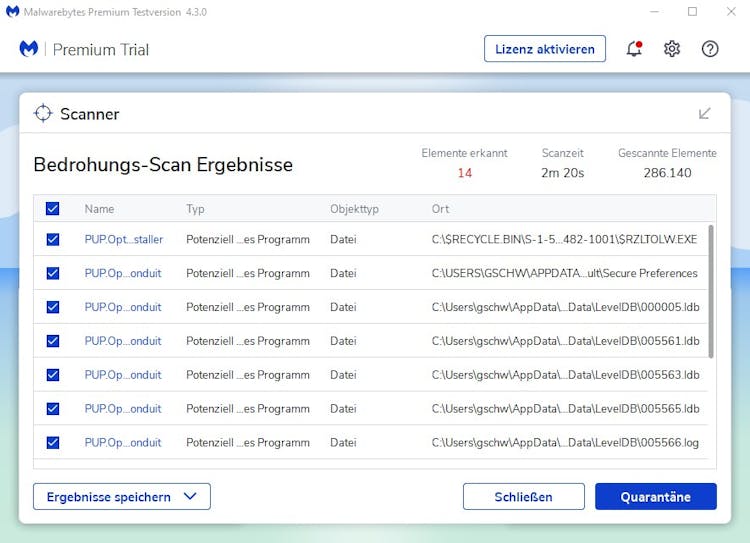 Once quarantined, malware files can't damage your system.
3. You can remove quarantined files from your system by clicking on Detection History. Here, simply select the elements you'd like to delete and click on the Remove button at the bottom of the window. Should Malwarebytes have moved important files to quarantine by accident, you can also restore these by following the same process and clicking on Restore instead.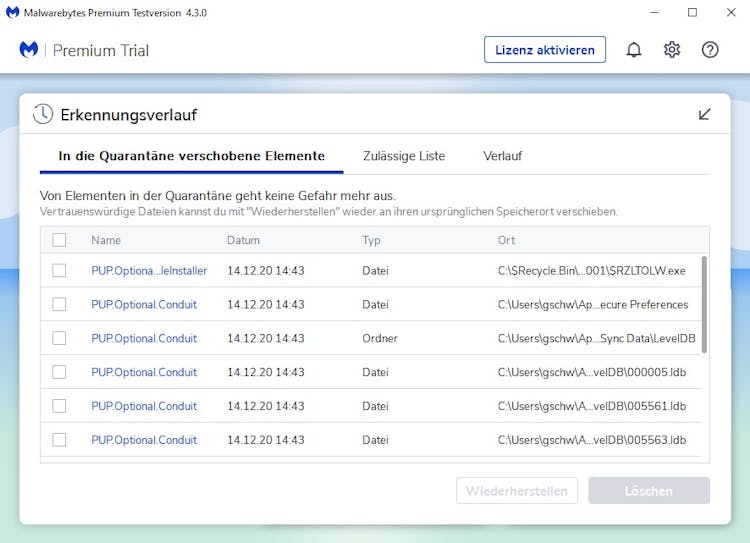 Malwarebytes isn't the only free program that can help you after a Trojan has made its presence known to you. Nearly every antivirus program offers a freemium version, which provides access to most basic features while putting more advanced tools behind paywalls in the hope that users will upgrade to a paid (premium) subscription. As a result, if not paying upfront, you should be ready to deal with occasional marketing/advertising, although this isn't really overbearing.
At EXPERTE.com, we compiled a list of the best free antivirus software. Leading our evaluation was Avast Antivirus, thanks to its real-time protection and password manager, access to both of which is also provided to non-paying users.
2nd Option: Rescue Disk/USB Device
In the event that the malware scan doesn't eradicate your infection, and/or the Trojan hasn't been eliminated, you'll likely need to reach for something more powerful, a so-called rescue disk. This is a bootable CD/DVD or USB device that helps to identify malware on your system. One example is Kaspersky Rescue Disk.
Guide: How to eliminate Trojans with Kaspersky Rescue Disk
1. Start by downloading Kaspersky Rescue Disk's image from Kaspersky's website.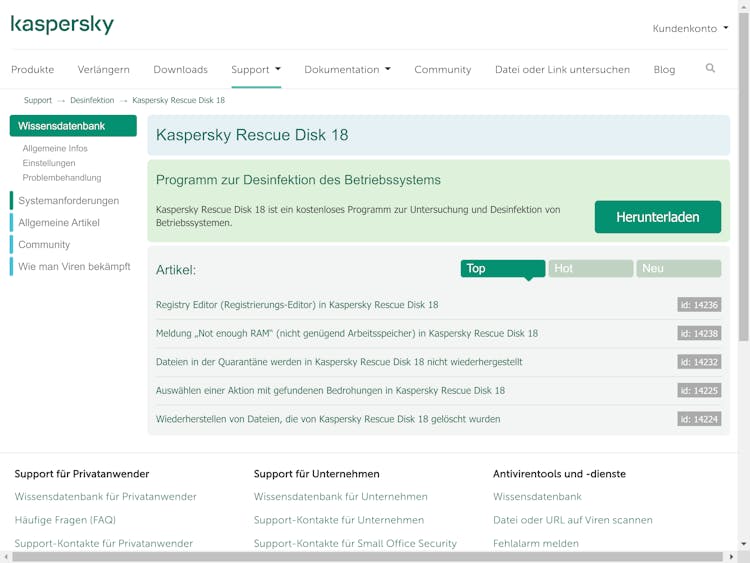 Kaspersky Rescue Disk's image can be downloaded for free.
2. Burn the image to a CD/DVD, or copy it to a USB storage device.
For the first option, you simply need to burn the image to a CD or DVD. Kaspersky recommends Windows users use ISO Recorder or DeepBurner for this.
To copy the image to a USB storage device, you can use Rufus on Windows or the integrated dd tool on Linux and Mac systems.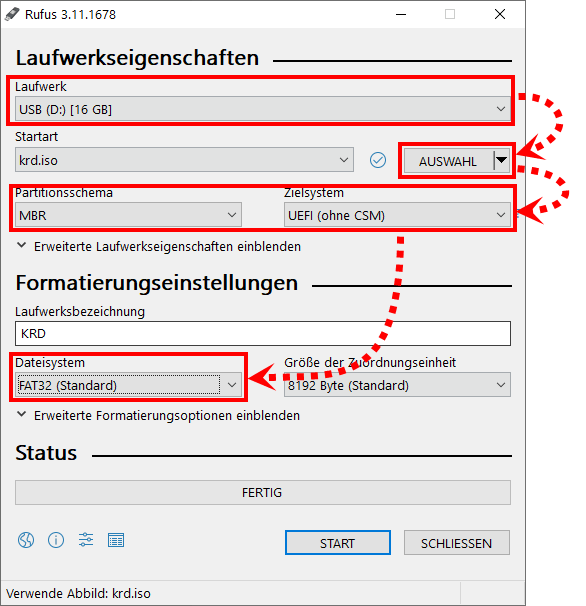 The USB device will need at least 1 GB of storage space (Image Credit: Kaspersky).
3. Put the burned CD/DVD in your disc tray, or connect the USB device to your computer. After this, you'll need to tell your system to boot from the CD/DVD or the USB storage device the next time it starts. To do this, you'll need to enter the BIOS menu.
4. There are a few different ways to enter the BIOS menu in Windows, depending on which version of the software you are using. For Windows 10 users, click on the arrow next to Shut Down in the Start menu and, while holding down the Shift key, select Restart. In the menu that opens, click on Troubleshoot > Advanced Options and select UEFI Firmware Settings. In the window that opens, click on Restart, and you'll enter the BIOS menu.
For users of other Windows versions, simply restart your computer and continually press the BIOS hotkey, which is usually F2 or F10 (depending on the manufacturer of your PC or laptop). If unsure of what the hotkey is for your system, you can usually see it somewhere on your (black) startup screen or check online.
5. Once in the BIOS menu, you'll need to adjust the boot order. Move your CD/DVD drive or the USB device to the first position and press the F10 key to save your changes.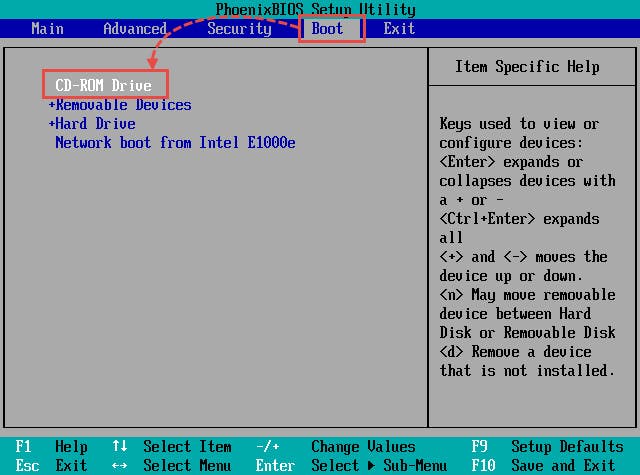 Tell your system to boot from the burned CD/DVD or USB device (Image Credit: Kaspersky).
6. After the next restart, you'll wind up in Kaspersky Rescue Disk's user interface. Follow the software's instructions and, if possible, select Graphic Mode, to start the graphic user interface.
7. In the user interface's start menu select Kaspersky Rescue Tool (in the upper part of the screen).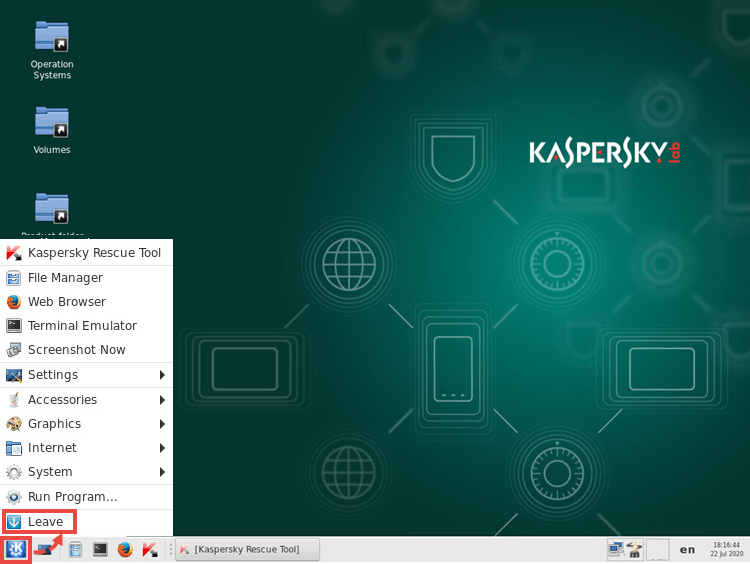 With Kaspersky Rescue Tool you can check your system for malware and remove any that are found (Image Credit: Kaspersky).
8. Click on Start scan to begin an analysis of your system. If you'd like to change where and what the tool scans, click on Change parameters.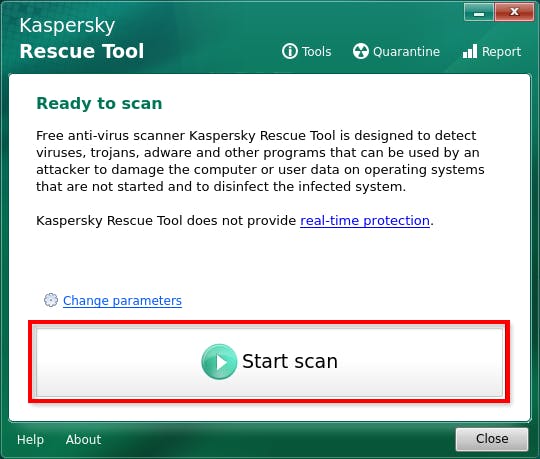 Kaspersky Rescue Tool finds Trojans, viruses, and more (Image Credit: Kaspersky).
9. If any threats are found, you can either quarantine or delete them. This can be done for all threats simultaneously, or for individual elements.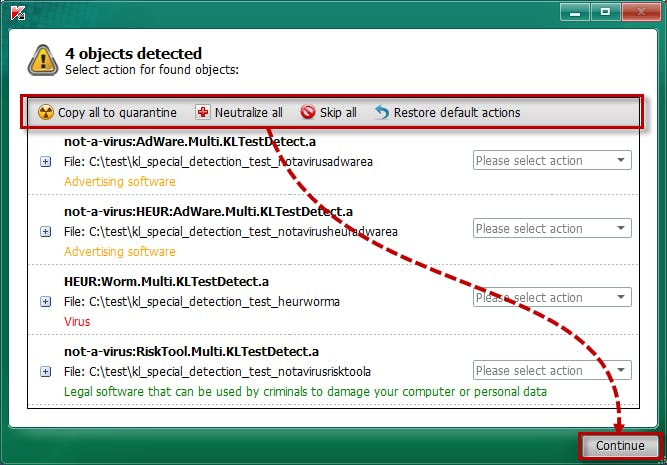 On the results page, you'll be able to see which type of threats were uncovered and choose how you'd like to proceed (Image Credit: Kaspersky).
10. Should an active infection have been identified, the tool will warn you with a Malware detected notification. Then, you can disinfect your system either with or without a full scan, whereby Kaspersky recommends the first options (note: this takes longer).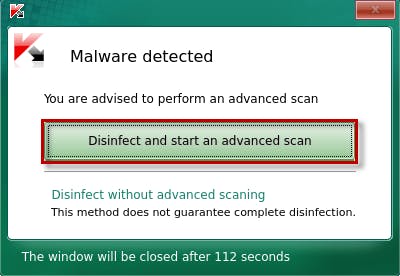 We recommend always erring on the side of caution and performing an advanced scan if malware is discovered on your system (Image Credit: Kaspersky).
11. Once your system has been disinfected and all threats have been neutralized, you can restart normally. To do this, click on Leave and then Restart in the Rescue Disk user interface's start menu.
12. When restarting, press the F2 or Delete key to return to the BIOS menu. In the Boot tab, move Hard Drive to the top, and save your changes by pressing F10. After restarting, everything should be back to normal.
3rd Option: Real-Time Protection With Our Winner, Bitdefender
Kaspersky Rescue Tool is great at removing malware that has already infected your system, however, it doesn't protect you against new threats. To remain Trojan (or malware) free, you're going to need real-time protection, like that offered by most anti-malware providers.
EXPERTE.com's champion in this area is Bitdefender, which secured first place in our rankings thanks to its high test lab scores, user-friendliness, and wide array of features.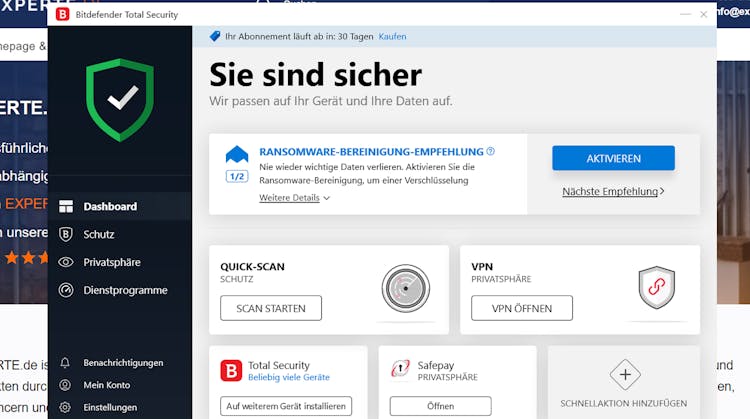 Bitdefender's clear user interface was just one of the many aspects of the service that greatly impressed us.
With Bitdefender, you can adjust real-time protection to your exact needs, setting when and how often it should check files. The service also protects against email, web, or webcam attacks, as well as ransomware, and of course, provides a firewall.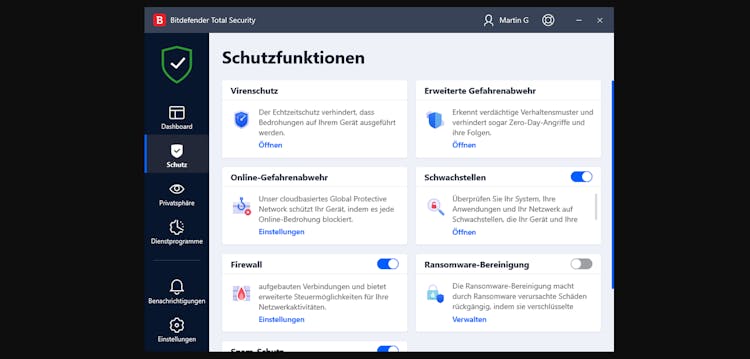 Bitdefender's package of features is truly remarkable.
If you have a sinking feeling that something is wrong with your system, you can also easily perform a full scan with Bitdefender, setting parameters to your exact specifications.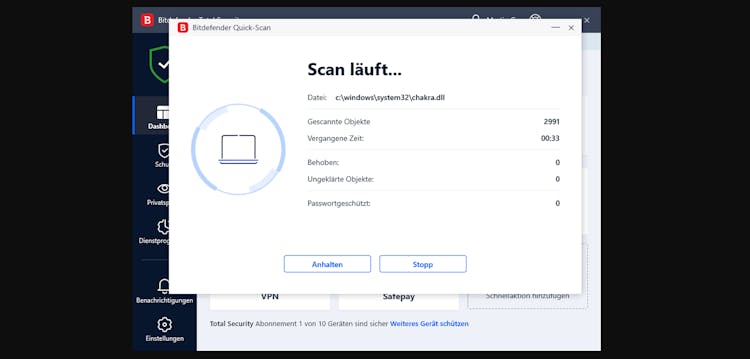 As if anyone needed more convincing, you'll also get a password manager, VPN, as well as 24/7 support, a live chat, and more than solid mobile apps for iOS and Android devices.
Bitdefender won't only protect you against Trojans, but also equip you to contend with nearly every kind of digital threat imaginable.
excellent protection results
configurable quick actions
good support with 24/7 live chat
Our test winner Bitdefender not only offers high security, confirmed by independent test laboratories, but also convinces with its flawless usability and a comprehensive feature package.
Plan
Devices
Protection Features
Premium Features
Bitdefender Antivirus Plus
$29.99
yearly price
Visit Website »
Trojans are dangerous, with their removal both somewhat tricky and time-consuming. However, like every sort of virtual danger, you can minimize the risk of being infected by following a few basic guidelines. Don't download files or programs from suspicious or untrustworthy sites, and double-check any email before downloading or opening its attachments.
Should it already be too late for prevention, there are both free and premium tools available to help remove Trojans and all sorts of other nasty programs from your system, protecting it going forward. For long-term protection and prevention, a reliable antivirus program is essential. At EXPERTE.com, we've looked at some of the most well-known and popular antivirus solutions on the market examining them from top to bottom, to help you in making your decision.

Author: Janis von Bleichert
Janis von Bleichert studied business informatics at the TU Munich and computer science at the TU Berlin, Germany. He has been self-employed since 2006 and is the founder of EXPERTE.com. He writes about hosting, software and IT security.