Kaspersky Password Manager Review 2023: Still Secure?


Ad disclaimer:
For links on this page, EXPERTE.com may earn a commission from the provider. This supports our work and has no influence on our editorial rating.
Kaspersky is one of the most recognizable names in the field of cybersecurity, enjoying a strong reputation thanks to its well-known antivirus program. However, Kaspersky has more to offer than just protection against malware, having launched a password manager as well. Below, we'll take a closer look at it.
What Is Kaspersky Password Manager?
Kaspersky Password Manager* was created by Kaspersky, a Russian software company, and is available for Windows, macOS, iOS, and Android. Its password manager helps users conveniently organize and protect sensitive data, and emphasizes security.
Kaspersky Password Manager Review
Installation & Usage
8.0 / 10
Highly intuitive and user-friendly

Autofill for applications
Free version doesn't have much to offer
Most of the time, password manager setup starts with the creation of a master password: As a Kaspersky newbie, you'll need to create another password first, for your Kaspersky user account. This allows you to synchronize your passwords across all devices. Once you've configured your Kaspersky user account, you'll set up your master password.
The need to have a Kaspersky account means that getting started with this particular password manager takes a bit longer than the other solutions we've evaluated, however, the delay isn't all that significant.
Once you've set your master password, you can log in.
If desired, Kaspersky Password Manager's browser extensions for Chrome, Firefox, Internet Explorer, Edge, and Yandex can also be installed along with the service's desktop client. This means that you won't have to manually install individual components later on, which is convenient.
If you've used another password manager in the past and have data sets from elsewhere, you'll likely want to use the import feature. To access this, click on the three dots in the lower left, and go to Advanced > Settings > Import/Export.
In the past, Kaspersky Password Manager's import features weren't too impressive, however, this time, it easily handled our LastPass CSV file. We were also able to do the same with data sets from 1Password, Dashlane, KeePass, and Norton Identity Safe, as well as Chrome and Internet Explorer.
While we were satisfied with the results of our transfers, the data didn't always wind up in the right place. All the same usernames and passwords were usually correctly identified. Data imports are often tricky for password managers, and most require some manual editing to get exactly right.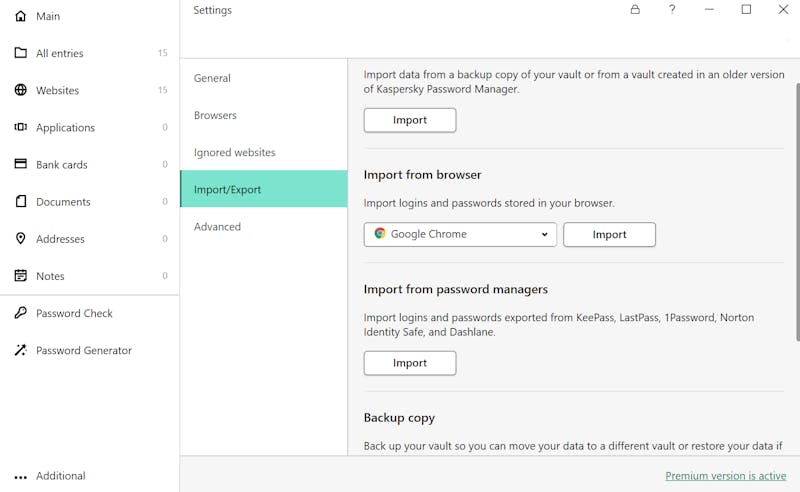 Kaspersky Password Manager has significantly improved its import capabilities.
Easy to use, difficult to customize
As with most other password managers, Kaspersky's solution is built around its desktop app and browser extension. There is also a web version, which is accessible through the desktop client, however, this doesn't offer any additional functionality over the latter.
Desktop app
Kaspersky Password Manager's desktop app is easy to use. Like most password managers, the interface is arranged into three columns. On the left, you'll find the main menu, through which you can select the type of entry; in the middle, individual data sets; and on the right, detailed information about the data set you've selected.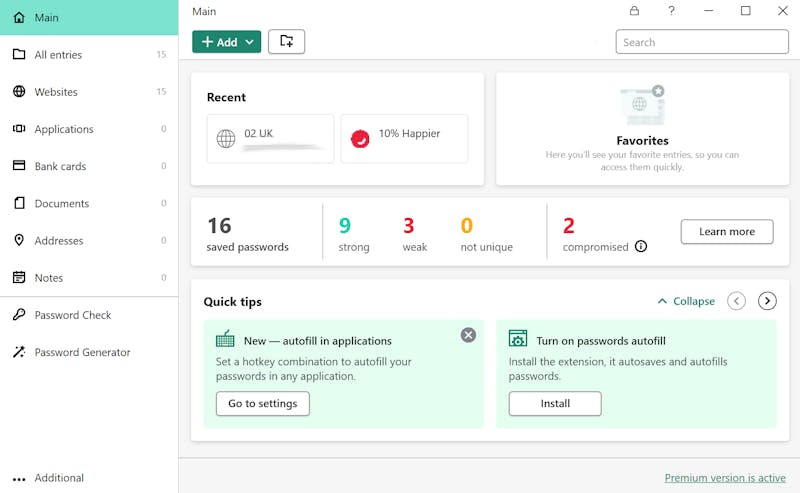 Kaspersky Password Manager is easy to use thanks to the three-column structure of its interface.
It's possible to add webpages, apps, and other data sets directly to the program or automatically save them in your browser when creating a new account somewhere.
Even though the desktop app is highly intuitive, it limits the extent to which users can customize entries. Only six categories are available and it isn't possible to add new ones or create custom fields within the entries. You can make folders, however, these are only visible in the All Entries section. Favorites can likewise be marked, but entries cannot be tagged.
Kaspersky could optimize navigation and offer more customization when it comes to entry creation and arrangement.
Browser extension
The browser extension is home to websites, payment info, and addresses you've saved, as well as a password generator. For everything else, the extension directs you to the desktop app. Overall, the browser extension has decent functionality, including the all-important autofill.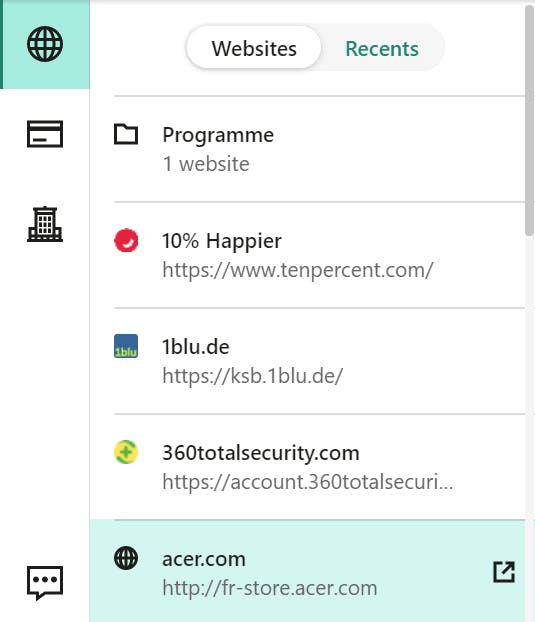 All stored data sets are accessible in the browser extension.
If you visit a website or service that you have a login stored for, a green key will appear in the login form. Click on this, and the relevant information from the vault will be supplied. Should you register somewhere for the first time, the browser extension can generate a secure password for you, which it will then automatically save to your vault.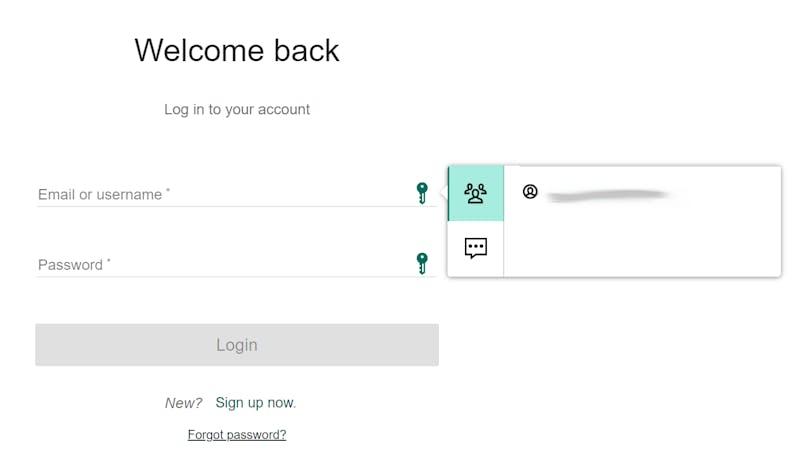 When the browser extension is activated, you're one click away from logging into any site that you have a data set for.
Overall, Kaspersky Password Manager is one of the easiest-to-use solutions we've encountered: Its interface is user-friendly, clearly lists all of the service's features, and doesn't do much wrong. At the same time, Kaspersky is not great in terms of data set arrangement or customization and could optimize navigation.
Installation & Usage
8.0 / 10
Kaspersky Password Manager is one of the many programs in Kaspersky's portfolio. As such, it provides a solid range of features without attempting to mimic competitors like Dashlane or 1Password who lead the market in this area. With that said, it has just about everything that we expect a password manager to offer.
Password Check
When using "Password Check", the program lists your compromised passwords according to their weakness, making it clear that any vulnerabilities detected should be rectified immediately. Using data from Have I Been Pwned?, the program even reveals how many accounts with the same password have already been hacked.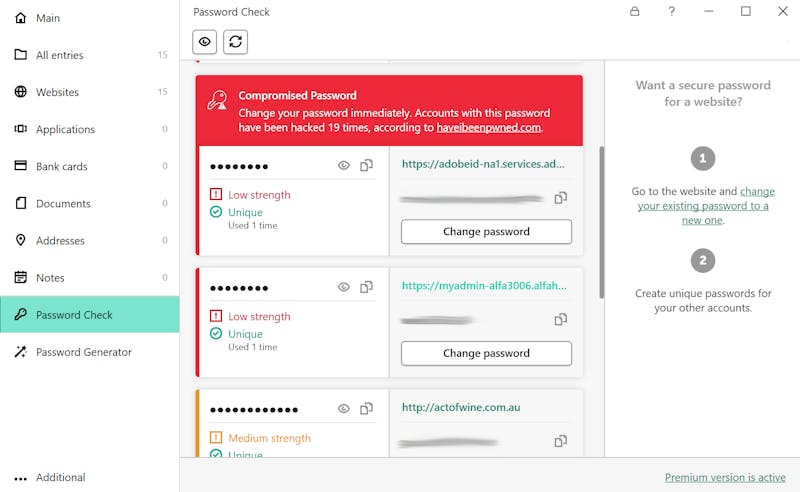 Kaspersky's "Password Check" shows how strong your passwords really are.
Password storage for applications
One outstanding feature Kaspersky Password Manager offers is the ability to create data sets for installed programs. This makes it possible to use its autofill capabilities for any app that requires a login. Unfortunately, this doesn't work as well with the apps as we had hoped and we were unable to activate it for most programs. Even when the data sets were saved, the login data had to be manually copied to the relevant fields.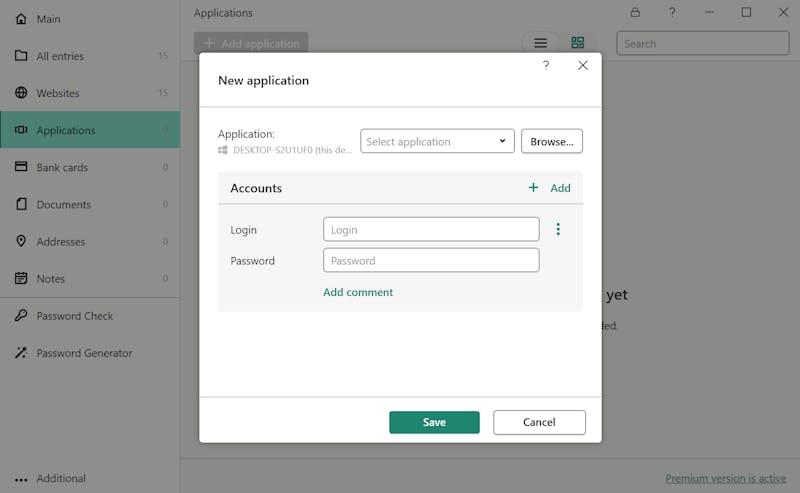 The application password saving feature isn't well-executed.
No password sharing
Regrettably, you won't find much beyond the basics with Kaspersky Password Manager. One feature that would be useful is an automatic password changer, such as in Dashlane. More frustrating is that it isn't possible to share passwords, notes, or other data sets. The ability to save login data for applications also needs some work.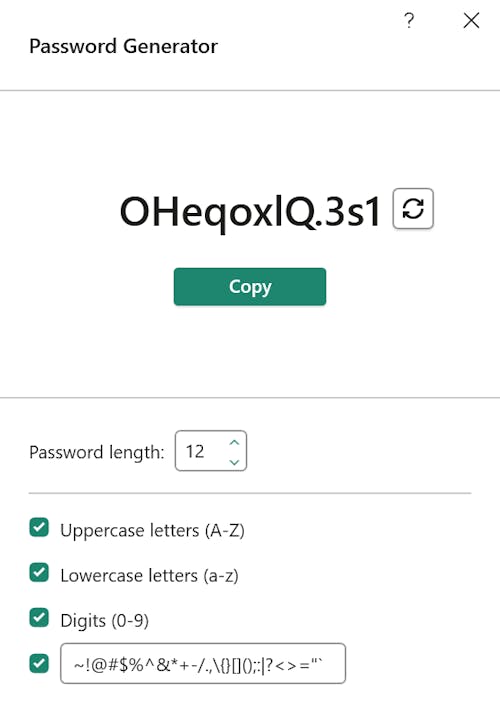 Kaspersky's password generator only offers some basic settings and has suffered for years from a major weakness.
As mentioned earlier, it's disappointing that users can't customize how data sets are organized. Other password managers allow users to add their own fields or configure settings, such as the need to re-enter the master password to access certain data sets. With Kaspersky, you're limited to the default settings.
Extra security features, like the ability to encrypt data on your computer with a mouseclick, are also nowhere to be found.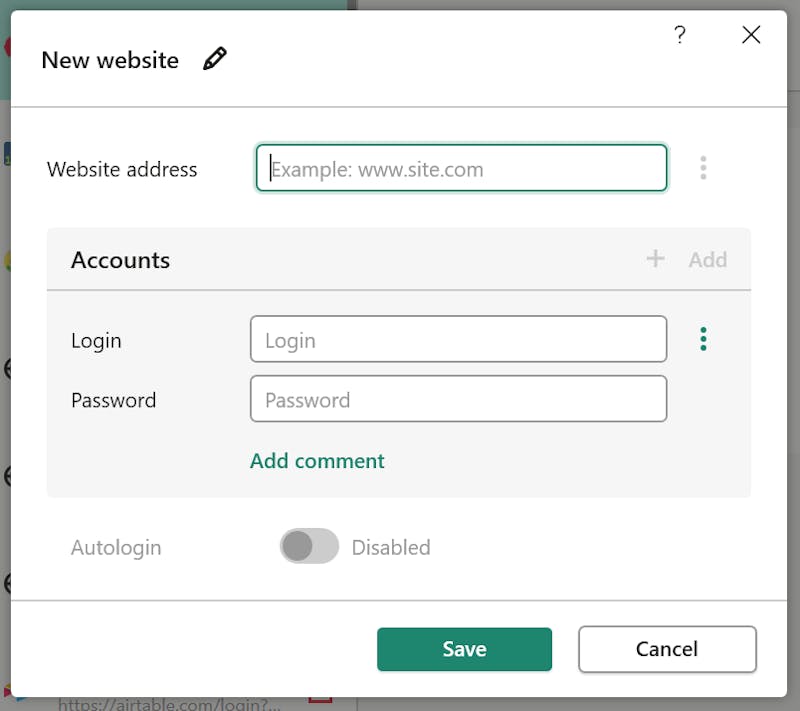 We missed the ability to create custom fields in Kaspersky Password Manager.
Overall, Kaspersky Password Manager scored thanks to its reliable autofill (at least with websites), however, this is the minimum that we expect from a password manager. The basics are all there, but the software could do with some extras.
Like all password managers we assessed, Kaspersky Password Manager relies on AES 256, not saving your master password in plaintext, but generating a cryptographic key via PBKDF2, thereby conforming to the zero-knowledge principle. This means that Kaspersky never stores your password anywhere and that you alone know it.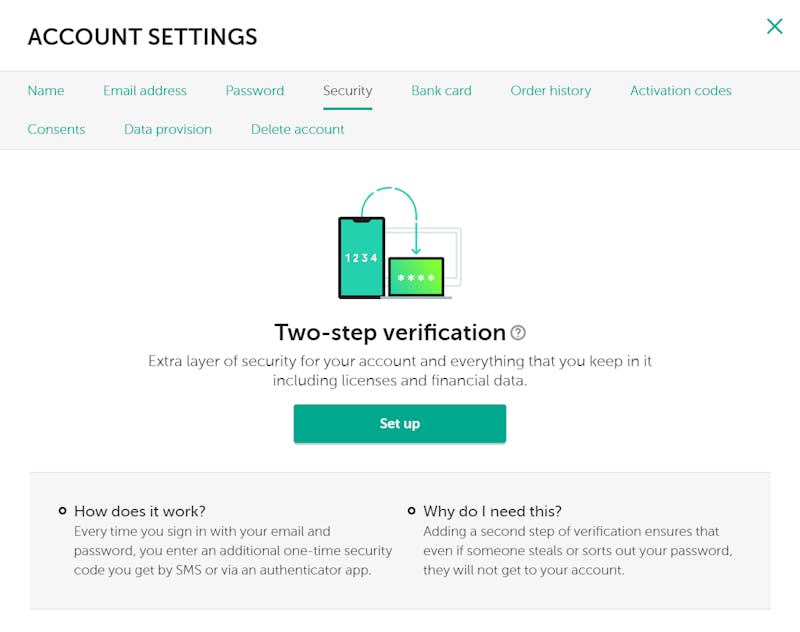 Kaspersky offers two-factor authentication only for your Kaspersky user account, but not the password manager itself.
You're likely to notice one major absence from the desktop version, namely, that of two-factor authentication. While available for your Kaspersky user account, it isn't part of the app. Should someone gain access to your device and master password, the service's 2FA won't provide any protection.
Additional security features, like a virtual keyboard to protect against keylogging, aren't offered.
Weak passwords
For years, Kaspersky's Password Manager had a major security weakness: Its password generator. According to Ledger Donjon, a Bitcoin security firm's research team, passwords generated by Kaspersky's tool can be easily cracked by using a random number generator in combination with the system's time.
What's worse, Kaspersky was notified about this weakness as early as 2019, but reacted slowly, taking four months to rectify the issue. It only released a patch for users 16 months later, and even then, it only encouraged them to change their passwords. This means that most users unknowingly used weak passwords for nearly 2 years.
By now, the weaknesses have been dealt with and Kaspersky's password generator creates secure passwords, however, we expect more transparency and finesse from a cybersecurity specialist.
Kaspersky Password Manager's mobile app automatically syncs with the service's desktop app. The developer doesn't use its own browser for this and relies instead on the smartphone's default browser (in our case, this was Google Chrome).
To enable autofill, you'll need to activate it in the system settings. During testing, autofill performed very well, however, we needed to be patient as the button didn't always appear. For some reason, usernames and passwords aren't input together but need to be selected separately. Even though Chrome handled itself very well, we would have liked to be able to use a Kaspersky browser.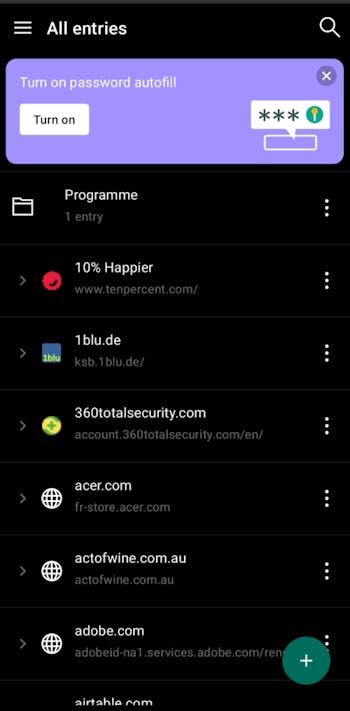 Smartphone users have access to "Password Check" and "Password Generator".
The mobile version also includes "Password Check" and "Password Generator". Your vault can be unlocked by fingerprint, which makes the app more convenient, but is a no-go for security purists.
Kaspersky Password Manager's mobile app is decent, even if some of its aspects are slightly frustrating, and autofill doesn't react as quickly or reliably as in other programs.
Since Kaspersky Lab offers a wide range of products, support doesn't focus exclusively on the needs of the users of its password manager. As a result, it might take a while to find the right answers in the FAQs.
You can request direct support via email, live chat, or hotline, 24/7, however, you will have to specify the product you're using and operating system, as well as provide some other information. The live chat and hotline are somewhat hidden, indicating that Kaspersky wants to reduce the number of support requests it receives.
During testing, we received an answer to our email query after 4 hours, and an immediate response in the live chat.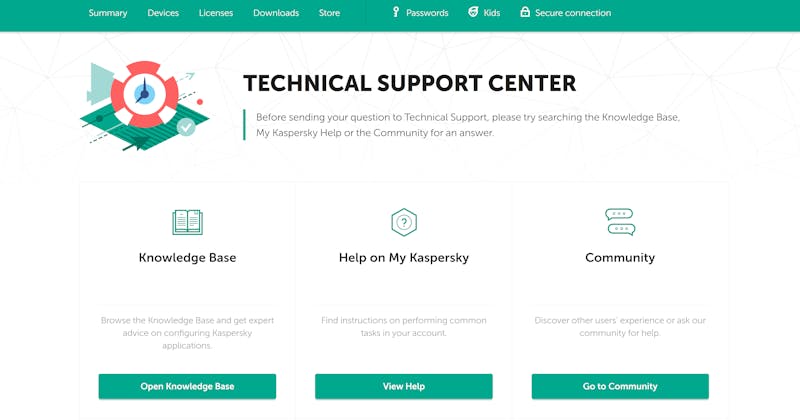 Thanks to its multitude of channels, Kaspersky does well in terms of support.
Assuming that you aren't in a hurry, you can post your question in the password manager sub-forum, where Kaspersky users discuss all kinds of topics and issues.
Kaspersky offers excellent support, even if it took us a while to find the live chat and hotline. Beyond that, the only issue we had was that support is for all Kaspersky products, and not strictly the password manager.
There are both free and premium versions of Kaspersky Password Manager. The former should really be called a trial rather than a fully usable program since it is limited to 15 data sets. As such, this free version is barely usable for longer than a day or two.
On the upside, the premium version is extremely affordable. As of the time of writing, no special rates for businesses or organizations are offered.
A current price list can be found below:
Free
Premium
Set-up Fee
$0.00
$0.00
Base Price per Month
$0.00
$1.25
Price per User
$0.00
$0.00
Contract Period (Months)
0
12
Limits
Number of Users
1
1
Number of Passwords
15
unlimited
Number of Devices
unlimited
unlimited
Features
Sync Multiple Devices
Password Sharing
Teams
Zero-knowledge Encryption
Emergency Contacts
Two Factor Authentication
Local Storage
Browser

Internet Explorer

Chrome

Firefox

Safari

Internet Explorer

Chrome

Firefox

Safari

Platforms

Windows

macOS

iOS

Android

Windows

macOS

iOS

Android
Conclusion
Installation & Usage
8.0 / 10
Kaspersky Password Manager does a lot of things right and has improved upon the deficits that we noticed the last time we checked it out. Gone are the frequent crashes or freezes, and 2FA has been partially integrated into the program. You'll be given access to the most important features expected from a password manager, and have solid autofill whether on desktop or mobile.
Still, Kaspersky Password Manager doesn't do much to set itself apart from other, similar programs and lacks certain capabilities that would be highly useful, like integrated password/data set sharing. Autofill didn't work all that well during desktop testing, and the software's free version, limited to 15 entries, is a trial rather than a freemium program.
More seriously, we were disappointed that a well-established cybersecurity company like Kaspersky had such major lapses with its password generator. Exploiting these, hackers would have been able to crack "unbreakable" passwords in a matter of seconds. Even though the issue has been dealt with, we remain skeptical.
Kaspersky Password Manager
Kaspersky's password manager covers all the essential features and works as a reliable autofill companion, but it doesn't really do much to set itself apart from the competition – and past security breaches still loom large.
Passwords
Devices
Users
Contract Period
Kaspersky Free
$0.00
monthly price
Visit Website*
Try for free
Customer Ratings
But what do Kaspersky's customers have to say about the software? To find out, we've compiled reviews from some of the most important portals for you below:
Customer Ratings
4,119,160 Bewertungen
Visit Website*
We analyzed the reviews and ratings from various portals and found 4,119,160 ratings with an overall rating of 4.7 out of 5 .
Alternatives
Dashlane is a great option if you'd like an easy-to-use password manager with more features, data set sharing, and high security.
Or maybe you'd prefer a powerful free tool that offers more than Kaspersky: In that case, NordPass and Bitwarden are two options worth checking out since their freemium versions don't have any data set limits.
More of the best alternatives to Kaspersky Password Manager can be found below:
Dashlane Password Manager
Dashlane is a great all-rounder that makes managing your logins and other account details as easy as pie thanks to its many features, a strong security posture, and an easy-to-use interface.
user friendly and intuitive
zero-knowledge encryption
comprehensive security center
automatic password changer
9.1

excellent
Passwords
Devices
Users
Contract Period
Dashlane Free
$0.00
monthly price
Visit Website*
Try for free
1Password Password Manager
1Password's password vault is filled to the brim with features, including handy extras such as the travel mode. With excellent security and a solid user interface on top, 1Password is one of the best password managers out there.
zero-knowledge encryption
reliable autofill function
8.7

good
Passwords
Devices
Users
Contract Period
1Password Standard
$2.99
monthly price
Visit Website*
Free 30 days trial
Keeper is one of the best password managers on the market thanks to its many features, high reliability, and extensive configuration options.
Passwords
Devices
Users
Contract Period
Keeper Security Unlimited
$2.04
monthly price
Visit Website*
Download Keeper
NordPass Password Manager
NordPass stands out with its beautiful design and ease of use, and offers a fully-fledged free version that allows you to create and synchronize an unlimited number of passwords.
full-featured free version
few options for customizing data sets
8.5

good
Passwords
Devices
Users
Contract Period
NordPass Free
$0.00
monthly price
Visit Website*
30-day money-back guarantee
Bitwarden Password Manager
Bitwarden can impress with easy-to-use apps, reliable autofill, and a few handy security features. Plus, it's pretty affordable – and offers a solid, feature-rich free plan.
user-friendly applications
good security, externally tested
paid features (e.g. password sharing)
8.4

good
Passwords
Devices
Users
Contract Period
Bitwarden Free
$0.00
monthly price
Visit Website*
* Ad disclaimer:
For links marked with an asterisk, EXPERTE.com may earn a commission from the provider. The commission has no influence on our editorial rating.

Martin Gschwentner majored in American Studies and Media Studies in Germany, the USA and France and works as a freelance editor in Paris. He is a doctoral student at the Institute for English and American Studies at the University of Paris Diderot, where he is researching the influence of money on US politics. On EXPERTE.com he writes about IT security, data protection and software for the self-employed and small businesses.

Translation: D Bare
Continue Reading
Reviews
Comparisons
Tools & Guides