AVG Antivirus Review 2023: Really Refreshingly Simple?

Author
Janis von Bleichert
In the 21st century, an antivirus program is no longer a luxury, but rather, a necessity that protects you from dangers lurking on the Internet. However, just because something is a "must-have" doesn't mean that it has to be user-friendly, with a large number of poorly designed, or difficult-to-navigate antivirus programs providing ample evidence of this.
AVG refers to their own antivirus product as "refreshingly simple", being able to provide solid cybersecurity to anyone. In the free antivirus market segment, AVG's software is one of the most popular. Our review below shows if it's deserving of such a good reputation.
What Is AVG Antivirus?
AVG Antivirus ⇱ is an antivirus program produced by AVG Technologies, which since 2016 has been owned by Avast. Yes, the same Avast known for its eponymous antivirus program. Even though both one-time competitors have now joined forces, they continue to offer different antivirus solutions. AVG's is available for Windows, macOS, Android, and iOS.
Protection against viruses is offered free-of-charge through AVG Antivirus Free, whereas premium subscribers receive it through AVG Internet Security.
AVG Antivirus Review
Installation & Usage
9.4 / 10
Security & Performance
8.0 / 10
Available in a free version which provides basic protection
Minor performance issues when conducting a full scan
Installing AVG Antivirus requires only a few minutes. During installation, the program can be customized to a greater extent than those of its competitors. For example, the decision to install AVG's Secure Browser and set it as your default browser is left entirely up to you.
You're also allowed to choose whether you want to install additional features like the "Web and Email" shield or a data shredder. Should other services or programs you've installed already provide these features, you can save space on your hard drive by deselecting them.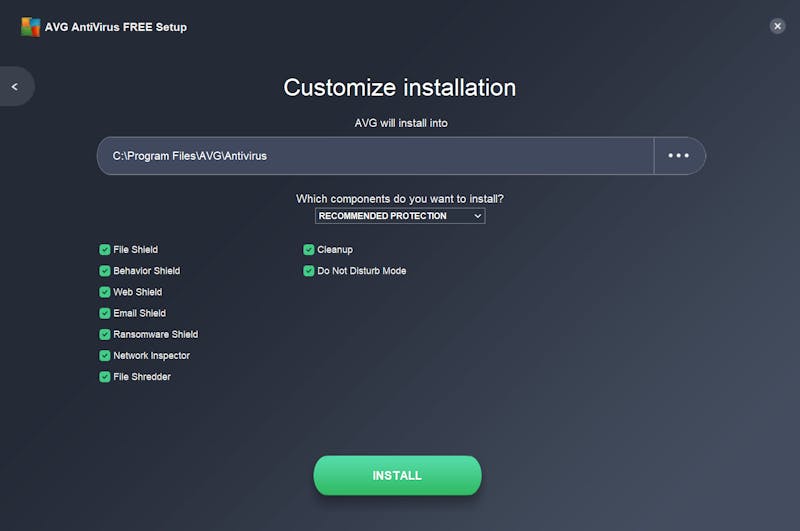 Which features to install? AVG Antivirus leaves this choice almost entirely up to you.
Installation wraps up by performing your first "Smart Scan", checking your system for threats and malware. In the freeware version, an effort is also made to entice you into becoming a paid subscriber: A pop-up window opens and invites you to sign up for AVG TuneUp, which claims to be able to make your PC faster, while in the program's dashboard, you'll be notified of the inadequacy of your firewall. For users of freeware, such up-selling tactics can and should be seen as the "price" for the otherwise free software.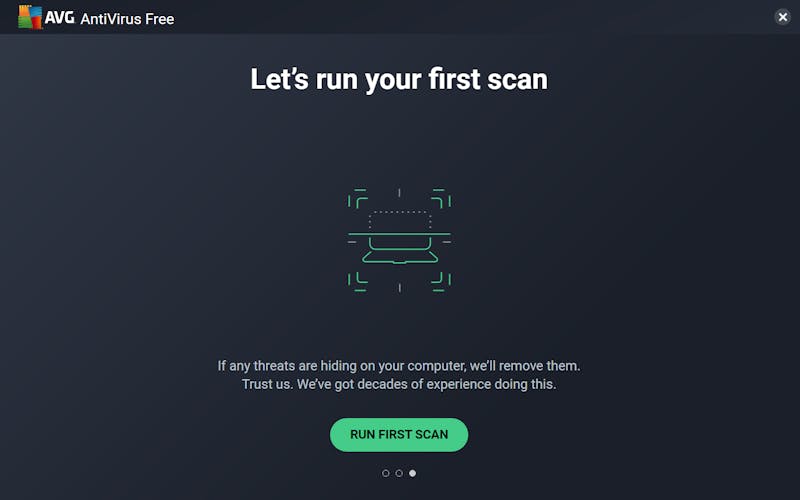 Once you've installed AVG, the program will run a first scan
Is the software really so "refreshingly simple" to use as promised? AVG Antivirus definitely does not make anything more complicated than it needs to be. On the home screen, you'll find five shields grouped into "Basic Protection" ("Computer" and "Web and Email") as well as "Full Protection" ("Hacker Attacks", "Privacy", and "Payments").
You'll be kept informed about your system's relative safety via red or green checkmarks, as well as whether real-time protection is on or off. Below the modules, you'll see a green button, which will begin a scan if you click on it. In the dashboard, you can keep track of when your last virus scan was, as well as when you, or the program last updated its virus definition database.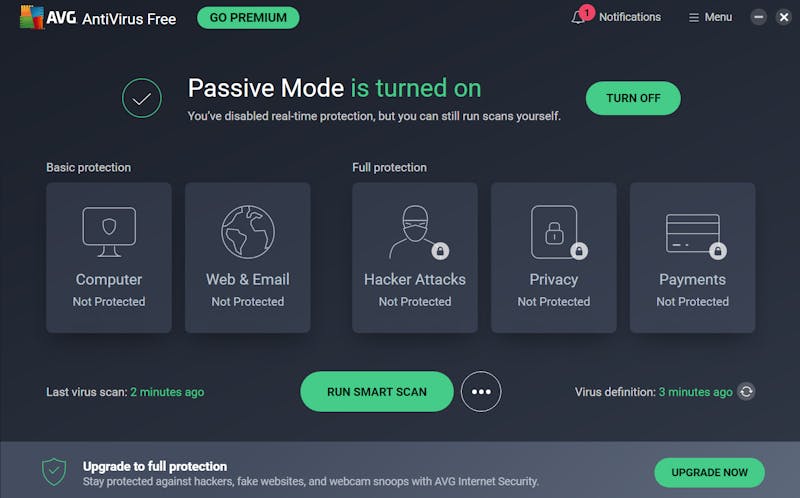 AVG Antivirus is as easy to use as advertised.
Settings and additional features, like the above-mentioned data shredder, or "Do Not Disturb" mode can be accessed by clicking on the hamburger menu in the upper-right of the screen. You can also get in touch with support through this menu, or, alternatively, check your subscription status and review other AVG products, like its VPN.
AVG Antivirus keeps its promise of being easy to use, managing to get a positive surprise in as well owing to the high degree of freedom it grants users in tailoring the program's installation to their preferences. All the same, those using the free version will have to put up with in-app marketing of the premium subscription, however.
Installation & Usage
9.4 / 10
Like every antivirus program, AVG scans your system or device for threats, either automatically, or manually, at a time of your choosing. By clicking on the gear symbol next to "Scan" in the main window, you can select the type of scan you'd like to perform: With "Deep Scan", an intensive search for malware is performed, "Performance Scan" looks for files that can be deleted and changes made to enhance your computer's speed, while "Boot-Time Scan" monitors your computer from the moment you press the power button. In addition, there are also options to scan external (connected) USB storage devices, as well as individual folders or files.
Scans can be scheduled ahead of time, with options made available for selecting what type of scan should be performed, how often it should be repeated (never, once, daily, weekly, or monthly), and most importantly, what specifically should be checked.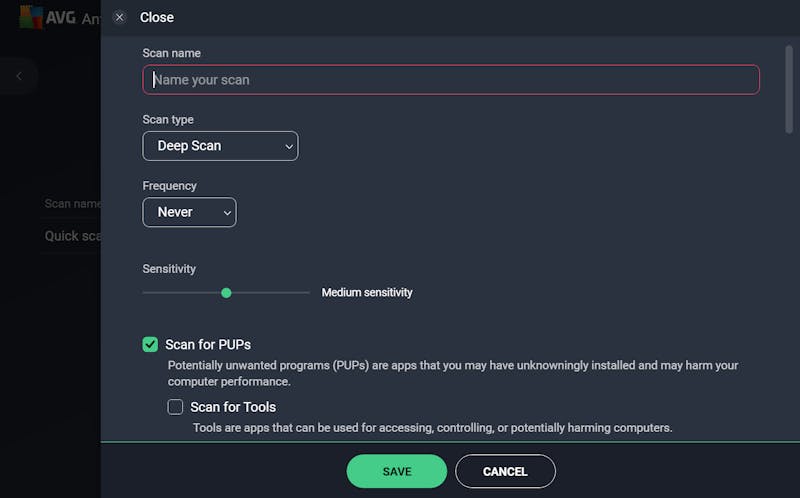 Scans can be scheduled and automated.
Customizable real-time protection
In addition to manual and automatic scans, AVG Antivirus also offers real-time protection against all sorts of virtual threats. Basic protection, as provided to free users, entails the "Computer" and "Web and Email" modules.
"Computer" scans actively for viruses, spyware, ransomware, Trojans, other kinds of malware, and threats to your network, either neutralizing or removing them if found. "Web and Email" checks links while surfing, warning against unsafe WiFi connections, and testing incoming and outgoing email attachments for threats. An email leak checker is also included. Each module can be configured independently of one another and is comprised of different features and tools.
The data shredder, which allows you to remove files without leaving any traces, can be accessed through the AVG client, but also directly by right-clicking on the file or folder in question and selecting "Shred using AVG".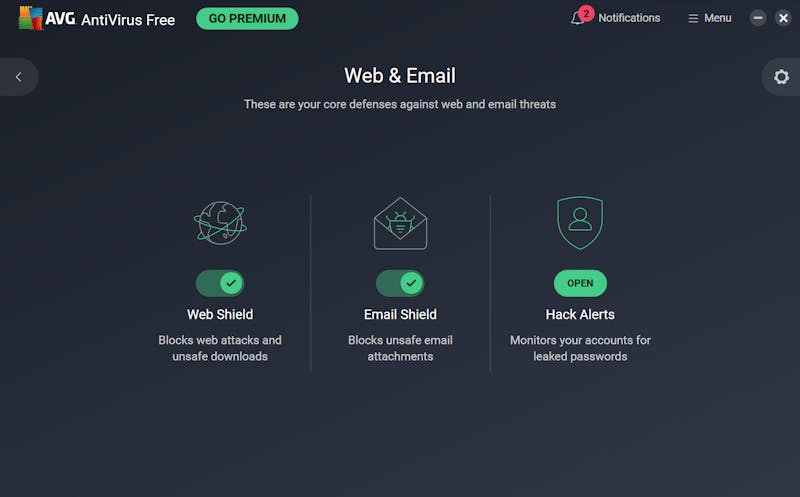 You can turn the service's shields and real-time protection features on or off.
More protection for paying subscribers
Users of AVG Antivirus, including those of the free version, are protected both locally and online. For paying customers, a variety of other defensive tools are offered. Protection against hackers is afforded by a firewall, which can be fine-tuned to your individual preferences, such as defining friendly network profiles or even networks, so as to minimize risky connections. You can also set guidelines for trustworthy connections that will apply to each app or program installed on your system.
"Password Protection" ensures that passwords you've saved or used in your browser are kept away from the prying eyes of attackers.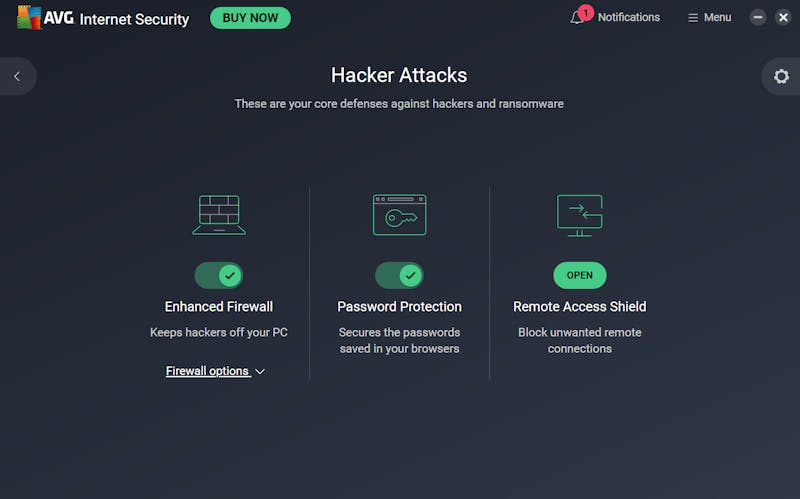 Paying subscribers get access to even more protection.
"Webcam Protection", which bars unauthorized access to your webcam, is also offered to premium subscribers, as is the "Sensitive Data Shield" which adds an extra layer of security to important or sensitive files.
Finally, AVG equips its premium users with digital payment protection through its "Fake Website Shield", which identifies unreliable sites, making online shopping more secure.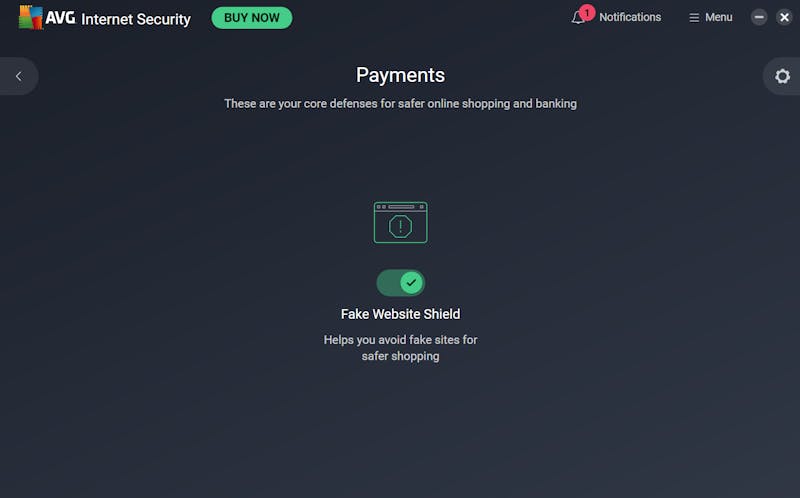 The "Fake Website Shield" blocks untrustworthy websites when shopping online.
Fancy extras like a VPN, password manager, or performance tuning aren't included, even for premium subscribers, most likely because AVG has paid programs in its portfolio that offer these capabilities, such as TuneUp, Password Protection, and Secure VPN.
AVG Secure Browser is free of charge though and is offered as an accompaniment to AVG Antivirus when installing the software. This is identical with the Avast browser and based on Chromium, making it very similar to Chrome as well. It comes pre-installed with extensions like an adblocker and anti-tracking, which only need to be activated to start working.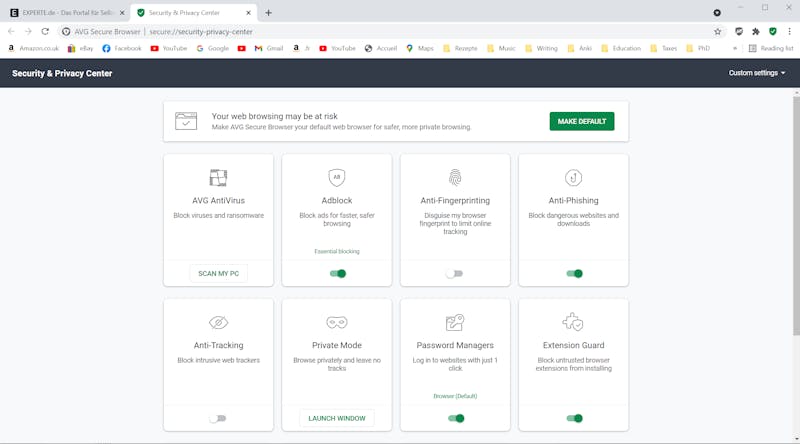 With AVG Secure Browser you can safely navigate the Web.
Mobile Features
Of course, AVG also offers free (with ads) and premium (no ads) antivirus apps for smartphones and mobile devices. Alongside manual scans and real-time protection, these include a file scanner and a photo vault, in the latter of which pictures are protected. You can also use the app to measure the speed and security of your Wi-Fi connection.
Of particular importance to many smartphone users are anti-theft tools. With AVG, you can preemptively set when your device should be marked as "lost" and what should happen if those conditions are met. For example, the device can be locked, or a siren can be activated to draw attention to the thief. You can also locate the phone remotely using GPS.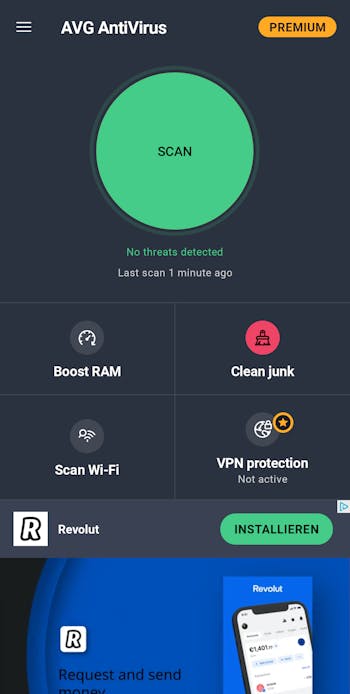 AVG Antivirus's mobile app combines antivirus and anti-theft tools.
Some of the anti-theft features are limited to premium users, such as one which automatically marks your device as lost if an unknown SIM card is detected, or the camera trap, which secretly snaps a picture of the person in possession of your phone.
In sum, AVG Antivirus offers users of its free version a solid package of antivirus and cybersecurity tools, whereby the premium subscription covers any and all remaining features one might be after.
To create a representative picture of how AVG Antivirus performs, we consulted AV-Test ⇱ and AV-Comparatives ⇱, each of which regularly awards a range of antivirus programs separate scores for performance and security.
| | Security | Performance |
| --- | --- | --- |
| | | |
| | | |
| | | |
AVG Antivirus made a very favorable impression upon AV-Test, most recently (June 2021) taking maximum points ⇱ in both security and performance. With that said, the software only received 2 out of 3 stars in AV-Comparatives's latest real-world protection test ⇱, owing to too many false positives. All the same, the program blocks 99.9% of malware.
AVG Antivirus completed a full system scan very quickly (within 26 minutes) on our test rig, however, it also informed us that it didn't get all malicious files and recommended a follow-up scan. Even though the software received excellent performance scores from the two testing labs we consult, we did notice some slight lagging while the deep scan was running.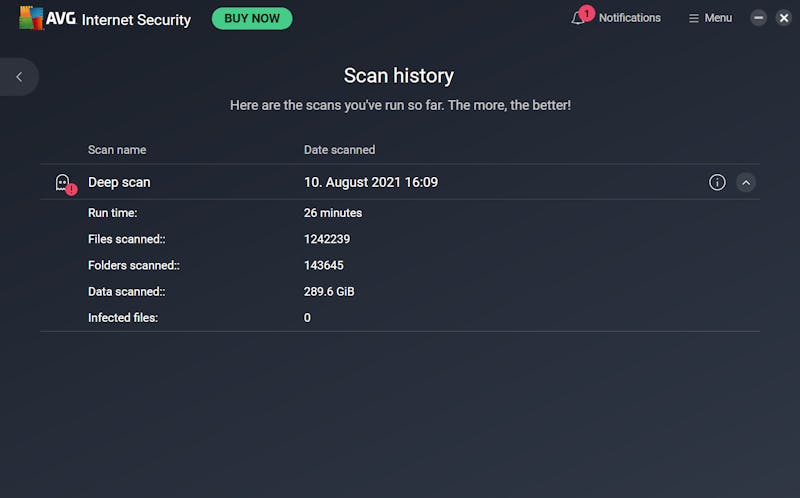 In the "Scan History" section, you can review the results of all scans you've performed.
AVG Antivirus performed well with both the independent testing labs we consulted, as well as in our own assessment, even if the deep scan slightly inhibited our computer's performance.
Security & Performance
8.0 / 10
Note: January 2020 Controversy surrounding the sale of user data
An investigative report published jointly by Motherboard (Vice) and PCmag in January 2020 revealed that Avast, through its subsidiary, Jumpshot, had sold user data on a massive scale to third-parties, including Google, Microsoft, McKinsey, Pepsi, and Yelp. According to the authors, this data pertains to "Google searches, GPS coordinates used in Google Maps, LinkedIn site history, YouTube videos, and porn browsing history, including the entered search terms and the videos watched." Even though no personal data was sold, it would not have been difficult for the buying companies to identify individual user IDs on the basis of movement data and device numbers. In the interim, Avast's CEO Ondrej Vlcek apologized for the incident ⇱ and closed Jumpshot.
As mentioned above, you can access AVG's support center ⇱ directly through the antivirus program's menu. However, this has a relatively superficial FAQ area and forum, only offering the ability to file a support ticket. There is a hotline, but it's limited to premium subscribers. Even then, we expect more, especially for paying customers.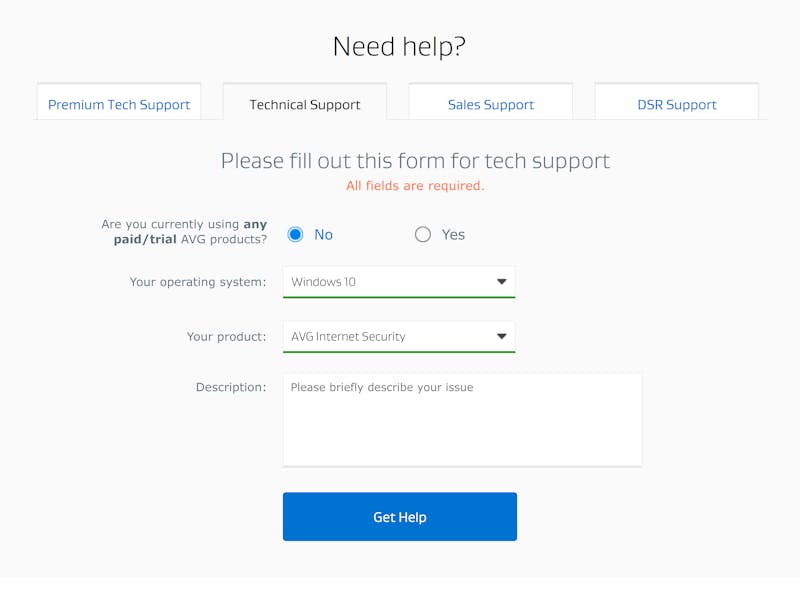 You can get in touch with AVG's support team via support tickets.
During our last assessment, we received an answer to our written query two weeks after filing it, long after we had resolved the issue we were having. This time around, we were informed when filing our ticket that owing to the prevailing public health situation, the support center was not operating and answers to our queries would be delayed. One week later, and we still hadn't received a response. Still, when posing a question about canceling our subscription, we received a proficient answer within a day.
Whether in the pre- or post-COVID-19 world, AVG simply doesn't do enough in terms of support.
Alongside the free version of AVG Antivirus, there's also AVG Internet Security, a yearly subscription for either one or up to 10 devices. If you want full access to a variety of AVG's software, there's also AVG Ultimate, which includes TuneUp and its VPN, albeit, at nearly twice the price as Internet Security. For corporate users, there's also a business version that is charged per device.
AVG Internet Security can be tested for free for 60 days, however, you will have to input a payment method to start the trial. All paid subscriptions come with a 30-day, money-back guarantee.
Below, you can find an overview of the service's rates:
Free
Internet Security
Ultimate
Antivirus Business
Internet Security Business
Set-up Fee
$0.00
$0.00
$0.00
$0.00
-
Price per Year
$0.00
from $31.08
$51.48
from $112.77
from $136.77
Contract Period (Months)
0
12
12
12
12
Software
OS

Windows

macOS

Android

Windows

macOS

Android

Windows

macOS

Android

Windows

Windows

Max. Number of Devices
unlimited
10
10
unlimited
unlimited
Special Protection Features
Real-time Protection
Internet Security
Email Protection
Ransomware Protection
Webcam Protection
Premium Features
Firewall
Password Manager
VPN Access
Adblocker
Cloud Backup
File Shredder
Parental Control
Performance Tuning
Mobile Features
App Lock
Location Tracking
Remote Lock
Camera Trap
AVG Antivirus's premium packages are on the upper end of the price spectrum from amongst the services in our sample. Since comparing prices between providers is difficult owing to the different features they offer, we created a template and selected the package from each service that comes closest to approximating this. You can check the results of this in the table below:
1.
2.
360 Total Security
Premium
3.
4.
5.
6.
Bitdefender
Internet Security
7.
8.
9.
10.
11.
12.
13.
14.
F-Secure
Internet Security
Conclusion
Installation & Usage
9.4 / 10
Security & Performance
8.0 / 10
AVG promises simplicity in terms of antivirus protection, and keeps its word, impressing from the first usage with its intuitive design, which makes navigating between the variety of features relatively easy. These features don't only stand out for their simplicity though: Users of the free version receive fully adequate protection, whereas paying subscribers can do nearly everything one would want with an antivirus program.
In terms of support, AVG seems to have lost the plot, all the more confusing since its parent program, Avast Antivirus made up for its own lack of contact possibilities with an excellent support center. It seems to follow the same logic that AVG is so easy to use that there shouldn't be any support issues, but that isn't enough for us; There will always be some customers who require personalized assistance, and software developers need to provide a channel for supplying this in a timely fashion.
With its solid free tier, AVG offers basic protection for everyone – while paying customers get a huge set of features that covers all your basic anti malware needs and more. Sadly, AVG's support isn't great.
Plan
Devices
Protection Features
Premium Features
AVG Free
$0.00
Visit Website »
Download for Free
Customer Ratings
In the customer reviews for AVG Antivirus that we evaluated, the software has scored very highly, with its accessibility and simplicity lauded time and again. On Trustpilot, similarly to Avast, AVG Antivirus is criticized for billing irregularities and non-transparent renewal and subscription practices.
Customer Ratings
7,701,812 Bewertungen
Visit Website
We analyzed the reviews and ratings from various portals and found 7,701,812 ratings with an overall rating of 4.8 out of 5 .
Alternatives to AVG Antivirus
Should you want to "stay in the family", the easiest option is to take a look at Avast, which is based on the same engine as AVG. If support is important to you, we can heartily recommend Bitdefender, the top performer from our sample, which costs the same as AVG. A list of popular alternatives is offered below:
Our 'best in test' antivirus program Bitdefender boasts strong security, confirmed by independent test laboratories, along with a flawless user interface and a comprehensive set of features.
configurable quick actions
good support with 24/7 live chat
9.6

excellent
Plan
Devices
Protection Features
Premium Features
Bitdefender Antivirus Plus
$23.99
yearly price
Visit Website »
Avast impresses with a great free version covering all the essentials, and a huge set of features that offer well-rounded antivirus protection and some nice extras. Scans can slightly impact performance, however.
Sandbox and WiFi-Inspector
scans can impact performance
8.6

good
Plan
Devices
Protection Features
Premium Features
Avast Free
$0.00
Visit Website »
Download for Free
With its robust set of features, lean applications, and a 100 % antivirus guarantee, Norton Antivirus is definitely worth a look. Sadly, the testing labs aren't unanimously impressed, and one or two features are missing.
learn, user-friendly apps
customizable child protection
100 % antivirus guarantee
8.4

good
Plan
Devices
Protection Features
Premium Features
Norton Antivirus Plus
$19.99
yearly price
Visit Website »
G Data offers virus protection "made in Germany" with solid test lab scores, lots of customization, and great support. The user interface, however, could use a facelift.
many configuration options
interface somewhat outdated
test lab scores "only" solid
8.4

good
Plan
Devices
Protection Features
Premium Features
G Data Antivirus
yearly price
Visit Website »
Trend Micro delivers a solid overall antivirus package with lots of features and some nice extras, such as social media protection. However, the testing labs are a bit divided on the reliability of its protection.
Plan
Devices
Protection Features
Premium Features
Trend Micro Antivirus+
$19.95
yearly price
Visit Website »

Janis von Bleichert studied business informatics at the TU Munich and computer science at the TU Berlin, Germany. He has been self-employed since 2006 and is the founder of EXPERTE.com. He writes about hosting, software and IT security.
Continue Reading